15 Couples Jewelry Sets for Your Rare Gem of a Romance
Go ahead, be that couple.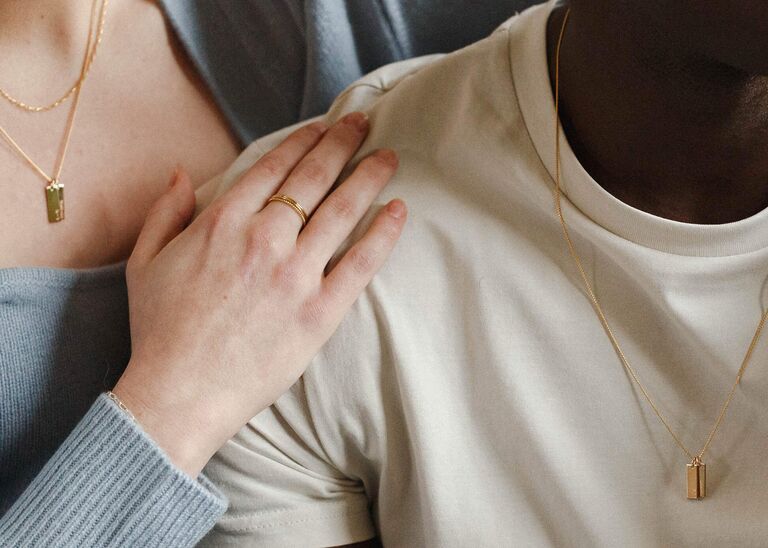 Photo: GLDN
We have included third party products to help you navigate and enjoy life's biggest moments. Purchases made through links on this page may earn us a commission.
My first (and so far, only) experience with couples jewelry was in the first grade: I gave my crush one half of a heart-shaped friendship locket set from Claire's. The necklaces were silver with pink glitter centers. And I did, in fact, ask my mom for help cutting his face out of our class picture—into a heart—to stick inside of mine. (Bless her.)
Matching jewelry for couples—and matching couples gifts in general—have come so far since that moment in 2001 (minus the whole Angelina Jolie and Billy Bob Thornton blood vial necklace thing), with the rise of iconic, unisex romantic jewelry like the Cartier LOVE bracelet and a slew of other stylish jewelers and indie designers making pieces for pairs. I think sporting coordinating baubles with your babe is pretty adorbs and that matching couples jewelry sets make perfect presents for your love's birthday, your anniversary and even for the holidays. Keep reading for some that run the gamut from cute, to cool, to downright chic—because why wear your heart on your sleeve when you can wear it (in glittery glory) around your wrist, neck or finger?
1. Half-Heart "Te Amo" Necklace Set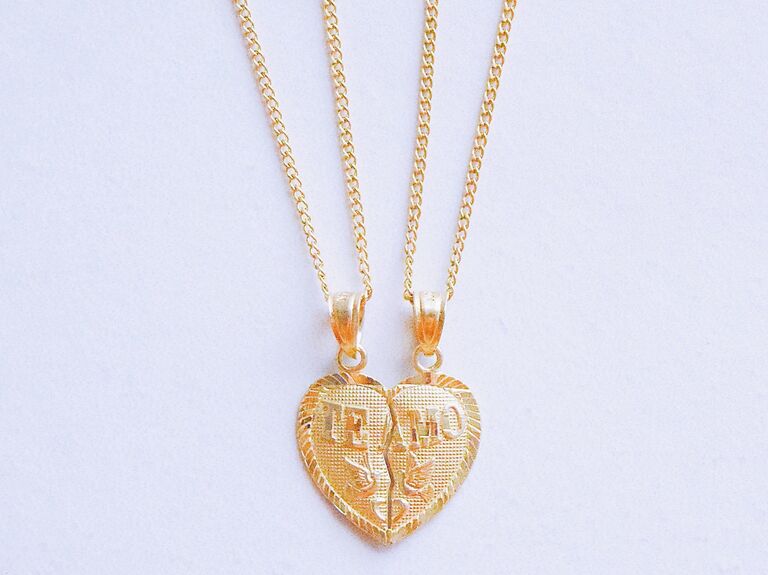 Let's kick things off with some of the most romantic love jewelry for couples I've ever seen—this subtle, yet detailed necklace set. Each pendant is forged from solid 10K gold and they fit together to form a textured heart. The words "te amo" (I love you, in Spanish) are stretched between them above a motif of two doves floating over a heart. The vintage vibes are just perfect.
2. Half-Circle Necklace Set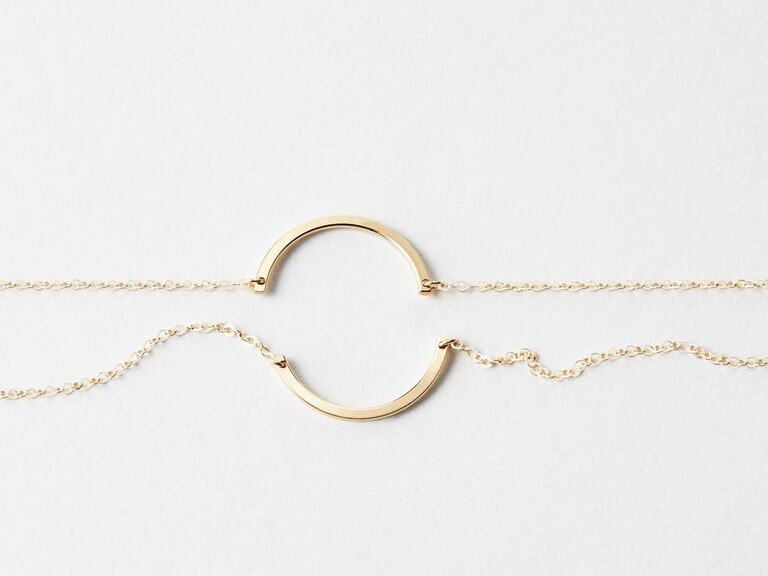 If you're looking for subtle couples jewelry, you can't go wrong with this minimalist necklace set. A delicate arch sits at the center of each chain and, when both are placed together, they fit to form a continuous circle. We love a circle as a modern take on the infinity symbol—both represent endless love. Choose between sterling silver, 14K gold-filled and solid 14K gold construction, and between a smooth or hammered finish.
3. Chunky Gold Ring Set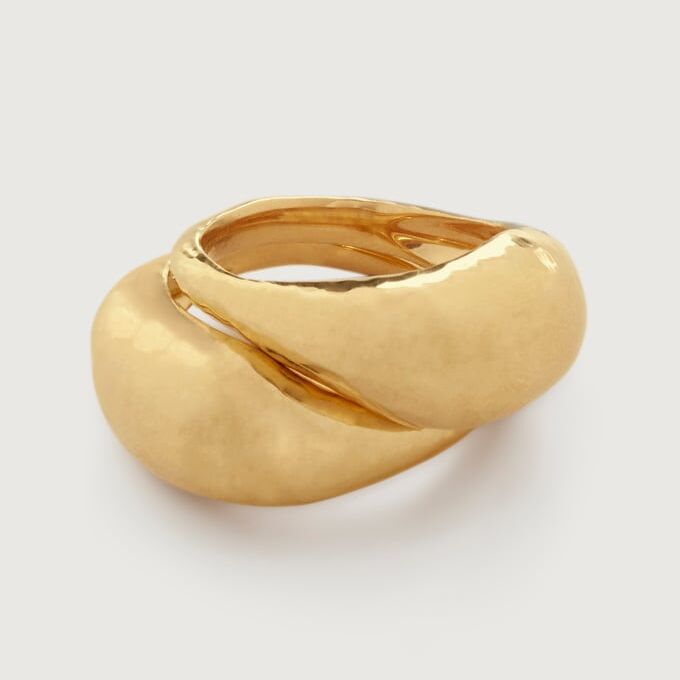 I have heart eyes over this chunky duo of gold rings, each of which is formed into an organic dome shape. The lightly hammered finish makes the gold vermeil look supple and satiny, while the opposing forms of the rings allow them to snuggle together perfectly. Though they can be worn by just one person stacked on the same finger, we love these rings as unique pieces of couples statement jewelry that bring the drama without any mush.
4. Magnetic Couples Bracelet Set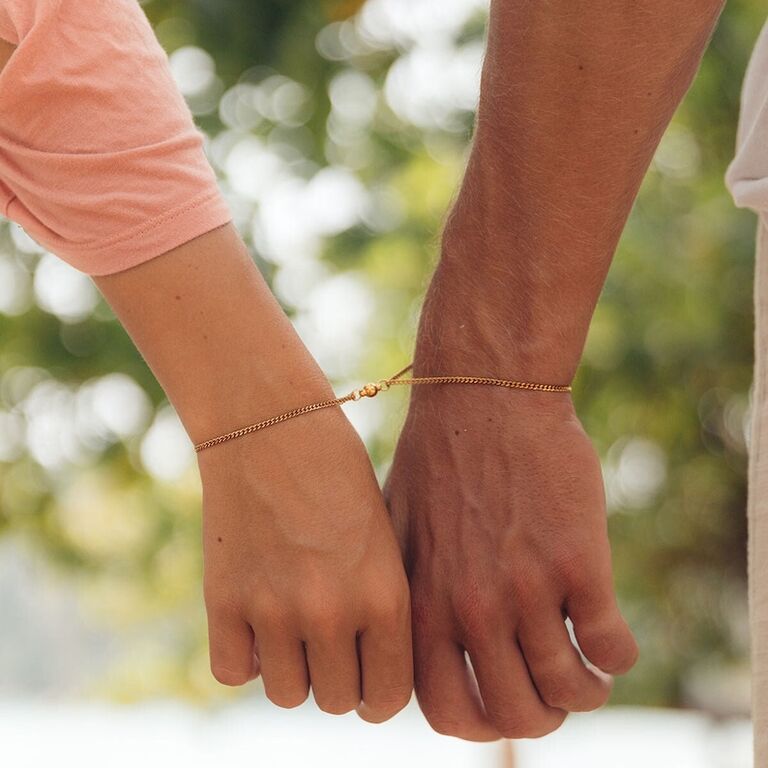 Matching bracelets for couples are already super cute (just THINK of the hand-holding photos) and this set of magnetic ones is next-level precious. Each is made from silver- or gold-toned stainless steel and is subtle enough to wear every day—even stacked with other bracelets. There's one little magnet on each bracelet and the two attach to each other to represent your beautiful bond with your honey.
5. Personalized Modernist Pendant Necklace Set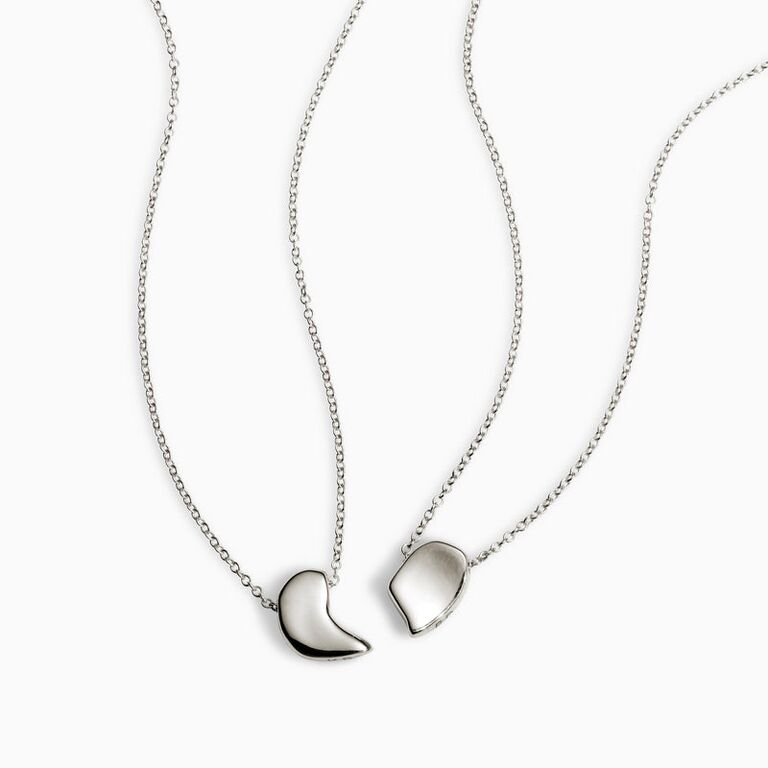 This set of personalized couples jewelry is for the chic, urban couple who wears big blazers, little sunglasses and has the ever-elusive pair of perfect chunky loafers. Or really, any duo that wants a sleek, minimalist memento of their other half. This pair of bean-shaped pendants, handmade in NYC, come together to form an abstract heart of sorts. On the bottom edge, you can have each one engraved—one with your initials and one with your partner's. (You'll wear theirs and they'll wear yours.)
6. Personalized Bar Tag Necklaces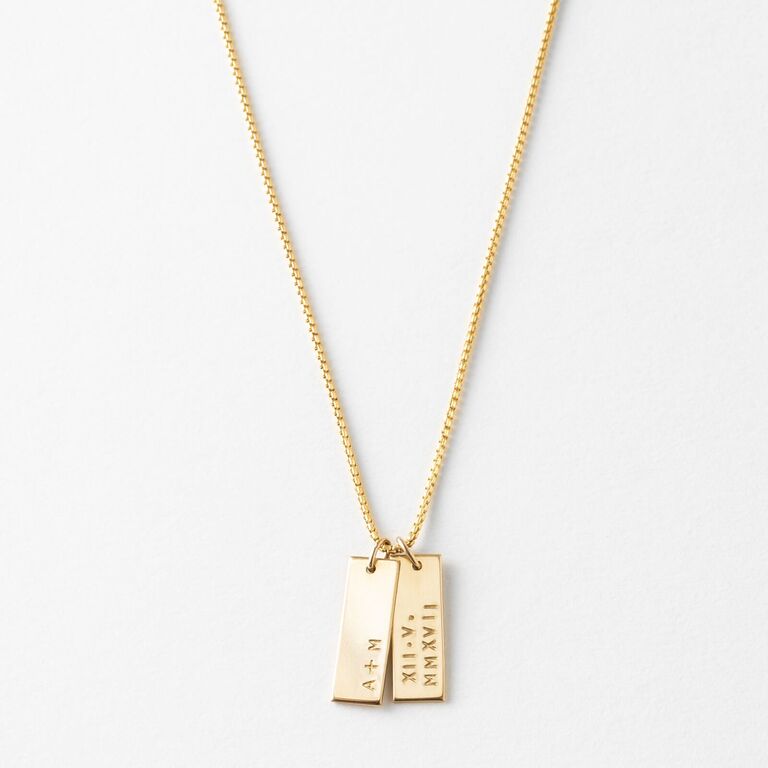 Think of these rectangular charms as elevated, smaller versions of dog tags. Each is engraved with up to two small lines of text (think: your anniversary date in Roman numerals, your initials connected by a heart or a single initial and a symbol). This listing is set up as one necklace with two pendants, but they're meant to slide on and off, so purchase an extra chain and you can easily make this a really nice set of couples initial jewelry you both can wear (with one charm on each chain).
7. Lock and Key Couples Necklace Set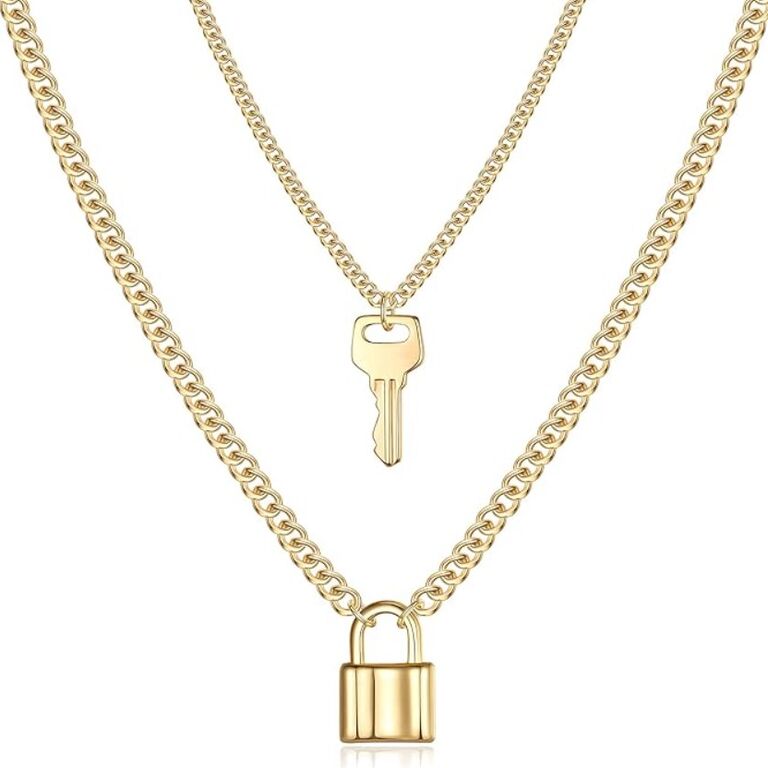 Who knew there could be couples jewelry on Amazon that's both affordable and cute? One necklace in this set features a key on a delicate chain and the other, thicker chain has a padlock at its center. Lock and key jewelry for couples is a classic motif and we love how well this set works for couples of all genders/orientations.
8. Simple Chain Bracelet Set
These little baby chain bracelets add just the right amount of sparkle to you and your love's wrists. The pair features one thin and extra-sparkly chain and one slightly thicker twisted chain. We love how the dainty style of these looks like ever-so-trendy permanent jewelry and, if you're after real permanent jewelry in the NYC or LA area, Catbird offers some lovely real permanent couples jewelry options, too.
9. Pinky Promise Necklace Set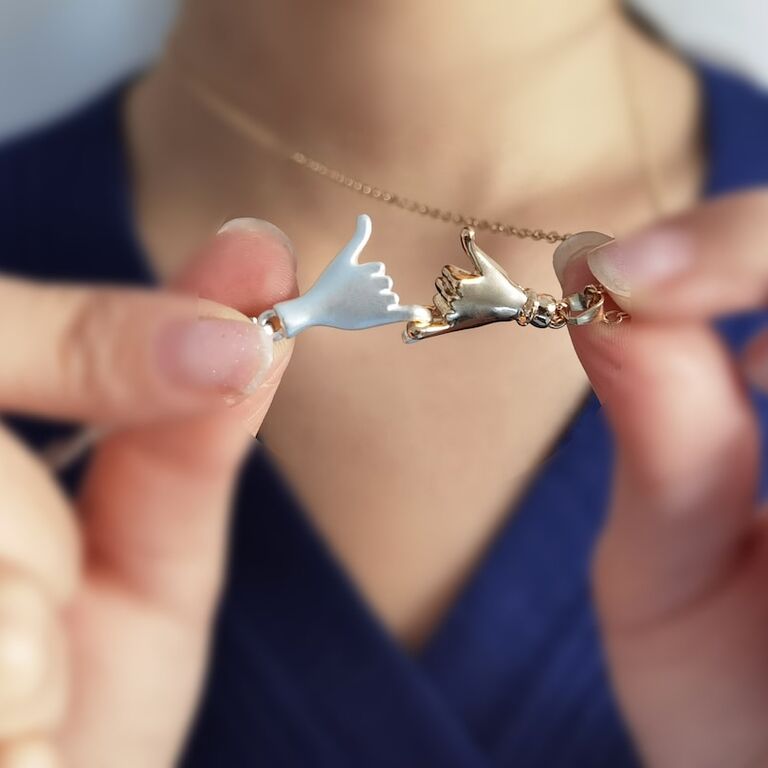 You've promised your hearts to each other—what better way to show that than with a pair of pinky-promise necklaces? This set is one of our favorite couples jewelry pieces from Etsy. Each necklace is handmade and features a little hand positioned in a pinky swear position, with a pinky finger that interlocks with that of the other. You can customize each necklace to fit the wearer's taste: choose between a delicate chain or black cord and also between a gold or silver hue.
10. Birthstone Necklace Couples Jewelry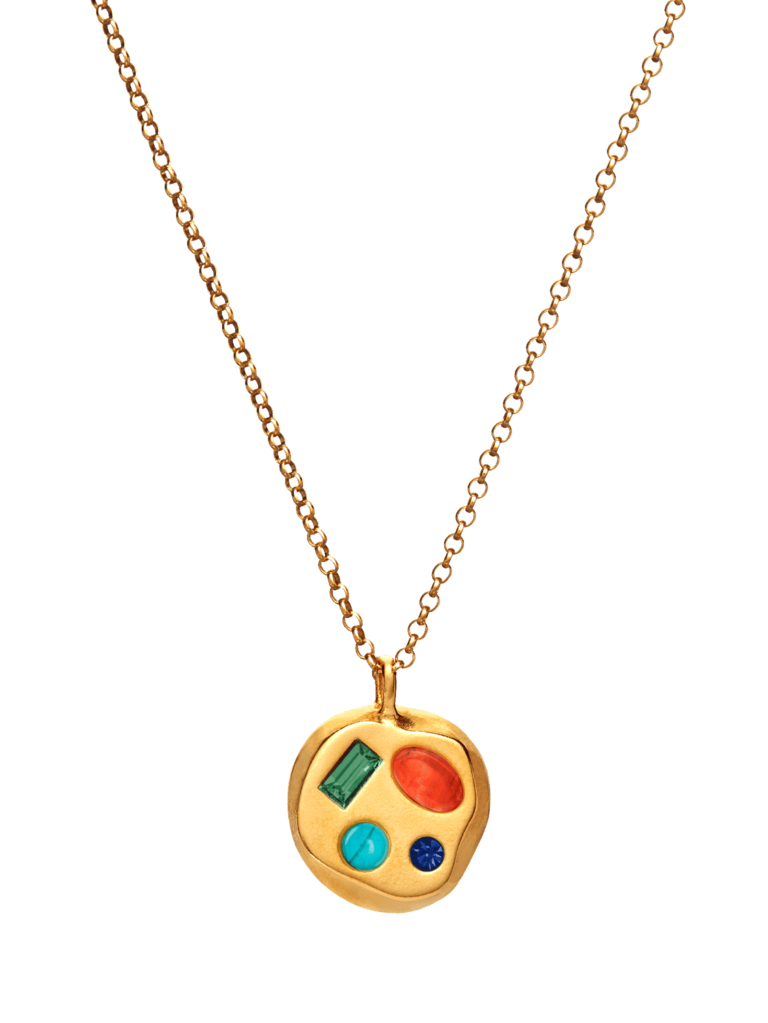 Couples birthstone jewelry is a unique option (and especially fitting if you share a birth month or if you're giving couples commitment jewelry as a birthday gift). These pendants take the typical birthstone notion and kick it up a level—with designs for each actual birth day, not just the birth month. Each design is available in gold or silver and features the month's birthstone along with other gems thought to bring good energy specific to people born on that specific day.
11. Heart and Key Necklace Set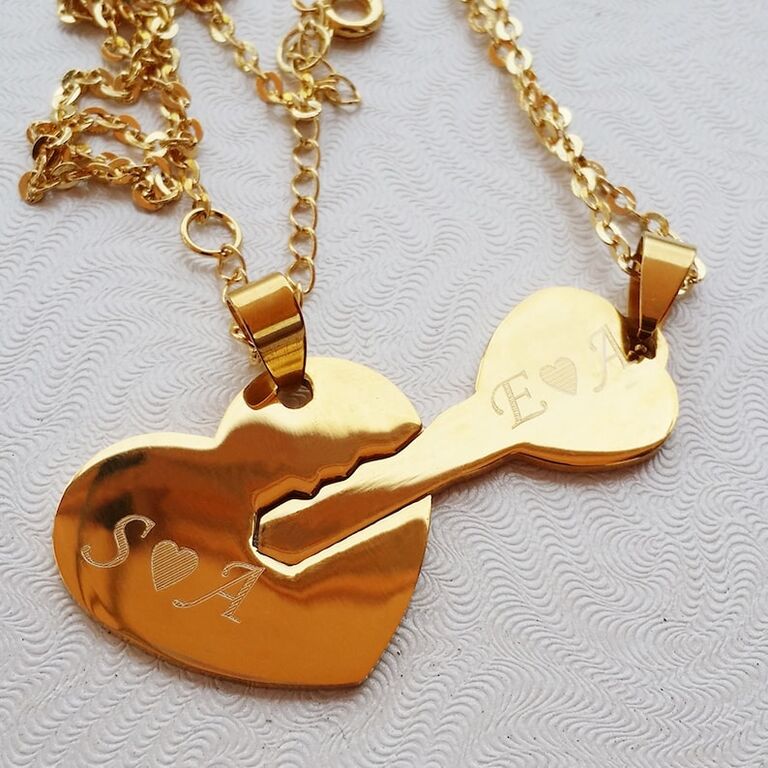 They have the key to your heart! Let the world know with this sweet relationship jewelry for couples. One necklace has a key pendant and the other has a heart with a cutout where the key fits in. Choose between gold or silver tones and you can get each one engraved with you and your boo's first initials connected with a heart.
12. Custom Cute Beaded Bracelets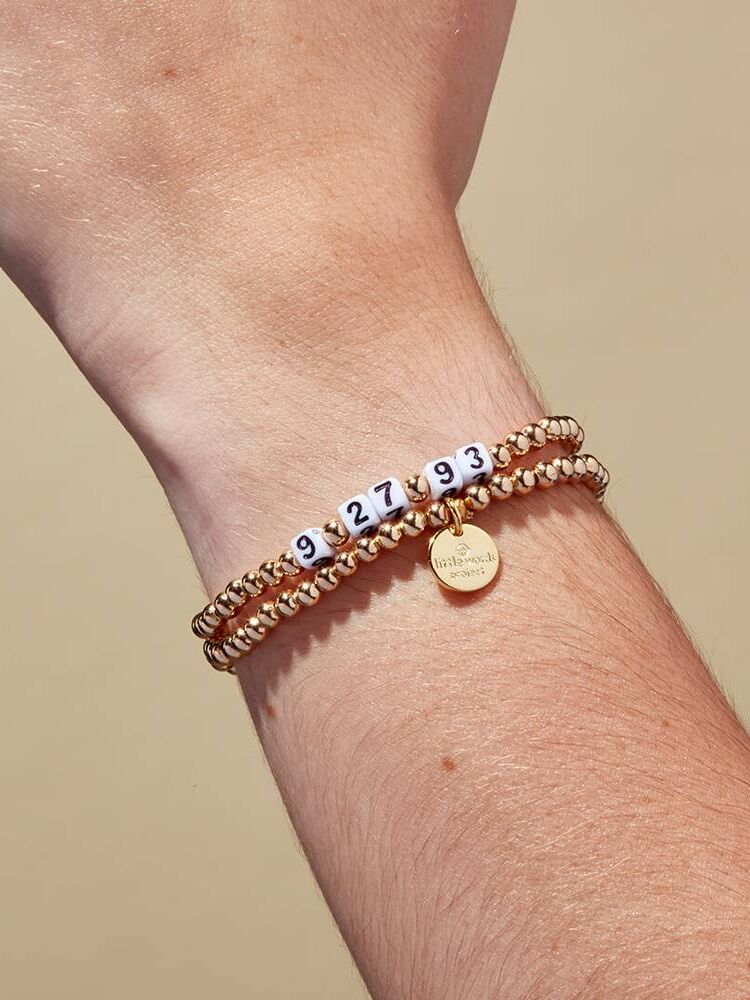 Custom couples jewelry for an affordable price? That'll make you fall in love all over again. At Little Words Project, you can choose a name, word or phrase to have made into a beaded bracelet with a super-nostalgic aesthetic. If you were childhood sweethearts with your honey, this idea is the perfect couples jewelry gift.
13. Puzzle Piece Necklace Set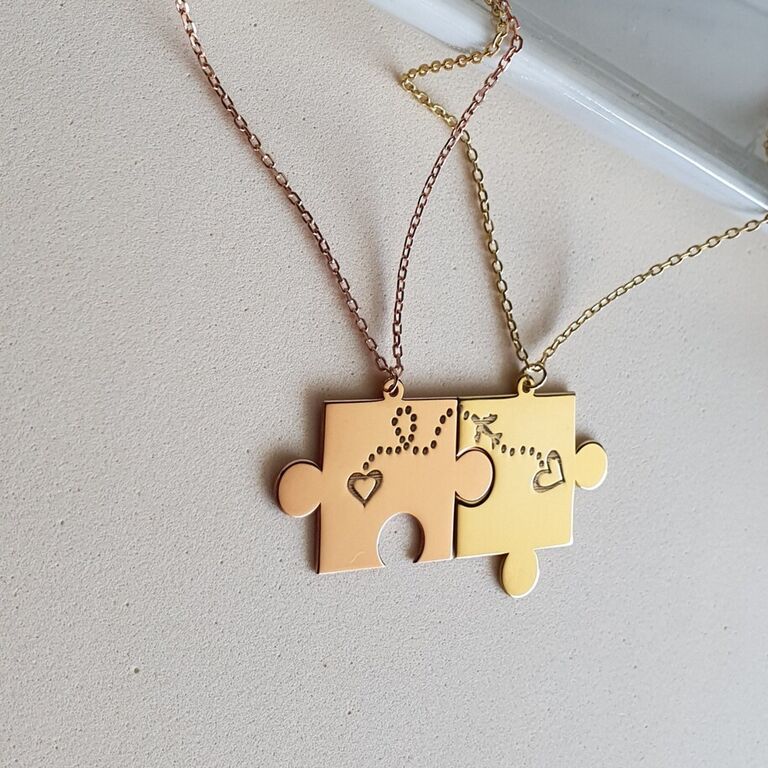 Puzzle piece jewelry for couples is a classic choice. But this pair of necklaces puts a sweet spin on the tried-and-true design that's perfect for long-distance couples. A little dotted line spans across both pieces, with a plane in the middle and a heart at each end. It represents how, no matter how much space is between you both, your hearts are always connected.
14. 90s-Inspired Personalized Initial and Dog Tag Necklace Set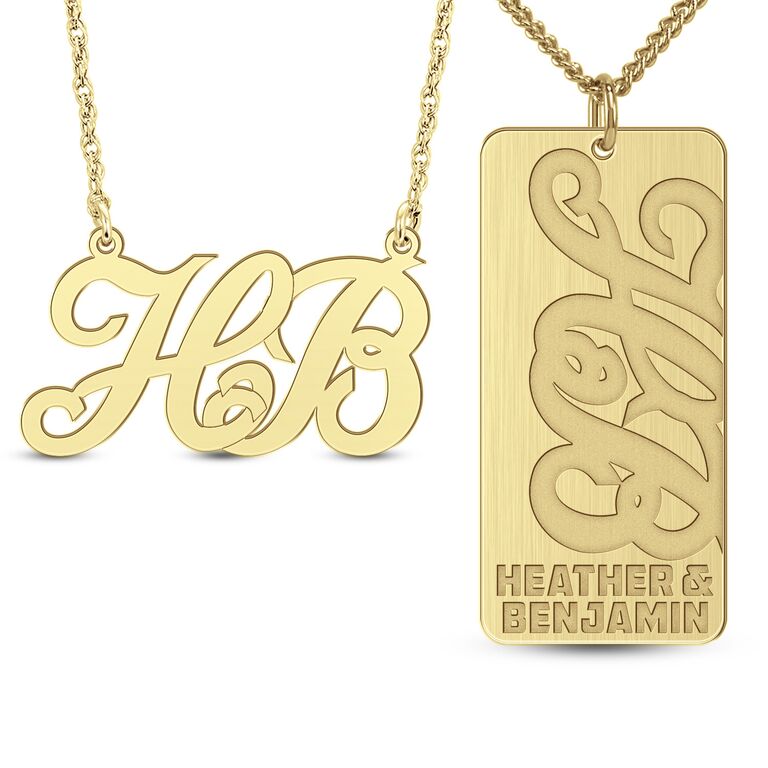 This necklace set has the same idea as a puzzle piece pair, but with a cool spin. At the end of one chain sits your paired first initials, while the other features a dog tag that's engraved with your full first names and an impression of the initials from the other necklace, so they fit in the indent like a puzzle piece. Plus, the 90s/Y2K feel can't be beat.
15. Couples Touch Bracelet Set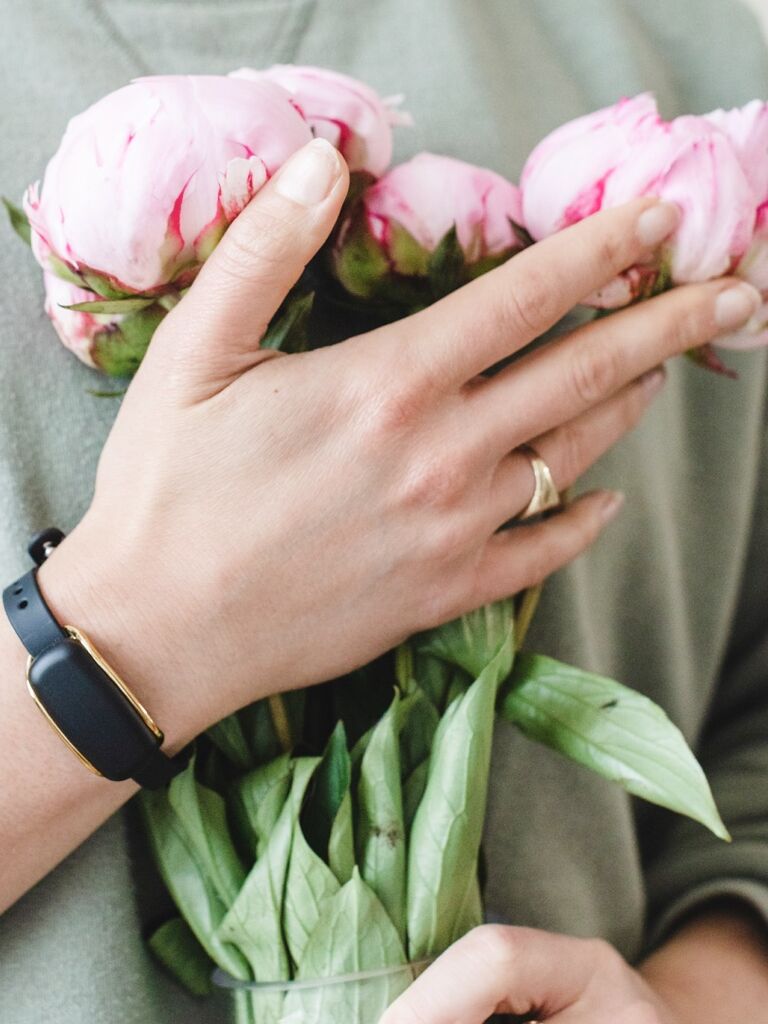 Touch jewelry for couples is such a sweet way for partners who are far away to feel close. While you can't cuddle up with each other, you can send gentle vibrations to this discreet bracelet. You can choose between a black or white band and copper or black metal accents.