Where to Buy Jewelry Gifts for Your Good-as-Gold Loved Ones
They're absolute gems—now buy them some.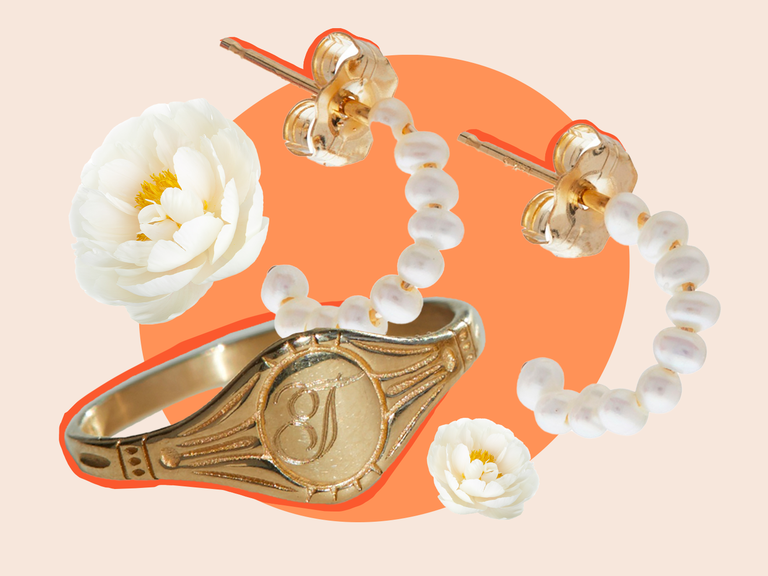 Photo: Catbird; Design: Tiana Crispino
We have included third party products to help you navigate and enjoy life's biggest moments. Purchases made through links on this page may earn us a commission.
There are three types of people: shoe people, bag people and jewelry people. I fall into the third category. So whenever an occasion rolls around—whether it be my birthday, anniversary or a "you deserve a little treat" just-because moment—jewelry gifts are the way to my heart. I'm never not wearing jewelry and, as someone who works remotely, I find adding a little shimmer to my daily WFH 'fit does wonders to lift my mood. (Because, in my mind, my favorite gold hoops make some threadbare Champion basketball shorts feel coffee-run-appropriate.)
All that said, if you have a jewelry person in your life who'd love to receive a little something sparkly, keep reading. I've rounded up some of my (and our editors') favorite places to find the best jewelry gifts. From delicate pieces your loved one can wear daily to splashy special-occasion baubles, we've got options for every occasion that suit a range of aesthetics and budgets, because price has nothing to do with how special or stylish a piece is. So whether you're shopping for bridesmaid jewelry gifts, jewelry gifts for your wife or are on the hunt for some cool men's jewelry brands to keep in mind, this list will help you find trendy and timeless unique jewelry gifts that go beyond just the big names in gems and jewels.
Catbird
Most of my jewelry these days comes from Catbird. It's impossible not to find a stunning bauble from this woman-run indie brand: Catbird is a treasure trove of pretty personalized jewelry gifts that are perfect for an anniversary (think: a petite, engravable charm shaped like a love letter the recipient can wear every day) as well as shimmering rings that feel like delicate answers to Art Deco and other opulent antique styles. Seriously—I feel as graceful as a Renaissance painting whenever I wear my Catbird jewels. Something to love just as much as the look of Catbird's jewelry: The Brooklyn-based studio works with over 95 percent of recycled 14K gold and diamonds, and every brilliant-cut diamond is either lab-created or recycled. Sustainability and sparkle—I couldn't ask for more. You can find options under $200 as well as luxury jewelry gifts that go for thousands, but no matter the price, every accessory is heirloom-worthy.
Standout Catbird Jewelry Gifts
Dollhouse Locket, Yellow Gold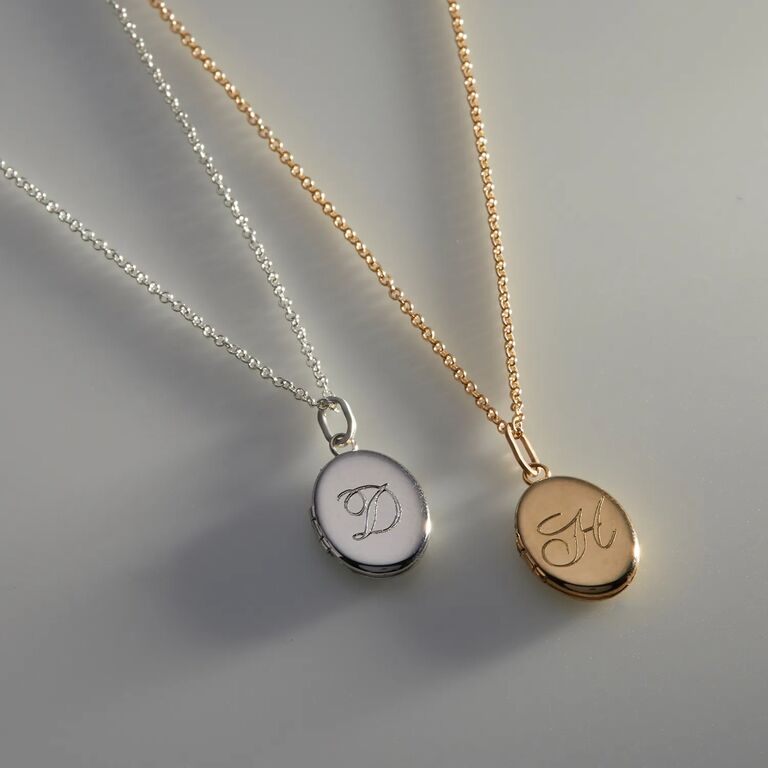 My ex-boyfriend gave me this exact necklace and I still wear it—that's how perfect of a jewelry gift idea it is. A single initial can be engraved in script on the front of this 14K-gold oval locket, while there's just enough space inside to affix a photo—the brand even provides a handy photo-cutting template. (And before you ask, no his picture is not still inside my locket.) Also available in silver.
Baby Pearl Hoop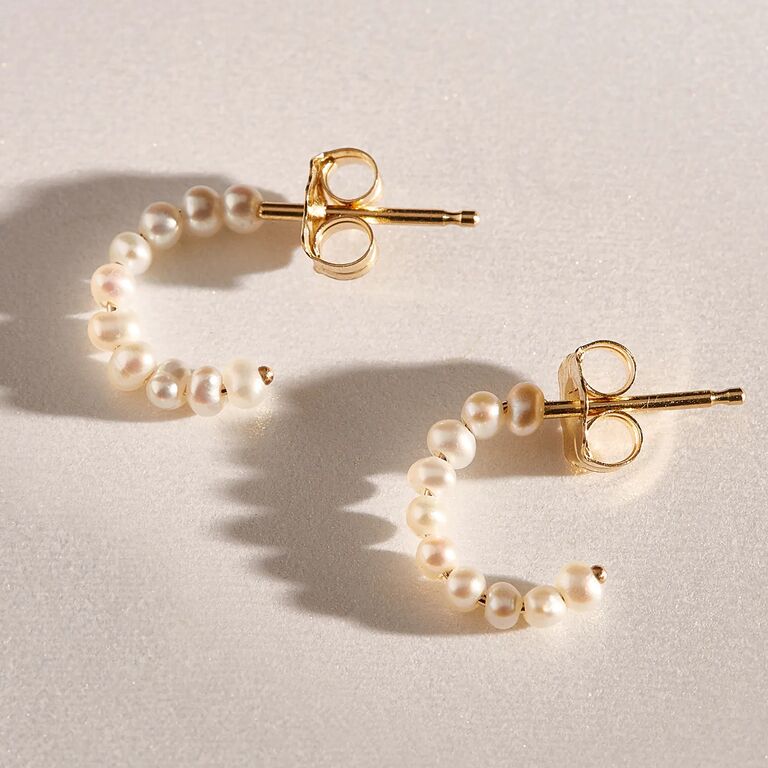 These teeny tiny hoops are subtle enough to wear every day, but still make a statement with each earring's string of 10 freshwater pearls. Each pearl is also sourced from a second-generation family farm where an emphasis is placed on clean water. Note: Each hoop is sold separately.
Grand Cygnet Ring, Yellow Gold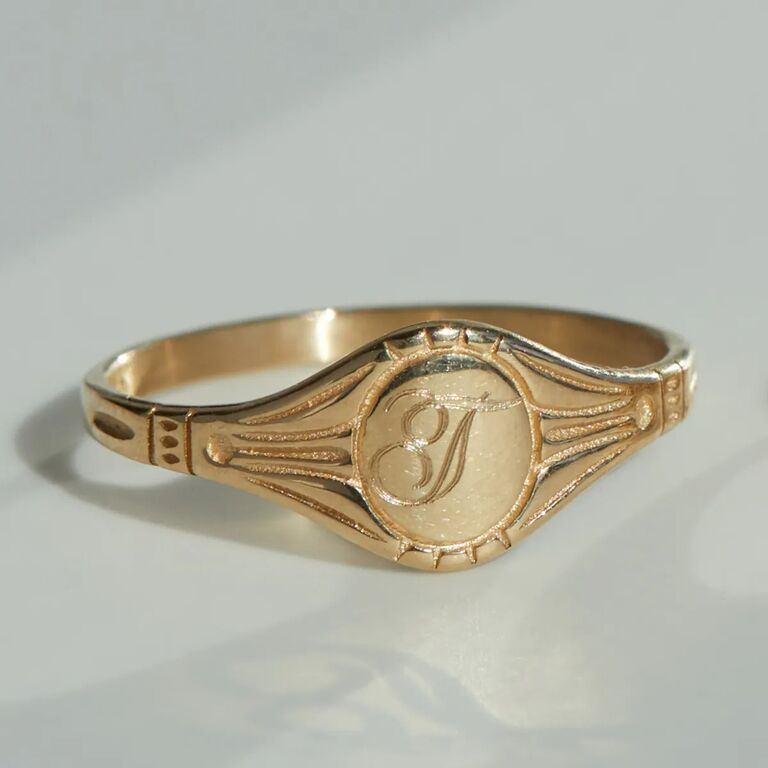 This "cygnet" ring is a graceful take on a classic signet ring. Each engraved line and flourish feels as refined as a swan's feather—all of which frame a script initial or number of your choice at the center. We love the idea of adding an age (if this is a birthday jewelry gift) or an anniversary year.
Pamela Love
Pamela Love is where I feel like Gillian Owens (Nicole Kidman's uber-sexy witch character in "Practical Magic") would shop for jewelry. It's giving rockstar girlfriend, hot mystic energy. Love's jewelry is inspired by her interest in astrology, folklore and all things spiritual and celestial, and all pieces are made using recycled metals and conflict-free, ethically sourced precious stones. If you're on the hunt for a present for a person who's always breaking the mold with their fashion and who loves to dabble in the occult, this is the place. Prices here run a little higher, with $200 being the low end, so this is a wonderful choice for special holiday jewelry gifts.
Standout Pamela Love Jewelry Gifts
Heart in Hand Ring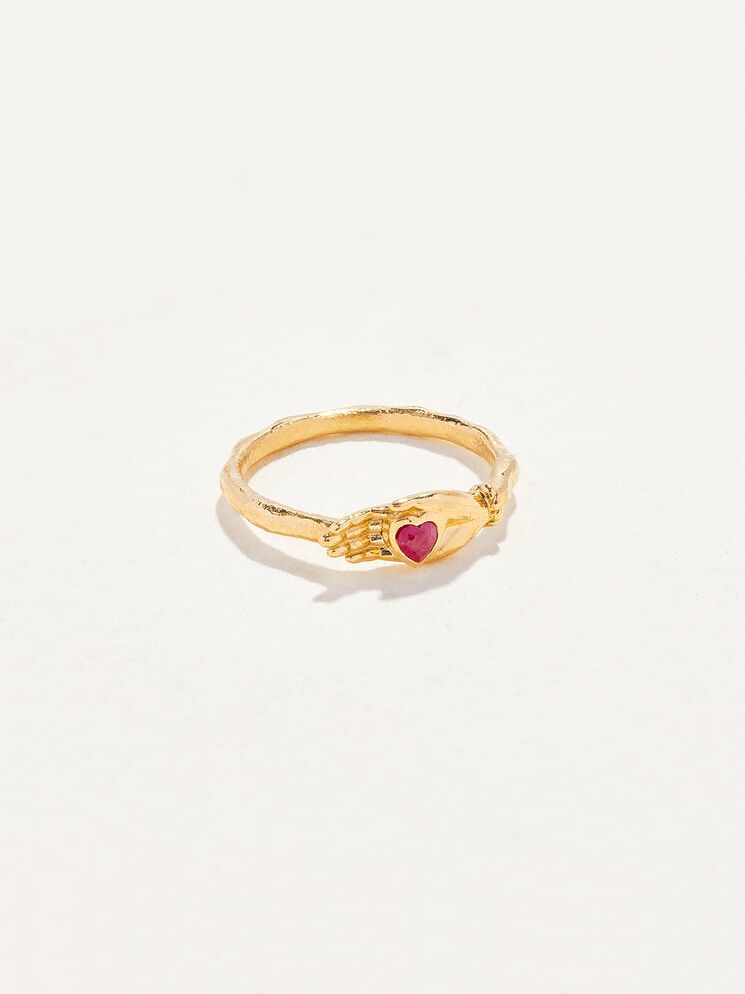 Showcasing a deep red, heart-shaped ruby at its center, this ring feels mysterious and romantic. The hand-heart motif symbolizes charity given from the heart, so if your partner is known for their empathetic nature or if they work in a charitable field (looking at you, sweet nurses and social workers) it's a thoughtful choice. The open hand is hand-carved and forged from recycled 14K yellow gold.
Dagger Earrings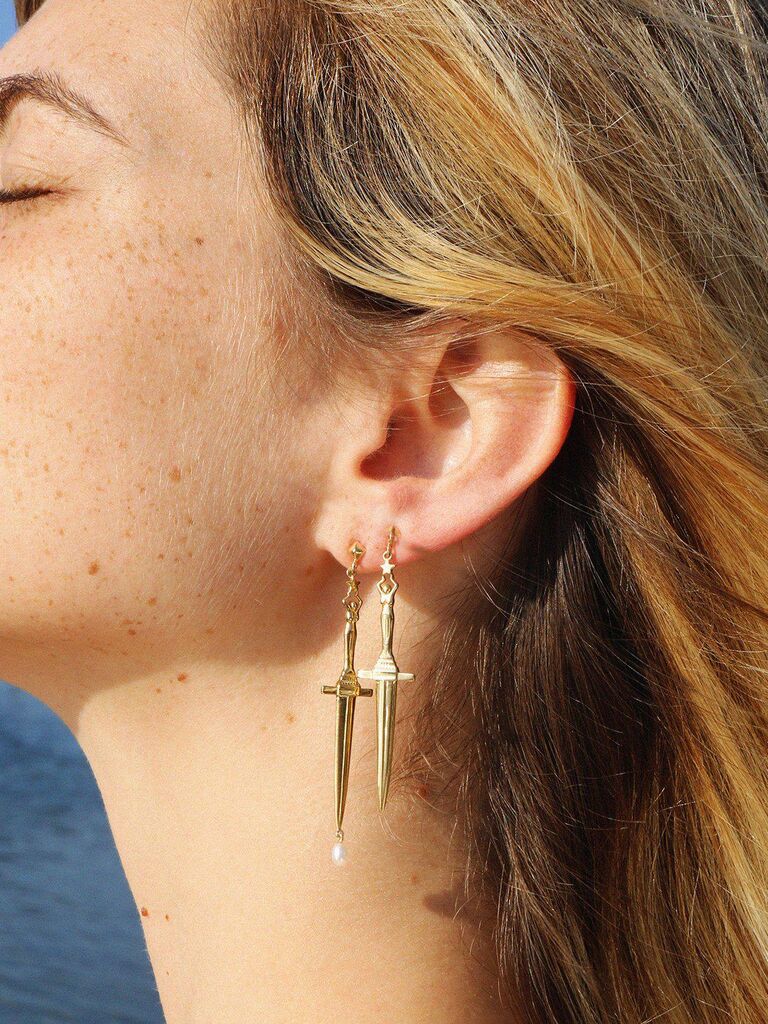 I don't gatekeep: I own these earrings and they're always in heavy rotation. Maybe it's because I'm a (mostly) reformed scene/goth kid, but there's something super sexy and cool about the way these wafer-thin, yellow-gold-plated daggers make every outfit edgy and elegant. And the freshwater pearl droplet on one adds some interesting asymmetry to the set.
Damia Pendant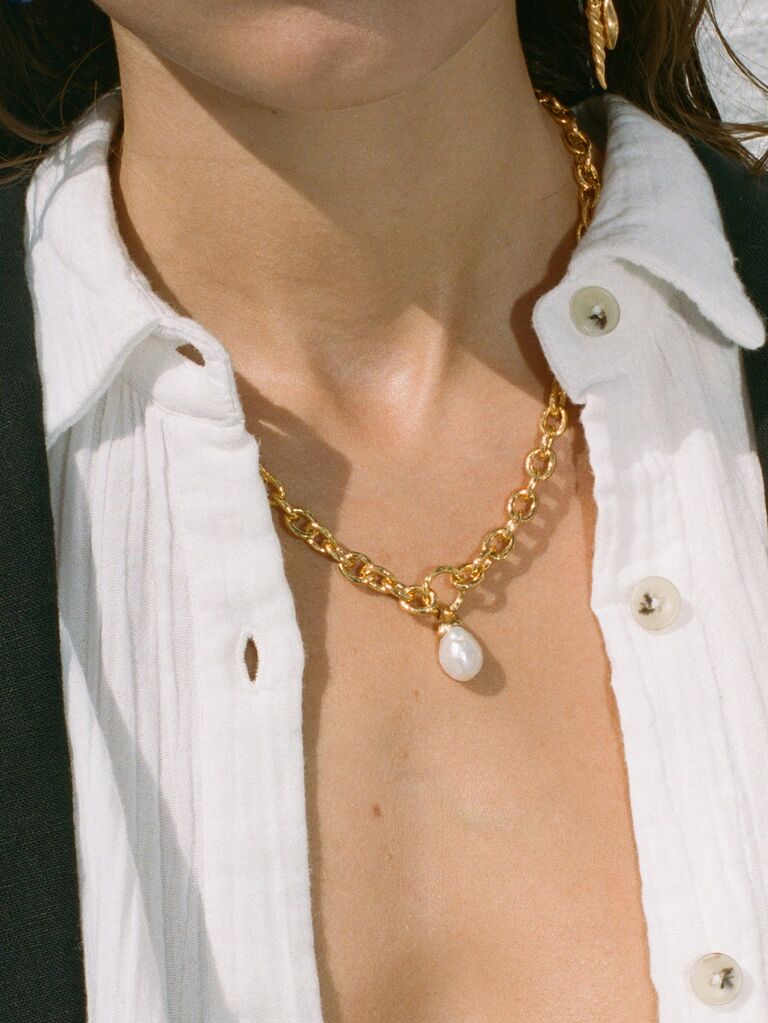 A pearl necklace, but make it something a Greek goddess vacationing in the French Riviera would wear. An iridescent Baroque pearl suspends from a chunky gold-plated chain to form perhaps the most go-with-everything statement necklace to exist. It can work alone or layered with longer, more delicate chains.
Mejuri
If you're looking for the latest jewelry styles at an accessible price point, Mejuri is your winner for a high-quality, yet affordable jewelry gift. You've probably seen the brand all over your Insta feed at this point, but seriously, it lives up to the hype. You'll find minimalist pieces that'll pair perfectly with nearly anything in the gift recipient's closet, from slick box-chain bracelets to sculptural rings. All designs are created in-house and new products drop every week, so you're bound to find something to suit their fancy. And since there are so many budget-friendly options, this is a great spot to look for a jewelry wedding party gift, if you're getting hitched.
Standout Mejuri Jewelry Gifts
5mm Curb Chain Necklace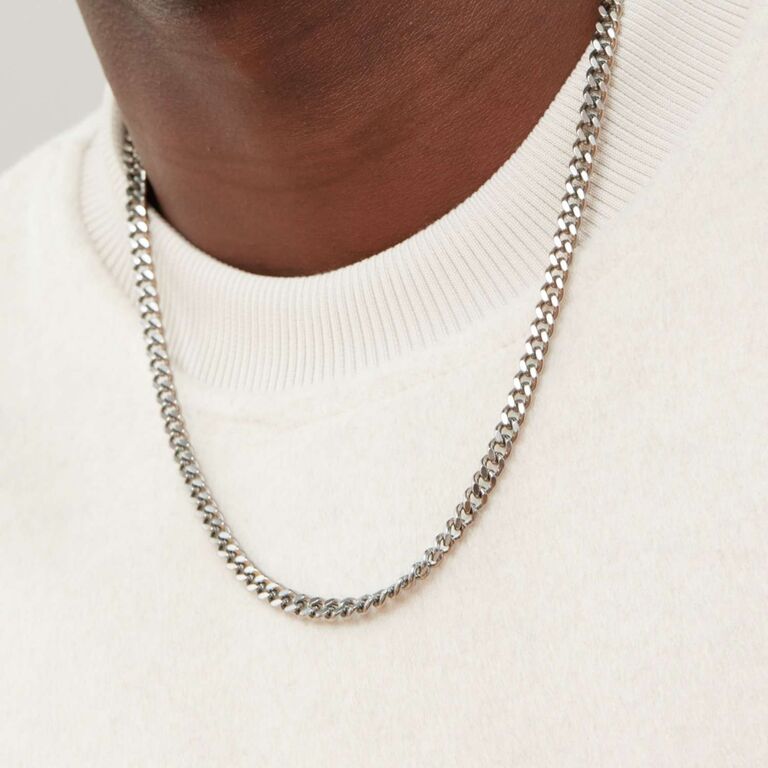 The flat-link style of a curb chain is always timeless and always on trend. We love how it adds some cool sparkle to a simple sweater or crew-neck T-shirt. Choose between tones that run the spectrum from silver to gunmetal.
Bold Pearl Drop Earrings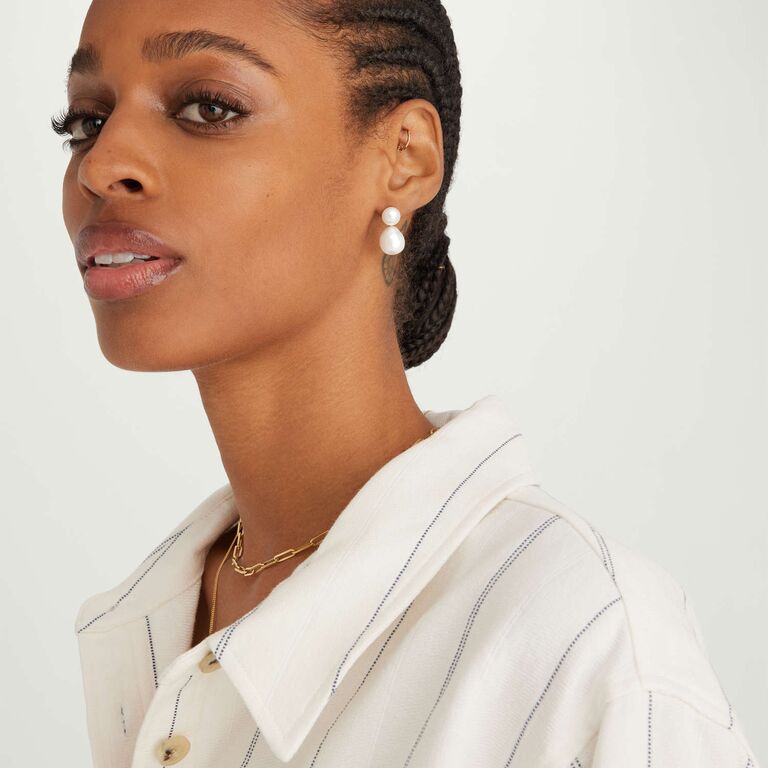 A pair of stunning double-pearl earrings for under $100? Run, don't walk. Smooth freshwater pearls pair together in these earrings to make subtle dangles that go from the office to the bar seamlessly.
Tiny Pearl Necklace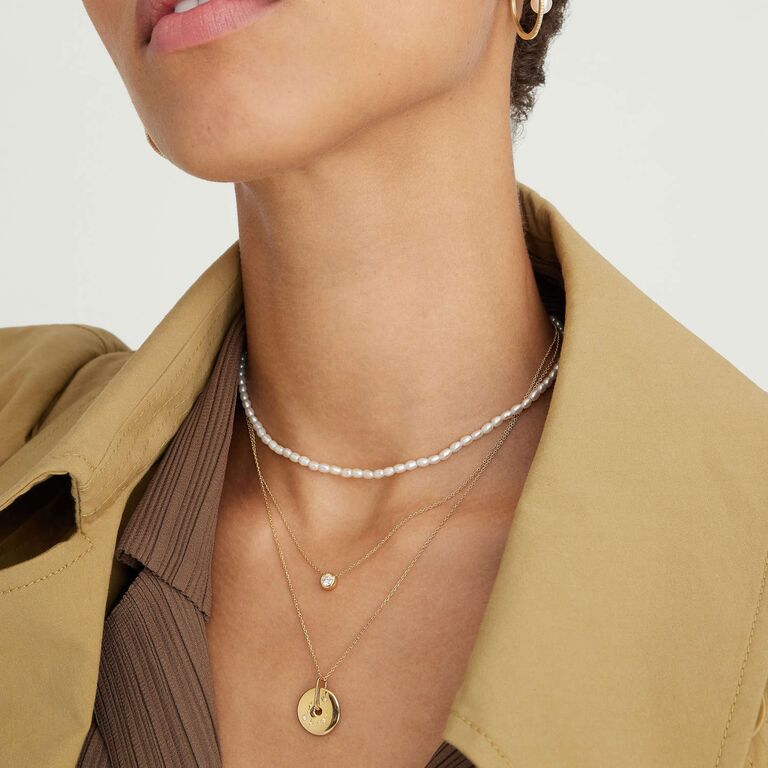 It feels like every Instagram cool guy is wearing one of these thin pearl necklaces these days, and this one feels versatile enough for everyone (even those of us who don't have more than 450 followers). It's pretty and delicate, with a seamless string of freshwater cultured pearls that are all a little uniquely shaped. We can't resist.
Made By Mary
Another stunning brand that won't break the bank, Made By Mary has the most lovely personalized jewelry. From pendants adorned with the wearer's birth flower to delicate ID bracelets, every piece from this jewelry gift shop is hand-cut and stamped by hand, so they feel just as special as the person you're giving your gift to. Founder Mary Mooney established her company after she had her first child and intends for her jewelry to mark special milestones for her customers. Whether you're doling out personalized charms to your wedding party, celebrating a birthday or honoring the birth of your own kiddo, this is the spot to shop.
Standout Made By Mary Jewelry Gifts
Birth Flower Necklace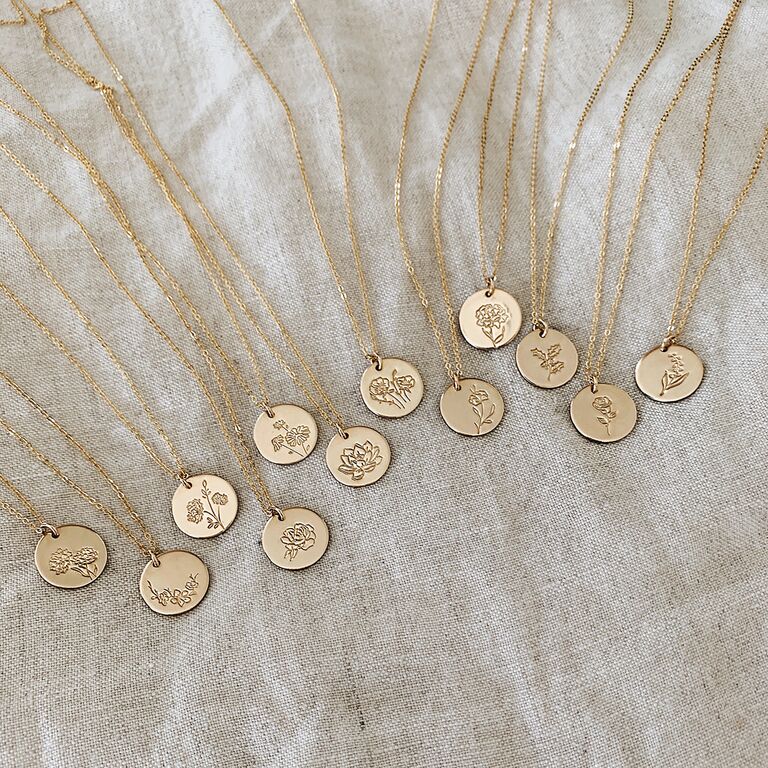 Fun fact: Every birth month is associated with a different bloom. So instead of opting for a classic birthstone necklace for your loved one's big day, try this birth flower version. It's stamped with a hand-drawn illustration of the special blossom and is available in multiple chain lengths, pendant sizes and materials.
Amara Customized Ring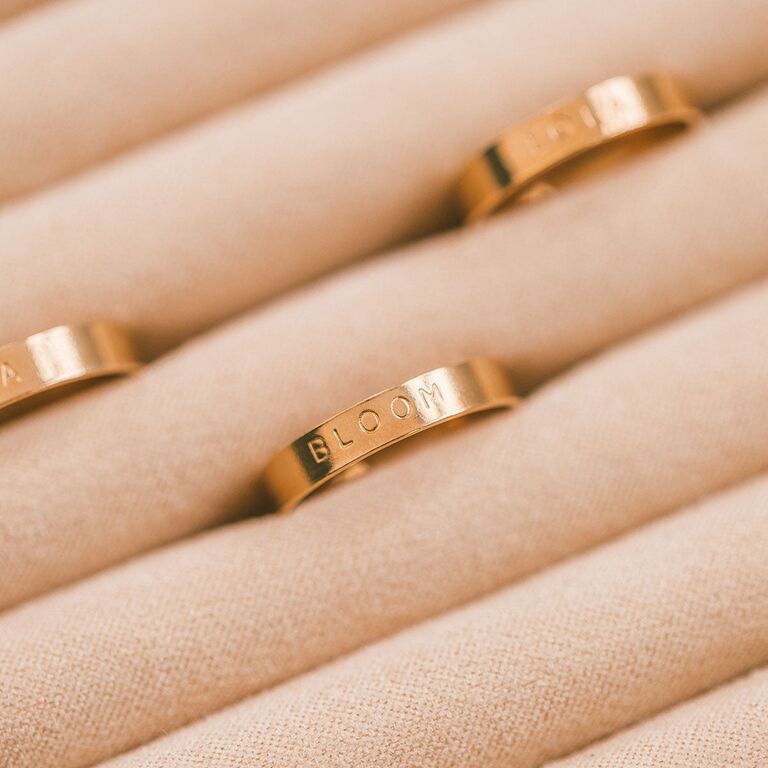 This simple gold band can be personalized with nearly anything you can think of—whether it be the wearer's name, a pair of initials, the name of a child or a meaningful word. We love the bold all-caps font and the ability to include certain special characters, like a heart. This is one of those never-take-it-off pieces.
Mini Oval Bracelet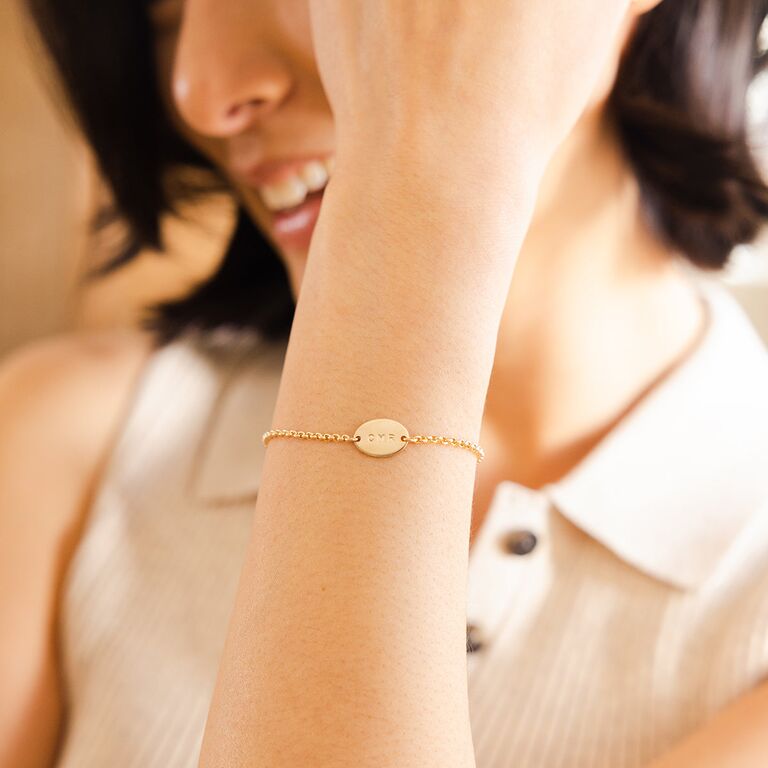 Sweet and subtle is the name of the game when it comes to this personalized ID bracelet. Instead of a classic rectangular plaque, it showcases a dainty little oval that's perfect for displaying a set of initials or a special symbol. And since the bracelet is so reasonably priced, we love them as a chic gift for your wedding party (if that's who you're shopping for).
STONE AND STRAND
One look at STONE AND STRAND's selection of dainty accessories and you'd expect them to cost a pretty penny. But there are a slew of options available for under $100 that have the quality of bespoke baubles. The brand pulls this off by manufacturing their pieces at the same makers that other premium brands use, so you're really getting a deal. The conflict-free gemstone that glitter atop the label's wispy gold chains and sleek cuff bracelets are paired and placed so beautifully—it's like you're gifting wearable art.
Standout STONE AND STRAND Jewelry Gifts
Pearly Initial Necklace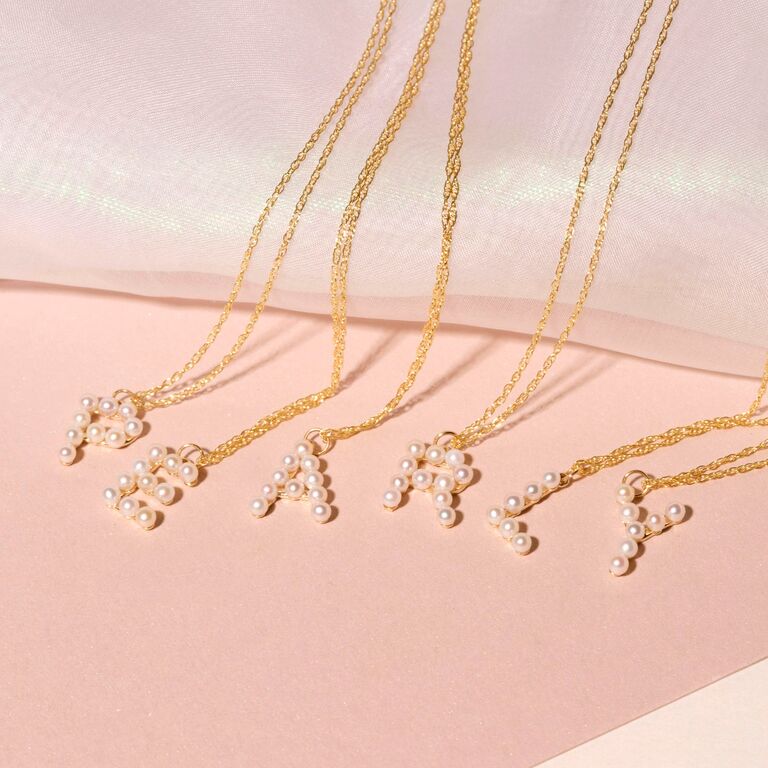 Okay, I'm sure you can tell I'm into pearls by this point, but how darling is this pearl-adorned initial necklace? It's made from solid yellow gold, too. I think I'm going to get one for myself.
Baguette Diamond Line Necklace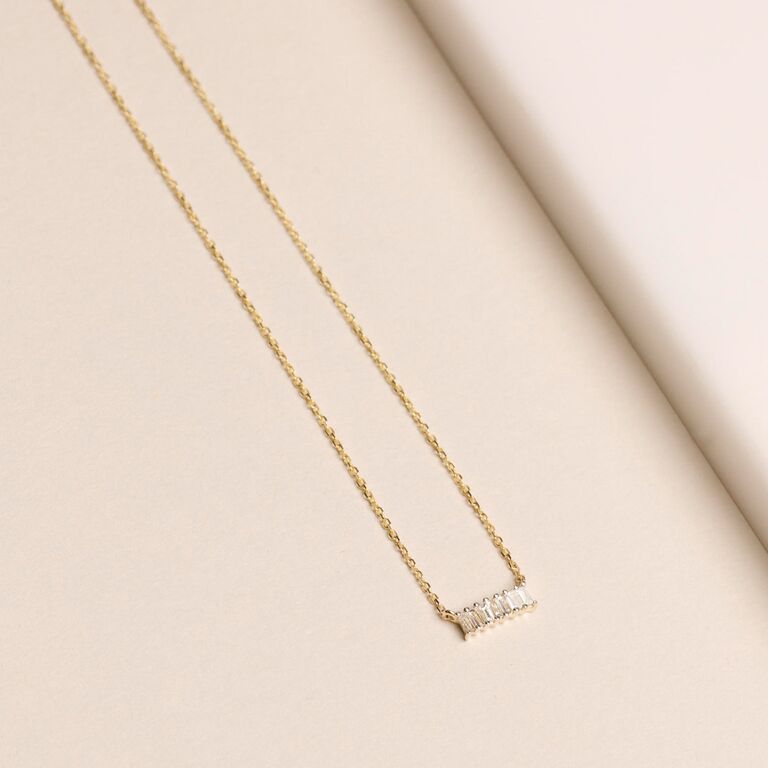 Everyone needs a fleet of classic gold layering necklaces and this one will be a welcome addition to your loved one's collection. The seven glittery baguette-cut diamonds are all ethically mined and sit in a perfect row. Each one was selected by hand, too.
Green Goddess Drop Earrings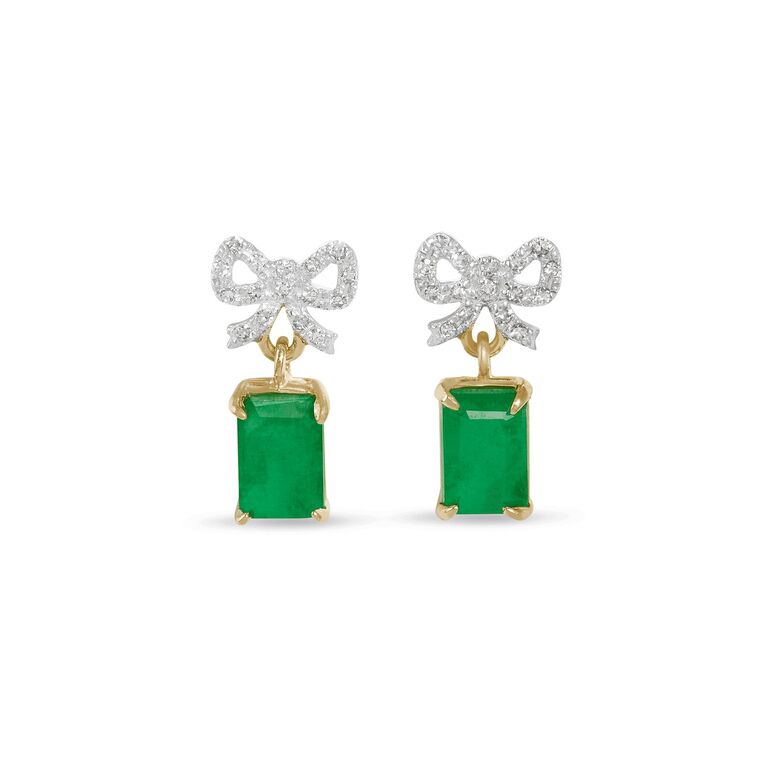 I'm in love with these emerald and diamond little drop earrings. I feel like the delicate bows would make me the most well-accessoried extra in "Bridgerton"—and that's saying something. But seriously, they're giving Regency opulence/estate jewelry vibes.
David Yurman
I splurged one Christmas to buy my mom a pair of classic David Yurman Cable hoops and she wears them for nearly every special occasion (and I get so many secondhand compliments about gifting them), so I had to give this legacy, luxury brand for fine jewelry gifts a shoutout. Besides the happy gasp you'll get from your loved one once they see the name on the jewelry box, you'll also get the assurance that you're investing in high-quality pieces made entirely with conflict-free diamonds. Even if it's just a pair of studs, everything designed by David Yurman makes a classic, yet modern statement—including the brand's really cool selection of men's and more gender-neutral pieces.
Standout David Yurman Jewelry Gifts
Armory Black Leather Bracelet With Sterling Silver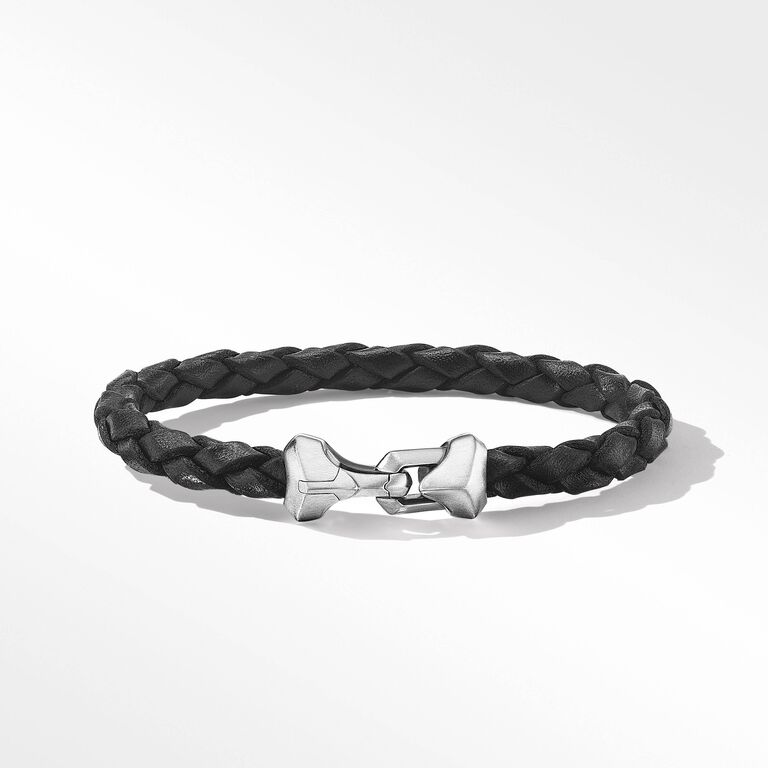 Inspired by medieval armor, this cool leather bracelet features a woven band and sterling-silver clasp. It's tough, yet polished. Choose between black or brown leather.
Petite Buckle Ring in Sterling Silver with 18K Yellow Gold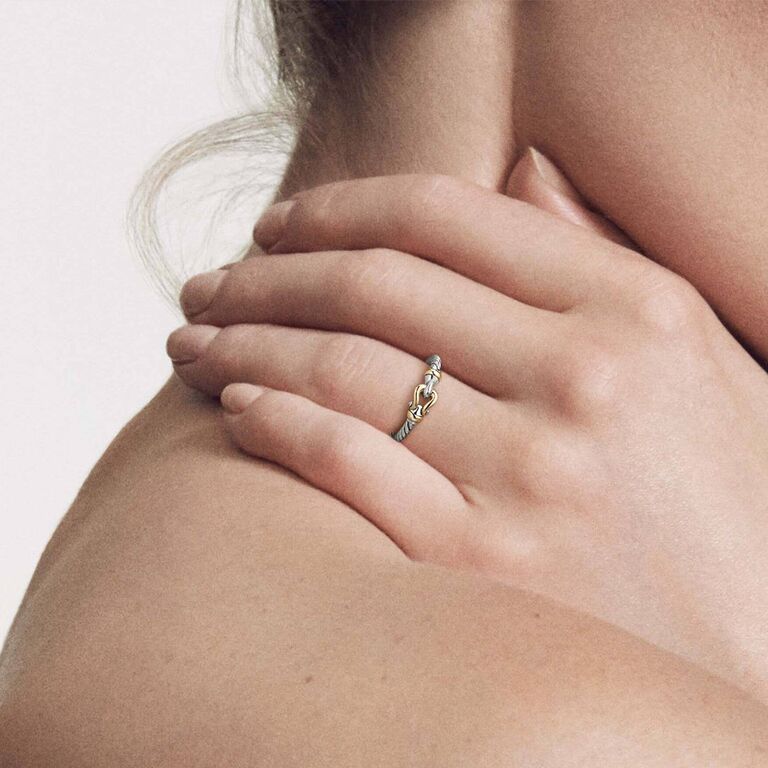 From the iconic Cable Collection, this ring blends sterling silver and 18K yellow gold in an elegant and somewhat-whimsical buckle design. For such a delicate piece, the level of detail is immaculate. If the person you're shopping for is married, this baby will rival their wedding band.
Belmont Curb Link Hoop Earrings in Sterling Silver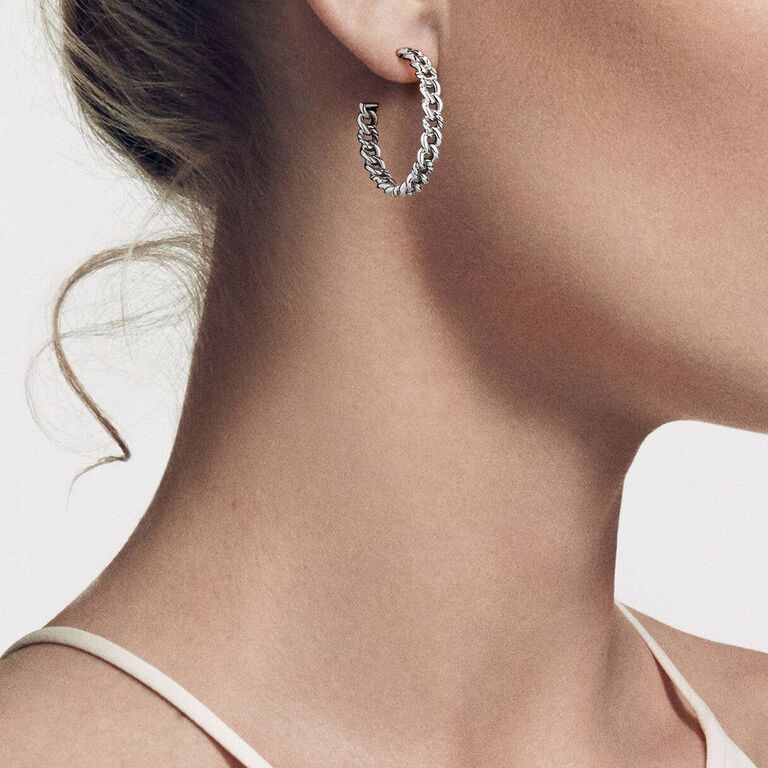 These chain hoop earrings strike the perfect balance between classy and edgy. Each has a one-and-a-quarter-inch diameter—AKA the Goldilocks of hoop sizes, not too big or too small. And each link is assembled by hand.
KHIRY
What do Cardi B and Michelle Obama have in common (other than both being iconic Black women in their own respects)? They've both worn KHIRY jewelry creations. Founder Jameel Mohammed works almost exclusively with vermeil to craft his contemporary designs that pull imagery and inspiration from the African Diaspora—think: thick, gold teardrop earrings that look like heavy drizzles of honey. Many of the pieces feel like cool, sculptural alternatives to the everyday gold jewelry trend, so they're perfect for pretty much any gifting occasion.
Standout KHIRY Jewelry Gifts
Jug Drops in Sterling Silver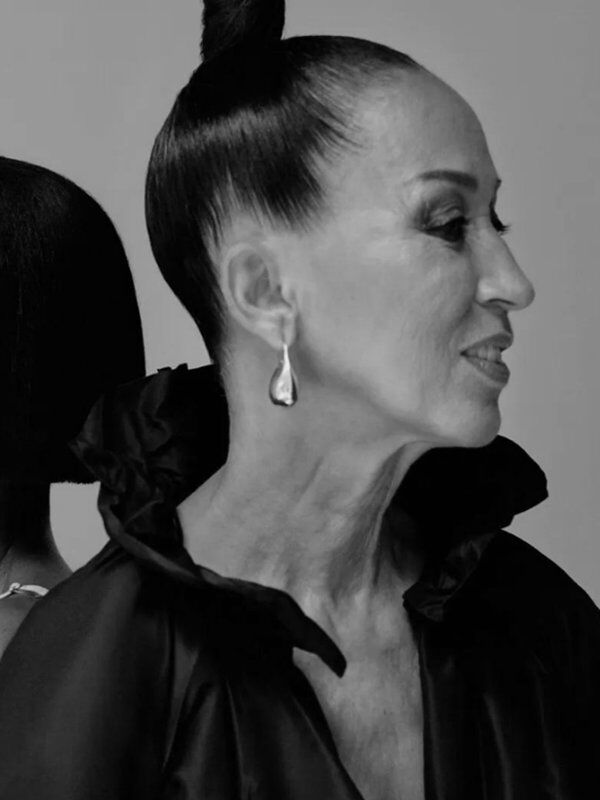 These shapely drop earrings are inspired by the form of water jugs. And the polished sterling silver only adds to that liquid-like quality. Bold and graceful.
Tiny Isha Hoops in Polished Gold Vermeil With Pearl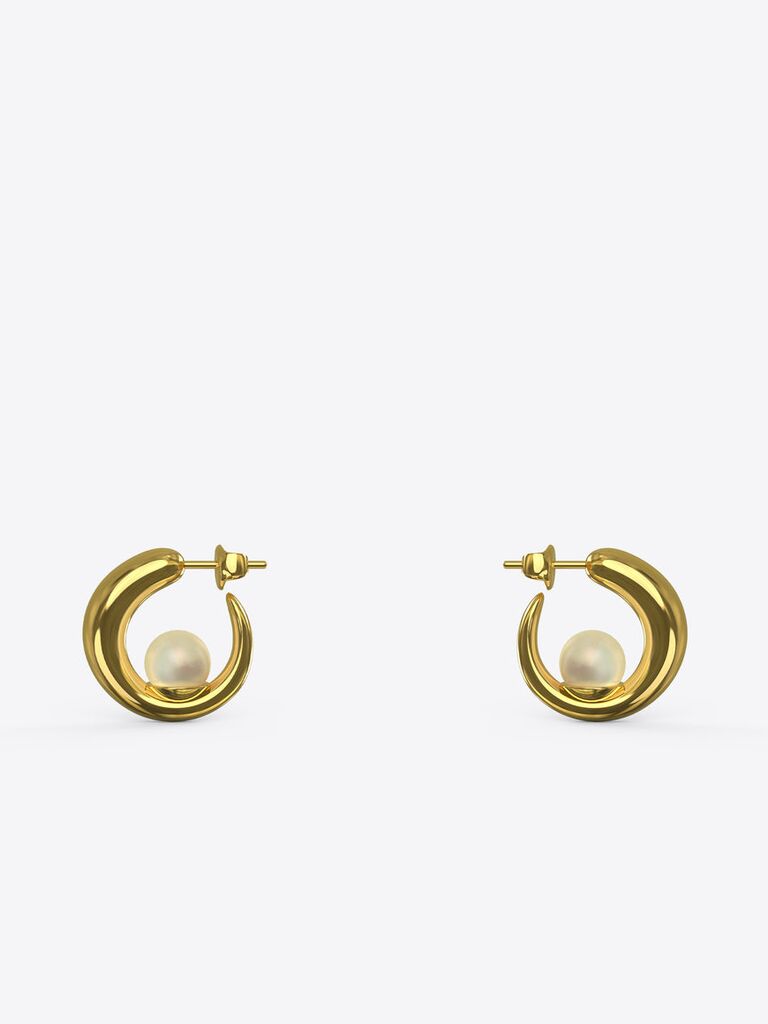 Another lovely pair of earrings from KHIRY, these little hoops feature a perfectly perched pearl on the tail of each one. The earrings are an open circle shape, with little cups where each freshwater pearl rests. Made with 18K gold vermeil.
Khartoum II Ring With Rose Quartz Inlay in Gold Vermeil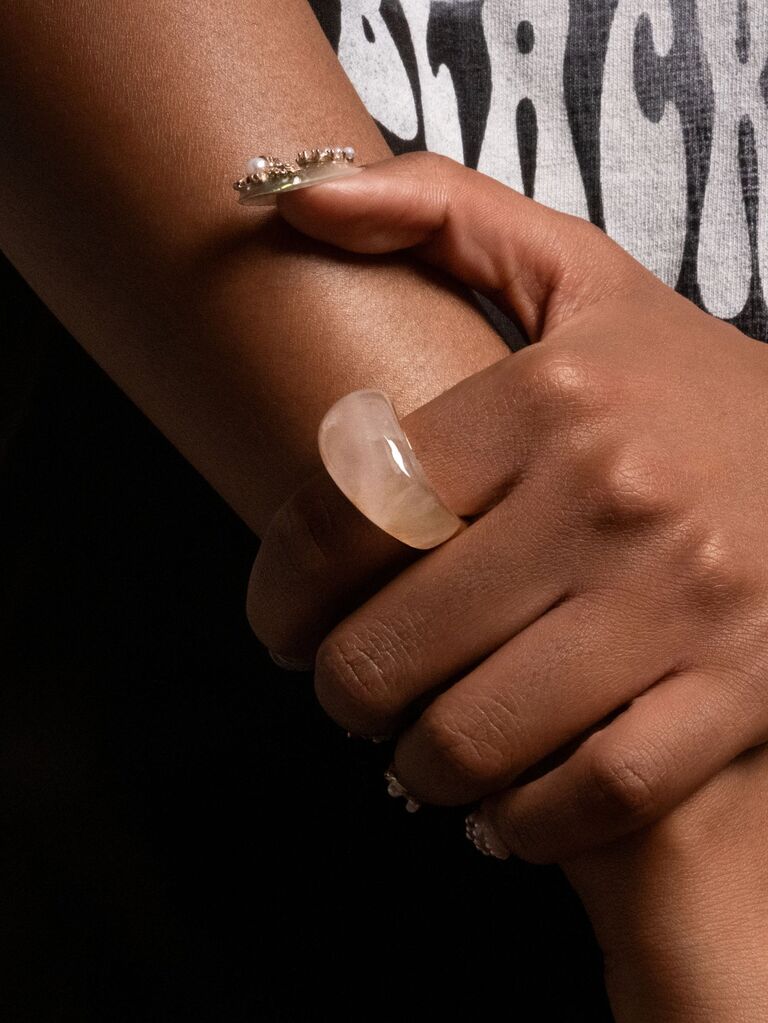 This statement ring's rounded inlay of rose quartz feels so lush. The smooth domed cut of the stone makes for a cool, modern take on a cocktail ring. Polished gold vermeil brings out the quartz's warm tones even more.
éliou
Handmade, genderless jewelry that feels like a beachy summer in accessory form? We're in. This brand is super playful, using colorful beads, alphabet letters, shimmery freshwater pearls and fruit-colored resin flower charms to make statement accessories. Their mismatched beaded necklaces are the perfect bestie birthday gift. And they even have a wedding collection with jewelry featuring blends of pretty white beads that would be the perfect surprise for your pal getting hitched.
Standout éliou Jewelry Gifts
All the Feels Pearl Necklace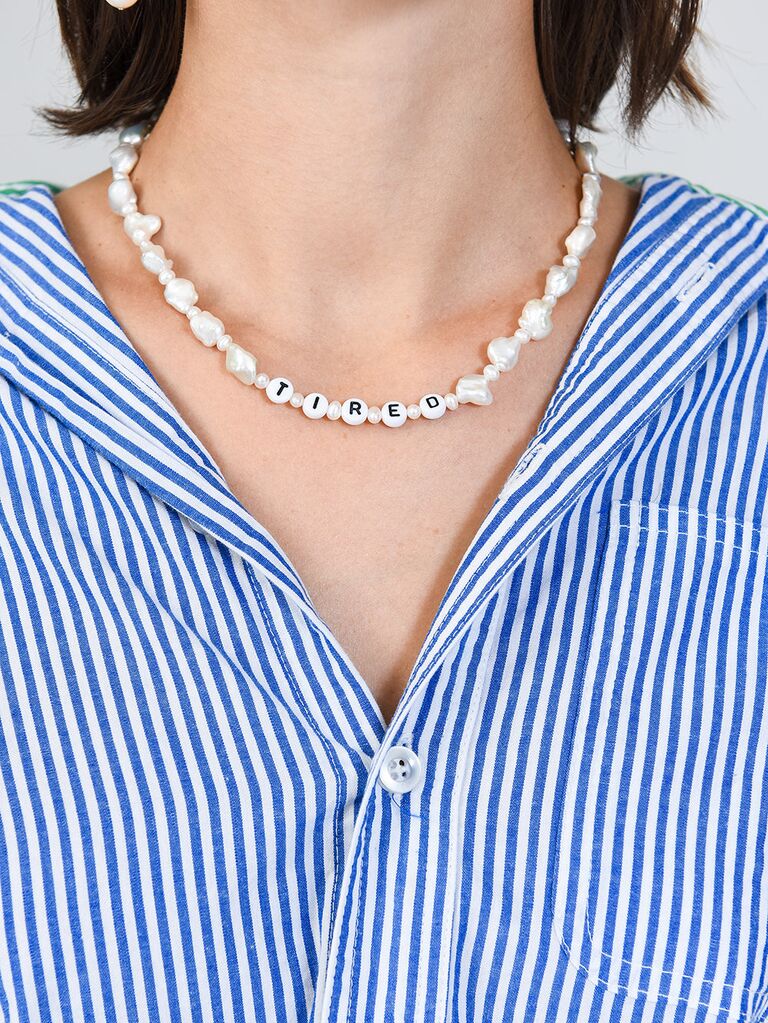 I feel like this necklace really gets me. A string of gorgeously dimpled freshwater pearls frames the word "tired" spelled out in nostalgic letter beads. If you're shopping for your bride-to-be bestie, would this necklace not be an amazing bachelorette party jewelry gift? Oh, also, Harry Styles wore a custom version of this necklace in a Vogue shoot last spring.
Shroomie Necklace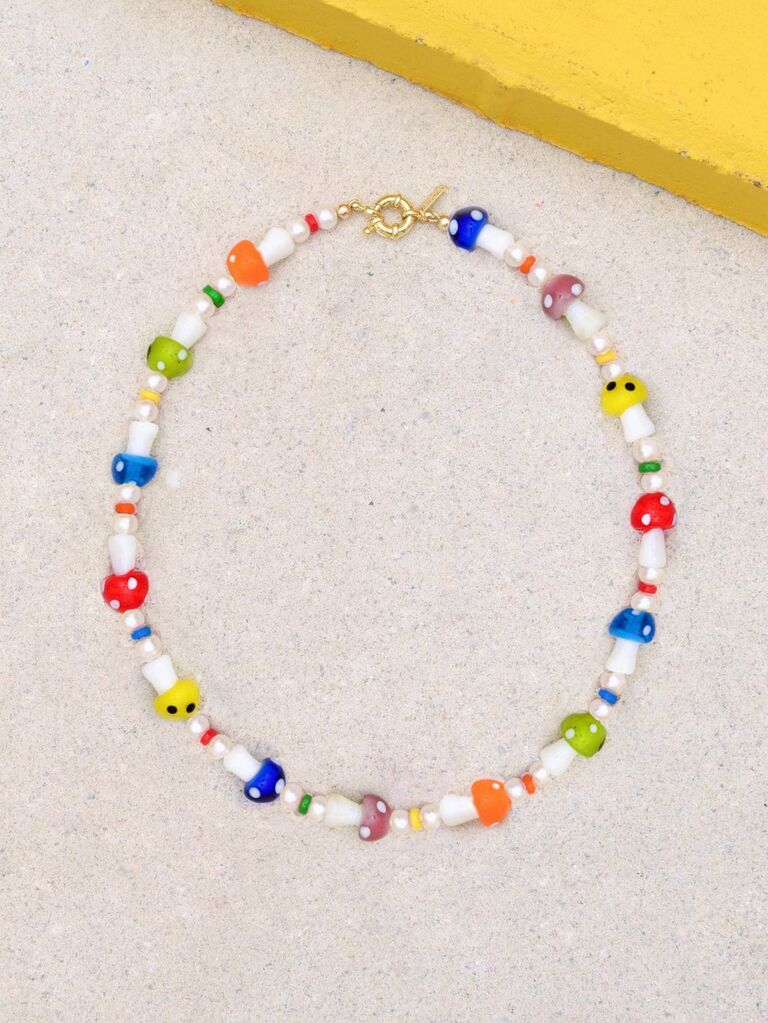 This necklace is giving cottagecore-meets-maximalism energy. And I'm here for it. Little multicolored glass mushroom beads alternate with freshwater pearls in this whimsical strand.
Simo Earrings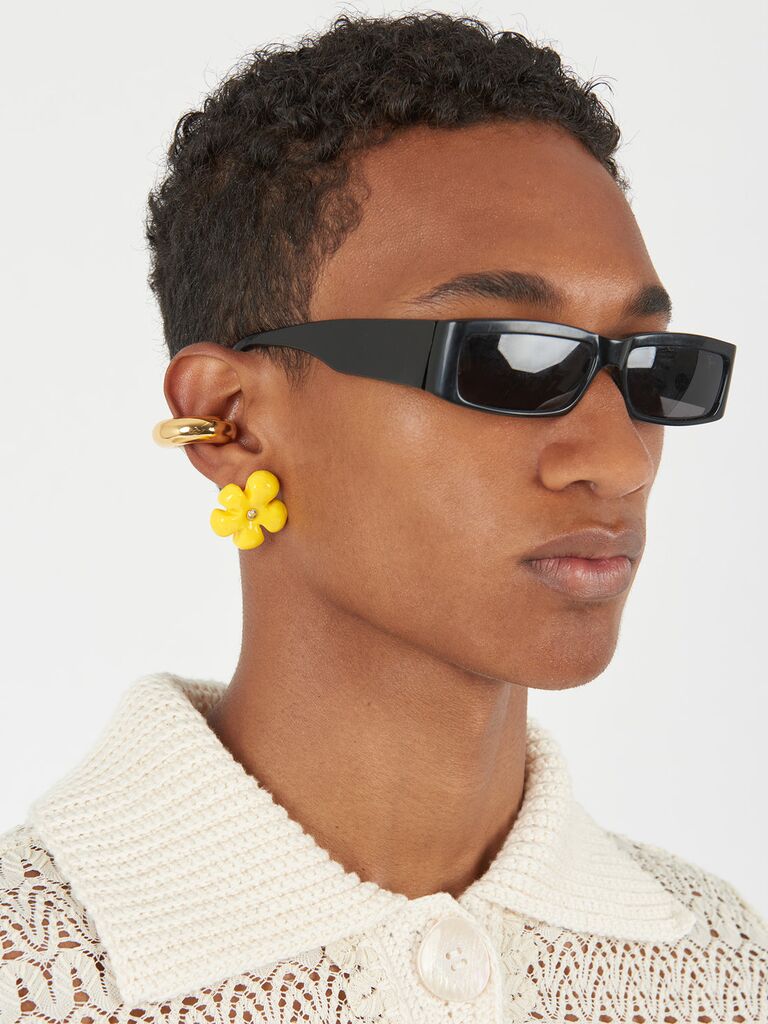 Sunshine in earring form. This duo of yellow resin flowers is totally groovy. Each earring features a glittery cubic zirconia at the center and freeform petals that feel so 1960s.
Brilliant Earth
It wouldn't be a list of the best jewelry gift stores without including one of the OGs when it comes to sustainable gems. Brilliant Earth is known for their stellar, sparkly engagement rings (which are all sourced using the brand's rigorous responsible diamond sourcing methods), but the quality, traceability and transparency extends to their other pretty pieces, too. You'll find elegant, understated jewelry that's perfect for a sweet anniversary gift or thoughtful graduation gift.
Standout Brilliant Earth Jewelry Gifts
Diamond Bar Bracelet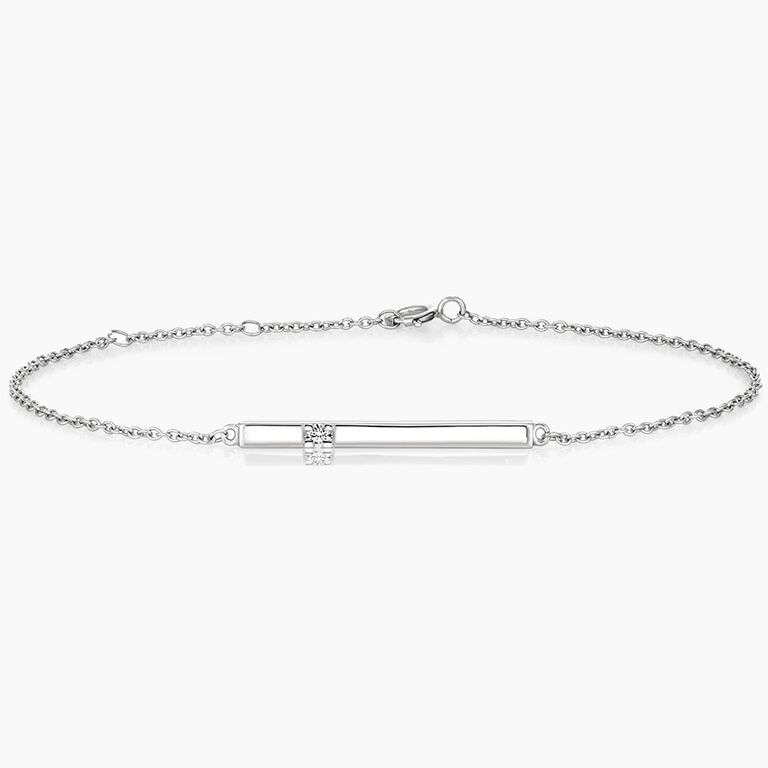 A contemporary take on a diamond bracelet, this lovely accessory features an ultra-thin bar adorned with an off-center diamond (or blue topaz, if you'd prefer). The clean lines and classic cable chain make it suitable for everyday wear alone, but it also plays well with others in a sparkly stack for special occasions. Available in silver, yellow gold and rose gold.
Solitaire Opal Stud Earrings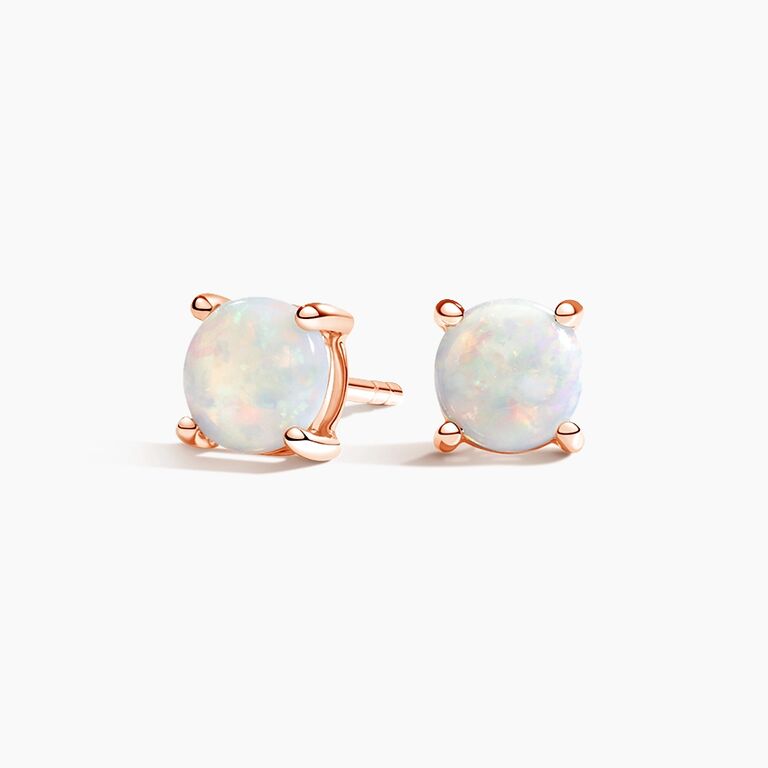 The magical iridescence of opals is so enchanting. And the way the pink and purple tones of the stones are brought out by the rose gold settings in these studs make them feel especially mystical. But if yellow gold or silver suits the gift recipient's style more, those options are available, too.
Crescent Moon Aquamarine and Diamond Pendant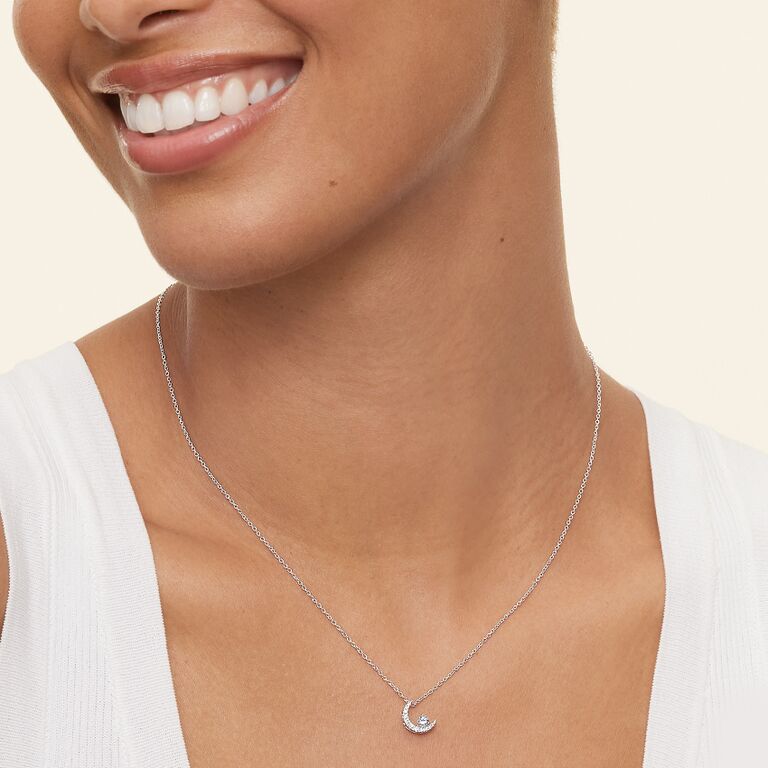 If the person you're shopping for is a total night owl, this necklace would be a thoughtful present. A diamond-encrusted crescent moon cradles a single sparkly aquamarine on a silver chain. Simply celestial.
VRAI
Speaking of sparkling lab-grown diamonds and gemstones, Vrai makes them look so sleek and stylish by setting them against 100-percent recycled gold (no plating or vermeil over here). Each jewel is cultivated at the brand's water-powered, US-based facility (hello extra sustainability points). Also, each piece of jewelry goes right from design and production to the consumer, so you can get bling that won't break your budget. Diamonds are forever and diamonds are for everyone—scoop up a piece from VRAI to show your honey that your love for them is forever, too.
Standout VRAI Jewelry Gifts
Pavé Hoops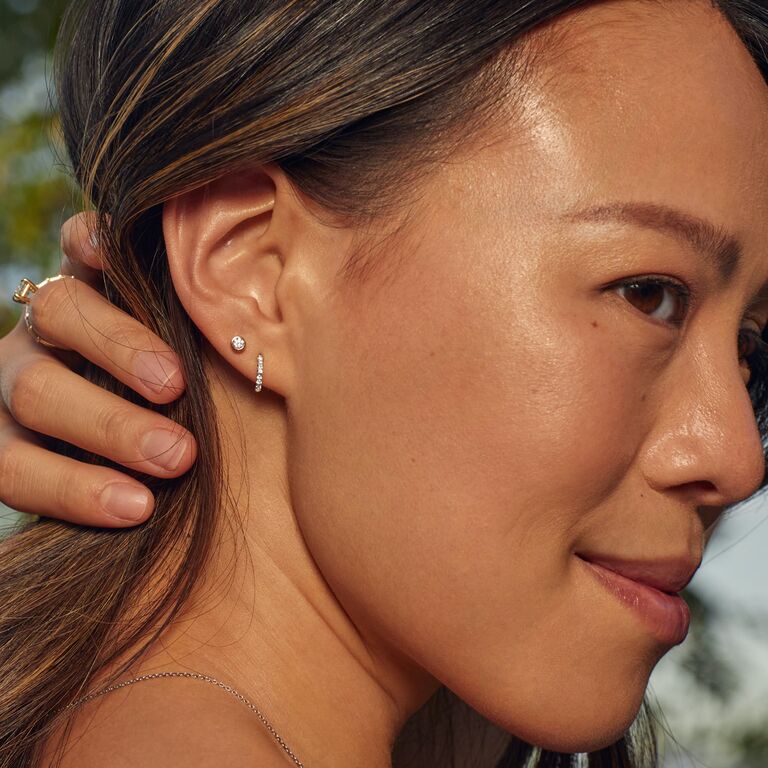 A pair of tiny gold huggie hoops is a jewelry box staple for me and this set kicks things up a notch by covering each earring in little diamonds. They're available in three gold bases, but the yellow gold is my favorite for sure. The smallest size is perfect for wearing in a first or second ear piercing, but there are three more larger sizes available if those feel more their style.
North Star Medallion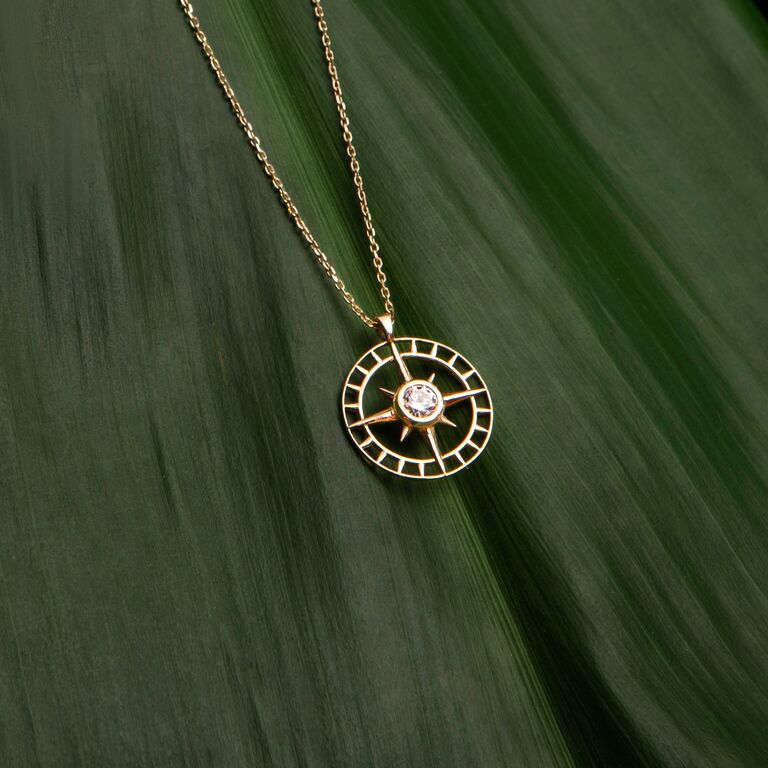 IF the person you're shopping for is your compass in life (always keeping you grounded and pointing you in the right direction), this pendant is a sweet way to remind them of that status. It features a North Star motif with a brilliant-cut diamond at the center. Solid 14K gold.
Petite V Necklace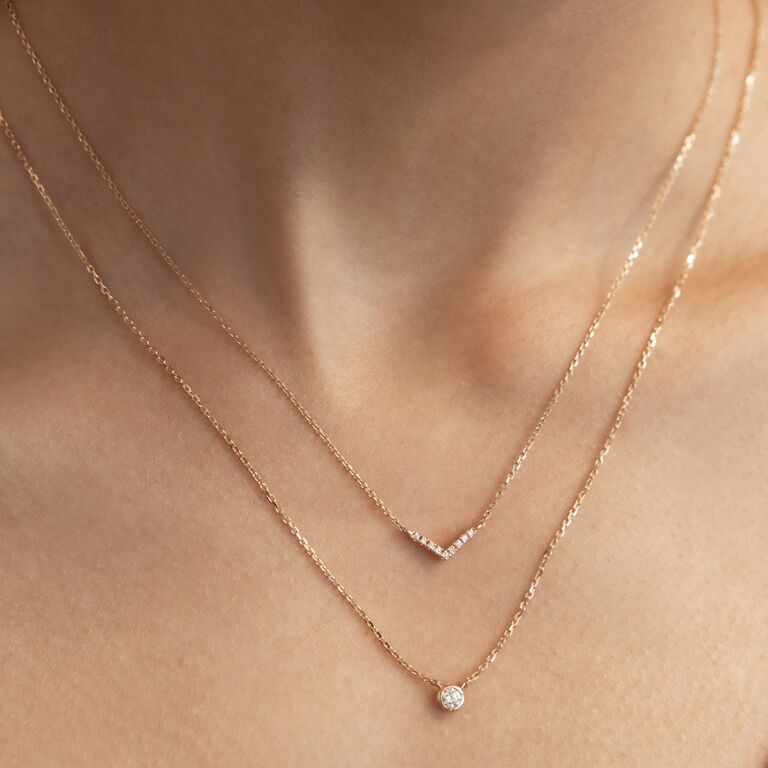 This is a necklace the wearer will never take off. The V shape at the bottom of the chain is subtle and flattering, adorned with nine diamonds. Available in silver or yellow gold.
AGMES
Each piece of jewelry from NYC-based AGMES is truly a dream. Organic, yet architectural shapes are this brand's calling card, as well as each piece being handmade and made to order. What's more: The jewelry is made from fine, recycled metals. Somehow each accessory feels simple enough to wear daily, but also special, with subtle details like supple dimpling and wonderfully wiggly silhouettes. AKA these jewels are just as refined as the person you're giving them to.
Standout AGMES Jewelry Gifts
Sum of Parts Pendant Set
Shopping for your undeniably chic bestie? Try this modern pair of (adult) friendship necklaces (so you're giving and getting a gift, basically). Both feature a unique, organic shape that looks sleek on its own and kind of like an abstract half of a heart when shown as a pair (aww). You can get each of your initials engraved on the bottom.
Baroque Patrice Earrings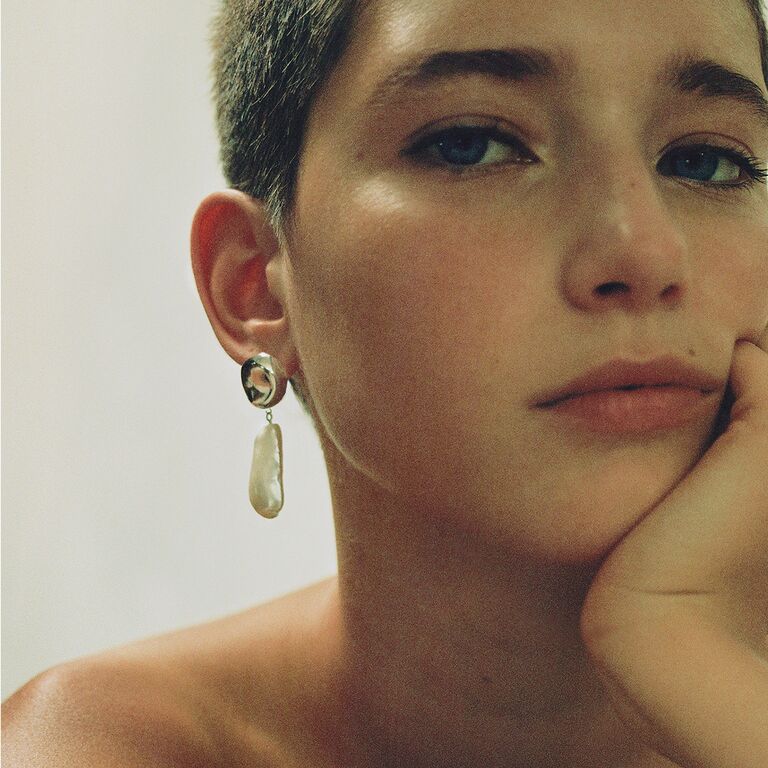 Mermaid earrings. That's what these are. An elongated freshwater pearl dangles from a polished gold or silver disc for a look that's organic and contemporary.
Small Vera Earrings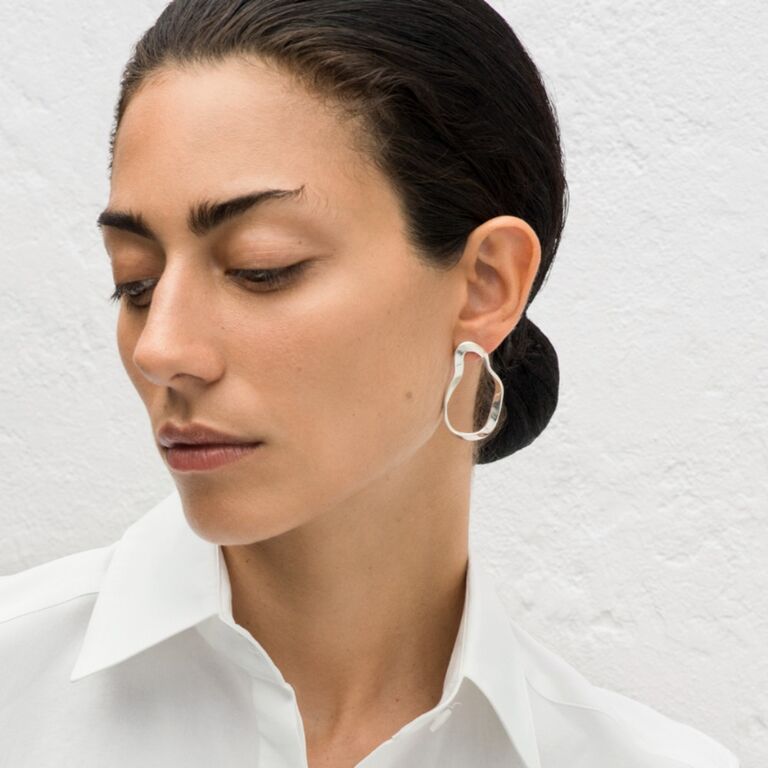 These oval earrings feel like a lightly folded loop of ribbon. Each shape has facets and folds that make them dynamic, yet still minimalist in nature. Available in silver or gold vermeil.
Swarovski
Diamonds are great, sure, but don't sleep on the crisp sparkle of crystals. And no one does luxury crystals better than Swarovski, which has been the best on the scene for centuries. You're bound to find plenty of baubles to fit your budget as well as a few splurgey trinkets, if that's what you're in the market for. And since the label inducted former fashion editor Giovanna Battaglia Engelbert as their inaugural creative director, the brand has only gotten bolder and cooler, but still has many sophisticated options for the traditionalists out there. Because nothing says modern versatility better than the ability to buy a pink teddy bear pendant and a crystal body chain bra at the same place.
Standout Swarovski Jewelry Gifts
Matrix Tennis Bracelet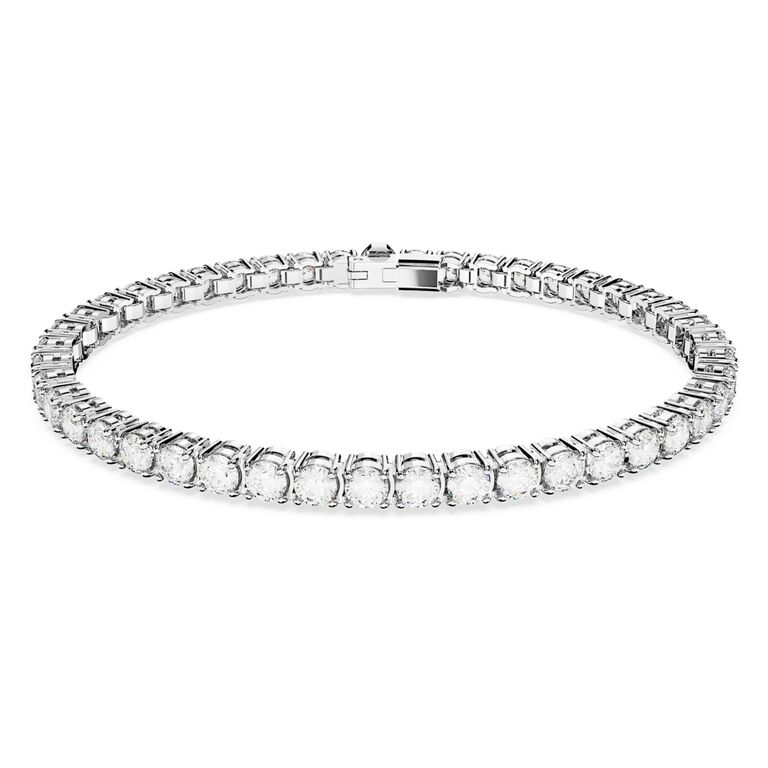 You can't get any more classic than a tennis bracelet when it comes to jewelry gifts. And this one will shimmer like crazy every time its round-cut crystals catch the light (even if the recipient's forehand isn't exactly Wimbledon-level). Choose between a silver-, gold- or rose gold-toned base metal.
Luna Choker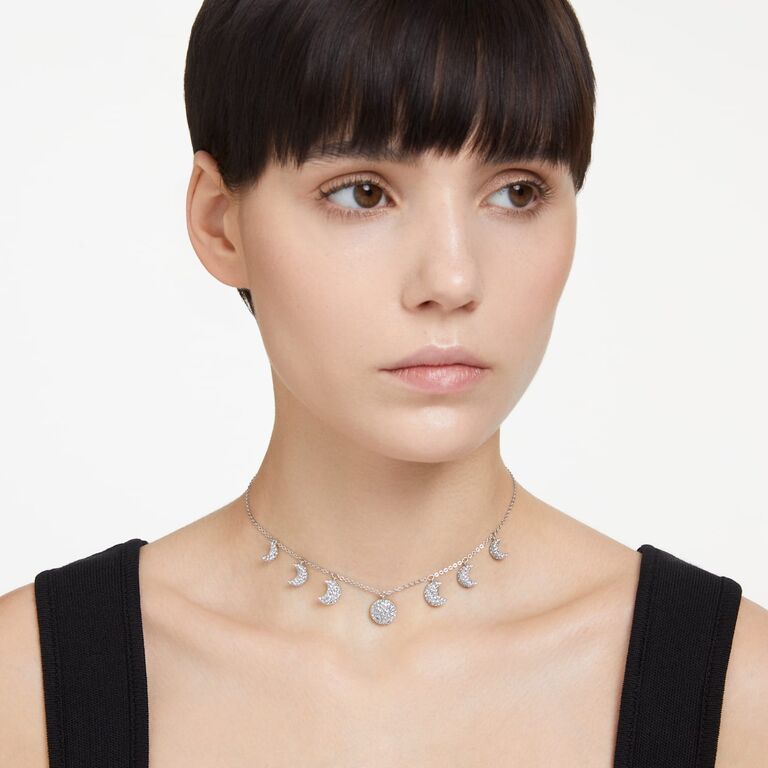 Do they put the stars in your sky? Surprise them with this gorgeous celestial-themed choker, featuring six crescent moon charms and one full moon charm all cloaked in crystals. They'll shine brighter than the entire Milky Way when they wear this.
Matrix Ring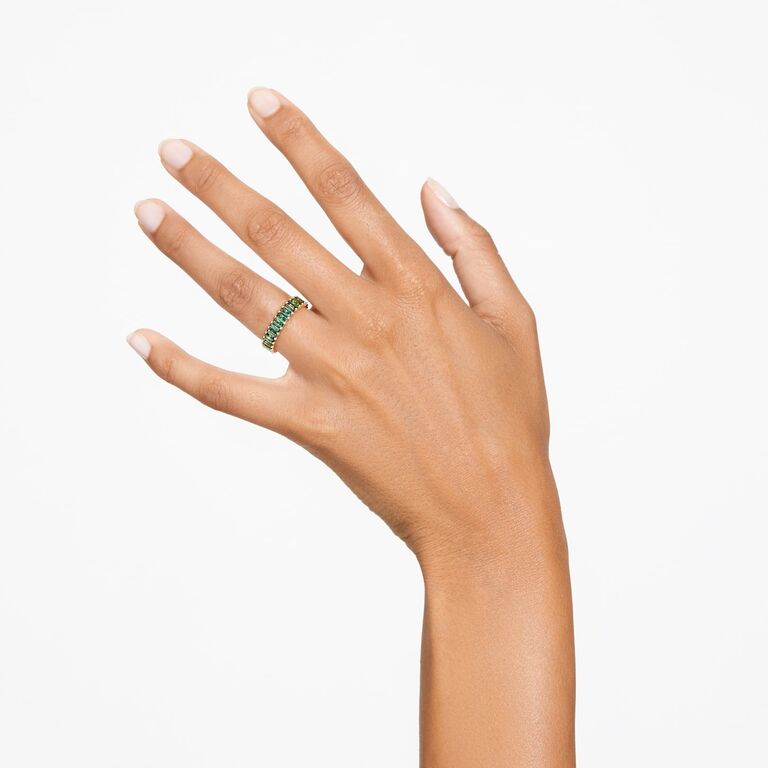 There's something so sleek and sophisticated about this glittery ring. Its entire circumference is covered in baguette-cut crystals nestled so close together that it reads like a seamless sea of shimmer. You can select between four colorways, but there's something especially rich and intriguing about the emerald and gold-toned combo.