28 Great Mother's Day Gifts for Your Wife That Celebrate Her
Show her she's a super mom and spouse.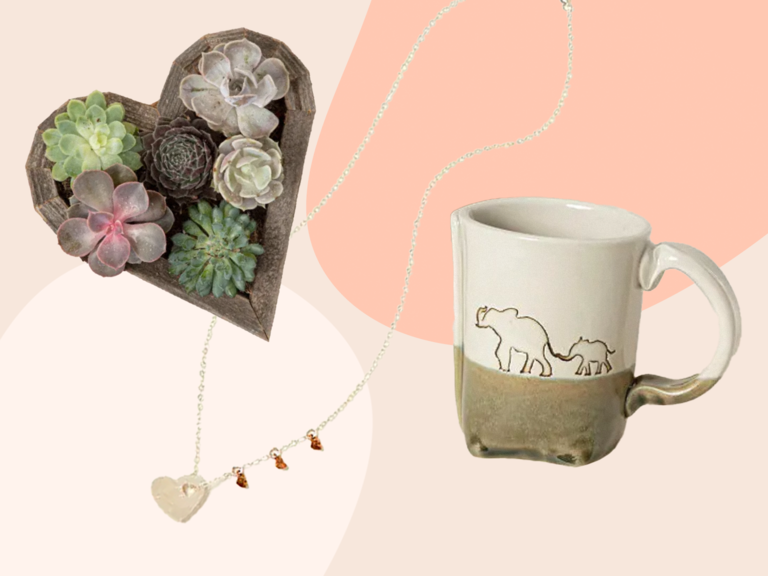 Uncommon Goods | Design by Tiana Crispino
We have included third party products to help you navigate and enjoy life's biggest moments. Purchases made through links on this page may earn us a commission.
PSA: Mother's Day is the second Sunday of May, which means it's time to give moms, mother-in-laws and grandmothers extra love. This holiday isn't just for kids to celebrate, though, if your spouse is a super mom, she deserves a present from you. Mother's Day gifts for your wife will show her how much you appreciate the time, energy and support she gives you and your kids every day—you can't imagine parenting with anyone else. While your kids have the charming, homemade crafts covered, you can get gifts for your wife that range from sentimental jewelry, self-care goodies or presents related to her favorite hobby. And we have just the products in mind! Whether this is her first Mother's Day or you've been celebrating for a decade, here's exactly what to get your wife for the holiday. Shop the best Mother's Day gifts for your wife below!
1. Family Heart Necklace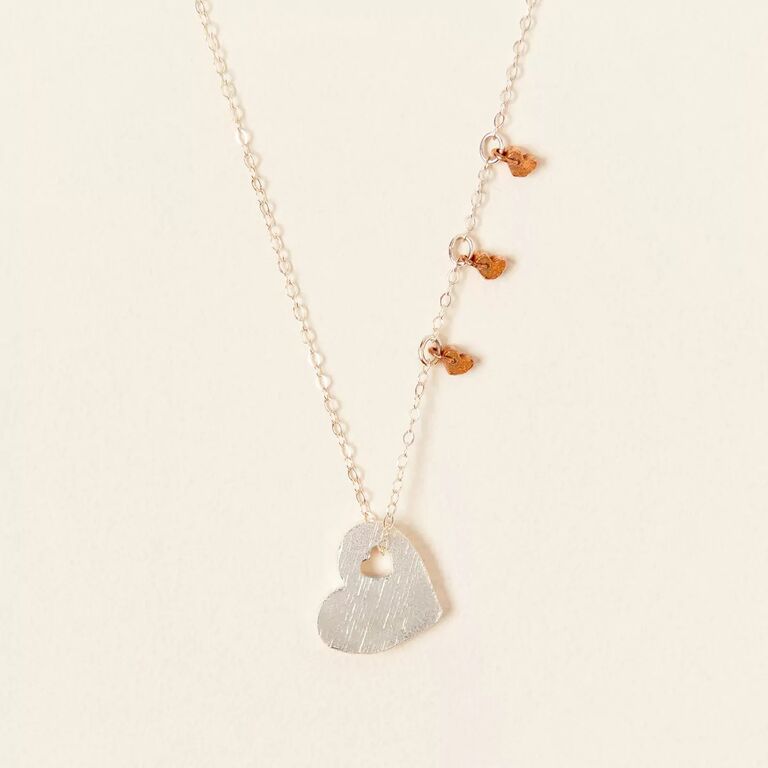 We've yet to find an occasion where jewelry isn't a great gift for your wife. And this meaningful necklace is just the thing to hand over on Mother's Day. It represents a family with a wooden heart pendant cast in sterling silver to symbolize the tree of life and up to five small, rose-plated brass heart charms along the chain for each child or grandchild she has. Now, no matter how big they get, she'll always have her kids close to her heart.
2. Tea Gift Set
Tell her she's a tea-riffic mom with this Mother's Day gift set from Sips by. It comes with four teas—Yuzu Cream Earl Grey, Butter Almond Croissant, Sparkling Rosé and Blueberry Scones—as well as disposable tea filters and one reusable muslin cloth tea filter. You can even add on a gift card, so she can sign-up for a three-, six- or 12-month subscription. Sounds like a tea party is in order to celebrate Mother's Day—even the kids will love it.
3. Baby Animal Mug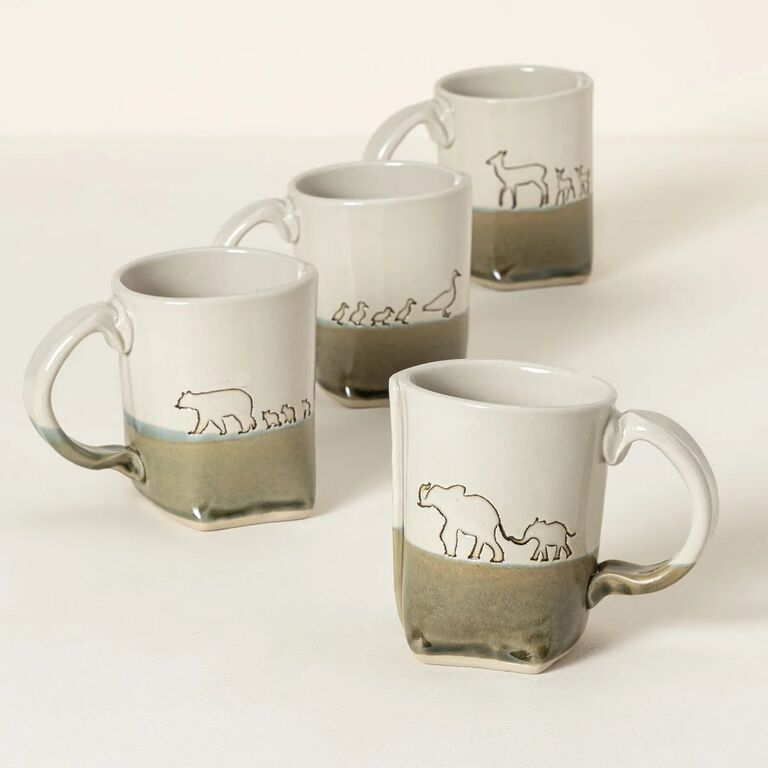 Handcrafted from stoneware, this unique mug design celebrates a mother's guidance by depicting baby animals following their trusted leader—mom! Choose between one elephant, two fawns, three bear cubs or four ducklings, depending on how many children you have together. She'll feel so loved starting her morning with coffee or tea from this sweet Mother's Day gift.
4. Hand Care Set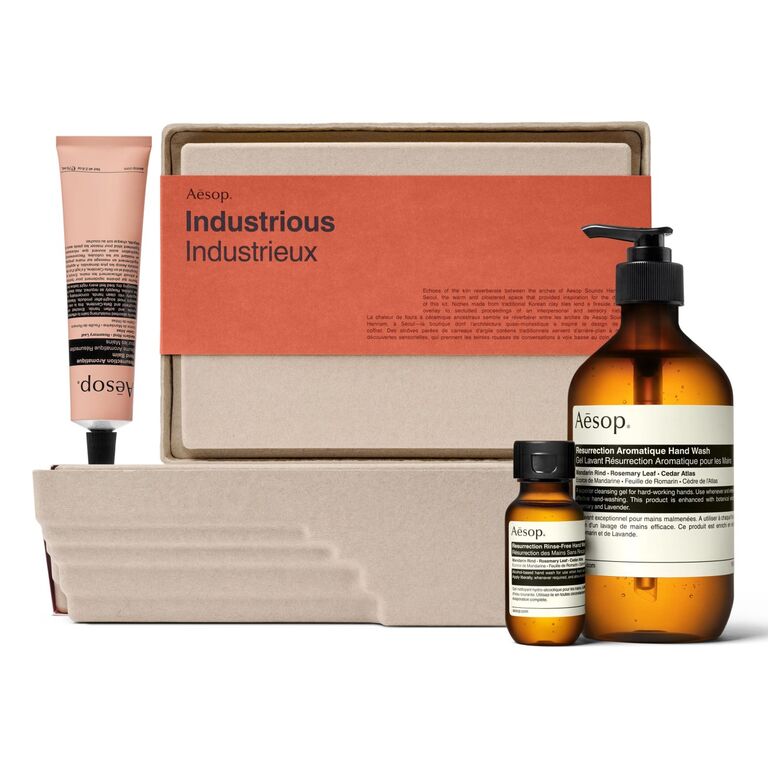 Whether it's post changing a diaper, wiping their toddler's nose or getting covered in paint from playing with their kids, moms are always needing to wash their hands. Ensure her hands are clean and moisturized with this hand care set from the sustainable brand Aēsop. She'll want to keep the hand wash on her side of the sink, while she can carry the balm and sanitizer in her daily bag.
5. Zippered Leather Tote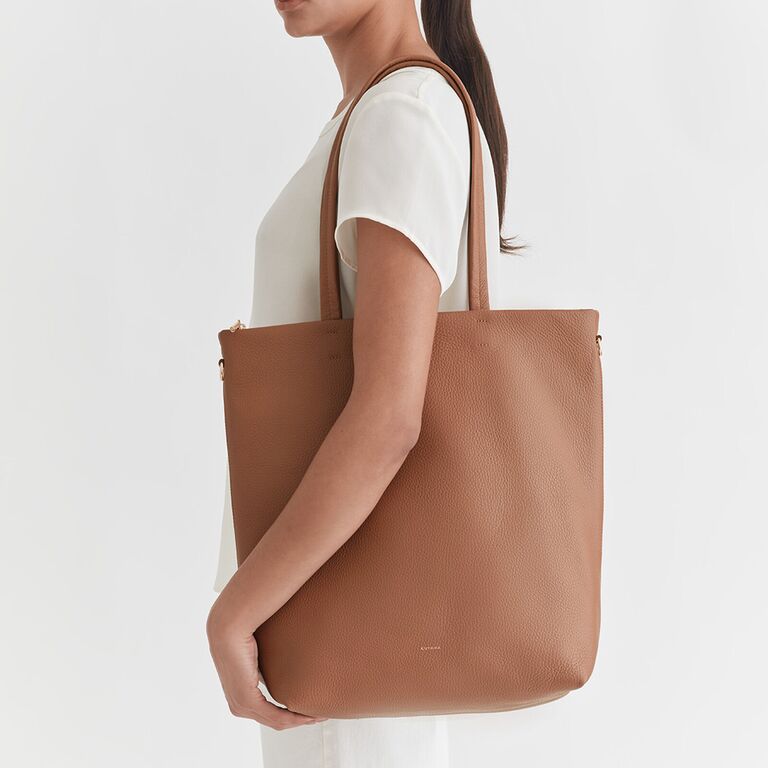 Every mom needs a good purse and this tote from Cuyana is a splurge-worthy Mother's Day gift for your wife. The everyday bag will keep all of her—and her kid's—essentials safe and organized. It's made from soft and lightweight Italian leather with a secure zip closure and a roomy interior featuring a large hanging wall pocket and a small interior pocket as well as a key ring. She can wear it as a shoulder bag or you can add on an adjustable strap for a crossbody.
6. Spa Gift Set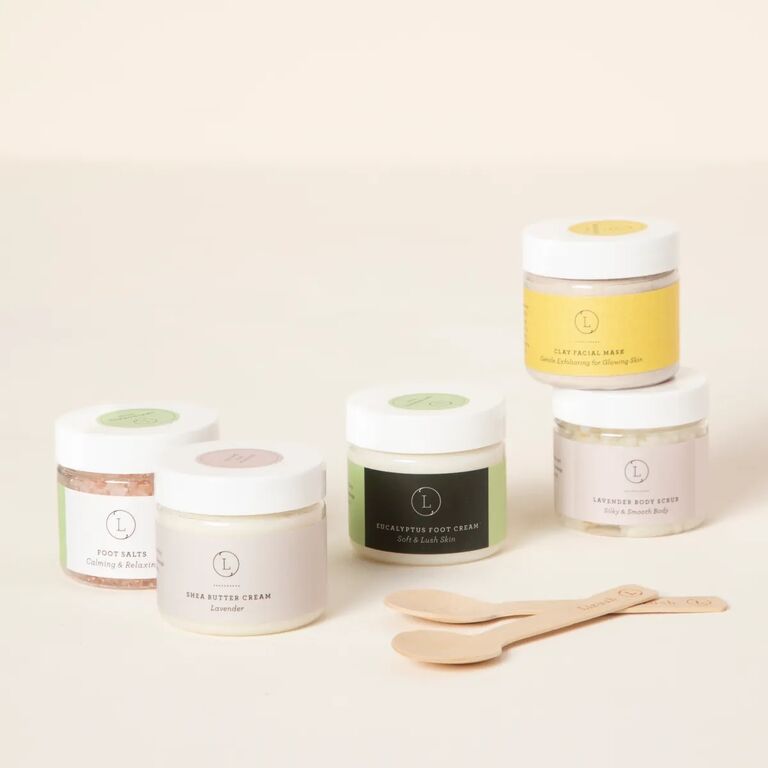 Here's a great Mother's Day gift idea for your wife. Turn your bathroom into a full, aromatherapy spa experience with this set of five, all-natural bath and body products. Then let her soak and unwind while you take care of the kids for a couple of hours. Between the clay facial mask, lavender body scrub, shea butter body cream, foot salts and eucalyptus foot cream, she'll feel clean, smooth, refreshed and relaxed.
7. Washable Silk Pajamas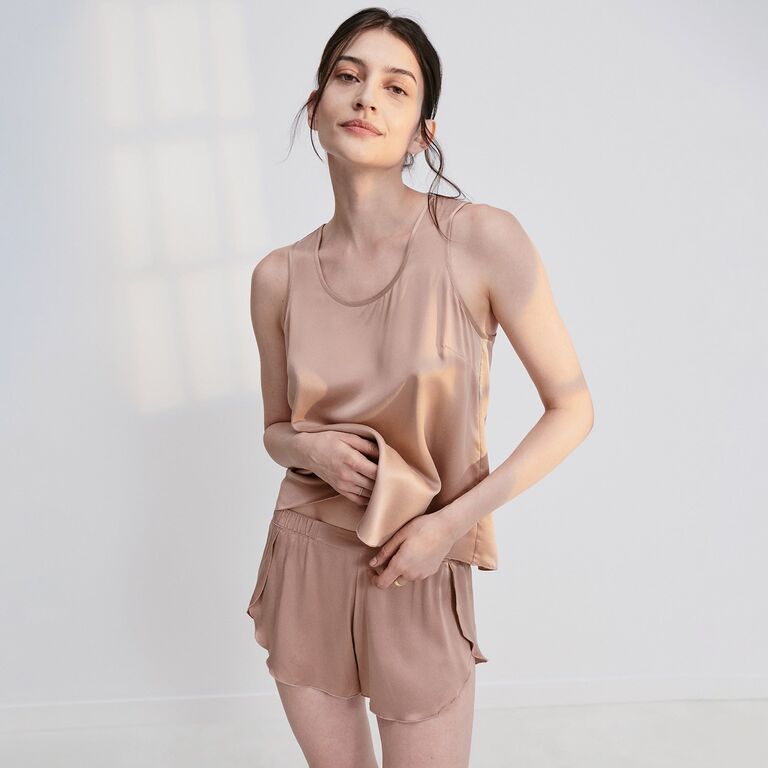 While these pajamas won't guarantee she isn't woken up in the middle of the night by kids, she'll at least look good and feel cozy during late-night parenting sessions. Lunya's silk pajamas are luxuriously soft, thermoregulating and, best of all, washable. Pair this tank top and short set with a matching silk robe for loungewear that'll make her feel like the royalty she is. (Psst, The Knot readers get $20 off their first order of $100 or more with code FOR-TK20.)
8. Funny Candle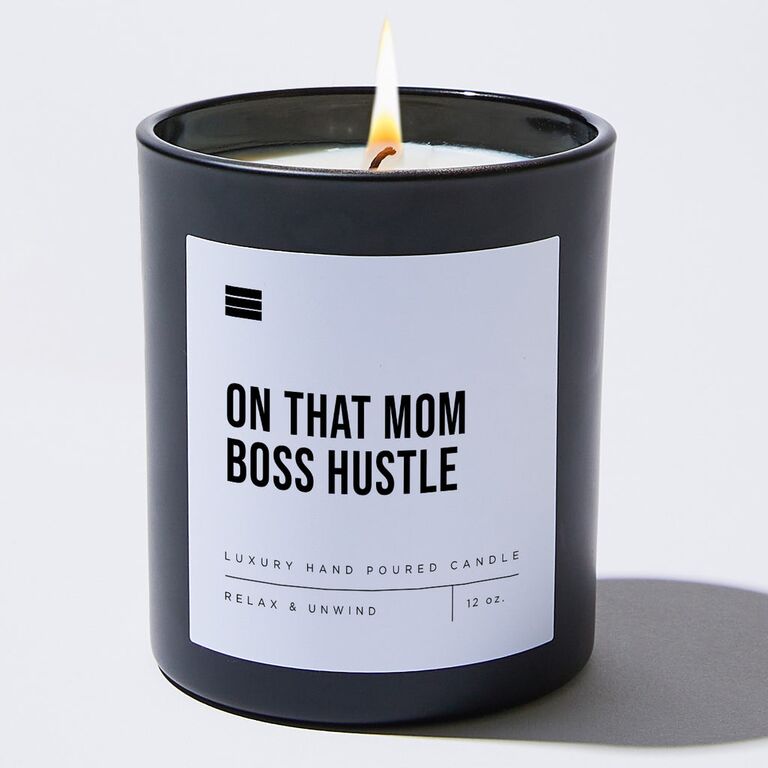 Your wife is an awesome mom, never let her forget it. This candle jokes: "On that mom boss hustle." It's perfect for her to light whenever she needs a little reassurance. It comes in five scents including citrus, jasmine, vanilla, apple or marine.
9. Plush-Lined Slippers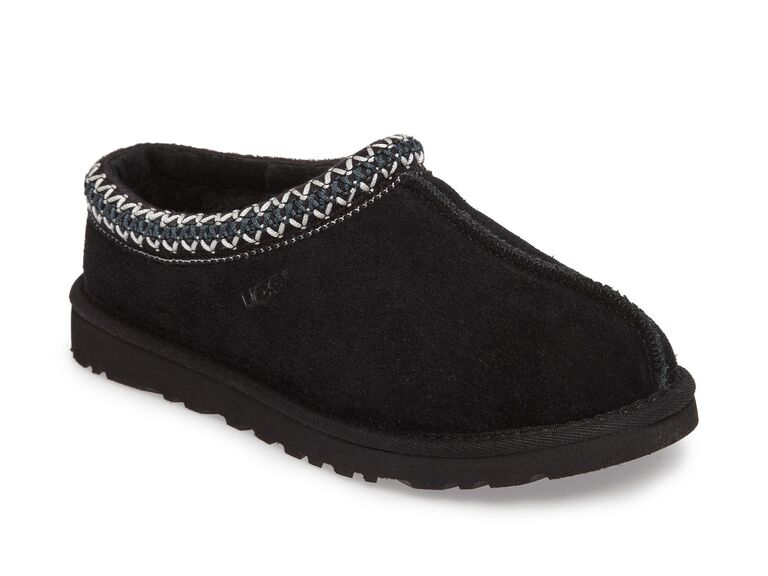 UGGs are back in style and, TBH, cuter than ever! These suede slippers with embroidered trim and a plush shearling lining can be worn in or out of the house thanks to the moisture-wicking textile and grippy platform sole. Your wife will love slipping them on while she's managing the household, carting the kids around town, running errands or walking the dog with you.
10. Bouquet of Tulips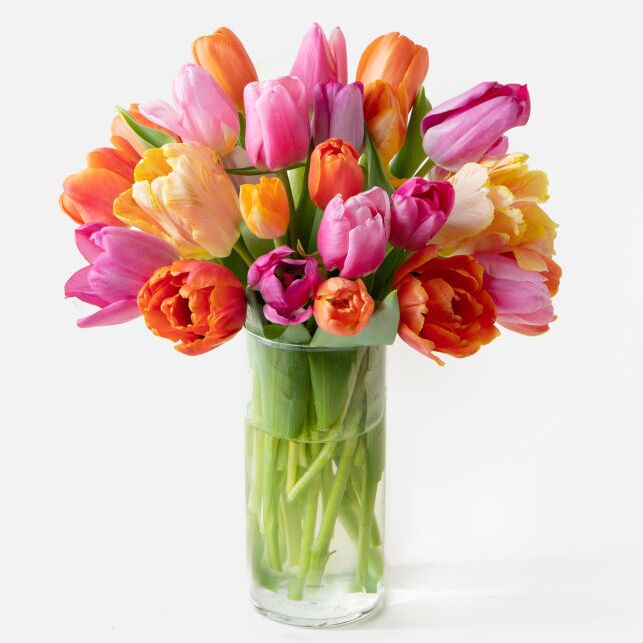 If you're wondering what to get your wife for Mother's Day at the last minute, a bouquet of flowers is an easy testament to your love. We're specifically drawn to tulips for the occasion, since they're a symbol of unconditional love. Plus, they'll instantly brighten the home thanks to their vibrant spring colors. UrbanStems has same-day and next-day delivery options, so you don't even need to leave your house to surprise your wife with a gift. Better still, use the code THEKNOT15 for 15% off your order.
11. Succulent Kit
Does your wife prefer succulents to fresh flowers? This DIY kit will be a fun activity for her, then. It features a heart-shaped frame—to reiterate your and your children's love for her on Mother's Day—with six succulents for her to arrange. Once she has the plants arranged as she likes, she can fill in the gaps with fresh moss. What fun and easy-to-care-for home decor!
12. Colorful Bakeware Set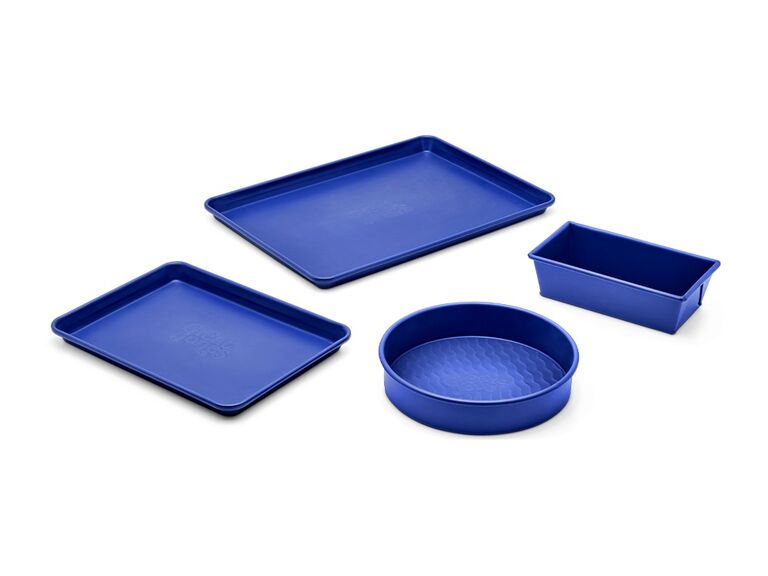 Does she love baking with the kids? From cookies and cakes to bread loaves this set of kitchen essentials from Great Jones will help them cook up a storm. Plus, everyone in the household will love the bright colorways. We suggest pairing it with a handmade coupon that promises to clean up their mixing bowls and baking sheets, so she can have an afternoon of fun and minimal work with the kids.
13. Instant Pot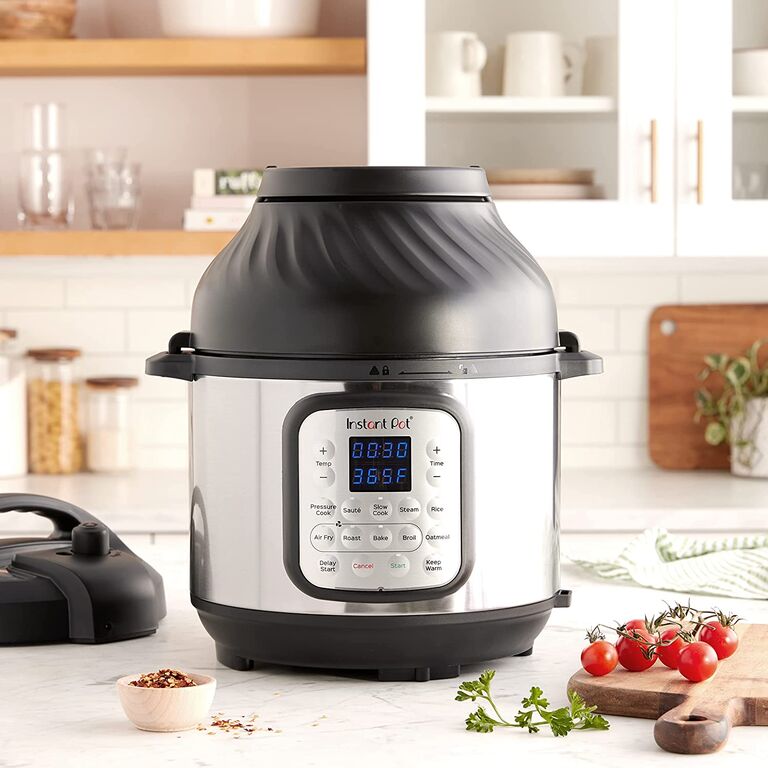 If your wife tends to be the head chef of the house, she'll appreciate the ease of making dinner with an instant pot. The seven-in-one cooker can steam, sauté, slow cook, pressure cook and more, so she can make elaborate meals like beef brisket, stew or even bread in under an hour. And it works with a lot of "set it and forget it" recipes so even on busy school nights, a delicious dinner is still on the table. Plus, it's easy to clean! We suggest gifting the six-quart option, which is big enough to serve six people, but you can also go up to eight quarts or down to three.
14. Monthly Wine Subscription
How about a delivery of "mom juice" aka wine? Gift your wife a gift card to Winc wine club. First, she'll take a quiz on her food and drink preferences, so they can send her a curated box of four bottles of wine. Then she can keep getting four a month depending on how long you set the subscription for.
15. Empowering Wine Glass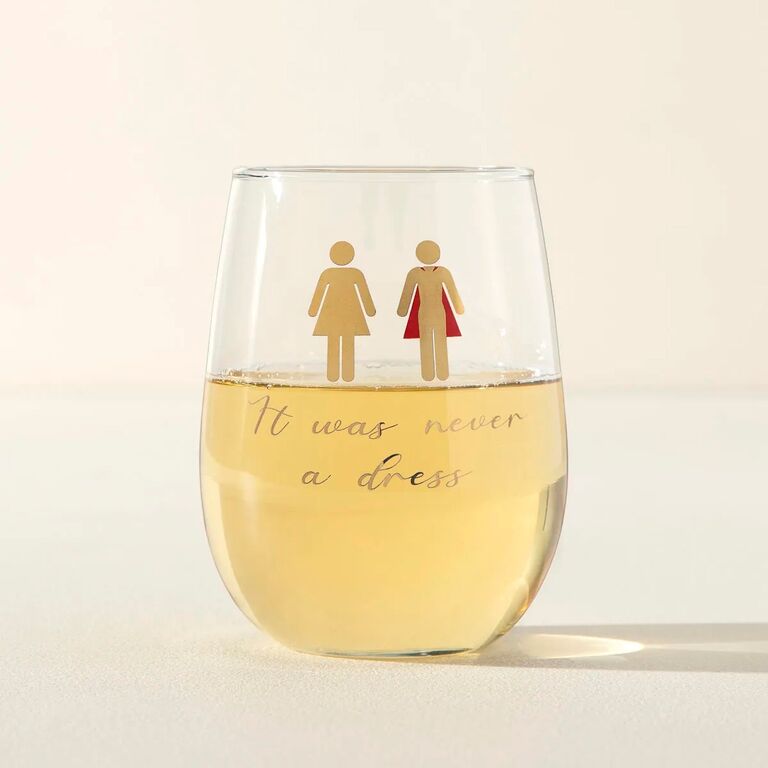 Your wife is a super mom and she should have glass that says so. This charming stemless wine glass features the generic symbol for a woman except the "skirt" is colored like a cape. Underneath it reads: "It was never a dress." Aww!
16. Full Body Pillow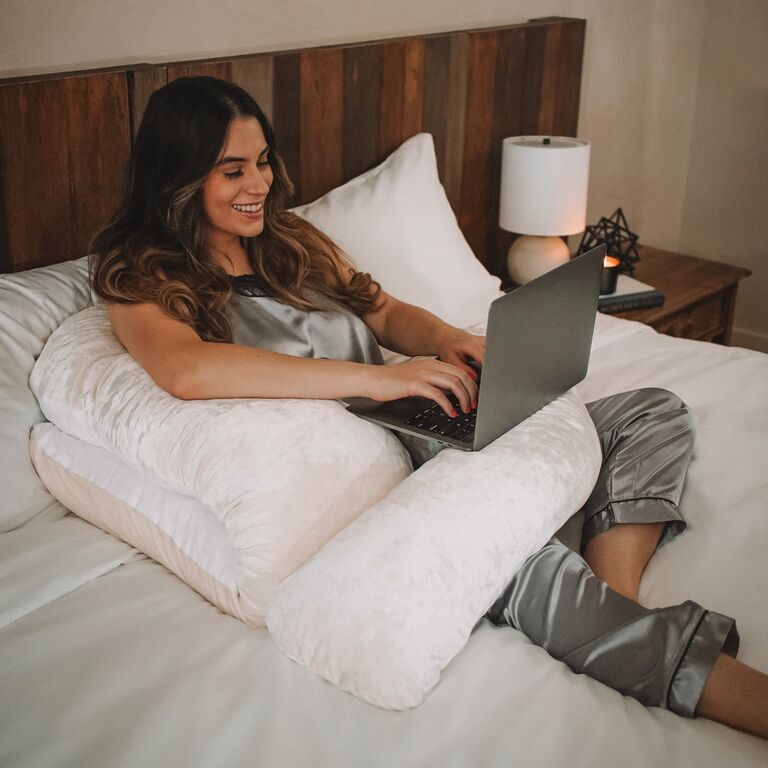 Here's a great Mother's Day gift for your pregnant wife—though she'll want to use it long after the baby has come, too. Yana's full-body sleep pillow forms to her body's shape to help with aches and pains while sleeping, working in bed, watching TV or snuggling with you. It's filled with your choice of natural latex or cooling gel and boasts a removable, washable cover that's double-sided with organic cotton and bamboo velour. (Read: two soft, breathable fabrics that will keep her cool throughout the night.)
17. "Happy First Mother's Day" Onesie
Yes, you absolutely need to surprise your wife on Mother's Day by dressing your baby in this precious onesie. It says "Happy first Mother's Day" and is signed "Love [you're child's name]." We guarantee it'll go over with lots of laughs and happy tears.
18. Charm Bracelet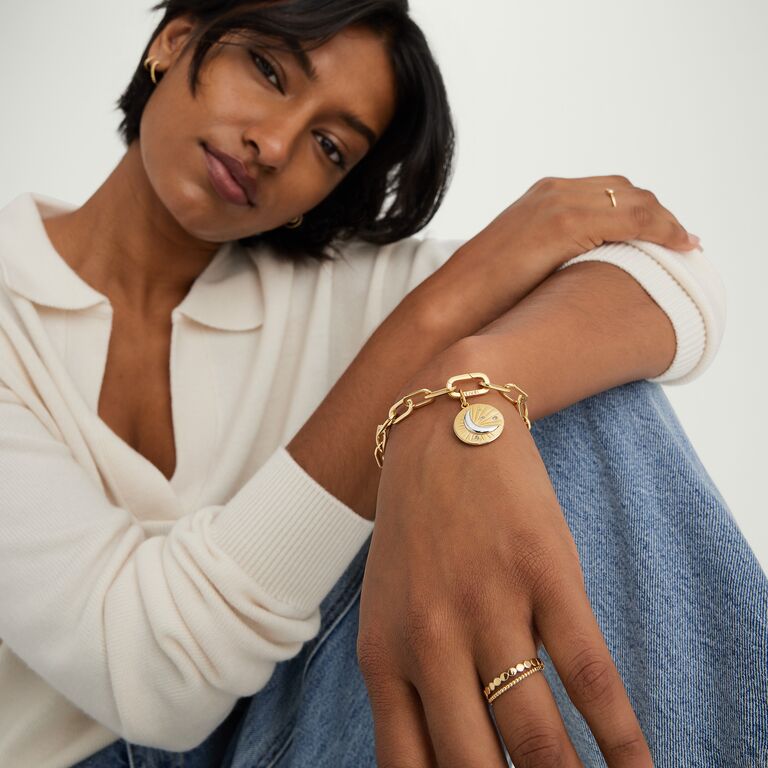 A charm bracelet is a great Mother's Day gift for your wife because you can add to it every year. This oval link bracelet from Mejuri comes in sterling silver or gold vermeil and can be stacked with luxe charms from the brand—think: her initial, your initial or your children's initials, birthstone gems or symbolic pendants. They even have an engravable charm which you could have "mama" carved into.
19. Everyday Sneakers
Here's a Mother's Day gift idea for your active wife. Whether she's on her feet all day at work, playing with the kids outdoors a lot or loves taking walks, these sneakers will give her all-day support and comfort. They come in over a dozen colors and are made from washable and sustainable eucalyptus fibers. We can't blame you if you want a pair for yourself as well.
20. Mini Massage Gun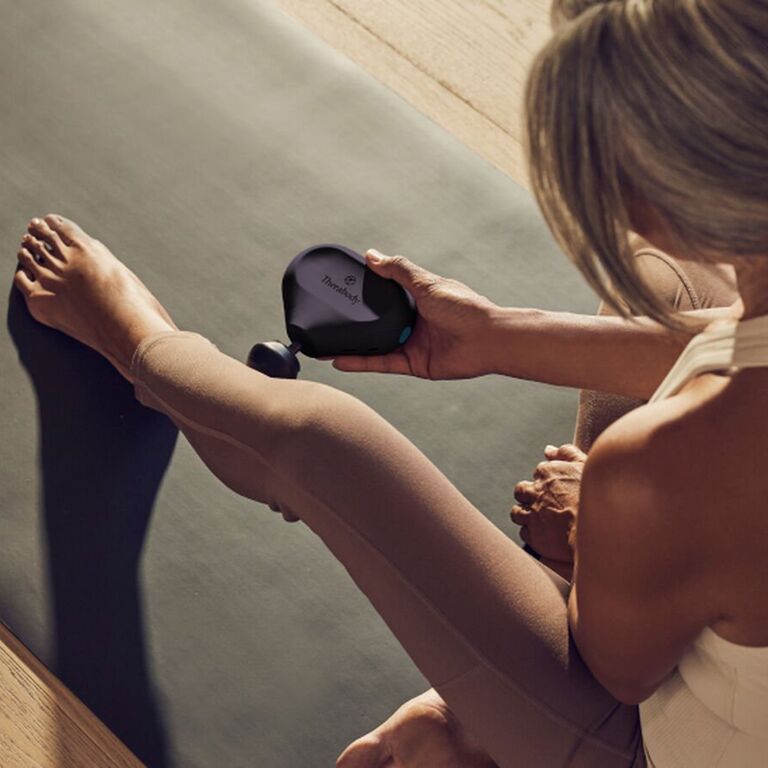 If we had to guess, we'd bet all your wife wants for Mother's Day is a massage. While you could send her to a local spa, a Theragun will let her soothe out knots right at home any day, any time. (And she might even let you use it, too.) Though small, the Theragun mini really packs a punch. It comes with three attachments for a personalized treatment and can connect to an app via Bluetooth to share specific routines to treat various alignments. It's the only massage gun on the market shown to improve recovery, performance, sleep, mobility and stress. Trust us when we say she'll be breaking this Mother's Day gift out every day.
21. Luxe Photo Book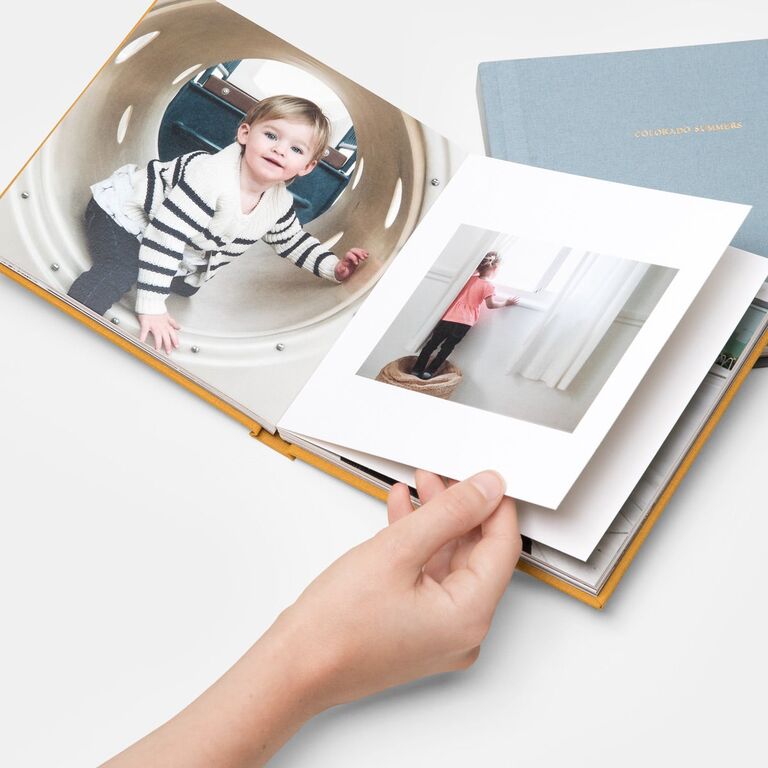 Mother's Day is all about celebrating motherhood and a great way to do that is by reflecting on all the wonderful memories with your kids—like with a photo album. With a premium, foil-stamped linen cover and thick paper printed with simple photo layouts, this book is a beautiful way of telling your wife's story. Just make sure you give yourself time to sort through 30, 40 or 50 photos for the pages.
22. Birth Flower Garden Stones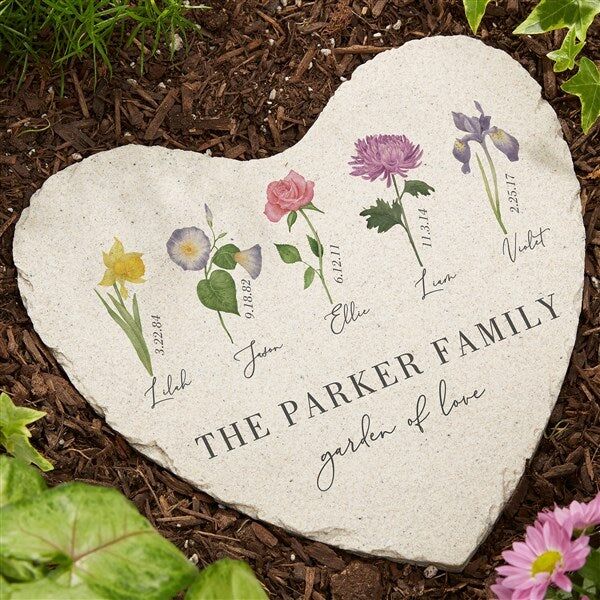 This one's for the wives that like to spend their free time in the garden. Gift her a personalized stone to decorate her blooming yard. Start with the large, heart-shaped slab that's personalized with both your names and birth flowers, then add a small heart-shaped one with your child or children's names and birth flower(s). Best of all, the garden stones can grow with the family.
23. Smart Indoor Garden
If your wife would love to grow fresh flowers, herbs, veggies or fruits, but doesn't have the outdoor space or the time to commit to a garden, Click and Grow is just the solution. Their revolutionary indoor garden automates light, water and nutrients, so she can grow over 75 plant varieties right from her kitchen. The kit comes with three basil seeds, but you can shop for other seeds as well.
24. Custom Paint-By-Number Kit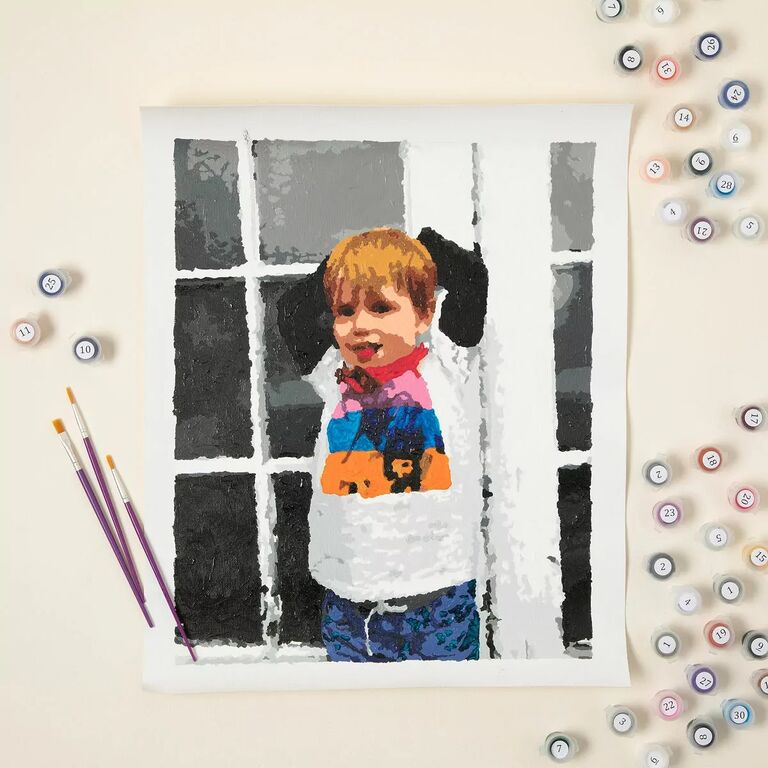 Here's a relaxing activity your wife can do once the kids go to bed. This custom paint-by-number kit will let her fill in a photo of the family, her beloved pet or her favorite nature scene with color. You'll both be eager to see the charming finished product and then promptly hang it up in your home.
25. Blind Date With a Book Gift Box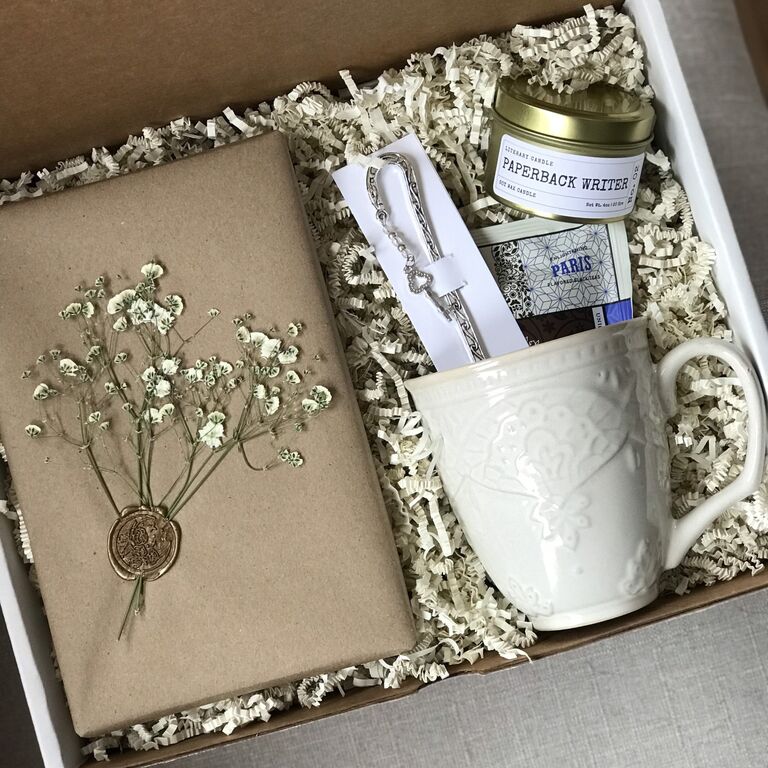 We're actually obsessed with this Mother's Day gift idea for your wife. Simply pick her favorite genre to read, then this Etsy seller will put together a mystery gift box for your loved one. It includes one book (don't worry, you can leave a note about what she's already read) as well as a literary-scented candle (we're intrigued), a handmade bookmark, a gorgeous ceramic mug and a premium tea sachet. It's the perfect gift set for your wife to use when she has (or wants) a little me-time—so we definitely recommend gifting it with a "Mom's off-duty" coupon which means you get the kids out of the house for the day.
26. Ancestry DNA Kit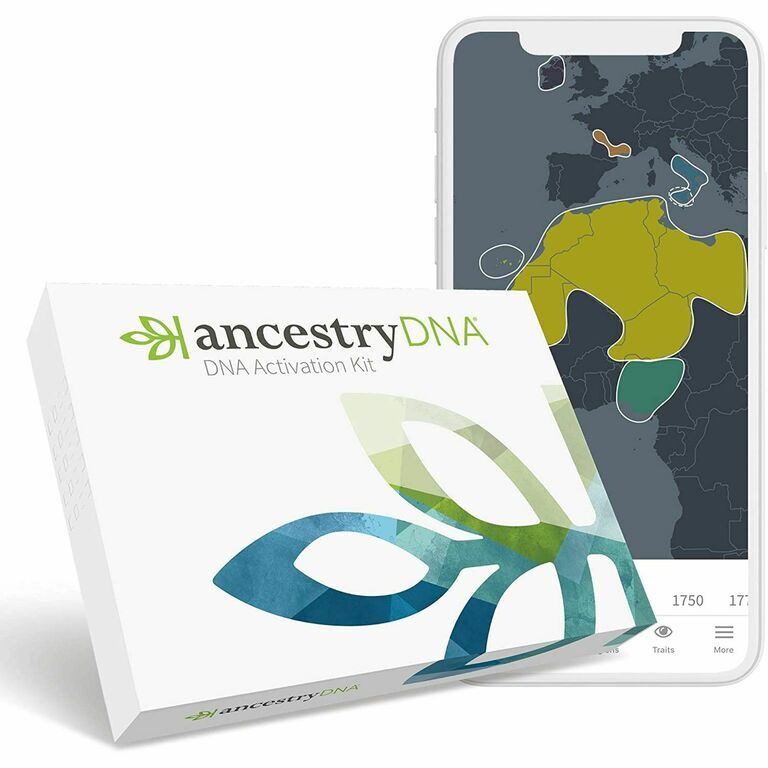 Shopping for a Mother's Day gift for your wife who just became a grandma? An Ancestry DNA kit will help her draw her ever-growing family tree and better understand her roots. She'll love sharing all she's learned with you, her children and her grandchildren.
27. Birth Flower Grow Kit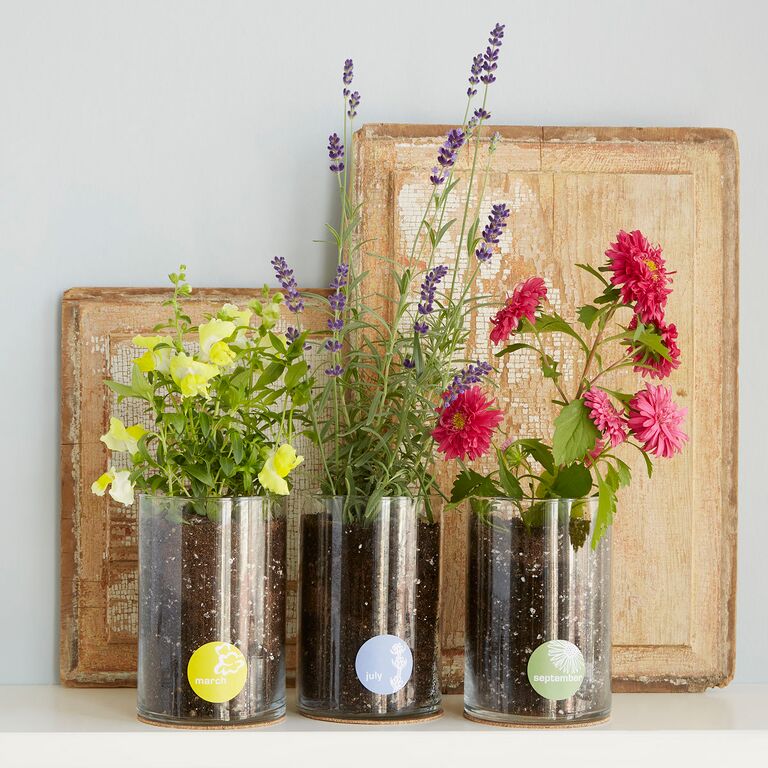 Flowers will never not be a great gift for your wife, especially personalized blooms like the ones in these grow kits from Uncommon Goods. Simply choose her birth month to receive the associated flower seeds, plus a glass bottle to grow them in, a soil-less growing medium, instructions and information about what the greenery symbolizes. You could even get a flower for each of your children, so she can watch her little garden family grow alongside all her loved ones. Aww!
28. Chilaquiles in Bed Gift Set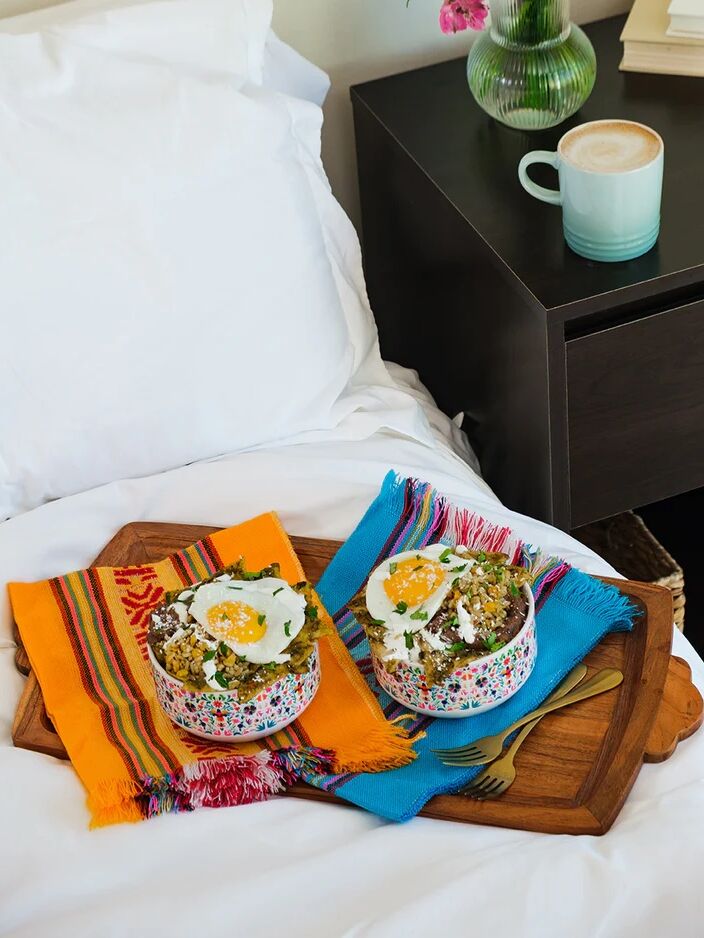 Breakfast in bed is a classic Mother's Day gesture. If your wife loves a little spice, ditch the pancakes for chilaquiles instead. This gift set comes with two charming ceramic bowls, two colorful napkins and all the fixings packed in a gift box—no wrapping required, yay! Just fry an egg, put it on top, then deliver it all to the lady of the day.