33 Great Wedding Gifts to Give Your Groom
We'll help you pick out something special for your present exchange.
We have included third party products to help you navigate and enjoy life's biggest moments. Purchases made through links on this page may earn us a commission.
If your love language is giving and receiving gifts, then you're probably a big fan of present-related wedding traditions, from registering and sending your guests home with favors (plus bonus thank-you gifts for the VIPs) to celebrating your nuptials every year after with thematic anniversary gifts. But you don't have to wait until 12 months of marriage to buy your S.O. a commemorative gift. There's also the traditional couple's gift exchange that happens on (or right around) the wedding day. While totally optional, it's yet another sweet way to honor your union.
Planning your own present exchange? We're here to help. When it comes to choosing a wedding gift for the groom from you, his future spouse, keep a couple things in mind. First, your gift doesn't have to be expensive for it to be impactful! Second, know that sentimental, personalized and unique gifts tend to be big hits. Ready to pick a gift for your soon-to-be husband to celebrate the wedding day with? Keep scrolling for a whole bunch of our favorite ideas.
Handwriting Cuff Links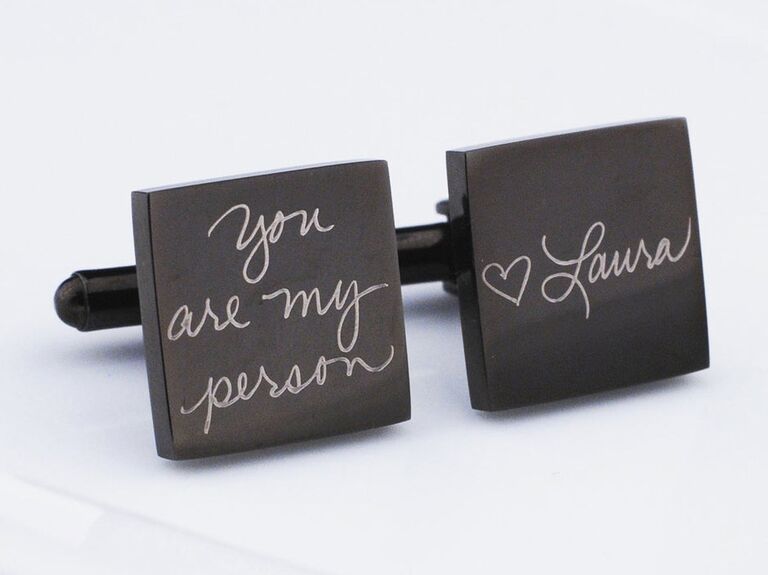 Wedding day accessories are popular gifts for a groom from his spouse (and vice versa!). These dapper cuff links come engraved with your actual handwriting, making them a unique and ultra-personalized groom gift.

Georgie Designs personalized handwriting cuff links, $68, Etsy.com
Coordinate Glasses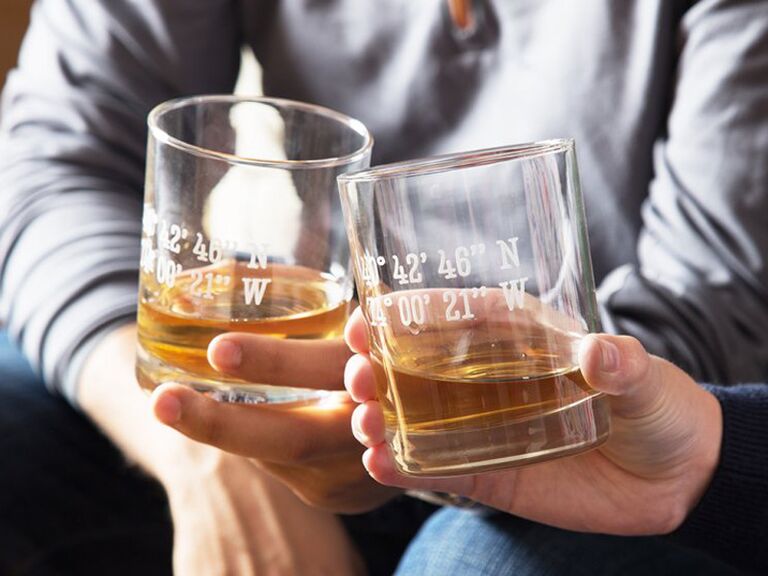 Searching for a sentimental gift for the groom? Pay tribute to your wedding destination (or alternatively, the place you first met) with a matching pair of drinkware etched with the location's coordinates. (FYI: The seller also makes longitude and latitude camping mugs if those are more his style.)

Susquehanna Glass Company sand etched latitude and longitude rocks glasses, $27 for a set of 2, TheGrommet.com
High-Tech Wallet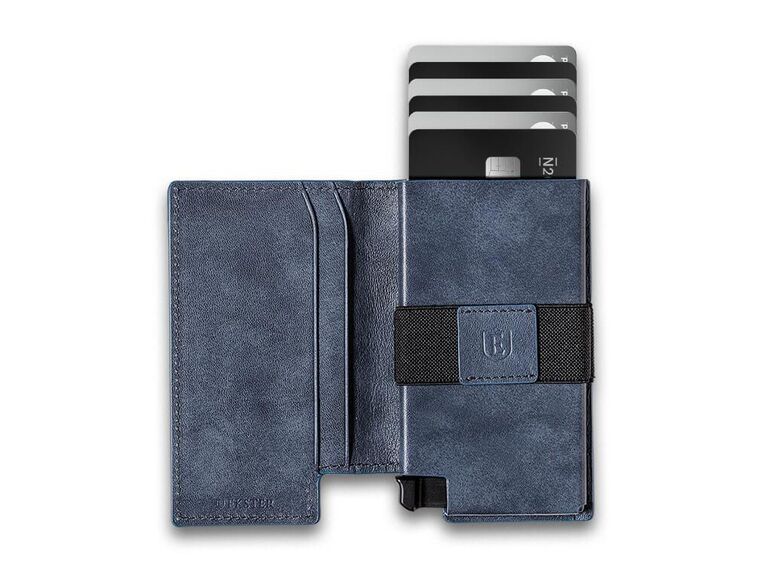 It's never a bad time to replace the old wallet he's been complaining about. If his current card case has run its course, celebrate new beginnings with a new one. We're impressed with this slim design, which boasts smart features like a quick card access mechanism and room for an optional tracking device. Because nothing throws off the big day like a lost wallet…

Ekster Classic Collection Parliament wallet, from $89, Ekster.com
Whiskey Barrel Watch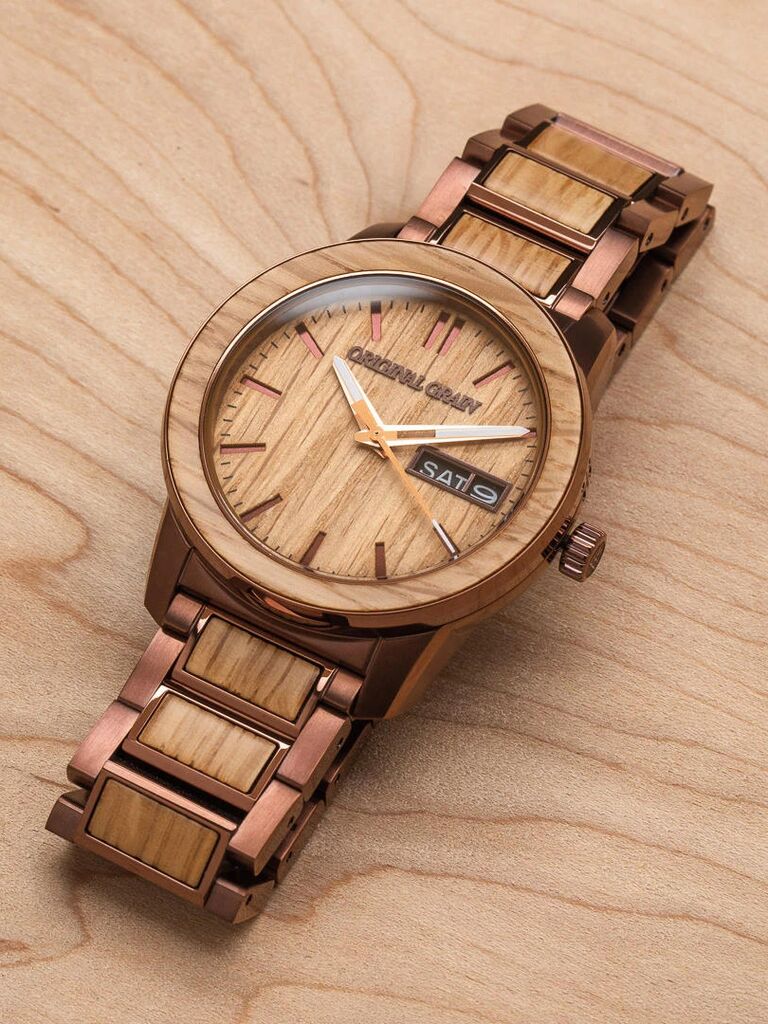 A watch is one of the most traditional wedding gifts for a groom from his bride or groom. (In fact, timepieces are sometimes given even earlier as engagement watches!) If you want to get one for your soon-to-be husband, consider his style and interests. This slightly rugged (but still polished) option is especially attractive. Better yet, it's made from reclaimed whiskey barrels, so it's ideal for watch guys and whiskey guys. Now that's a unique groom's gift.

Original Grain Whiskey Espresso watch, $299, OriginalGrain.com
Baseball Bat Bottle Opener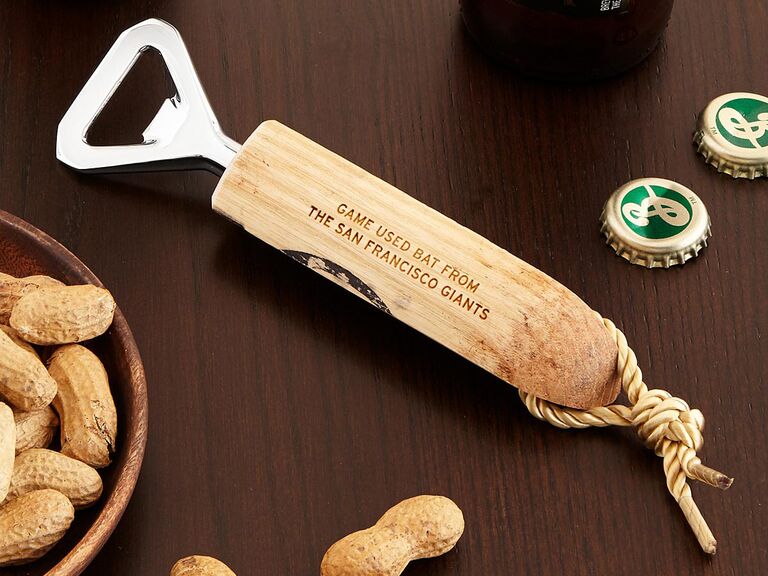 Shopping for a major sports fan? Pull out all the stops and surprise him with some seriously cool sports memorabilia. This maker sells tons of presents that fit the bill, including these bottle openers. Each one comes crafted from a game-used MLB bat—get him one once swung by his favorite team for a groom's gift that knocks it out of the park.
Ward Wallau MLB game used baseball bat bottle opener, from $115, UncommonGoods.com
Hanging Toiletry Bag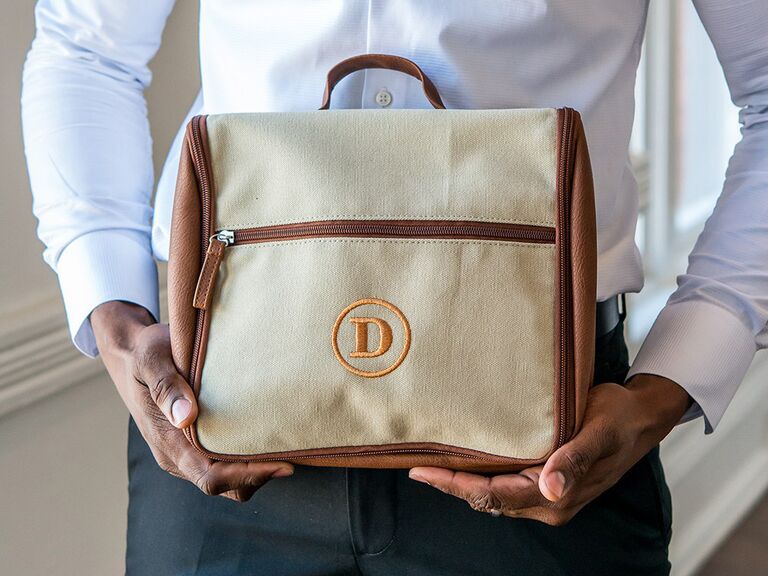 This very handy bag gives him the gift of organization on the wedding day. Personalize it with his name or first initial for an extra-special touch. Trust us, you won't mind this in the background of his getting-ready photos! (For more options, check out The Knot Shop.)

The Knot Shop personalized men's hanging travel toiletry bag, from $20, TheKnotShop.com
Beard Grooming Essentials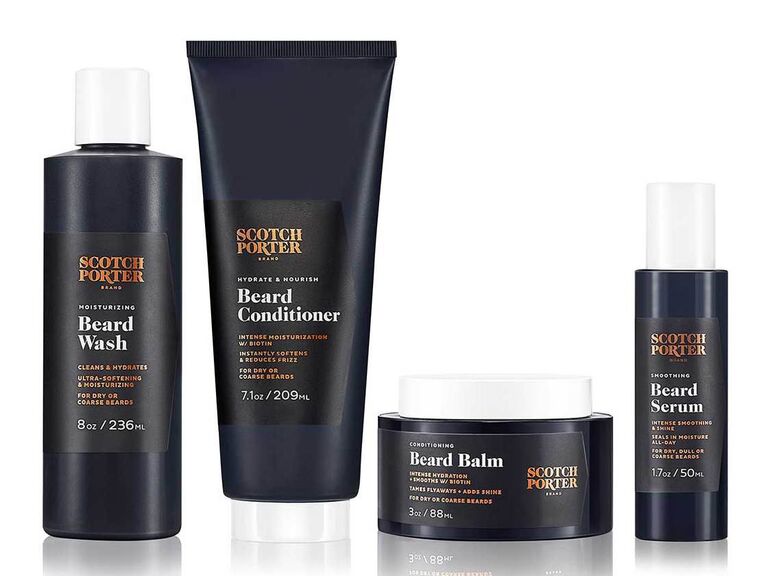 How about filling his Dopp kit with premium products that'll help him feel his best? This brand specializes in the fine art of beard care, but you can also shop for skin care and other hair care too. He won't know how he lived without this luxe stuff.

Scotch Porter Brand Beard Collection, $73, ScotchPorter.com
Fashion-Forward Sunglasses

Talk about wedding-worthy shades! He can rock these bad boys at your outdoor ceremony or save them for the honeymoon.
Coco and Breezy Zen-103 sunglasses, $285, CocoandBreezy.com
Wooden Flask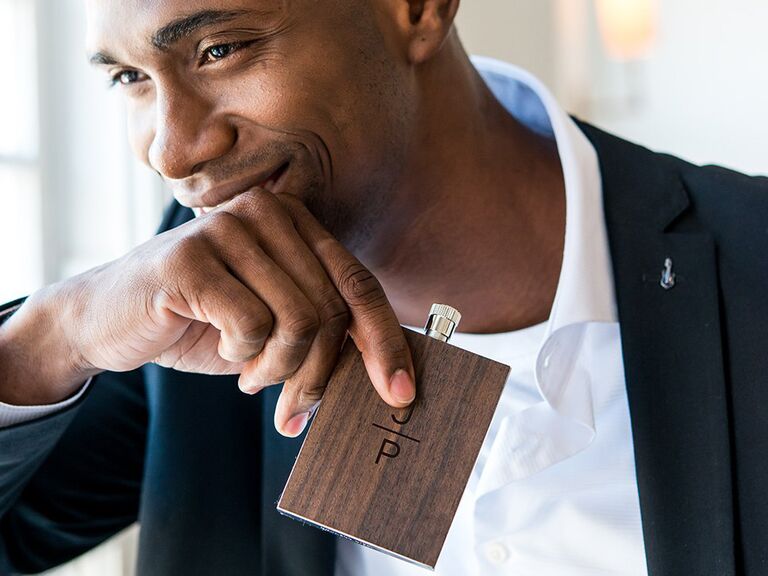 What can we say? We've seen quite a few flasks pulled out for the big day! This rustic, monogrammed option looks way more expensive than it is—score.

The Knot Shop personalized rustic wood wrapped stainless steel hip flask, $20, TheKnotShop.com
Cute Socks
Novelty socks are tried-and-true groom and groomsmen gifts. These ones are dressy enough to wear at the wedding, but have a secret, playful message on the soles: "No cold feet here," plus your names and wedding date.

The Personal Wedding Co No Cold Feet Here socks wedding gift for groom, $10, Etsy.com
Personalized Multi-Tool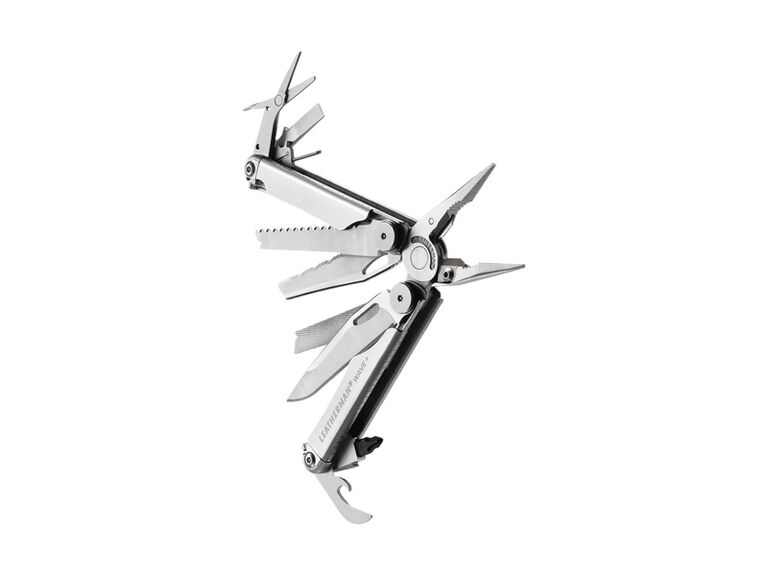 Yet another popular wedding gift for the groom? A multi-tool. There are plenty out there, but this brand makes some of the most-loved on the market. The best-selling Wave+ really does it all, and as a bonus, you can personalize different parts of the gadget with text, patterns or even custom graphics.
Leatherman Wave+ multi-tool, $100, Leatherman.com
One-of-a-Kind Ring Dish

There are times when we advise to take off wedding bands and engagement rings. A nice dish prevents him from misplacing his. You can find tons of great options on Etsy, including this one-of-a-kind cement tray that's really caught our eye.
Made By Rheal marbled concrete triangle display catchall, $14, Etsy.com
Custom Star Map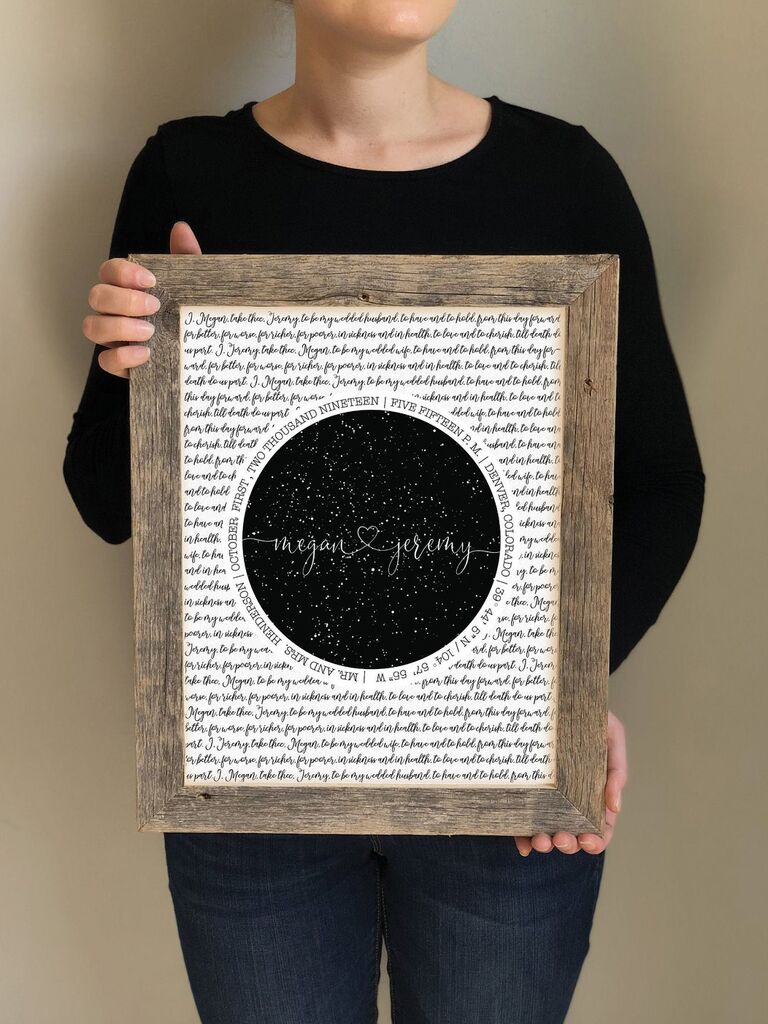 This personalized print is wonderfully romantic and really creative too. The center features a re-creation of the night sky on your special day; surround it with your custom vows or the lyrics to your first dance song and you've got a supremely sentimental wedding gift for your groom.

My Map Memory gift for groom from bride on wedding day, from $40, Etsy.com
Photo Wallet Card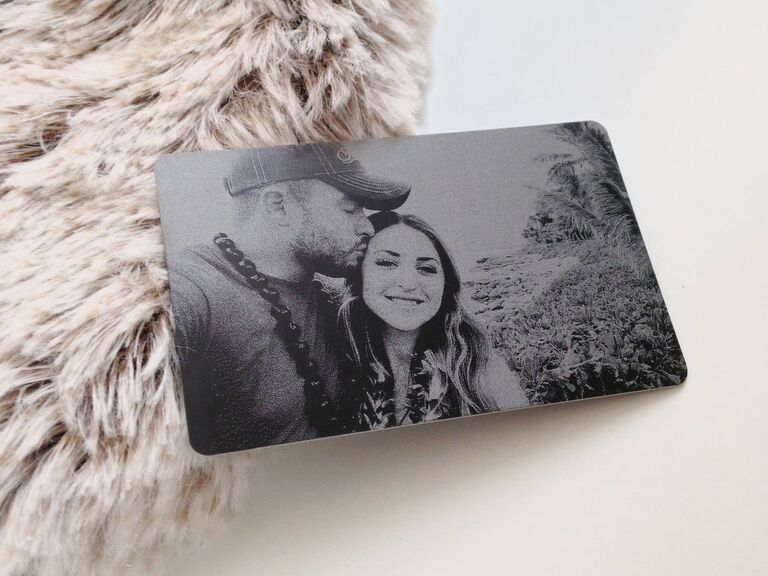 Photo gifts are definitely some of the best wedding gifts for the groom. He can carry your love with him wherever he goes thanks to this cute idea. One look at it and any pre-ceremony jitters will dissolve.

Vintage Branding Co. engraved picture wallet insert, from $20, Etsy.com
Morning-Of Breakfast
Treat your groom (and if you're feeling generous, his entourage) to some breakfast treats. If caffeine is a must, coordinate a delivery with a local coffee shop, or if he really loves his Starbucks or Dunkin', get him a gift card to use. You can also see if your caterer can provide food for the getting-ready suite.

Unique Tie

Who says your groom has to perfectly match his crew? Consider gifting him a tie that'll help him stand out from (but still coordinate with) his attendants. The Tie Bar collaborates with many of our favorite wedding fashion brands to create some pretty awesome accessories, from a totally tropical tie (thanks, Mumu Weddings!) to this modern floral BHLDN one. (Hint: Check out BHLDN's site to find groomsmen ties to mismatch it with.)
BHLDN Flower Portrait tie in Navy, $25, TheTieBar.com
Statement Lapel Pin
Another great The Tie Bar collab? The shop's Jesse Tyler Ferguson Tie The Knot collection. This rainbow heart lapel pin, which works as a small gift for your groom, is stylish all while representing equality. Cheers to that!

The Tie Bar JTF Collection The Equality Pin silver lapel pin, $15, TheTieBar.com
Retro Reel Viewer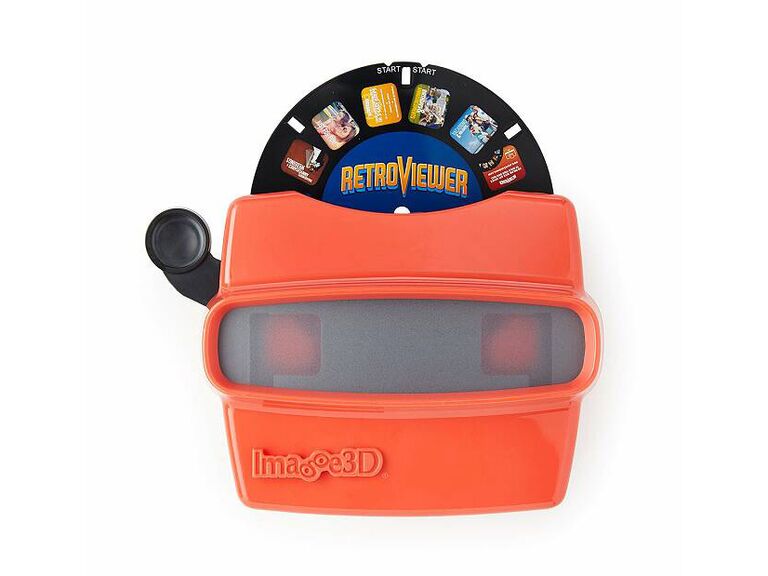 Remember these? Create your own filled with snapshots of all your most cherished memories with your future husband. You can reminisce on your engagement period as fiancés all the way back to when you first started dating.

Image3D Create Your Own Reel Viewer, from $30, UncommonGoods.com
DIY Scrapbook
You can also document all the meaningful moments with a special scrapbook—this elegant one takes the cake. Fill it out in secret with mementos of your relationship so far, then flip through it together the night before the wedding. Or, present it to him on the day of the wedding with the promise that you'll scrapbook your new chapter together.

Artifact Uprising The Stories We Tell scrapbook album, from $119, ArtifactUprising.com
Durable Pocket Comb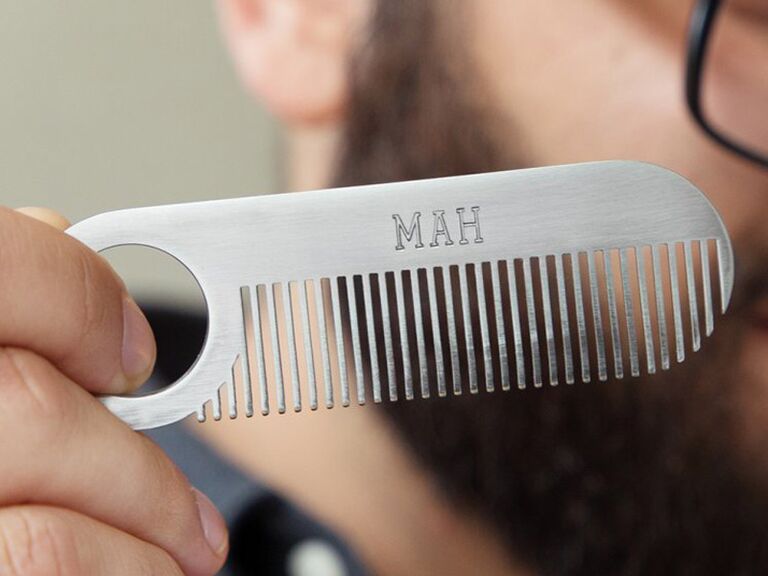 Buh-bye, plastic comb, hello heirloom. Monogram this pocket comb for a thoughtful, useful wedding gift a groom who's proud of his hair will surely appreciate.

Chicago Comb Co. Model No. 2 stainless steel comb, $40, TheGrommet.com
Pre-Ceremony Letter Exchange
Some couples choose to exchange sweet notes or private vows before the wedding ceremony. Handwrite yours in a keepsake card (try sourcing it from Etsy) for an inexpensive but beautifully heartfelt and sentimental gift.

Classy Vow Journal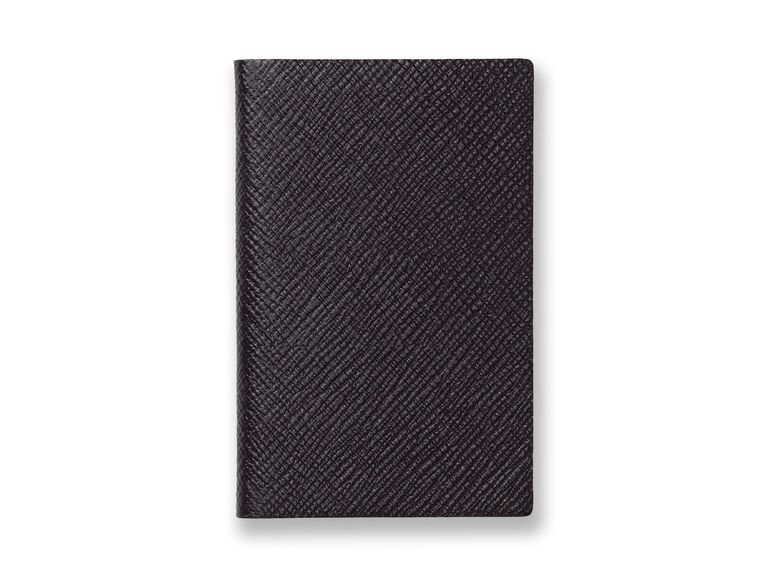 Speaking of vows, you could also gift him a sophisticated notebook to jot his down in. This one is built to last—just like your love. Plus, there are plenty of personalization options (a monogram or romantic motif, perhaps?).

Smythson The Panama Collection Wafer notebook, from $59, Symthson.com
Groom Robe

Getting-ready robes definitely aren't just for brides and bridesmaids. This long, personalizable waffle wrap will keep him cozy on the morning of your wedding—and at night after the reception too!

The Knot Shop men's personalized embroidered long waffle robe, $30, TheKnotShop.com
Embroidered Jean Jacket

Wedding jackets are having a moment, so hop on the growing trend. This jean jacket has his husband status embroidered beneath the collar. He can show it off for photos (and out for walks postwedding) or just secretly know it's there (and smile whenever he thinks about it).

Lillia and Luke Mr. custom denim jacket, $125, Etsy.com
Cute Clothes Hanger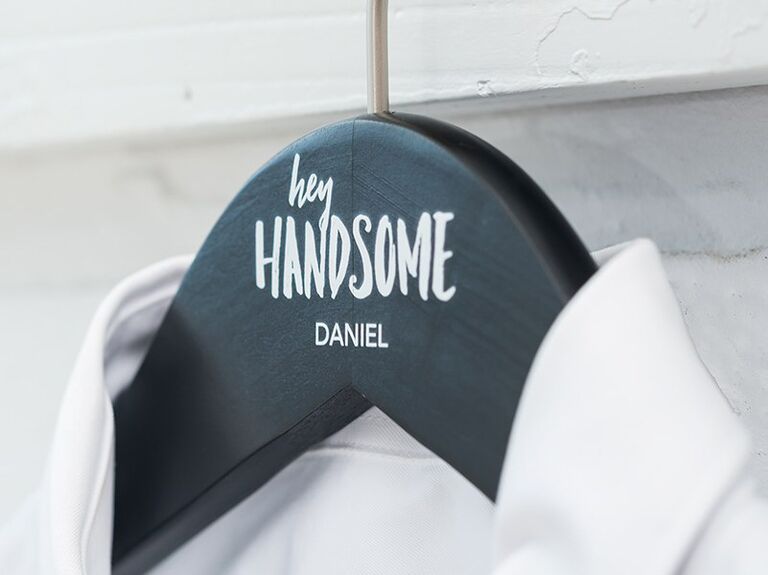 Give him a confidence boost with this cute "hey handsome" hanger that's personalized with his name. It's just the kind of gesture that'll start his day off right.
The Knot Shop personalized wooden wedding clothes hanger in Hey Handsome, $12, TheKnotShop.com
Honeymoon Luggage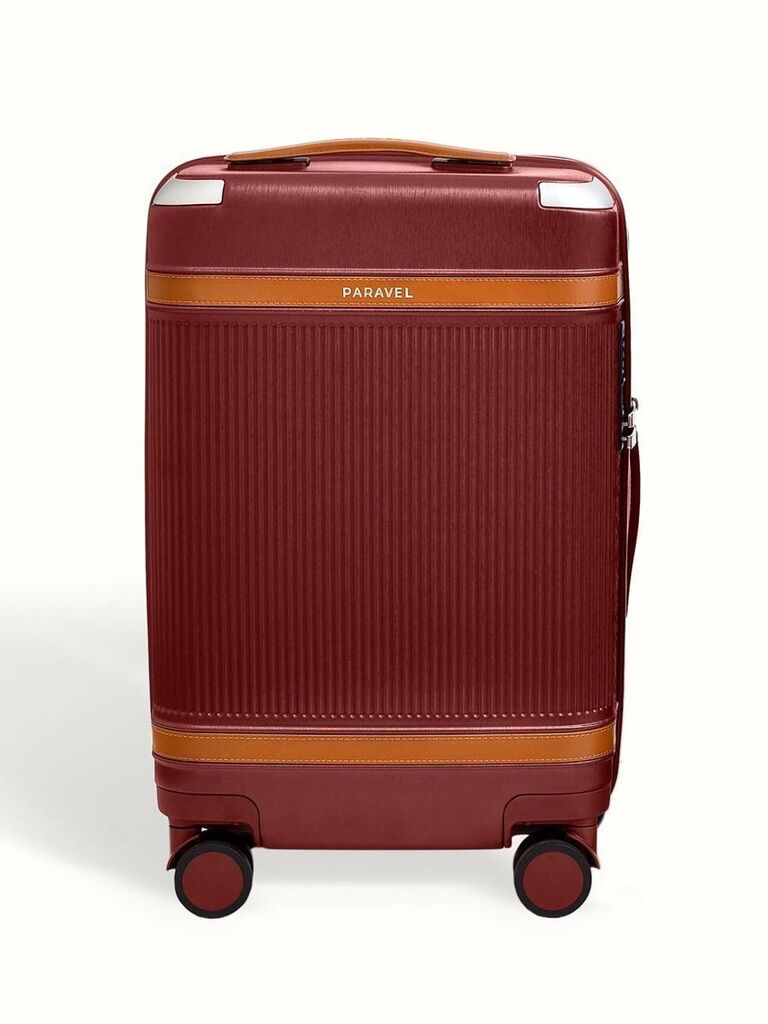 Planning a trip to celebrate your transition from fiancés to spouses? (And keen on the idea of planning yearly anniversary trips after that?) Quality luggage is something that he's sure to get plenty of use out of. This brand sells some seriously stylish designs that are sustainably made using recycled materials, which means there's even more to love.

Paravel Aviator carry-on, $225, TourParavel.com
Travel Accessories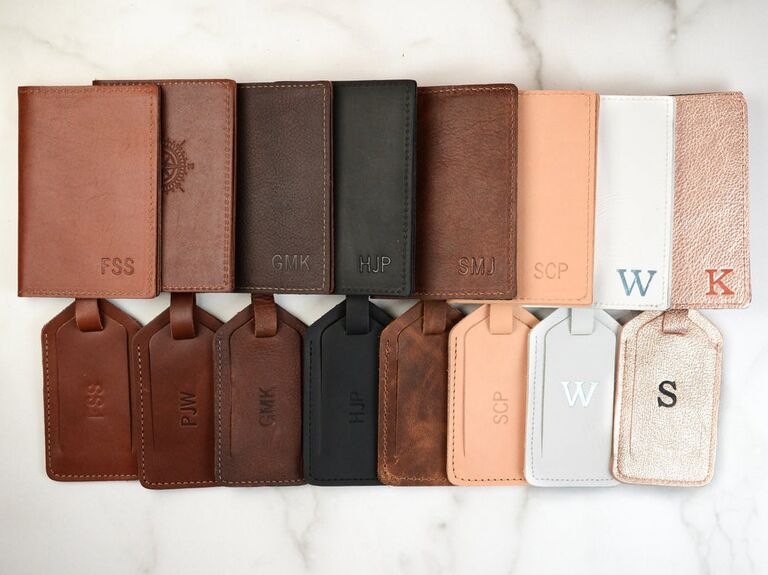 But you don't have to buy him pricey luggage to prep him for your getaway. What about a passport case and matching luggage tag? This set somes in a whole bunch of colorways, and like many of the best wedding gifts for him, is monogrammable.

Felix Street Leather personalized leather passport holder + luggage tag gift set, from $55, Etsy.com
Initial Suspenders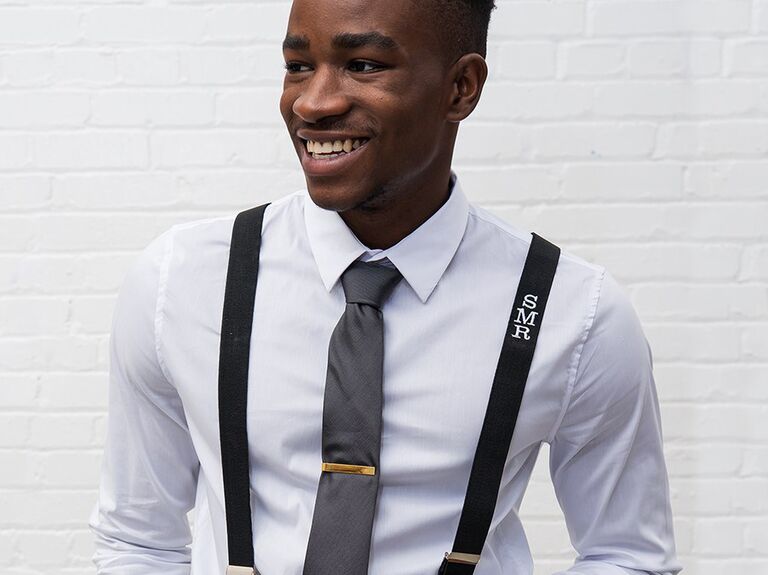 Upgrade his wedding outfit with dapper suspenders bearing his initials. If he thinks the little details are everything, he'll love this addition to his groom ensemble.

The Knot Shop men's custom monogrammed tuxedo suspenders wedding attire, $20, TheKnotShop.com
Leather Bow Tie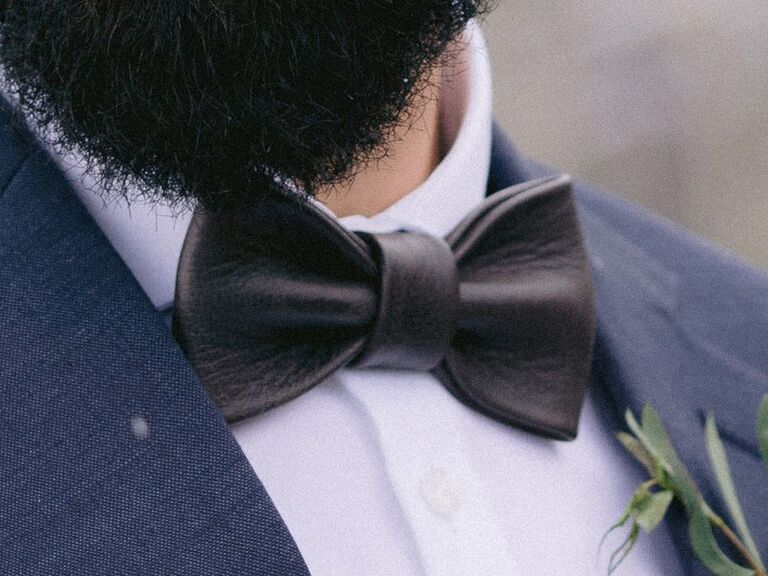 Into the idea of a wedding accessory for his groom's gift? Try this bow tie made of leather—yes leather. It's an undeniable statement piece for the trendsetting groom.

Kingsley Leather leather bow tie for men, $87, Etsy.com
Engraved Pocket Watch

Still like the traditional wedding gift for a groom: a watch? If he's all about vintage-inspired gear, a pocket watch is the way to go. This one's sold in a unique gunmetal color, and you get to choose from a range of monogram designs for a bespoke present.

The Knot Shop personalized gunmetal mechanical pocket watch & fob, $40, TheKnotShop.com
Keepsake Guitar Picks

Love a music lover? This could just be the perfect gift for your fiancé-turned-husband on the wedding day. This wooden guitar-shaped box holds three guitar picks personalized to your liking. (Maybe with your shared monogram, your wedding date and something else thematic or symbolic?) What a cool keepsake!

WoodLand GoodLife personalized premium wood guitar picks and box, from $35 for 3 picks with a box, Etsy.com
Gold Chain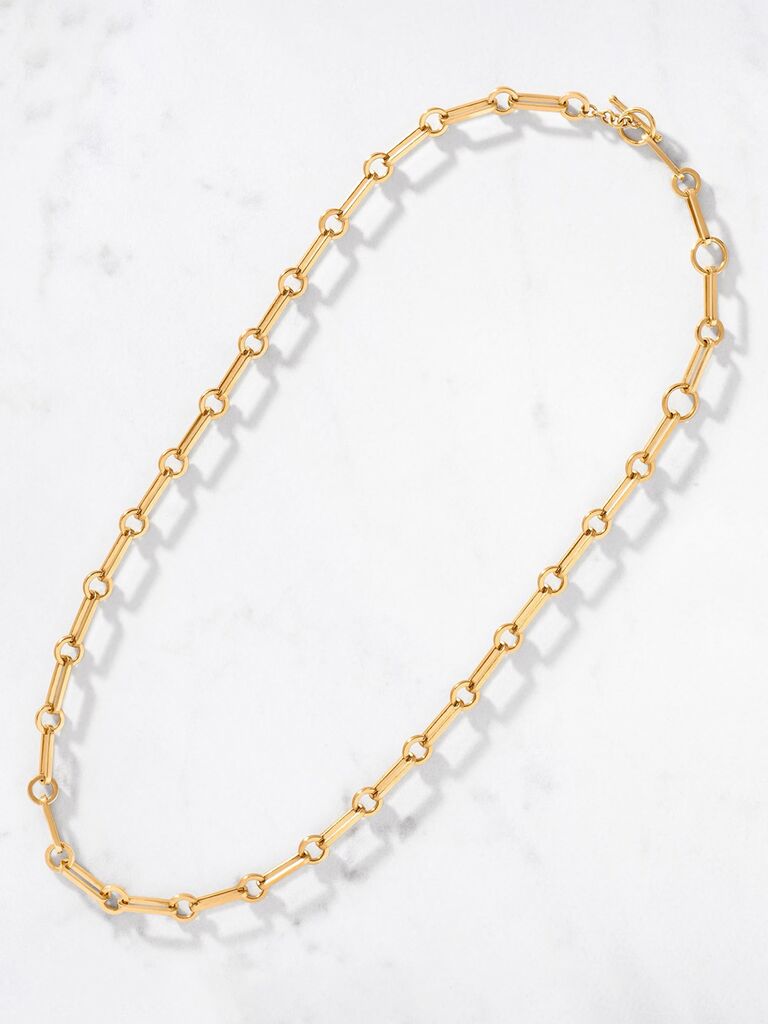 Up his jewelry game with this luxury gold chain. It's the perfect mix of modern and timeless, and the linked design subtly represents your strong connection.

Auvere Sculptura Collection long link chain, from $6,000, Auvere.com
Something Handmade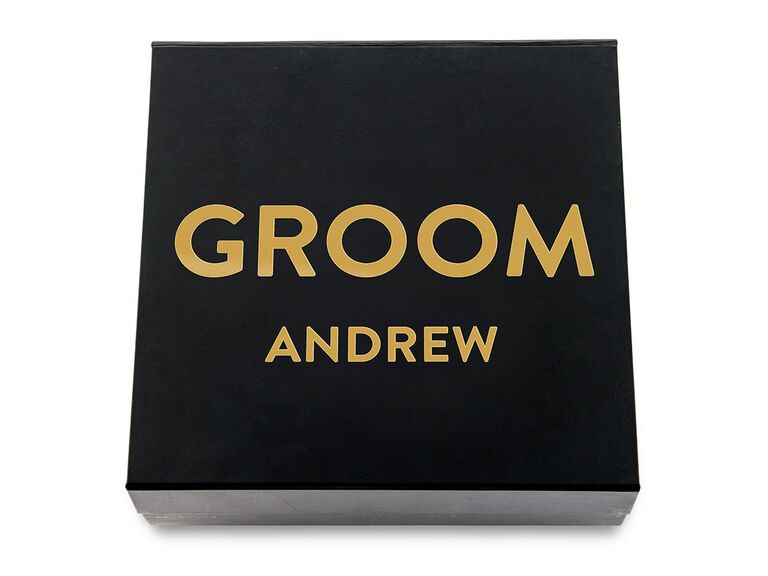 Feeling crafty? Pour your love into a handmade gift for your groom on the wedding day. What you make is entirely up to you, whether that's a blanket with a romantic design (here's a sample pattern on Etsy) or a trendy cross-stitch masterpiece (this pattern is too cute). Looking for on-theme packaging? The Knot Shop sells lots of gift boxes and tags, like this festive metallic "groom" box.

The Knot Shop premium Groom gift box in Metallic Gold, $20, TheKnotShop.com