The Cutest Matching Couples Gifts for You and Your Other Half
Celebrate your amazing connection.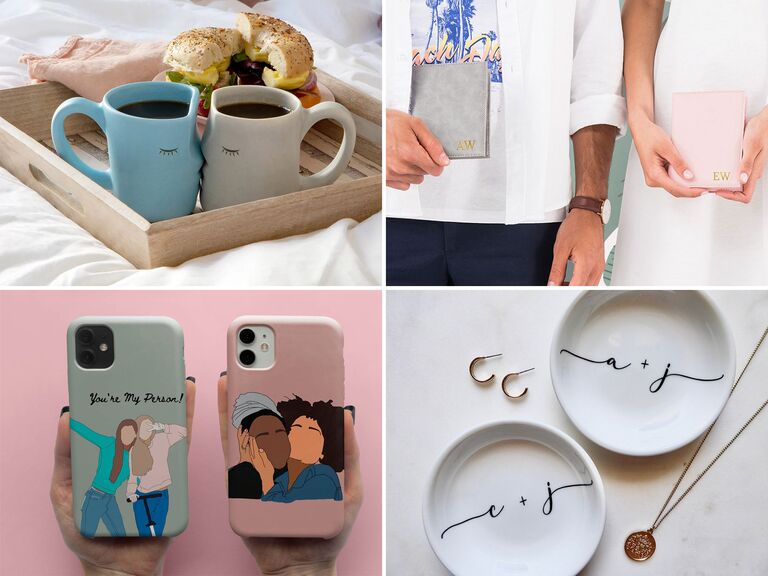 We have included third party products to help you navigate and enjoy life's biggest moments. Purchases made through links on this page may earn us a commission.
Matching is an adorable way to celebrate your relationship, whether that's a new relationship or a longtime marriage. It's something fun to do together and it symbolizes your amazing connection, so basically, it's the definition of romantic. That's why we've scoured the web for the best matching couples gifts—from personalized couples bracelets to sentimental drinkware sets. Maybe you're shopping for a special occasion, like an anniversary, or just because. Either way, we've found the absolute cutest matching gift ideas. (And if you're looking for more matching stuff, we've got you covered. Check out our favorite matching swimsuits, pajamas and yes, even underwear, for couples.)
1. Kissing Mugs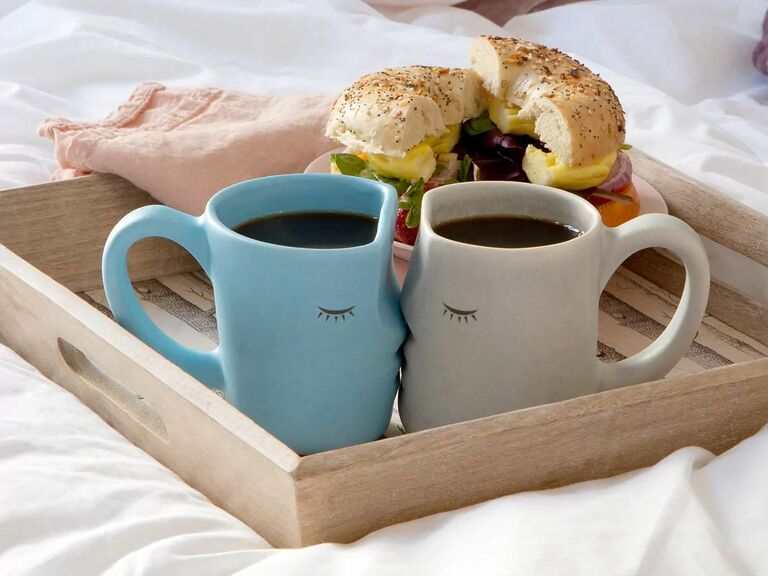 Surprise your partner with these kissing mugs, which have to be some of the cutest matching things for couples. When the two porcelain pieces come together, their puckered lips unite. It's time to add a little fun to your morning coffee routine.
2. Couples Loungewear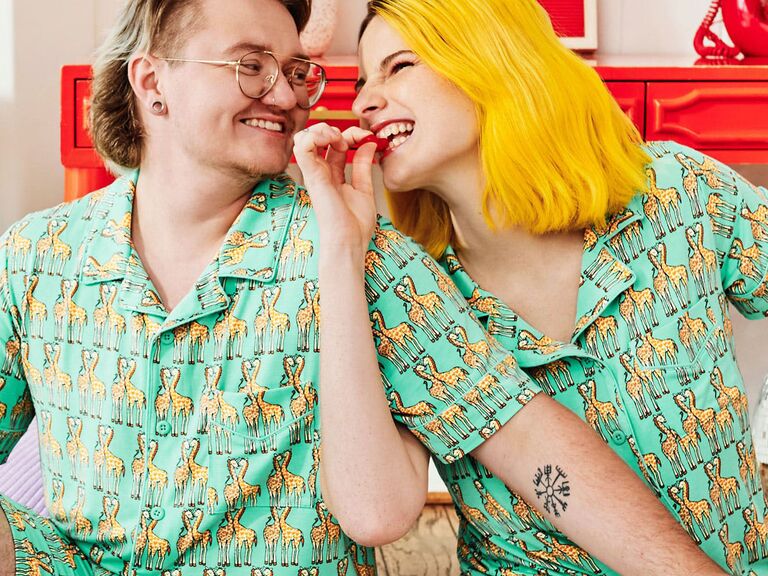 Wind down together in these playful giraffe-print PJs. They're made from sustainably sourced beechwood fibers, so they're incredibly soft and basically made for cuddling. The style comes in men's and women's sizes, as well as some other playful prints.
3. Anniversary Sweatshirts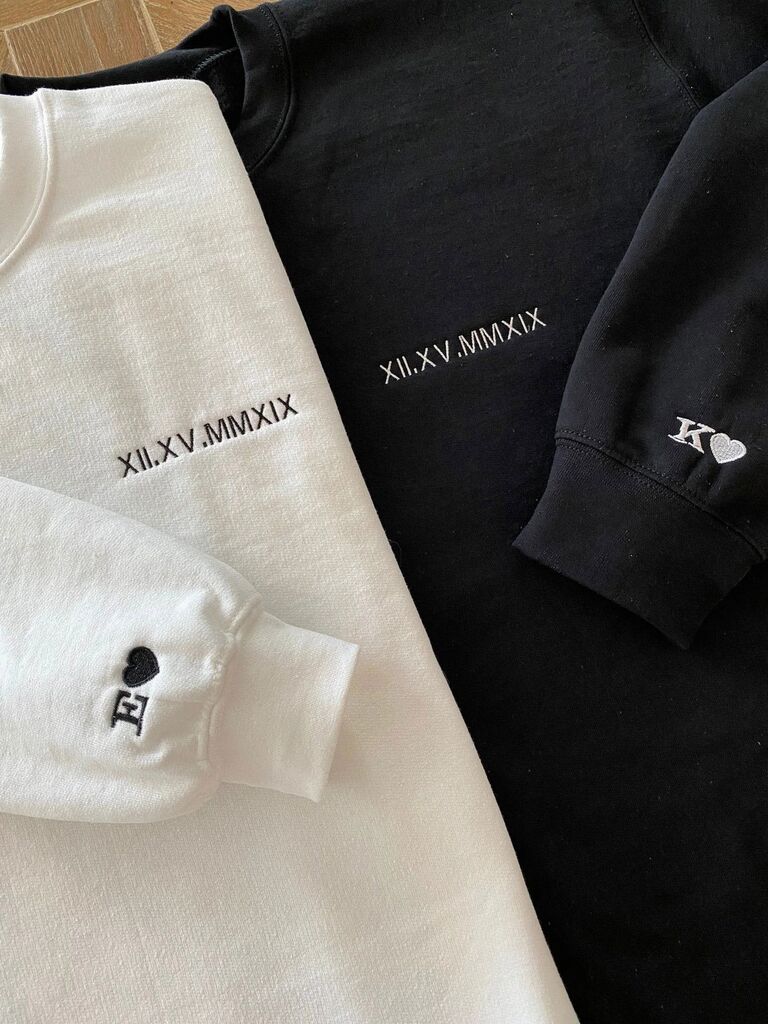 Keep your anniversary close to your hearts with these stylish couples crewnecks. Personalize each sweatshirt with two forms of custom embroidery: your special date (on the chest in Roman numerals) and an initial (on the left or right sleeve, with or without a heart). It's a trendy way to wear matching couples outfits on the regular.
4. Porcelain Ring Dishes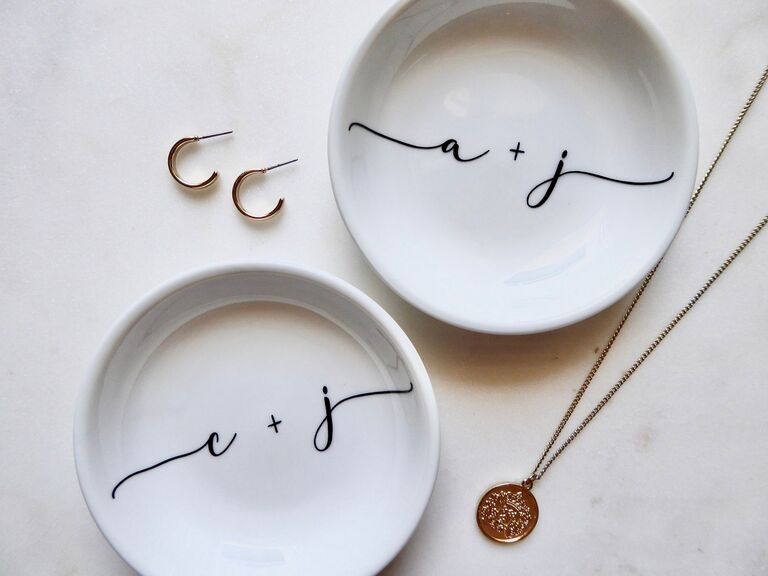 Here's another cute matching gift for couples: porcelain ring dishes. We love these simple saucers because they're personalized with you and your partner's initials in a high-quality vinyl script. Not only will they keep your jewelry safe and sound, but they're also keepsakes that you can cherish forever.
5. Couples Underwear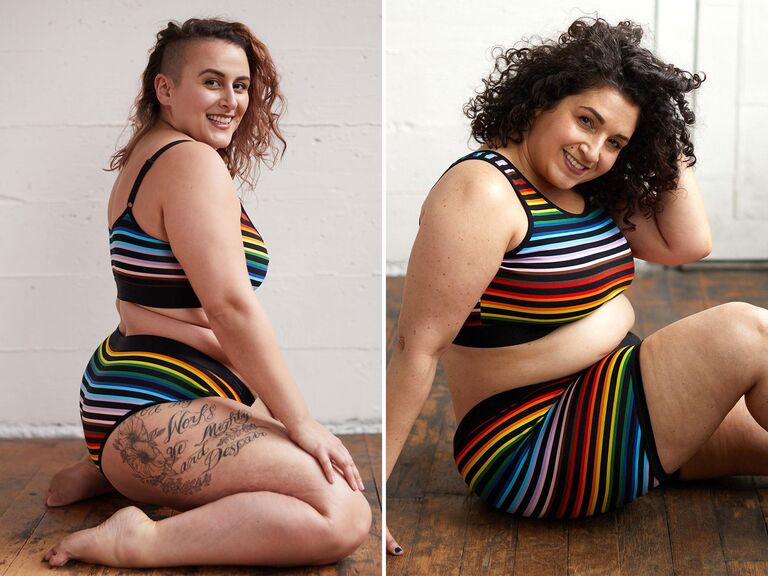 Coordinate your underwear for a sexy matching couples gift. We love TomboyX because their unique and colorful underwear caters to everyone. Feel free to mix and match cuts, fits and colors. How about these fun rainbow briefs paired with matching rainbow boxer briefs?
6. Star Map Glassware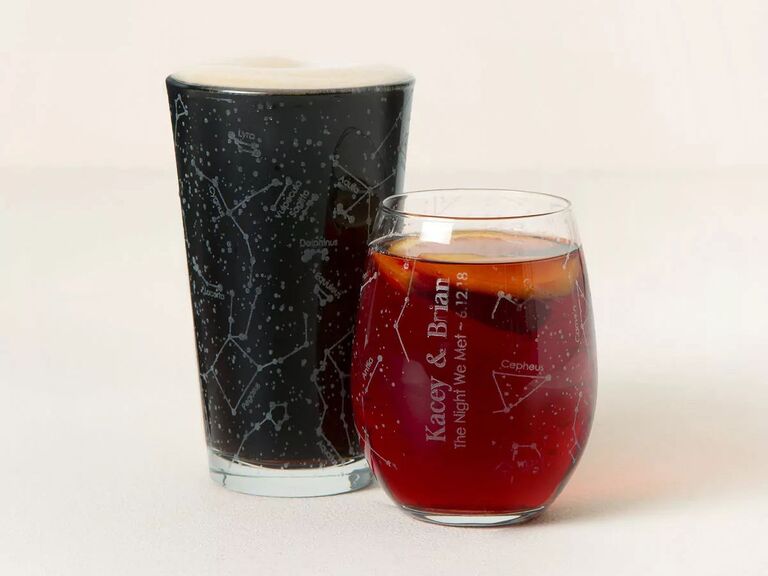 If you enjoy bonding over wine or beer, you have to check out this custom star map glassware. It's engraved with all the constellations that were visible on the exact night of your choice! Choose a set of stemless wine glasses, pint glasses, or one of each. Personalize them further with your names, the special date and a short caption (like "Our First Kiss"). These definitely win the prize for the most creative matching couples gift.
7. Sporty Belt Bags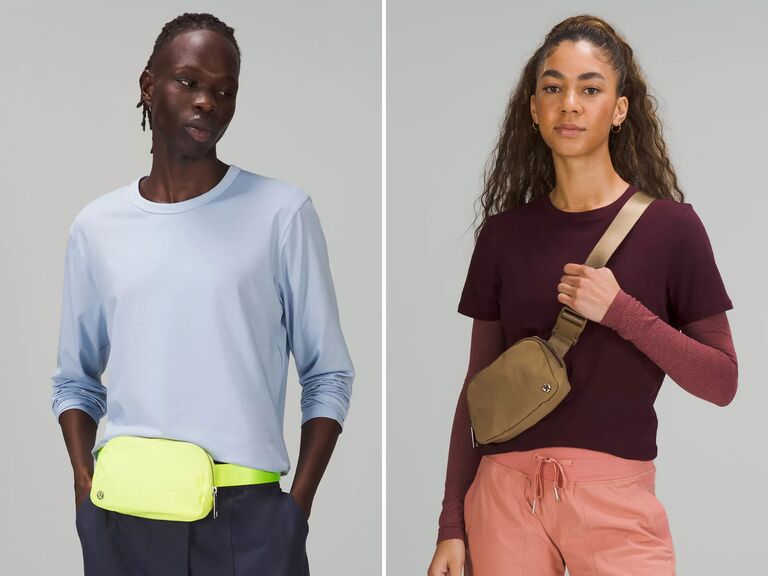 If you're the kind of couple who's always on the move, grab a pair of belt bags for your next adventure. These practical packs are made from water-repellent fabric and have ample pocket space. Plus, they're available in a bunch of different colors, so you and your S.O. can mix and match.
8. Heart Necklaces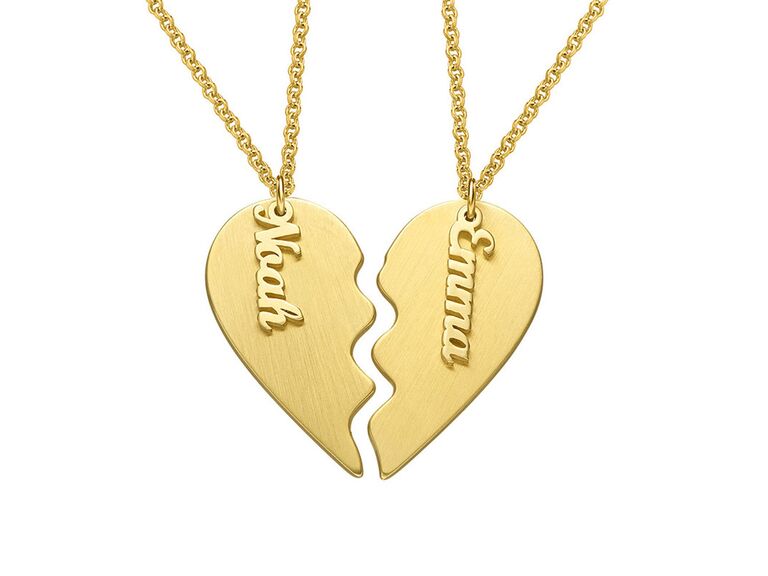 You'll each get one half of this fashionable heart pendant, which gets split between two necklaces. Choose your desired material and chain length, then add your names—one charm for each necklace. You'll think of each other every time you wear this romantic matching couples jewelry.
9. Coordinating Water Bottles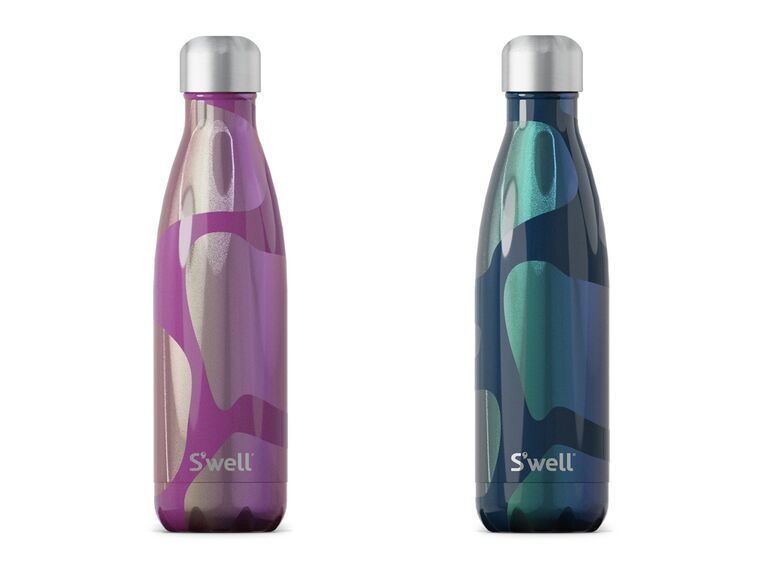 Why not coordinate your water bottles for fun? Staying hydrated is important, after all. These insulated S'well bottles will keep drinks cold for up to 24 hours. The holographic design on the 17-ounce Aubergine Dream and Sea Prism bottles will even change colors when they're exposed to light. How cool is that?
10. Long-Distance Touch Bracelets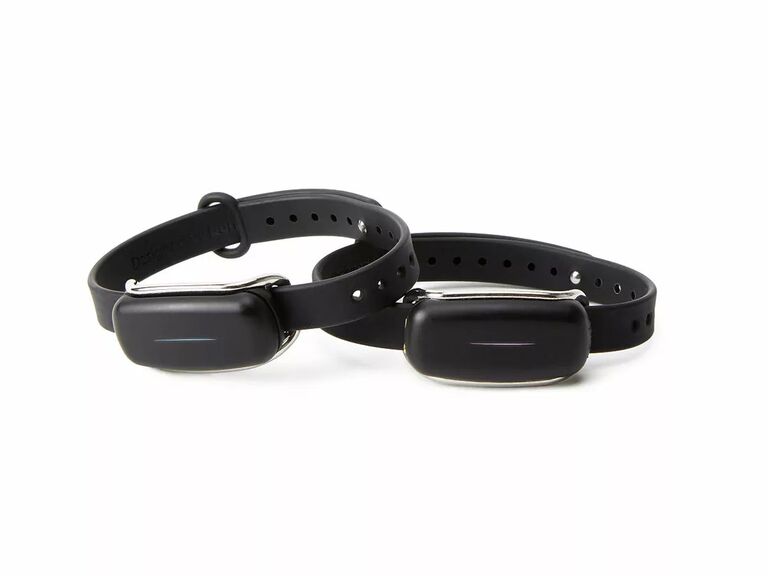 You'll feel closer to your long-distance partner with these matching touch bracelets. Once the bracelets are set up in the corresponding Bond Touch app, you'll be able to tap your bracelet to make your other half's light up and vibrate. They're also waterproof—so you can wear them in the shower or pool without worry. The bands come in a few different colors, including black, blue, green and pink.
11. Portrait iPhone Cases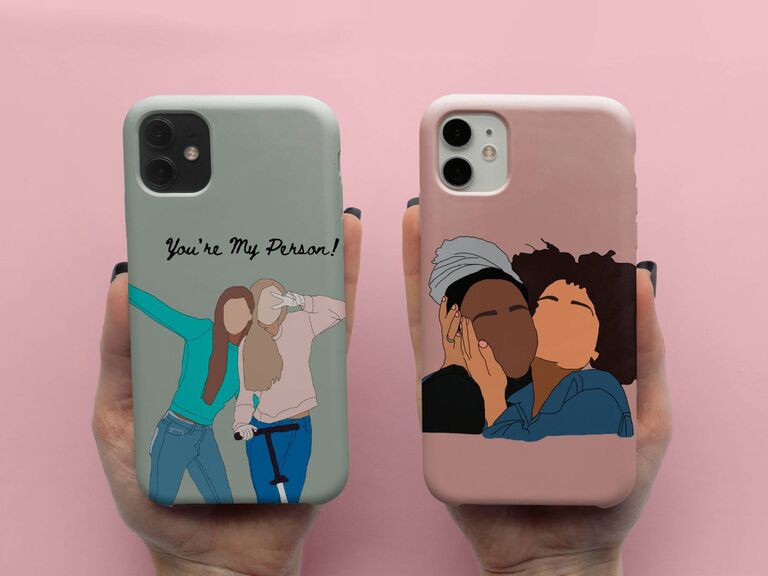 Display your love front and center with these adorable personalized iPhone cases. This Etsy shop will take a photo of you and your special someone and turn it into a unique couple's portrait. You can even choose the background color. It's a meaningful couples accessory they'll love holding close (and showing off!).
12. Couples Blankets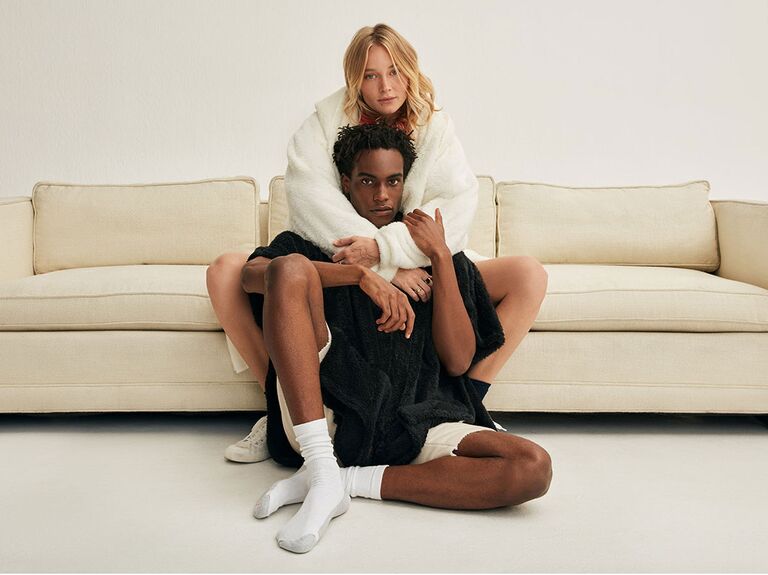 We're big fans of UnHide, and we can personally attest to the immense softness of their vegan faux fur. Take it from us, you and your partner will be wearing these Bingers (a mix of a poncho and blanket) all day—from your WFH desk to your couch. They also have ultra-cozy Shleepy robes that are the definition of heavenly.
13. Etched Champagne Flutes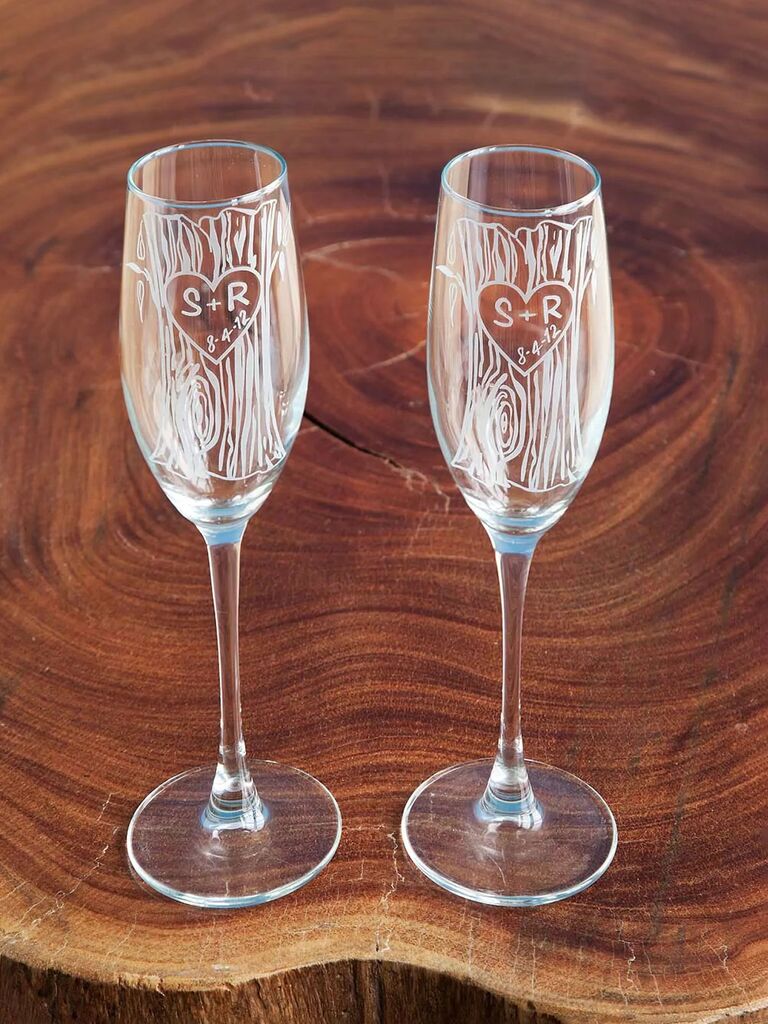 Raise a toast to your relationship with these beautifully personalized champagne flutes. Each glass is etched with an image of a tree trunk carved with your initials, a special date and a heart. It's a timeless matching couples gift you'll use for celebrating special occasions.
14. Matching Aprons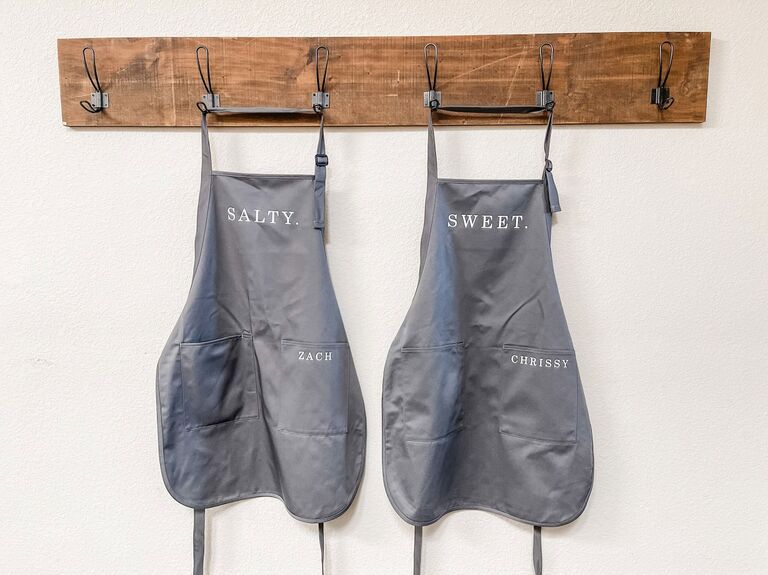 Cooking together just got a lot more fun with these matching "salty" and "sweet" couple's aprons. Personalize each apron with your names for an extra-special touch. The aprons are available in white, black, navy, maroon and more—so you and your partner can coordinate or rock different colors. (Psst: You can even wear them to your first couples cooking class!)
15. Birth Flower Necklaces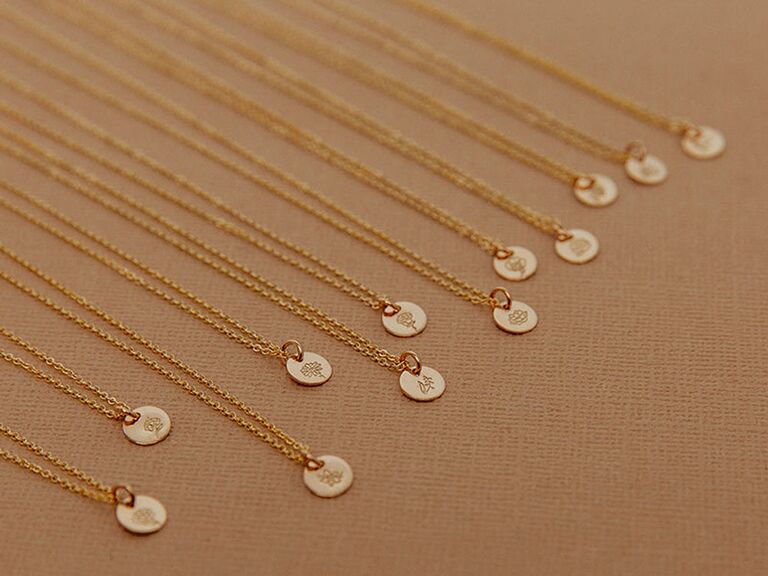 There's something really special about personalized jewelry gifts, which is why matching necklaces for couples are so popular. These tiny birth flower pendants feature hand-drawn flowers unique to every birth month. (You can even add your initials for extra personalization.) Wear your partner's birth flower and vice versa—now that's a sweet couples accessory idea.
16. Couples Key Rings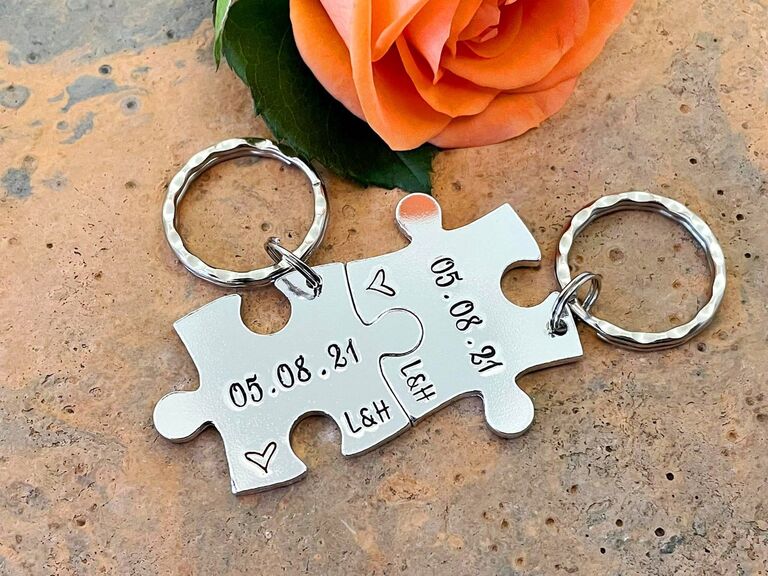 As long as you each have one half of this couples key ring set, you'll always stay connected. Have your initials hand-stamped onto each puzzle piece, along with a sentimental date (the date when you first met or your anniversary, perhaps?). It's a sweet memento you'll both treasure.
17. Cozy Bath Robes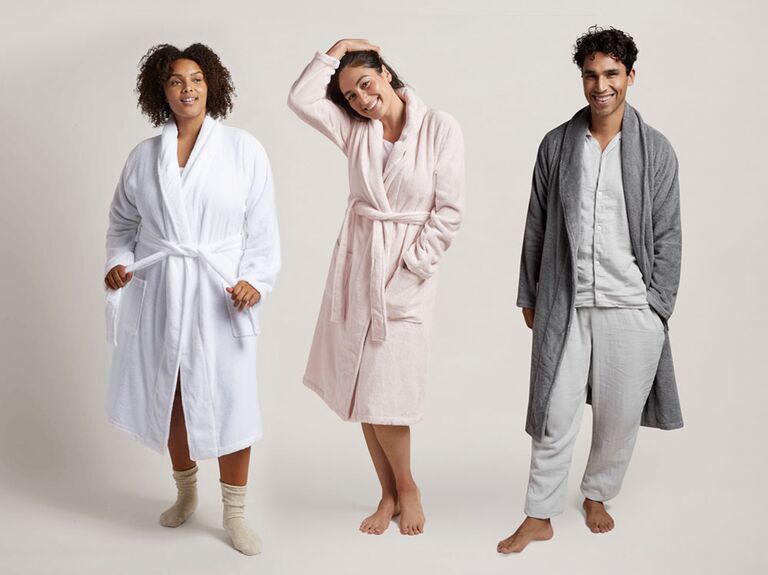 After a relaxing bubble bath with your partner, slip into these cozy bath robes. They have functional pockets, a comfy waist tie and are made from 100% Turkish cotton, so you'll both stay warm and snuggly all year round. Choose from five soothing colorways, including Blush, Fawn and Stone. Say hello to your new couple's self-care routine!
18. Funny Beer Flannels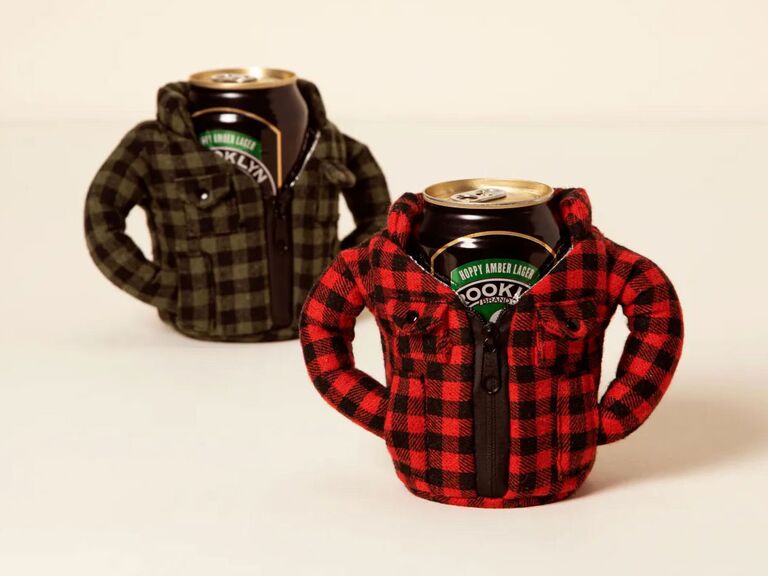 These editor-approved beer flannels are seriously worth it—it's hard to hold back a smile when you see them! Each flannel is designed with two layers of insulation to keep your brews crisp and cool. Whether you're bringing them on a ski trip or enjoying them from the comfort of your backyard, you and your S.O. will appreciate these festive, winter-approved beer holders.
19. Art-Inspired Rings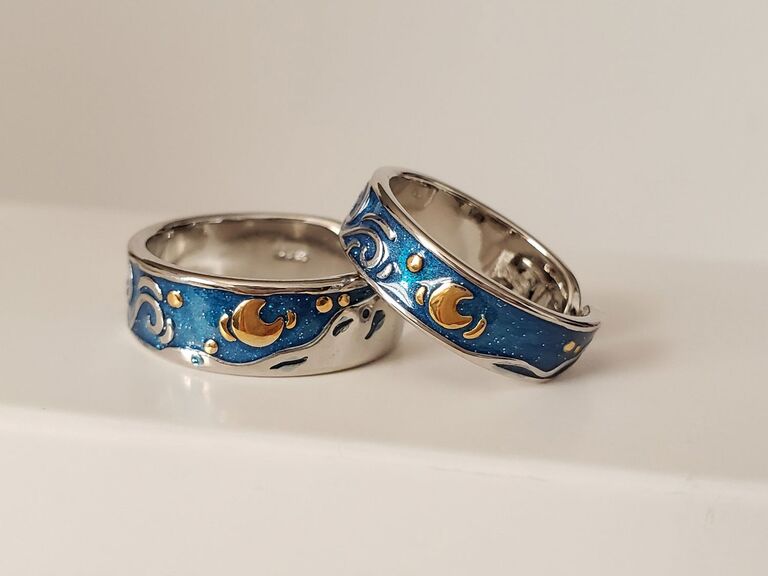 If you're a couple who appreciates art, you have to get these Van Gogh-inspired starry sky rings! Each accessory features a blue, gold and silver celestial design carved onto a timeless silver band. You and your loved one can give them to one another as promise rings, or simply wear them as a reminder of your out-of-this-world love.
20. Superhero Cuff Links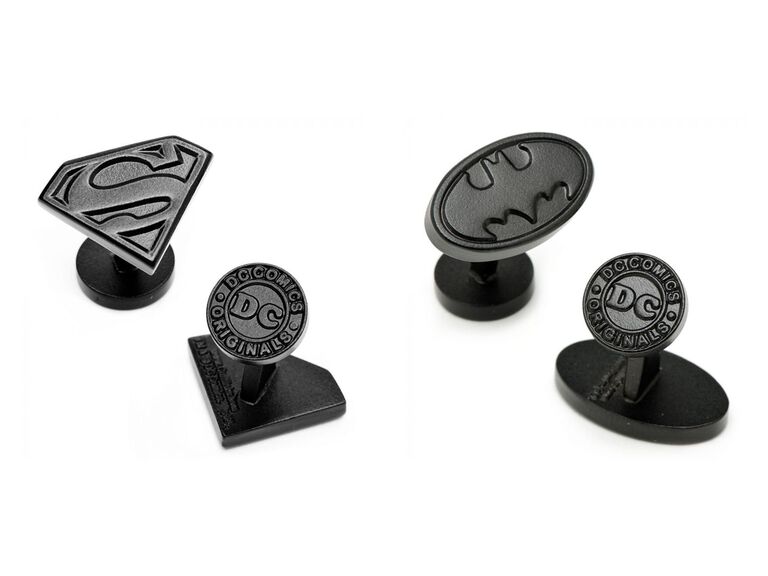 You have to check out these matching DC Comics cuff links. You can each represent your favorite superhero, whether that's Batman or Superman. They'll make awesome additions to your formalwear collections. (Other people might not notice them, but they'll be your secret, shared superpower.)
21. Harry Potter PopSockets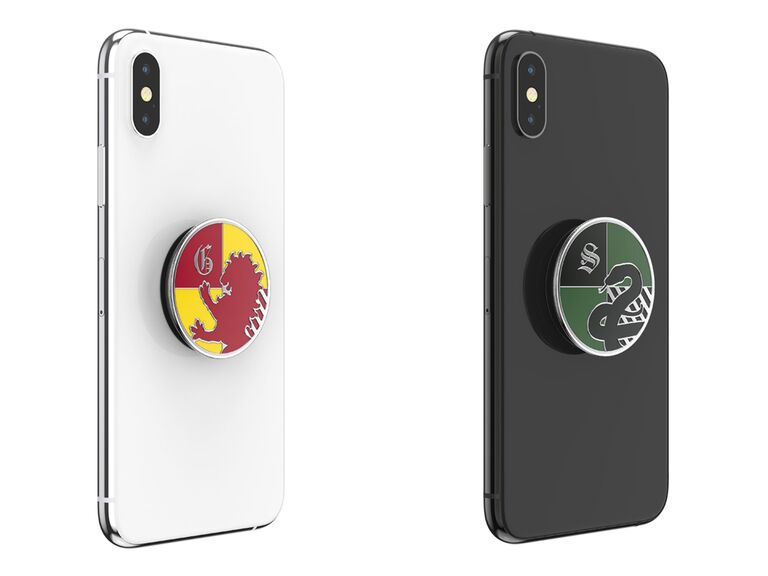 Here's a creative matching couples idea for Potterheads: Show off you and your partner's Hogwarts houses with coordinating Harry Potter PopSockets. Whether you're in Slytherin, Gryffindor or another house, you'll love showing off your colors and crest. And of course, the practical phone grips make it easier to hold and mount your phone—so they're a win-win!
22. Leather Passport Covers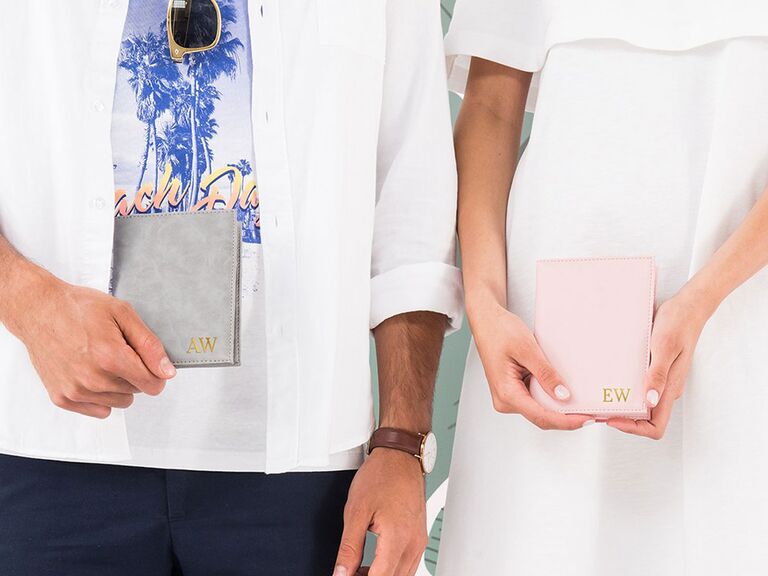 Before jetting off on a couples vacation, you'll appreciate having these chic matching passport covers handy. The durable faux-leather holders will protect your passports and keep your documents organized. Personalize the covers with each of your initials, and choose from pink, navy or gray fabric.
23. Couples Coaster Set
These couples coasters don't just have a cool, abstract design; once you study them more closely, you'll see your names laser-cut into the wood. Put your name on one coaster and your partner's on the other. This unique matching couples gift will stir up conversation and keep your furniture looking brand new.
24. "Stronger With You" Bracelets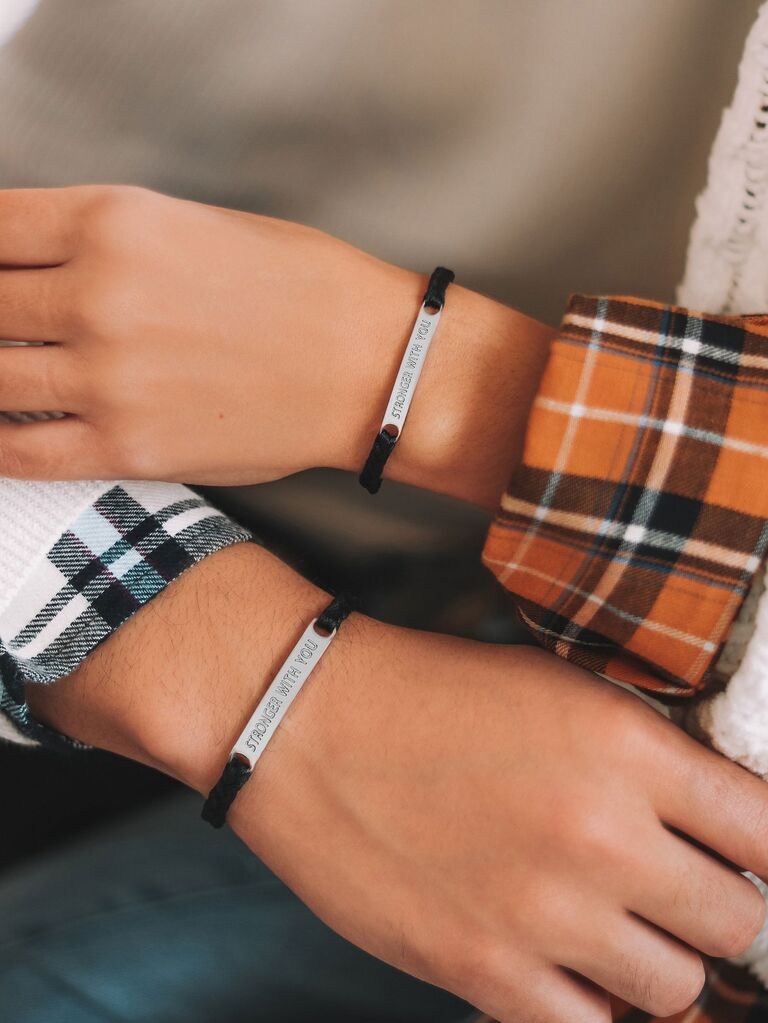 We're rounding out our picks with a matching couples gift that's a testament to your relationship's strength: engraved "Stronger With You" bracelets. This Etsy shop has other cute relationship phrases, like "Always With You," too. Or, you can add your own personalization up to 20 characters long for a custom couples jewelry gift.