31 Gifts for Married Couples That They'll Both Really Appreciate
We've taken the guesswork out of gifting for your favorite duo.
We have included third party products to help you navigate and enjoy life's biggest moments. Purchases made through links on this page may earn us a commission.
There are plenty of opportunities throughout the year to buy a gift for your favorite married couple, from the holidays to their wedding anniversary. The tricky part is figuring out exactly what to get (i.e. finding something they'll both get excited about). Luckily, brainstorming gift ideas for married couples happens to be one of our favorite activities. That's why we've put together this handy gift guide for any of the happily wedded loved ones in your life. From upgraded cookware to romantic experiences, there's something on our list for every couple. But first, check out our top tips to follow when it comes to shopping for your married friends or relatives.
What Is a Good Gift for a Married Couple?
Every couple is unique, and their one-of-a-kind relationship is a great place to start when deciding on a gift. Items inspired by their love story or shared interests will always be a hit. Think: wall art personalized with their wedding date or a subscription box based on their favorite drink. Another great gift idea for any married couple? Something they can do together. An experience like an online painting class will add excitement to their next date night. (And let's face it, what couple isn't in need of some fresh date inspiration?) Finally, upgraded appliances and cookware are a welcome present for any married couple, whether they've been together for a long time or they just left something off their registry.
The Best Gift Ideas for Married Couples
In the mood for some online shopping? Keep reading for all the best gifts for married couples for Christmas, Hanukkah, their anniversary and beyond. We've got options for every budget and every pair of lovebirds.
Pre-Prepared Date Nights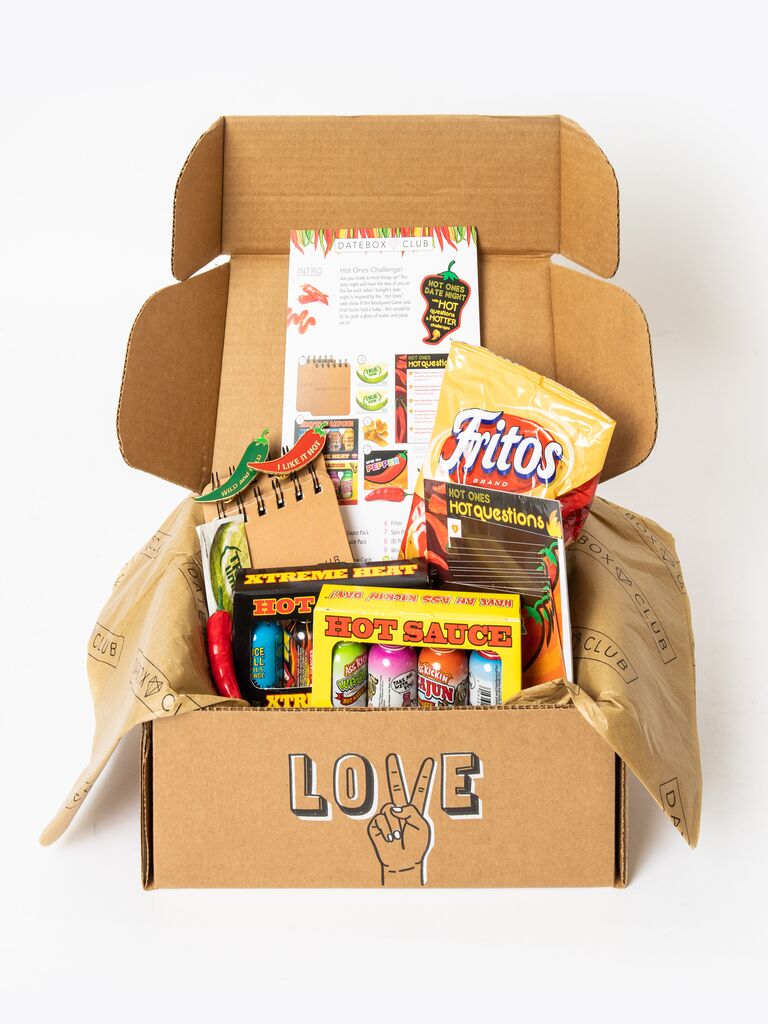 Pleasing both parties can be tough. That's why we love gifts the couple can do together, like this fun date night subscription box. Every month, they'll be sent a unique date night idea with everything they need to pull it off. This definitely trumps traditional holiday gift baskets.
An Online Cooking Class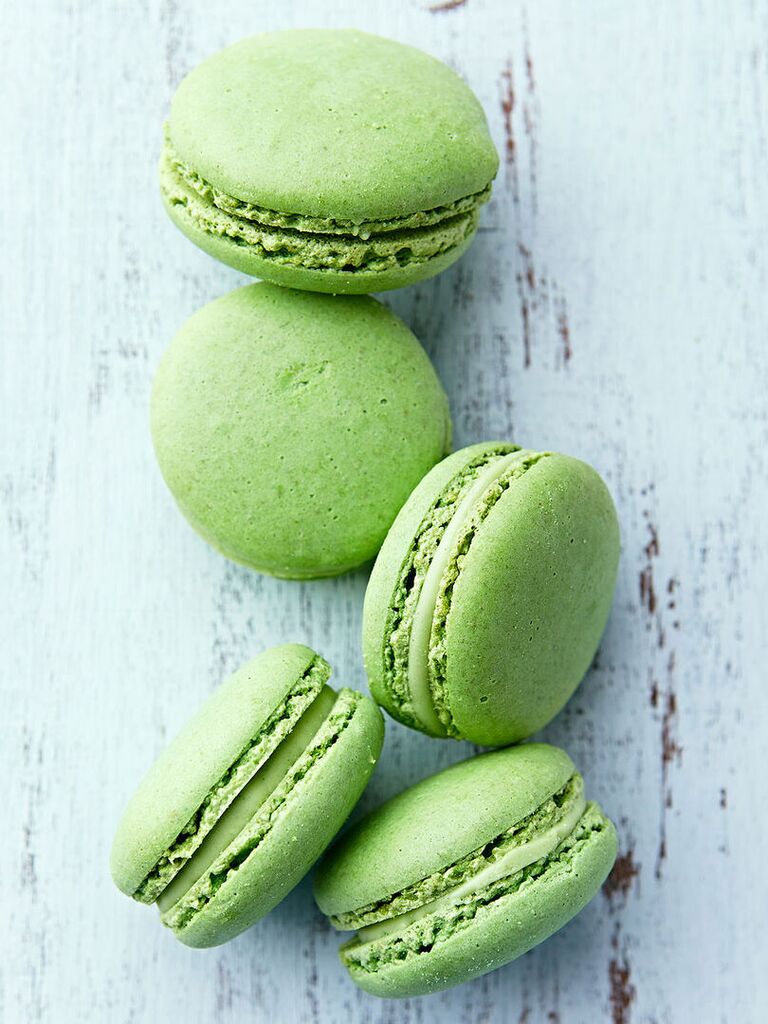 An online cooking class is something they definitely won't be expecting. Sign the couple up for something they're passionate about, like a pasta workshop, or nudge them out of their comfort zone with a baking lesson. It's a super-cool experiential gift idea for married couples who love to try new things together.
Shiny New Luggage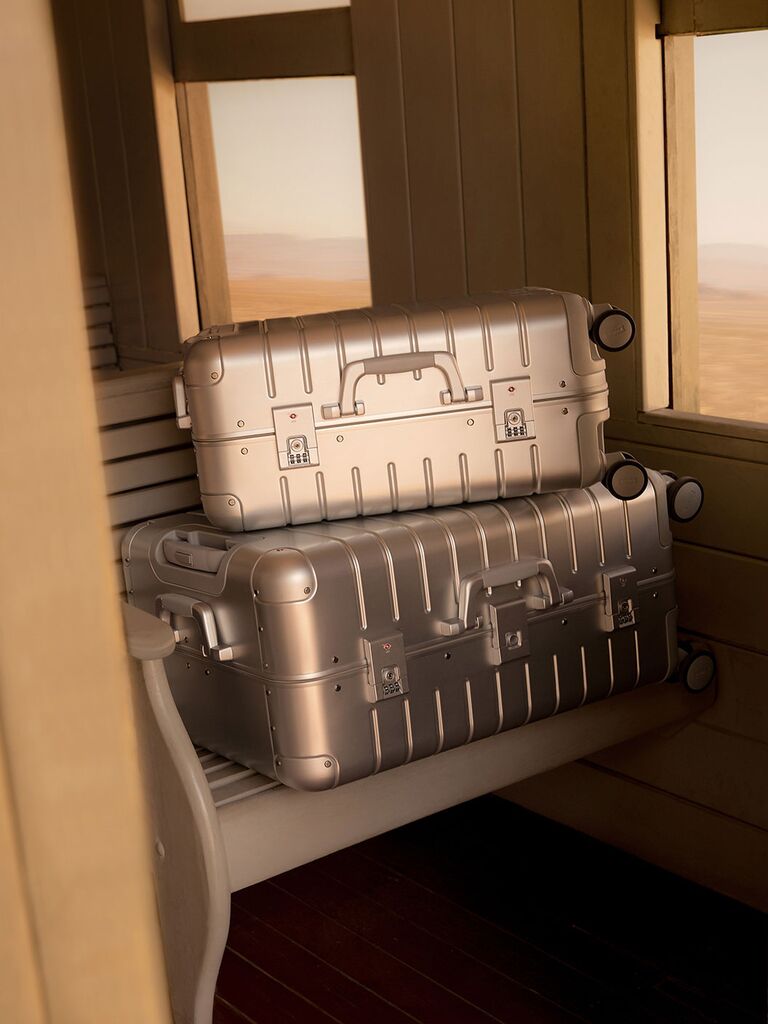 Shopping for a pair of jet-setters? Make their lives that much easier with a set of state-of-the-art suitcases. Travel accessories are especially good Christmas gifts for married couples because they'll be all set to start planning their adventures for the following year. You can get two carry-on suitcases for $450 or mix and match a carry-on with Away's medium checked luggage and receive a $45 discount—score.
A Message in a Box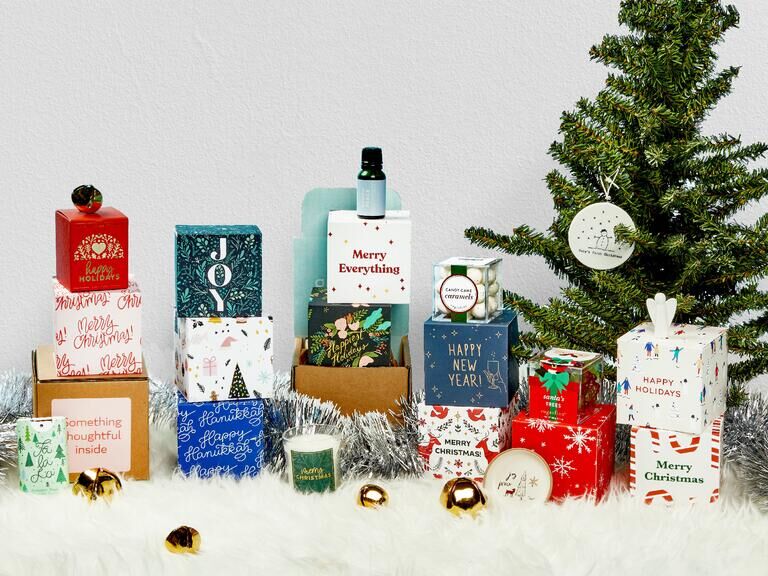 Greetabl lets you design, fill and ship lovely little gift boxes for almost any occasion. Choose a present they can both enjoy, like champagne gummy bears or a cozy scented candle. Whether you're searching for holiday gift ideas for a married couple or you want to surprise them just because, we love this cute (and convenient) idea.
A Blanket They Won't Fight Over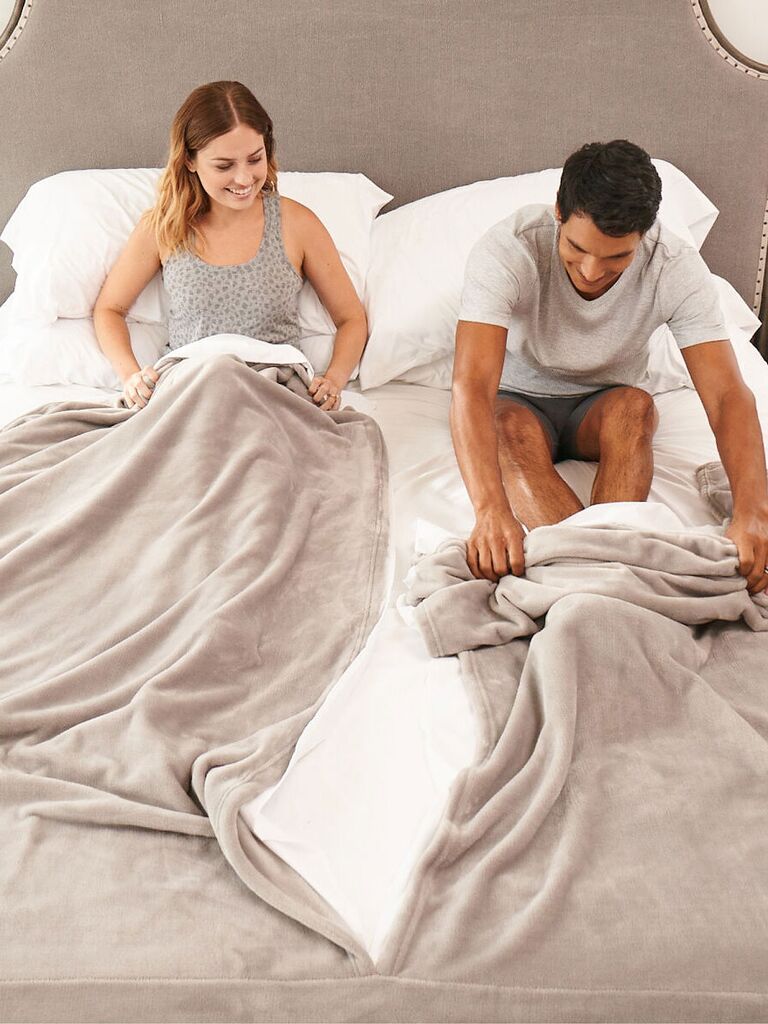 Prepare to be amazed because this one is a game-changer. This genius blanket will put a stop to any middle-of-the-night fights over who gets the duvet. The fleece blanket is split in two most of the way down and joins back up again at the bottom. Ultimately, it allows couples to share a duvet without any of the drama. Trust us, any married couple who's graduated from the honeymoon phase will be impressed.
Coffee Delivered to Their Door
There's no reason why you can't pick out a practical gift for your married couple friends. Signing them up for a monthly coffee subscription basically guarantees they won't unexpectedly run out of their much-needed rocket fuel. Plus, they'll get to try lots of different blends by world-renowned roasters from the capital of coffee itself, Seattle. Each delivery includes 12 ounces of freshly roasted ground or whole-bean coffee, plus tasting notes and brewing tips. Sign us up!
The Cutest Christmas Ornament Ever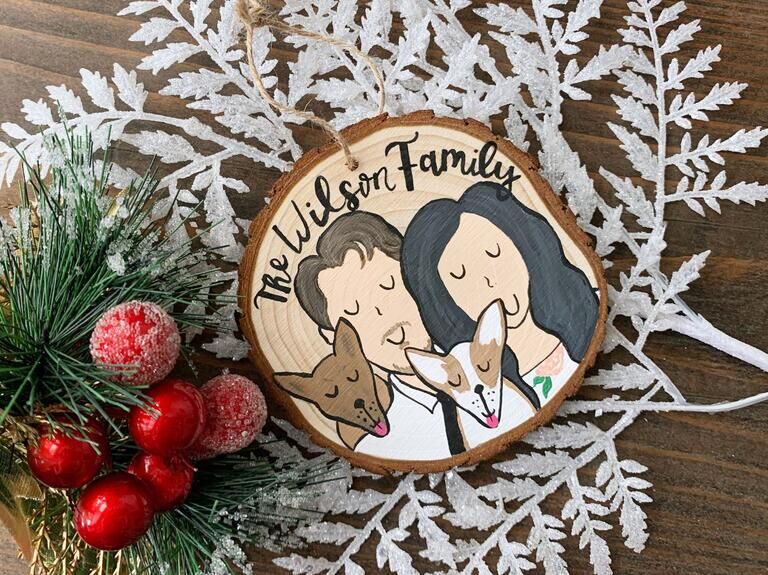 Looking for Christmas gift ideas for a married couple who seems to have everything? Here's a quirky present they almost certainly don't have already. Simply send a cute photo of the lovebirds and their family to this Etsy seller and they'll turn it into a unique masterpiece. Custom ornaments are a sweet and sentimental way to spread holiday cheer.
A Photo Shoot Gift Card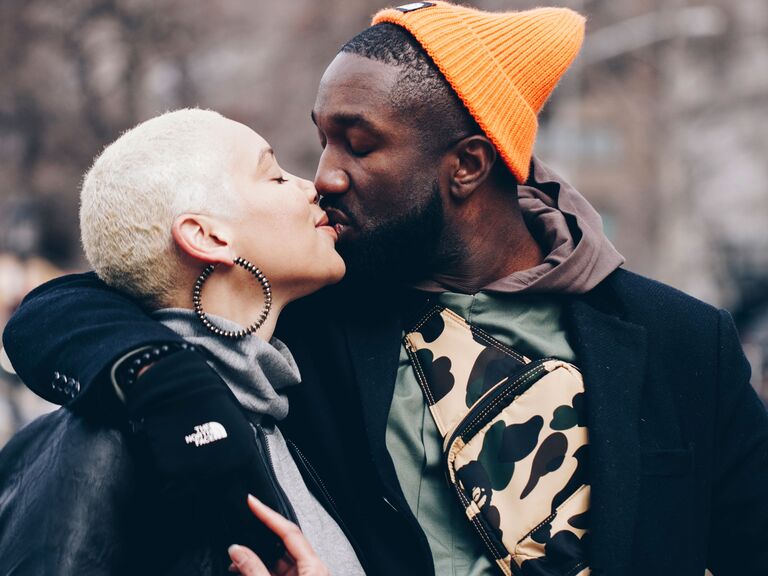 When was the last time the happy couple had their photo taken professionally? Their wedding day shouldn't be the only time they take romantic pictures together. By giving the lovebirds a gift card for Shoott, they'll be able to arrange a 30-minute outdoor session with a local photographer whenever they please. The best part? They only have to pay for the photos they want to keep.
An Extra-Sweet Greeting Card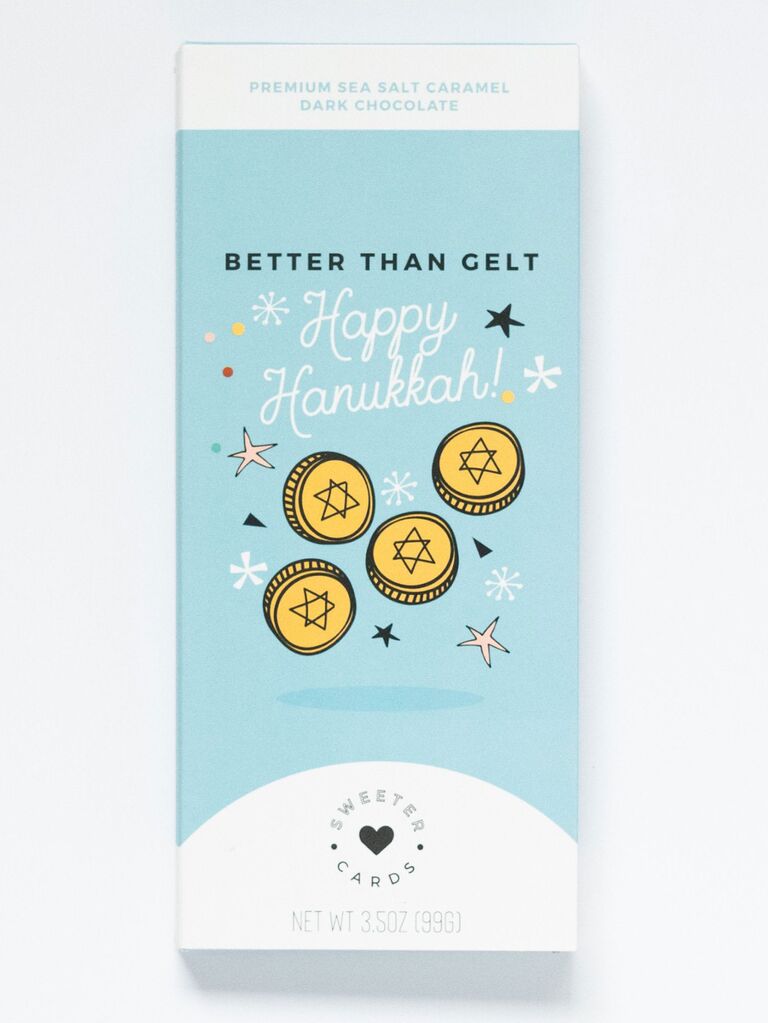 What could be more convenient than agreeting card and delicious handmade chocolate in one? This clever idea is the perfect way to wish your married friends and family a happy Hanukkah, Christmas or anniversary. There are also options that say "congratulations," "thanks" and "sorry," so you're bound to find one that gets the right sentiment across. Get 10% off your order with our exclusive code WedSC.
The Coolest Couples' Activity Journal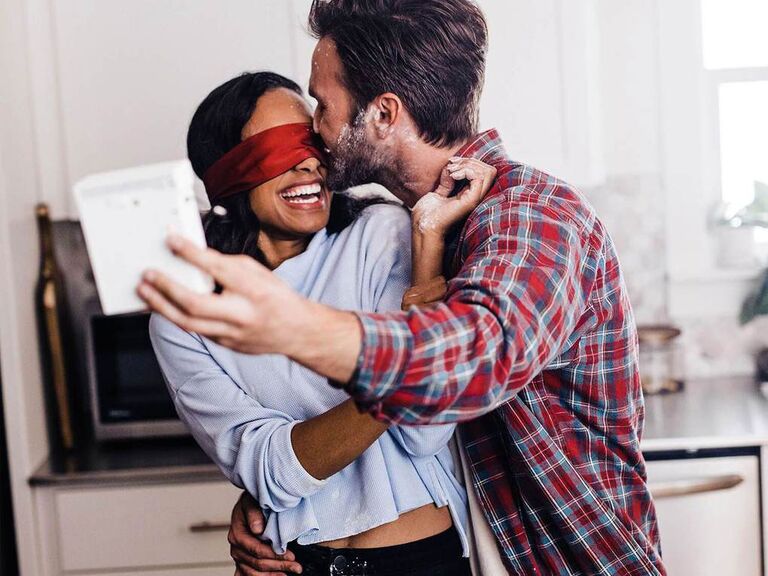 We're just a little obsessed with The Adventure Challenge: Couple's Edition, and your married friends will be too. The journal contains 50 scratch-off date ideas that'll seriously spice up their love life. Once they've decided to scratch off an activity, they have to commit—it's the perfect way to encourage spontaneity and adventure. There's space to jot down notes and add a photo next to each challenge, transforming the book into a priceless keepsake afterward. (Psst, you can get 10% off the entire site with our code THEKNOT10.)
A Cooking Pot for Potter Fans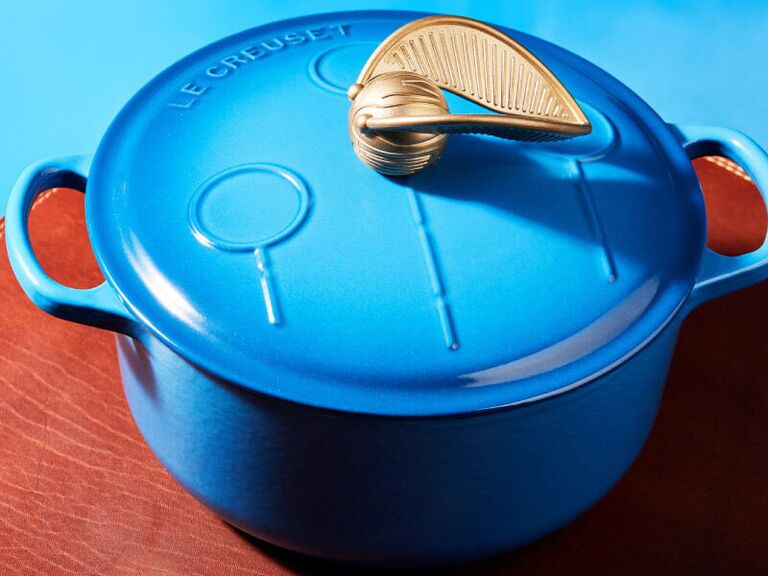 A generously sized Dutch oven is a must in any household, and while they might already have one, they definitely don't have one like this. As if Le Creuset's Dutch ovens weren't eye-catching enough already, this special edition features a Harry Potter-inspired Golden Snitch knob made from solid brass, as well as Quidditch goal rings embossed on the lid. It'll be a prized possession in any Potter fan's home.
A Tribute to Their Love Story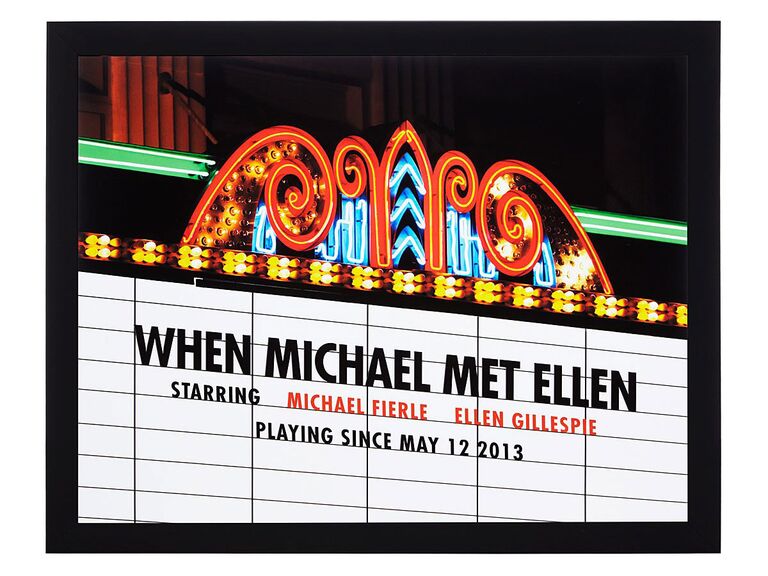 Give a nod to where it all began with this personalized marquee-themed photo print featuring their names and the date they said "I do." It's a meaningful present that doubles as an interesting piece of home decor, especially if they're into theater or movies. For a display-ready gift, opt for the pre-framed print. Or, if you know they'd prefer to choose their own style of frame, just hand over the artwork.
A Relationship-Building Game
If you're on the lookout for unique gift ideas for a married couple, why not choose something that'll help make their bond even stronger? This card game was thoughtfully developed with psychologists and relationship therapists. The result is a deck of questions designed to inspire meaningful conversations.
Cute Coffee Mugs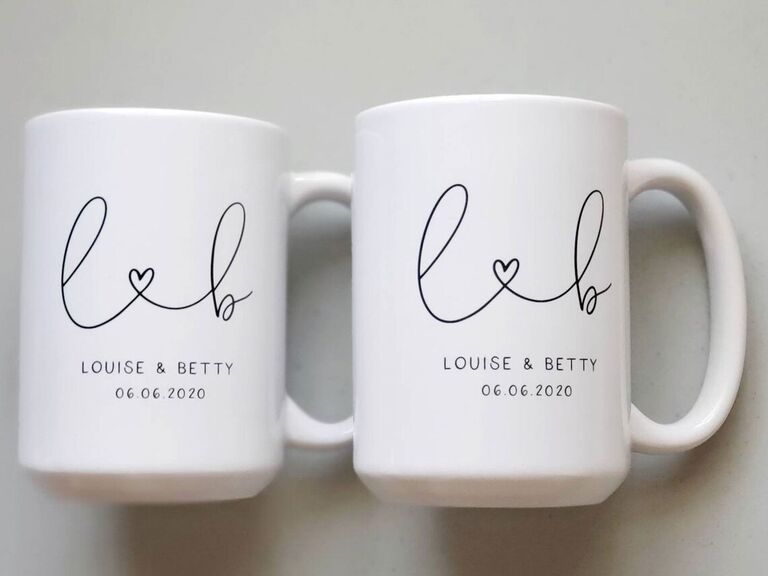 A set of Insta-worthy mugs will elevate their morning coffee or cozy movie-night hot chocolate any day of the week. Beautifully printed with their initials, first names and a special date, these mugs are equal parts useful and sentimental.
A Creative Date Night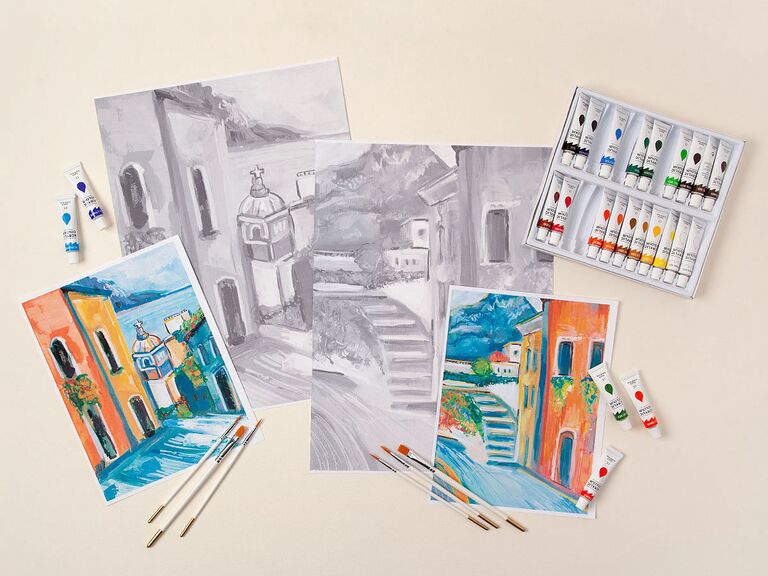 Fasten your seatbelt because we've got a lot more gift suggestions for married couples to come. Encourage them to spend some quality time with each other (and stretch their creative muscles) by signing them up for a virtual painting class. Designed specifically for date nights, the class comes with everything they'll need to take part, including canvases, paint and paintbrushes.
Chic Matching PJs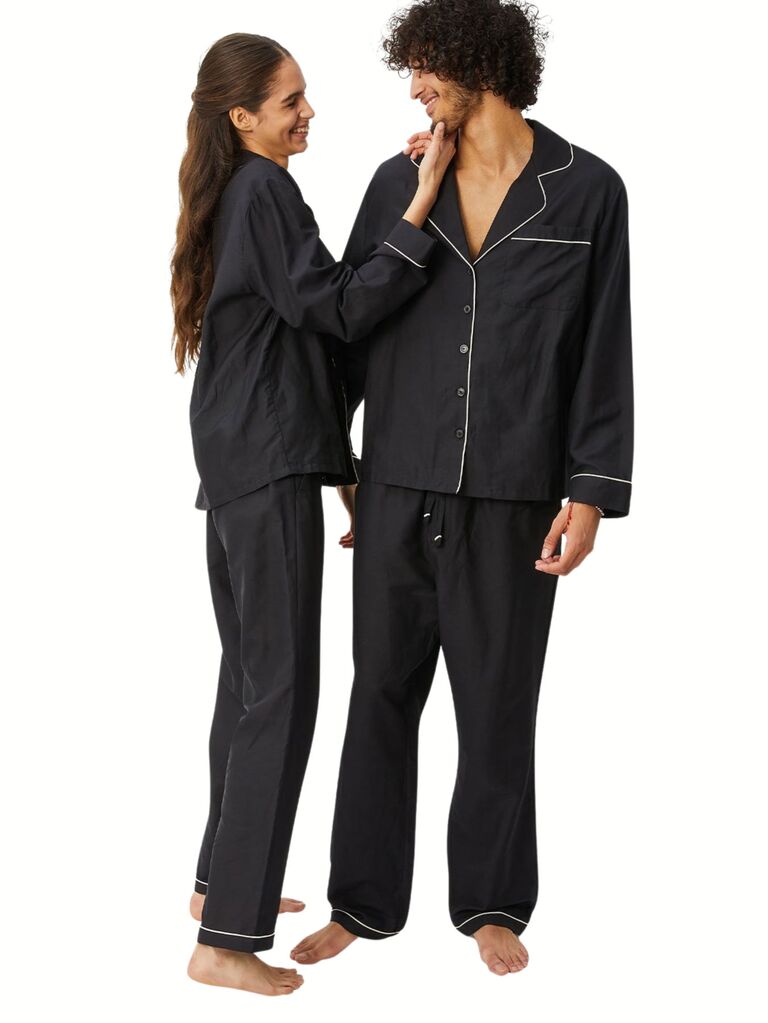 If you're in the market for a splurge-worthy present, treat the couple to luxurious matching pajamas. This unisex loungewear is made from a lightweight silk blend they can enjoy year-round. There's also an option to add personalized embroidery for an extra fee.
Wine in a Fancy Gift Box
You really can't go wrong with a nice bottle of wine, no matter the occasion. This inexpensive wooden wine box can be personalized with the couple's names and a meaningful date for seriously sleek presentation.
The Tastiest Hot Chocolate Ever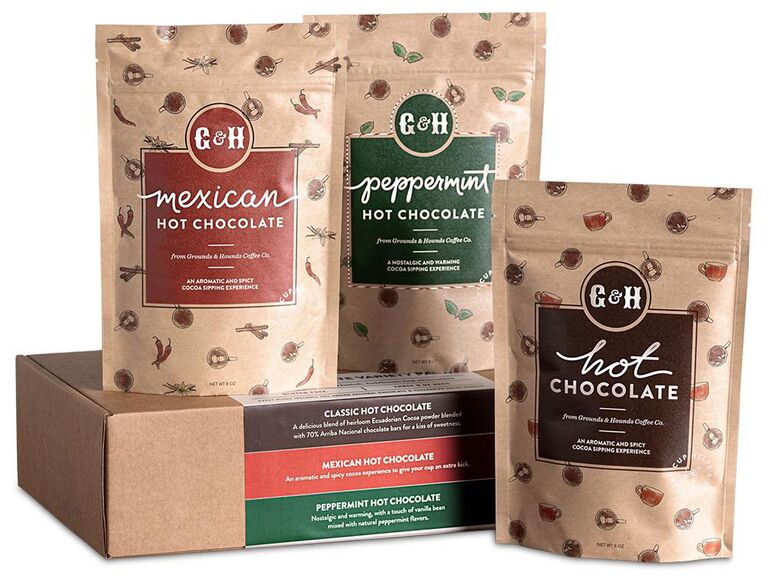 What's more relaxing than settling down at the end of the day with a delicious mug of hot cocoa? Grounds & Hounds has the perfect hot chocolate gift set for your loved ones to sample, including delicious Mexican and peppermint flavors. Add this one to the list of great gifts to give married couples for the holidays.
Rustic Champagne Flutes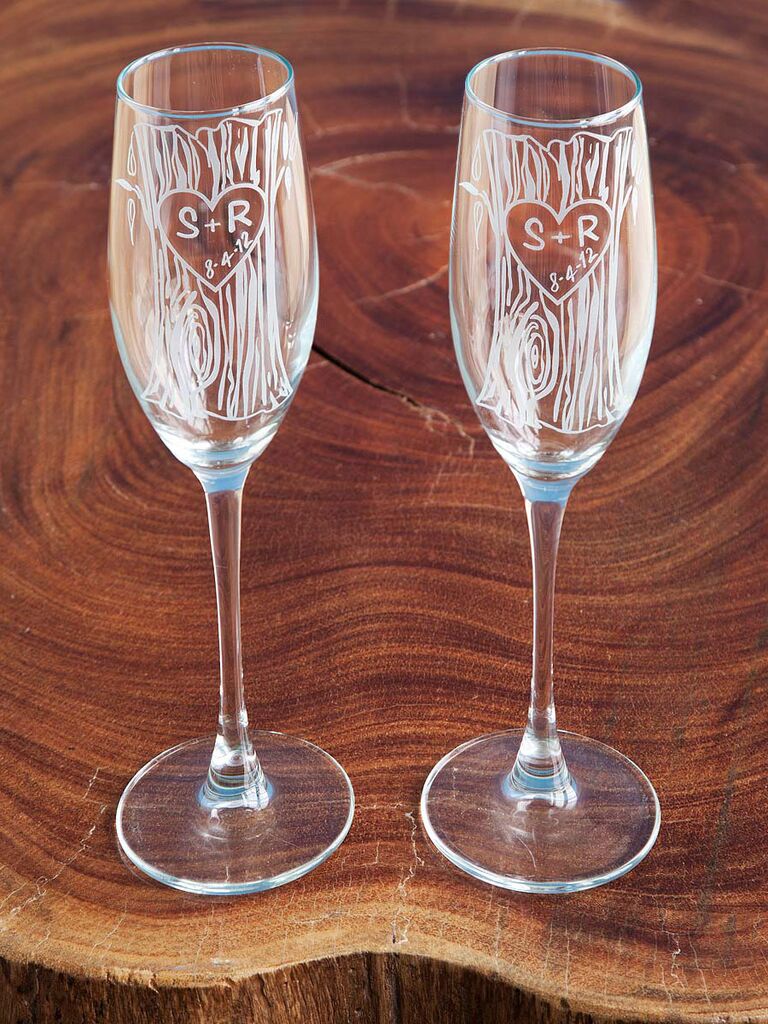 If the occasion calls for a toast, why not give the lovebirds matching champagne flutes engraved with their initials and a special date? Include a bottle of bubbly so they can break them out right away to honor the celebration.
Tickets to a Show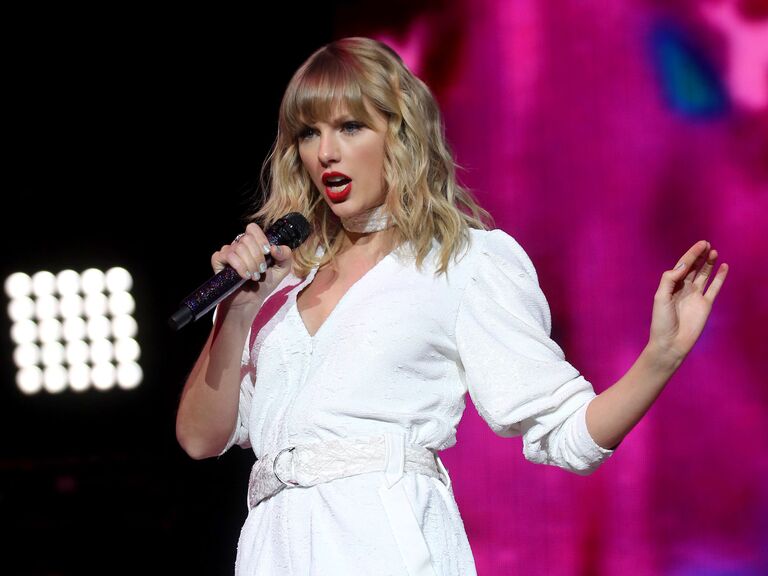 There's nothing better than surprise tickets to watch their favorite musician, sports team or theatre show. If you're not sure exactly what they're both into or when they're available, you can always buy a gift card for your fave married couple instead. Either way, they'll be super excited to start planning their next night out.
A Custom Print of Their Home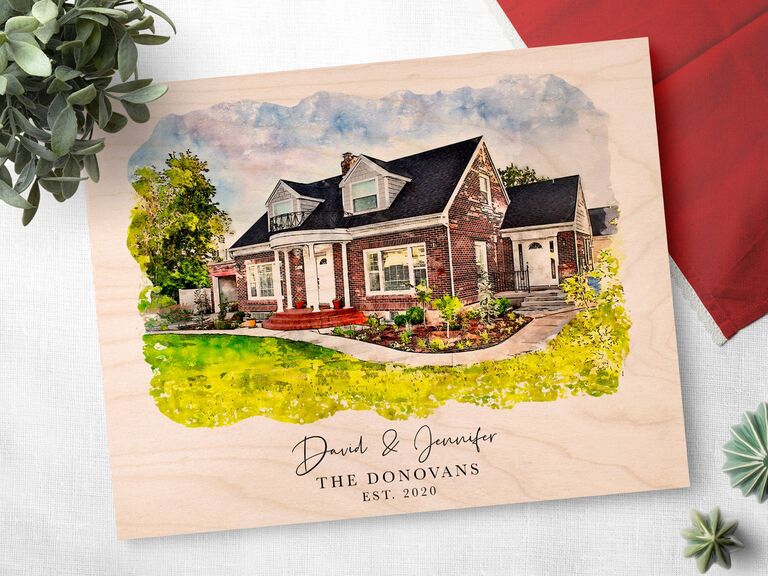 Whether you're shopping for a housewarming or holiday gift, a custom print of their new or established home is sure to go down as a treat. This super-meaningful present is printed on wood in an artistic watercolor style that'll get guests' attention every time they visit.
Fresh Date Ideas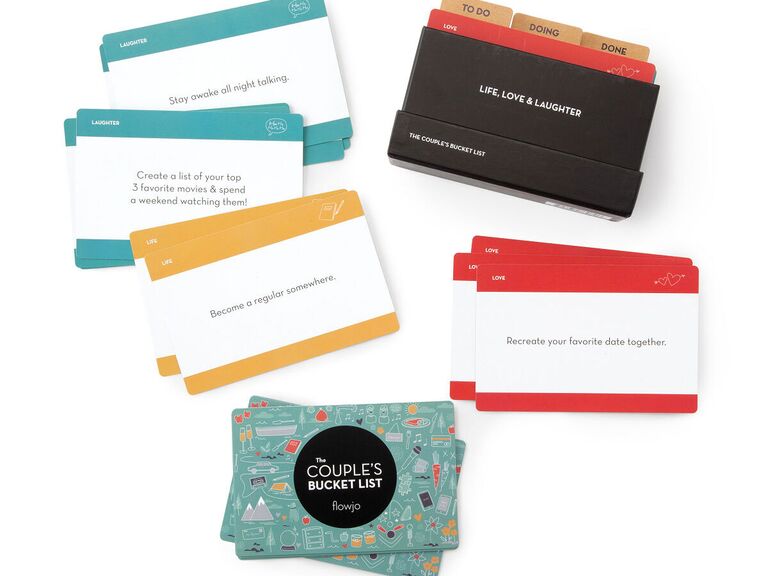 Cute presents don't have to be super personal. Gifts for the couple to experience together are a cool alternative they'll have plenty of fun with. These unique bucket list cards will give them lots of great ideas for date night they never thought of before.
Engraved Cookware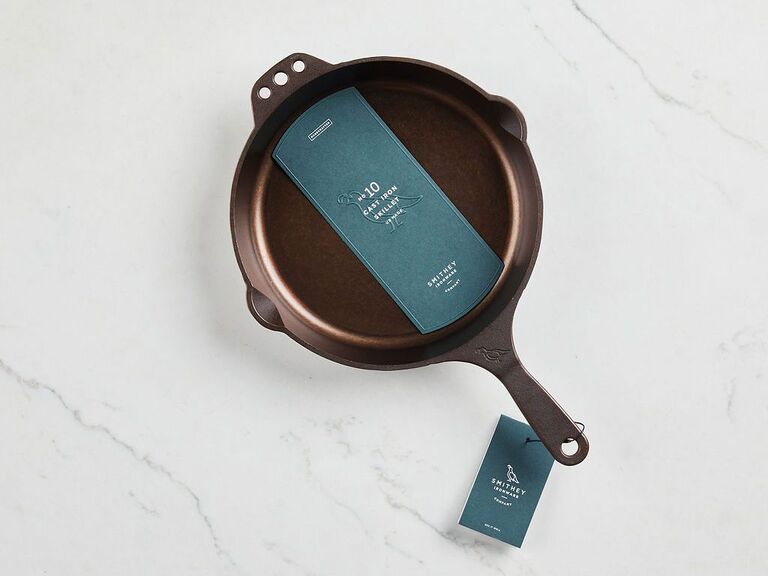 A good cast iron skillet is invaluable, making this an excellent present for any married couple in need of an upgrade. But that's not the only thing that makes it a special gift: You can also have it engraved with the couple's first names, family name, wedding date or a short, heartfelt note.
A Personalized Game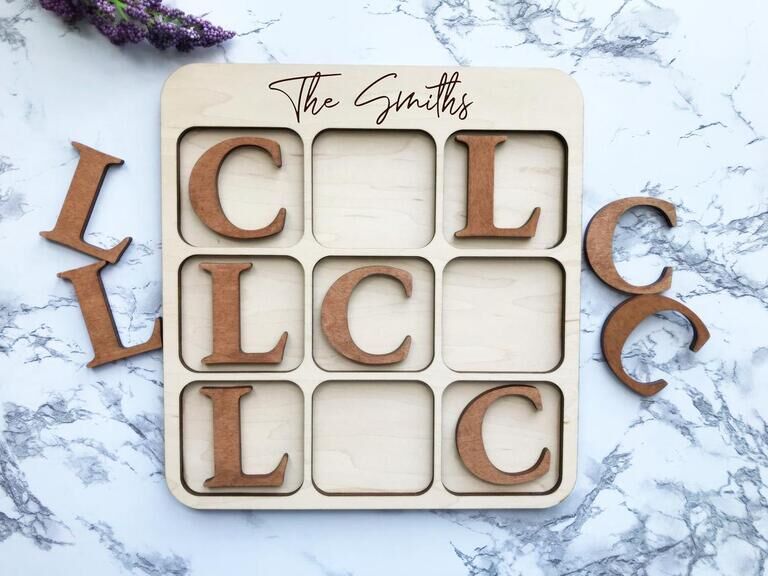 Still looking for gifts they can enjoy together? We've found your match. This custom tic-tac-toe set is a classic form of entertainment that'll look ultra chic on their coffee table. Instead of traditional Xs and Os, the pieces represent their initials.
A Map to Track Their Travels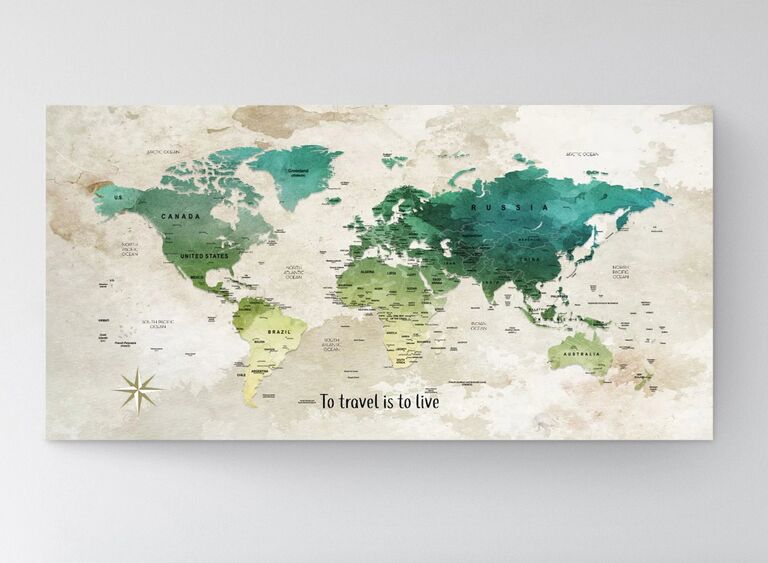 Do they have a dedicated travel bucket list? Help them visualize their future adventures with this decorative push pin map of the world. You can have it personalized with their first names, family name or an inspiring quote like "to travel is to live." There's also a choice of 10 push pin colors and four canvas sizes.
An Irresistible Cookie Assortment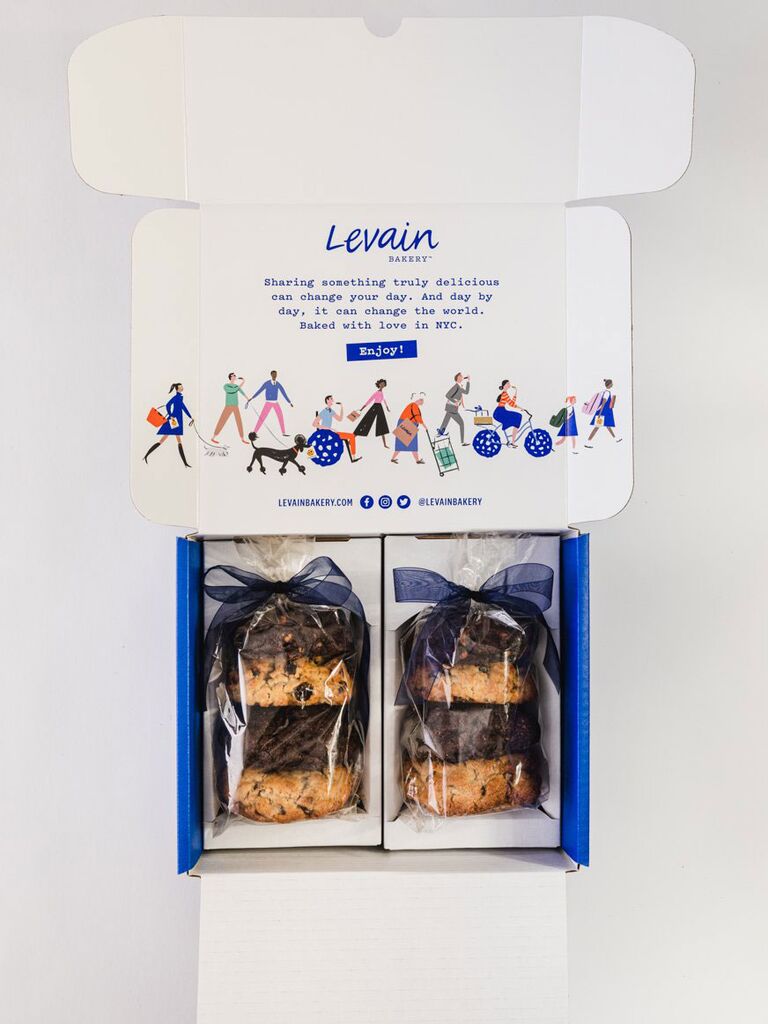 A box of neatly wrapped cookies is a cute gift for any married couple. This delicious assortment includes Levain Bakery's four original cookie flavors: chocolate chip walnut, dark chocolate chocolate chip, dark chocolate peanut butter chip and oatmeal raisin. Choose a four pack for an incredibly tasty (but relatively inexpensive) gift or go all out with a pack of 12.
A Game for the Mystery Lovers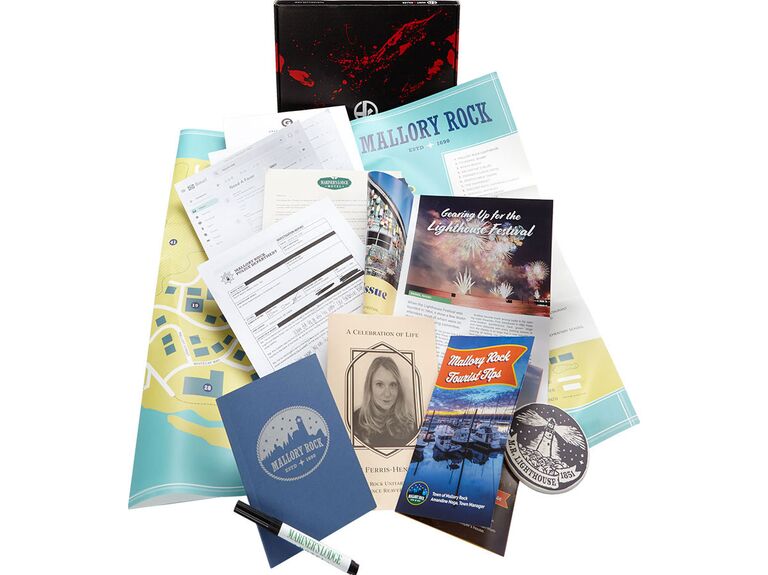 Are they always watching true crime docs or catching up on the latest podcast episode? Any true crime-obsessed couple will get hours of fun out of HuntAKiller. You can send them a gift card for one or two full seasons (that's a six- or 12-month subscription). With each delivery, they'll receive a new installment of a mystery where they each take on the role of detective. After six months, one season ends and the fun begins all over again with a new mystery to solve.
A Unique Way to Preserve Memories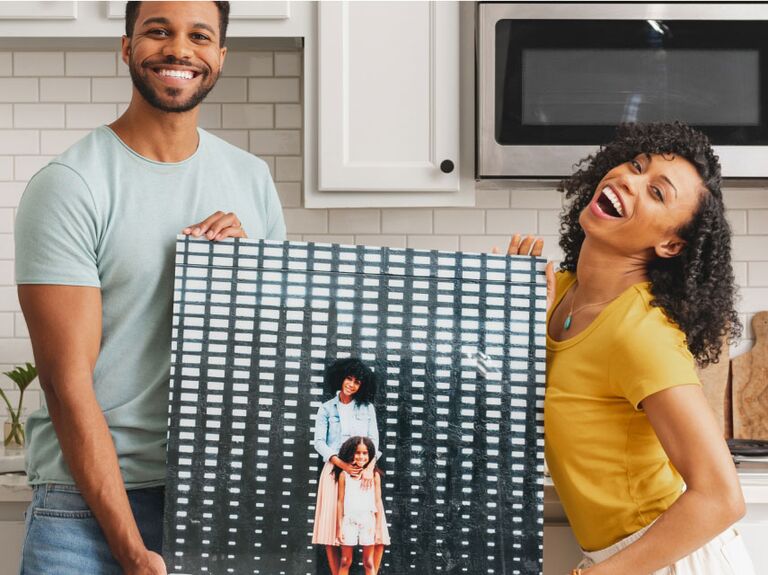 If you're specifically searching for a gift card to give a married couple, we've got an interesting one for you. With a gift card for Fracture, they can create stunning glass prints of their favorite photos. From small prints perfect for a desk or mantelpiece to entire gallery walls, there are options for every space. If you're shopping for newlyweds, it's a lovely way for them to showcase their wedding photos. Or if they've been married for a while, they can add some more recent memories to their home decor.
A Showstopping Whiskey Decanter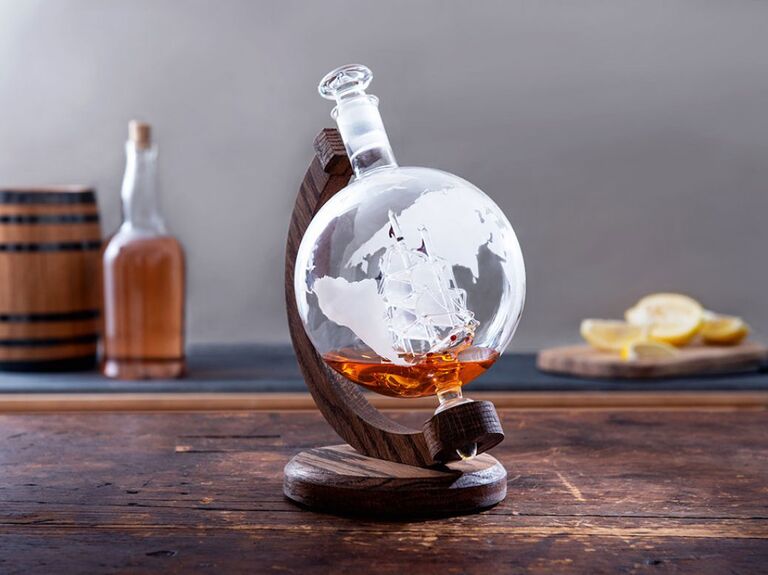 Have you ever seen such a stunning decanter? This wood and hand-blown glass bar accessory comes in 13 different styles featuring intricate sculptural scenes of boats, submarines and more. It's a nice gift for a married couple who enjoy whiskey (though really, they can fill it with whatever they like).
Punny Wooden Spoons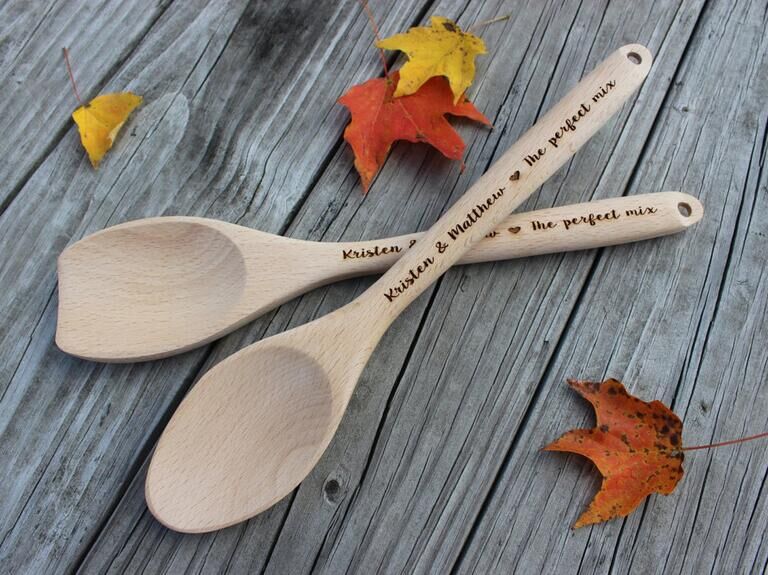 Do they love to get creative in the kitchen? Give them a pair of cute (and affordable) wooden spoons engraved with their names and a heartfelt pun like "the perfect mix." No matter how long the couple has been married, they'll never get tired of seeing their names together.
A Meaningful Montage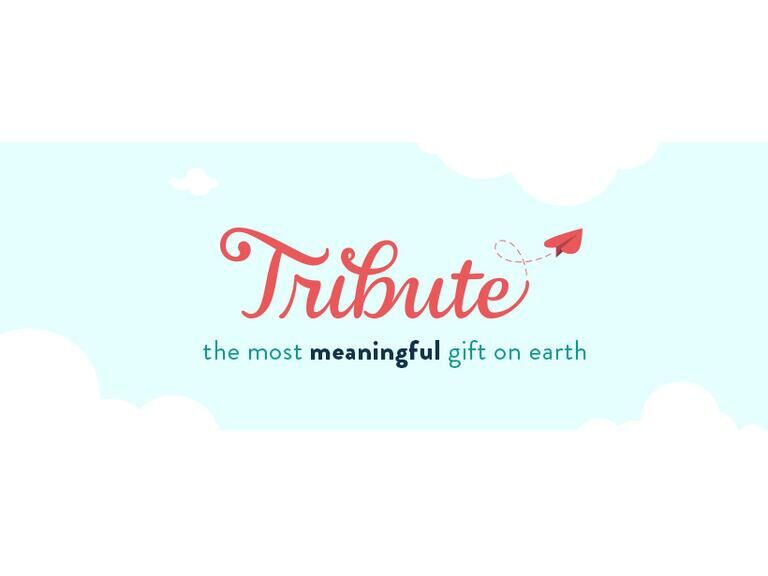 Tribute is another amazing service that'll let you send a sweet message to your favorite married couple. Friends and family can join in via email to create a heartfelt video montage for any celebration. They'll even receive fun prompts to help kick things off! You get the final say on the video with Tribute's online editing tools.