Former 'Survivor' Winner Ethan Zohn and Lisa Heywood Told Us All About Their Wedding Plans
With a pizza truck rehearsal dinner, a historic venue and 'Survivor'-style lawn games, Ethan Zohn and Lisa Heywood's seriously rad wedding plans will leave you with a good amount of FOMO.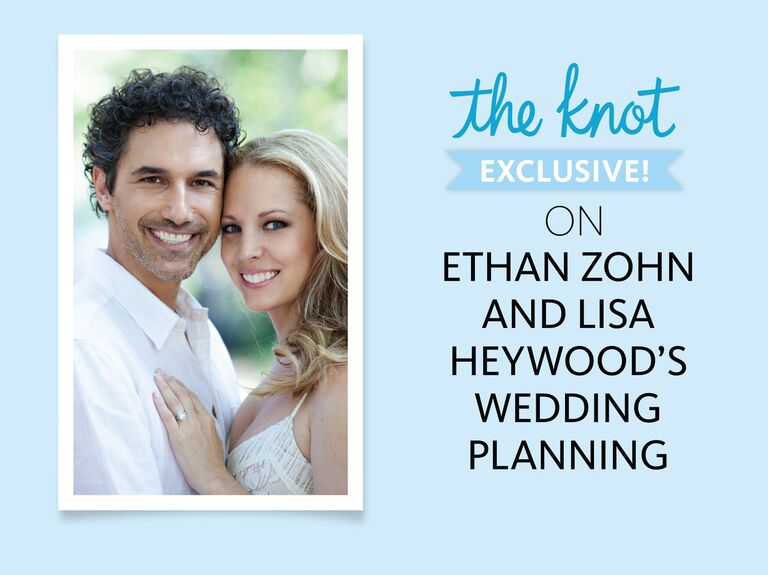 Regina Fleming Photography
Ethan Zohn has won Survivor: Africa, successfully battled Hodgkin's lymphoma and used his passion for soccer to found Grassroot Soccer—and now, he's ready for his next life-changing adventure: marriage! Zohn and his fiancee, interior designer Lisa Heywood, chatted exclusively with The Knot about their upcoming nuptials. Spoiler alert: Their wedding is going to be ridiculously fun.
Zohn's proposal didn't go exactly as planned.
EZ: "Lisa and I made a life decision–we'd lived in New York City 25 years each. So we were like, 'Let's get out of the city. Let's move to the country.' So we got a cute little cottage on a lake in the woods in New Hampshire. You can't see our neighbors and we can grow tomatoes—it's awesome. So I had these grand plans—I had her family and my family come to visit and we were going to do this big engagement at the annual hot air balloon festival in our town. But it was a disaster of a day."
LH: "When there's a lot of people and you're corralling them and they all have different ideas and they have no idea what he's planning, they all did a bunch of things to mess it up. And then I got mad—it was just not the right day."
EZ: "The next morning I was ready to do it—but our house was a complete disaster. We had no furniture, no septic tank, no showers; it was like a camp house. So we hadn't showered in four or five days, which I love—Lisa, maybe not so much. Basically, we have a beautiful dock that leads down to our lake and there are wild blueberries growing right there. So I said, 'Let's go pick some blueberries. It's our last day here.' We were going to New York to pack up our stuff and come back. So we were walking down there…"
LH: "I saw him check his pocket and was like, what's going on? Luckily I put a dress on that morning, because I was pretty much in sweats for four days and the house was crazy. But I put a dress on for some strange reason! It was nice. I was really surprised and didn't expect it. There were other times that I thought it was maybe the moment, but they came and went."
Heywood's ring is a beautiful family heirloom.
EZ: "The ring itself is a pear shape, and it's the ring that my dad used to get engaged to my mom. My dad passed away when I was 14 years old. When we were talking about rings, I asked her what she thought of a pear. It was a good size, so we labeled it the 'chubby pear.' It's been fed well over the years. So we got the diamond and we designed the [halo] to go with it."
LH: "I love Cathy Waterman and when I first got the diamond, I contacted her and asked if she did designs for stones that already exist, but she doesn't. So I dove into her Instagram and there was a necklace in there that had a scalloped edge. It was very different than the ring, because it's just a different scale, but it was my inspiration. I wanted to do something different to make it look kind of vintage-y."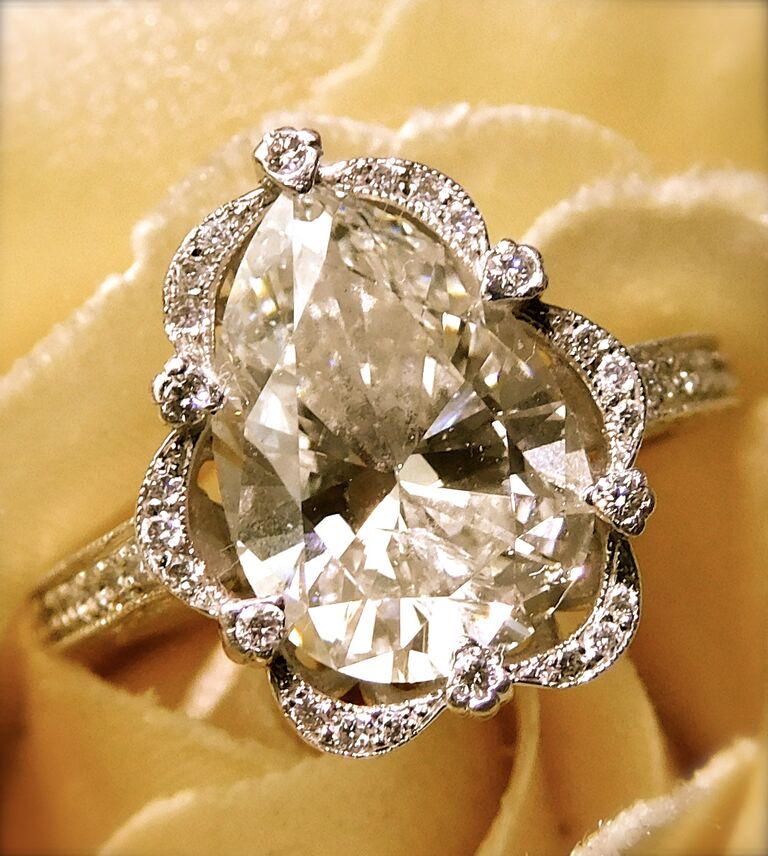 Their save-the-dates were a spur-of-the-moment idea.
LH: "Wedding Paper Divas was having a sale that ended at midnight on a certain day and it was that day [day of the engagement]. We didn't have a save-the-date and we were like, 'We need to do this, but we need a photo.' So we thought, let's just do our feet on the dock because that's where we got engaged. I make costumes, so I have a lot of weird pieces of clothing around. I had this vintage wedding skirt that's see-through, so I just put that on and we had our winter coats on."
EZ: "We sent it out to all of our friends and about 10 of them sent pictures back of their feet to us saying 'We'll be there!' " Zohn says.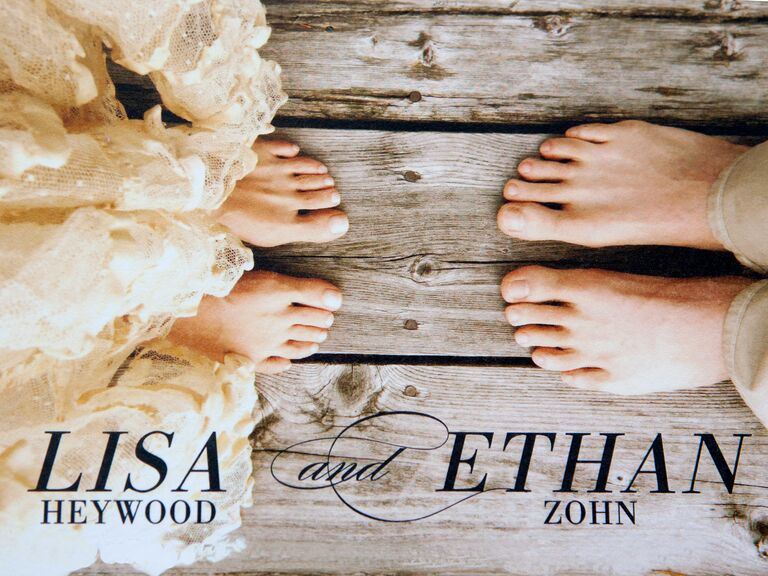 The guest list will include some familiar faces.
EZ: "There'll be a little Survivor reunion at the wedding, with a few guests from the show."
The rehearsal dinner will be from a seriously rad food truck.
EZ: "The rehearsal dinner is going to be family only. We're having the Classic Crust Pizza Truck stop by for dinner. It's an old converted fire truck that has a pizza oven and beer taps in it."
LH: "It's going to be at a farm next door to our venue. That's where we're staying in a little tiny cottage. And I'm pretty hands-on, so I can go next door and help do the decor."
They're going to have the coolest cocktail hour ever.
LH: "We're getting married at the Park McCullough House in Bennington, Vermont. It's stunning. Everything is sort of golden and ivory. The building is a Victorian mansion built in the 1840s and it was a summer house for a family. It has a wraparound porch that goes around the entire thing. We're getting married in the formal garden. We're going to have cocktail hour on the porch, and then they have tour guides dressed up in Victorian outfits to give guests tours of the house if they want. And we're having a really long cocktail hour because the sun doesn't go down until eight at night. The woman we're renting our equipment from is going to make some vintage-style lawn games and even Survivor-style games. And right behind the mansion, there's a carriage barn with a vintage carriage inside where we'll have the reception. It has these beautiful stables that are very symmetrical and the room has gorgeous wrought-iron detailing."
EZ: "The food is going to be in stations. There are 16 stables, so each stable is going to be a different food station. There are also white horses on the property, but we don't know if we're going to engage them yet. And then after the reception, we're having a big bonfire next door. Heirloom Fire, our caterers, are going to serve a cauldron of popcorn, finger foods like empanadas, and have a whiskey bar."
The bride is putting her interior designer eye on the decor.
LH: "I'm an interior designer, so I look at [the venue] in terms of space and what I'm going to do to it. There are some things I want to change, like the ceiling in the carriage barn that has these black track lights. So I'm going to fill the ceiling with lights and lace lanterns. It's going to be cool. I definitely got my tape measurer out and went around the entire building and did an accurate drafted floor plan; I tend to draw by hand. I played with the table and chair arrangements and then I did an overlay of the ceiling so I could actually see what was there. I'm going to focus the 'wow' decor on the spaces we're going to be spending time in and let the spaces that are great stay unadorned. There's a certain charm to a venue like that. When we first started dating, we had this little saying that he started texting to me, which was, 'We should never be apart.' It's one of things we always say to each other still. So there's one area with a very long hallway and we have marquee lights that are going to say 'We should never be apart.' "
They met their band in an unlikely place.
EZ: "They're called The Hairfarmers. We go to Burning Man, so we met them there, and they were awesome. They're two guys, but they sound like a full band."
Their wedding cake won't be traditional.
LH: "For dessert, we're doing a tiny little cake for the two of us. It's inspired by an Australian bakery called Tome. It's chocolate-peanut-butter flavored. For our guests, we're having skillet brownies and fritters with peaches and stone fruit pies."
They're having an unplugged wedding.
EZ: "We don't want to be walking down the aisle and see everyone on their phones."
LH: "We're going to say no pictures on social media or anything like that, because we want to put up the pictures. We might have a sign, but we're also going to have an announcement too."
Amazing personal accents? Check.
LH: "I come from a car family—we're vintage car folks. My dad has a 1932 convertible—an amazing little black car that we're going to try to get up there. I think that's going to be our 'just married' car."
EZ: "Boston Rustic Wedding Rentals is building us a wood bench, and instead of a sign-in book, people are going to sign the bench."
Additional vendors:
Wedding Planner: Jaclyn Watson of Jaclyn Watson Events
Florals: Apotheca
Invitations: Darling + Pearl
Ring: Pico Jewelers NYC
Wine: Mercer Wine
Naked Cake: That Little Cake Place
Rehearsal Dinner and Brunch: Taraden Bed & Breakfast
Lisa's Wedding Dress: Inbal Dror from Mark Ingram Atelier in New York City
Lisa's Wedding Shoes: Oscar Tiye