The Best Bachelor Party and Honeymoon Swimwear for Any Groom
Make a splash in these stylish swim trunks.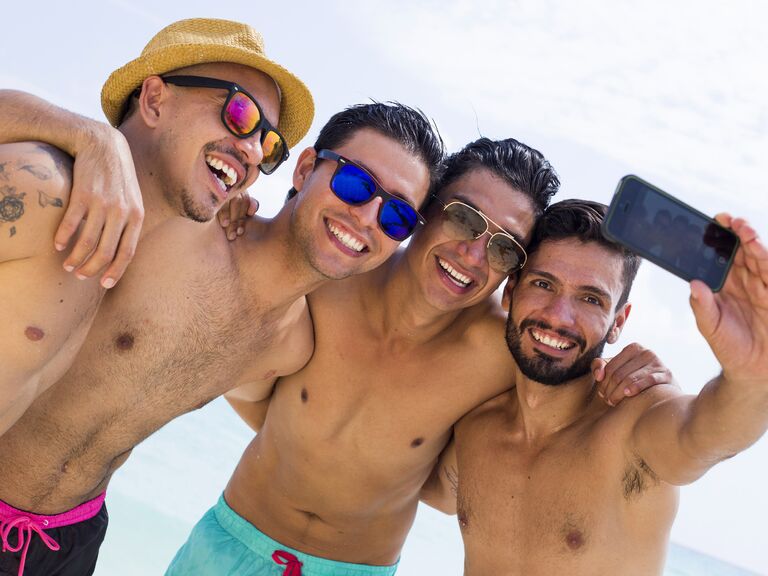 Luna Vandoorne/Shutterstock
We have included third party products to help you navigate and enjoy life's biggest moments. Purchases made through links on this page may earn us a commission.
If you're prepping for your bachelor party or honeymoon, packing at least one pair of stylish swim trunks is essential. Feeling like your regular old bathing suit just won't cut it? We've got you. Whether you'll be hanging out poolside with your pals or hitting the beach with bae, these chic swim trunks are 100% fit for a groom. We've searched the web for the coolest designs that'll look uh-mazing on Instagram, from playful tropical prints to chic and modern styles. (And we've also included a few cheeky briefs if that's more your thing.) So what are you waiting for? Check out this awesome groom-worthy swimwear to rock on your upcoming vacation.
Tropical Trunks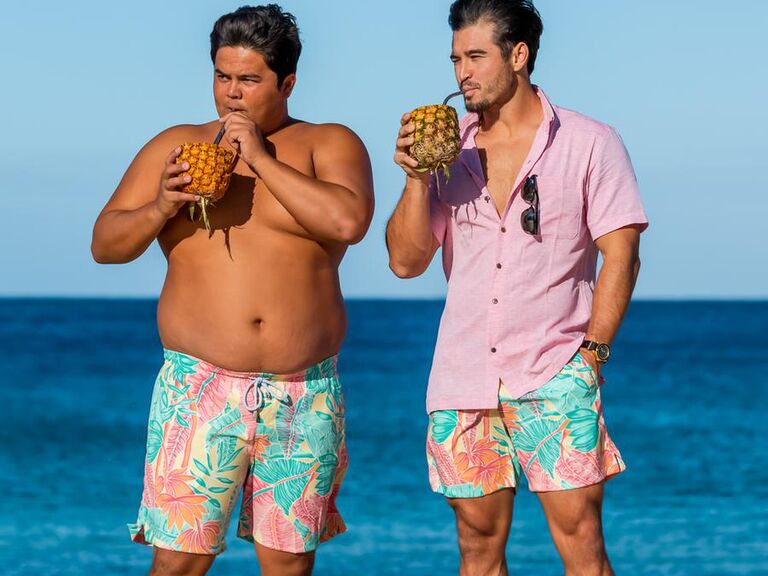 Kenny Flowers has a selection of stylish trunks for grooms and groomsmen alike. The brand's beach-ready swimwear is made from a super-soft polyester blend designed to stretch to the perfect fit. Side pockets provide plenty of space for storing your keys, wallet and phone when you're not in the water, and every pair of trunks is triple-stitched for durability. We love the bright tropical print on these island-inspired shorts.

Stylish Board Shorts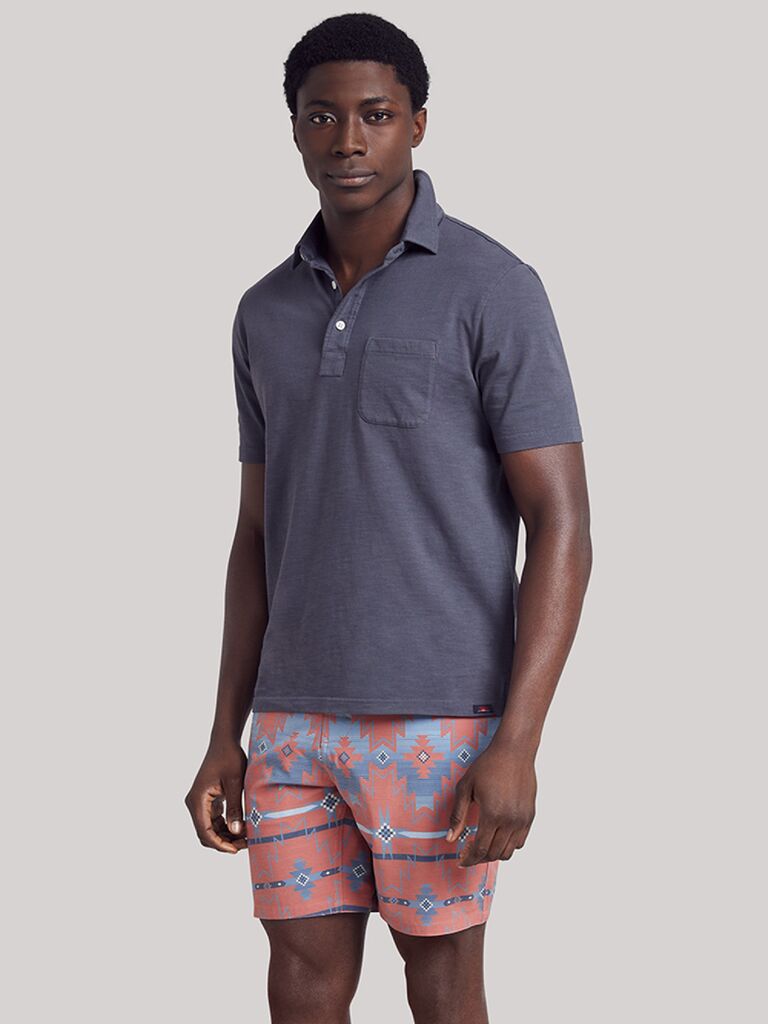 Faherty's board shorts are designed to be worn comfortably throughout the day, both in the water and out. But that's not even the best part—they're also sustainably manufactured from eco-friendly materials and one percent of all profits are donated to environmental protection organization, 1% for the Planet. This unique print was designed by Native American designer Doug Good Feather and represents new beginnings. Talk about a fitting symbol for a groom!

Moroccan-Inspired Print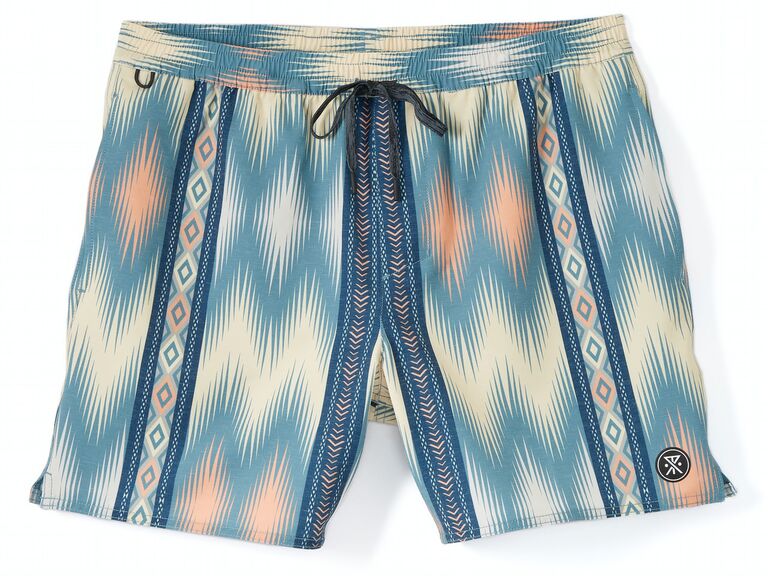 Huckberry isn't just a great place to shop for trendy outdoor apparel, the site also has quite the selection of stylish swim trunks. The eye-catching print on these durable board shorts is inspired by Moroccan textiles. They've also got a comfy elastic waistband, handy pockets and a stain-resistant finish.

Nautical Pattern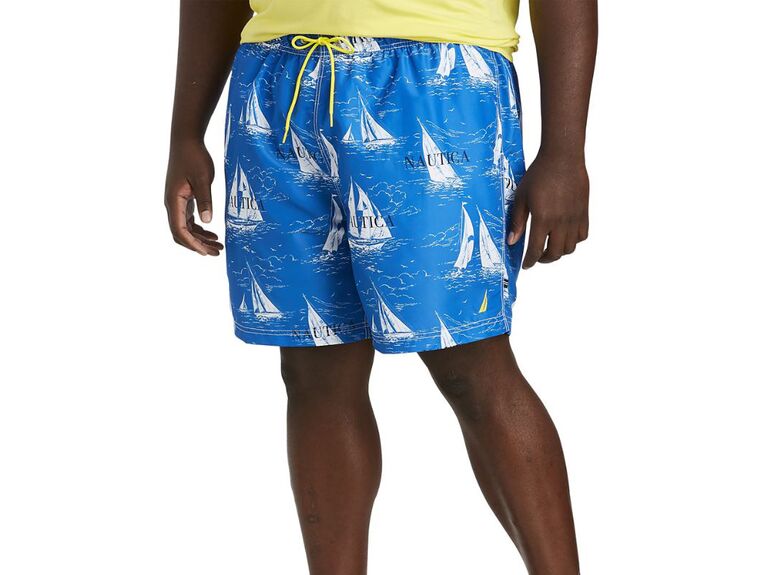 These sailboat motif swim shorts are great for any groom expecting to plan at least some of their bach party on a boat. They're made from a lightweight, breathable material so you can feel as cool as you look. The stylish shorts are available in a range of inclusive sizes, from 1X to 6X.

Island-Themed Speedo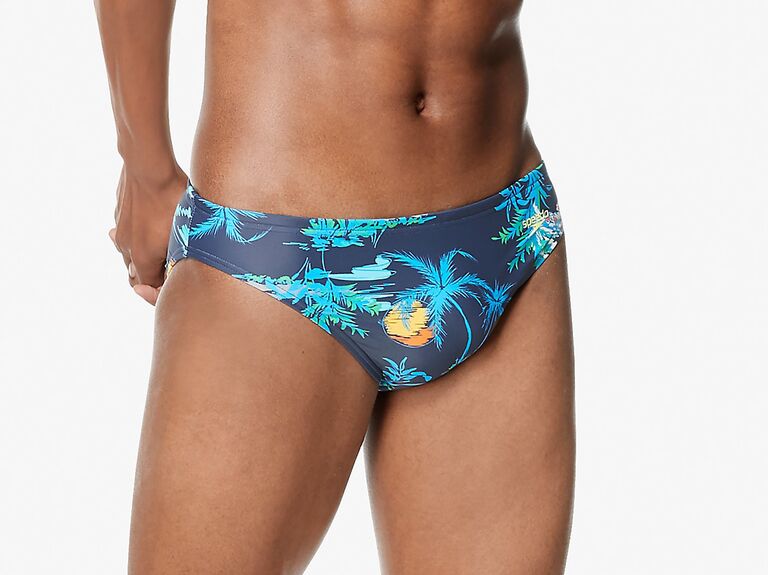 Start your honeymoon off with a bang by wearing this statement Speedo by the pool or on the beach. While it's always a good idea to lather on the sunscreen, built-in UPF 50+ offers a little extra protection from the sun. Not sold on the tropical night-time print? There are ten other designs to choose from.

Playful Toucan Print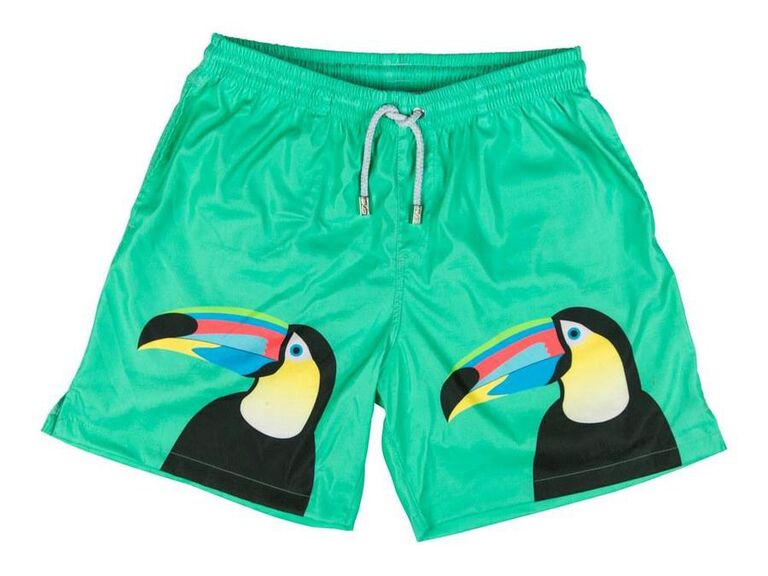 These tropical bird-themed swim trunks aren't for those who like to fly under the radar. The bright green fabric and double toucan illustration make a bold statement (and give off all the positive vibes). If the soft and stretchy polyester material isn't enough to convince you, there's also an interior mesh lining for additional comfort.

Neutral Block Colors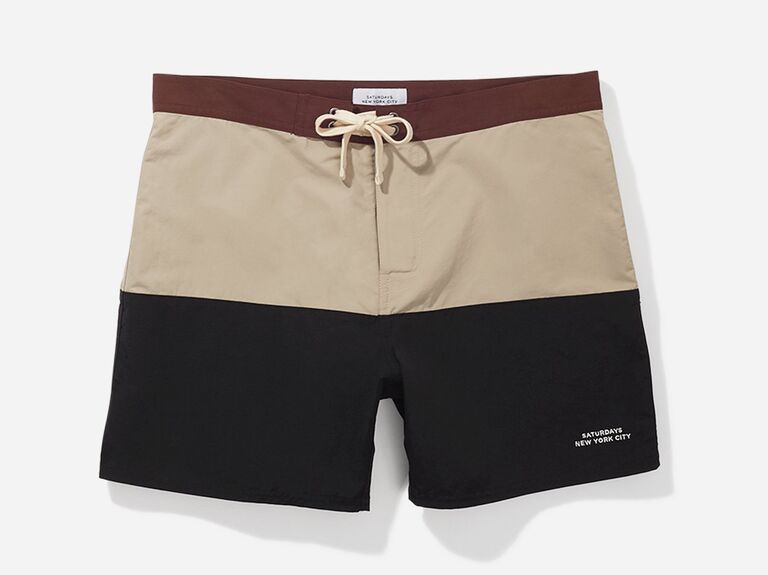 Of course, your groom swim trunks don't have to don a playful print. This chic, neutral-hued swimwear will become a staple in your summer wardrobe long after you return from the honeymoon. You'll easily get away with wearing these stylish shorts in and out of the water.

Athletic-Style Shorts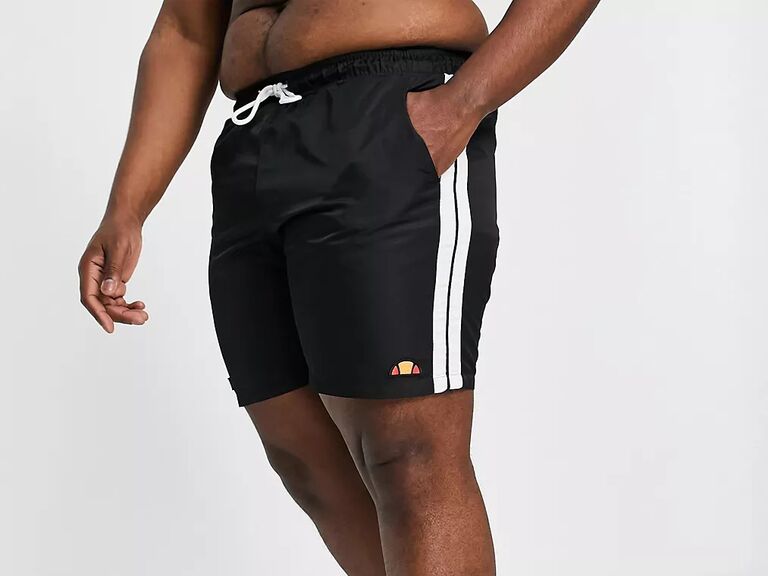 When it comes to shopping for any new outfit, the most important thing is to pick something you feel comfortable in. If athleisure is your go-to style, these trendy Ellesse swim shorts are for you.

Tuxedo-Print Briefs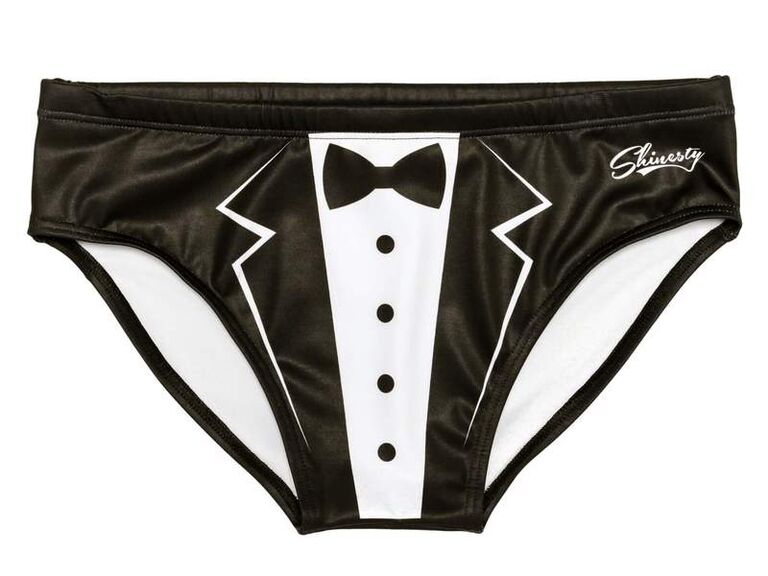 Surprise your S.O. on your honeymoon with this cheeky tuxedo-style bathing suit inspired by your groom attire. It's made from quick-drying materials that are soft on the skin. (Psst, if you really want to surprise your other half, why not pick up matching swimsuits for your honeymoon?)

Cocktail Illustrations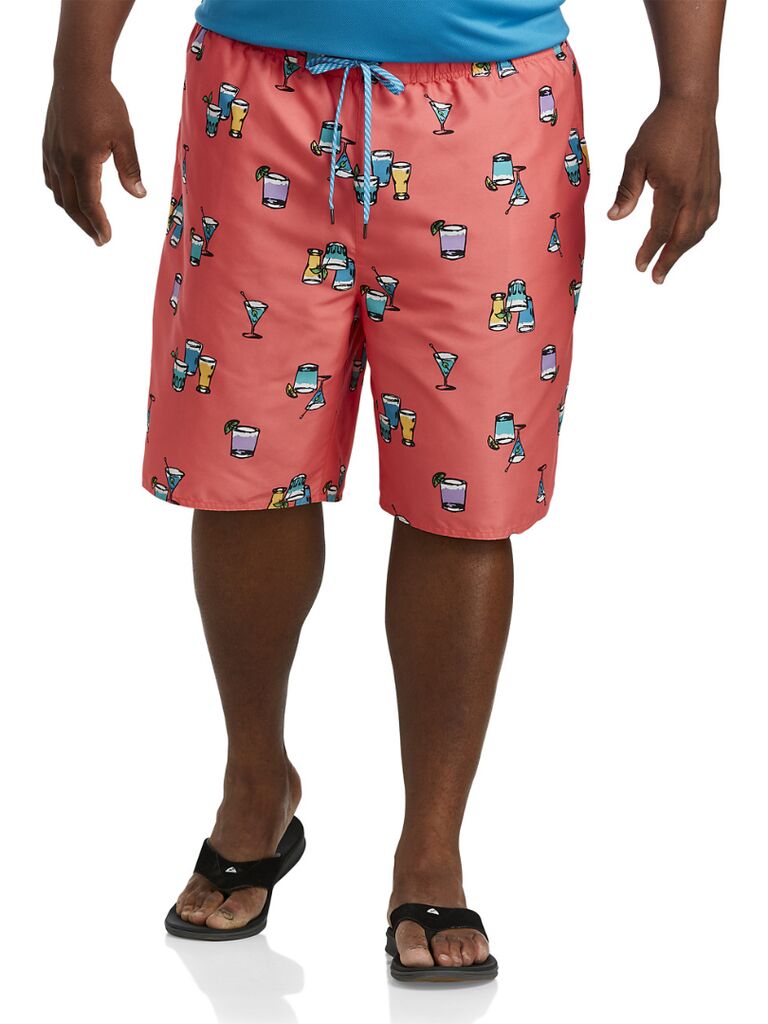 What could be better bachelor party swimwear than a pair of bright trunks in a colorful cocktail print? This fun attire comes in a range of sizing from 1X to 6X. They're also made from recycled materials and offer UPF protection from the sun—score!

Colorful Alligator Pattern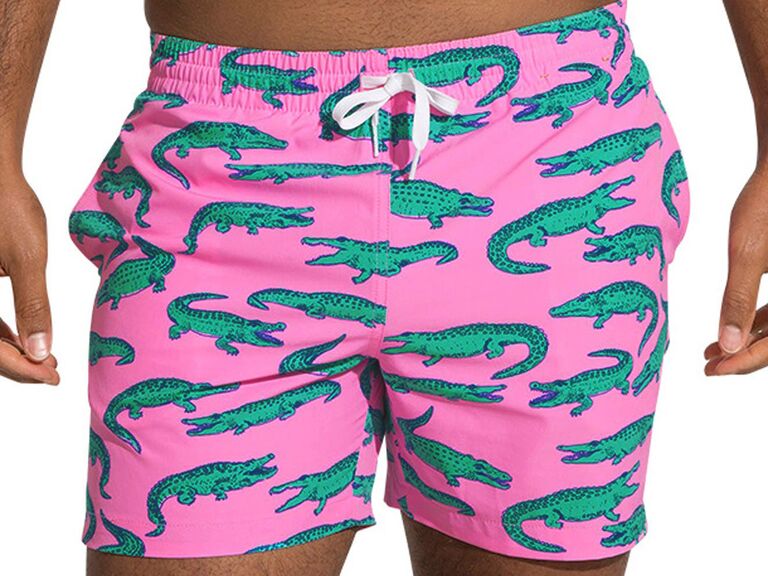 These alligator-print swim trunks are basically a must if you're heading to Florida for your bachelor party. An elastic drawstring waist promotes a good fit, while soft, stretchy and quick-drying material boosts comfort even more.

Vintage-Inspired Trunks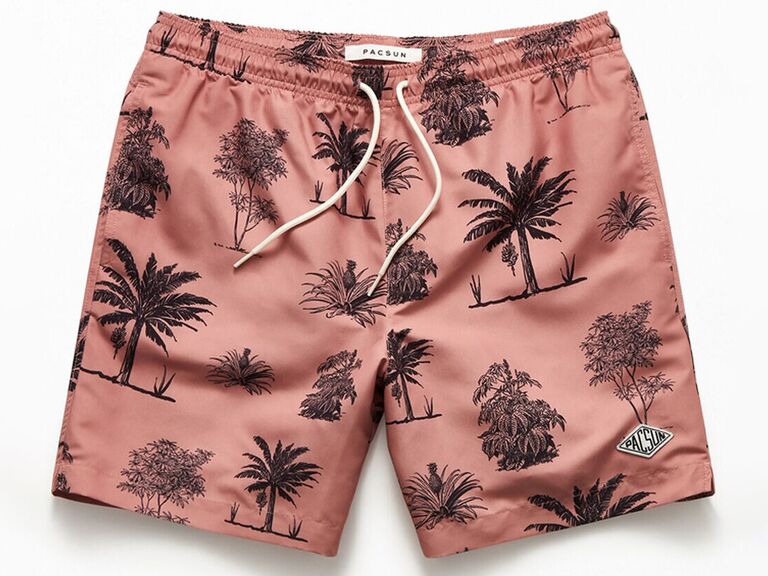 If you're a fan of vintage style, you'll appreciate these chic peach-color trunks. The palm-tree print adds a nice tropical touch that'll fit right in on your vacation.

Versatile Monochrome Shorts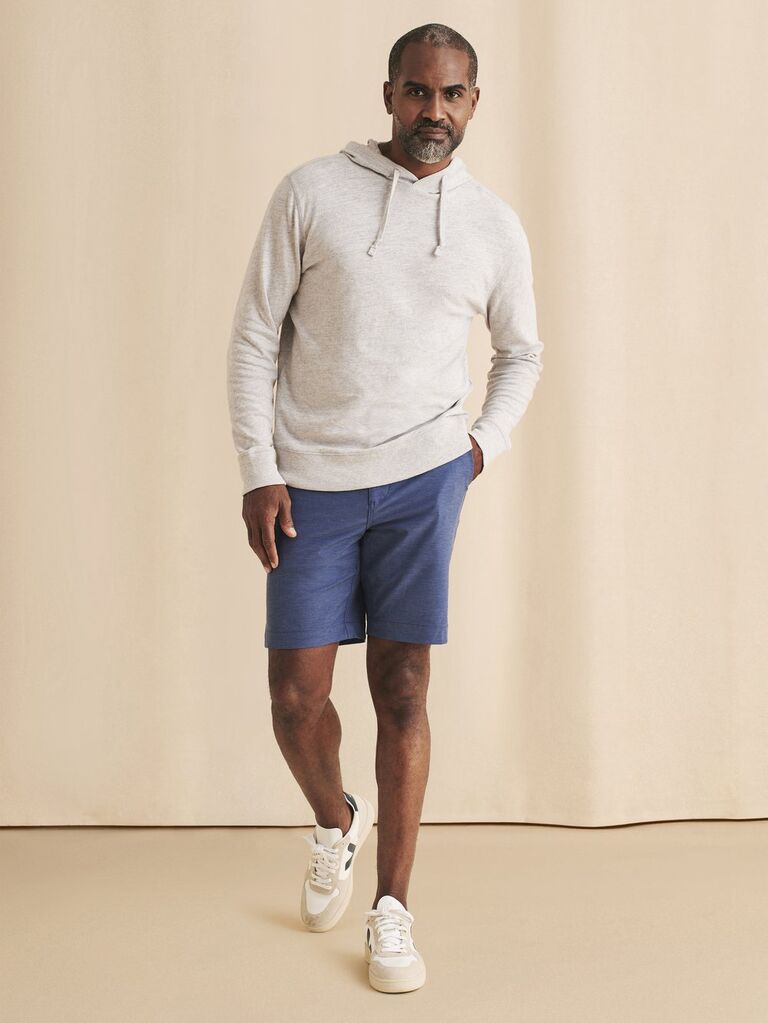 Prefer to keep things low key? Coined the "All Day'' shorts, these trunks are designed to be worn from dawn 'til dusk. They're subtle enough to wear as regular shorts but have all the quick-drying technology of a good pair of swim trunks. These shorts are also made from high-quality, eco-friendly fabric that promotes movement and breathability. Plus, they come in a choice of 14 different colorways, four inseam lengths and 12 sizes.

Subtle Stripes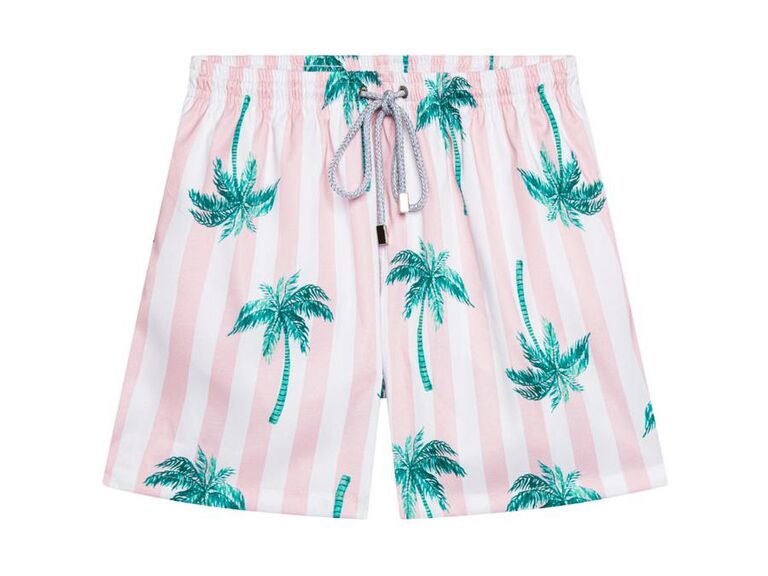 If you're a groom in search of a swimsuit for a laid-back honeymoon in the Caribbean, look no further. Leafy green palm trees adorn these subtly striped pink and white trunks. An elastic waistband and stretchy polyester fabric help to ensure a good fit (without compromising on breathability). There are also two side pockets, a velcro back pocket and a hidden inside pocket for storing all your essentials.

Bold Leaf Print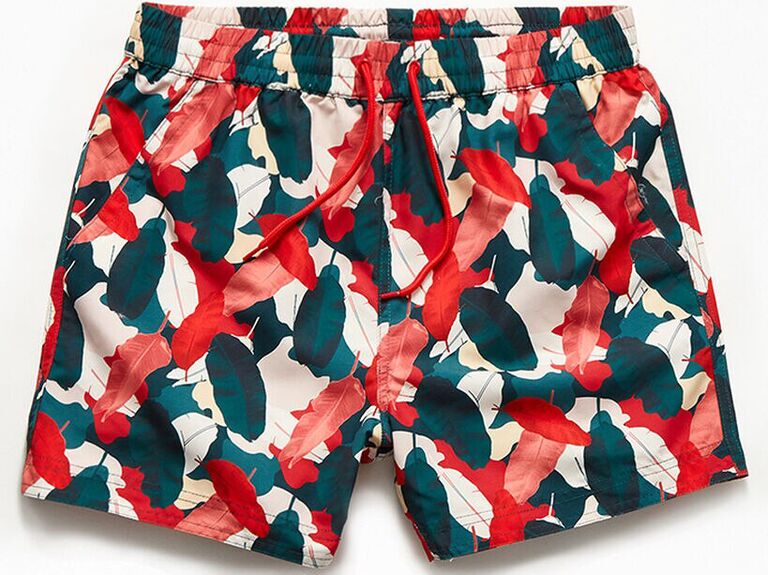 Make a statement by swapping out light and airy hues with deep, saturated shades of red and green. These colorful trunks feature an allover foliage print that'll seriously pop in your honeymoon pictures.
Retro Sunrise Print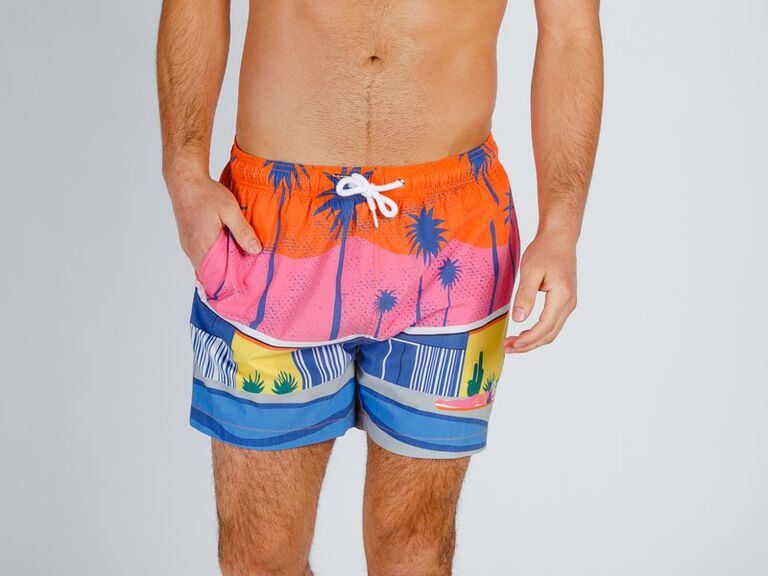 These lightweight trunks are made with a stretchy, quick-drying fabric that'll make it easy to move in and out of the water throughout the day. They also feature a knitted mesh lining for added comfort. Last but not least, who could resist that retro sunrise-inspired print? We love the bold, tropical scenery.

Minimalist Swim Shorts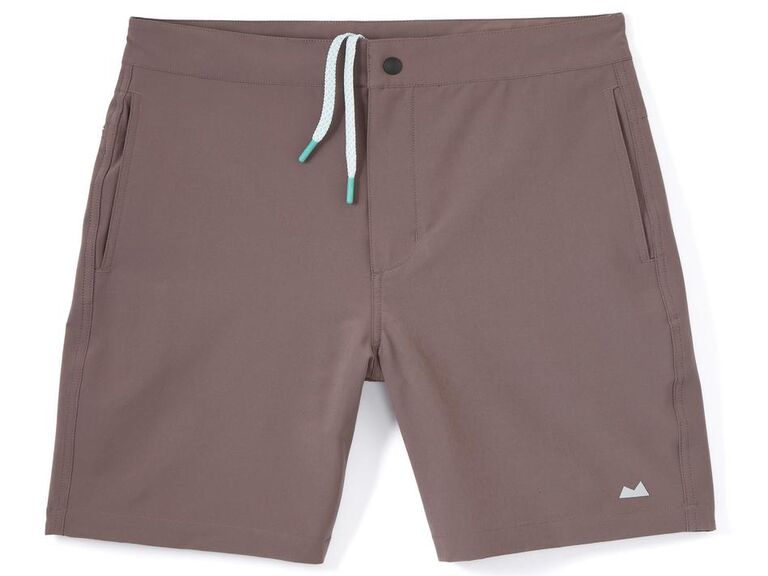 Here's another pair of contemporary swim shorts you can wear for pretty much any activity, whether you're sipping cocktails on the top deck, catching some waves or taking a leisurely afternoon stroll. The quick-drying four-way stretch material is designed to perform both in and out of the water.

Floral Trunks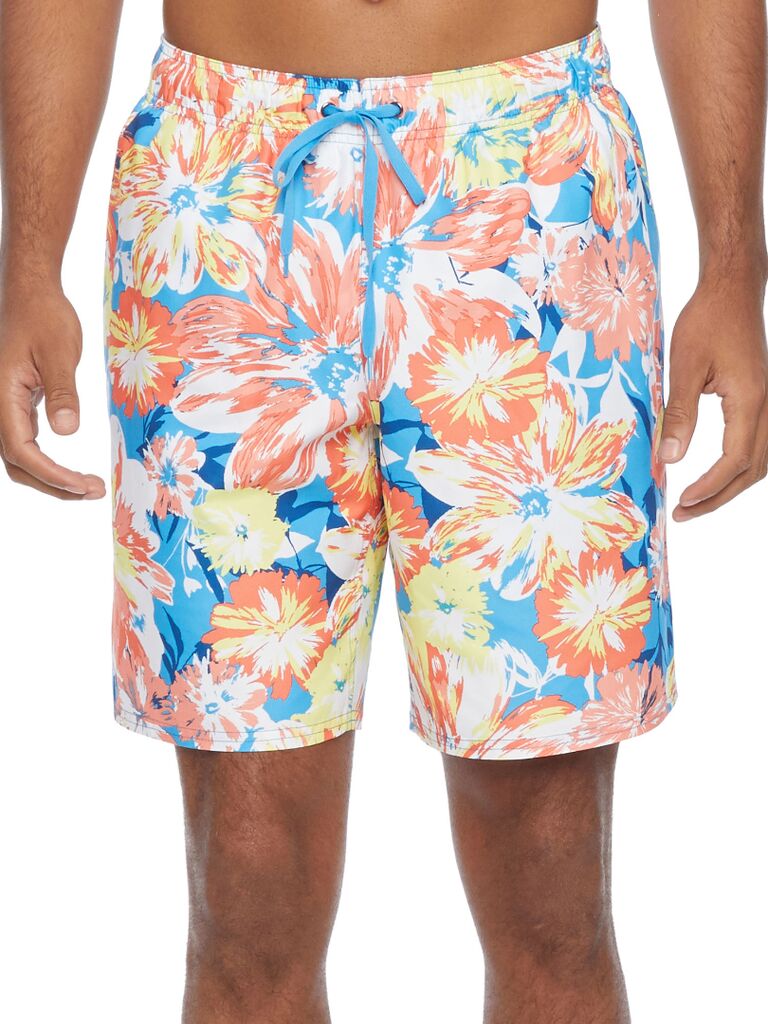 Bright bursts of yellow, blue and orange give these floral swim trunks a cheery vibe. They have a nine-inch inseam, making them an ideal choice for those who prefer lengthier swim shorts. You can also take advantage of two side pockets when you're not in the water.

Beer-Themed Print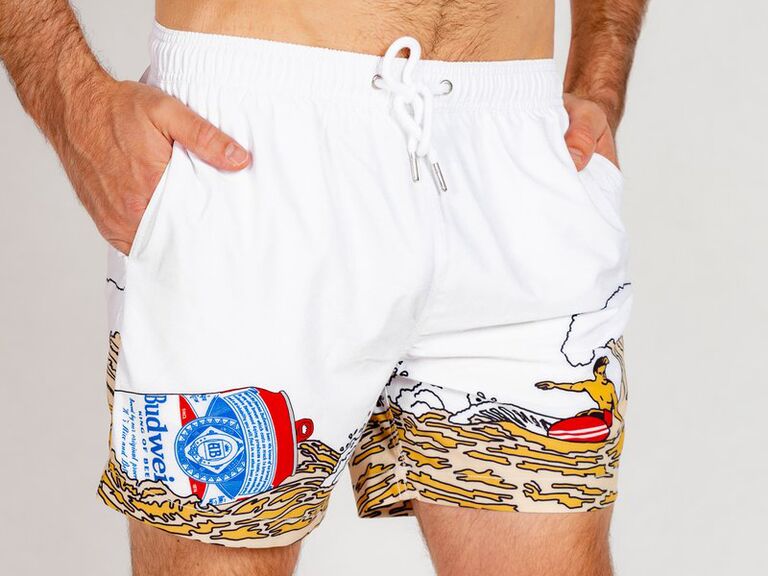 If you're on the hunt for a daring pair of swim trunks for your bachelor party, Shinesty is the place to look. The site offers lots of fun (and sometimes downright unusual, for lack of a better word) designs that's sure to get a laugh out of your crew. This playful print illustrates a person surfing in a sea of Budweiser, making it the perfect outfit for a boozy weekend by the sea.