See Hayley Paige Wedding Dresses From Bridal Fashion Week
The designer's latest collection to hit the bridal runways.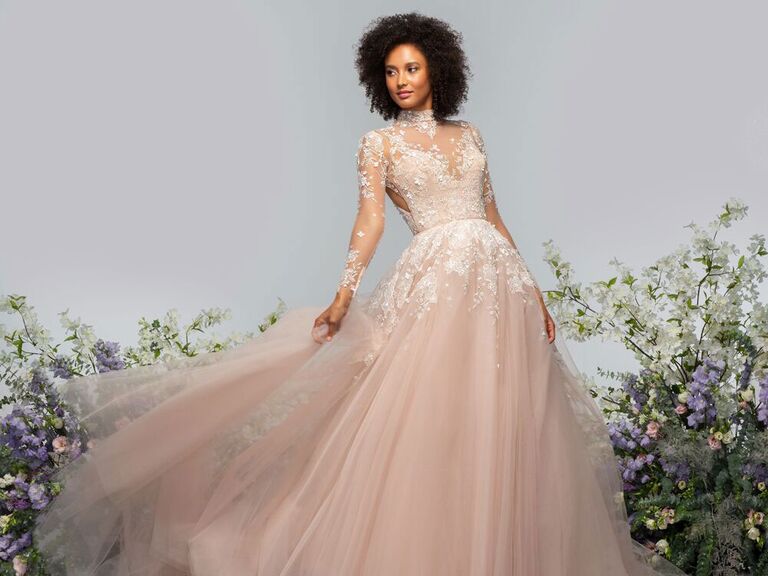 If you're looking to plan the modern-day fairytale wedding — and wear the perfect wedding dress for the occasion — think of designer Hayley Paige as your fashion fairy godmother and Hayley Paige wedding dresses as your glass slippers. Fans of TLC's Say Yes to the Dress will recognize the bubbly blonde as the one to help make millennial brides' wedding day dreams come true.
With her signature twists on the traditional white wedding dress, Hayley Paige infuses the perfect amount of whimsy, sparkle, and fun into all of her designs. It's safe to say all of Hayley Paige's wedding gowns (including her latest Spring 2021 collection) are as unique as the brides who wear them.
Hayley Paige's Spring 2021 Wedding Dresses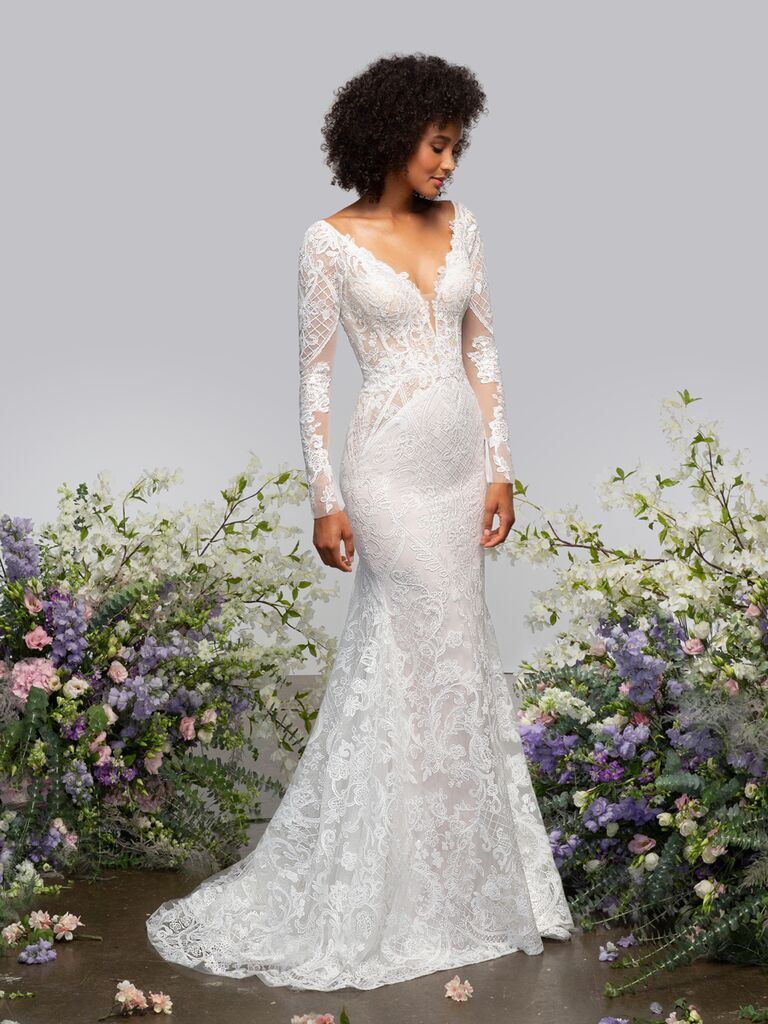 "Calvin" lace trumpet gown with plunging neckline and illusion long sleeves.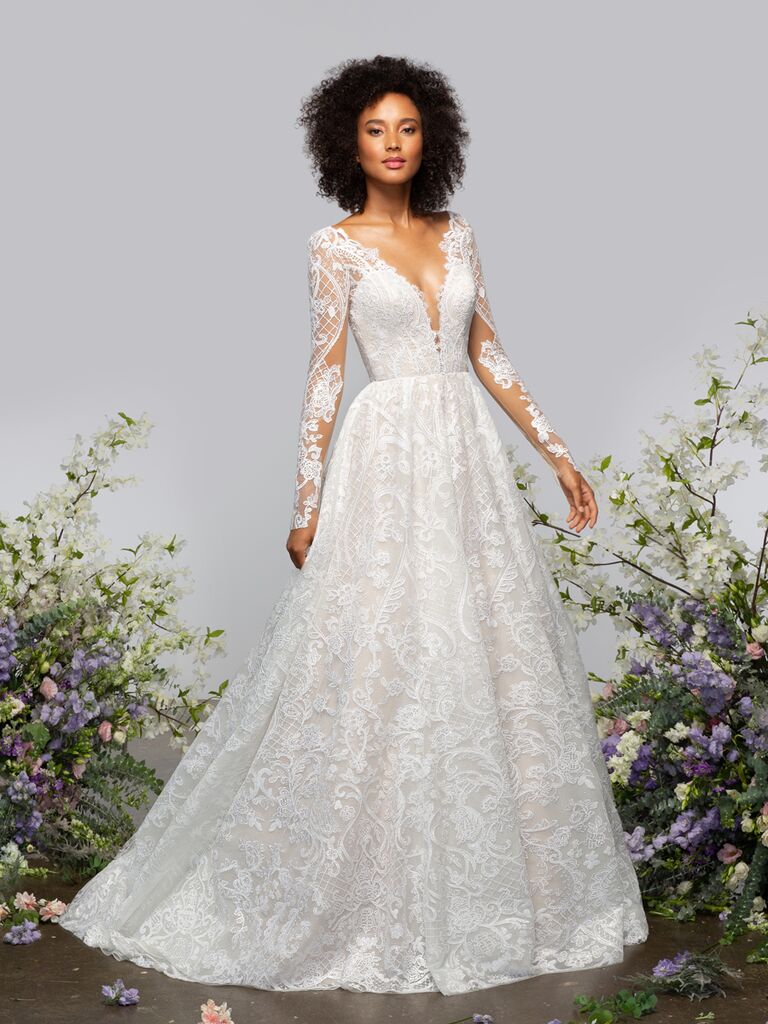 "Dalton" lace A-line wedding dress with plunging neckline, illusion long sleeves and keyhole back.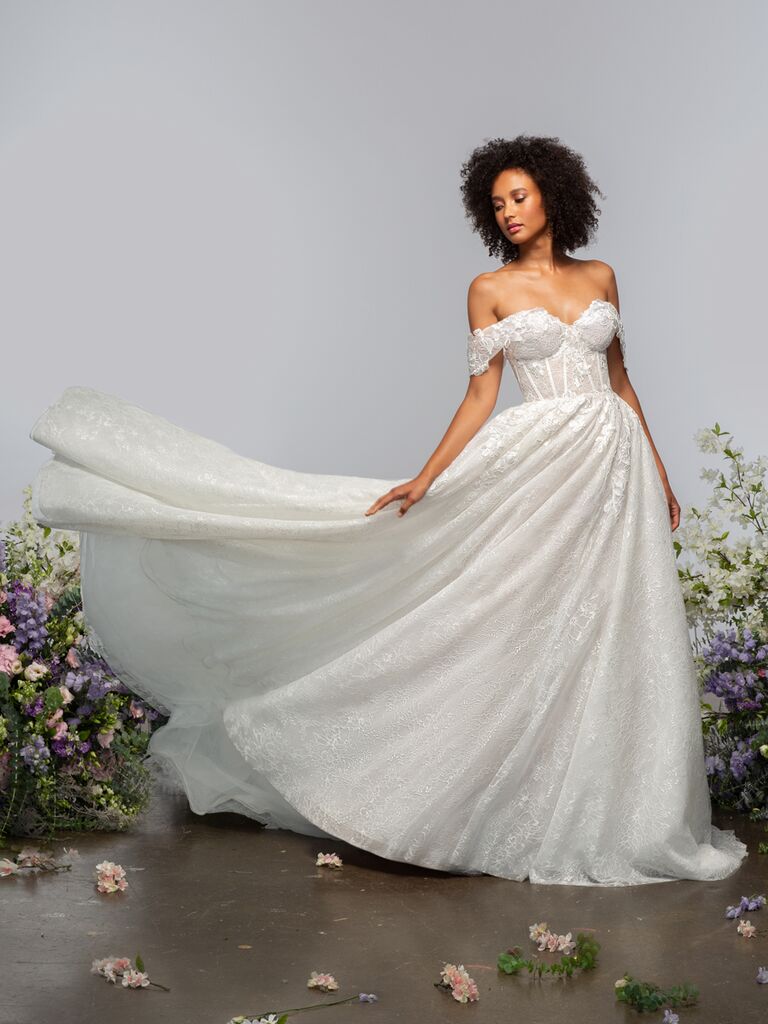 "Monet" frosted lace A-line gown with sweetheart neckline and detachable off-the-shoulder sleeves.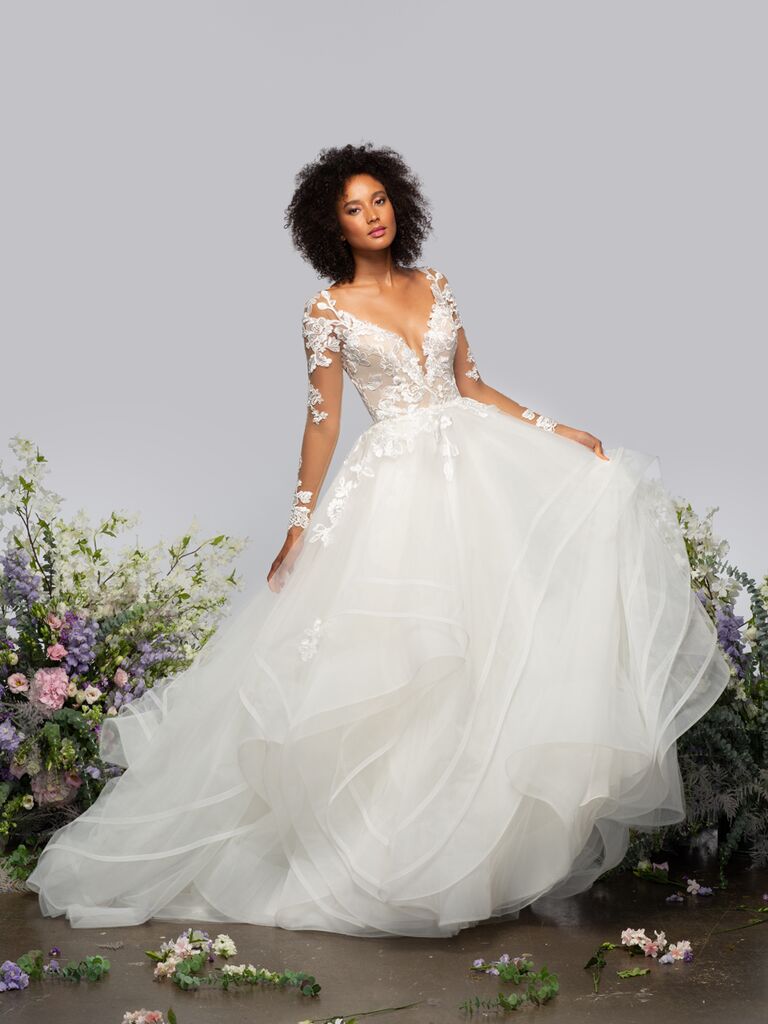 "Wrigley" tiered ballgown with lace illusion long sleeves and back.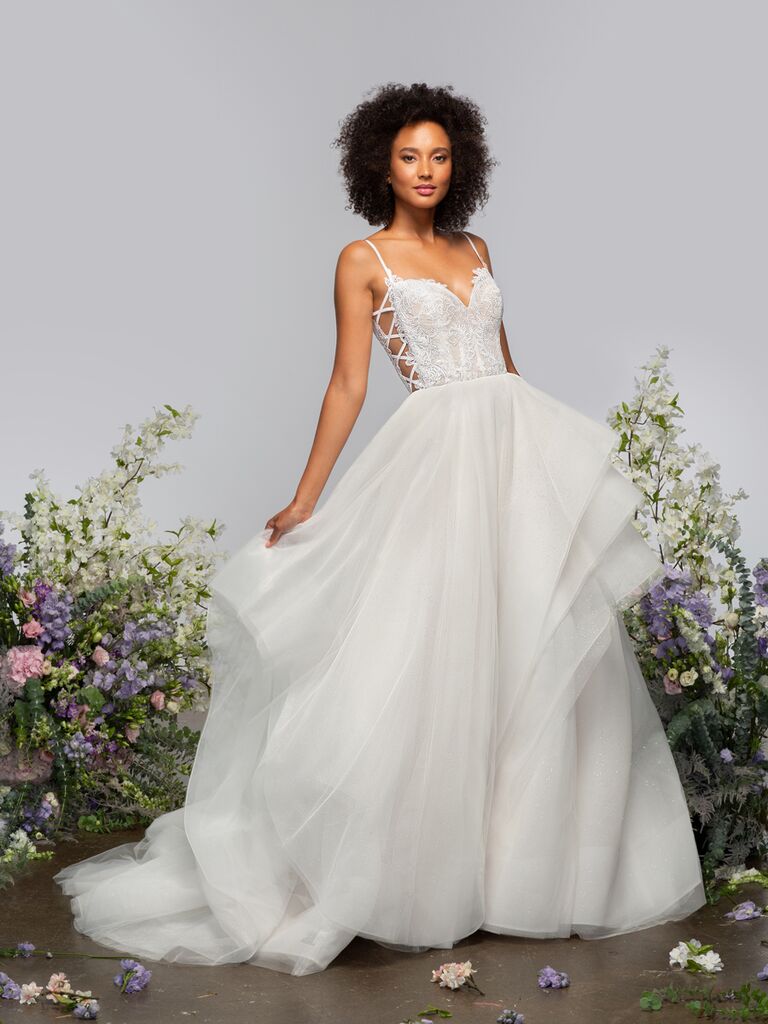 "Byrdie" organza A-line gown with embellished bodice and exposed side detail.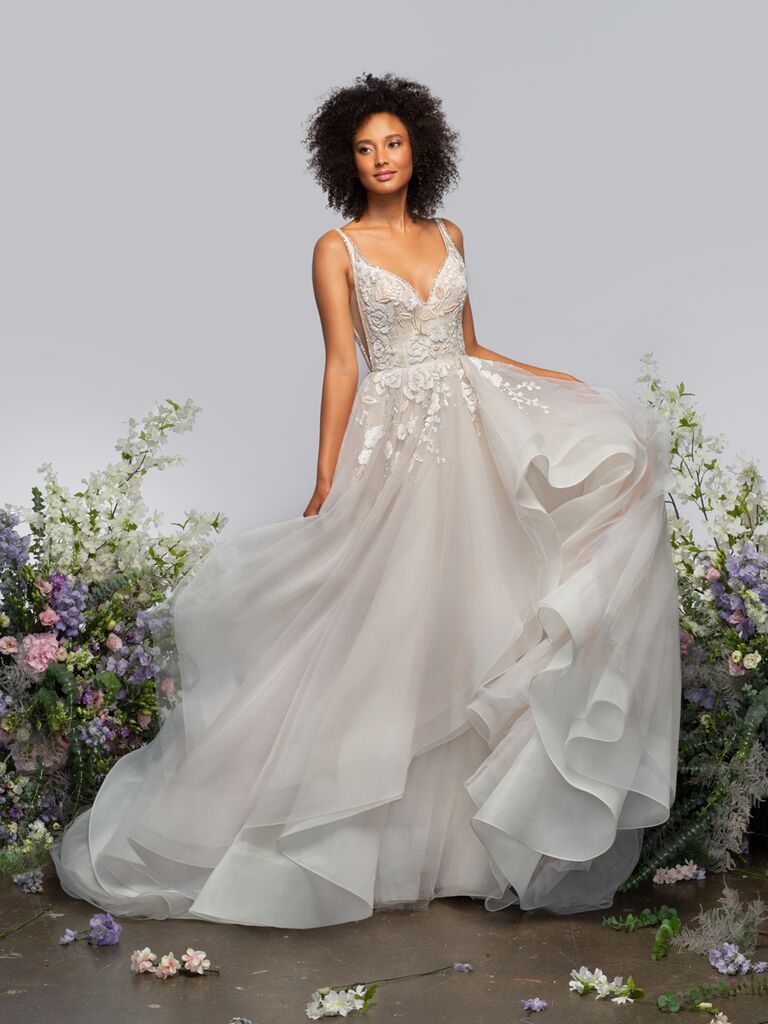 "Hermione" layered A-line dress with floral applique bodice and illusion side cutouts.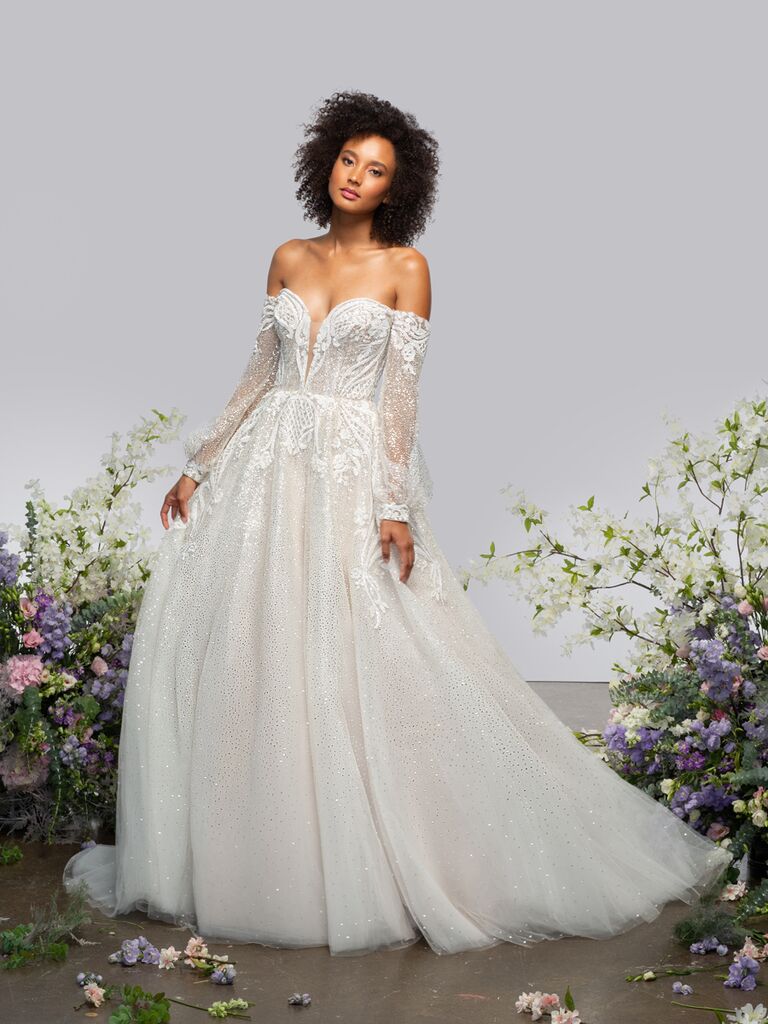 "Radley" A-line wedding dress with detachable off-the-shoulder bishop sleeves and all-over sparkle.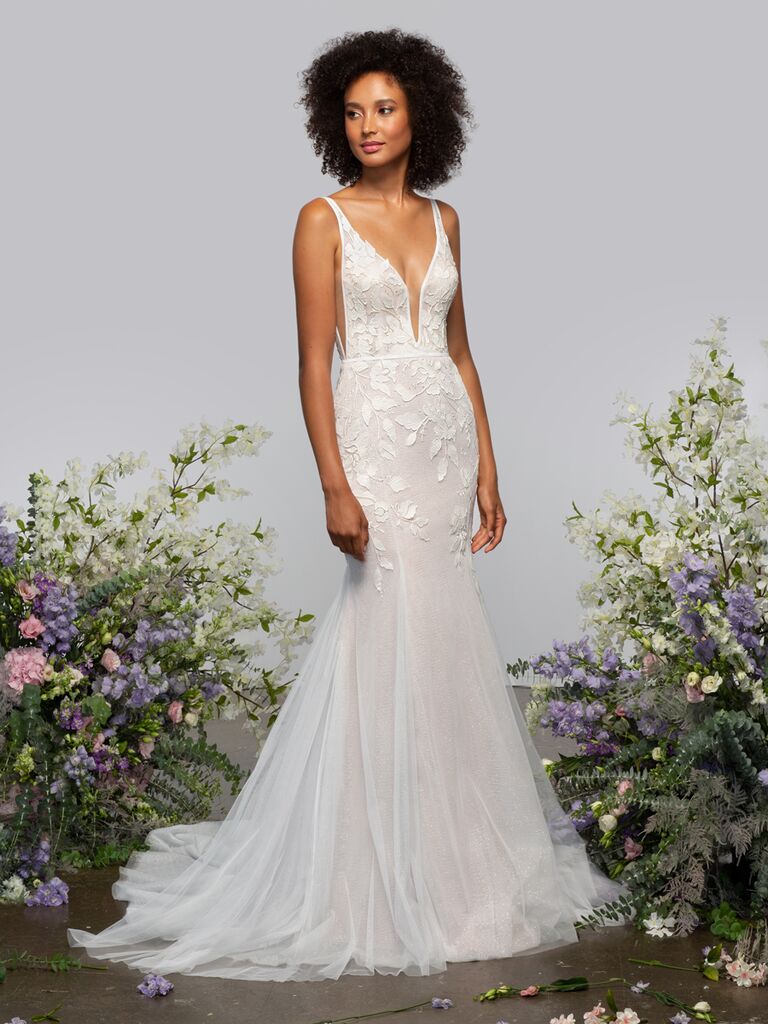 "Rhodes" trumpet gown with plunging neckline and floral appliques.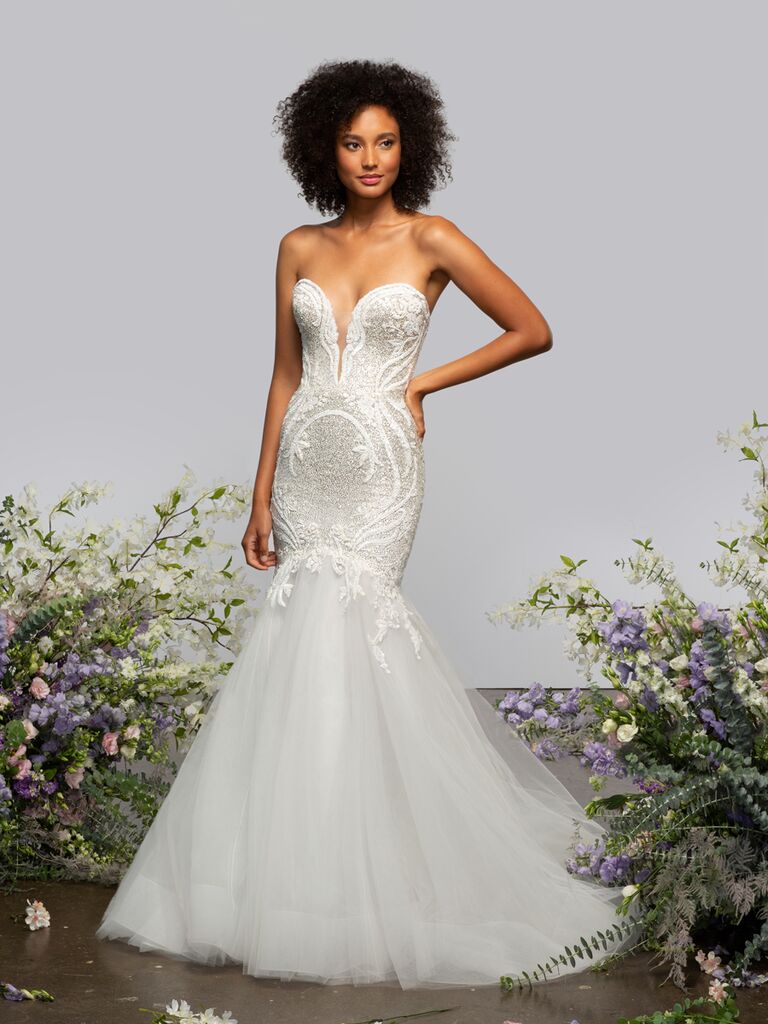 "Frankie" strapless mermaid gown with heavily encrusted bodice and tulle flare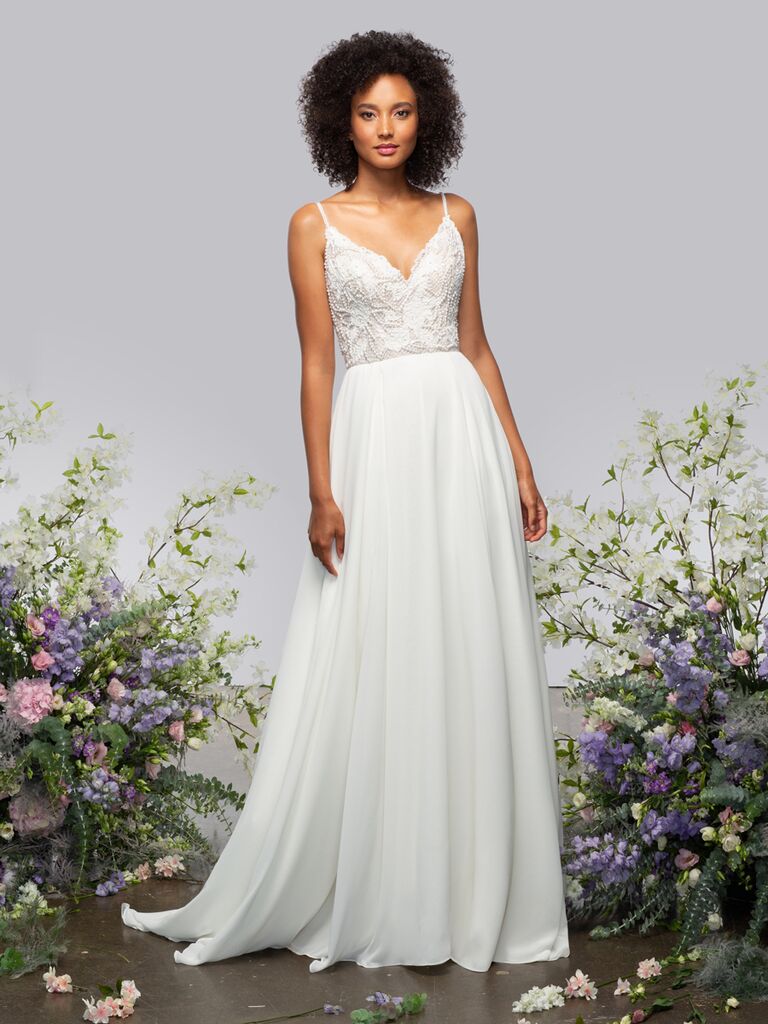 "Holden" sheath dress with pearl-beaded bodice and crepe skirt.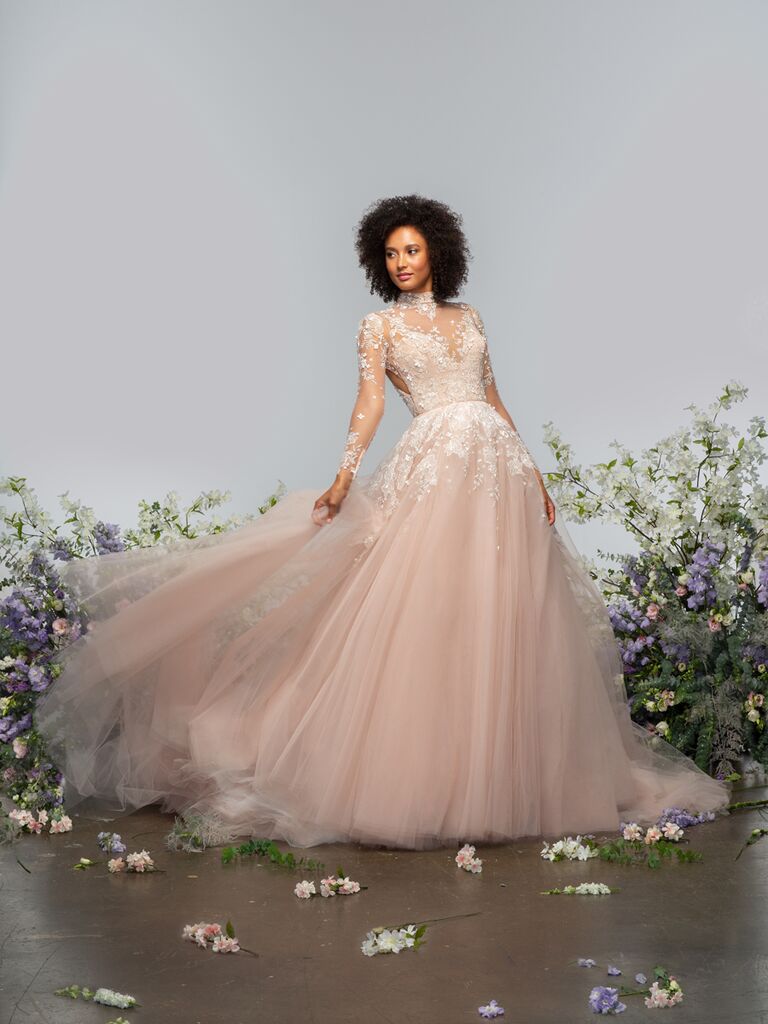 "Rarity" blush A-line gown with illusion mock neck and long sleeves, frosted floral appliques, and a keyhole back with tasteful cutouts.
Designer Hayley Paige's Signature Style
Always the trendsetter, Hayley Paige is known for breaking the bridal mold when it comes to her fashion-forward designs. Details like holographic sequins, hints of color, flirty feathers and Rock 'N Roll leather accents are just some of the signature elements you might find on a Hayley Paige wedding dress. But, there's plenty for the traditional bride to love, too, like wedding dresses with romantic tiered ball gown skirts, lace appliqués, and intricate beading.
A Brief History of Wedding Dress Designer Hayley Paige
Hayley Paige launched her namesake collection in 2011 at the age of 25, but the wedding dress designer got her start in fashion while a Cornell college student interning for Nina Garcia at ELLE magazine.. Before being brought on as a head designer for JLM Couture, Hayley Paige also designed for Jill Stuart, Melissa Sweet, and Priscilla of Boston.
In July 2015, Hayley Paige got married in an enchanting wedding in Lake Tahoe, California complete with a blue unicorn, two ceremonies and five wedding dresses she designed herself. The couple has since parted ways, but in an Instagram post announcing the split, the bridal designer remained optimistic, writing "I feel even more empowered and enthusiastic to be an advocate for love, marriage, and real-life fairytales."
She didn't have to wait long for another chance at happily ever after, though. The wedding dress designer recently accepted a custom-designed Hearts on Fire ring and proposal from beau Conrad Louis in St. John in the Virgin Islands. We can't wait to see the designer's own wedding dress and discover how it influences any of the Hayley Paige wedding dresses in her 2020 collections.
Other Hayley Paige Labels
Now the head designer for several collections, including Hayley Paige, Blush by Hayley Paige, Hayley Paige Occasions, La Petite Hayley Paige and Hayley Paige Red Carpet at JLM Couture, Hayley Paige's bridal gowns, bridesmaids dresses, flower girl dresses and more can be found in bridal boutiques in more than 27 countries around the world including the US.
Hayley Paige Collection History
Since launching her eponymous label in 2011, Hayley Paige has designed hundreds of wedding dresses with the millennial bride in mind, embracing trends like color, pattern and unique beading. Her Spring 2016 collection was inspired by her own wedding gowns, but it's safe to say every one of her dresses is infused with Hayley's personal style.
Famous Hayley Paige Brides
Hayley Paige's gorgeous gowns have earned her fans around the world, including some of your favorite celebrities. Bachelor star Lauren Burnham wore an ethereal Hayley Paige dress for her January 2019 Hawaii wedding to Arie Luyendyk, Jr, and her red carpet pieces have been worn by stars such as Carrie Underwood, Chrissy Teigen, Olivia Wilde, Aly Raisman and Kelsea Ballerini among others.
Fun Facts about Hayley Paige
In 2017, Hayley Paige launched HOLY MATRIMOJI, the first wedding-focused emoji app with hand-illustrated emojis and GIFs. Her latest venture is a capsule collection of engagement rings and wedding bands for the jewelry brand, Hearts on Fire.
Hayley Paige Previous Wedding Dress Collections
Hayley Paige Fall 2020 Collection
See every dress from Hayley Paige's Fall 2020 line below.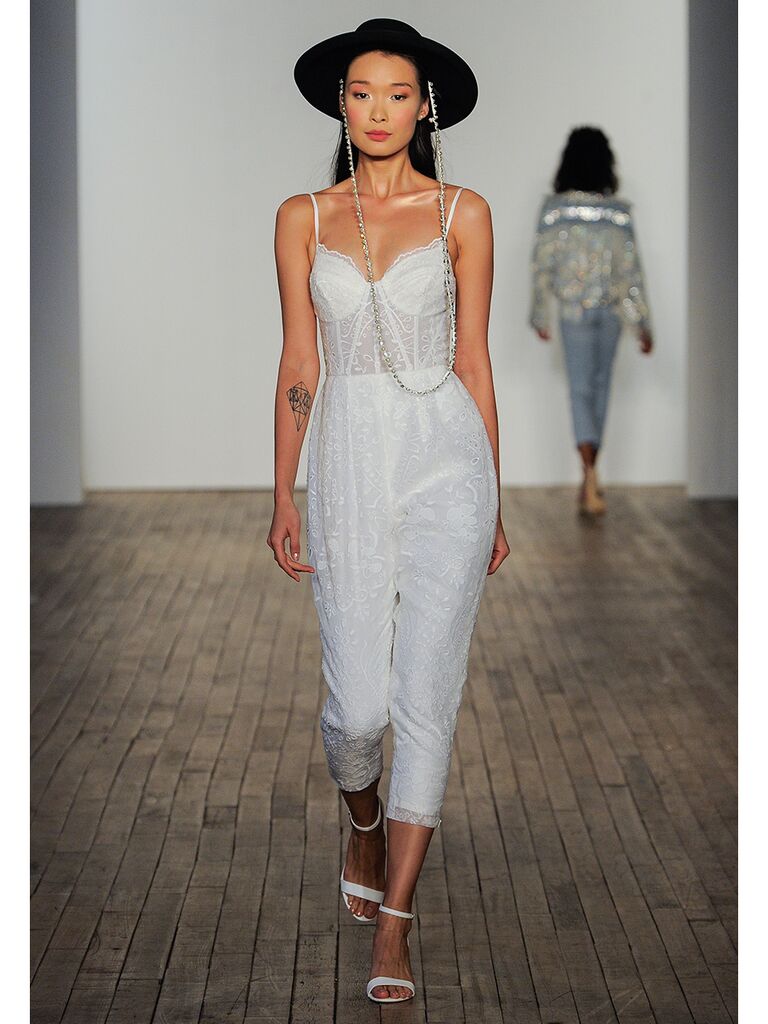 "Ballerini" jumpsuit; lace jumpsuit with sheer bodice and tapered legs.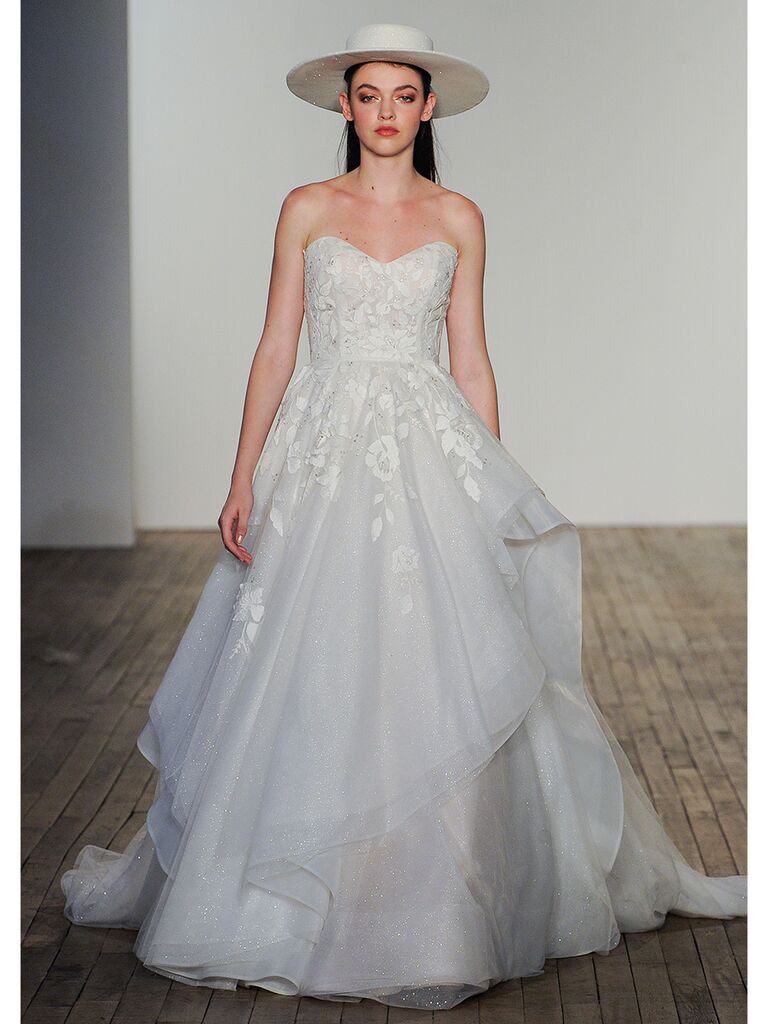 "Banksy" gown; strapless shimmery ball gown with floral detailing.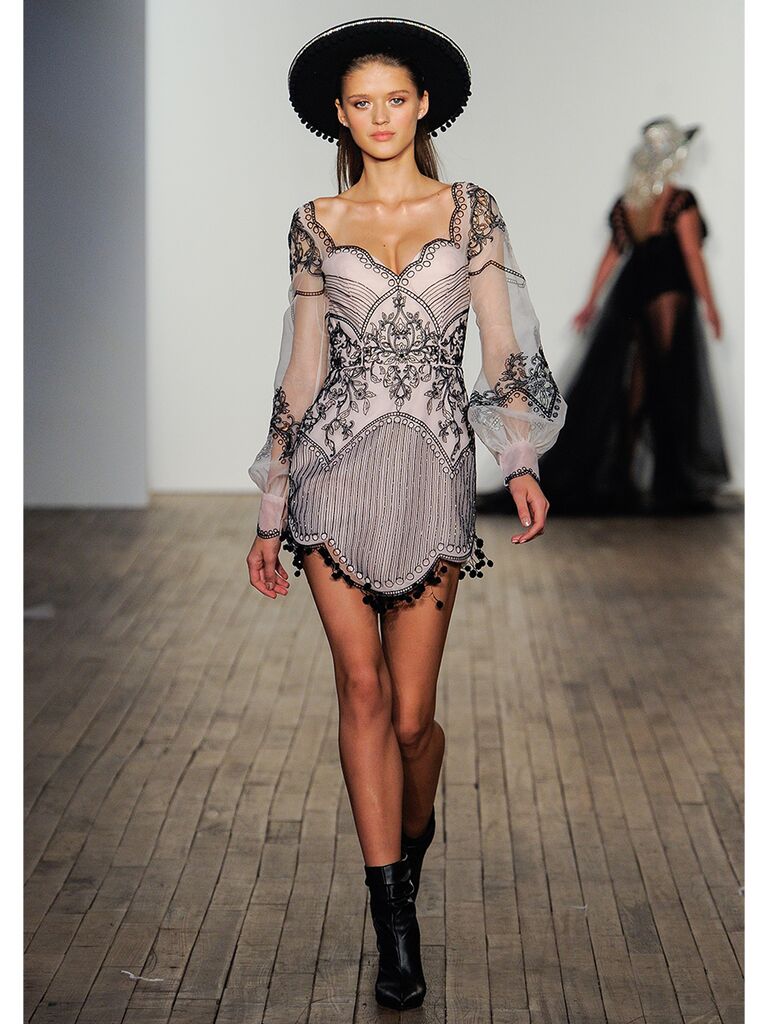 "Cambell" dress; nude mini dress with sheer long sleeves and black detailing.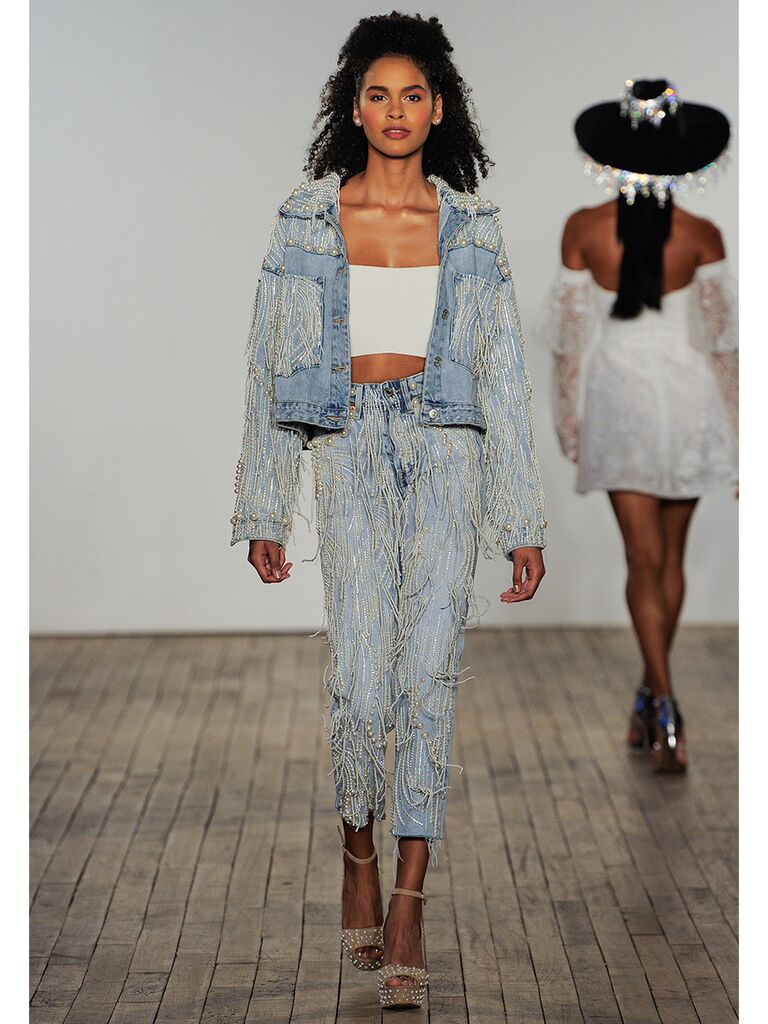 "Cash" set; demin jacket and pants with beading and pearls.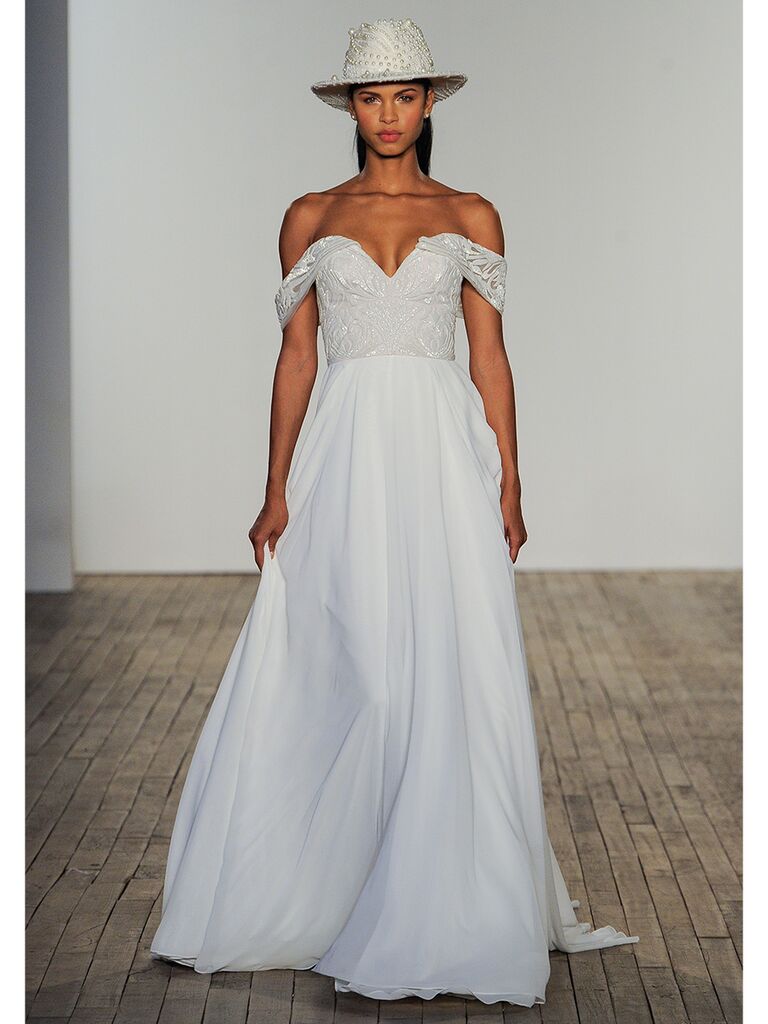 "Clyde" gown; off-the-shoulder a-line dress with patterned bodice.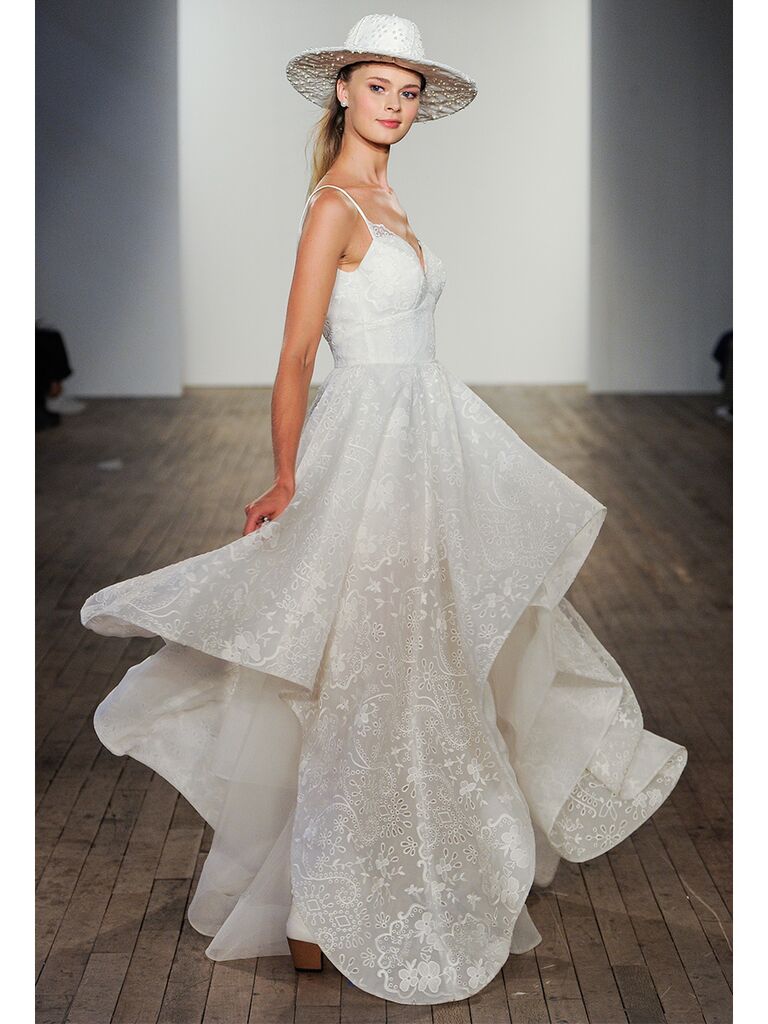 "Dolly" gown; ball gown with tired, textured skirt and spaghetti straps.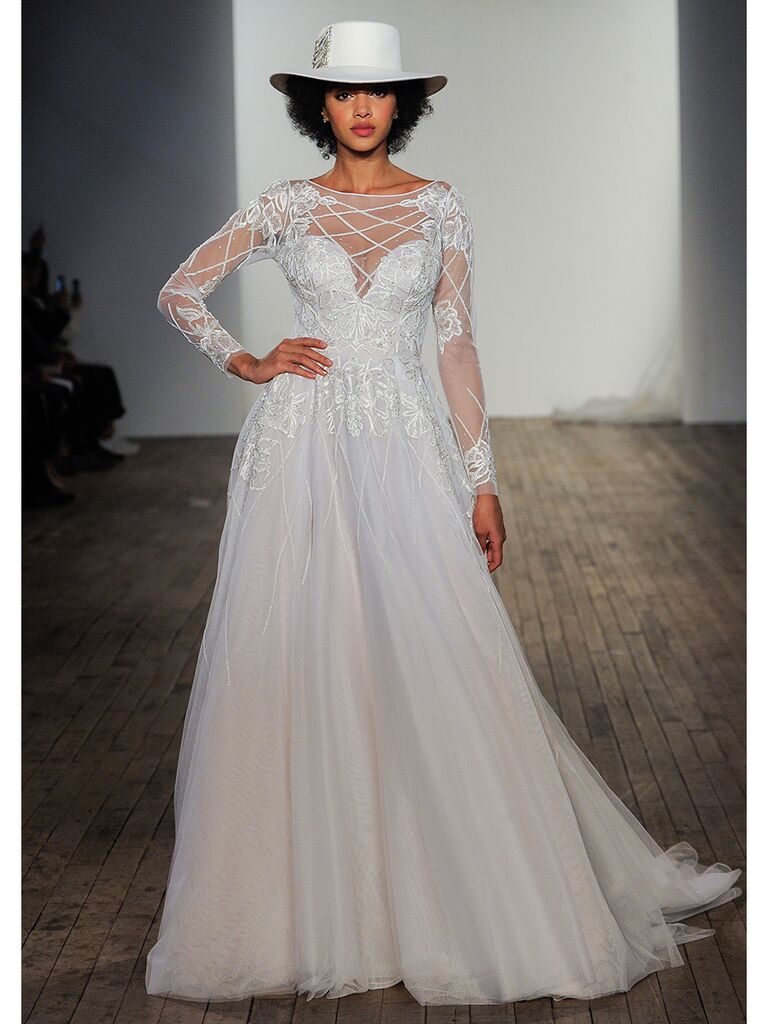 "Fleetwood" gown; long-sleeve a-line dress with illusion neckline.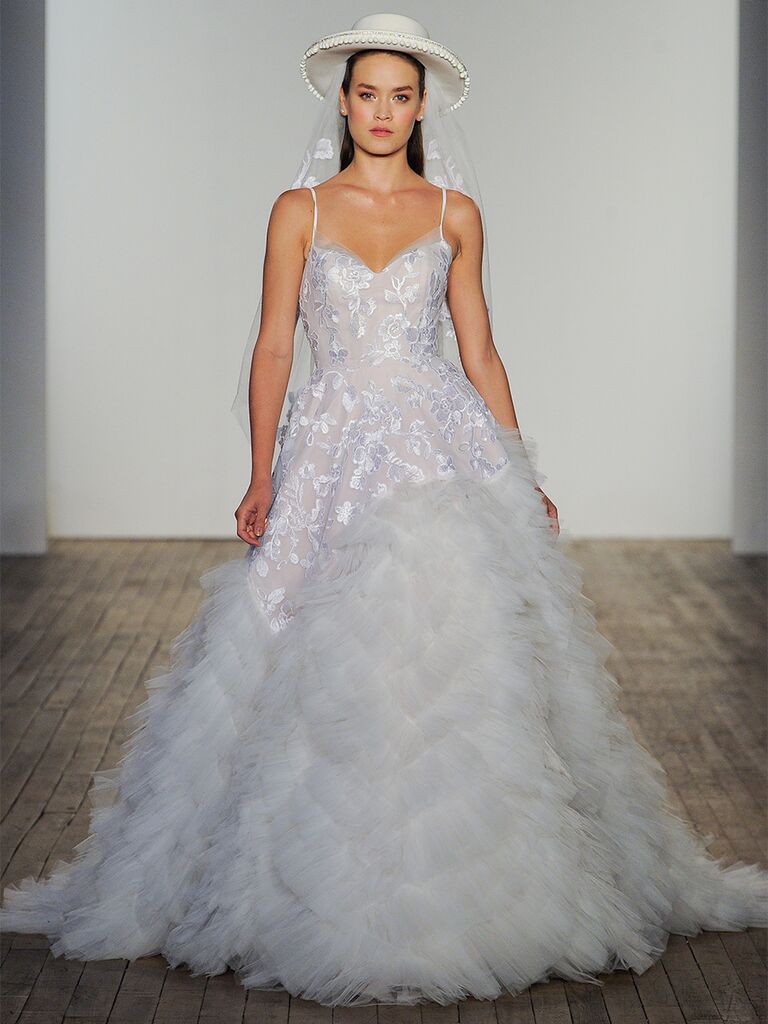 "Gigi" gown; ball gown with floral bodice and ruffled skirt.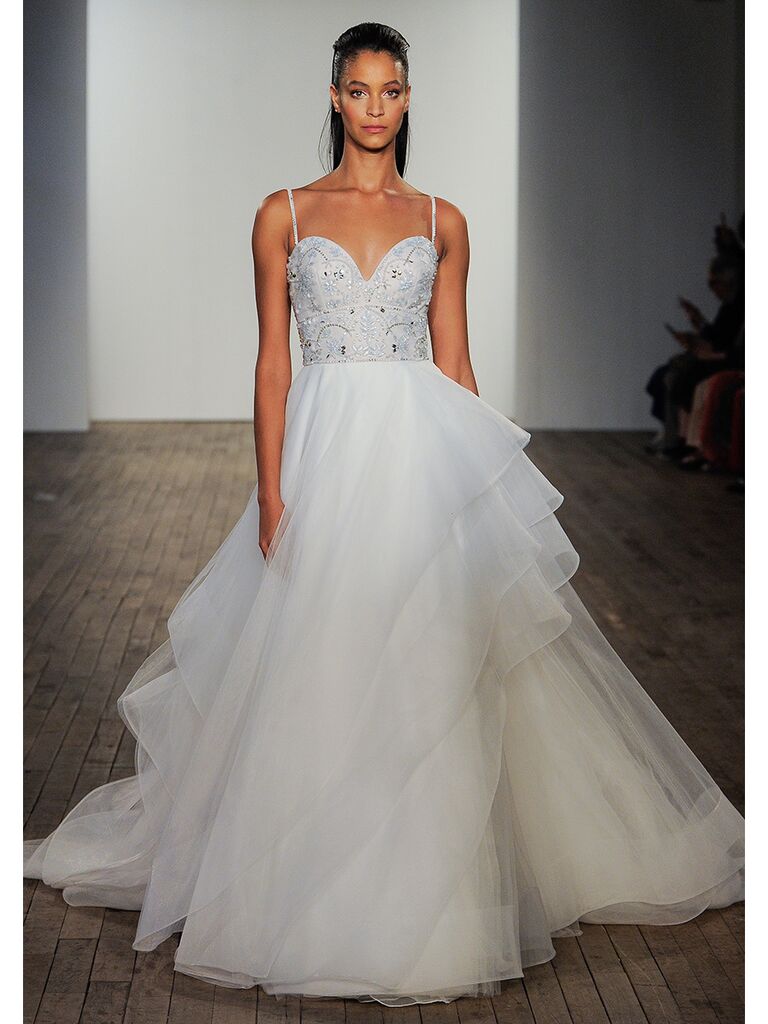 "Joan" gown; Sweetheart ball gown with tiered skirt.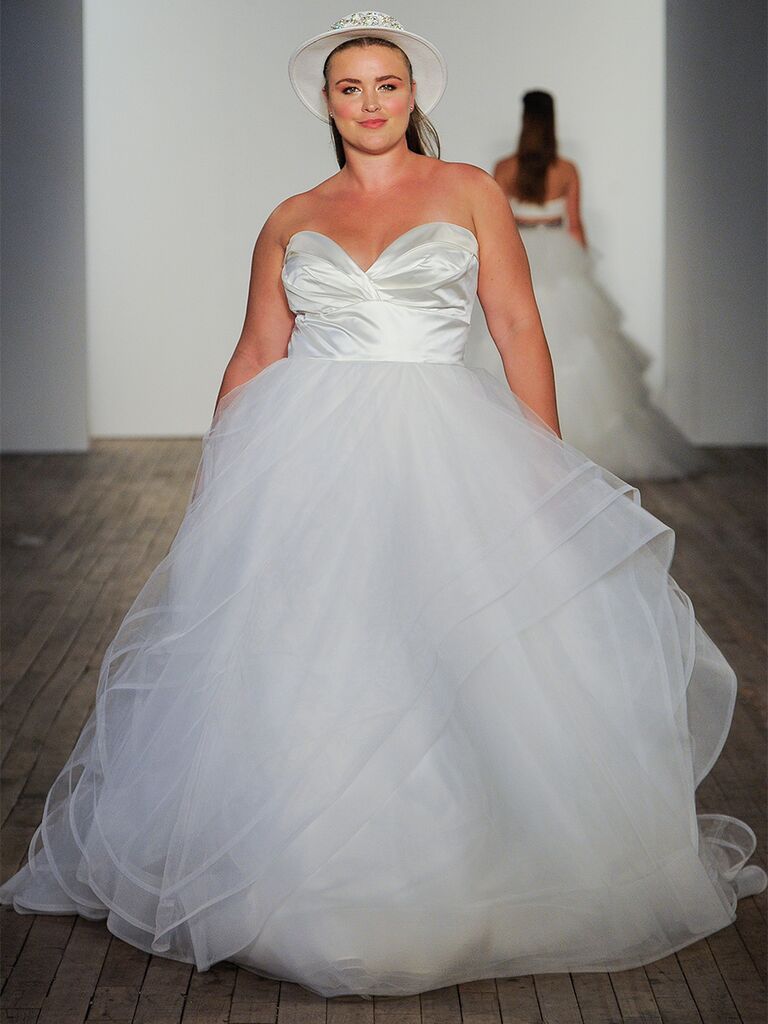 "Loretta" gown; strapless tulle ball gown with sweetheart neckline.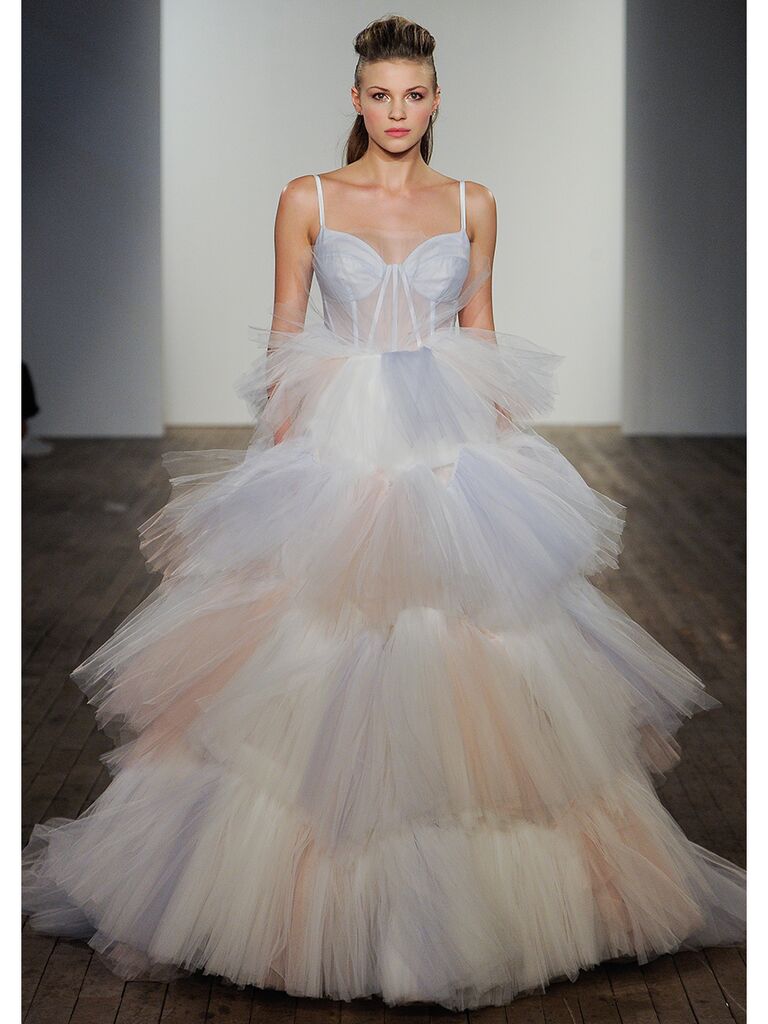 Musgraves gown; Colorful ball gown with sheer bodice and multi-tiered tulle skirt.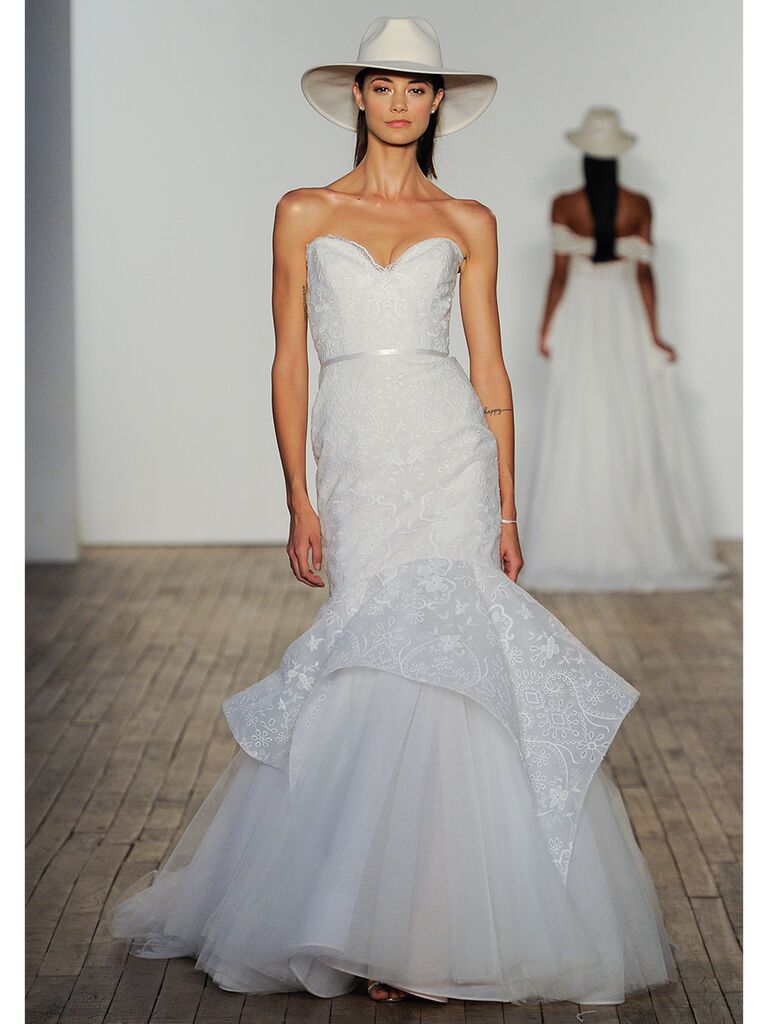 "Nelson" gown; Strapless mermaid dress with floral overlay.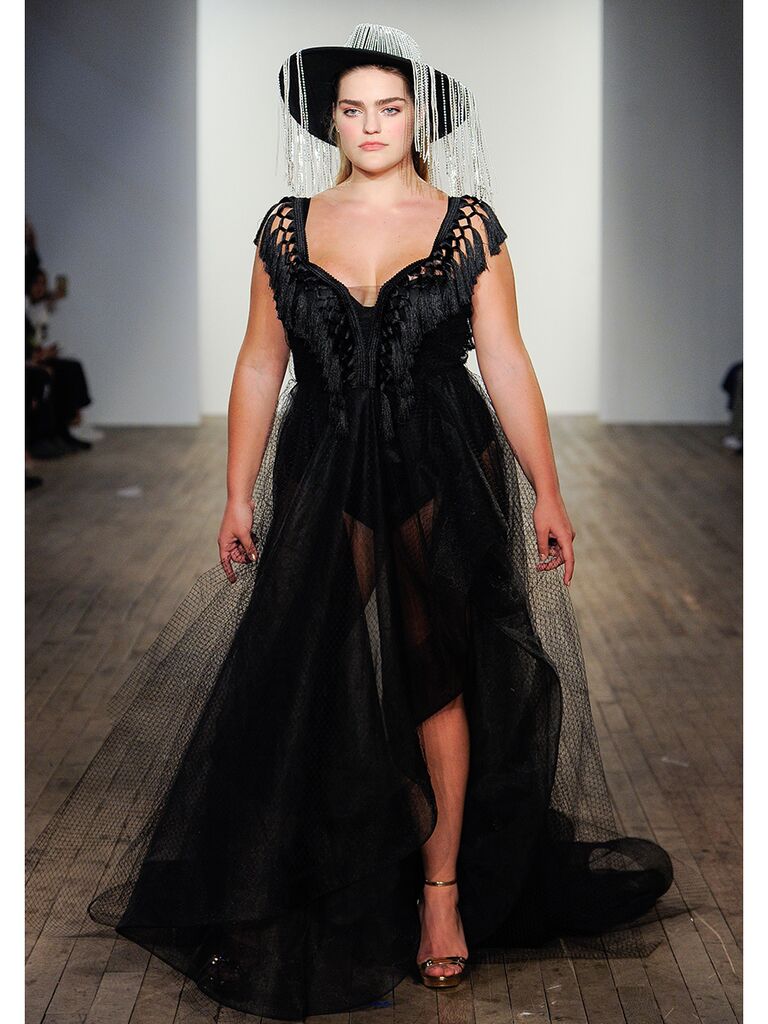 "Owens" gown; Black v-neck dress with sheer skirt.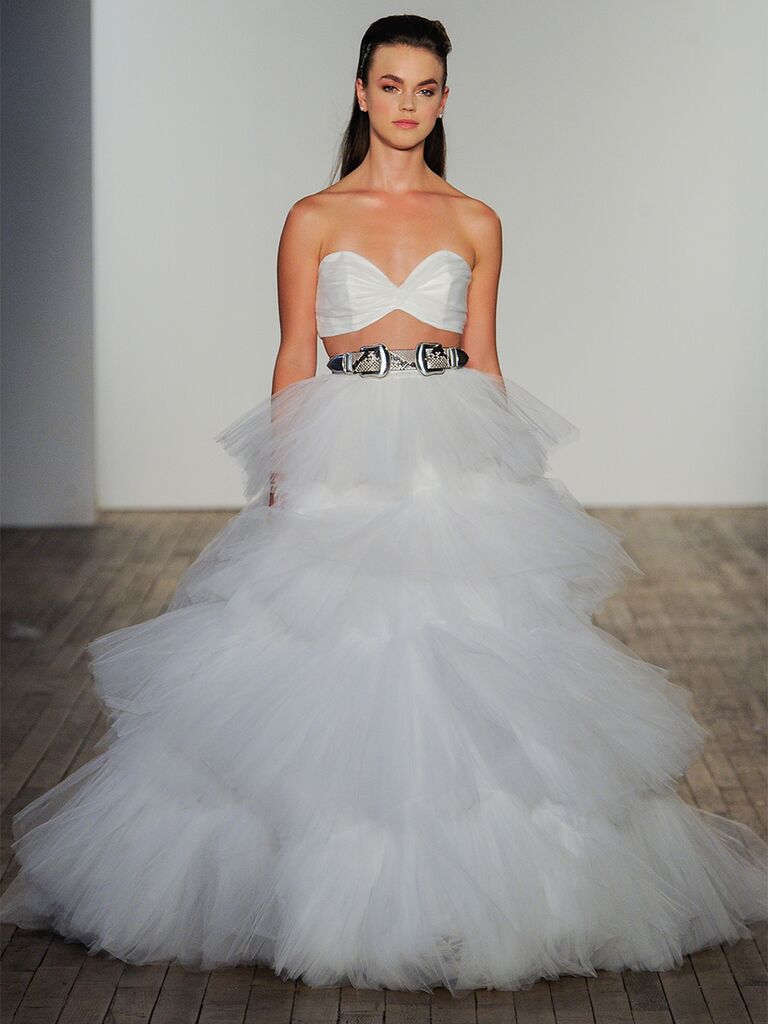 "Patsy" set; strapless top with multi-tiered tulle skirt.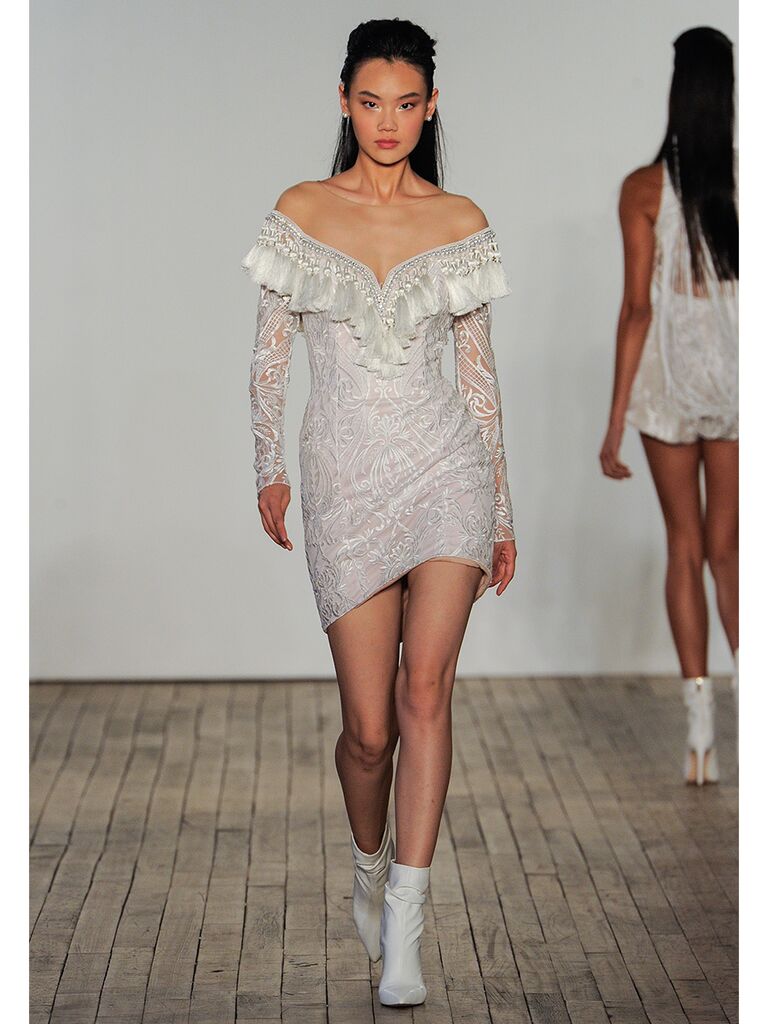 "Pearce" dress; Long-sleeve off-the-shoulder dress with flounce detail.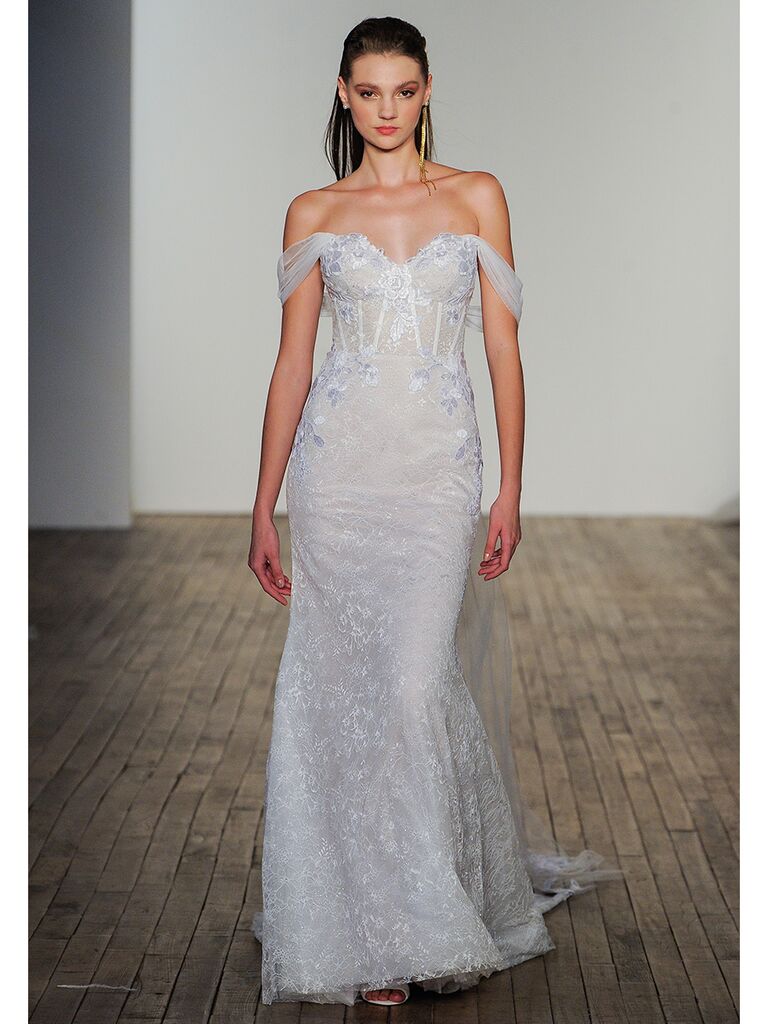 "Reba" gown; off-the-shoulder trumpet dress with floral detailing.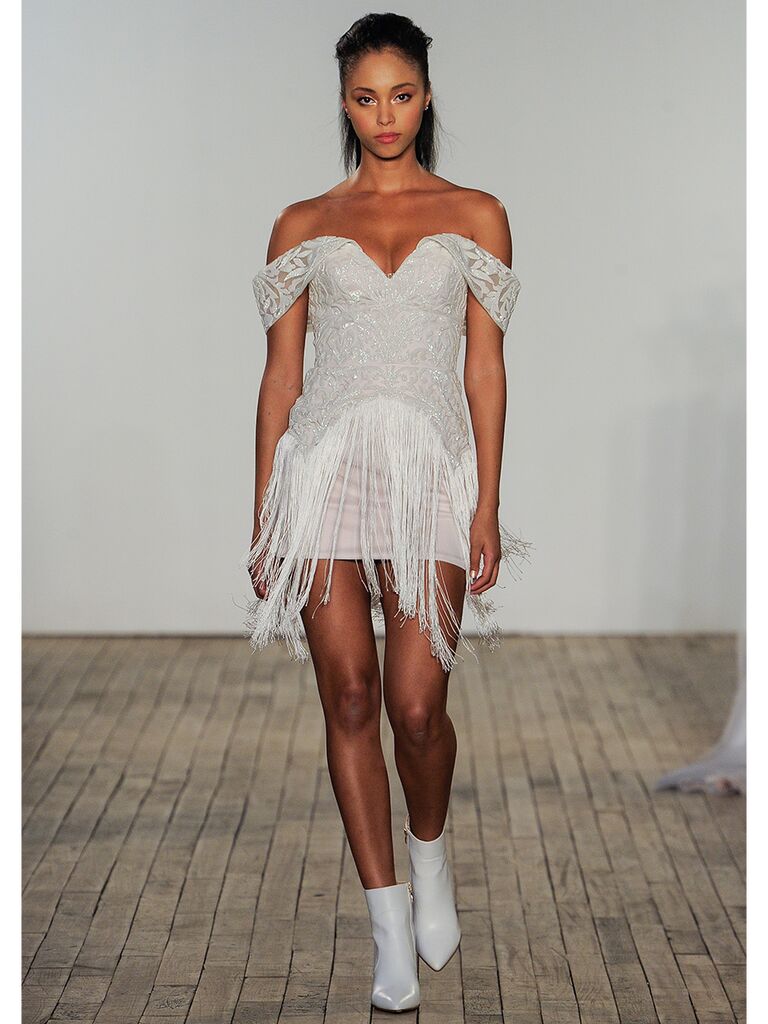 "Shania" dress; off-the-shoulder mini dress with fringe detail on skirt.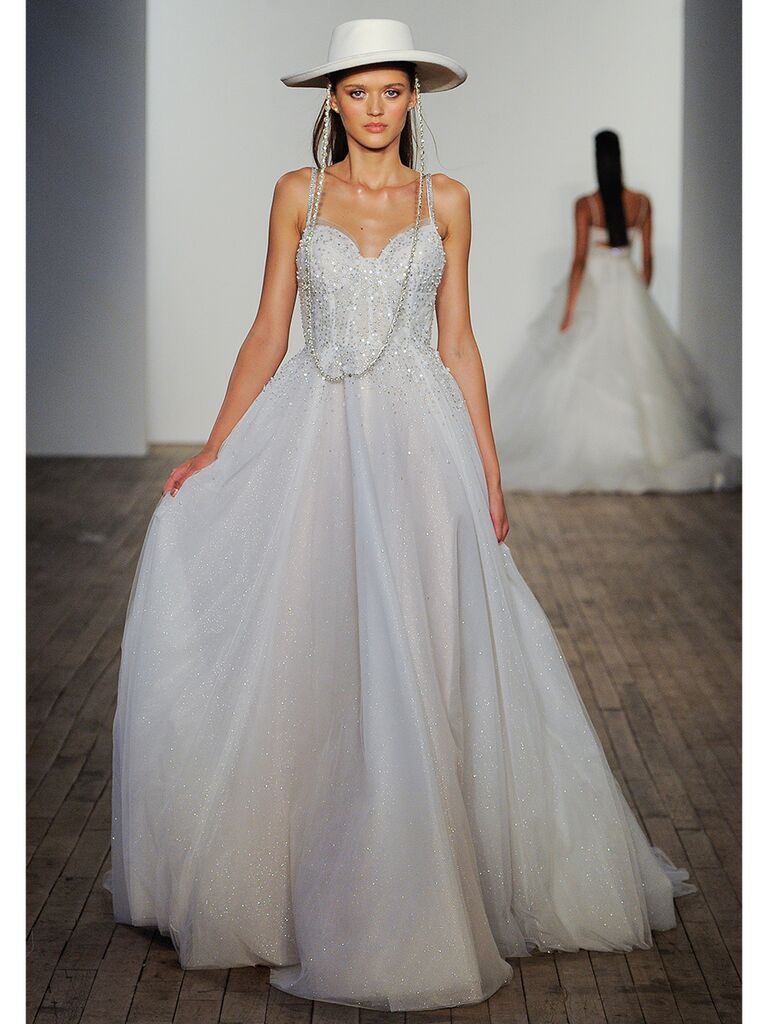 "Starlie" gown; shimmering ball gown with sweetheart neckline and spaghetti straps.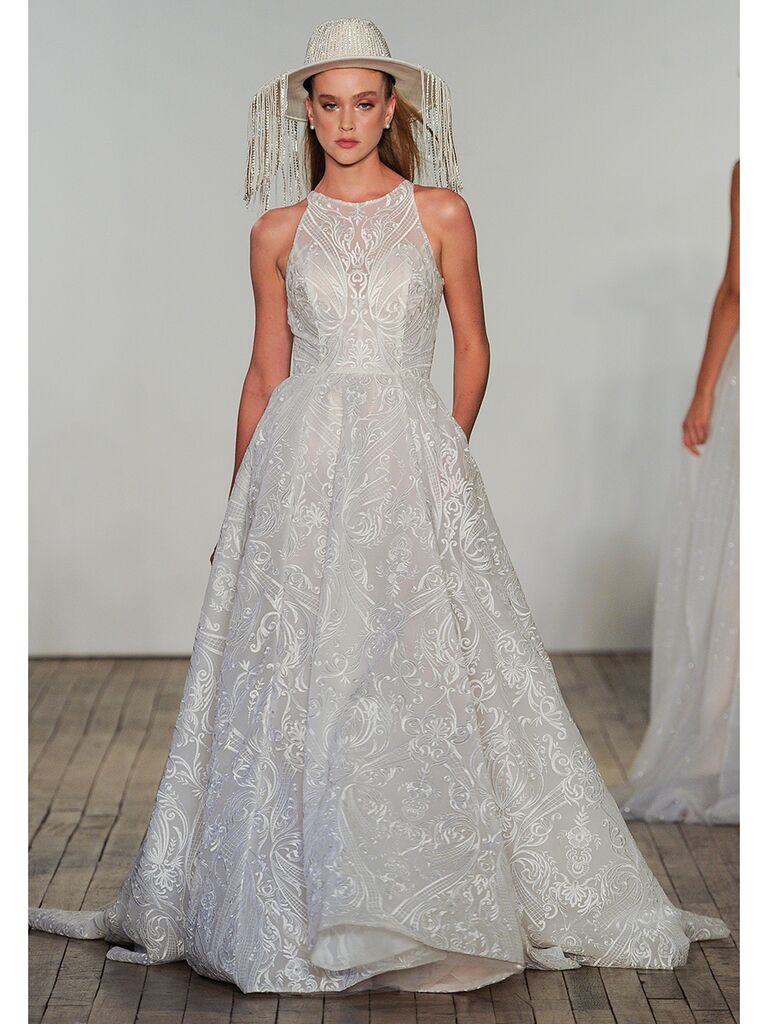 "Suki" gown; textured ball gown with illusion neckline.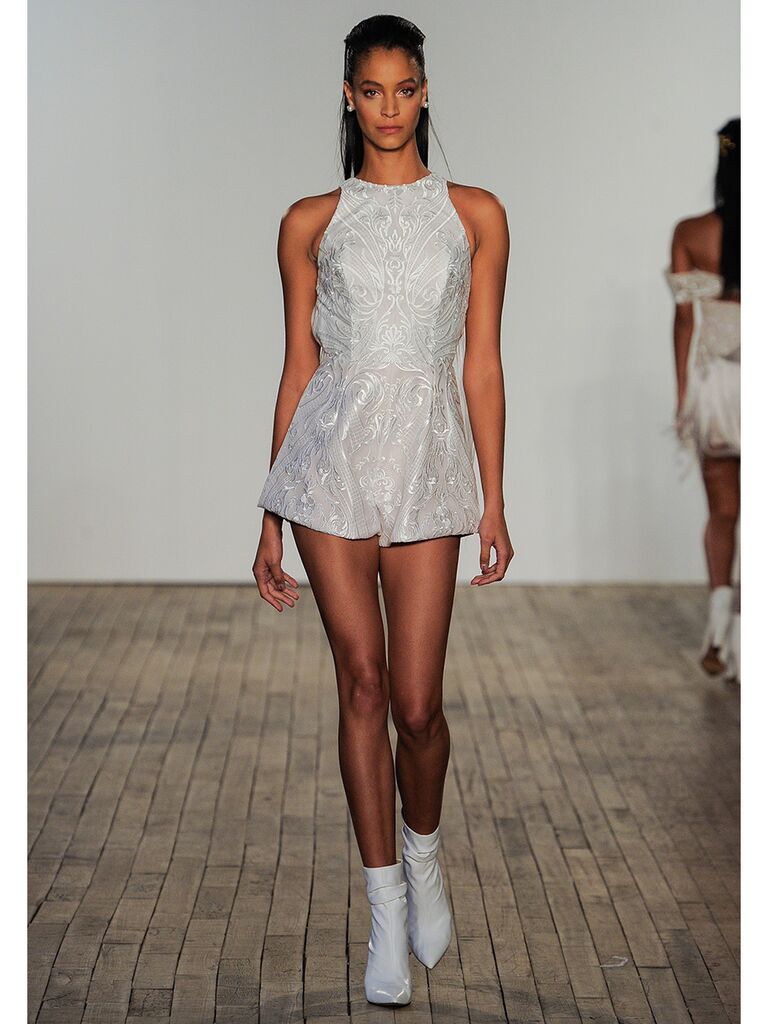 "Tay" romper; patterned high-neck romper.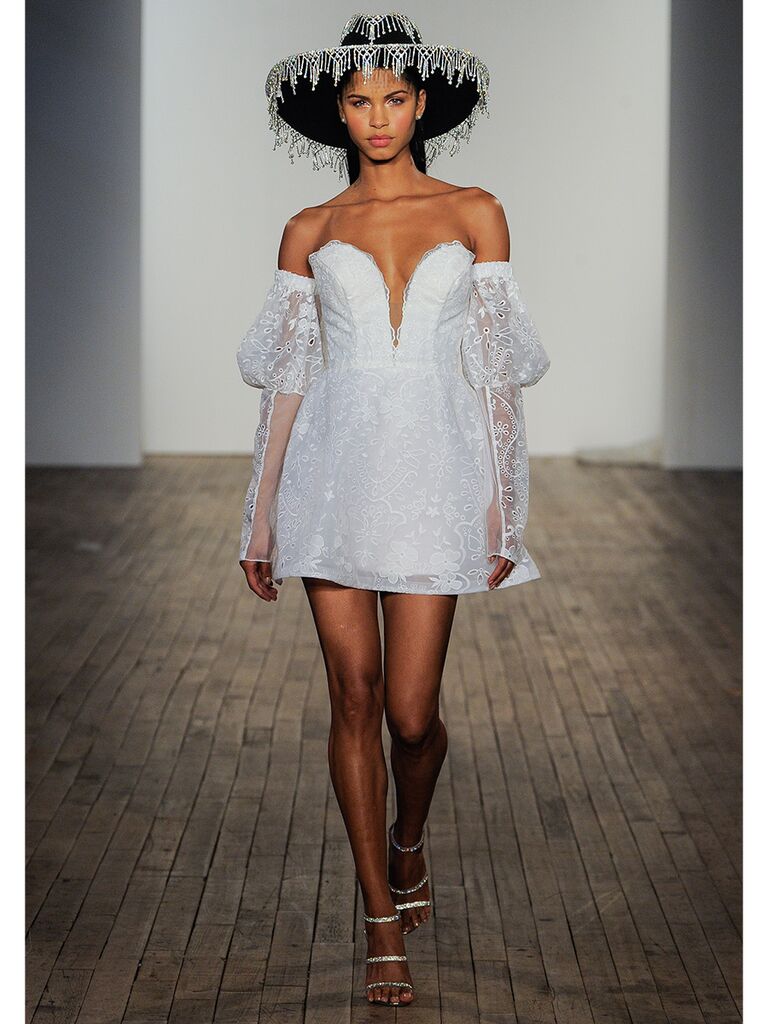 "Trace" dress; mini dress with sheer, off-the-shoulder long sleeves.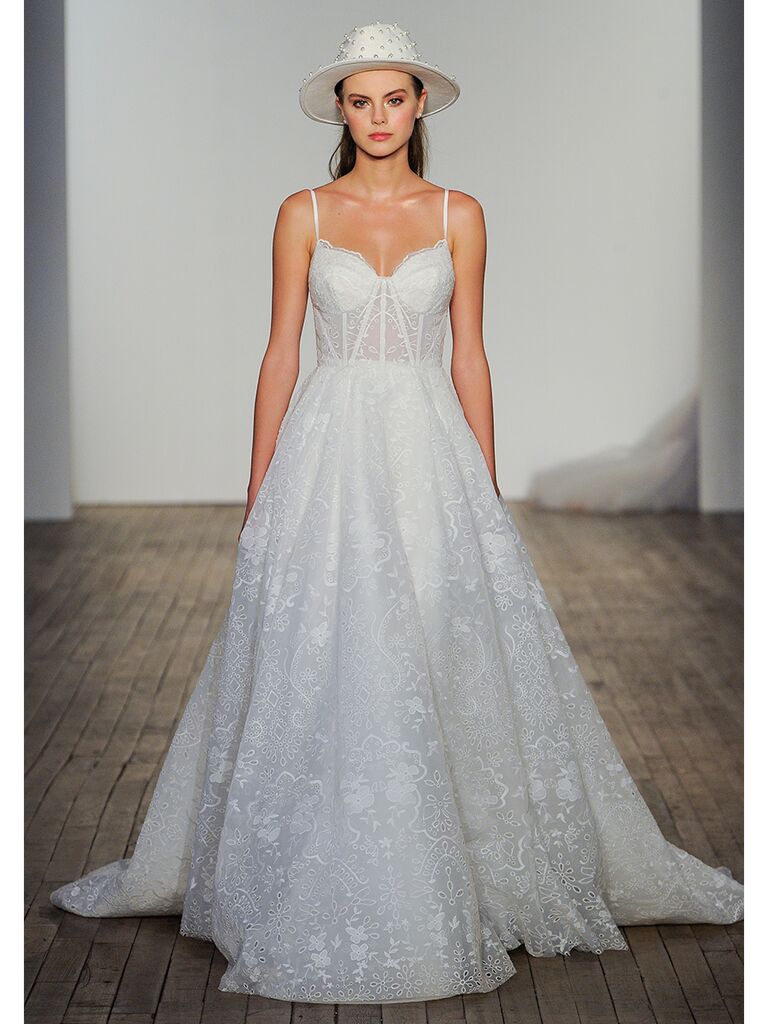 "Walker" gown; Eyelet ball gown with sweetheart neckline and spaghetti straps.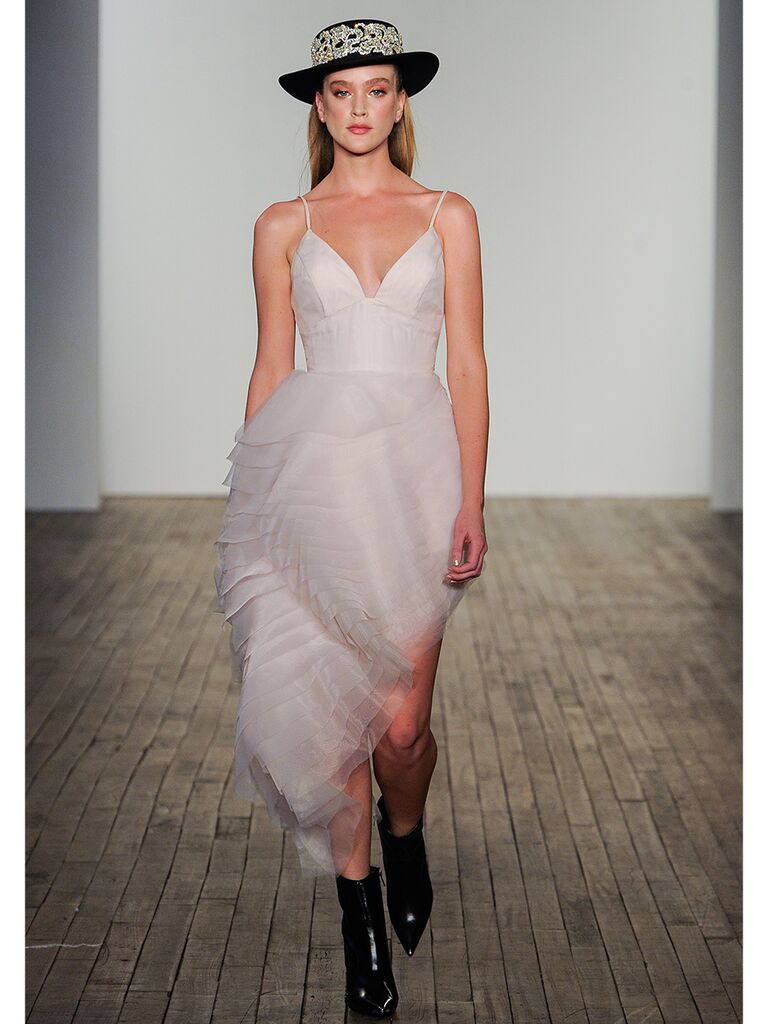 "Waylon" gown; blush a-line dress with asymmetrical hemline.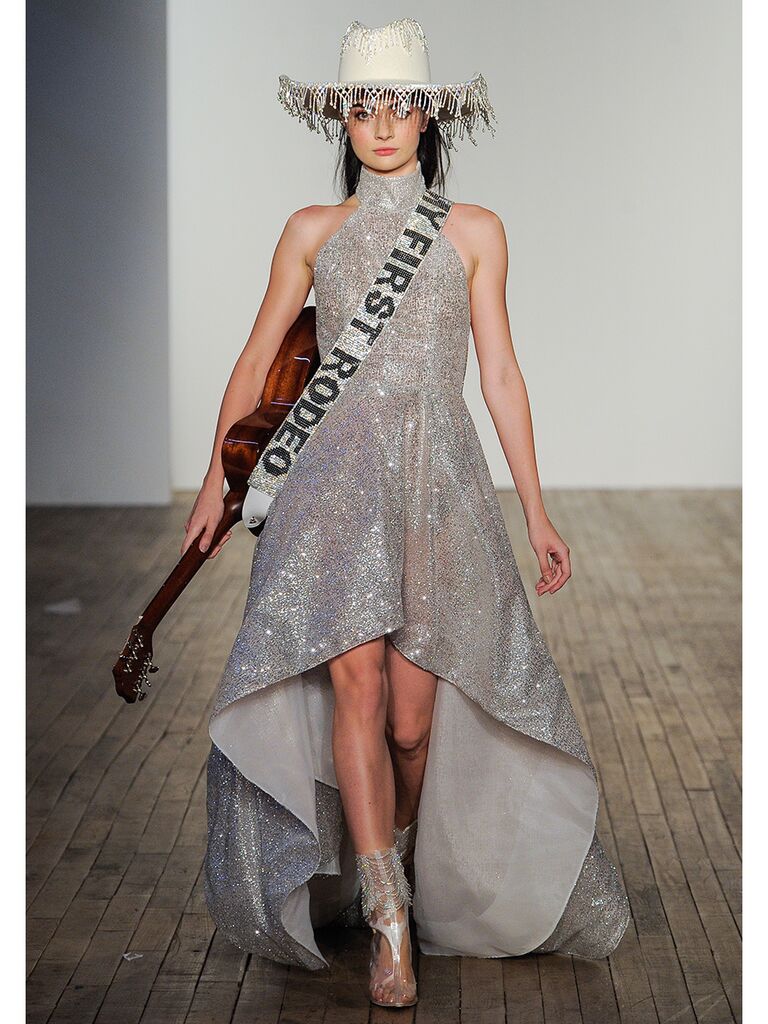 "Wayne" gown; sparkly high-low dress with high neck.