17 Fun Honeymoon Luggage Tags for Newlywed Couples
Globe-trotting duos will love these adorable luggage tags.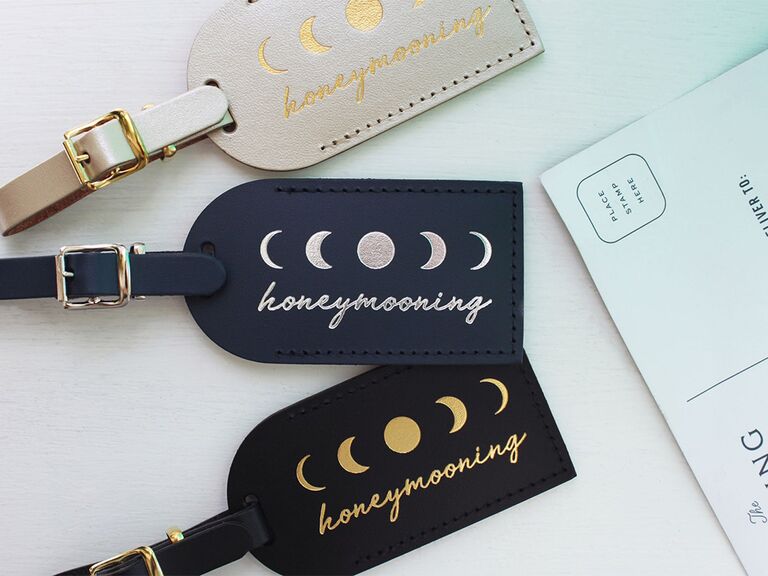 We have included third party products to help you navigate and enjoy life's biggest moments. Purchases made through links on this page may earn us a commission.
We all have those friends that seem to add a new stamp to their passport every few months—heck, sometimes you only know where in the world they are by looking at their latest Instagram! And, when two travel-lovers happen to marry each other? Well, you know that is going to be one epic honeymoon. If you're on the hunt for a worldly gift for a pair of jet-setters, look no further than a set of honeymoon luggage tags.
A cute luggage tag tied around a carry-on or suitcase is a fun way to celebrate their newly-minted marriage while letting the whole airport (and the whole world) know they're on their honeymoon. Who knows—they may even score a few fun perks! Personalized luggage tags also make a fun bachelorette or wedding favor, especially if you're planning a destination wedding.
From monogrammed leather luggage tags to sets that come with matching passport holders, we've rounded up a list of some of the best travel luggage tags for the happy couple.
Letter and Leather Mr. and Mrs. Luggage Tags
Looking for a cute bridal shower gift? Made of genuine leather with Mr. or Mrs. in modern gold script, these elegant leather luggage tags are a great choice for newlyweds heading out on their honeymoon.
Get Foiled Design Studio Personalized Honeymoon Leather Luggage Tags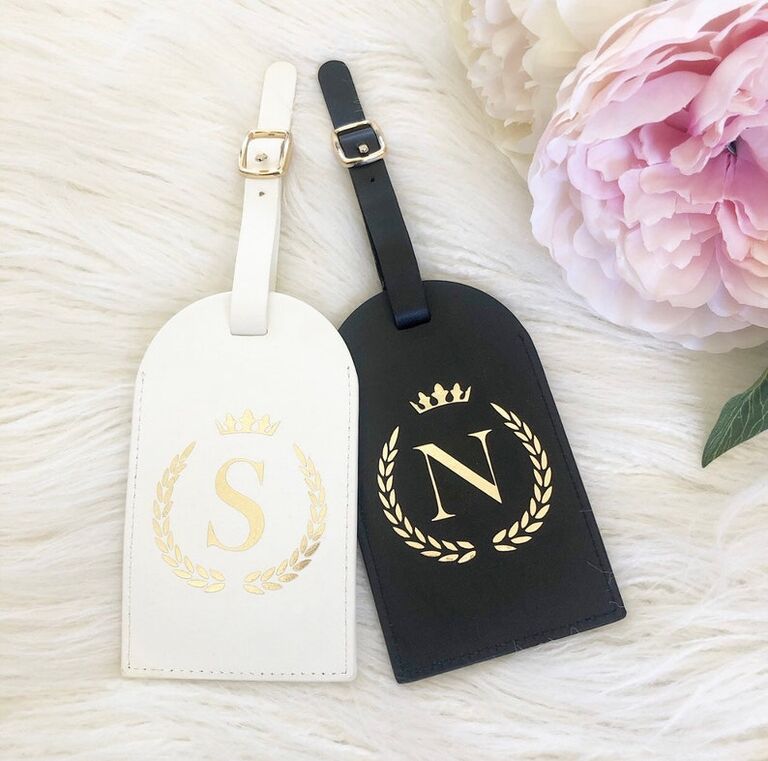 Simple and timeless, modern couples will love these personalized leather luggage tags. Made of PU leather, they can be customized in gold, rose gold, silver, black, white or pink lettering in the design of your choice. These cute luggage tags would also make a lovely bridesmaid or a bachelorette party gift.
Letter + Leather Honeymoon Luggage Tags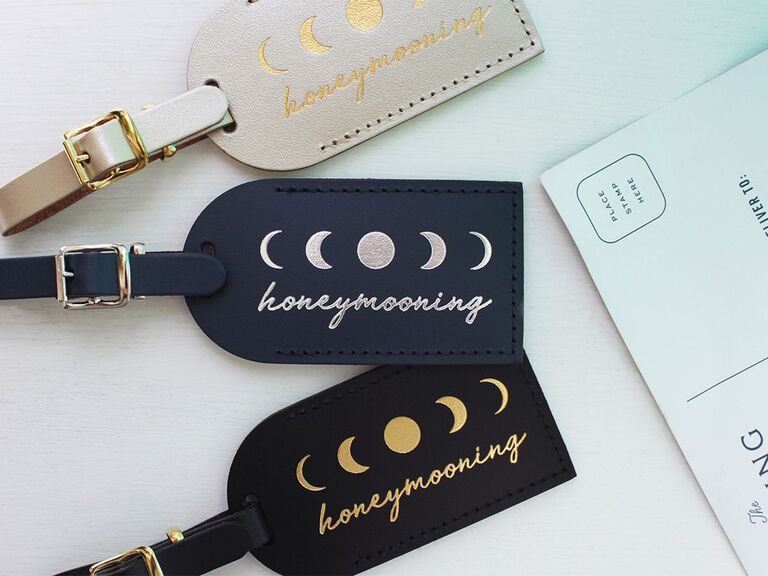 We're smitten with these honeymoon luggage tags, which feature a cheeky moon cycle motif with the phrase "honeymooning" below. Available in multiple color combos, each of these matching luggage tags is stamped with gold or silver foil and paired with hardware to match.
Lillian Rose Mr. Mrs. and More Mrs. Luggage Tags
Perfect for the newlyweds that tend to overpack (been there), this cute luggage tag set includes three matching bag tags (Mr., Mrs., and More Mrs.) in classic Tiffany blue. With room for their information on the reverse, this set would make a great gift for a bridal shower.
ALW Crafts Newlyweds Personalized Luggage Tags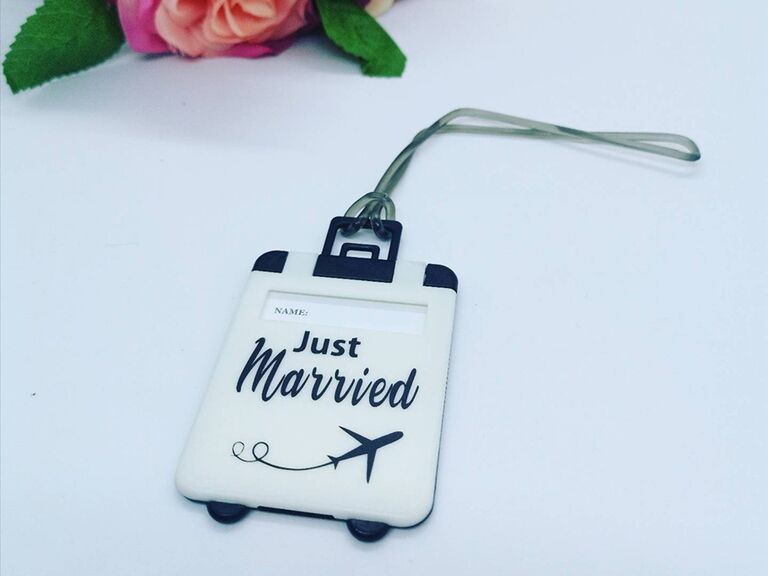 Everyone will know your loved ones are on their honeymoon with these adorable "Just Married" matching luggage tags shaped like a mini suitcase. Each tag includes a space where couples can write in their names, address and phone number.
David's Bridal Personalized Leather Luggage Tag and Passport Holder Set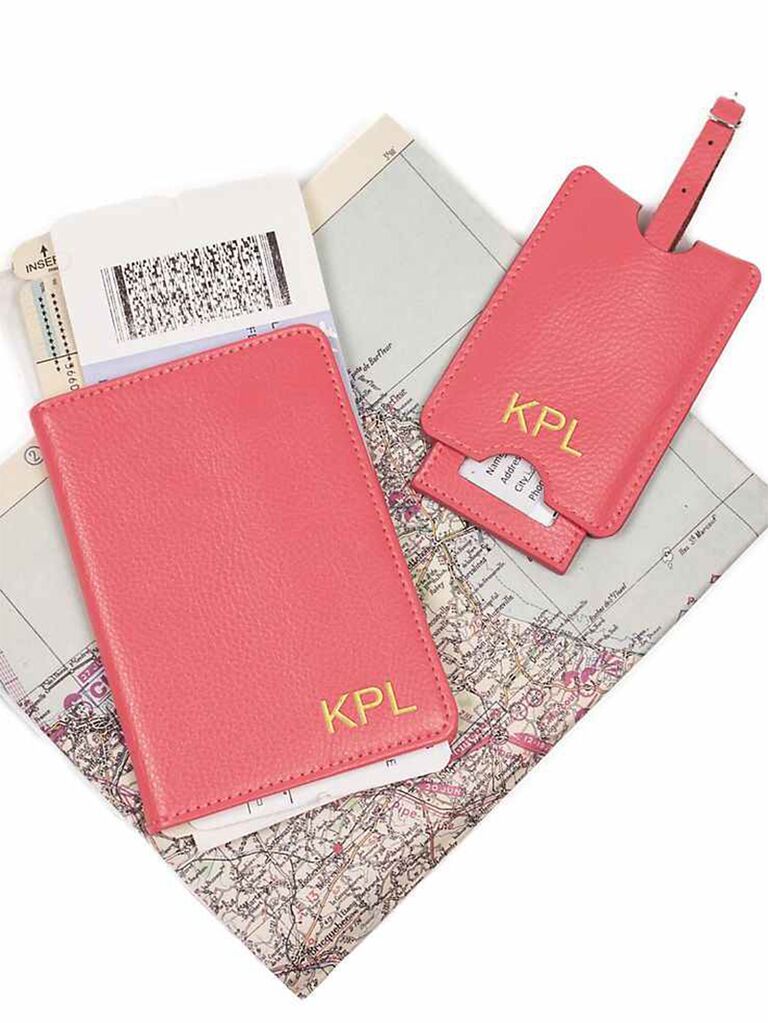 Whether you're shopping for a honeymoon gift or bachelorette party favors, you can't go wrong with this keepsake monogram leather luggage tag and passport holder set. Made of genuine leather, each passport holder set comes in a gift box and is stamped with a personalized foil monogram.
Wanderlust Leather Tropical Wedding Gift Leather Luggage Tags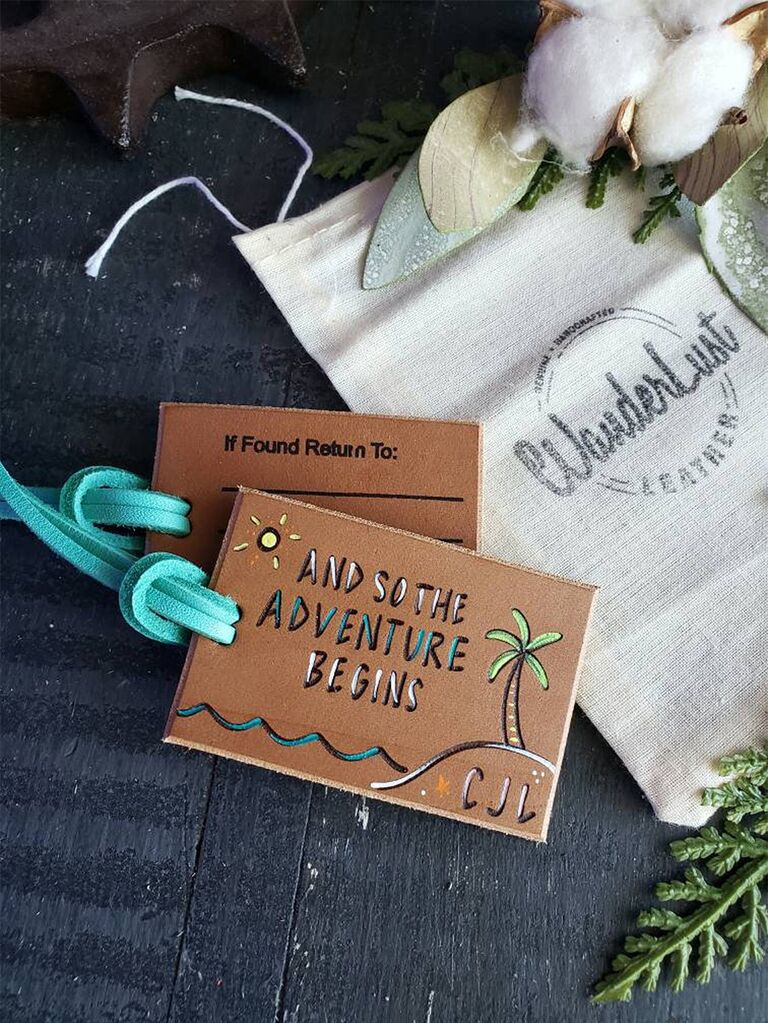 If your loved ones are planning a destination wedding, these cute luggage tags will make the perfect gift. Made of genuine leather, each tag is etched and painted by hand with a tropical scene and the fitting phrase "And so the adventure begins."
Tuxedo Wedding Just Married Chalkboard Honeymoon Travel Luggage Tag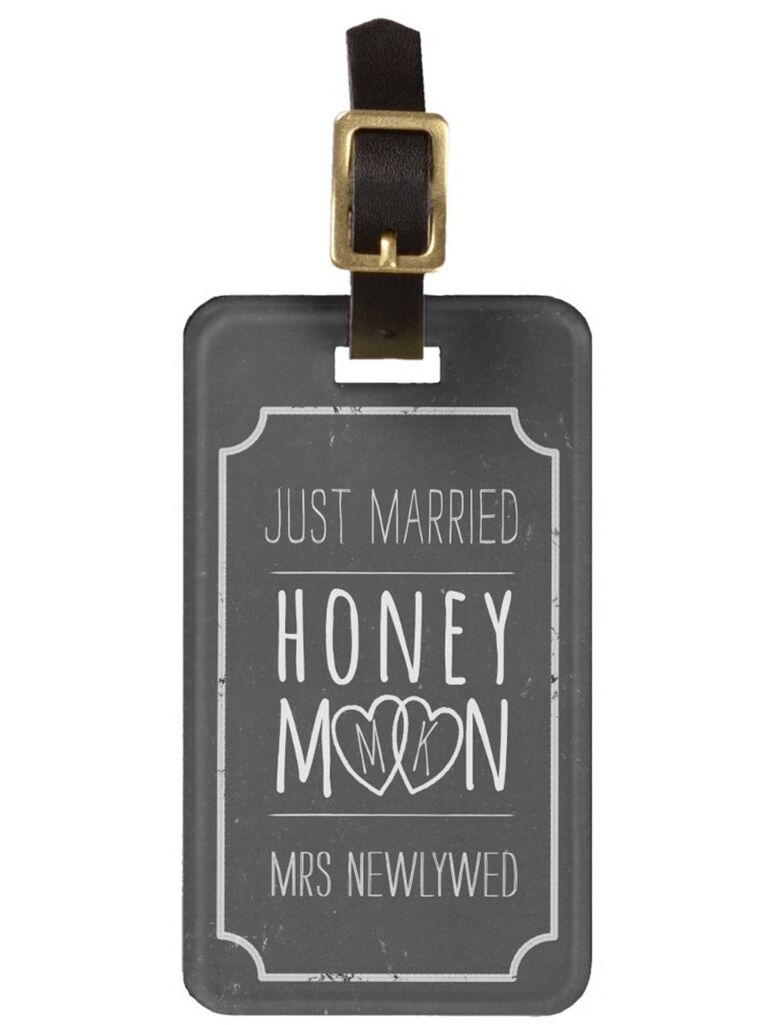 Newlyweds will stand out at the luggage carousel with this rustic chalkboard-inspired honeymoon luggage tag. Printed on durable acrylic with a leather buckle strap, these matching tags can be personalized on the front and back to include the couple's names and contact info.
Dark Horse Custom Gifts Adventure Awaits Personalized Luggage Tags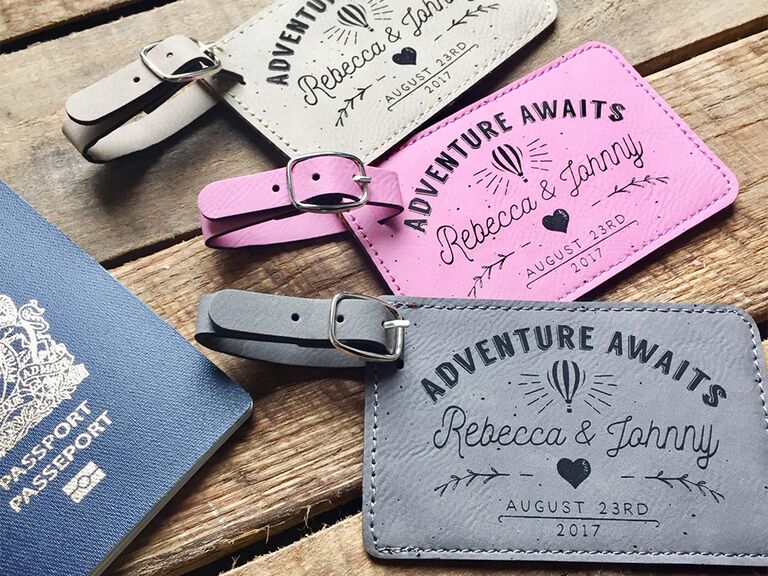 Adventure awaits with these leather luggage tags. Ideal for a wedding gift or anniversary gift, each tag includes an adorable illustration of a hot air balloon paired with a rustic font spelling out the couple's names and wedding date.
Fragola & Co Personalized Acrylic Honeymoon Bag Tag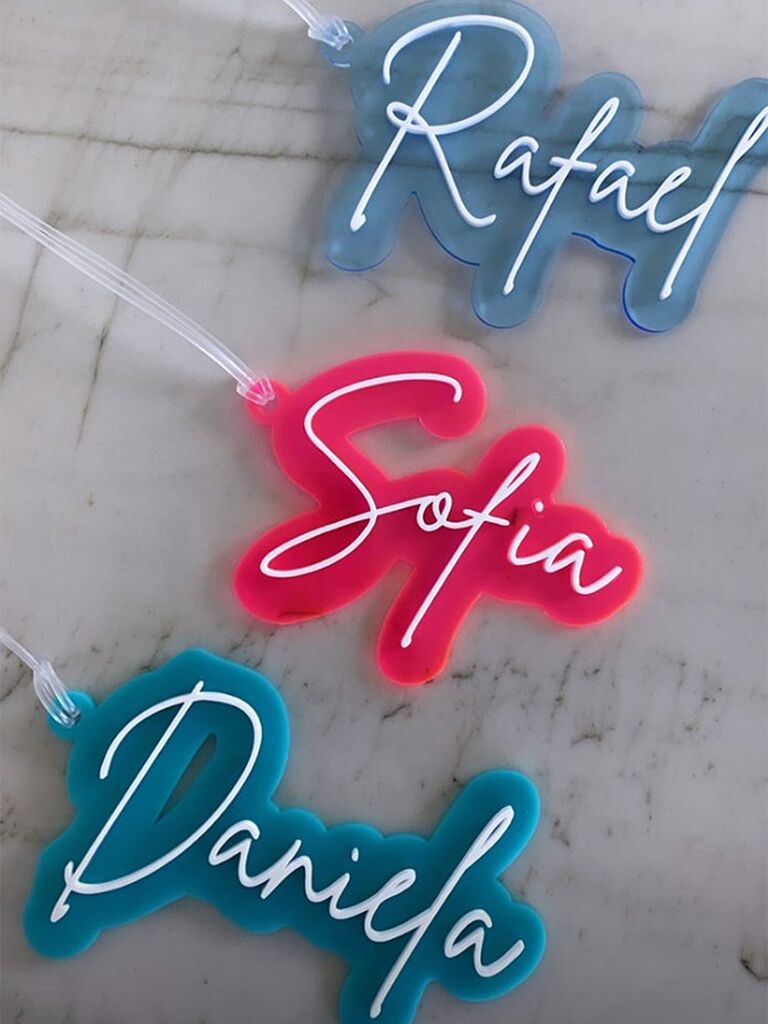 We love these funky tags that are reminiscent of neon signs! They're made-to-order and would be the perfect gift for a couple that's tying the knot in Vegas. They'd also make a great gift for a destination wedding party or bachelorette bash.
Lillian Rose Love You More Luggage Tag Set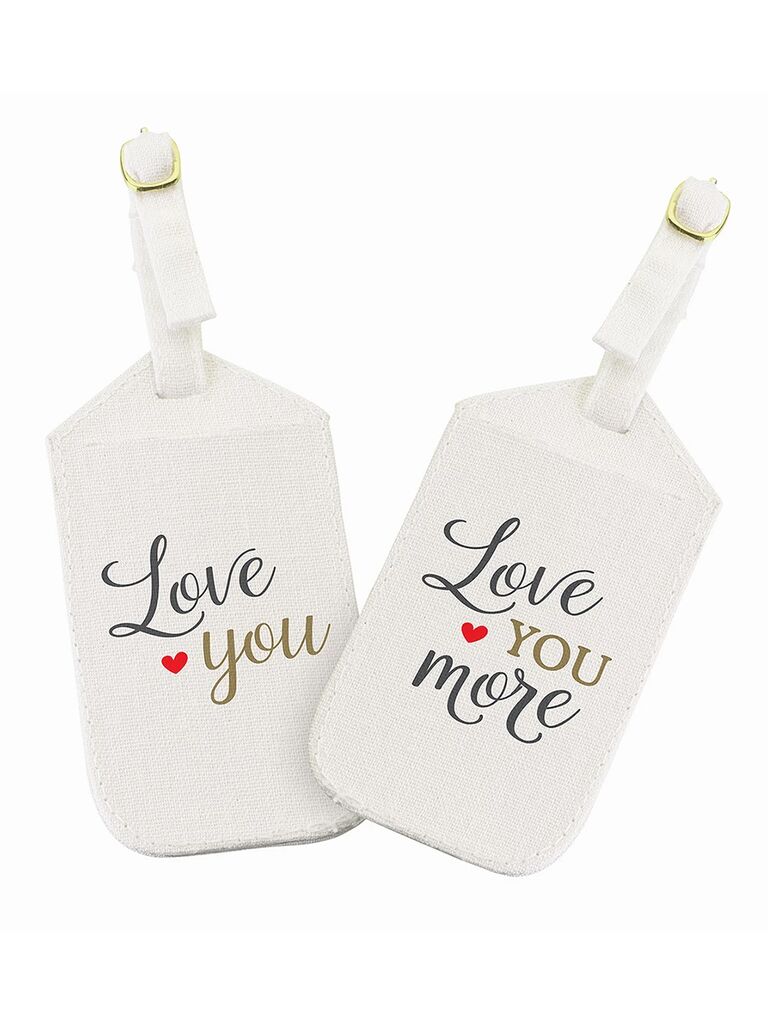 Gift these white canvas luggage tags to the happy couple as they embark on their next journey together. A romantic honeymoon gift, the matching luggage tags include the phrases "I love you" and "I love you more" in black and gold script with a small red heart detail to complete the sweet design.
That's Nice That Personalized Honeymoon Luggage Tag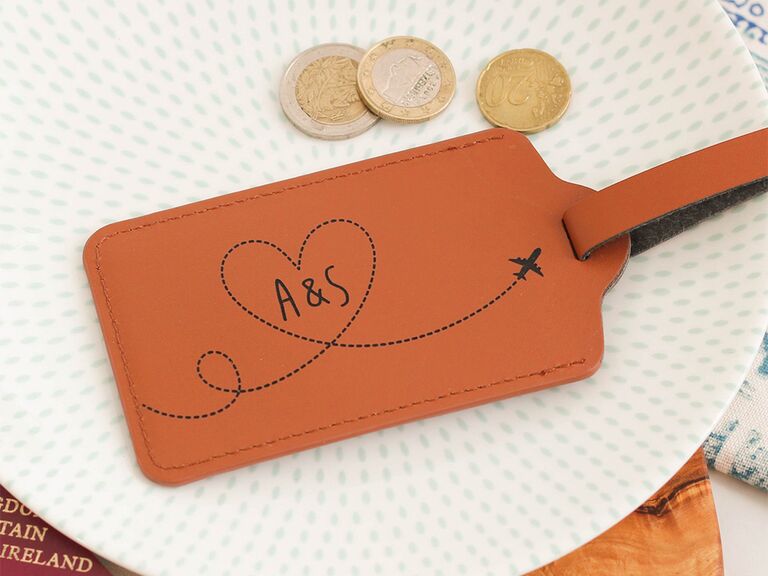 This fantastic luggage tag is a great honeymoon gift for newlyweds. Made of PU leather, each of these vegan-friendly tags features an airplane tracing a heart image, with personalized initials or a message in the middle.
David's Bridal Adventure Begins Leather Luggage Tag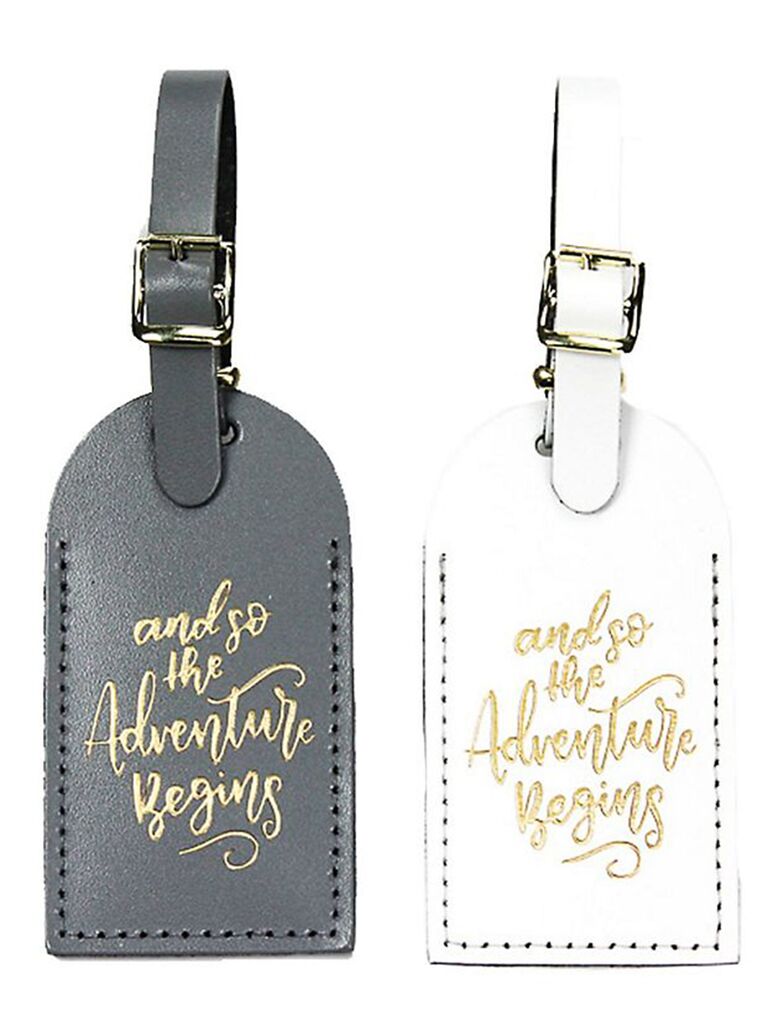 A meaningful keepsake for the newlyweds or engaged couple, these leather luggage tags are printed with the phrase "And so the adventure begins" in modern gold script. Bonus: The set comes in a pretty black and white gift box, giving you an excuse to skip wrapping paper.
Engel Custom Decor Personalized Luggage Tags and Passport Holder Set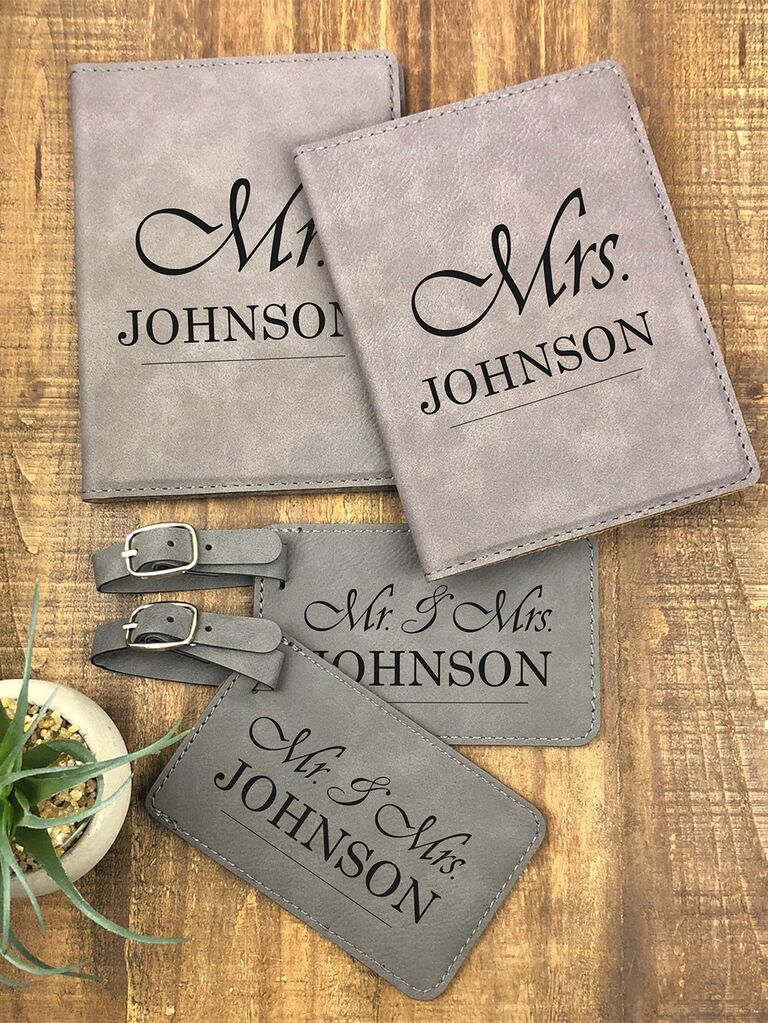 Laser engraved with the couple's last name, these gorgeous luggage tags will make a lovely keepsake for years to come. You can choose from a selection of colors, including chic grey, timeless black and playful pink.
Riverside Bridal His and Hers Personalized Luggage Tags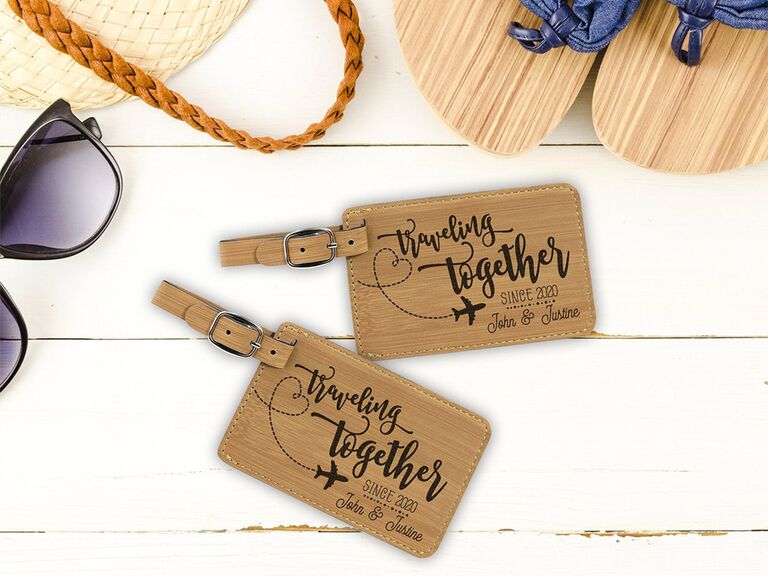 These "Traveling together" honeymoon luggage tags can be personalized to include the name of the couple and their established year. These also make a great anniversary gift for a couple celebrating a milestone year with a big trip.
Hello Mello Co Personalized Luggage Tags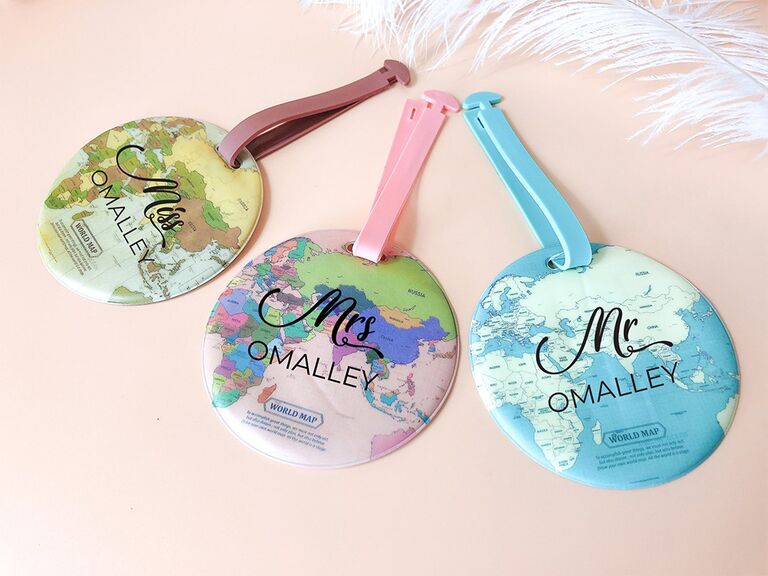 We can't resist these cute luggage tags that feature a color map motif. Each tag can be customized with a title and last name, making them the perfect honeymoon gift.
RU Gifts Co Personalized Boutique Travel Passport Holder & Luggage Tag Gift Box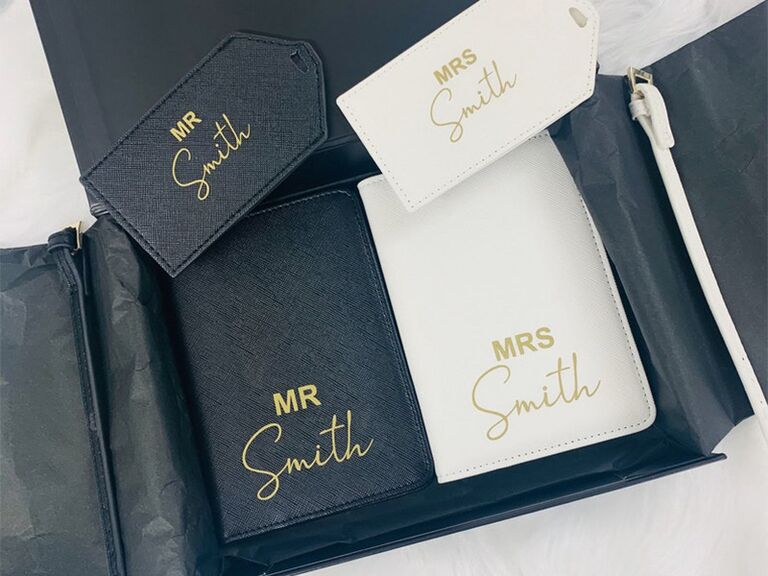 Shopping for the perfect bridal shower or honeymoon gift? We love this elegant gift box that includes a pair of matching luggage tags and passport holders personalized with the title and names of your choice in a beautiful gold script.