20 Wedding Gifts for Travelers That Will Make Their Next Trip a Breeze
Warning: You're about to have some serious wanderlust in 3...2...1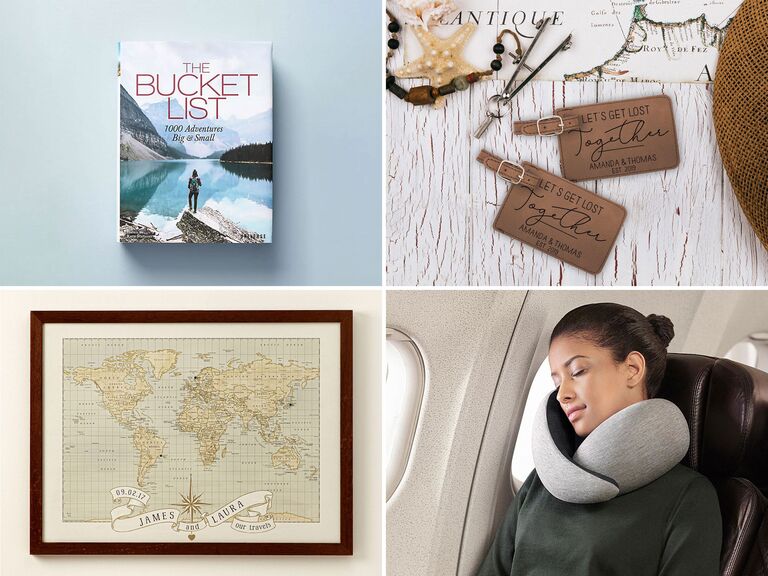 We have included third party products to help you navigate and enjoy life's biggest moments. Purchases made through links on this page may earn us a commission.
We all know that one duo that's always off on some amazing new getaway and making us super jealous on Instagram. But hey—their love of adventure is one of the things that makes them such a fun pair! The good news: There are loads of awesome wedding gifts out there for travel-loving couples who just can't wait to see the world together. If your favorite adventurous duo is about to tie the knot, and you're thinking of going off-registry for the bridal shower, you'll have plenty of unique ideas to choose from.
Opting for a travel gift won't just come across as thoughtful and personal—it will also help things go much smoother when the newlyweds take their next trip (probably their honeymoon!). Whether the happy couple loves checking island vacays off their bucket-list or prefers hoping state-to-state on a road trip, we're pretty sure they'll appreciate your thoughtful gift idea either way.
From state-of-the-art carry-ons to monogrammed passport holders, scroll on for some of our favorite travel-friendly gifts.
Tinggly "Just Married" Gift Box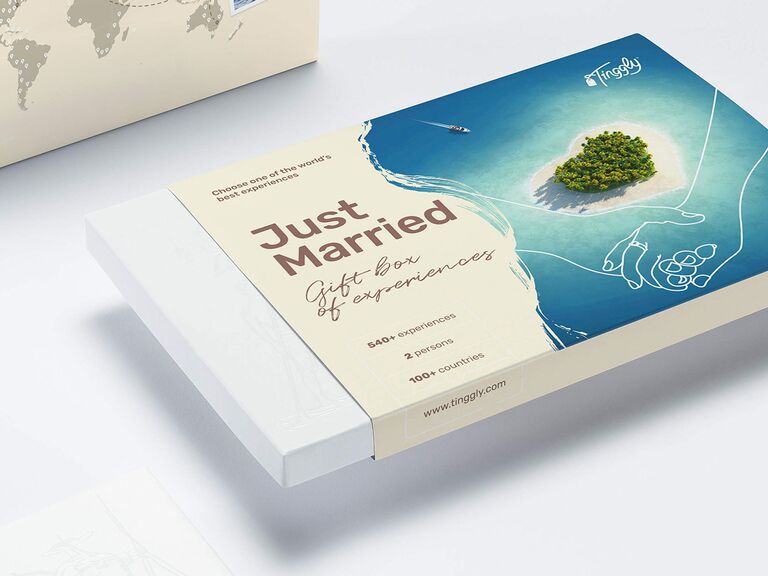 This one-of-a-kind travel gift idea may not be for everyone, but it's perfect for adventure-seeking couples who are up for anything. Inside, newlyweds will find more than 500 different real-life experiences, ranging from horse-drawn carriage rides in New York City to private sailing experiences off the coast of Rhode Island and even the chance to swim with manatees in Florida. All they have to do? Pick the experience they like best and book online through Tinggly to make it happen.
RiversideBridal77 Let's Get Lost Together Luggage Tags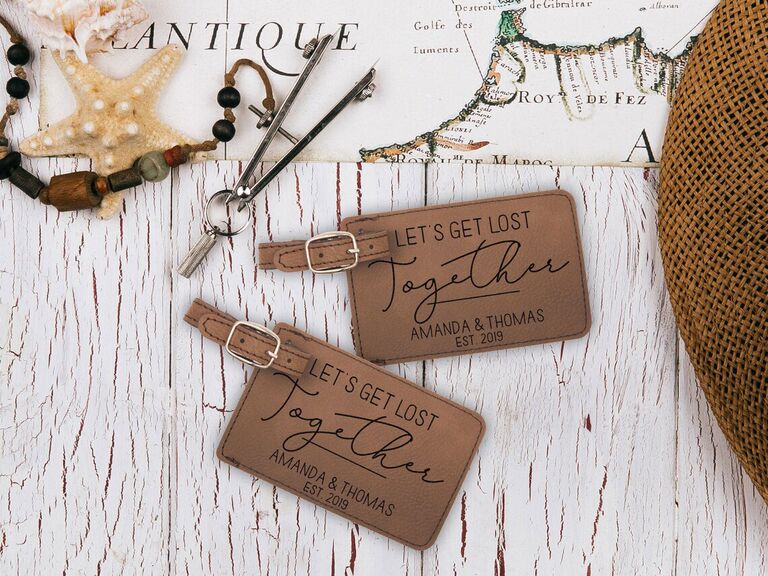 Unless you're traveling with a bright neon suitcase you can spot from a mile away, luggage tags are just plain smart. But matching monogrammed ones like these? Well, they get bonus points for being sweet and sentimental, too. (And aren't those really the best gifts in the end?)
TUMI Latitude 22" 4-Wheel International Carry-On Suitcase
Allow us to introduce you to the Latitude, the crème de la crème of carry-ons. Not only is it nice to look at (seriously—is this thing pretty, or what?), but it's also super light, weighing in at just 6.29 pounds. It boasts multi-directional wheels to allow for easy airport maneuvering when you're racing to catch a flight, and its hardshell case will ensure that everything inside stays safe even if it winds up sliding around in the overhead compartment. No wonder it gets the seal of approval from travel lovers—and a Knot Registry Award.
Wendy Gold Personalized Anniversary Pushpin World Map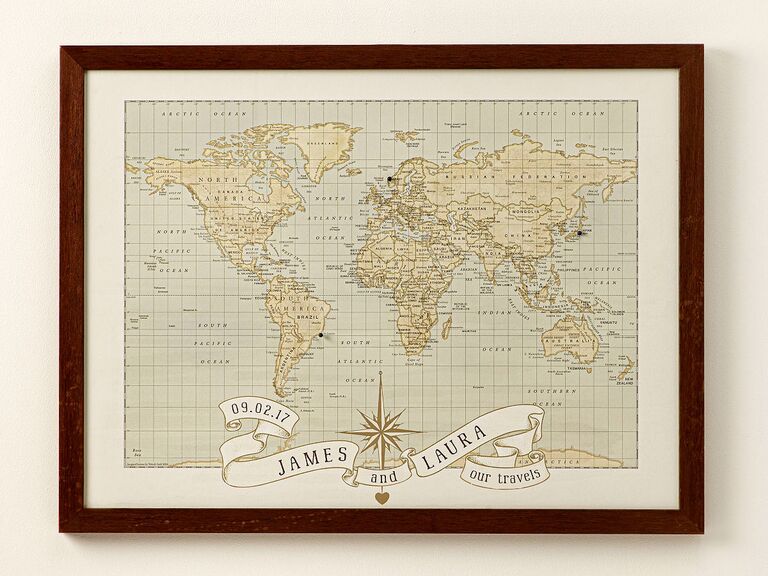 What better way for newlyweds to keep track of their many adventures than with this sweet and memorable DIY keepsake? The antique-style map comes framed and personalized with the couple's names and wedding date, and includes a batch of push-pins for them to mark off each country, city, or town they visit as their journey together continues.
GoPro HERO9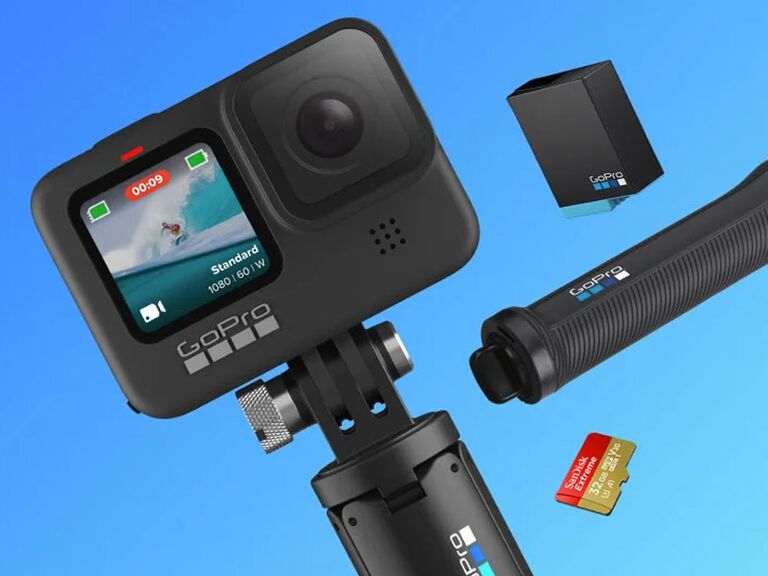 Cell phones may come equipped with some pretty high-quality cameras these days, but even the newest ones are no match for the GoPro. The HERO9 captures stunning 5K video with crisp, clean imagery and lots of detail, even when zooming in and out. Plus, it's lightweight and waterproof, which makes it ideal for taking along on outdoor adventures.
Bric's X-Travel City Backpack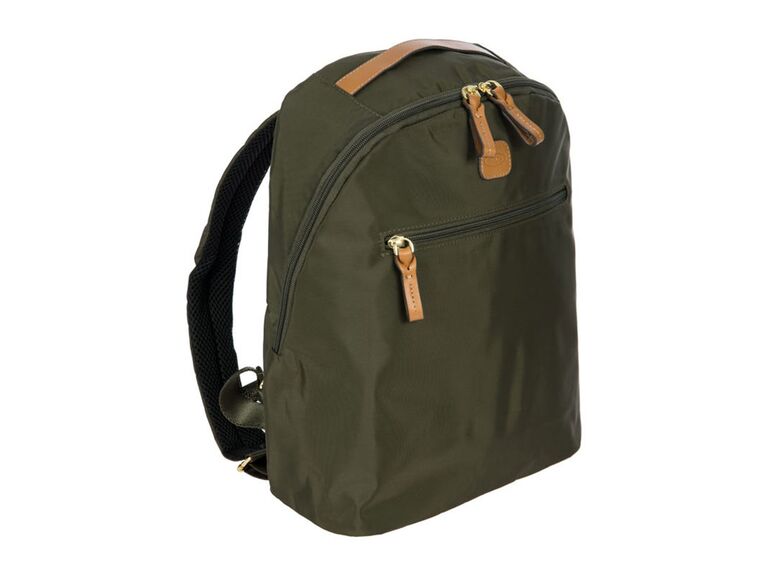 Half the battle when it comes to traveling is knowing how to pack—and doing it well. This stylish and functional backpack is perfect for cross-country road trips, weekend hikes and just about any other getaway you can think of.
The Traveler's Playbook: World Edition Travel Journal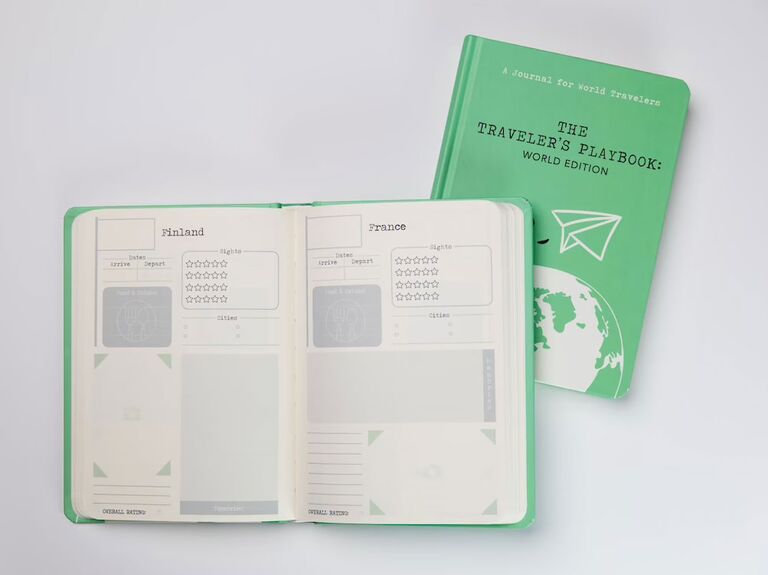 Believe it or not, Instagram isn't the only place to record all your favorite moments. (Shocking, we know.) This one-of-a-kind travel journal will give the married couple a private place to keep track of their many adventures to come, as they share funny stories, travel photos, and even interesting travel tips they learned within its pages.
Atumtek Bluetooth Selfie Stick Tripod 3 in 1 with Wireless Remote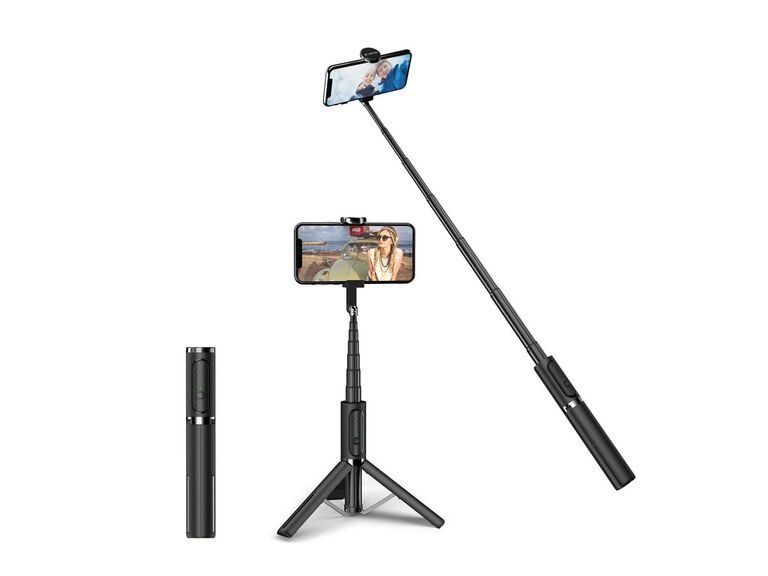 Can a selfie stick feel a little embarrassing to use when you're out in the world? Yes. Are they basically like holding a neon sign over your head that says, "I'M A TOURIST"? Also yes. But here's the thing: They're also pretty darn practical. Honeymooners will appreciate having this smart travel accessory on hand so they can capture themselves in the moment, rather than having to bug strangers for a photo.
Uncommon Goods Compact Packable Neck Pillow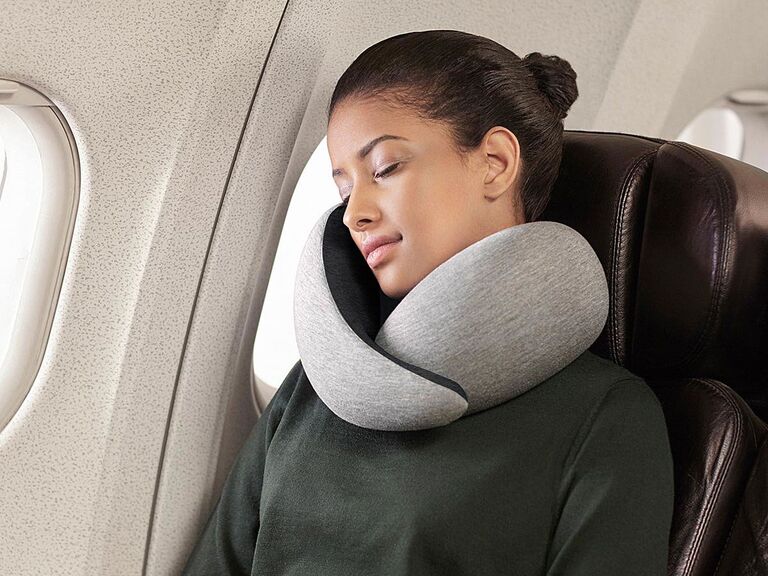 Unless you've got the bucks to travel First Class every time, sleeping on an airplane has to be one of the most uncomfortable parts of traveling. Enter: this comfy neck pillow, which practically guarantees some high-quality shut-eye, thanks to its modern and supportive design that wraps snugly around your neck and folds up into a compact ball when not in use.
TUMI Voyageur Jewelry Travel Roll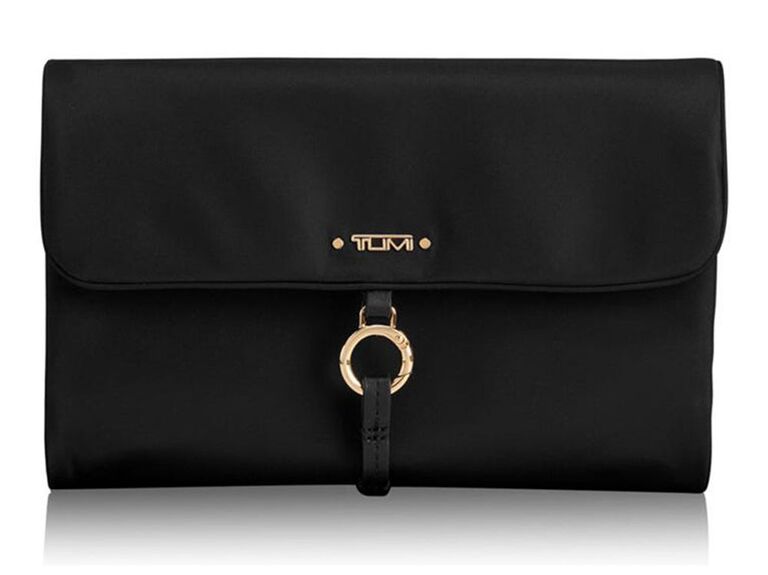 Keeping jewelry safely organized in transit is not only smart but necessary, especially if you don't want to open your suitcase and find all of your necklaces have twisted into a tangled mess. For the world traveler who never leaves their hotel room without getting dressed to the nines, this unique gift might just be a life-saver.
Personalized Moments Portable Charger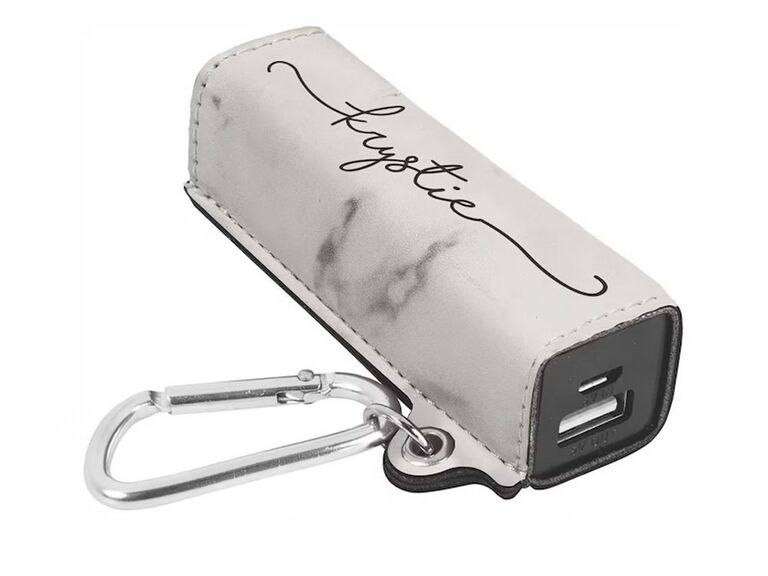 Few things can kill the vibe on a trip like having your phone die in the middle of an awesome moment. Buying a pair of portable power banks will ensure that the happy couple is always charged and ready to go—you can even personalize each one with their name to make it clear whose is whose (no fighting over the charger, lovebirds!).
Pottery Barn Classic Woven Picnic Basket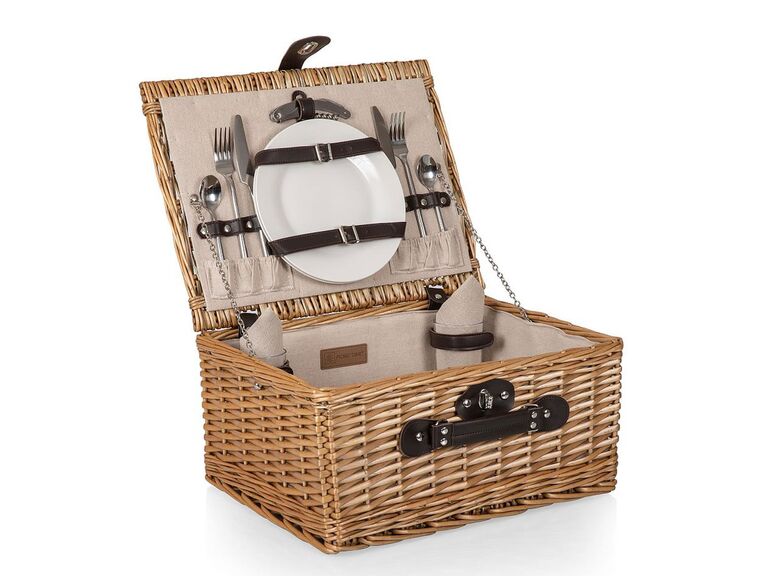 Not every couple enjoys jetting off to far-flung locales. If your loved ones prefer to explore the world around them through fun weekend trips to historical sites, museums and other nearby destinations, then this wedding gift idea may be the perfect pick for them. This classic picnic basket is a sweet gift for a duo who'd enjoy a romantic picnic in the park just as much as an island getaway.
Black + Decker Single-Serve Coffee Maker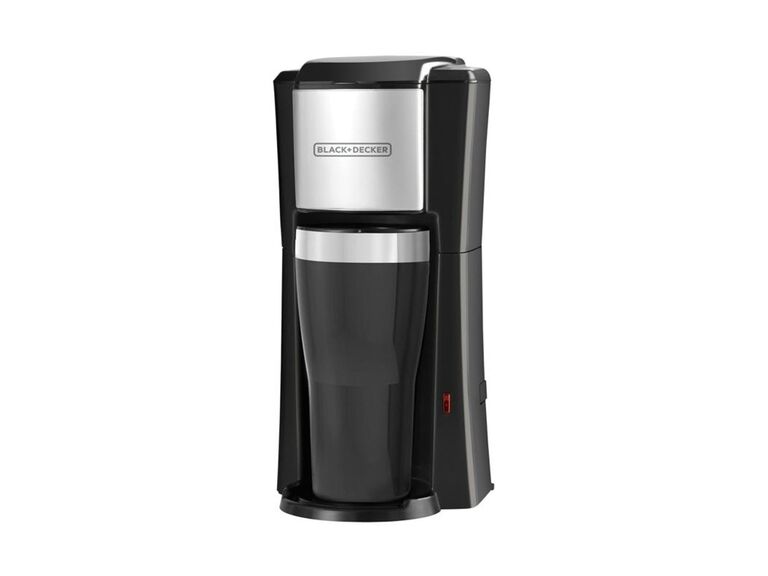 Every true coffee-lover knows that the day doesn't really start until you've had your cup of joe, right? This portable, single-serve coffee maker brews right into its own travel mug and will ensure that the newlyweds always get their morning dose of caffeine just the way they like it.
Uncommon Goods Tune Out Musical Sleep Mask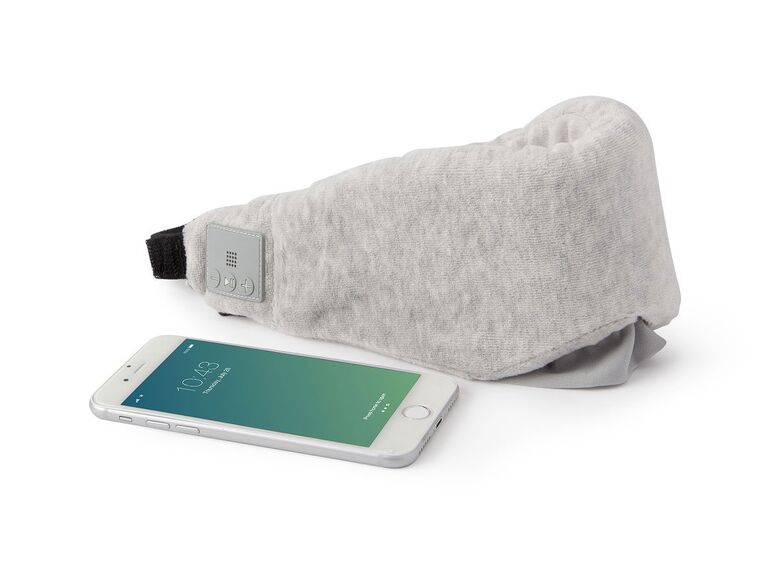 This magical little sleep mask was made to help travelers drift into dreamland. Its soft and cushy cover blocks out light and makes it comfortable to wear for long periods of time, while the built-in headphones sync up to the wearer's phone to play their favorite sleep tunes. (Talk about a great gift for anyone who struggles with jet lag.)
Nomad Traveling 6-qt Slow Cooker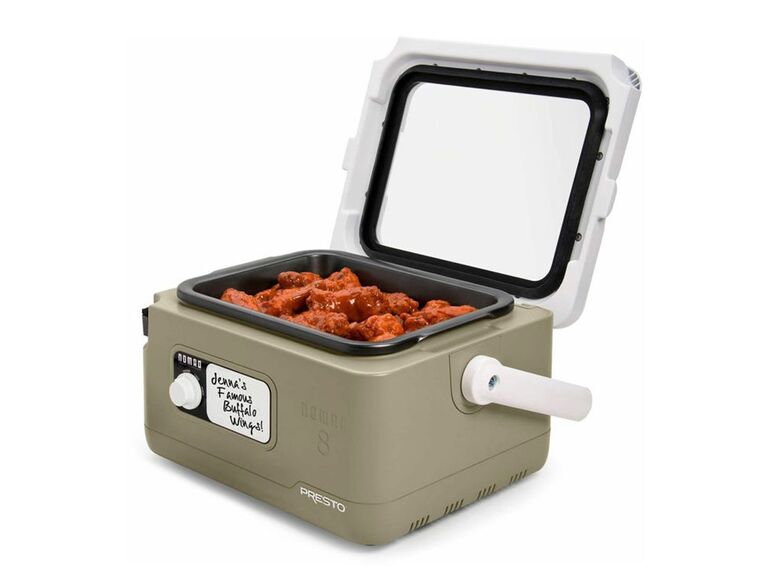 For the laid-back couple that enjoys overnight camping trips and laying out under the stars, this portable slow cooker is kind of the perfect gift. Its roomy interior makes prepping BBQ favorites like pulled pork and chili a breeze, while its non-stick surface and cool-touch exterior allow for hassle-free clean-up and storage.
Paravel Packing Cube Quad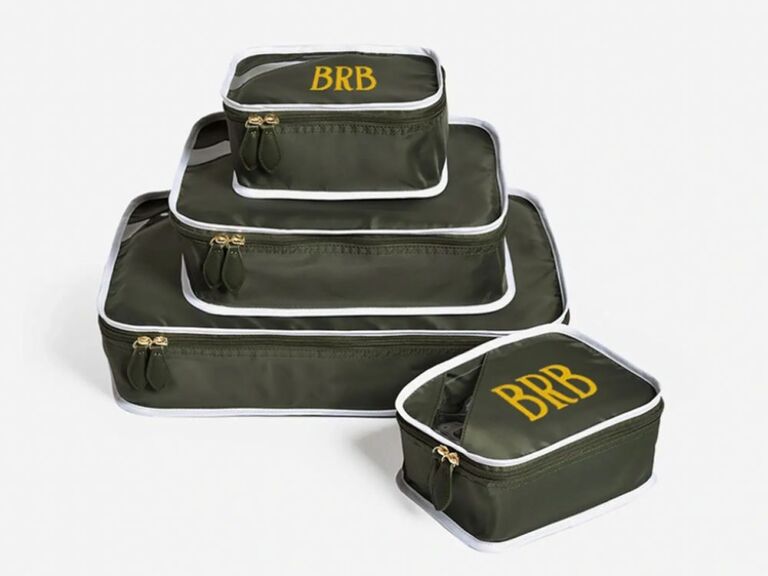 Lend your favorite over-packer a hand with these cheery organizational cubes (they'd make a great honeymoon gift!). Available in a slew of different sizes and monogrammed with your loved one's initials, they're the ideal way to corral everything from swimsuits to toiletries with ease.
TUMI Electronic Luggage Scale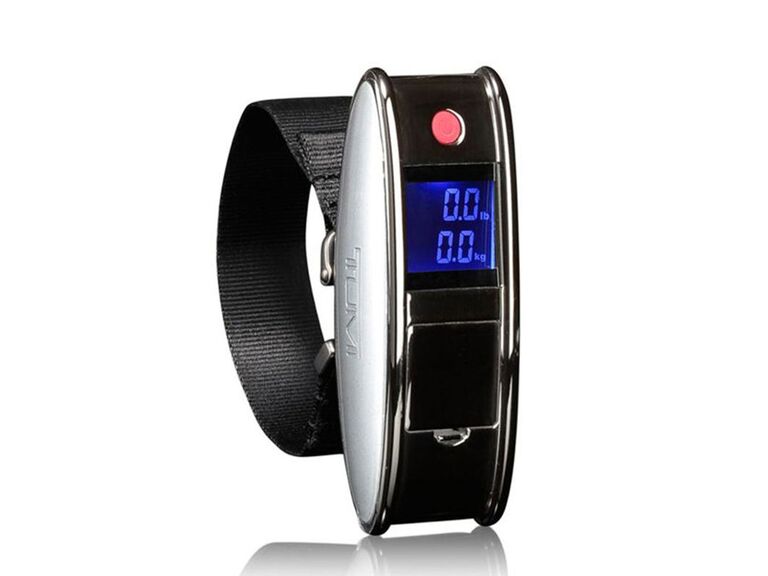 Checking your bag at the airport—only to be told that your suitcase is 10 pounds over the weight limit—might just be one of the more stressful parts of traveling. Luckily, this handy little luggage scale is perfect for helping the newlyweds avoid that last-minute scramble of throwing things into their carry-on. (Trust us, they'll thank you later.)
Personalized Passport Holders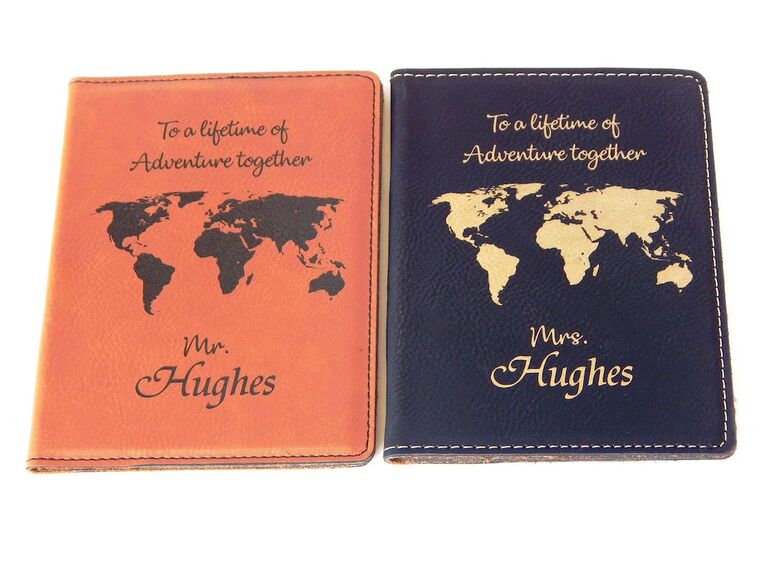 As every pro traveler knows, having your passport at the ready is a must when flying internationally. These leather passport holders will keep your identification handy and can even be personalized with loved one's names and choice of design.
Airbnb Gift Card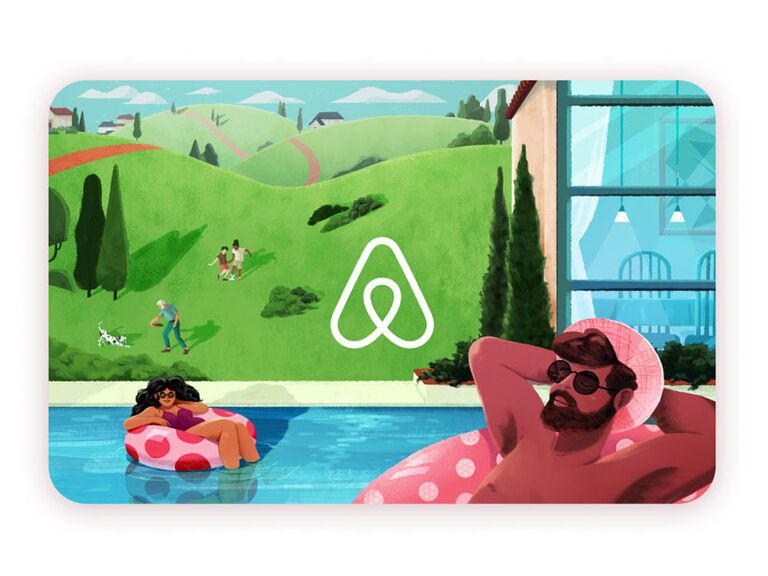 Forget what you've heard—gift cards are not lame! In fact, they're often exactly what newlyweds want (just asked the thousands of couples that have added them to their wedding registry). Plenty of duos would love to live like locals for a week rather than spend a fortune on a hotel, which is why an Airbnb gift card can be a great way to inspire them to travel somewhere new.
'The Bucket List: 1,000 Adventures Great and Small'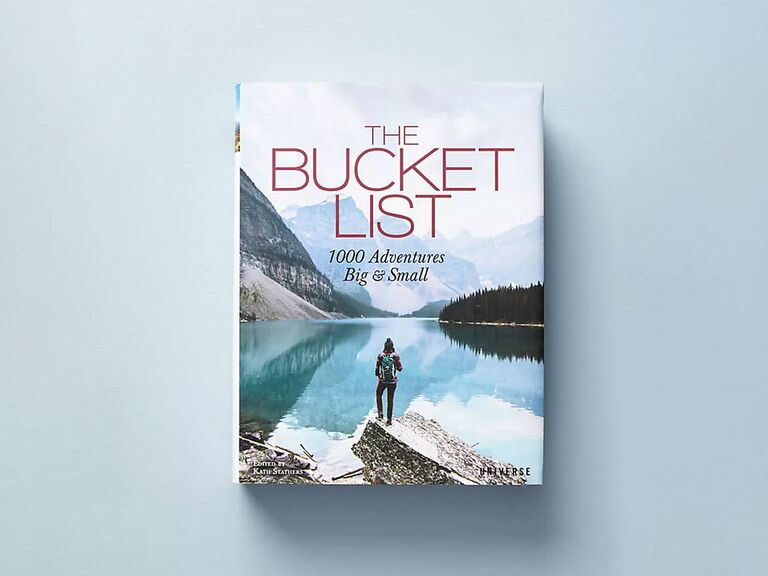 While it may not be a big enough wedding gift on its own, this inspiring page-turner can be a great add-on present for newlyweds who are always thinking about their next big adventure. If you're a wedding guest that feels a little funny about buying off-registry, combine it with something the couple has already wish-listed for a thoughtful gift that offers the best of both worlds.