21 First-Class Ideas for Wedding Gifts for Travelers
They'll actually want to pack these presents.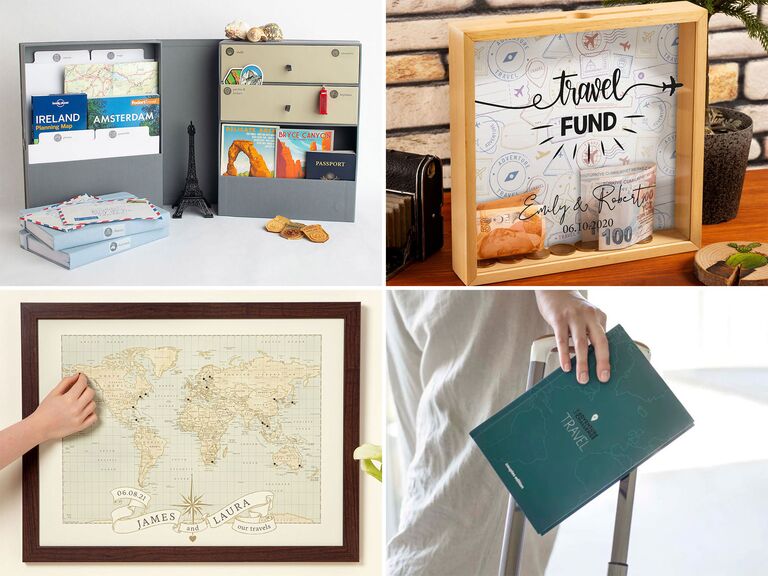 Photos, clockwise: Uncommon Goods, austero, The Adventure Challenge, Uncommon Goods
We have included third party products to help you navigate and enjoy life's biggest moments. Purchases made through links on this page may earn us a commission.
We all know that one couple that's always off on some amazing new getaway and making us super jealous on Instagram. But hey—their shared love of adventure is what makes them such a fun pair! The good news: There are loads of awesome wedding gifts for travelers out there in the big wide world—er, web. Start, of course, with the couple's registry. If their vows really are to traverse the globe together, we have no doubt there'll be travel-themed wedding gifts on their wish list. If you plan to go off-registry for any reason, though, our list of the best wedding gifts for travelers will satisfy the couple's wanderlust. From the obvious state-of-the-art carry-ons and monogrammed passport holders to unique wall art that commemorates their trips, these travel-related wedding gift ideas will work for island hoppers and adrenaline junkies alike.
1. Experience Voucher For Two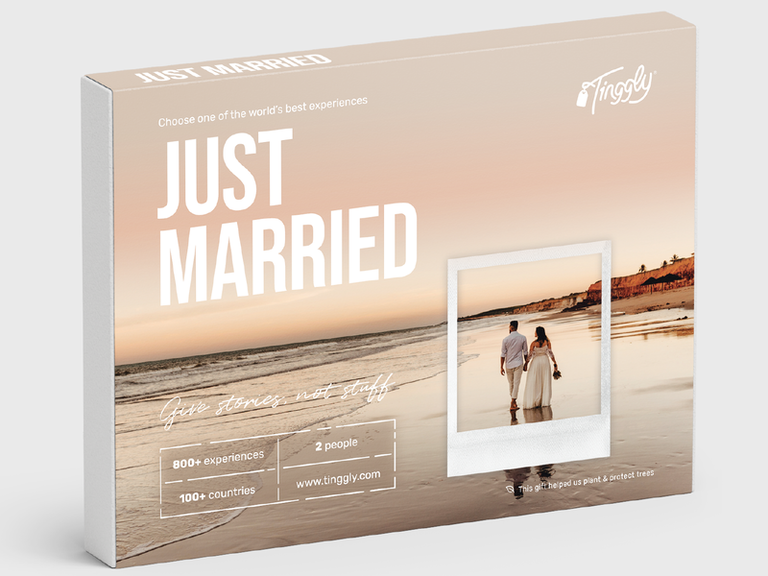 This one-of-a-kind travel gift idea can be for any style of traveler. That's because the voucher is redeemable toward over 10,000 experiences in 1,375 locations. Foodies can partake in a wine tour or picturesque dinner, thrill-seekers can go white water rafting or ATVing and historians can take a visit to a museum with a private guide. The voucher never expires, so whether they use it for their honeymoon or a yet-to-be-planned anniversary trip, it'll guarantee they can have a unique experience.
2. Personalized Pushpin World Map
What better way for newlyweds to keep track of their many adventures than with this keepsake? The antique-style map comes framed and personalized with the couple's names and wedding date and includes a batch of pushpins for them to mark off each country, state or city they visit as their journey together continues. It'll be both a way to commemorate where they've been and inspire where they're going next.
3. Adventure Idea Book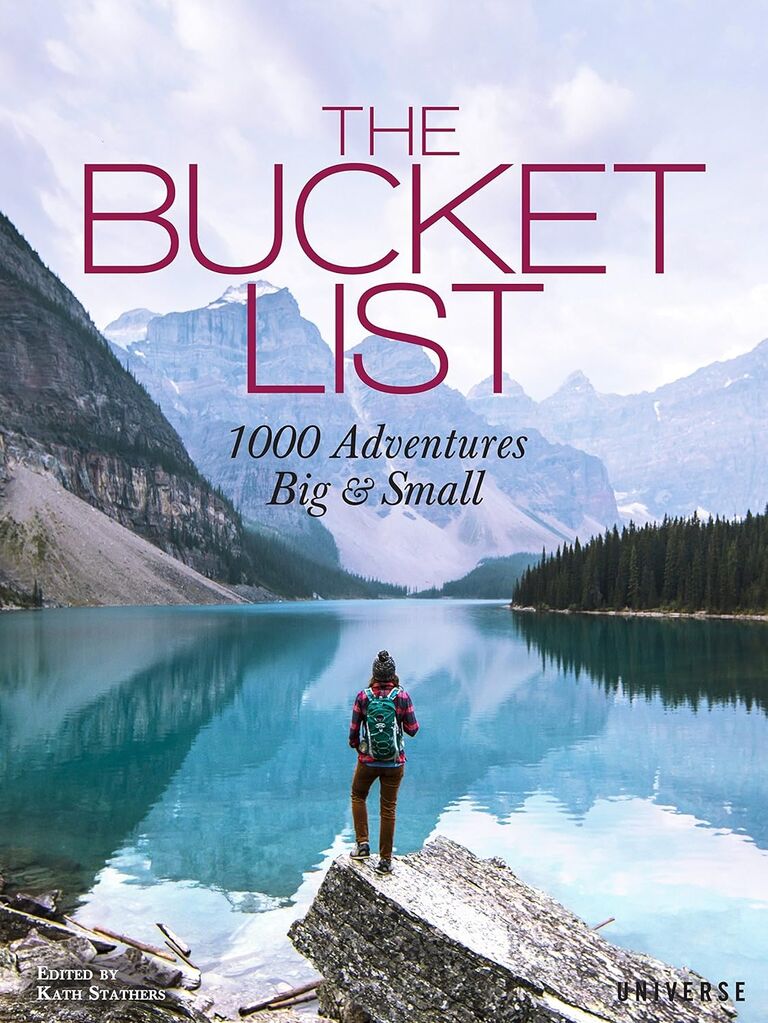 This inspiring page-turner can be a great surprise addition to any registry-selected wedding gift for the newlyweds. The unique guide is filled with over 300 stunning photographs and helpful information on beaches, museums, restaurants, inns and more that can be added to their next trip's itinerary. It makes a pretty charming coffee table book, too.
4. 360° Neck Pillow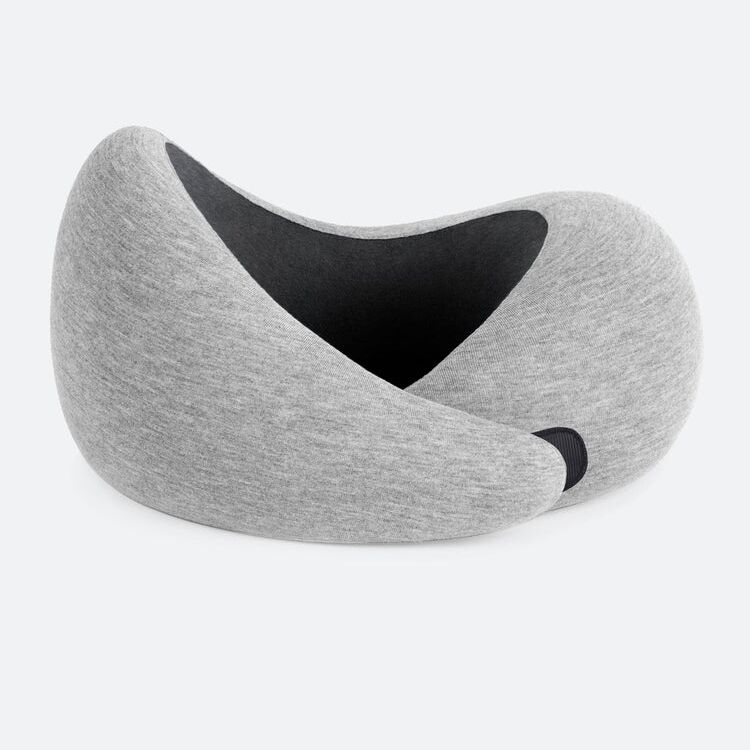 Unless they've got the bucks to travel first class every trip, sleeping on an airplane has to be one of the most uncomfortable parts of traveling. Enter: this actually comfy neck pillow. It practically guarantees some high-quality shut-eye, thanks to its memory foam construction and supportive design that wraps snugly all the way around the neck. Once they've gotten their beauty sleep, it folds up into a compact ball for convenient storage.
5. GoPro Mini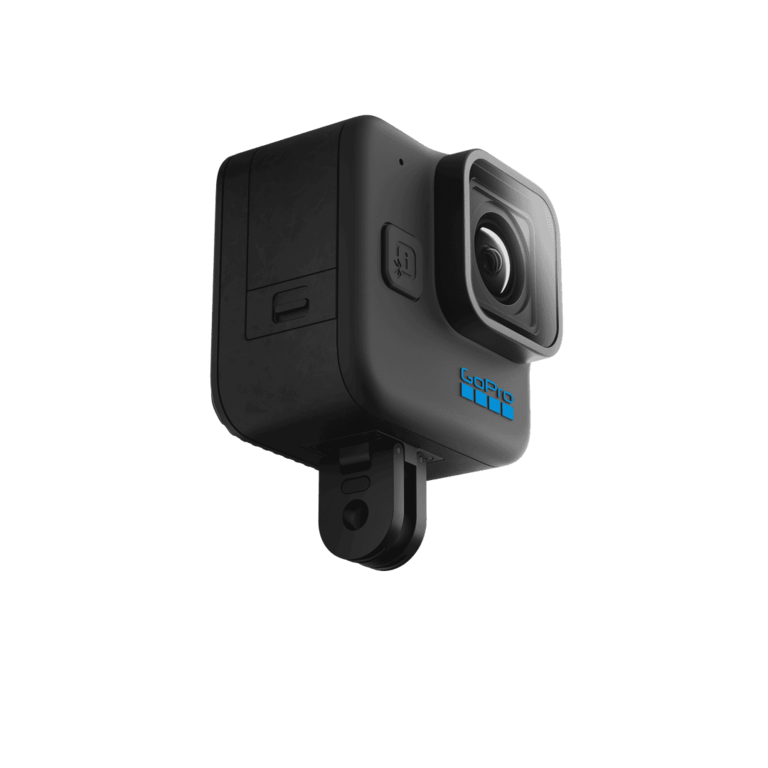 Cell phones may come equipped with some pretty high-quality cameras these days, but even the newest ones are no match for the GoPro. The HERO11 captures stunning video with crisp, clean imagery and lots of detail even in shaky hands thanks to its stabilization features. Plus, it's lightweight and waterproof, which makes it ideal for taking along on outdoor adventures.
6. Bluetooth Selfie Stick and Tripod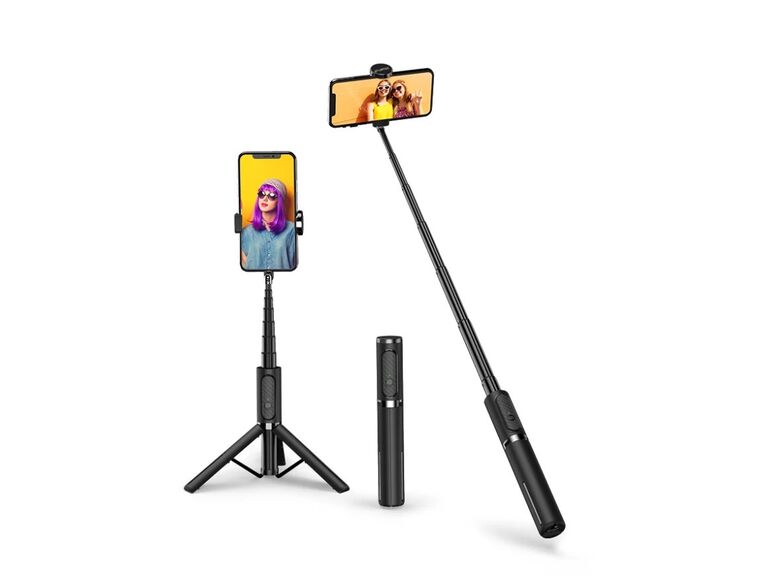 If they're more the "turn the camera and click" type, a selfie stick is pretty darn practical—which kind of outweighs the neon sign over the user's head that says, "I'M A TOURIST." Honeymooners will appreciate having this smart travel accessory on hand so they can capture themselves in the moment. It's also equipped with a tripod to upgrade their self-photography and a wireless remote so there's no dash to pose on a timer.
7. Expandable Luggage Set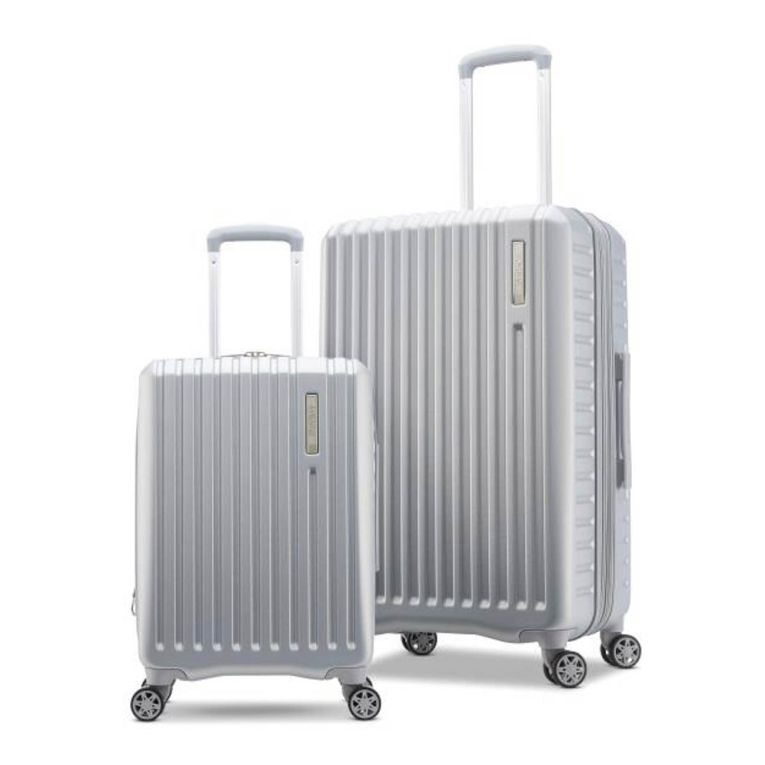 The couple definitely has a new set of luggage or two on their wedding registry and, for their sake, we hope it's this one. The American Tourister Color Spin 2.0 is a winner of The Knot Registry Award for a reason. The checked bag and carry-on aren't just sleek, they're both equipped with multidirectional spinner wheels, an adjustable steel trolley handle and an expandable zipper for extra packing space.
8. Trendy Personal Item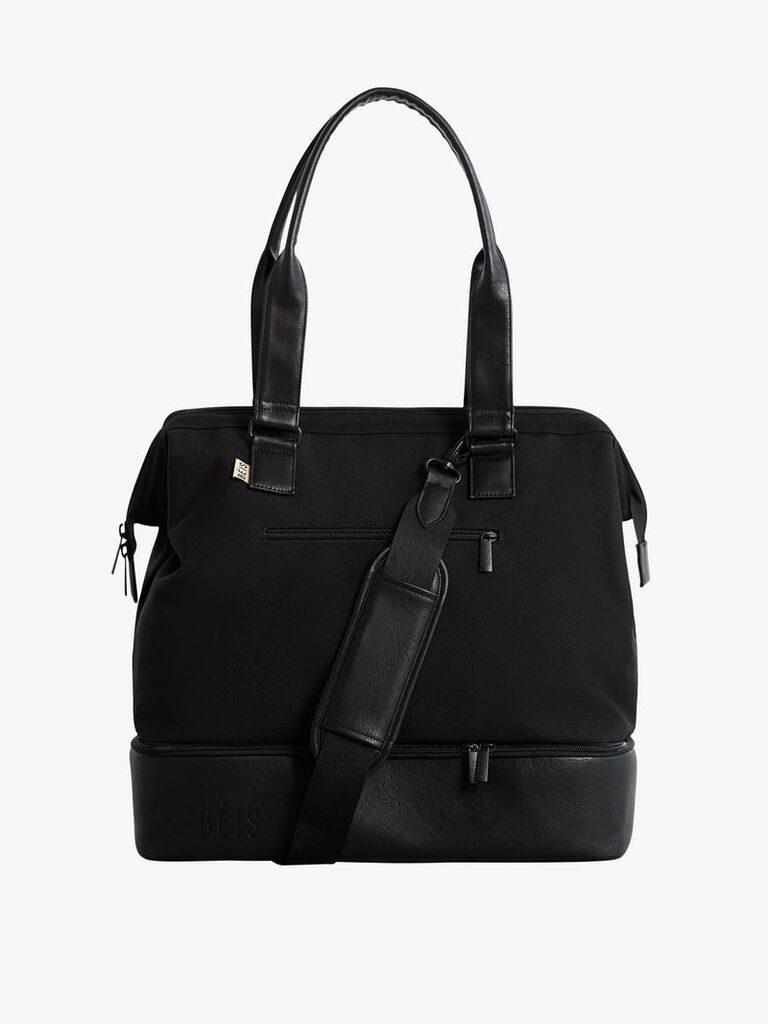 With the carry-on and checked bag both covered, next comes a personal item. And it's hard to compete with BÉIS Mini Weekender to fill that role. The canvas and vegan leather duffle is not only chic, but it can hold a weekend's (hence the name) worth of clothes and toiletries. The wide opening lets the user see everything they packed in the large zip pocket and two slip pockets, the padded laptop sleeve and the key ring strap. It even has a separate bottom compartment perfect for shoes. Choose from nine different colors to help them travel in style.
9. Monogrammed Packing Cubes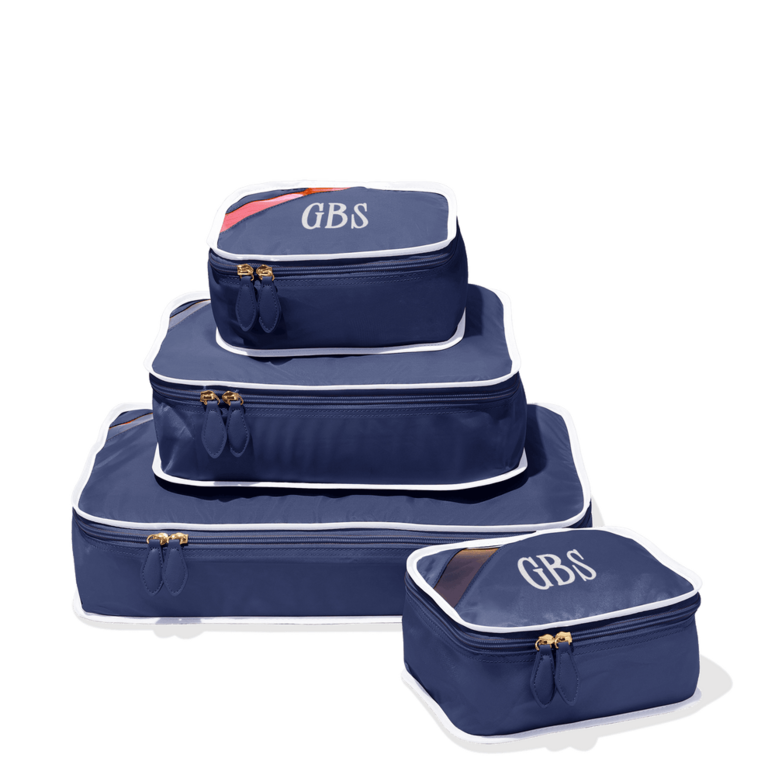 If new luggage is a smidge out of your price range for a travel wedding gift, don't worry. They're not the only handy packing tool out there. Lend your favorite overpackers a hand with these organizational cubes by Paravel. This set of four offers three different-sized packing cubes to corral everything from swimsuits to toiletries with ease. Best of all, the optional monograms are beautifully embroidered.
10. Travel Ring Case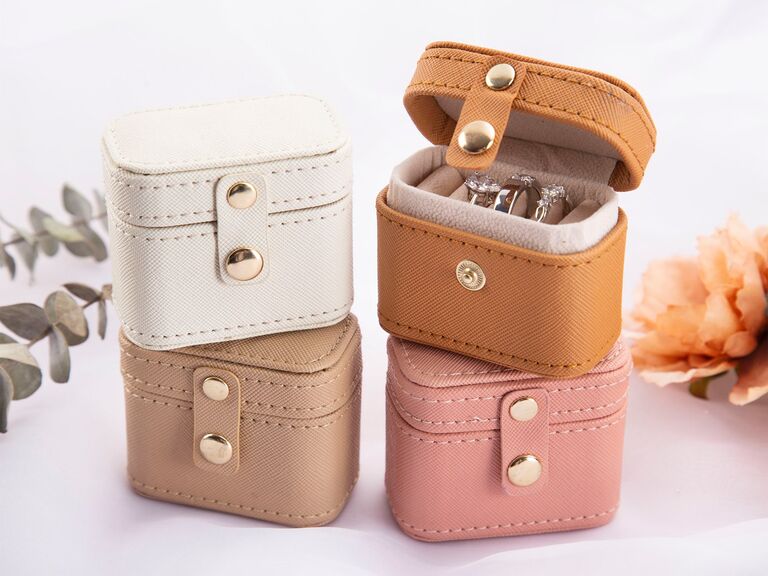 This travel jewelry case may be small, but it takes up a lot of room in our hearts. Coming in at just about two by two inches, the compact storage will keep the couple's rings safe wherever and however they travel. Diving? Rock climbing? They can carry this case that easily slips into a purse or even a pocket with them whenever they need to take their rings off for safekeeping.
11. Luggage Tag and Passport Case Set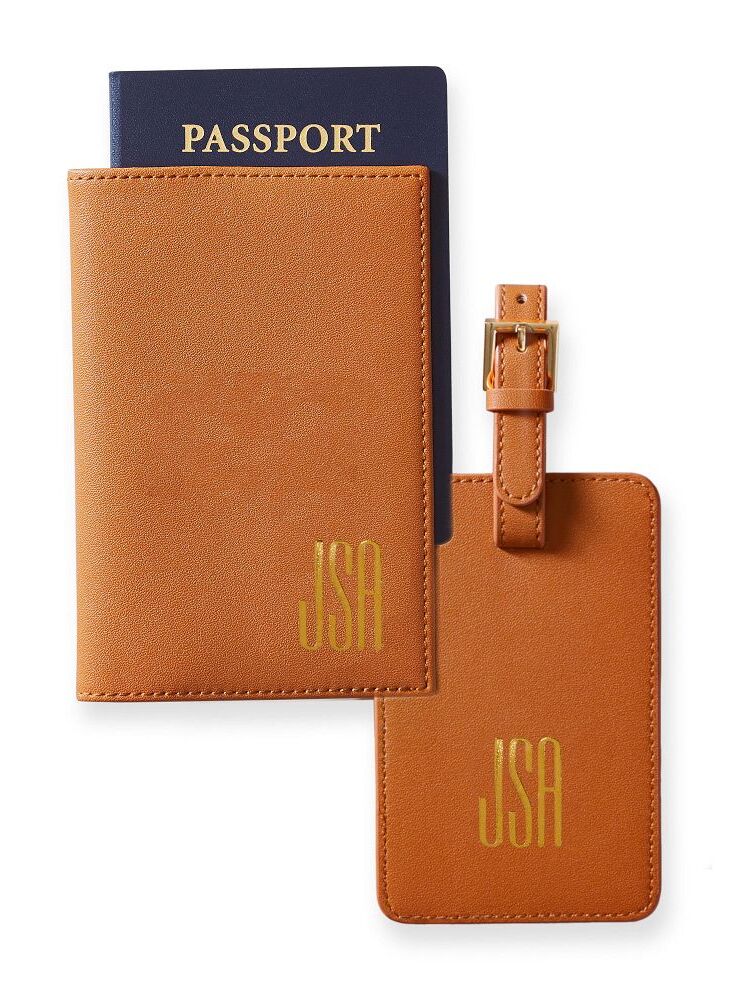 You can't go wrong with a matching luggage tag and passport holder set—just make sure you get one for each newlywed. This one comes in four chic faux leather colorways and with an optional foil-debossed monogram on each. They'll be an organized and trendsetting couple when they whip them out at TSA on every future trip.
12. Scratch-Off Travel Date Idea Book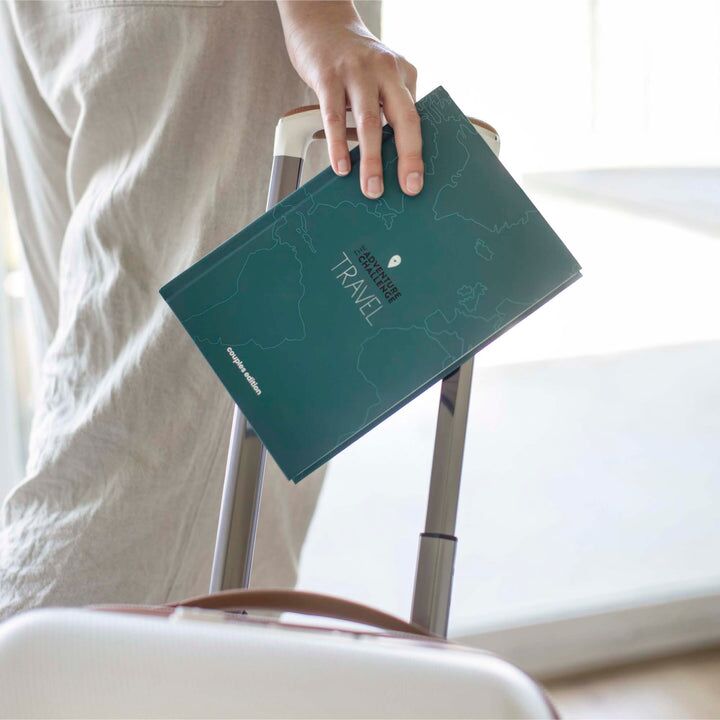 This book is a must-pack for couples traveling. It's filled with 30 scratch-off date ideas that they can (and should) complete on vacation. Each will help them explore the new location in a way they'd never think to on their own while furthering their connection to each other.
13. Vacation Fund Piggy Bank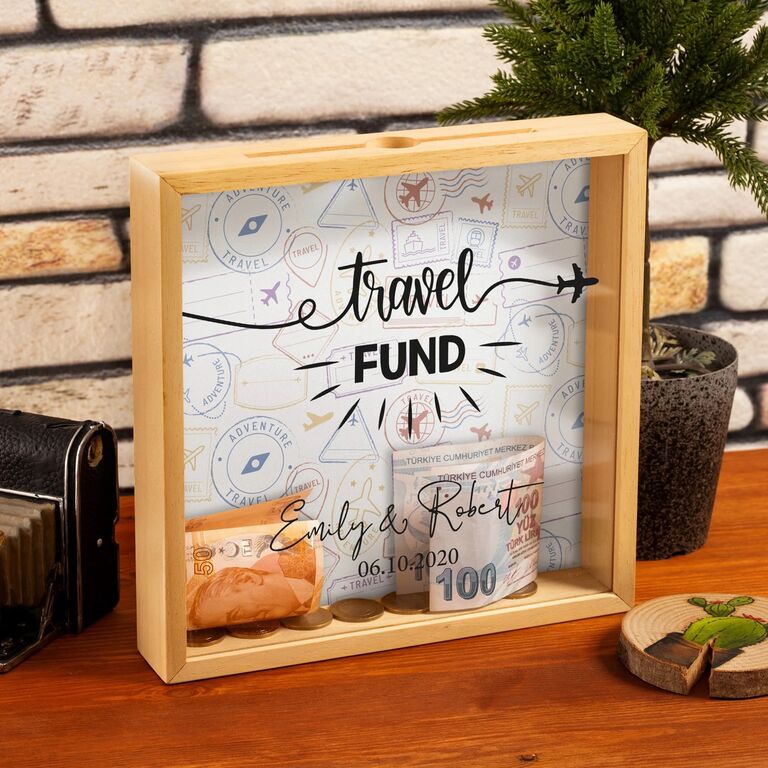 Between flights, hotels, food and activities, traveling can be an expensive hobby. Help the couple save between trips with this shadow box-style bank. Choose between the specific "travel fund" design or the quote "to the most beautiful dreams." Both can also feature their names and wedding date. Every time they have loose change, they can add it to their travel fund.
14. Virtual Cooking Experience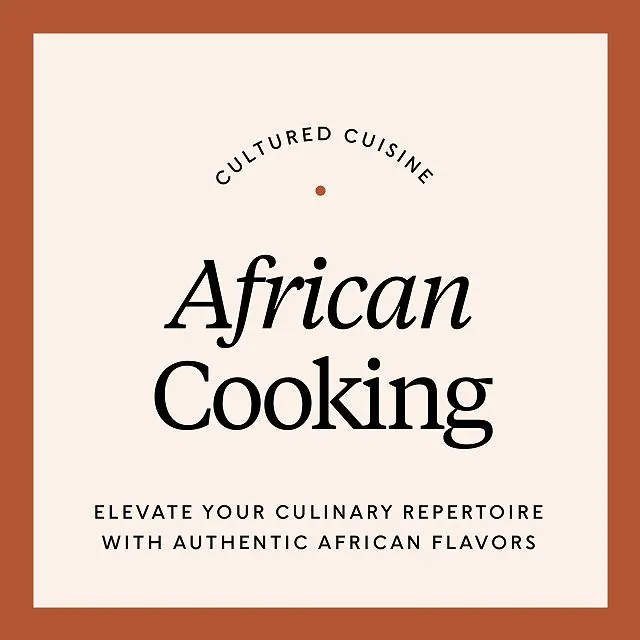 The cultural experiences don't have to stop when the couple is at home. Uncommon Goods offers virtual experiences like this highly-rated African cooking class that'll give them a unique date night at home. In just 90 minutes, chef and culinary entrepreneur Freda Muyambo will teach them how to make three authentic recipes, while sharing the culinary history behind each dish and the regions they hail from. While you'll initially pick a date for the couple to participate, as long as you select the gift option at checkout, they'll be able to reschedule if the time doesn't work for them.
15. Atlas Coffee Club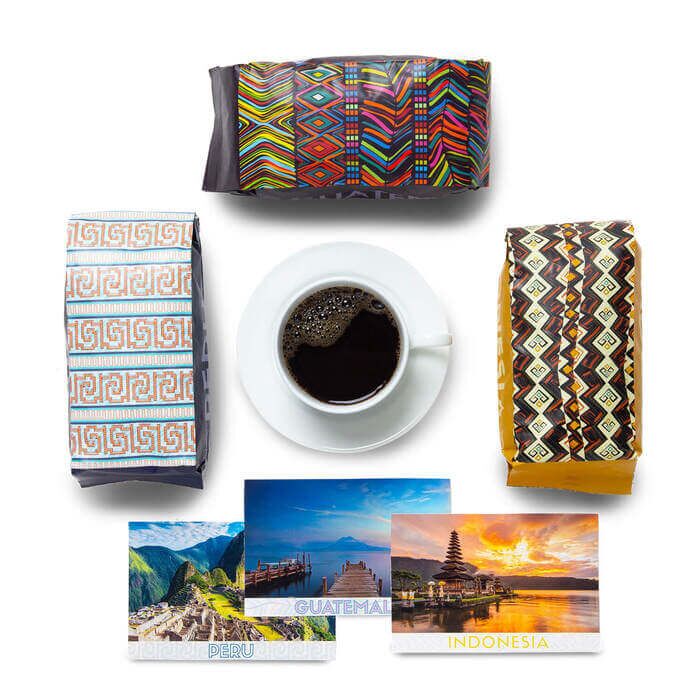 Looking for a unique wedding gift for travelers who also love coffee? A subscription to Atlas Coffee Club will take their taste buds on a trip around the globe. Each month they'll send the couple one or two bags of the world's finest single-origin coffee in ground, bean or pod format. They'll also get a postcard from the country with tasting notes and a bit of history. (Psst, there's also a tea subscription option.)
16. Engraved Ceramic Bowl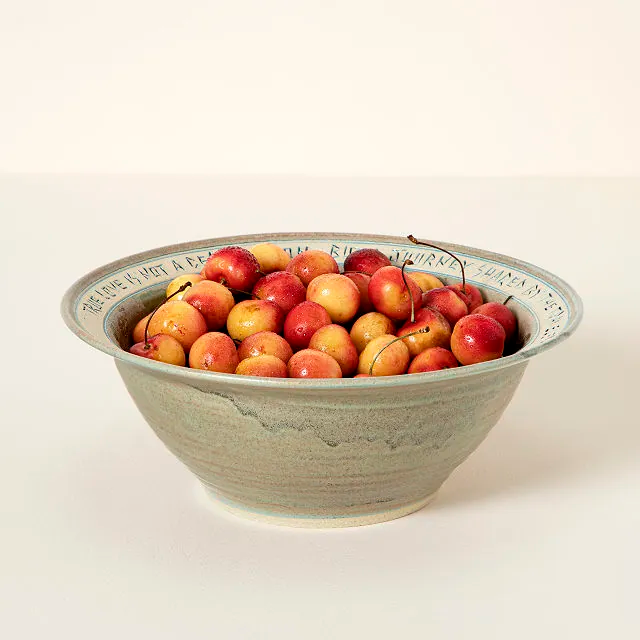 How about a traditional wedding gift with a travel twist? This large ceramic serving bowl is engraved with the phrase: "True love is not a destination, but a journey shared by the travelers on its path." Aww! Don't worry. Despite its handmade beauty, it's microwave-, oven- and dishwasher-safe.
17. Topographic Whiskey Glasses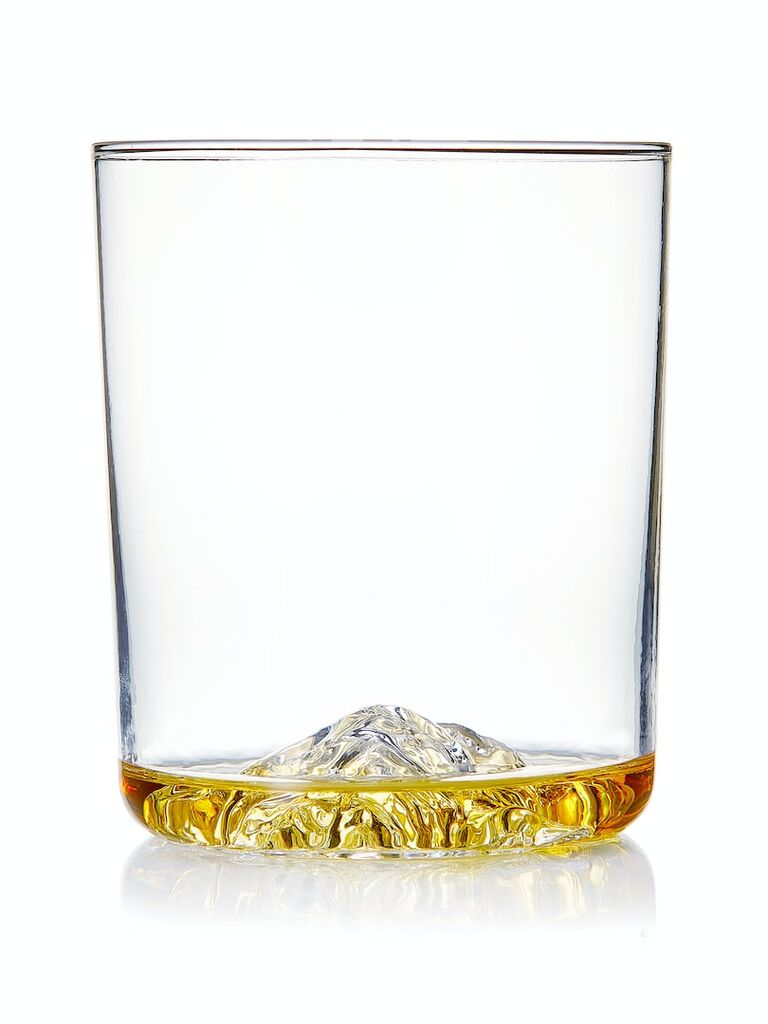 If anyone deserves a drink, it's the couple that just hiked Zion, the Rocky Mountains or the Grand Tetons. These clever whiskey tumblers are handblown to resemble the peaks of iconic mountains. You can grab the couple a set of two or four glasses, add a decanter or shop beer steins with the same dimensional designs.
18. YETI Cooler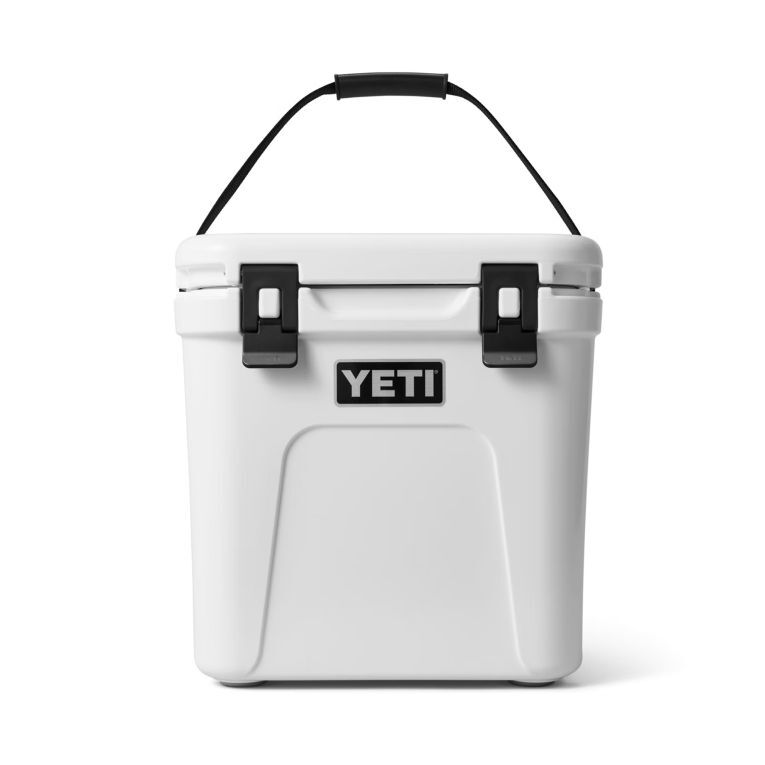 This one is for the road-trippers! YETI's Roadie 24 Cooler (very fitting name), can keep the couple's snacks and drinks hot or cold for extended periods of time. And it fits up to 33 cans of beer with a two-to-one ice ratio. It's also tall enough to hold a bottle of wine. Plus, it's extra durable, so it'll be there for all their travels.
19. Two-Person Hammock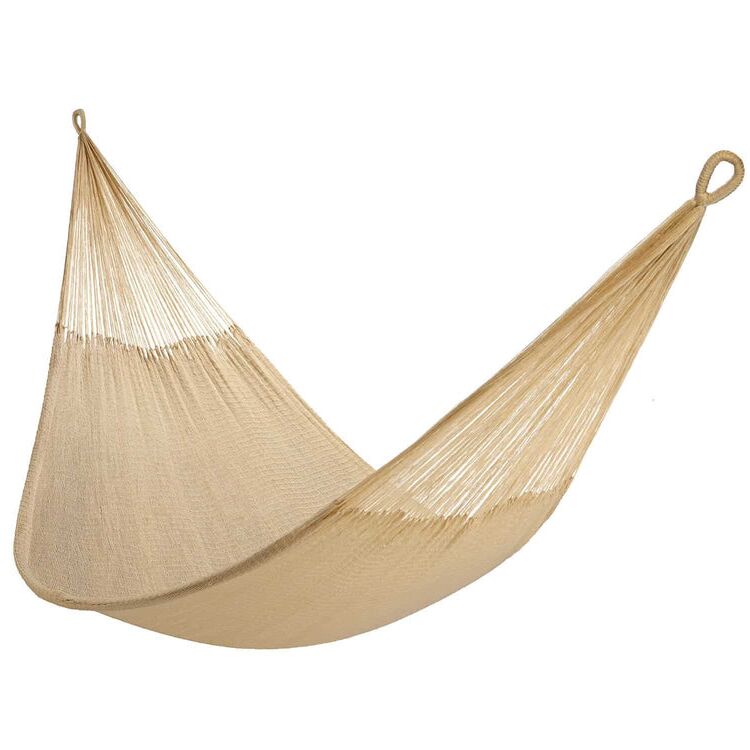 No matter what picturesque location they're setting up shop at, this wedding gift for the traveling couple will help them rest and enjoy the view. The two-person hammock is handwoven with ultra-soft yarn that's weather-safe and seriously comfortable. It comes packed in a tote for easy storage and travel. We can see the cuddling Instagram post now.
20. Airbnb Gift Card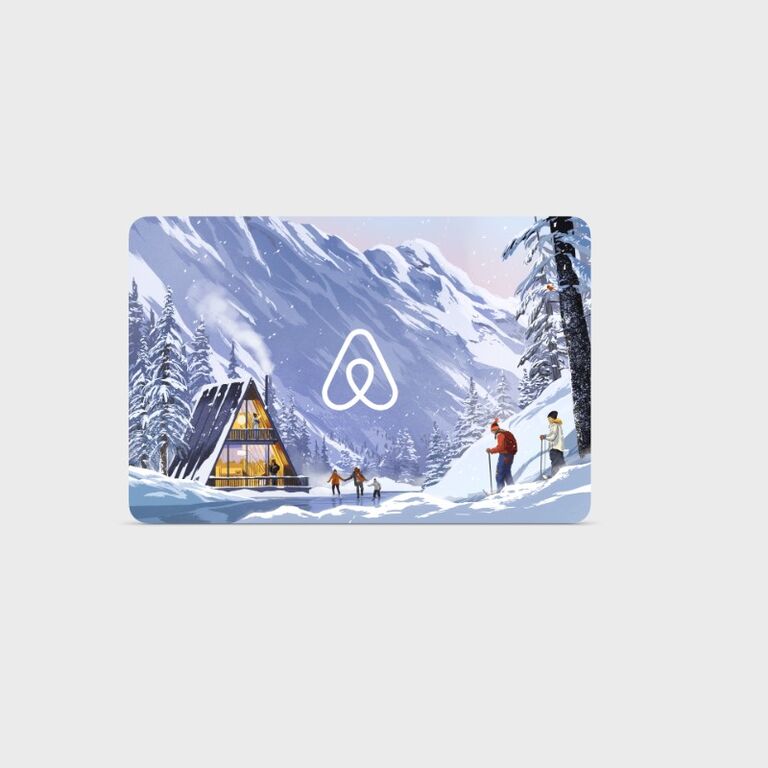 Forget what you've heard—gift cards are not a lame wedding gift! Especially if you're shopping for a wedding gift for a couple who likes to travel. An Airbnb gift card will help them live like locales on their next vacay—and save them money on housing accommodations.
21. Souvenir Organizer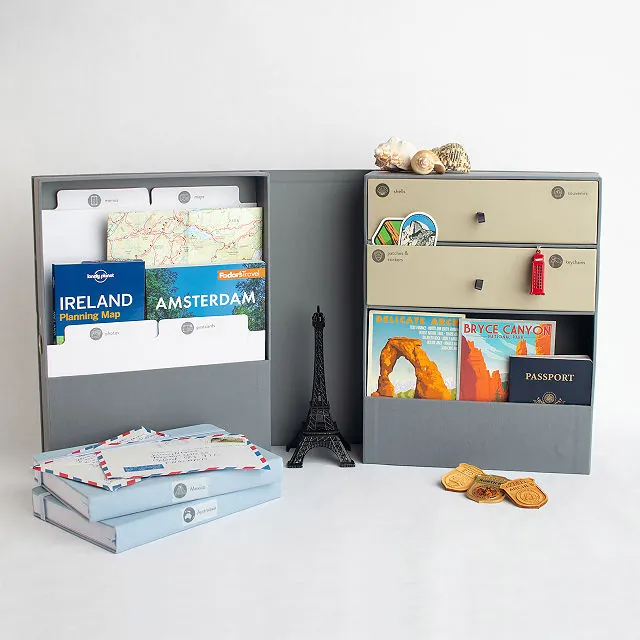 You've probably heard of wedding keepsake libraries for the couple's paper suite, hair accessories, flowers and other mementos. Well, this is the same idea, but for keeping their souvenirs safe. Whether it's hotel keys, plane tickets or seashells, the organizer's acid-free files will keep all their memories in pristine condition. You can even personalize the front cover for a beautiful wedding gift for travel lovers.