Top Bridesmaid Etiquette Questions You'll Have
Get ahead of the game: When it comes to dealing with bridesmaids, it's good to have a handle on etiquette issues.
by The Knot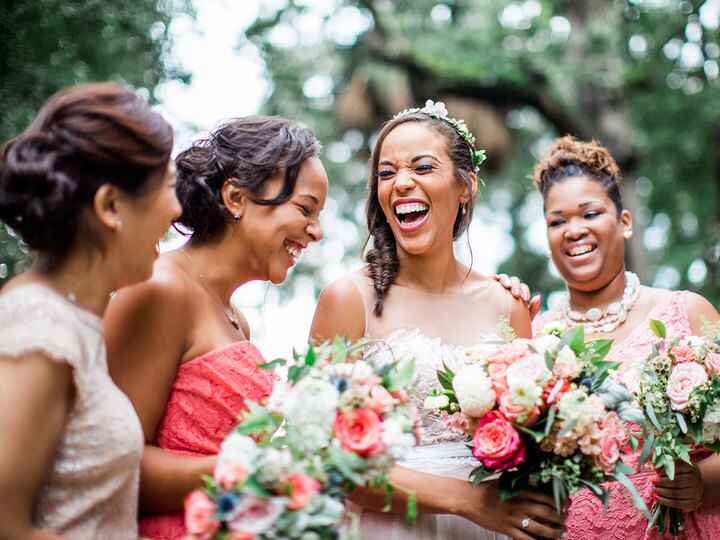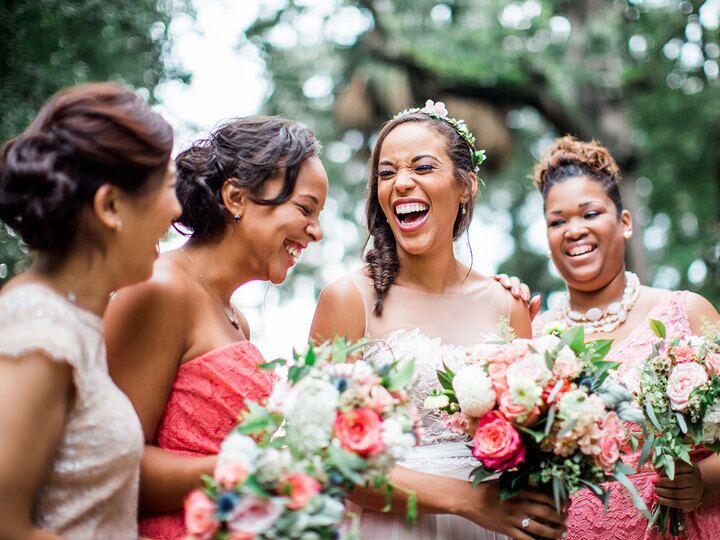 photo by
Vitor Lindo Photography + Video
From fronting cash to choosing dresses, managing your bridesmaids is no easy task. Whatever the issue, these Q&As will help you figure out a plan of action.
Q. Most of my bridal party is from out of town. They'll most likely need to stay in a hotel for two to three nights. Is it their responsibility to pay for their hotel rooms, or does that expense fall on the bride's family? Also, would it be okay to split the costs with the attendants as a possible compromise?
A. Generally, the attendants are responsible for paying their own way, just like they pay for what they'll wear to your wedding, plus transportation costs. And usually, if you have out-of-towners in for your wedding, you'll be able to reserve a block of rooms at a discount, which ought to help them save some cash. Going halvesies is perfectly fine, but know that you and your family shouldn't be expected to pay. However, if you plan to spend the night in a shared hotel suite with your ladies on the eve of your wedding, expect to cover the costs for that. Your bridesmaids may have already split a room with a plus-one (or each other) for the duration of their stay, and they shouldn't have to pay for yet another room.
Q. I'm scared to ask my sister to be in the bridal party because, come wedding time, she's going to be very pregnant. What's the proper way to handle a pregnant bridesmaid situation?
A. She can still be in the wedding party when she's pregnant, if she feels comfortable with it. Definitely ask her if you want her to stand up with you, but stress that there's no pressure if she'd rather just be a VIP guest. If she does want to be in the wedding, she can wear an empire-style dress: The waist hits right below the bustline and the dress falls from there, leaving lots of room for a pregnant stomach. Or, choose a maternity dress in the same color or fabric as the other bridesmaid dresses. Then, on the wedding day itself, just make sure there's a chair she can use during the ceremony if she wants, so she won't have to stand the entire time.
Q. Am I required to give my bridesmaids gifts? How much do I spend?
A. Think of it this way—your bridesmaids are majorly putting themselves out for you. To remain in their good graces, show your gratitude by gifting them properly. Many brides give out gifts at the rehearsal dinner. Sometimes it's something the girls can wear on the day of the wedding, like jewelry or shoes. Other brides say thanks with a gift certificate to a spa, monogrammed PJs or robes, or a cute tote bag filled with special gifts handpicked with each bridesmaid's interests and tastes in mind. As for a price range, it depends entirely on your budget. We think spending anywhere from $25-$100 is a safe bet.
Q. My 9-year-old daughter has asked to be the flower girl. She will be 10-years-old (and almost as tall as I am!) at the time of the wedding. I'd like her to be included in the ceremony, but I feel it may be more appropriate for her to participate in another way. Can she be a junior bridesmaid?
A. It might make more sense for your daughter to be a junior bridesmaid—she may feel too mature to be a flower girl. She can wear a dress and accessories similar to the other attendants. You might even consider having her serve as your "maiden" of honor. But really, whatever you both feel comfortable with completely works—there's no age limit on tossing petals down the aisle. 
Q. Help! I have four best friends and a sister and I'm torn about who to ask to be in the wedding. It's not big enough to have them all since I'm only having 100 guests.
A. Scrap the x amount of attendants to x amount of guests "rule." In your case, the proportion of five attendants to 100 guests is perfectly appropriate. And if these ladies are your best friends, that's reason enough to have them all in your wedding party. But if you want to scale back anyway, you could choose to just have your sister or forgo having any attendants at all (and lots of brides choose either option as an easy way to cut back on any potential issues).
Q. One of my bridesmaids dropped out of our wedding party. Is it okay to have two groomsmen walk with one bridesmaid?
A. Having two groomsmen escort a bridesmaid, one on each arm, is completely acceptable. 
Q. Is it appropriate to inform my bridesmaids of their traditional roles so that they're not confused? Personally, I would find it helpful, but others might find it presumptuous. How can I offer this information to my wedding party without sounding ungrateful to any assistance they may offer?
A. A fun and unthreatening way to let everybody know what her bridesmaids duties are (and/or what you expect of each of them) is to send out an email detailing all to-dos and other essential information. That way, everyone is privy to everyone else's duties, and no one will feel as though she's been directly targeted. You're probably right that most people will find it helpful to have their responsibilities explained, because they might be fully in the dark. Be sure to include a huge "thank you" to everyone for being a part of the wedding early on in your message—your ladies will be much more receptive to a grateful-sounding summons.
Q. We've decided not to have attendants. Each of us would like to be escorted down the aisle by both our parents. His mother says this isn't appropriate. I know it's unusual, but is there really a reason why we must have attendants? We'll have our parents sign as our witnesses.
A. The only thing attendants must do is serve as witnesses and sign your marriage certificate, and your parents can fill those roles. So no, there's no other reason that you need attendants in addition to your parents.
Q. Who should I seat next to whom at the head table? Is it boy/girl, or all the bridesmaids on one side and the groomsmen on the other? Do I include the flower girl and ring bearer?
A. Technically, the head table is boy/girl—starting with the best man next to the bride and the maid of honor next to the groom. But you don't have to do it that way. You could put the women on the bride's side and men on the groom's, or let everyone sit wherever they want—just don't forget to factor in everyone's plus-ones. Young children in the wedding usually sit with their parents at another table.
Q. I asked my future sister-in-law to be one of my bridesmaids, and she gave me a very vague answer. How can I nicely encourage her to answer now? How should I handle her saying "no"?
A. Sounds like your sister-in-law-to-be is not enthusiastic about the prospect of being in your wedding. This doesn't mean she holds anything against you, and you shouldn't feel slighted. Maybe the two of you don't know each other very well yet, or maybe she would feel better being with her own family on the wedding day instead of with your close female friends and relatives. Just call her and tell her that you're ordering the dresses now, and if she's not comfortable with the idea of being a bridesmaid, you understand. She'll probably be relieved to know you're not angry.
Q. What is the proper order in which to line up your bridesmaids and groomsmen? I was under the impression that you have them in the order of who's important in your life. Someone else said you put them in order by height.
A. This can get sticky. Do the height thing only if you care about that sort of thing for the pictures (although your photographer can position everyone to look great even if they're out of height order). That might save you some grief. If you go the other route, though, handle the "you're important to me" approach with care. You don't want to ruffle anyone's feathers. Maybe arrange the girls in order of how long you have known each bridesmaid: family first, then friends, and so on. But you see how even this plan has the potential to hurt feelings. Maybe the best thing to do is let your coordinator or the attendants themselves decide the order.
Q. When selecting bridesmaids' attire, what is the proper etiquette?
A. There's no real etiquette on how much a bride should involve her bridesmaids in the choosing of dresses, but the more input you allow them, the better. It's important for your gals to like the dresses and feel comfortable. Either round up the bridesmaids and try to collectively agree on a style and shade, or talk to each bridesmaid separately and ask for her preference. On the first shopping trip, you may want to take just your maid of honor along to scout things out. Then, when you narrow it down to a few styles, bring in the rest of the crew to try on the dresses and give opinions.
Q. Is it okay for bridesmaids to wear a dress that's similar to the bride's?
A. Not only is it okay, some people would argue that it's absolutely necessary. No matter what the bride and her bridesmaids wear, the dress designs, styles and formality should complement each other. Bridesmaid dresses that are too different can end up looking odd in photos. 
Q. Do my attendants have to pay for their own bridesmaids dresses?
A. Bridesmaids are generally expected to pay for their own wedding-day ensemble (shoes and jewelry included, unless you're planning on gifting those). Talk to your bridesmaids individually about any financial concerns, and tactfully work out a solution that suits both of you—maybe you'll pay for half or all of the cost, or you can set up a payment plan. Above all, try to choose a dress that's reasonably priced, or consider letting your maids choose their own gown. Give some color/style requirements (black and ankle-length, for example), and ask them to show you the dress for final approval (just in case it's a little too risque for your taste).