The One Thing to Do If You're Planning or Attending a Wedding In 2022
It's not rocket science. Here's what to remember this year.
Nearly two years into the pandemic, many couples are still navigating unexpected challenges in weddings. Variants like Omicron and Delta, along with unexpected supply and demand issues and last-minute guest list adjustments, continue to cause concern for those throwing and attending weddings in 2022. With increased tension points for all, there's an even greater need in the months ahead for kindness. But when the going gets tough, how do we show grace to others while maintaining our boundaries?
"As we deal with the ongoing pandemic in real-time, it's clear that although necessary, the changing public health guidelines can cause heightened feelings of stress and anxiety," says psychiatrist Dr. Anisha Patel-Dunn, Chief Medical Officer at LifeStance Health. "Particularly, [in instances] when you are trying to plan for the future, and you suddenly feel like the rug has been pulled out from beneath you."
"Staffing concerns are one of the biggest issues I'm seeing," says planner Desiree M. Dent, founder of Dejanae Events in Chicago. "Many small businesses are over-worked due to staffers becoming ill or exposed to COVID. This is causing significant issues for catering companies, transportation services, and companies that offer deliveries." Given how our society has grappled with the unexpected for an extended period of time, here are actionable ways when addressing behaviors and thoughts under duress. So how do we show grace to others in 2022? A good place to start is here.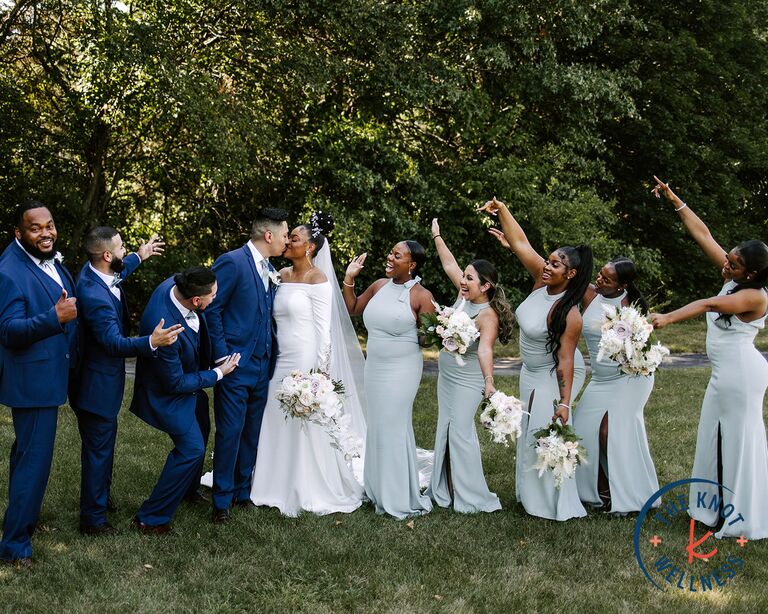 There may be more unanticipated factors ahead.
COVID's unpredictable nature has prompted some question marks around expectations and planning for events. "Each day, we learn new things about COVID-19 and how it's evolving and spreading," says Dr. Patel-Dunn. "Therefore, it makes sense for guidelines and recommendations to change with these findings."
However, uncertainty over a prolonged period of time prompts an emotional response. "This level of stress and anxiety can be exhausting to experience for an extended period," notes Dr. Patel-Dunn. "And it is not surprising that our society as a whole feels tenser than before we were grappling with a pandemic." Affirms Dent, "It brings tension especially when it comes to planning a wedding during a pandemic."
Remember: everyone's been through a tough two years.
Indeed, Dent has experienced first-hand, the big wins and deep dips of throwing weddings and watching her clients throughout the pandemic. After putting a hold on events for much of 2020, an industry-wide declaration of weddings returning and skyrocketing demand has caused an additional strain on availability.
"I'm very transparent with my couples," says Dent. "I share information with them as I learn–not to shock them, but to keep them informed so we can collectively make the best decisions in a timely manner for their wedding. I also find myself checking in with them a bit more, offering encouraging words and reassuring them about the process."
Vendors, couples, guests… We all need a little grace.
The word to keep in mind in 2022 is, therefore, "grace." With the desire for events to safely move forward in the thick of the unexpected, the need for grace is even greater when interacting with others while wedding planning.
"To me, showing grace is acting with empathy, understanding and kindness, even when it feels challenging," says Dr. Patel-Dunn, whose therapy service is a provider of virtual and in-person outpatient mental health care. "At heightened times of stress, anxiety, and depression, showing grace can be one of the hardest things to do. When we're under more stress, a small inconvenience or frustrating situation might set off extreme emotions."
Within her own event planning firm, Dent confronted the realities of variants, first-hand. "One of the biggest challenges I had to deal with last year was being short-staffed during a multiple wedding weekend due to several of my coordinators either catching COVID or being exposed to it," she says. "It was beyond stressful, but that is why relationship building is so important. I was able to reach out to my 'friendors' to see if they could offer assistance. Several stepped in, without hesitation, and I'll always be grateful to them."
Follow our practical steps for showing grace.
When addressing the question of how to show grace to others, the application is a mindfulness exercise. "Leading with kindness and empathy for other people and for yourself might feel impossible, particularly when in the moment," says Dr. Patel-Dunn. "But incorporating healthy coping techniques in times of stress can be helpful at working through these challenges." Here are steps for showing grace regularly, which can diminish tension down the line.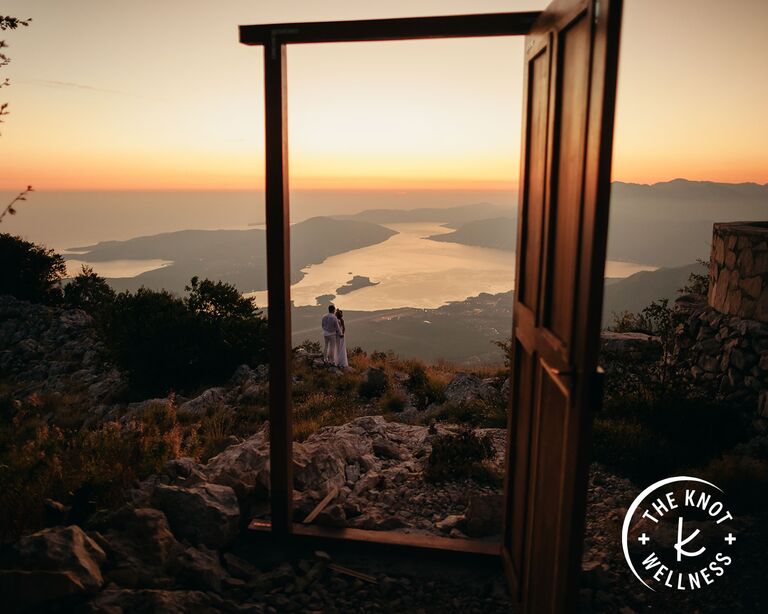 1. Listen
"For me, 'showing grace' is simply stopping, listening, and absorbing [what is said]," Dent muses. "Everything doesn't warrant a response. Sometimes, couples just need you to be there for them and to listen."
If you are the recipient of concerns, taking a moment to pause and hear the party's worries conveys courtesy and patience. This step is applicable to everyone, whether you're getting married or joining the wedding party. "Planning a wedding is hard, and a pandemic has now been thrown into the mix," adds Dent. "Emotions are heightened. Patience truly goes a long way."
2. Prepare Together
Given ongoing circumstances, having contingency plans and always working through health and safety options is a must for anyone throwing a wedding this year. "For the couples marrying in 2022, having masks at your wedding celebrations, from plain and simple to customized and fabulous, is suggested. Guests should be asked to wear them in any common areas," Dent notes. "Hand sanitizer and sanitizing stations are a must too."
Showcasing grace isn't limited to these practical measures. It especially filters down to how couples communicate with their guests. Having a wedding website FAQ page is an easy way to assuage concerns and address common questions. "I'm suggesting that couples add a page to their wedding websites letting guests know their venue's COVID policies," says Dent. "The website also for them to capture vaccination information, if applicable."
Finally, if you have yet to send invitations, an insert is another classy touch to convey the rules. "Add an information insert to the wedding invitation suite noting detailed information," says Dent. Your guests will be grateful for the advance notice.
3. Act With Empathy
While you're taking actionable steps to show grace, not everyone around you may reciprocate self-awareness and empathy. With weddings during COVID, couples may have to confront last-minute changes in plans–from the bach party to the wedding reception.
"Showing grace in your own life might take the form of forgiving your friend when she cancels on you at the last minute, for something you've been looking forward to," says Dr. Patel-Dunn. "Your knee-jerk reaction might be to take the cancellation personally and get into an argument, but acting with empathy means understanding that one moment doesn't define your entire friendship and there might be something going on that you don't know about. It's okay to be disappointed and experience those feelings while still making a conscious choice to lead with empathy."
4. Respect Your Boundaries
When addressing the question of how to show grace, it shouldn't be confused with how to establish boundaries. "'Showing grace' should never be confused with allowing someone to violate your boundaries," says Dr. Patel-Dunn. "My tip for communicating with vaccine-hesitant guests is to be proactive. Clearly articulate your own boundaries with family and loved ones, and use 'I' statements so that your feelings can't be disputed."
Again, a scenario where some couples might avoid disrupted boundaries is by communicating with guests upfront. "You may send out a note to your entire guest list that says something like, 'To keep everyone as safe and healthy as possible, we are going to be strictly following our venue's recommendation to welcome only vaccinated guests in person. If you are not vaccinated, cannot travel to join us, or are feeling under the weather, we are excited to offer a live stream of our day so you can join us remotely,'" suggests Dr. Patel-Dunn.
Establishing your boundaries, while conveying your desires, is to be considered an act of grace. This year, that's something each and every person needs as they celebrate life's greatest moments.