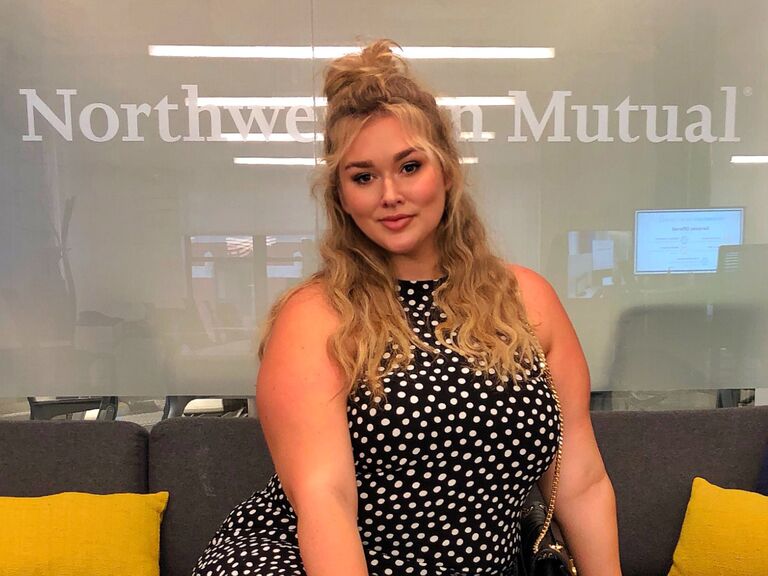 When you make the decision to move from "me" to "we," there are some big talks that undoubtedly need to happen to make sure you're on the same page about the future. One of the most important (and possibly the most dreaded) topics is money. Yet how you handle finances as a couple can have a huge impact on the health of your marriage. That's why model, influencer and entrepreneur Hunter McGrady and her husband Brian Keys decided to kick off their newlywed status by meeting with a financial advisor. A few weeks after tying the knot at a gorgeous California wedding, the couple met with Northwestern Mutual advisor Marie O'Keefe to discuss their biggest hopes and dreams and the logistics of affording it all. Here, McGrady talks about what she learned from the experience, why financial planning is a crucial part of her marriage, and why she recommends other couples do the same.


On bringing up the topic…
"That was actually one of our first big conversations in our relationship: 'How do you feel about finances?' I think [being open about money] is one of the most important things in marriage. It's a topic that you deal with every single day.
They say that money is one of the biggest downfalls in marriages—when you don't agree on the way it should be spent or saved or invested. So I personally think couples should have this conversation before getting married. Make sure that your values line up. Because otherwise you can get into a sticky situation of: 'I believe in saving this way, you believe in saving that way.' Things can start getting really messy." 


"When it comes to all these topics, talking to someone who knows what they're doing is very reassuring. I think a lot of couples have that panic about 'What do we do with our money? Are we doing this right? Is a financial advisor something we should look into?' I think it was so helpful and really put us at ease that we're on the right track, so now we know what to do and can continue this conversation.
It really made us excited for the future and the possibilities. But it also made us more aware of how we should be spending our money, and I think that's the most important thing we took away from it…. We wanted someone to help us build our future together so I can not only be a successful business owner, but we can also be a successful couple."


On planning your financial future…
"We've been saving aggressively for the past three years because we knew buying a house is something we wanted to do. And we also need to make sure we're not so stressed about our finances that when we move in we have to worry we can't afford another couch, or different chairs or another bed. We need to make sure we have that financial security to still enjoy the process.
So we're starting to figure out how much house we can actually afford. [We're] looking at our budget and finding a comfortable price range so we can buy the house, still travel and eventually have a kid within the next year. Just getting our life and all of our ducks in a row. These are things that you don't normally think about, but then you get engaged and you say, 'Okay, so now we're really starting this life together. How can we do this in the most proactive and smart way?'"


On starting a rainy-day fund…
"One thing that the financial advisor brought up to us was that I'm an entrepreneur and Brian has a nine to five job, so first we need to make sure we have at least three to six months in savings, because life happens, and if you lose a job or you don't work for months, then you need something to fall back on. That was really eye-opening to me—to look at your budget as a couple for the month, add that up and see what it costs to make sure you always have three or six months of that amount available if something happens. It made perfect sense…. I mean, I'm a model. If I break a leg, I could be out for several months."


On setting yourself up for the future...
"We also learned about all the different types of investments [from the financial advisor], as small as bonds to larger investments like real estate, plus the difference between a money market vs. a liquid market and what these things mean. It was really interesting to learn what's available and to have someone guide you with the know-how to properly invest your money. That's something Brian and I haven't discussed before and now we're talking about it. It's a big conversation to have.
We even talked as far as retirement: putting a little bit away each month and getting prepared for that. I want to set myself up for a future where I can travel with my husband and still live the lifestyle that we have now." 


On talking money as a couple…
"My number one piece of advice is to open up that conversation. Don't be afraid to talk about it. A lot of people are afraid to talk about their finances because of school loans, debt, whatever it is. But it's so important to discuss, 'How can we work this out together? How can we combine our lives and still be happy?' Listen, if you're going to get married to someone, this is all going to come out. So you may as well lay it all on the table and work through it now."
This article is sponsored by Northwestern Mutual. Take the next step: Northwestern Mutual financial advisors are here to give you more of the information you want and the knowledge you never knew you needed to get to your next goal…and the next. Get started.