Everything You Need to Know About Getting Married in Louisiana
Look to The Knot for local details about getting married in Louisiana, from choosing your wedding venue to getting your marriage license.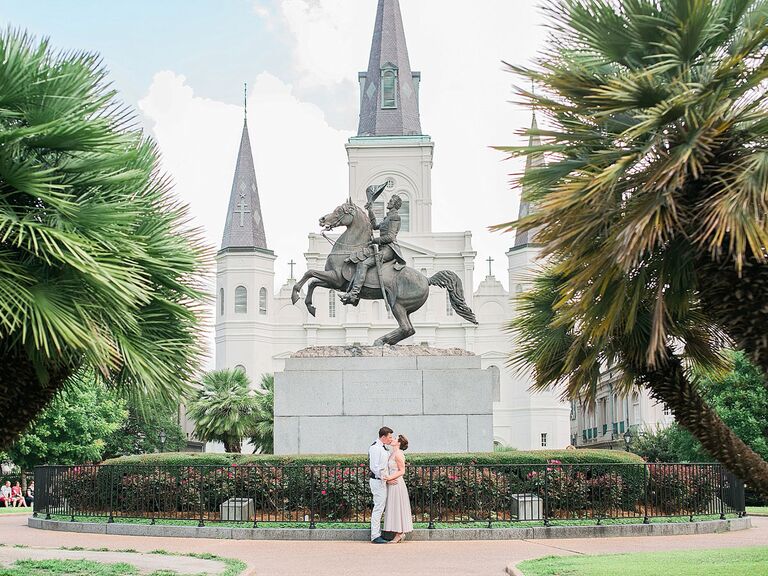 Amanda Hodges Weir Photography
Ultimate Guide to Getting Married in Louisiana
Louisiana has a rich American history. Also known as the Creole State, Louisiana has a cajun culture that sets it apart from the rest of the nation. Weddings in Louisiana are as diverse as the citizens that reside there. Multiple cultures comprise the Louisiana melting pot, providing the state with its own distinct traditions and customs.

Whether you're an LSU Tiger by birth, marrying into a Louisiana family or a transplant to the Bayou State, getting married here is full of opportunities. Wedding venues in Louisiana include everything from sprawling gardens to luxe ballrooms. As you read through our comprehensive guide to getting married in Louisiana, you'll also discover everything you need to know about unique wedding venues in Louisiana and how to obtain a Louisiana marriage license, plus fun ideas for getting married in the state's most popular cities. And follow your wedding checklist to make sure everything is done on time.
Top Wedding Trends in Louisiana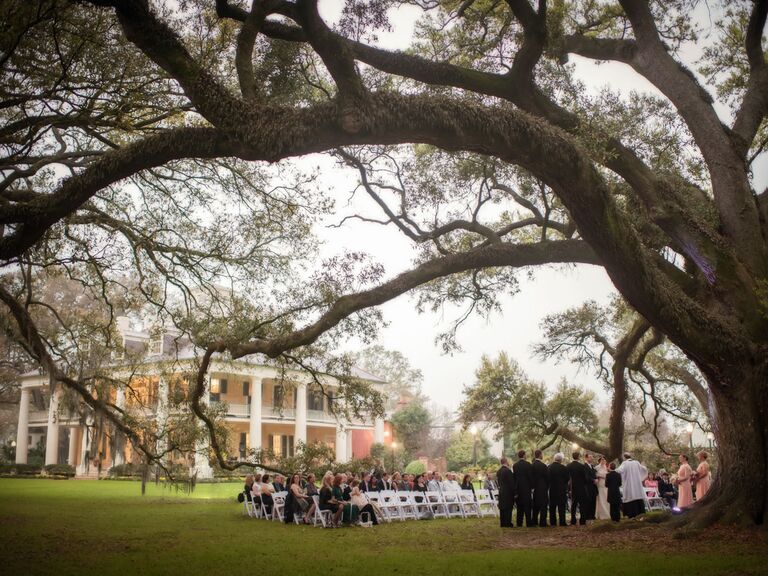 Not only are Louisiana's wedding venues diverse and easy to personalize, but having this southern state as your wedding location also means that you get to enjoy the trends and traditions of the area.
When it comes to wedding trends, however, Louisiana couples are varied and unique in how they approach their big day. According to The Knot 2015 Real Wedding Study, 72 percent of Louisiana (excluding New Orleans) couples choose a semi-formal wedding, while 15 percent host casual nuptials. Only 11 percent throw a black-tie event. The picture is a bit different for a New Orleans wedding; only 65 percent of couples decide to have a semi-formal wedding, while 25 percent of couples decide to hold a black-tie affair. Only around 5 percent of New Orleans couples host a casual wedding.
Louisiana Marriage Rates and Wedding Costs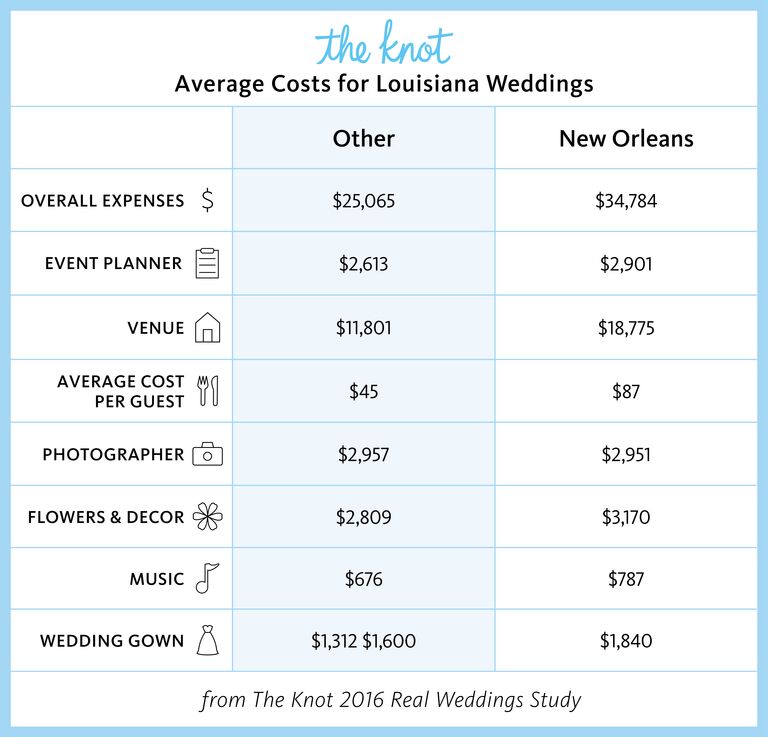 One of the few unpleasant tasks associated with wedding planning is figuring out how you are going to pay for everything. Sit down with your partner and make a wedding budget. By researching some common wedding costs ahead of time, you can come up with a realistic spending plan for your wedding day. The Knot Budgeter tool is an easy way to keep track of your wedding spending so that you have enough funds left over for an amazing honeymoon.
Louisiana Marriage Stats
You may be curious about how many Louisiana residents are deciding to tie the knot. Even though Louisiana is an exceptional site for a memorable wedding, its marriage rate is average: Both the Louisiana and national marriage rate are 6.9 out of every 1,000 people.
Louisiana couples spend an average of $17,577 on their wedding (excluding the engagement ring and honeymoon), according to our study. However, the average amount spent in New Orleans is more than double this amount: Couples who wed in New Orleans spend $37,133 on their wedding. If you are searching for cheap wedding venues in Louisiana, it is best to avoid sites in New Orleans.
Budget Breakdown: Average Costs for Louisiana Weddings
As you get quotes from wedding professionals, you may experience a bit of sticker shock at the expected costs. By researching the costs of common wedding day expenses ahead of time, you know to expect and can easily identify a good deal on a quality wedding vendor. The table above includes expenses both for New Orleans and Louisiana as a whole.
Top Cities in Louisiana to Tie the Knot
Louisiana is home to a number of great places to host your wedding. From Caddo to Saint Mary, options for Louisiana wedding venues stretch across the entire state. However, the following two places stand out as the most popular wedding destinations in the state:
Make It Legal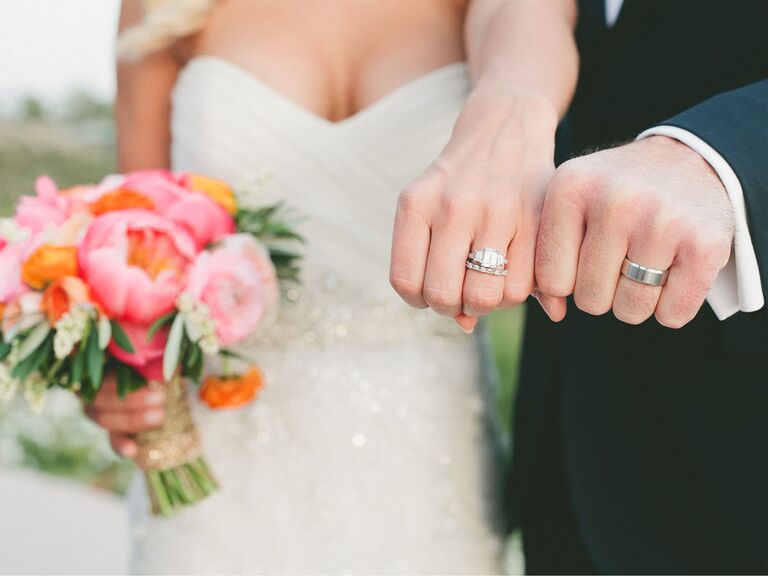 As you immerse yourself in the fun parts of wedding planning, like trying on dresses and choosing your reception playlist, it's easy to overlook some of the mundane details associated with tying the knot. Though these tasks aren't as fun as cake tastings, they're just as important. Learn how to get a Louisiana marriage license, how to ensure you have the necessary permits for your event and how to change your name after your wedding.
Getting a Louisiana Marriage License: The Basics
Your Louisiana marriage license is issued at the parish level by the Clerk of Court. Once you have a license, you are free to use it to get married anywhere in the state of Louisiana. You return the marriage license to the parish where the license was issued so that it can be recorded. It is not necessary for both people to apply for the license, as long as all of the required documentation for both parties is complete.
Prior to purchasing the marriage license, both members of the couple must fill out and sign a marriage application. Their signatures must be notarized by a notary public.
When you apply for a marriage license, make sure to have the following items:
Completed and notarized marriage application
Valid identification (driver's license, passport or state ID)
Certified copy of a birth certificate or birth card
Certified proof of prior marriage dissolution
Social Security card
Fee to pay for marriage license
Once you have your license, there is a waiting period of 72 hours before it is valid. Keep in mind that your Louisiana marriage license is only good for 30 days, and two witnesses must be present to sign the marriage license.
In addition to your marriage license, you also need someone to perform the wedding ceremony and make the marriage official. Ministers of any denomination can perform marriage ceremonies. Though your minister does not have to be a Louisiana resident, he does need to register with the parish where the wedding will occur.
Permits and Other Important Legal Requirements for Louisiana Wedding Venues
Certain wedding venues in Louisiana require permits to use the space for special events. Inquire with the event coordinator of your Louisiana venue to see what is required. For example, if you are interested in a New Orleans wedding, Jackson Square is a possible venue. To wed at Jackson Square, you must apply for a wedding permit. Other outdoor wedding locations in Louisiana, especially those in public spaces, also demand a permit.
Once you have your permit, take a moment to understand the rules associated with using an event space. Many wedding locations in Louisiana have restrictions on noise levels, the serving of alcohol and the type of decor that is permissible.
How to Change Your Name in Louisiana
If you decide to change your name after the wedding, the process in Louisiana is pretty straightforward. Check out HitchSwitch professional name change service or follow our simple guide to changing your name. If you choose to do it yourself, here are the proper steps:
Request a certified copy of your marriage license. The certified copy has a raised seal on it. You can visit the Clerk of Court to obtain a copy.
Fill out an application for a new Social Security card. Mail the application to your local Social Security office. It takes about 10 days to receive your new card.
Go to the DMV and get a new driver's license. Bring your old license, marriage certificate and new Social Security card so that you have proof of your name change.
Your name is now officially changed. Make sure all of the people and companies that you deal with have your new name on file. Entities that need notification include:
Bank accounts
Retirement plans
Professional organizations
Medical records
Insurance policies
Legal documents
Voter registration card
Utilities
Loans
Credit cards
Passport
It's All About Timing
While more couples are embracing the beauty of fall weddings, Louisiana bucks this national trend. The popularity of spring, summer and fall weddings is pretty even in the state, with about 30 percent of couples marrying in spring, 32 percent in summer and 30 percent in the fall. Only 8 percent exchange vows during the winter months.
New Orleans is a bit different. Fall is overwhelmingly the most popular time to wed, as 35 percent of couples tie the knot during autumn months. Spring is the second most popular time for a New Orleans wedding, with 35 percent of couples exchanging vows during this period. Winter and summer are fairly even in terms of popularity; only 12 percent choose winter, while 13 percent opt for summer nuptials.
The Four Seasons in Louisiana
The four seasons in Louisiana do not show the significant difference in weather patterns associated with other parts of the nation. Though winter is obviously cooler, the average high in January is still 62 degrees Fahrenheit. For July, the average high is 91 degrees Fahrenheit. July also sees the highest amount of precipitation, with 7.91 inches.
Spring is pleasant, with the daily average temperature in April hitting 78 degrees Fahrenheit. Precipitation amounts are slightly less than in the summer.
Fall also demonstrates lower amounts of precipitation. The average daily temperature in October is 80 degrees Fahrenheit and 72 degrees Fahrenheit for November.
One thing to note is that Louisiana is commonly affected by hurricanes. Hurricane season runs from June 1 to November 30, with mid-August to mid-September being the most active period.
It is safe to use outdoor wedding venues in Louisiana throughout the entire year. Just have a backup plan available in case of rain.
Louisiana Wedding Dates to Avoid
Depending on where you get married in Louisiana, there are some important dates you may want to avoid in order to make sure that your wedding guests are comfortable and can easily find a place to stay. Ask your wedding planner or venue for tips about how to avoid major traffic times or local events that might make your wedding weekend more difficult for guests and more costly for you.
If you're on a tight budget, try to avoid common national holidays and busy weekends that tend to inflate the cost of everything! (We cover these dates for 2016-18 in our comprehensive guide). Additionally, here are some nationally-recognized festivals and events you may want to note for 2017:
Mardi Gras, New Orleans (February/Fat Tuesday)
French Quarter Festival, New Orleans (in April)
Ponderosa Stomp Festival, New Orleans (mid October)
Louisiana International Film Festival, Baton Rouge (mid-April)
Bayou Country Superfest, Baton Rouge (late May)
Mudbug Madness, Shreveport (May)
State Fair of Louisiana, Shreveport (late October to mid-November)
Great Guest Experiences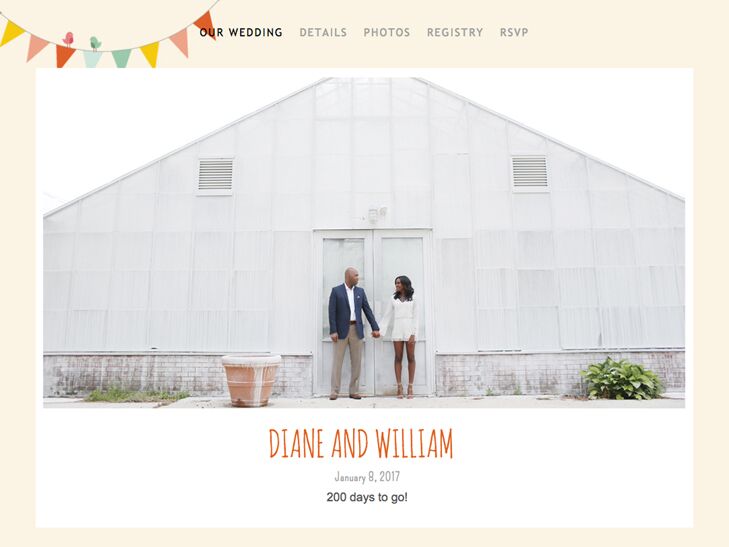 Your friends and family members may have to put forth a great deal of effort to attend your wedding, such as taking time off work and traveling long distances. Show them how much you appreciate it by assisting them with the details of their trip to Louisiana. Create your own custom wedding website to provide your guests with easy to access details concerning your wedding venue. They can use the information to plan their trip.
Finding Your Way: Louisiana Travel Info
Thanks to Louisiana's numerous options for transportation, your guests easily get to their final destination. If they are flying, they can fly into one of the state's primary airports:
Alexandria International Airport
Baton Rouge Metropolitan Airport
Lafayette Regional Airport
Lake Charles Regional Airport
Monroe Regional Airport
Louis Armstrong New Orleans International Airport
Shreveport Regional Airport
Louisiana also has extensive options for public transportation, including the following:
Bus
Ferry
Rail
Transit agencies
Around Town: What to Do and See in Louisiana
The activities, events and attractions across the state of Louisiana are wonderfully diverse. From the bustling streets of New Orleans and Baton Rouge to the quiet calm of the gulf shores, there is no shortage of year-round events and destinations to entertain guests before and after your wedding day.
Here are some of Louisiana's top tourist attractions:
The National World War II Museum (New Orleans)
St. Louis Cathedral (New Orleans)
French Quarter (New Orleans)
Margaritaville Resort Casino (Bossier City)
Lake Martin (Breaux Bridge)
USS Kidd (Baton Rouge)
Jungle Gardens (Avery Island)
Go Local: Food and Favors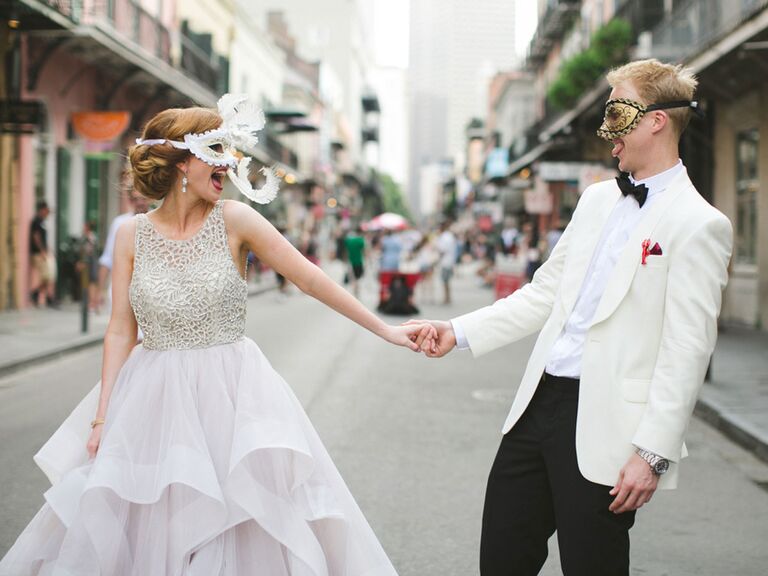 It doesn't matter if you grew up eating crawfish, Po'Boys and gumbo, or if you're new to these delicious dishes, they can be a fun and flavorful addition to your wedding menu. This is one of the few times your guests will have a chance to sample authentic Louisiana food, so when it's time for them to go home, send them off with a treat that is synonymous with Lousiana.
Louisiana Flavors: Unique Regional Foods for Your Wedding
Have a few Cajun dishes available at stations or on the buffet for your wedding reception. Boiled crawfish, jambalaya and red beans and rice make for a terrific Louisiana-inspired meal. If your guests prefer something with a little less spice, a raw bar filled with fresh gulf seafood is a great alternative. Fried alligator bites and Hurricanes, served up during cocktail hour, might also be favorites.
Everyone knows that dessert is a huge part of any Louisiana meal. Add a couple of pies to your dessert table—sweet potato and pecan are southern specialties.
Do Your Guests a Favor: Louisiana-Inspired Take-Home Treats
After trying Louisiana dishes, your guests' palates just won't be the same. Send them home with a favor that shares the fun and flavor of Louisiana (and check out The Knot Shop for more personalized ideas):
King Cake isn't just for Fat Tuesday. Ask your cake baker to create mini versions to pass out at the end of the celebration.
Pralines are another regional sweet. Add it to your candy bar, or bag up a few and place them on guest tables.
If your guests won't be attending a Mardi Gras festival during their time in Louisiana, send them home with typical Mardi Gras garb. You can even choose beads and masks that match your wedding colors.
Hot sauce is a staple in Louisiana -- small bottles of the spicy condiment are fun and functional.
Louisiana City Guides
From historic mansions dripping with Southern charm, to industrial spaces nestled in the downtown areas, Louisiana has it all. The cities below are two of the most popular spaces to host a Louisiana wedding. Learn why they are so popular so that you can decide which one is right for you. Once you know where you want to get married, use our vendor marketplace to find the best wedding pros.
New Orleans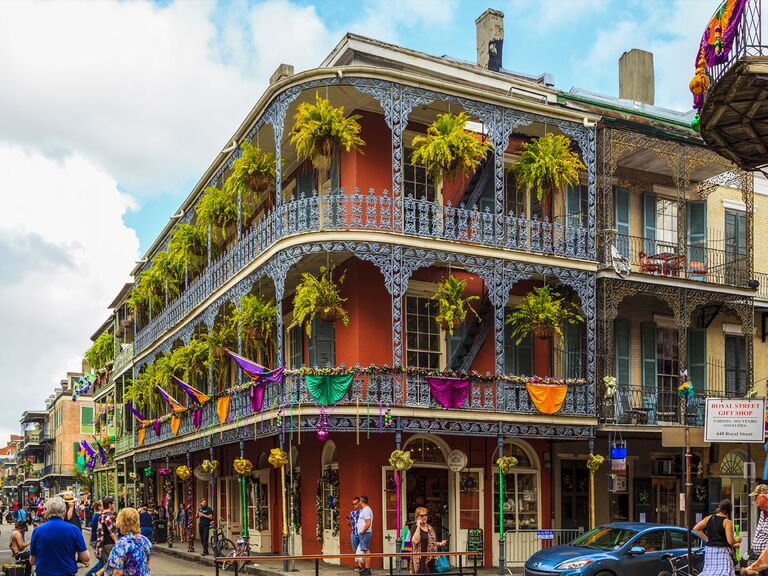 New Orleans is the largest metropolitan area in the state of Louisiana. The city arose under French influence; this influence contributed to many of the traditions and customs that are present even today. Marshland, swamps and coastline add natural beauty to this picturesque city. Architecture of the New Orleans cityscape reflects the city's diverse cultural heritage.
As you plan your New Orleans wedding, you are sure to find a venue that satisfies your aesthetics. Creole buildings, large historic mansions and waterfront sites near the bayou are just a few of the majestic offerings.
For local New Orleans vendors, check out:
Baton Rouge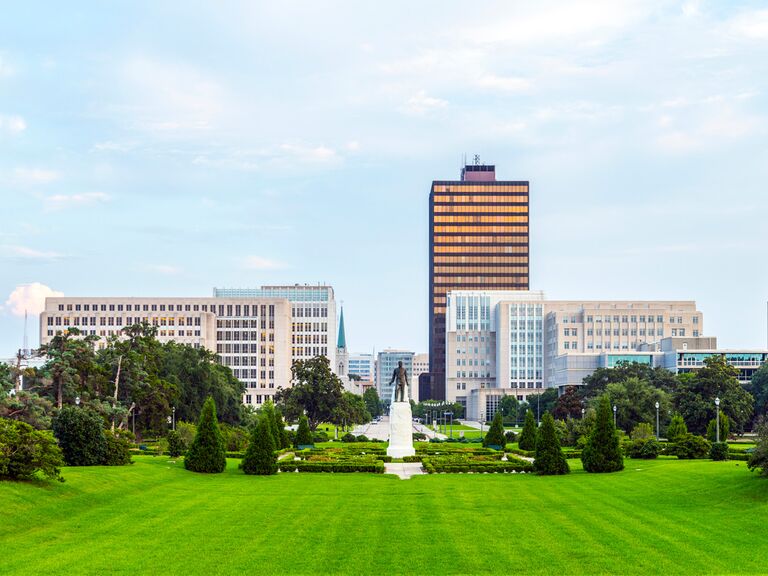 Baton Rouge, the capital of Louisiana, is nestled on the eastern bank of the Mississippi River. When looking for wedding venues in Baton Rouge, decide if you want a site that takes advantage of the multiple water views. If you prefer an artsy venue, look into spots located in the downtown portion of Baton Rouge, as it is home to a flourishing arts scene. Wedding spots with a view of the Baton Rouge skyline display the different varieties of architecture that help make the city stand out.
An extensive system of parks is found in Baton Rouge, offering several possibilities for outside Baton Rouge weddings. 
For local Baton Rouge vendors, check out:
Check out more Louisiana wedding inspiration here.

Don't forget to download The Knot Wedding Planner app—it's a must-have for on-the-go planning.
Download for iOS: Wedding Planner App by The Knot

Download for Android: The Knot Wedding Planner