How to Get Legally Married in Louisiana and Plan Your LA Wedding
Make sure your love is legal in Louisiana.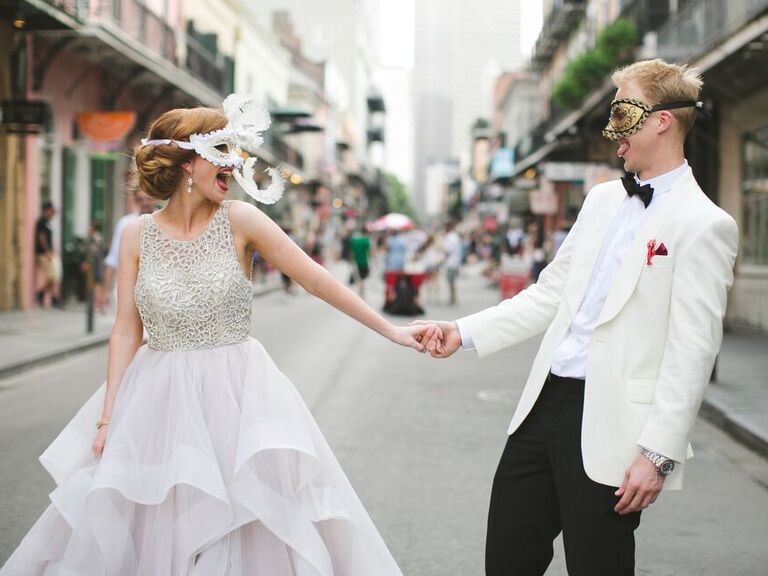 Marroquin Photography
Beautiful, lively and charming, the state of Louisiana has a unique culture like no other. With French-inspired and historic details around every corner, Louisiana boasts beautiful natural scenery as well as popular urban areas, so there's something every wedding party can enjoy. The weather is pretty warm year-round too, so it's definitely a perk if you're looking to host an outdoor wedding.
Quite possibly the most important part of getting married is not the rings or the venue, but the legal process of getting a marriage certificate, which varies state by state and even sometimes by county. The marriage license process in Louisiana is pretty straightforward and doesn't take a long time to go through, but there are some details that differ from most other states, as well as the type of marriage you can apply for.
For those also looking to change their maiden name or full name, that is another thing to consider before applying for a marriage license, so you don't have to worry about it later. Other than that, the process is pretty painless!
How to Get Married in Louisiana
Is there a waiting period to get married in Louisiana?
There is a 24-hour waiting period from filling out the marriage license application to the date of issuance. This is a relatively short waiting time, but it is still not instant, so make sure that you are aware of this when applying for a license.
What are the legal requirements to get married in Louisiana?
You need to provide annulment of any previous marriage, divorce decree or death certificate, as well as you and your spouse's birth certificate or birth card (for Louisiana residents) and social security card. Under Louisiana law, you must also provide the relationship of the applicants, which is different than most states require. If you do not have a social security number, you are also able to provide a driver's license, government identification card, visa, etc. (these must be in English, or otherwise notarized).
The age requirement in Louisiana is 18 years of age. Those under 18 years of age need to obtain a court order, and may not marry someone more than three years their senior. As of 2019, those under 16 years of age are not permitted to legally marry in Louisiana, despite parental consent or written approval.
There is also what is known as a covenant marriage, which is also an option for couples that provides slightly stricter marriage guidelines than a regular marriage would entail. If you and your spouse agree to have a covenant marriage, you must legally seek marital counseling if problems arise, and may only file for divorce under certain circumstances. These include, but are not limited to adultery, abuse, etc., but know that getting a divorce is harder under this kind of marriage, because you're essentially agreeing to sign a Declaration of Intent and be married for the rest of your lives. Definitely something to think about if you're considering this as an option for your marriage!
What's considered a common law marriage in Louisiana?
Louisiana does not recognize Common Law marriages. No matter how long you and your partner live together and assume the role of a married couple, you cannot receive the same benefits unless you are legally married.
Louisiana Marriage License 101
What do you need to get a marriage license in Louisiana?
To get a marriage license in the state of Louisiana, you'll need a birth certificate, social security number, proof of relationship to your partner and to fill out the application form. In Louisiana, you do not both need to be present to sign for the marriage license so long as all of the documentation and paperwork are provided.
For those born outside of the U.S., you will also need to provide a certified birth certificate and some sort of photo identification in place of a Social Security number. Any non-English documents would need to be notarized in advance.
How much does a Louisiana marriage license cost?
Compared to other states, applying for a marriage license in Louisiana is not very expensive. Though it varies slightly from county to county, the base fee for the application is $27.50, which a fee of $10 for a certified copy of the marriage license and an additional $4 for any waivers.
How long does it take to get a marriage license in Louisiana?
It takes about 24-hours from the time of the application to get your marriage license, but it is only valid for 30 days after issuance. A waiver can be requested if the wedding ceremony is to take place within that 24-hour window, but this also comes at an additional cost and may not always be granted by the clerk's office.
Can you apply for a marriage license online in Louisiana?
You can fill out most of the paperwork for a Louisiana marriage license online, and it does not need to be notarized. You can print and fill out the necessary information, but under state law only one member of the couple needs to go in person to the court to hand in the paperwork, sign and provide identification documents.
How do you get a copy of a Louisiana marriage license?
You should aim to order a copy of your marriage certificate two weeks after the wedding - this way you can guarantee that it is filed and recorded. To get a copy of yours, you'll need to go to the Louisiana Department of Health and the State Registrar and Vital Records and request a copy that way. However, only marriage records from the Orleans Parish are kept here and available to be requested online; any other parish will require you to specifically contact the clerk of court in the parish where you received the license.
How to Plan a Louisiana Wedding
The Different Cities and Areas to Consider for a Louisiana Wedding
Louisiana might be known for the historic city of New Orleans, but that's not the only attractive venue that the state has to offer. From lively cities to southern charm around every corner, there are plenty of romantic places to tie the knot in Louisiana. There are beautiful areas like Baton Rouge and Lafayette, and a stunning coastline of nearly 400 miles. It's perfect for that picturesque Southern wedding, with large old trees, beautiful architecture and plenty of historical sites.
What to Look For in a Louisiana Wedding Venue
There's a lot to choose from when you're looking for Louisiana venues for your ceremony and reception - probably more than you might initially think! The Knot Marketplace showcases some of the best and highest-rated venues in the state; whether you want something upbeat and colorful, something more traditional and romantic, there are plenty of options. Make sure the venue you choose is not only within the price range you want to pay, but also includes enough room for all your guests. There are plenty of beautiful wide-open spaces in Louisiana!
How to Find a Louisiana Wedding Vendor
Louisiana has a distinct culture in almost every way - so there are plenty of vendors that specialize in French-inspired seafood, New Orleans decor or upbeat DJs and wedding bands that will add the perfect touch to your big day. Find vendors that match your style and add up to the perfect combination of flair and price tag for your wedding. The Knot Marketplace features hundreds of vendors in every LA city, so check out what's nearby!
The Best Times of Year to Have a Louisiana Wedding for Good Weather
Louisiana is situated in the South, with short winters, long summers and temperatures usually not under 30 degrees, even in the winter. The weather is usually nice, aside from the winter months, which are usually wet and rainy, and tourists tend to visit the state either from March to May or late September to November. This helps avoid excessive heat, while maintaining comfortable temperatures. Make sure you don't travel during hurricane season because you can then also succumb to major flooding and tropical storms.