Everything You Need to Know About Getting Married in Michigan
Look to The Knot for local details about getting married in Michigan, from choosing your wedding venue to getting your marriage license.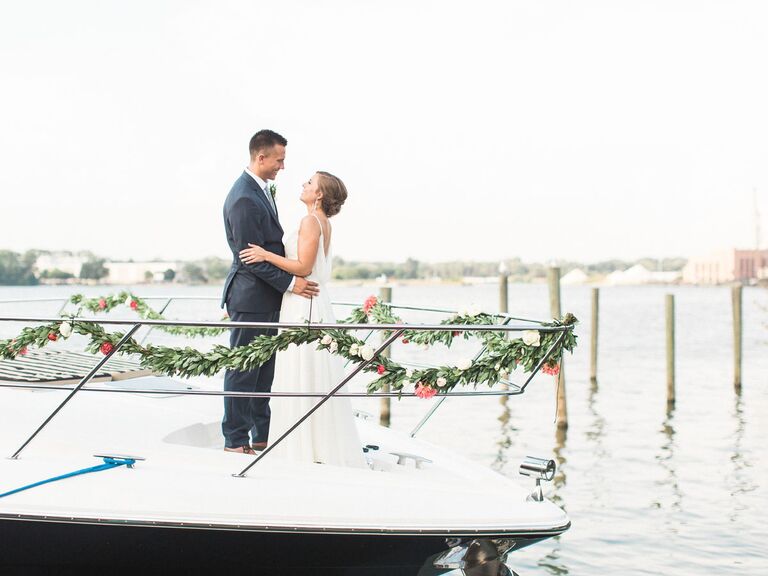 Samantha James Photography
Ultimate Guide to Getting Married in Michigan
"If you seek a pleasant peninsula, look about you."
The beauty and charm of Michigan is perfectly captured in the state's motto. As the only US state made of two peninsulas, Michigan has a bit of something to offer everyone. From the picturesque beauty of the lake that shares its name and the tart cherry capital of the world to the birthplace of Motown, choosing between the vast array of Michigan wedding venues can be tough.
Whether you are a Wolverine by birth, marrying into a Michigan family or a transplant to the Mitten State, getting married here is full of opportunities. Wedding venues in Michigan include everything from rustic country barns and quaint beaches to luxe ballrooms. As you read through our comprehensive guide to getting married in Michigan, you'll also discover everything you need to know about unique wedding venues in Michigan and how to obtain a Michigan marriage license, plus fun ideas for getting married in the state's most popular cities. Follow along with your wedding checklist to make sure everything is done on time.

Top Wedding Trends in Michigan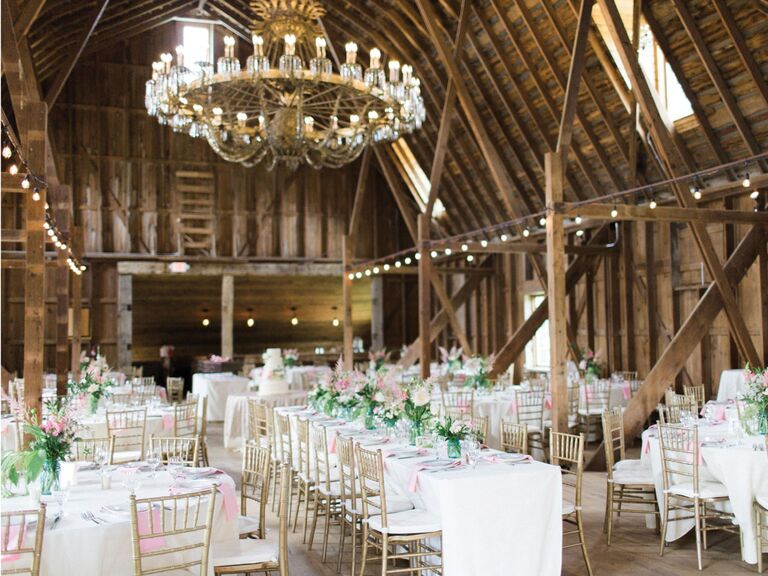 Not only are Michigan's wedding venues diverse and easy to personalize, but having this midwestern state as your wedding location also means that you get to enjoy the trends and traditions of the area.
When it comes to wedding trends, however, Michigan couples are varied and unique in how they approach their big day. In fact, depending on where they're located within Michigan, couples have different ideas about what a typical wedding should include. According to The Knot 2015 Real Weddings Study, nearly 90 percent of couples in Detroit opted for a formal or semi-formal wedding, while only 1 in 10 Detroit weddings were casual. By contrast, twice as many Grand Rapids couples (20 percent) opted for a more laid back day, perhaps taking advantage of the different types of wedding venues in West Michigan.
Wedding traditions in Michigan are a completely different story, however. For many midwestern couples, and specifically those of Central European ancestry, having polka music at their wedding reception is a must! Like jazz in New Orleans or country music down South, including polka music on a DJ play list or even hiring a separate polka band to play at the reception will help you and your guests get your oom-pah on in style. In fact this type of music is so common that it may even be an easy add-on option at many popular, traditional wedding venues in Michigan.
Michigan Marriage Rates and Wedding Costs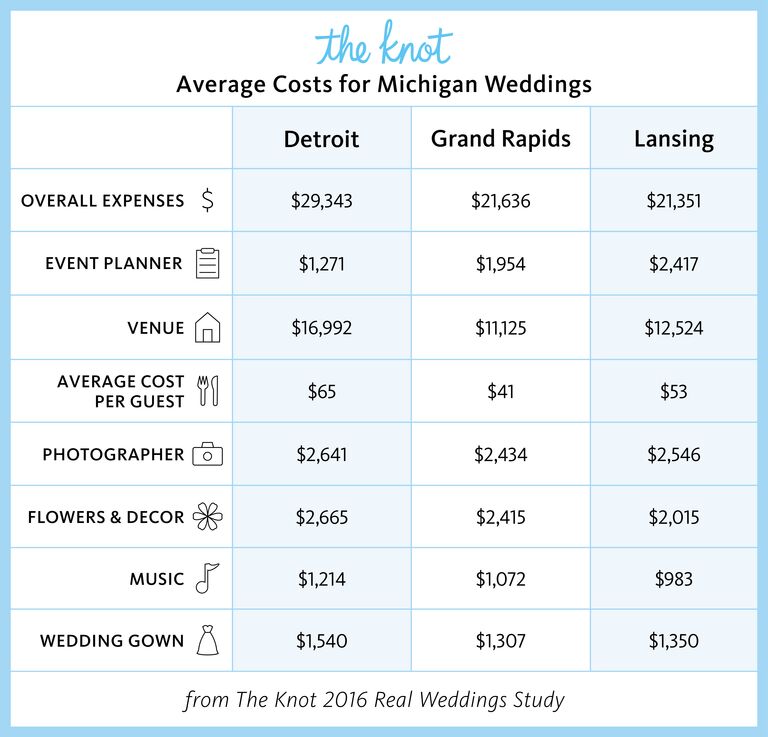 Planning a wedding can be a lot of fun, but affording it is another story entirely. No matter which type of wedding venue you choose or what type of theme fits your personalities, make sure you've created a budget and that you're sticking with it. The Knot Budgeter can help keep you on track! But before you take that important step, here's a little background info on how many couples are tying the knot in Michigan, plus what you can expect to pay for common wedding costs in Michigan, as reported by The Knot 2015 Real Weddings Study.
Michigan Marriage Stats
So how many couples are actually getting married in Michigan? Turns out that marriage rates in Michigan are just below average with 5.8 per 1,000 people. And according to The Knot Real Weddings survey, Michigan couples are spending $19,000 to $30,000, depending on where the couple weds. Not surprisingly, Detroit weddings are consistently more expensive compared to other parts of the state. Plan your big day at a wedding venue in Lansing or Grand Rapids and you'll likely pay less than the national average.
Budget Breakdown: Average Costs for Michigan Weddings

Getting a sense of what you'll pay for your wedding day expenses will make it easier to budget and negotiate with vendors. Below you'll find average costs in some of the state's biggest wedding destinations: Detroit, Grand Rapids, and the state's capital, Lansing.
Top cities in Michigan to Tie the Knot
From Detroit to Lansing and Grand Rapids to Ann Arbor, there are a variety of wedding venues in Michigan that stretch across both peninsulas. However, the following three places stand out as the most popular wedding destinations in the state:
Make It Legal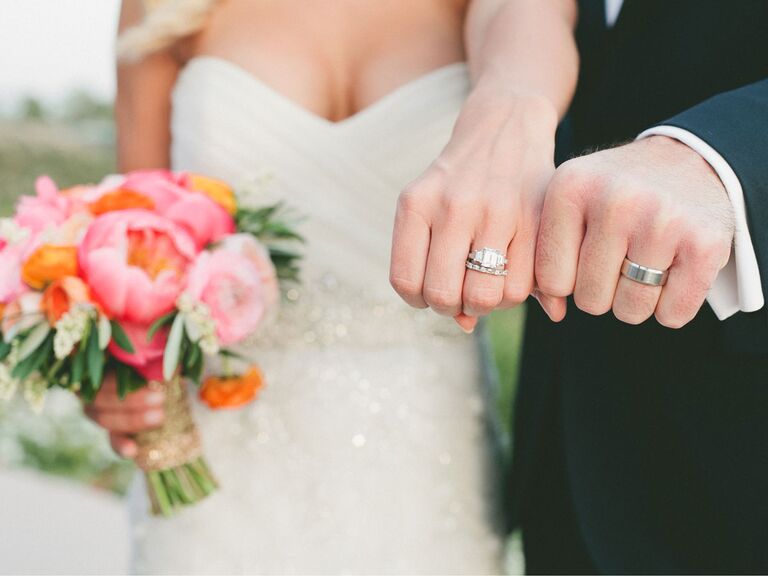 While we hope that planning your wedding feels like it's filled with fun events like cake tastings and finding the perfect DJ or band, there are some strings attached to tying the knot in the Wolverine State. Understanding the ins and outs of not only getting your Michigan marriage license, but also taking care of details like permits and changing your name(s), is equally important in the weeks and months leading up to saying "I do."
Getting a Michigan Marriage License: The Basics

A Michigan marriage license is issued at the county level, which means that you must apply through the county clerk in one of either of the following:

Your Michigan county of residence
The Michigan county where your marriage will take place
Each individual county clerk has his or her own method for marriage applications and may require specific documents or information. At minimum, you will need:
To have at least one party present
A valid driver's license or state ID
A certified copy of each party's birth certificate or passport
Payment for the application fee of $20 for Michigan residents and $30 for non-residents
Once all materials are on file, you will receive your marriage license for the officiant to file following the wedding ceremony. Keep in mind that the state requires a three-day waiting period before validating the license and all licenses must be used within 33 days of issue in order to be valid.
In addition to the license, you must also find an officiant for the wedding who will solemnize the marriage and file the associated paperwork with the county afterward. Acceptable officiants include, but are not limited to:
A district court judge from the State of Michigan
A federal judge
A mayor of a city from within the county where you are married
A county clerk from another Michigan county
A minister of the gospel or cleric or religious practitioner in the state or who has the authorization to perform marriages within the state.
Permits and Other Important Legal Requirements for Michigan Wedding Venues

Preparing for a Michigan wedding ceremony is specific to the ceremony location and the rules and requirements of the venue itself. Keep in mind that many wedding venues in West Michigan are located along the beaches of Lake Michigan and often require permits, especially if they are located in a City or Waterfront Park.
Other public places often require permits as well. Many Detroit wedding venues located in Wayne County include public parks, for example. If you're eager to have an outdoor ceremony in one of Michigan's gorgeous National Parks of Northern Michigan—Huron-Manistee National Forests, Pictured Rocks National Lakeshore, Ottawa National Forest and Keweenaw Historical Park—you'll need permits, sometimes at least 6 months in advance and you'll have to follow specific rules and guidelines. But don't let that deter you! The proper permits can be obtained for the wedding ceremony of your dreams.

How to Change Your Name in Michigan
If you decide to change your name after the wedding, the process in Michigan is pretty straightforward. Check out HitchSwitch professional name change service or follow The Knot's simple guide to changing your name, noting that the State of Michigan requires all of the following for driver's license changes:
A current, valid license or state-issued ID
A certified marriage license
The state will also confirm your name change with the US Social Security Administration, so make sure that you change your name on your Social Security card before or concurrently with your Michigan driver's license.
It's All About Timing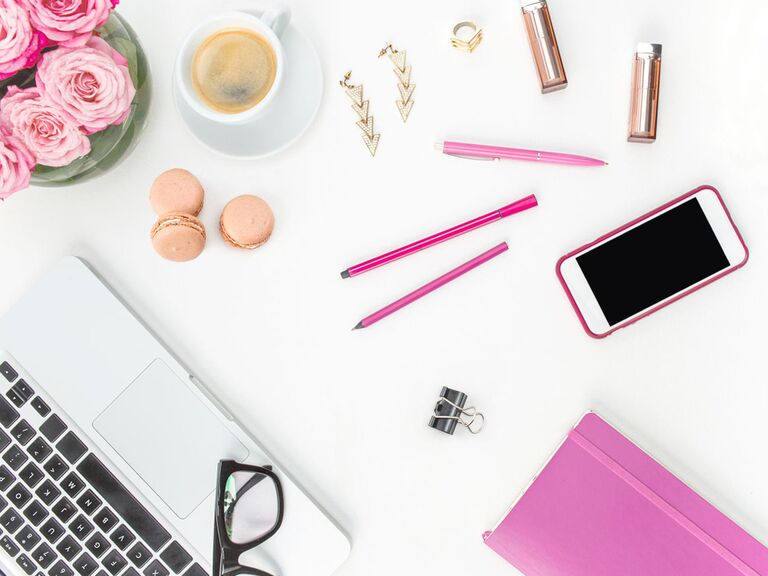 More couples are embracing the beauty of fall weddings, but in Michigan the summer months of June, July and August still top the list of most popular months to have a wedding. In 2015, for example, 39 percent of Detroit couples exchanged vows in the summer and 34 percent in the fall. In Grand Rapids it was 56 and 30 percent, respectively. Both of these buck the national trend toward fall weddings with 39 percent of couples opting for autumn nuptials nationwide, compared to 33 percent in the summer.
The Four Seasons in Michigan
Having a winter wedding in Michigan is not for the faint of heart! Only 6 percent of Detroit couples and 5 percent of Grand Rapids couples opt for a winter wedding. So if you're not prepared for a lake-effect snow storm or below freezing temps, you may want to consider warmer months to celebrate your love. Summer weddings in Michigan, while often humid, remain popular because of their warm temperatures, which are easy to manage with lake breezes and air conditioning. Along the shores of Lake Michigan in the western part of the state, July averages a daytime high of 83 degrees.
Can't get comfortable with extremes? Then a spring or fall Michigan wedding may be best for you. With variable temperatures and beautiful spring flowers or fall foliage these two seasons provide compelling outdoor backdrops for your wedding celebration. And finding outdoor Michigan wedding venues during these times of year won't be difficult. In fact, many places offer covered areas or other options to move the ceremony or reception indoors to accommodate the variable weather of the spring and fall months.
Michigan Wedding Dates to Avoid
Depending on where you get married in Michigan, there are some important dates you may want to avoid in order to make sure that your wedding guests are comfortable and can easily find a place to stay. Ask your wedding planner or venue for tips about how to avoid major traffic times or local events that might make your wedding weekend more difficult for guests and more costly for you.
If you're on a tight budget, try to avoid common national holidays and busy weekends that tend to inflate the cost of everything! (We cover these dates for 2016-18 in our comprehensive guide.) Additionally, here are some nationally-recognized festivals and events you may want to note for 2017:
Movement (Detroit's Electronic Music Festival), (usually Memorial Day Weekend)
Detroit Grand Prix (early June)
Common Ground Music Festival, Lansing (early July)
National Cherry Festival, Traverse City (early July)
Michigan State Fair, Detroit (early September)
Detroit Jazz Festival (early September)
Detroit Free Press Marathon (mid October)
Great Guest Experiences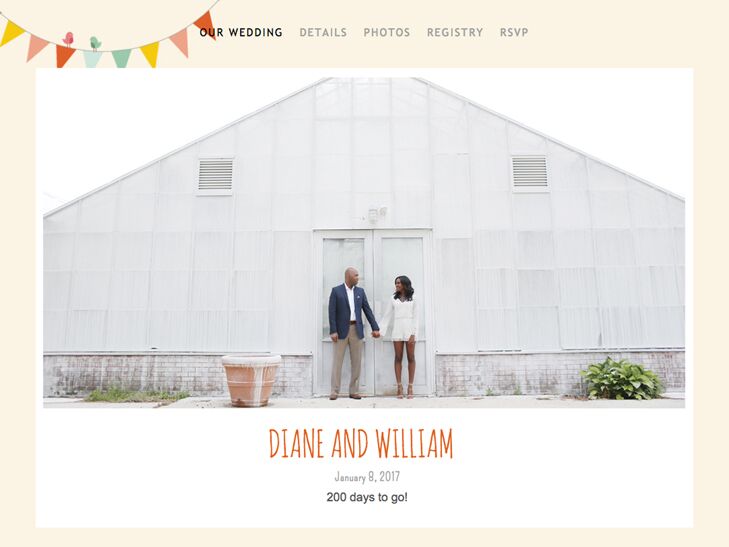 Helping your guests feel comfortable and welcome is one of the key ingredients to wedding success. With such a wide variety of unique wedding venues in Michigan—from rustic barns to lakeside beaches—there are so many places for a celebration that is a true reflection of your couple style while also making it fun for your friends and family. No matter where you choose to get married, giving your guests a great experience starts with you creating your very own wedding website. It's a great way to keep everyone connected and informed.
Finding Your Way: Michigan Travel Info
Getting to and around Michigan may seem tricky, especially the northern peninsula, but the state offers many routes and hubs for travelers from all over the world. To start, Detroit's Metropolitan Airport offers hundreds of domestic as well as international flights and serves over 160 destinations. As one of the most important hubs in the United States, finding a flight to Detroit is usually quite easy.
There are also a number of ferries available to shuttle travelers to out-of-the-way locales like Mackinac Island. And of course, major interstates such as I-69, I-75, I-94 and I-96 make it easy for guests to travel throughout the state as well.
Around Town: What to Do and See in Michigan
The activities, events and attractions across the state of Michigan are wonderfully diverse. From the bustling streets of Detroit to the quiet calm of the lake shores, there is no shortage of year-round events and destinations to entertain guests before and after your wedding day.
Here are some of Michigan's top tourist attractions:
Mackinac Island and Bridge
Isle Royale National Park
Pictured Rocks National Seashore
Soo Locks Boat Tours and Dinner Cruises (Northern MI)
The Henry Ford Museum
Detroit Institute of the Arts
Frederik Meijer Gardens & Sculpture Park (Grand Rapids)
Motown Museum
Go Local: Food and Favors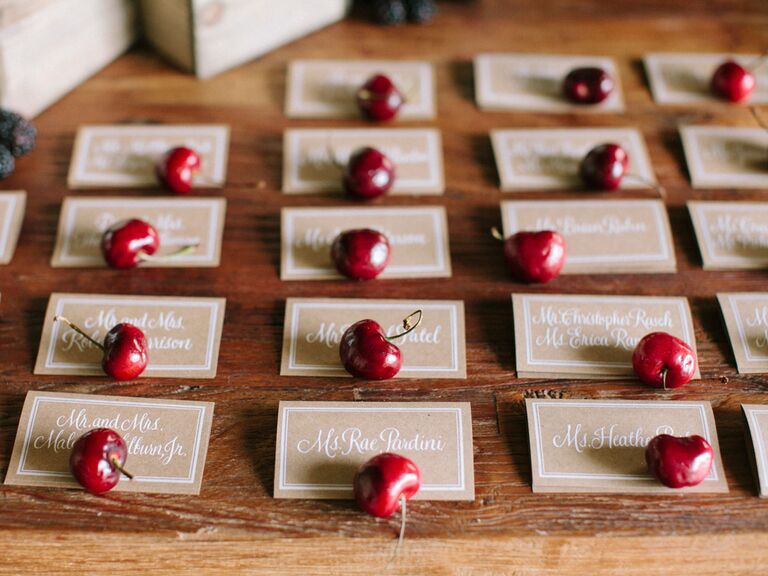 Whether you come from two born and bred Michigan families or are bringing in relatives from all over the country (or world), embracing unique elements of the Great Lakes state will help make your wedding memorable for all who attend. Consider these ideas for bringing the food and culture of Michigan to your wedding celebration. Check out The Knot Shop for other personalized favors.

Michigan Flavors: Unique Regional Foods for Your Wedding
From Ann Arbor's Krazy Jim's Blimpy Burger to Detroit's American Coney Island, family owned since 1917, Michigan is known for some of its amazingly tasty comfort food. Not only can you include some of these local favorites in your wedding, you can ask your caterer to create dishes that focus on abundant local ingredients to bring out the flavors of this state. Michigan is one of the leading growers of apples in the country, which means mini apple pies make for a perfect dessert bar or as a food favor for your guests. You might also consider local snacks like McClure's pickles, Murdick's Mackinac Island Fudge, Better Made potato chips, Faygo pop, or Germack pistachios for a delicious addition to your welcome baskets or favors.
Do Your Guests a Favor: Michigan-Inspired Take-Home Treats

The Mitten or Motor City—no matter what you call it, there are plenty of iconic images that involve Michigan. Whether you are a Wolverine by birth, by degree, a die-hard Lions fan or the king/queen of Motown, there are many ways to bring Michigan charm into your wedding though individual favors or fun regional items placed into guest welcome bags. Try these unique ideas to get you started:

Anything in the shape of a mitten, including cookies, chocolates or actual mittens.
Show your Michigan pride with University of Michigan Wolverine memorabilia or anything navy blue and maize (gold). Michigan State fans can, of course, opt for Spartan-themed items or a palette of green and white.
In Traverse City, the tart cherry capital of the world, anything cherry-related.
Gather some car-related memorabilia from your favorite Detroit automaker.
Michigan City Guides
From the lake shores of the north and west to the city streets of Detroit, there are a variety of unique wedding venues in Michigan that offer couples the opportunity to express themselves, stay on budget and make memories that last a lifetime. To start, check out why the three cities below have some of the best wedding venues in Michigan, and then hook up with local vendors through The Knot ultimate wedding vendor marketplace.

Detroit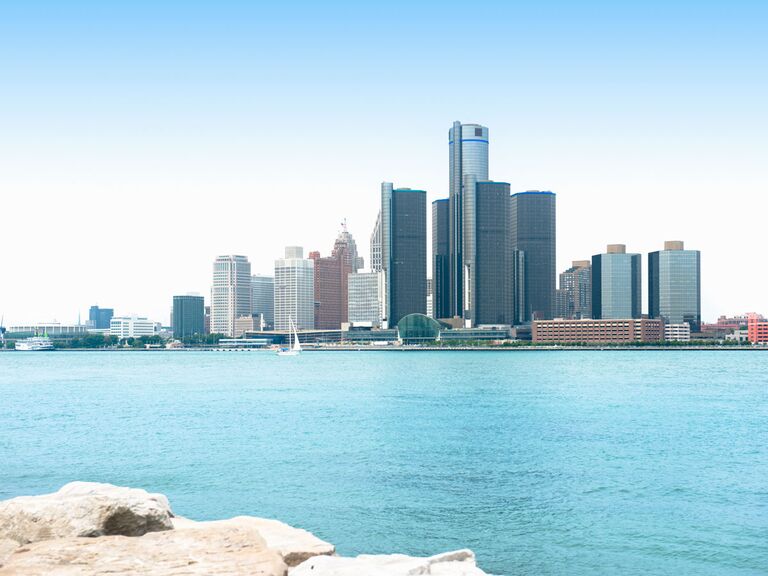 As the fourth-largest metropolitan area in the midwest, it's no wonder that Detroit is also the most popular place in Michigan for couples to marry, according to our 2015 Real Weddings Study.
And why not? This city has it all from the picturesque Detroit International Riverfront to the post-modern, art deco and even Gothic architecture dating all the way back to 1826. Getting married in Detroit offers couples all the conveniences of a big city wedding with a great eastern Michigan location. Also, as the largest city bordering Canada, it is an easy journey for northern friends and relatives as well.
When it comes to Detroit wedding venues, you'll have a lot of variety from which to choose. There are museums, concert halls, hotel ballrooms and outdoor locations across the city and in the surrounding suburbs. The city's rich history and connection to the music and automobile industries also make finding a local theme easy.
For local Detroit vendors, check out:
Grand Rapids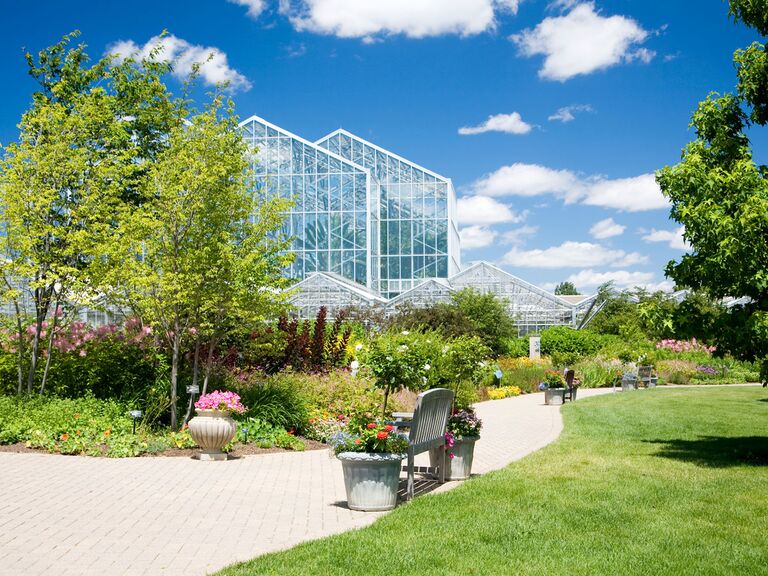 The second-most popular Michigan wedding location according to our 2015 Real Weddings study is Grand Rapids. As the largest city in the western half of the state, Grand Rapids is notable for its proximity to Lake Michigan and location along the busy Grand River, from which it gains the nickname "The River City." As a result, locations in and around this city of about 650,000 people include many wonderful outdoor venues and water-themed restaurants and hotels. However, Grand Rapids wedding venues are not limited to the outdoors—other options include farms, private estates, golf courses and ballrooms.

In 2015, Groupon named Grand Rapids one of its top tourist destinations. Close to both Chicago and Detroit, Grand Rapids has a thriving art and music scene and has been gaining popularity for its craft breweries and fantastic collection of farm-to-table cuisine. There are also a number of museums and historic sites in and around the city and, of course, access to some of Michigan's top-rated lakeside beaches.
For local Grand Rapids vendors, check out:
Traverse City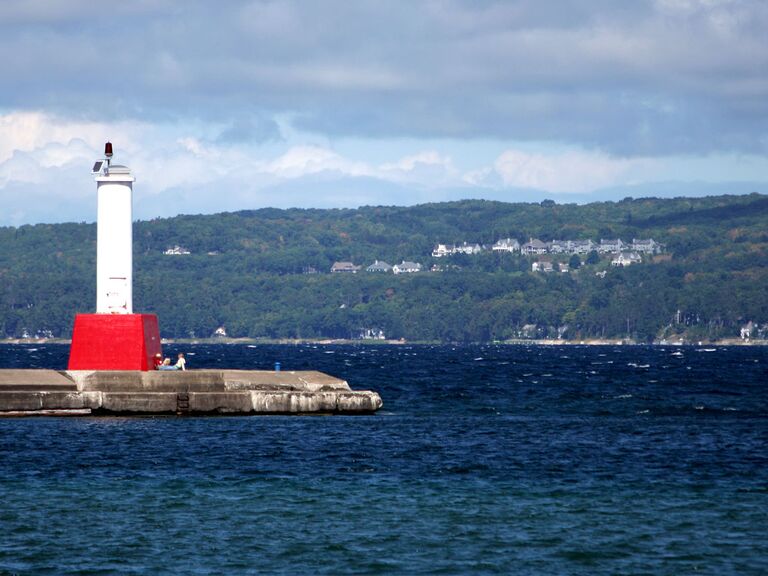 If you're looking for some of the most picturesque outdoor wedding venues in Michigan, check out Traverse City, affectionately known as the Tart Cherry Capital of the World. Best remembered for its week-long cherry festival in July that attracts around 500,000 visitors annually, Traverse City is the largest community in the second peninsula of Northern Michigan. Like much of the 21-county region, Traverse City offers a more laid-back atmosphere than Detroit and Grand Rapids, which is enhanced by its agricultural surroundings and proximity to Sleeping Bear Dunes National Lakeshore.
If you're looking for an outdoor ceremony or enjoy the backdrops of rolling fields, sandy beaches and cherry blossoms, you're sure to feel at home in Traverse City and the surrounding area. Consistently recognized for its "small town" feel, Traverse City is also known for its up-and-coming craft beer industry and foodie cuisine inspired by its readily-available fresh produce. This is the ultimate spot for a "true north" Michigan wedding.
For local Traverse City vendors, check out:
Check out more Michigan wedding inspiration here.