8 Things No One Tells You About Getting Your Marriage License
Ready to make this thing official?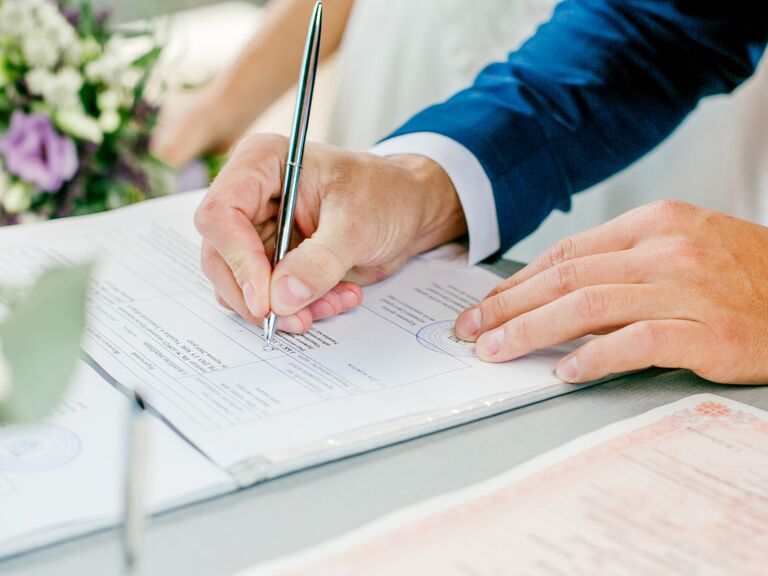 Shutterstock
There are some things you just won't learn until it's time to apply for a marriage license. Maybe you used to think of it as a boring old legal document, but it's so much more than that—it's the final big step before you really do this thing. From potential fees to unexpected feelings, these are the marriage license experiences no one talks about.
1. You Might Actually Forget You Need to Get It
Between cutting the guest list, wedding ring shopping, choosing your appetizers and deciding on flower colors, it's surprisingly easy to forget you actually have to get married on paper. Add this super-important task to your wedding checklist to make sure it doesn't slip your mind.
2. The Requirements Differ by State—and Even County
The marriage license process and requirements in Connecticut are different from those in Iowa. In fact, they can vary by county. Once you know in which municipality (city, district and county) your nuptials will take place, find out where you need to go get your license (city hall, the city or town clerk's office, the marriage license bureau?), how much waiting time is required and which documents you'll need. (The internet will be your best friend here.)
3. You'll Kind of Feel Like You Have Homework
Finding out exactly which personal documents and actions are required to get a license in your wedding location will take a bit of research. Do your due diligence to make sure everything goes smoothly when it's time to apply.
Then, depending on which personal documents your marriage location requires you to bring, you'll likely find yourself digging through old files or even calling your parents to get your hands on things like your social security card, birth certificate, your parents' birth locations and your officiant's personal info.
4. It Could Cost a Little Money
While you can't put a price on love, some states require a fee to obtain your license. Kind of a drag, we know, but it won't be an outlandish amount (if any)—and it's an absolutely necessary one.
5. Timing Is More Important Than You Think
Running to get your license last minute—as in, a day before your wedding—might not fly. Some states require a several-day waiting period between granting the license and saying "I do." And this goes the other way too: Many marriage licenses are only valid for a window of time—anywhere between 10 days and one year—during which you must have the ceremony, sign the license (together with your officiant) and file for a certified license and marriage certificate.
6. It Can Be Unexpectedly Emotional
Don't be surprised if you get so giddy you find yourself blurting out, "We're getting married!" to the people next to you while waiting for your names to be called. And even if you're not a crier—and despite the fact it isn't even your wedding day yet—you might start getting emotional when the time comes to sign on the dotted line. Seeing the legal document that validates your marriage is an incredibly exciting moment, so soak it all in (and bring some tissues just in case).
7. One Application Question Might Catch You Off Guard
With emotions running high, it's best to avoid making major decisions on the spot. So, if you haven't discussed changing your name(s) yet, you should before you file for a marriage license. The easiest way to get a new moniker is by signaling that you want one on your application (there's a box for it). Of course, it won't be official until after your wedding day, and you'll probably have other paperwork to complete. For that, services like HitchSwitch come in clutch.
8. You're Going to Want a Marriage License Pic
Okay, this isn't required—but a shot of you two outside the courthouse with your officially official license will feel so right, even if it's just an impromptu selfie. Plus, it's a fun moment to share with your friends and fam too. Our advice? It never hurts to wear something you don't mind being photographed in.