The Wedding Trend You're Going to See Everywhere This Year, Courtesy of 'Bridgerton'
Lady Whistledown would agree.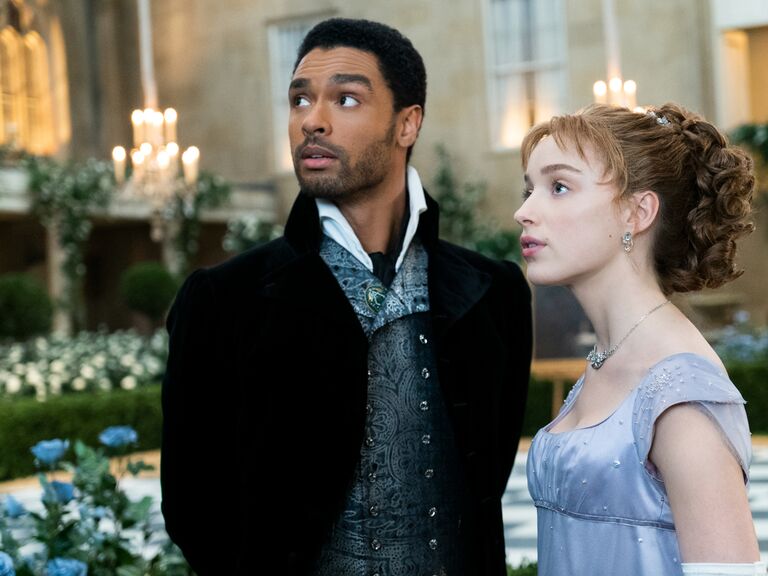 Courtesy of Netflix
Dear Reader, a new trend is about to take the wedding scene by storm. With the Netflix series Bridgerton capturing the attention of millions, we predict monochromatic weddings will be everywhere in the coming year—all because of the final ball. It wasn't the lush greenery or chic checkerboard dance floor that stole our hearts at this event, it was the color scheme. Periwinkle blue dominated the screen: from the flowers to the decor to the outfits worn (both the hosts' and the guests').
Not only do monochromatic weddings look incredible on camera, they also encourage your guests to actively participate in your nuptials (a welcome change given the current situation). "Everyone is looking to participate post pandemic," says Jenn Johnson, owner of Epic Presentations. "When we get there, everyone will want to dress up, show up and be part of the amazing look and feel you're going for." However, there are benefits to a monochromatic wedding even if you're having a COVID wedding, minimony or elopement. The singular color choice can streamline the planning process and take extra decisions out of the equation. If you're interested in stealing the style, we have expert tips on how to pull off the ultimate one-color wedding.
What is a monochromatic wedding?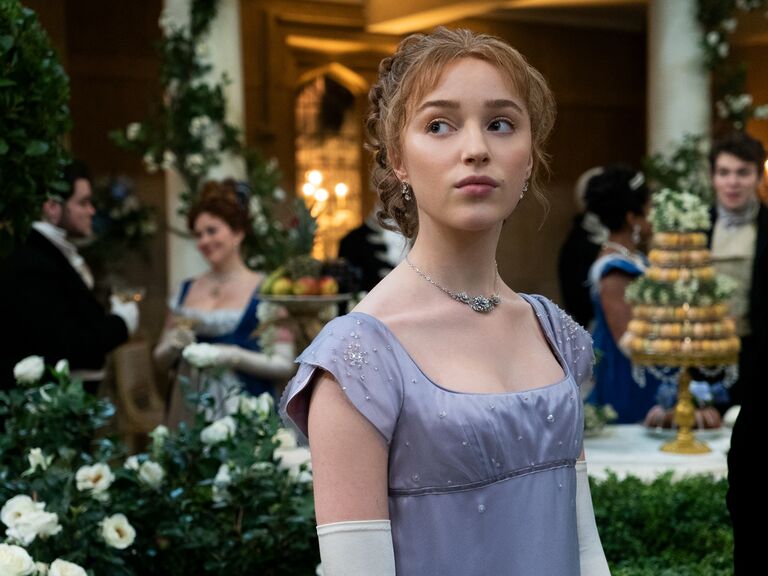 "A monochromatic event is one where the design is based in one color and filled with the tones, tints and shades of that same color," explains Jove Meyer, owner and creative director of Jove Meyer Events. Many couples often elect to use complementary hues for their nuptials, like emerald and ruby or navy and gold. A monochromatic wedding focuses on just one color, which is included throughout the event, from rentals, florals, decor, food and even wardrobe (both the couple's and the guests').
It's a common misconception that a one-color wedding might be boring, but Meyer says that couldn't be further from the truth. "One color could never be boring, as colors have many tones and varieties to work with," he says. "Color can be used in so many ways, big or small—just be sure it makes you happy and works well in your wedding space."
How 'Bridgerton' Mastered the Wedding Trend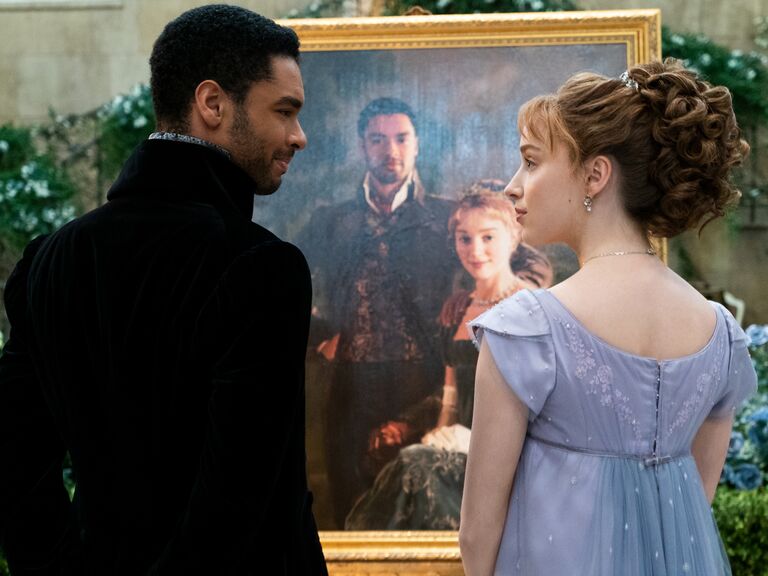 While monochromatic weddings aren't new, Bridgerton's blue-themed ball was a flawless, modern execution of the trend. Desireé Dent, owner of Dejanae Events, says what made the event such an aesthetic accomplishment was the color choice. "The monochromatic success of the Duke and Duchess' ball was in the airiness of the design," she says. "The blue color palette was soft and elegant, but I loved how the color popped against the outdoor setting."
However, it wasn't just the color choice that wowed event planners everywhere—it was also the creative way in which the color was used. "The periwinkle was used in various shades, tones and tints so the eye had places to travel," Meyer explains. "Variation is key to monochromatic events, as variation allows for texture and character diversity when working with one color." Between the hosts' and the guests' clothing, the jewelry, the table linens, the flowers and the space itself (even the staircase and roof were shades of periwinkle), the event serves as an example of how to expertly incorporate different tones of your chosen color.
How to Pull off the Ultimate Monochromatic Wedding
Dreaming of your own monochromatic wedding? Here's how to do plan one flawlessly, according to experts.
Select a Color You Love
If you're hoping to plan a monochromatic wedding, you'll choose a color first. It may seem overwhelming to narrow your choices down to just one hue, but it can be done. One approach is to use your wedding date as a guide. "The spring speaks to softer tones, while fall smiles upon rich and vibrant tones," Dent says.
Johnson suggests gathering as much inspiration as possible by watching shows or movies that have big events in them. She says couples can also look through the colors on Pantone to see all of the options available. Then, she recommends considering your favorite colors. Or, you can consider how certain colors make you feel: "How would you feel immersed in a certain color?" she asks.
Another way to narrow down your options is to pull inspiration from your everyday life. "Look at your clothes, your home decor, the things that make you both smile," Meyer says. "Find the underlying color from those items, and go from there." Not only will it make you happy to see that color on your wedding day, it's also a wonderful opportunity to personalize your nuptials. Everything—from the decor to the flowers to the dress code—will tell your love story in a creative, authentic way.
Of course, these are tactics to narrow down your search if you can't decide. If you have a color in mind, Meyer encourages couples to go for it. "I'm a big fan of designing around what makes you and your partner happy."
Communicate Your Vision to Your Vendors
Telling your vendors you want a monochromatic wedding may seem simple, but experts say you need to be as specific as possible. For example, saying you want a "blue wedding" leaves the color choice up to interpretation. It's much more helpful to your vendors if you specify what shade of the color you're envisioning (periwinkle, for example).
"I highly suggest creating a mood board or saving your photos in file that can easily be shared with a vendor," Dent says. With visuals available, your vendors will gain a better understanding of the look you're going for.
It's helpful to go beyond the name of the color too. "Think of words [the color] evokes to you—what it makes you feel and why," Meyer says. Write those down and gather images so you can show your team what you have in mind. Don't forget to pull a few other iterations of the color you love either. "Remember: In monochromatic designs, the beauty comes in the shades, tints and tones of the color, so don't be afraid to let them shine."
Another pro tip is to choose a color before you select your venue. That way, you can have it in mind while you look at the coloring of your event space (including everything from the walls to the ceiling to the floors). Assessing the lighting situation is crucial too. "You don't want the darker tones and tints to disappear in the space when the sun goes down, so lighting them will be crucial," Meyer says.
Incorporate the Color From Start to Finish
Once you've selected your wedding color, use it from top to tail. Start by incorporating the hue into your stationery (both save-the-dates and invitations) as well as your wedding website. Go the extra mile by utilizing the tone at all of your pre-wedding events, such as your wedding shower, bach party, and rehearsal dinner. Once your guests arrive at your nuptials, they'll have a clear understanding of your monochromatic vision.
Give Your Guests Direction
If you've finalized your decor and flowers, the last step is confirming your guests' attire. "The dress code is crucial for a monochromatic party to be fully one color, so ask for what you want," Meyer says. "Be clear yet kind."
Dent says there are two places you can notify your guests of the dress code. She recommends making a small note of your expectations on your wedding invitation so your guests have time to plan their outfits. "You could easily state the color and add 'attire' [to enlighten your guests]," she says. For example, include a line at the bottom of your invitations that says "all white attire."
The second place to remind guests of your desired dress code is your wedding website. Here, Johnson says, you can get more specific. "Have a place on your website where you can show pictures of the encouraged style for the evening." As you did with the wedding vendors, use words and descriptions to help your guests understand your vision.
Finally, Meyer says it's important to be mindful of the formality requests if you're asking for particular colors. "If you want to go monochromatic, consider not having a black-tie dress code, as tuxedos are not easy to find in colors outside of black, white and navy blue," he says. "If you go formal or dressed down from there, suits come in all colors, making it easier on your guests." The same goes for guests who might wear dresses or jumpsuits.
Incorporating different shade options will help your guests too. Be sure to include those on your wedding website so your guests don't feel stressed about matching your chosen color perfectly. With everyone's outfits coordinated alongside the decor, you'll pull off a flawless monochromatic wedding. The resulting pictures and video footage will look downright gorgeous—just watch the final Bridgerton ball again if you don't believe us.