13 Ways to Customize Your Dance Floor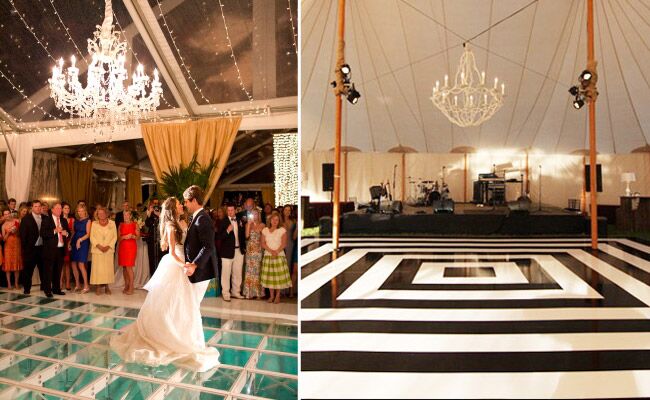 Your dance floor is the perfect spot to do a little custom work. You can go all out (like the over-water dance floor below!) or you can keep it simple. Personalized vinyl decals, Gobo lighting and and a few creative materials can transform any space into a dance party.
An Over-The-Pool Dance Floor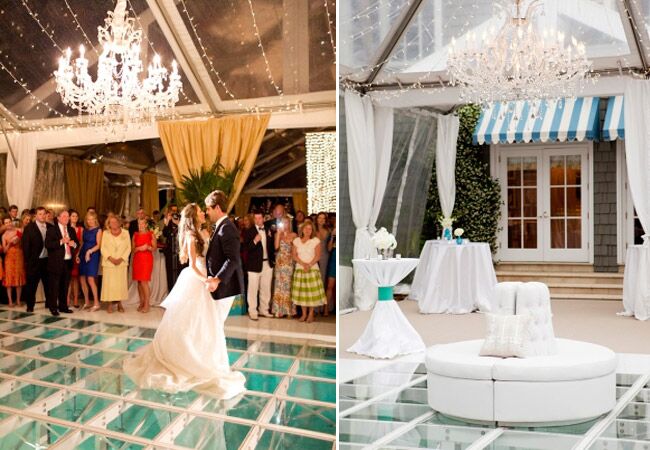 Photo: Laura Negri Photography
Water in your way? Make the most out of an outdoor reception space by covering the pool in acrylic flooring and dancing on top!
Roses Projected Over The Dance Floor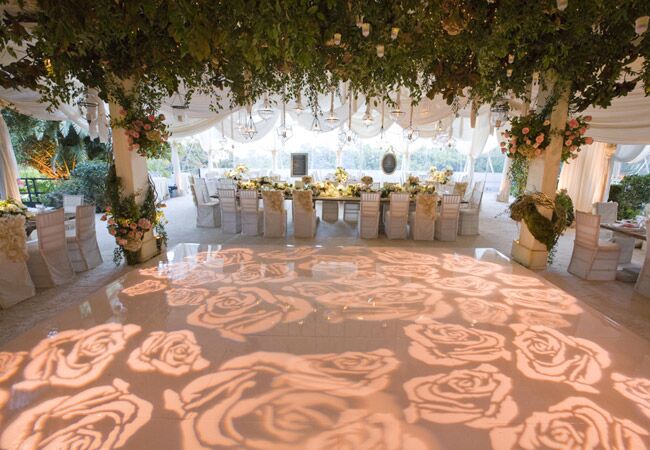 Photo: Simone & Martin Photography
Projection lighting doesn't have to be cheesy. Mindy Weiss designed a soft floral pattern to complete the look for this garden wedding.
Black and White Custom Dance Floor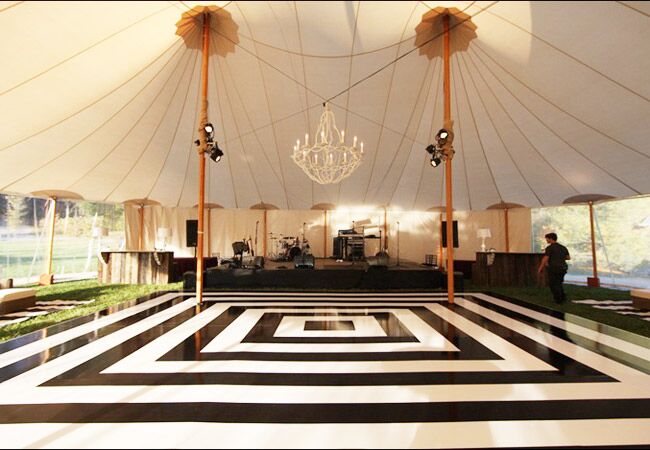 Photo: The Skyline Tent Company
Underneath a massive tent, this couple decided to mix up the traditional black and white checked dance floor with a crisp geometric design.
Starry Night Dance Floor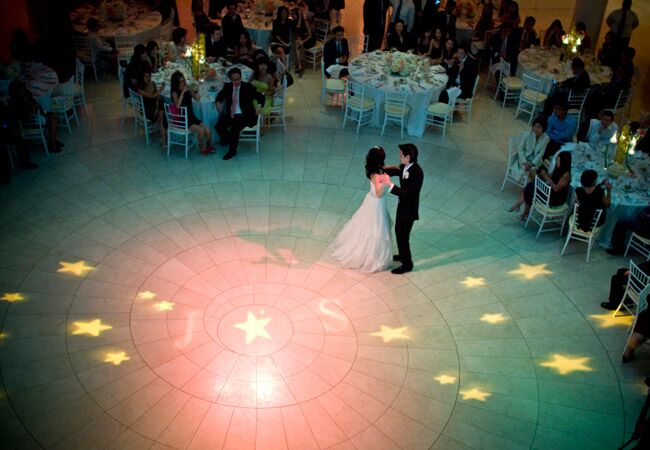 Photo: John and Joseph Photography
Gobo projection lighting can create fun details like the monogram and simple constellation seen here. (See all photos from the wedding)
Wordy Decal Dance Floor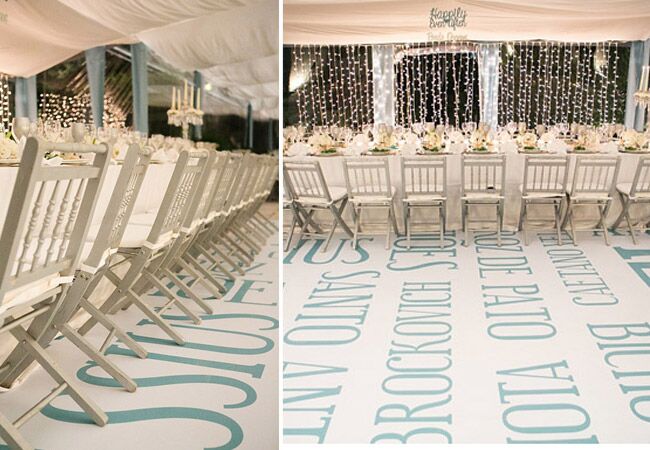 Photo: Zara Zoo
Think about the possibilities! Choose colors that match your wedding style and words that sum up your relationship. (This one captures the Portuguese couple's love story.)
LED Dance Floor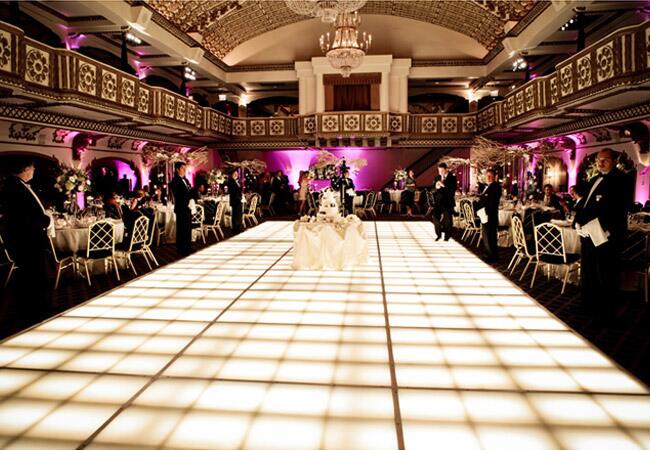 Photo: Gerber and Scarpelli Wedding Photography

Dance floor lighting gets a bad rap, but an all-white illuminated floor is elegant and modern!
Rustic Painted Patterned Wooden Dance Floor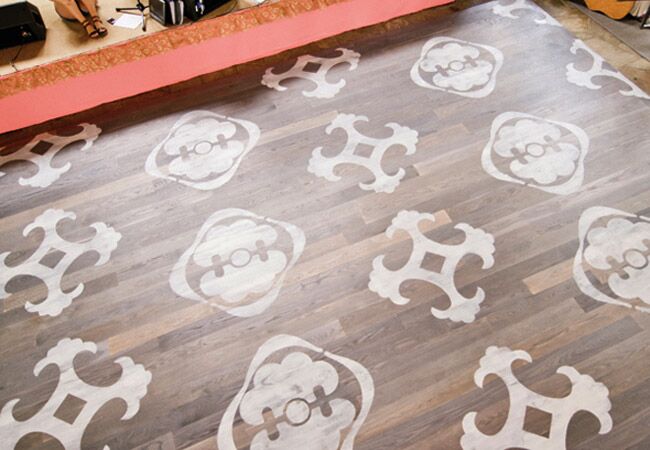 Photo: Harwell Photography
In addition to a custom stage, this Southern couple had a pattern painted on top of their outdoor dance floor.
Striped Vinyl Dance Floor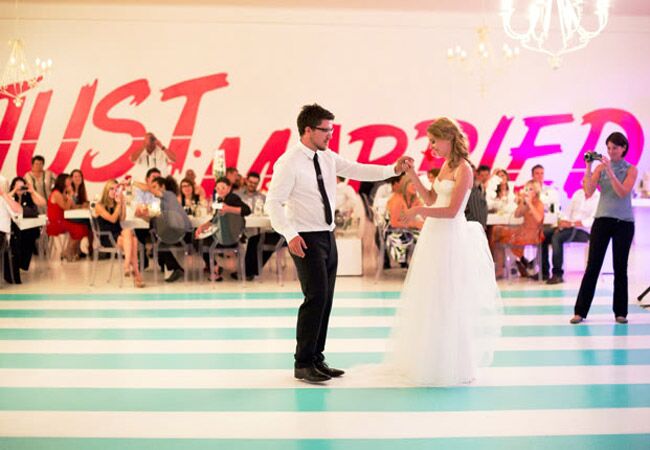 Photo: We Love Pictures
Vinyl stripes in the wedding's signature colors make this dance floor pop!
Circular Acrylic Dance Floor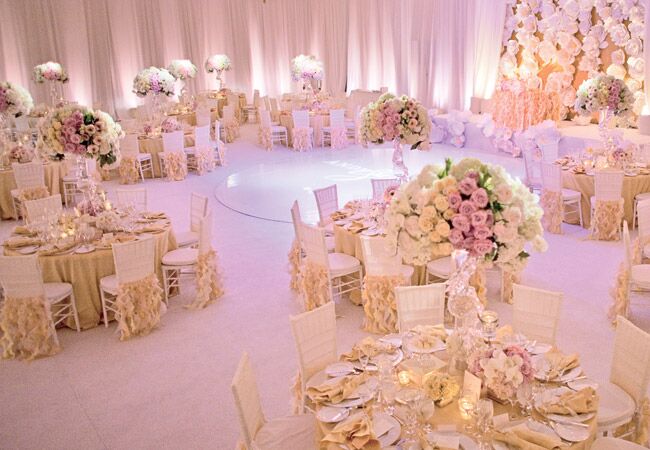 Photo: John & Joseph Photography
Experiment with the shape of the dance floor. A circular one is placed right in the center of this luxe indoor reception. (See all photos from the wedding)
Custom Decal Dance Floor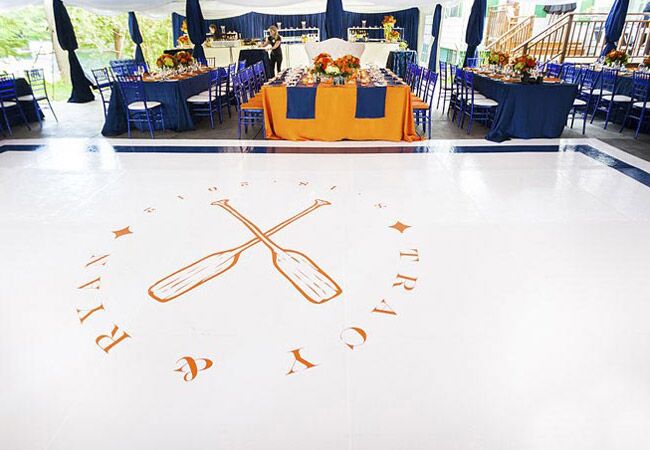 Photo: Rowell Photography
A vinyl decal on the dance floor can speak to a couple's personality and a reception's style.
Nautical Design Dance Floor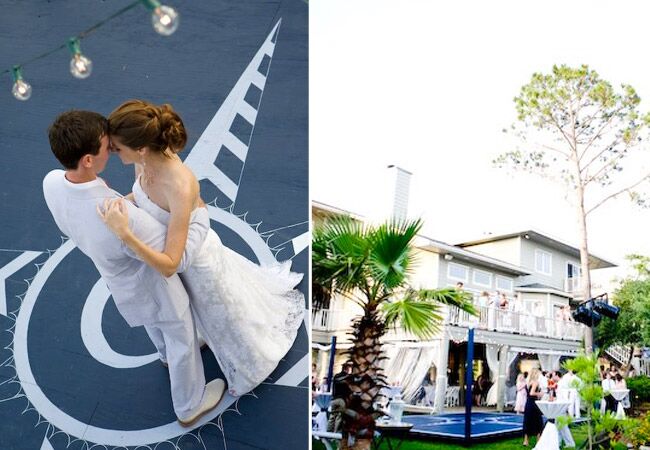 Photo: Sara Gillianne
Incorporate your wedding theme into the design of the dance floor, as this couple did with a nautical compass at their backyard wedding.
Twinkling LED Dance Floor
Photo: Gertrude & Mabel
For a romantic starlit night, go for a dance floor full of twinkling LED lights!
Bright Blue Acrylic Dance Floor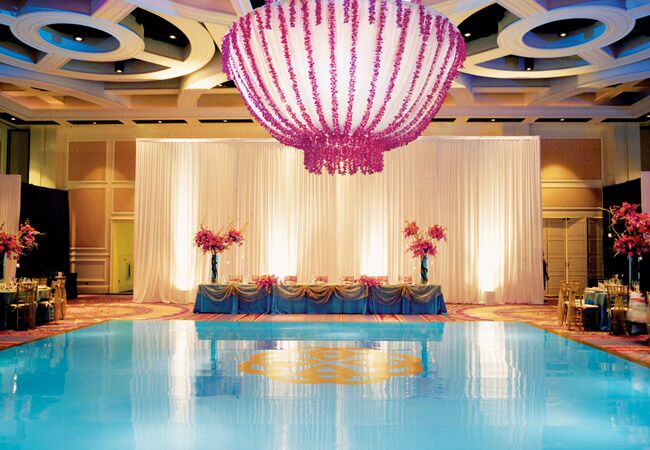 Photo: John J. Unrue Photography
Think outside the box when it comes to colors. This bright blue and gold dance floor pops under an impressive orchid-draped light. (See all photos from the wedding)

See more ways to make your reception ready for a dance party!
> Watch what happened on this crazy dance floor
> Check out how one event designer customized a dance floor
> Plan the perfect party with this reception timeline