25 Custom Wedding Dance Floor Ideas to Inspire Dancing All Night Long
Make a custom dance floor the focal point of your wedding reception with one of these magical ideas
Set the stage for your first dance and an evening of celebration with one of these magical wedding dance floor ideas. Custom dance floor decals, overhead decor, lighting effects and wedding dance floor rentals make it possible to create a custom dance floor that fits with your wedding style and decor.
Whether you're customizing the dance floor at a wedding venue or looking for an outdoor wedding dance floor solution, we've rounded up lots of ideas to make your dance floor an exciting focal point of your event space.
Wedding dance floor ideas in this article:
Wedding Dance Floor Rental Ideas
If your wedding reception space requires that you have a dance floor installed, don't worry. Wedding dance floor rentals have come a long way this past decade, so you have lots of looks to choose from.
1. Black and White Checkered Pattern
Here's an unusual boho-chic decor look. A classic black and white checkered dance floor is paired with black furnishings and natural-colored decorations including wicker and grasses and suspended fixtures over the dance floor.
2. Graphic Black and White Design
Mix up the traditional black and white checked dance floor with a crisp geometric design.
3. Rustic Checkered Dance Floor
Another more subtle variation on the classic checkered floor is to make a pattern with light wood and white tiles. Perfect for a rustic chic wedding style.
4. Circular Acrylic Dance Floor
Experiment with the shape of the dance floor. A circular one is placed right in the center of this luxe indoor reception.
5. Bright Blue Acrylic Dance Floor
You can experiment with colors of acrylic, too, for your dance floor rental. Layer on a custom decal on the center to customize it further.
Outdoor Wedding Dance Floor Ideas
Outdoor weddings are certainly popular these days, and the good news, there are lots of creative ways to integrate an outdoor dance floor.
6. An Over-the-Pool Dance Floor
Water in your way? Make the most out of a reception space with a swimming pool by covering it in acrylic flooring for a wow-worthy outdoor wedding dance floor!
7. Area Rugs for an Outdoor Wedding Dance Floor
For an eclectic, rustic or bohemian wedding style, scatter area rugs over the ground for a beautiful outdoor wedding dance floor that's also soft under the feet.
8. Dark Wood Dance Floor Tiles on Grass
For an outdoor wedding dance floor, large rustic dark wood tiles look amazing laid on top of grass.
9. Rustic Painted Patterned Wooden Dance Floor
In addition to a custom stage, this Southern couple had a pattern painted on top of their outdoor dance floor.
Wedding Dance Floor Decorations
Decorations are a great way to put a focus on your dancefloor. Here are a few of our favorite ideas.
10. Multiple Disco Balls
Nothing says dance party more than a disco ball! Hang multiple disco balls in different sizes and colors for a dazzling effect.
11. Neon Signage and Globe Lights
Use some neon signage and globe lights along with a graphic patterned dance floor design to create a party vibe.
12. Paper Lantern Dance Floor Decorations
Another easy and impactful dance floor decoration is to hang paper lanterns in your wedding colors overhead.
13. Papel Picado Decorations
Set the scene for celebration with papel picado strung over the dance floor.
14. Indoor Fireworks
Add some extra sparkle to your first dance with indoor fireworks along the edge of your dance floor. P.S. The suspended greenery arrangement adds another stunning decorative element.
Custom Dance Floor Wraps
Over the past decade, vinyl dance floor wraps have become a popular way to create a custom dance floor. From designating your dance floor area with plain vinyl applied to the floor to a custom printed design, the possibilities really are endless.
15. Floral Dance Floor Wrap
Here's a gorgeous vinyl dance floor wrap design. A floral graphic on a white dancefloor with rose gold border complements the fresh wedding flowers.
16. Paddle Monogram with Blue Border
A custom vinyl dance floor wrap can reflect a couple's personality and reception style like this paddle design.
17. Nautical Design
Incorporate your wedding theme into the design of the dance floor, as this couple did with a nautical compass at their backyard wedding.
Custom Dance Floor Decals
If you don't need to completely establish a dance floor area with a vinyl wrap, but would like a custom element, simply decorate it with a graphic decal.
18. Wedding Monogram Dance Floor Decal
Dress up the center of the floor with a custom dance floor decal of your wedding monogram for a gorgeous focal point.
19. Floral Dance Floor Decal
This wedding decor featured a full-color floral monogram design to complement floral arrangements decorating the chandeliers.
20. Meaningful Words
Think about the possibilities! Choose some meaningful words and have a vinyl decal made to decorate your dance floor.
Wedding Dance Floor Lighting Ideas
Use lighting effects as a great way to customize a dance floor. Rather than physically adding a monogram to the floor you can project it. LED dance floor tiles also offer a glowing surface that's pretty magical.
21. Projection onto the Dance Floor
Projection lighting doesn't have to be cheesy—especially if it's lighting projected on a wooden floor. Create a decorative pattern along with your names for an interesting effect
22. Starry Night Dance Floor
Gobo projection lighting can create fun details like the monogram and simple constellation seen here.
23. Square LED Dance Floor Tiles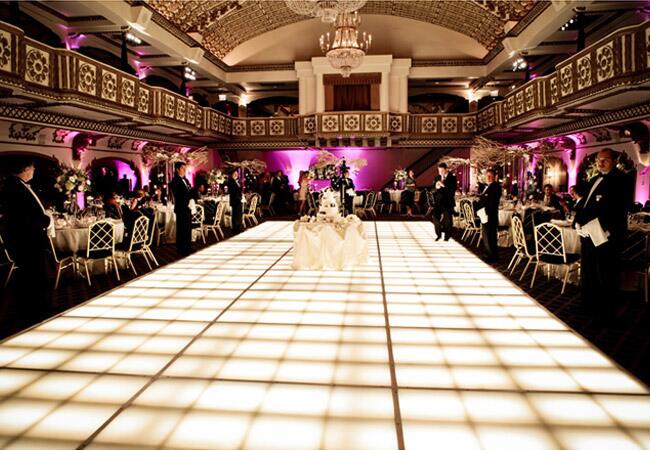 LED lighting has come a long way and so have the design options. An all-white illuminated floor is elegant and modern!
24. Graphic Pattern
We love the effect of these tiles with one glowing edge.
25. Twinkling LED Dance Floor
Or, for a romantic starlit night, go for a dance floor full of twinkling LED lights!