The Definitive List of the Most Romantic Restaurants in Los Angeles for Every Occasion
Turn up the heat on your next date night in the City of Angels.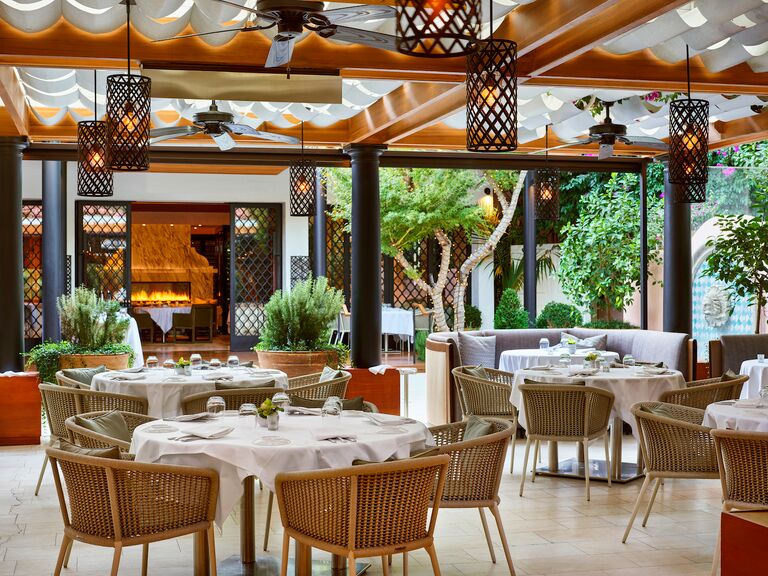 Photo: Hotel Bel-Air

We have included third party products to help you navigate and enjoy life's biggest moments. Purchases made through links on this page may earn us a commission.
Los Angeles is one of the most spectacular cities in the world, famed for Hollywood charm and its stunning beaches. Not simply a dreamy setting for exploring, soaking up culture and celeb-spotting, LA is also a great place to celebrate love—and the most romantic restaurants in Los Angeles come in all shapes and sizes to guarantee the perfect setting, no matter the occasion. From spots with dazzling views primed for an out-of-this-world proposal to intimate settings that are perfect for a romantic Valentine's Day feast, there really is a date night idea for everyone. Take a look.
The Knot's Top Picks for Romantic Restaurants in Los Angeles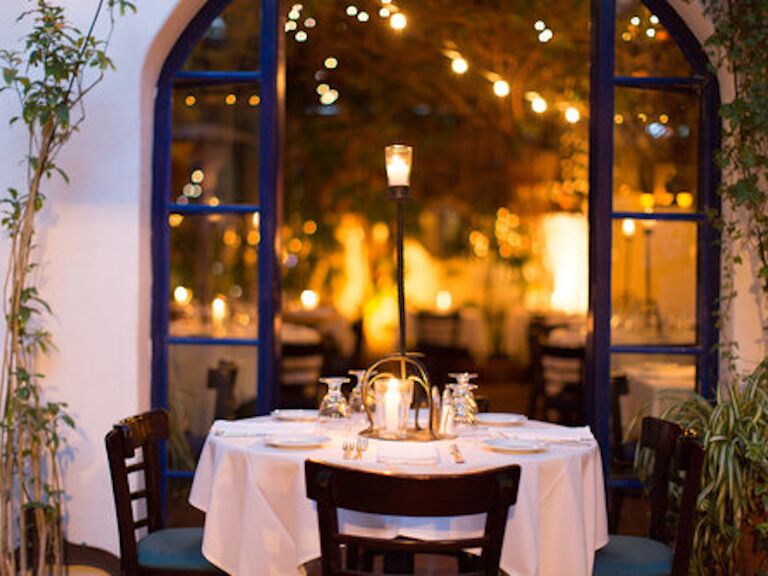 To help narrow down your options, we've rounded up the best of the best.
The Most Romantic Restaurant in Los Angeles: 71Above
Favorite Date Night Restaurant in Los Angeles: The Little Door
Best Romantic Sushi Restaurant in Los Angeles: Nobu Malibu
Romantic LA Restaurant with the Best View: Castaway
Best Romantic Restaurant in Downtown Los Angeles: Perch LA
Cozy Valentine's Day Restaurant in LA: Mirate
Read on for our complete list of the 23 most romantic restaurants in Los Angeles.
71Above, Los Angeles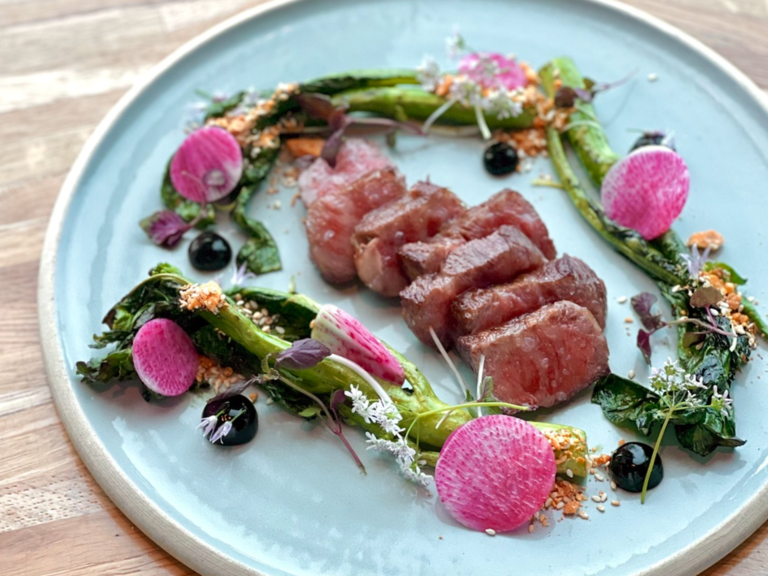 Arguably the best skyscraper-topping restaurant in LA, 71Above is quite something. A whopping 71 floors up in the US Bank Tower, the views here are not for the faint of heart. Perfect for a celebratory meal, this one will be hard to beat. From its views and unquestionable "wow" factor to its rich and sumptuous menu, all that's left to enjoy is yourselves. We recommend grabbing a seat at the bar to capture the best sunset views and trying the poached oysters and steak tartare.
633 W 5th St 71st floor, Los Angeles, CA 90071
Bacari Silverlake, Sunset Boulevard
Nothing screams charm more than a family-owned restaurant, and Bacari Silverlake is just that. The fifth restaurant from the Kronfli brothers, everything feels personalized and carefully curated throughout, from its rotation of craft cocktails, small-production wines and variety of beers to its Venetian-inspired and Mediterranean-influenced small plates by Chef Lior Hillel. All of that paired with a beautiful garden and deck area makes this one a great little date night spot.
3626 Sunset Blvd., Los Angeles 90026
Castaway, Burbank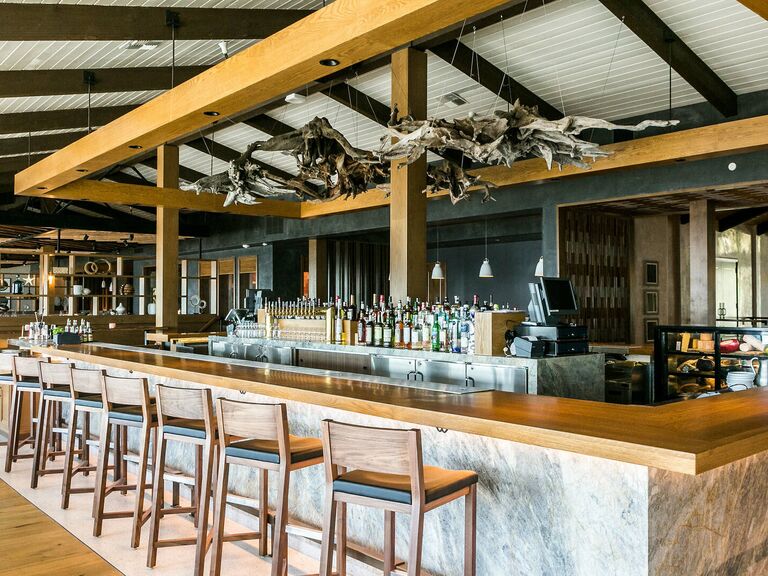 Castaway offers a sprawling view of the Valley from a few hundred feet above ground. A hillside retreat with wholesome plates of food, this is a country club with some serious style, doubling up as a charming space for dinner with a loved one. Choose between soaking up the views from the patio or booking a space in the highly sought after Green Room. Either way, we recommend enjoying a glass of red with one of the restaurant's much-loved charcuterie boards before digging into a main dish of whole roasted fish.
1250 E Harvard Rd, Burbank, CA 91501
Merois, West Hollywood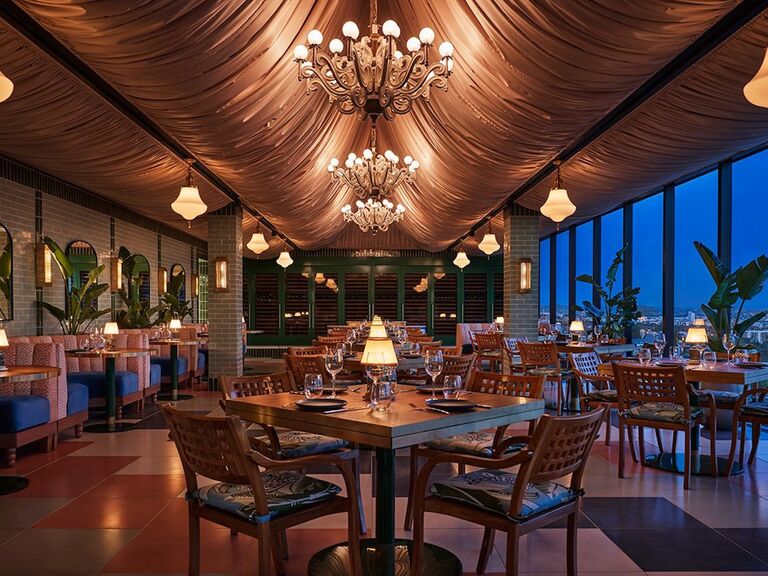 Fine dining at its best, Wolfgang Puck's Merois has all the ingredients for a memorable romantic dinner in LA. Serving up French-Californian fusion dishes with a healthy dose of Japanese and Southeast Asian flavor, the restaurant also offers bold and beautiful interiors. If you're looking for a cool restaurant to take a date to, Merois has created a foodie haven with breathtaking views to match.
8430 Sunset Blvd, West Hollywood, CA 90069
Terra, Santa Monica Boulevard
Did someone say rooftop restaurant? Though not your average rooftop location, Westfield Century City mall is quite the place for a date. Think picturesque patio space with bulb lights, olive trees and a wood-burning oven and grill for dreamy outdoor dining with a view. Serving hearty, homemade Italian favorites paired with gin cocktails aplenty, Terra is a fancy restaurant and bar promising intimacy, views, romance and even a gelato cart for dessert.
10250 Santa Monica Blvd, Los Angeles, CA 90067
Saffy's, East Hollywood
Born from a legacy restaurant genius, Saffy's is the third hotspot from Chefs Ori Menashe and Genevieve Gergis of Bestia and Bavel. Their newest addition, Saffy's, boasts a more casual take on Middle Eastern classics. The intimate seating in one of the restaurant's gold banquettes is ideal for those looking for a relaxed date night with sharing plates that are full of rich flavors.
4845 Fountain Ave, Los Angeles, CA 90029
Perch LA, Downtown
This LA bistro is a designer's dream, with eclectic French decor, patterned tile floors and views onlooking the Central Library. With spaces designed to ensure unobstructed views of Downtown LA, it's not just "Aperitif Hour" that leaves guests feeling like they're floating along the skyline. Perch is a glamorous place to see and be seen. Soak up delicious drinks with a selection of French-inspired small plates and let Perch's jazz music and DJ sets seal the romantic deal.
448 S Hill St, Los Angeles, CA 90013
Mirate, Downtown
Who doesn't love the new kid on the block—even better, a new kid with a dreamy open-air dining room. Mirate has been compared to an enchanted forest, with towering trees overhead and a multitude of nooks and crannies for cozy hideouts. Perfect for date nights or special romantic celebrations, this restaurant's Baja-inspired menu has all the best in taco goodness thanks to head chef Joshua Gil. Add in some tequila cocktails and a glittering bar, and you're all set.
1712 N Vermont Ave, Los Angeles, CA 90027
Geoffrey's Malibu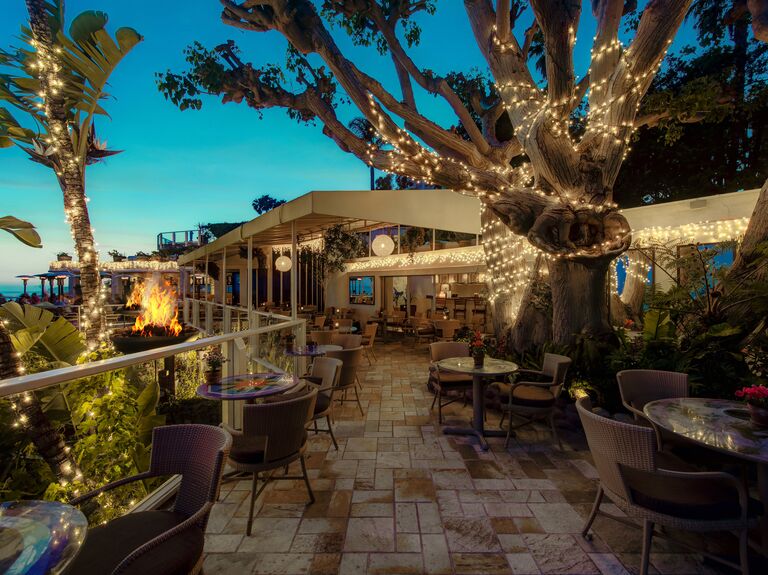 Another one with views to die for, Geoffrey's Malibu is as exclusive as they come, offering the best in Californian cuisine in a setting with sunset views that dreams are made of. Positioned right at the Pacific's edge, this is a high-profile indoor dining restaurant that brings sea views directly to its guests—and from every angle. Serving American classics done right, Geoffrey's Malibu is renowned for seafood and steak, with a smattering of other options for guests wanting to branch out. Name a better spot for a memorable anniversary dinner… we'll wait.
27400 Pacific Coast Hwy, Malibu, CA 90265, United States
Mar'sel, Rancho Palos Verdes
Palos Verdes is luxurious in every sense, and one of its restaurants, Mar'sel, is exactly the kind of reservation that should be made for those looking to give their date an extra special experience. With breathtaking views and an exquisite menu, Mar'sel offers vistas of the stunning Catalina Island and PV shoreline. While better suited to those looking to splash out some cash, there are still some items on the menu that aren't super pricey.
100 Terranea Way, Rancho Palos Verdes, CA 90275
The Restaurant at Hotel Bel-Air, Los Angeles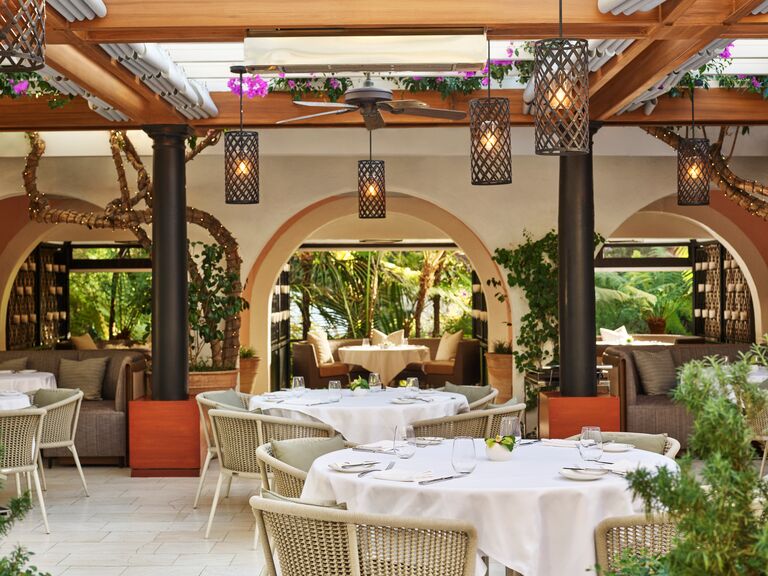 The Restaurant at Hotel Bel-Air's Mediterranean-influenced menu serves delicious flavors in an iconic venue that originally opened in 1946. Guests can settle into a booth on the patio overlooking luscious gardens and tuck into an array of old and new favorites—think hand-cut tagliatelle with truffles and veal schnitzel. While it's worth mentioning that this glamorous classic comes with a matching price tag, the restaurant exudes fairy-tale vibes at every turn. A live pianist and a stroll by the infamous Swan Lake make it a super-romantic spot.
701 Stone Canyon Rd, Los Angeles, CA 90077
Catch LA, West Hollywood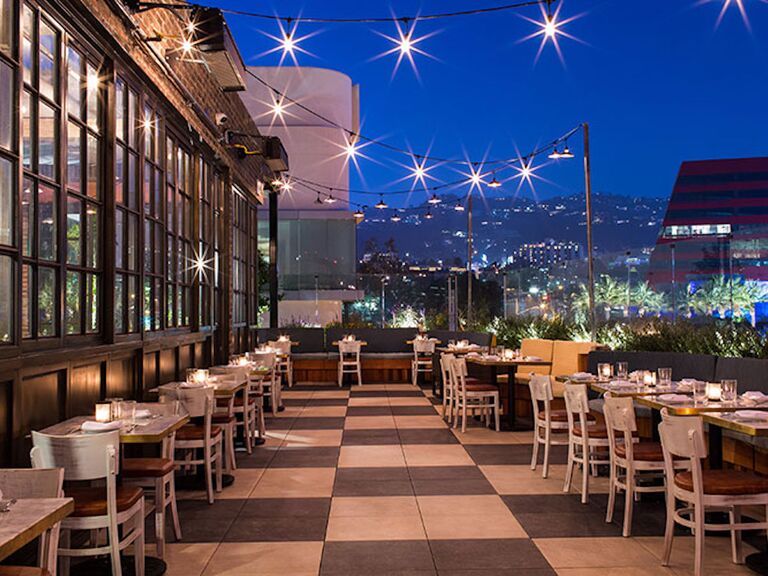 Lively, bustling and brilliant, Catch LA is a date night experience to remember. If you're in the business of seeking the very best places to see and be seen, then this is the spot for you. Combining open-air dining with a retractable roof, a signature open kitchen and breathtaking views of the Hollywood Hills, Catch serves up delectable plates of seafood and sushi with Asian flair. Catch LA is also known for its nightlife, so after a world-class dining experience, you can take to the bar for your favorite tipple.
8715 Melrose Ave, West Hollywood, CA 90069
Soulmate, West Hollywood
What's in a name? Well, in this case, everything. Sultry, dimly lit and yet energetic in atmosphere, Soulmate is the perfect go-to for everything from a first date to a romantic anniversary dinner. Serving small plates of Spanish-Mediterranean goodness, this West Hollywood spot is intimate, stylish and delicious. Beautifully designed with olive trees and vines overhead, it's also perfect for capturing some cute snaps with your bae.
631 N Robertson Blvd, West Hollywood, CA 90069
Sant'olina, Beverly Hills
Another restaurant of Mediterranean excellence, this stunning open-air establishment is a complete treat with sunset views to impress even the most well-traveled guests. Boasting a curtain of glistening lights that comes to life at night, this truly is one of the most romantic spots in the city. Depending on which night of the week you visit, you can enjoy everything from happy hour to live Greek music.
9876 Wilshire Blvd, Beverly Hills, CA 90210
Hinoki and the Bird, Century City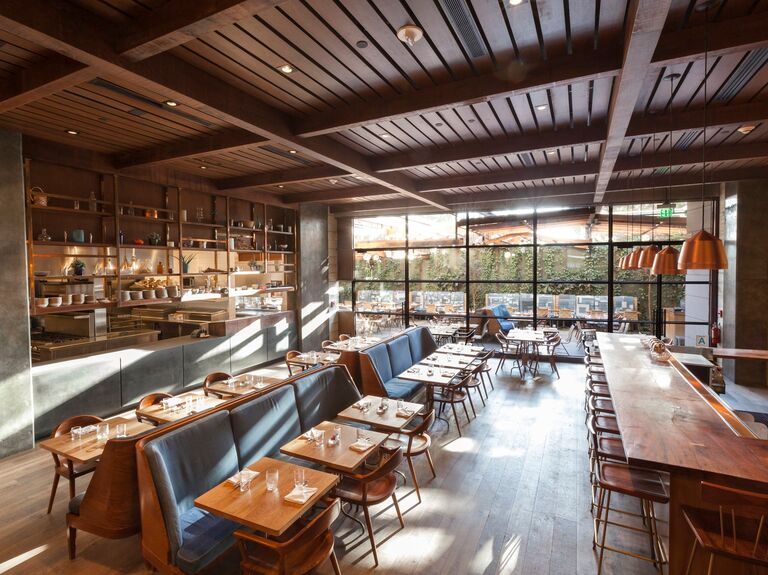 A low-profile spot with truly stunning views, Hinoki and the Bird specializes in thoughtfully designed intimacy, and has been creating innovative new American dishes since 2016. A firm favorite amongst locals, the garden-like setting is a beautiful sanctuary to enjoy Hinoki and the Bird's signature dishes, which range from hinoki-scented black cod to a lobster roll in a black charcoal bun.
10 W Century Dr, Los Angeles, CA 90067
Firefly, Studio City
Fans of The Secret Garden will immediately be absorbed into the magic of Firefly's dreamy, tangled-ivy walls as they sink their teeth into its menu of modern American fine dining. Dishes like monkfish and veal meatballs are guaranteed to leave your palate suitably satisfied, and ordering the decadent butterscotch budino to share for dessert is an absolute must. A truly enchanting place, you can expect candlelit tables and sparkling lights as you stare lovingly across the table at your date.
11720 Ventura Blvd, Studio City, CA 91604
Nobu Malibu, Malibu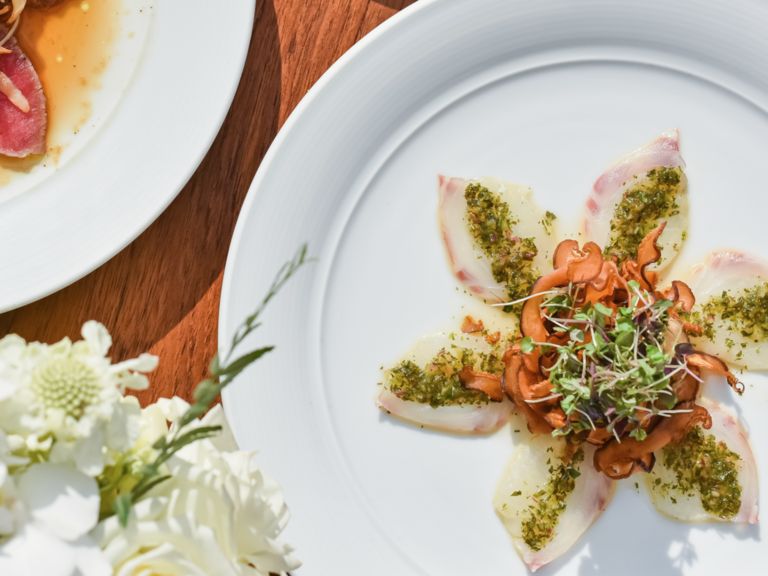 Where to start… located close to the beach with stunning interiors and equally stunning sea views, Nobu Malibu overlooks Surfrider Beach and the Malibu Pier, and its minimalist aesthetic immediately sets the scene for a calming, intimate experience. There's no point pretending this one doesn't land on the more expensive end of the spectrum, but after a taste of Nobu's signature dish, tiradito, you'll soon forget about the bill. A word to the wise: This is one you absolutely need to make a reservation for in advance.
22706 Pacific Coast Hwy Ste 18, Malibu, CA 90265-5039
Il Cielo, Beverly Hills
Described as a restaurant that will "make you weak in the knees," Il Cielo invites guests to enjoy its menu of Tuscan goodness under a canopy of sparkling lights. If that wasn't enough to spark some romance, this family-owned Italian restaurant has been thoughtfully designed to embody a "country restaurant in the city"—its bubbling fountains, charming hosts and plentiful menu certainly serve up exactly that. With a menu featuring carpaccio, risotto and pasta galore, you'll soon forget you're in the hustle and bustle of LA.
9018 Burton Way, Beverly Hills, CA 90211
Per L'Ora, Downtown
If you're looking for something with a "wow" factor, it's time to pull out the big guns and head downtown. Hotel Per La is a sight to behold, and its flagship restaurant, Per L'Ora, is even more special. Housed in a former bank, this is a building with golden-coffered ceilings, marble walls and white upholstered chairs—we dare you not to be impressed. Under the watchful eye of Chef Coutney Van Dyke, the restaurant is creating elevated Californian classics guaranteed to leave you inspired, satisfied and totally smitten.
649 S Olive St, Los Angeles, CA 90014
Ardor, West Hollywood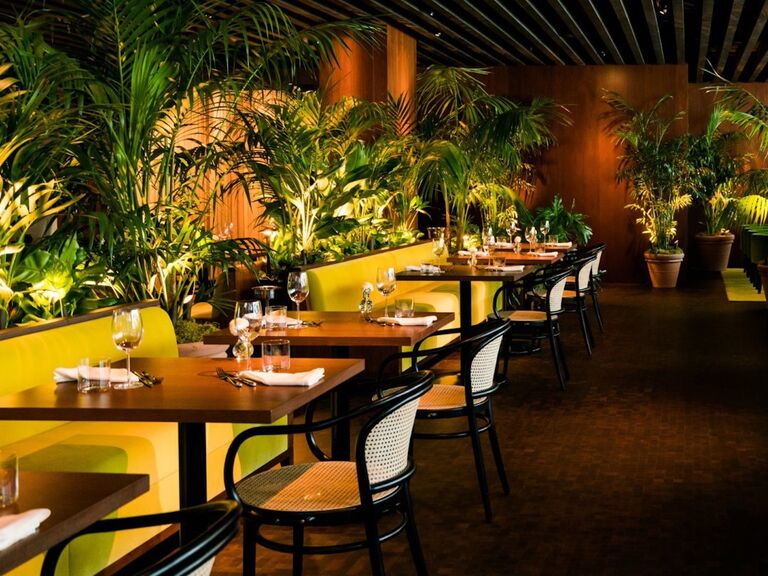 Direction: please source a photo of the restaurant
You're in West Hollywood, so it would be criminal not to indulge in a bit of the shameless Sunset Strip scene, wouldn't it? While some of the scene unavoidably slips into Ardor's offering, Michelin-starred chef John Fraser has introduced a stunning vegetarian-focused menu to be enjoyed against the restaurant's flourishing garden interior. Beautiful, locally sourced and inspired, Ardor is a gorgeously thoughtful date experience with a location and menu to remember.
9040 Sunset Blvd, West Hollywood, CA 90069
Inn of the Seventh Ray, Topanga
No matter what your understanding of Topanga is, Inn of the Seventh Ray couldn't be further from the sage-burning, crystal-healing stereotype. Romantic on every level, this wooded city escape has a stunning outdoor dining setup draped in lights, lilacs and oak trees, with a dose of incense to welcome you through its doors. Set amongst the creek with heat lamps to insert even more warmth between you and your date, every second at Inn of the Seventh Ray feels special, and that's before we've even gotten to the food. Expect locally sourced, rustic dishes like truffle risotto and oven-roasted striped bass.
128 Old Topanga Canyon Rd, Topanga, CA 90290
LA Cha Cha Chá, Arts District
Located in the Arts District, LA Cha Cha Chá has tuna tostadas, tequila and a patio lined with cacti and palm trees—you'll feel like you've ventured to Mexico during your romantic dinner. LA Cha Cha Chá is an authentic Mexican rooftop dining experience boasting good food, tasty cocktails and amazing views. One thing's for sure: If there's any heat missing from your date, ​​LA Cha Cha Chá is guaranteed to change that.
812 E 3rd St, Los Angeles, CA 90013
The Little Door, Downtown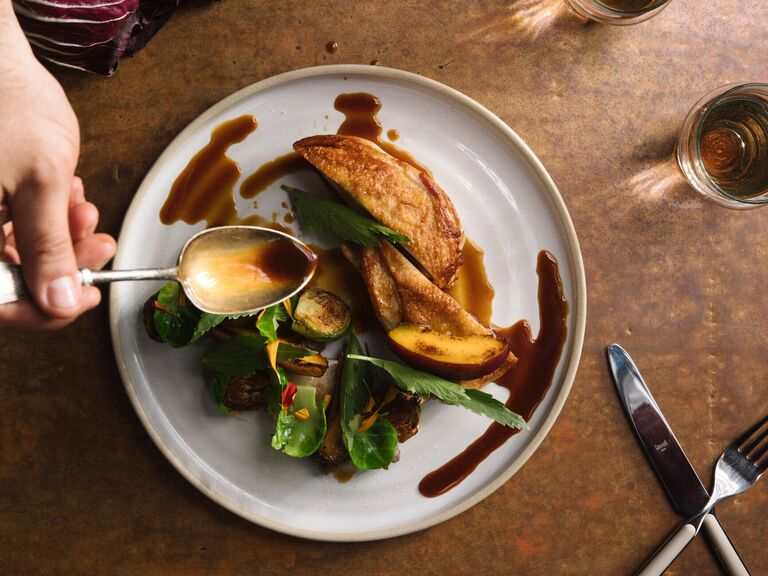 Direction: please source a photo of the restaurant
If you're looking for romance, The Little Door is a hidden gem that offers romance in spades. Candlelit, rustic and featuring a charming courtyard for canoodling, this Mediterranean-inspired eatery is dripping in romance. The popular restaurant is such a sought-after date night spot that we recommend you make a reservation beforehand. As for food, you can expect seared scallops with wild mushroom carbonara sauce, pine-nut-crusted rack of lamb with goat cheese, and other tasty goodness.
8164 W 3rd St, Los Angeles, CA 90048