How to Get Married in New York
Look to The Knot for local details about getting married in New York, from choosing your wedding venue to getting your marriage license.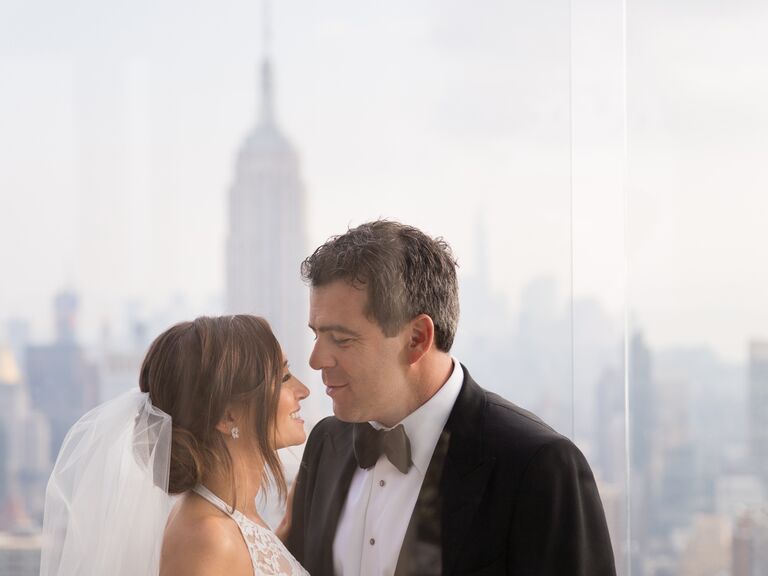 Ira Lippke Studios
We have included third party products to help you navigate and enjoy life's biggest moments. Purchases made through links on this page may earn us a commission.
From the Adirondacks and the Catskills to Lake Ontario and the Atlantic, New York is a land of diversity. The Empire State is a place where cultures meet and create the melting pot of American society. Filled with beautiful natural landscapes and exciting urban areas, New York is an exciting place to gett married. Whether you want to have a ceremony in the serene resorts and ranches Upstate or prefer something special like a New York Public Library wedding, you have plenty of New York wedding venues to choose from for your celebration. Follow your wedding checklist to make sure everything is done on time.

Can You Get Married the Same Day in New York?
When starting to find out about all the many details of how to get married in New York, you may find yourself wondering about elopements. While you can certainly have an unofficial ceremony with your loved ones at the spur of the moment, making things legal will take a bit more time. Getting a marriage license is easy enough – simply fill out the application and payment with the city clerk. You'll be handed your license within moments. Unfortunately, though, it takes 24 hours for the paperwork to become legally recognized. 
How Long Does it Take to Get a Marriage License in New York?
Getting a marriage license is simple. Gather your paperwork, including proper identification in the form of a driver's license or passport, and bring along any documentation of your divorce if you were previously married. Next, fill out your application. It's available online but will need to be printed and delivered to the Office of the City Clerk. There, you'll be asked to pay a $35 marriage license fee. You'll have your license in hand in moments.
How Can I Find a Registered Wedding Officiant in New York?
Your New York wedding wouldn't be complete without a registered officiant presiding over the affair. All officiants must be registered with the state before they can legally perform ceremonies, so you'll want to keep that in mind as you search for the perfect candidate. We offer a helpful list of qualified officiants, but if you have your heart set on a friend or family member doing the job, they'll have to get certified.
Top New York Wedding Trends
New York weddings vary as much as the couples who choose to marry in the state. According to The Knot 2015 Real Weddings Study, 94 percent of couples who wed in Long Island opt for a semiformal or formal event, as do 92 percent of Manhattan couples and 90 percent of those who marry in New York City wedding venues in the outer boroughs. Affairs in the Hudson Valley and Capital District are also pretty formal, with 87 to 88 percent of couples selecting a semiformal or formal affair. Indoor ceremonies are popular in Manhattan, where 71 percent of couples choose a religious building, hotel or resort venue. But in the Hudson Valley and Capital District areas, 47 and 43 percent of couples opt for an outdoor ceremony.
New York Marriage Rates and Wedding Costs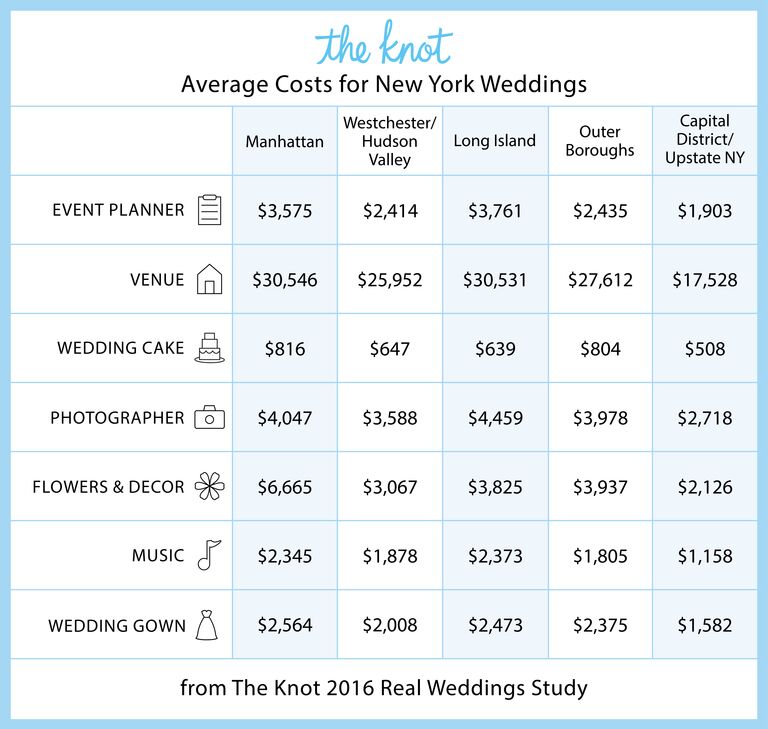 How do you compare with other couples saying "I do" in the Empire State? The Knot 2015 Real Weddings Study revealed that the average age of a New York bride ranges from 28.8 years old in the Capital District to almost 33 years old in Manhattan. Grooms follow a similar pattern, ranging in age from almost 31 years in the Capital District to 35 in Manhattan. 

Planning a New York wedding is a major event. In 2015, the average wedding in Manhattan had 124 guests. With an average of 168 guests, Long Island weddings are large affairs. New York couples often have bigger wedding budgets, as a typical Manhattan wedding costs $82,299. Couples in Westchester and the Hudson Valley spend, on average, $57,501, while Long Island couples spend $56,950 and those in the Outer Boroughs spend $46,682. In Upstate New York and the Capital District, wedding costs were $33,174 on average.
Knowing what others spend on their weddings is a great way for setting and sticking to your budget. Start with a tool like The Knot Budgeter. Then take a look at the average expenses for a wedding, like the ceremony and reception venues, floral arrangements, rentals, New York wedding photographers and reception bands. Above is a breakdown of what couples spent in 2015.
Top Cities in New York to Tie the Knot
With so many places to get married in the state of New York, it may seem mind-boggling when choosing your idyllic spot for your ceremony and reception. To start, check out the following popular areas for wedding venues:
Make It Legal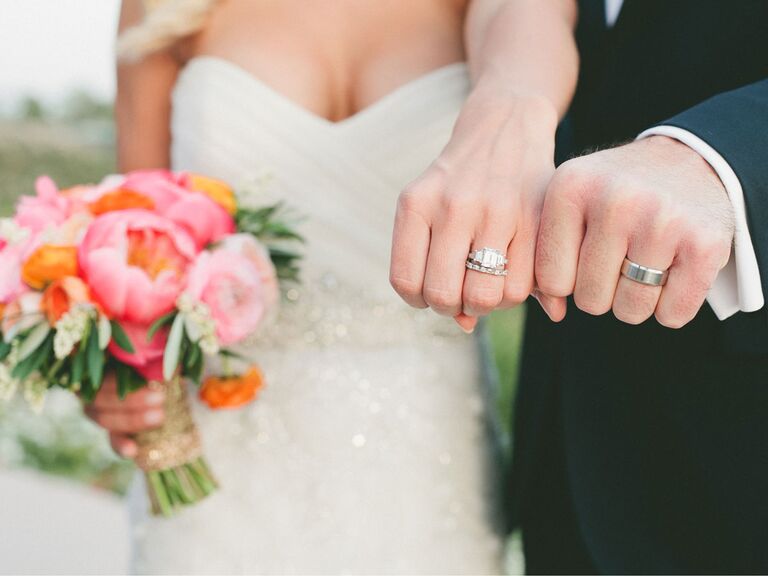 Meeting with caterers for food tastings, trying on gowns and picking out song lists is fun, but you also have to take care of a few legal matters during the planning process. You must apply for and receive a New York marriage license and make sure you have the necessary permits for the ceremony and reception.
Although there's no blood test or physical exam required for a marriage license, you must swear that you and your prospective spouse are not family members. A New York marriage license is valid for 60 days and can be used in any part of the state regardless of where you apply for it.
How to Get a Marriage License in New York
To apply for a marriage license in New York, you need to apply for the license at a local city clerk's office. You can start the process from home by completing an online application, then visit the clerk's office in person with your fiancé. Here you need to present identification and pay the license fee with a credit card or money order. Acceptable identification includes a New York identification card, driver's license with photograph, military identification card, US permanent resident card or US employment authorization card. If either of you is younger than 18 years of age, you also need parental consent from both parents and proof of date of birth.
When you apply for the marriage license, you and your partner must disclose any previous marriages and provide dates of the divorce, annulment or death. You also need to indicate whether either of you will change your name after the ceremony. You'll receive the valid marriage license before you leave the clerk's office. But there is a 24-hour waiting period before you may use it. You must return the signed license to the clerk's office within 15 days after the ceremony. After recording the marriage, the clerk's office returns the certified marriage certificate to the officiant. You need to stay in touch with the officiant to pick up your certificate.
Who Can Perform a Marriage Ceremony?
New York only recognizes marriages performed by a member of the clergy or an authorized official of the state. This person must be registered with the city or town for authorization to perform the ceremony. You also need at least one other witness to sign the license. The state recognizes the following people as officiants:
A mayor of a city or village
A former mayor, city clerk or deputy clerk of a city with more than one million residents
An officer appointed by a town or village board
A justice or judge
A clergy member who is officially ordained or selected by a spiritual group to preside over spiritual affairs
Permits You Might Need
From Central Park in Manhattan to Flushing Corona Park in Queens and Hudson Highlands State Park in Nelsonville, state and local parks throughout New York are beautiful spots for outdoor ceremonies. If you want to exchange vows in one of these locations, you need a permit. You can apply for a Special Events permit through the office that manages the state or local park.
When you apply for the permit, the office will also share with you the guidelines and restrictions for the park. Most parks restrict the number of guests and hours for the wedding, do not allow tents or canopies, and prohibit amplified noise and catering. Some counties also limit the number of permits they allow each day. For example, Nassau County allows two wedding permits each day at each location.
Name Change Information
When you submit your application for a New York marriage license, you have to let the clerk know whether or not you plan to change your name. The clerk then records this on the official certificate. You can start using your new name socially, but if you want to make it official, you need to change your identification documents and account information. To do this, you must first update your Social Security card to reflect your new name. Then you can change your driver's license. From here, you must contact your bank, credit card companies and utility groups to update your information. These companies typically want to see your new ID and the marriage certificate to complete this process. Check out our article for more information about how to change your name or try a service like HitchSwitch that helps you simplify the process.
It's All About Timing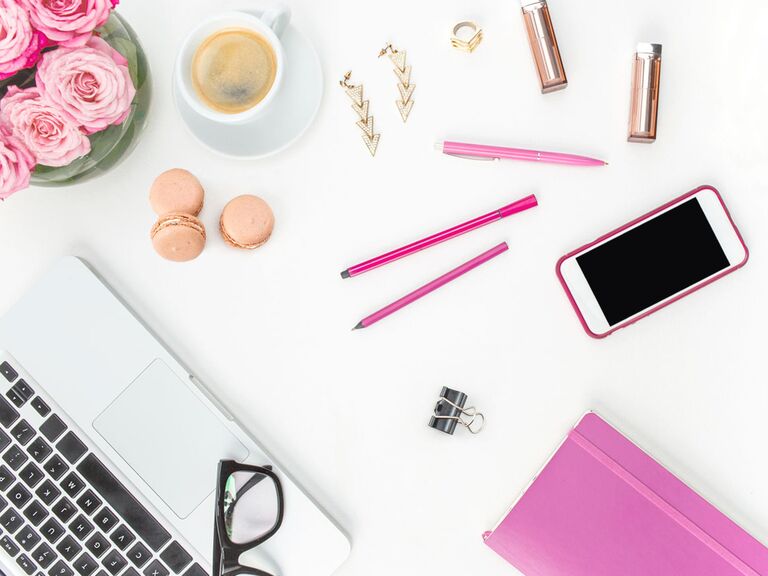 Whether you want to marry on a specific date like the anniversary of your first date or engagement or simply love the ambience or climate of a certain season, choosing a wedding date is an important decision. Knowing the most popular seasons for New York weddings as well as key events and festivals in the area will help you select a date that works well for you and your guests. Finding venues and vendors during the peak season is sometimes challenging. At the same time, your guests may have trouble locating hotel rooms and getting around town when flocks of people are visiting for a festival or major event happening during your wedding.
Peak Wedding Season in New York
New York state shines in the fall when the temperature dips, apples are reading for picking, and the leaves change color. It is also peak wedding season across the state. According to The Knot 2015 Real Weddings Study, 38 percent of couples in Manhattan chose to exchange vows during September, October and November. The same is true in the rest of the state. Forty-eight percent of couples in the Westchester and Hudson Valley area, 42 percent of couples in the outer boroughs and 35 percent of Long Island couples opted for autumnal nuptials.
When it comes to weddings, summer is a close second to fall, and in Upstate New York, this is the most popular season for weddings. Forty-three percent of the weddings in the area take place during June, July or August. Thirty-eight percent of the couples who married in Long Island opted for summer, while 34 percent of Manhattanites, 32 percent of those in the Westchester and Hudson Valley area, and 27 percent of couples in the outer boroughs followed suit.
The Four Seasons in New York
There is a reason winter is the least popular season for weddings—few want to brave the cold, blustery air that covers the state from December through February. Winters are long and cold in the Adirondack region, with average temperatures dropping to 13 degrees below zero. Although the central and western parts of the state fair slightly better thanks to the winds off the Great Lakes, winter is still frigid. Manhattan, Long Island and the outer boroughs experience more mild winters, but snow and freezing temperatures do occur. If you don't mind the cold weather, winter weddings in New York can be beautiful, with backdrops of snow-covered fields.
When the temperatures rise to the 60s, New Yorkers know that spring is around the corner. After the snow melts, trees and plants bloom and provide beautiful natural scenery for photos and outdoor ceremonies. Summer in New York is a busy season, and the city comes to life at this time of year. Peak temperatures range from 78 degrees in Binghamton to 86 degrees in New York City, but high humidity often makes the days feel warmer.
Dates to Avoid
With so many activities to do and places to see throughout the year, New York is a popular tourist destination. The most popular events attract crowds of people, and this can make it difficult for your guests to find hotel rooms in the area, or they may discover that traveling is more expensive due to the increased traffic. Read our comprehensive guide of dates to avoid in 2016, 2017 and 2018, and look out for these ones too:
New Year's Eve
Empire State Winter Games, Lake Placid (early February)
New York St. Patrick's Day Parade, New York City (March 17)
Tribeca Film Festival, New York City (April)
Tulip Festival, Albany (mid-May)
NYC Pride March, New York City (mid-June)
Museum Mile Festival, New York City (mid-June)
Rochester International Jazz Festival, Rochester (late June - early July)
Baseball Hall of Fame induction weekend, Cooperstown (late July)
Great New York State Fair, Syracuse (late August - early September)
National Buffalo Wing Festival, Buffalo (Labor Day weekend)
Adirondack Balloon Festival, Glens Falls (late September)
Oyster Festival, Long Island (October)
New York City Marathon, New York City (November)
Macy's Thanksgiving Day Parade, New York City (November)
Great Guest Experiences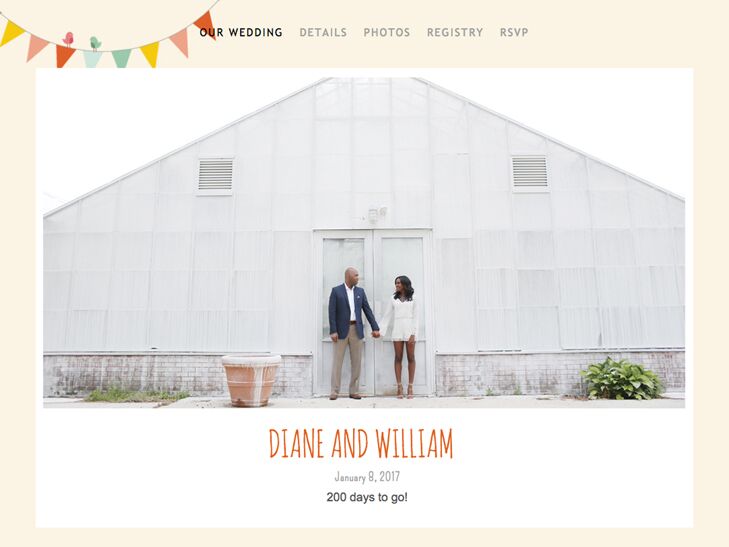 As a good host, you want your guests to enjoy the time they spend with you at your wedding, especially if they travel from out of town for the event. To create great guest experiences, give them ideas for ways to spend their time in town, how to get around once they arrive and what sites they should visit during their stay.
Get the Word Out
Sharing wedding information with your guests should include more than just sending them a save-the-date or wedding invitation. Encourage them to be part of your wedding from the moment you set the date. With your own wedding website, you can share information with them in real time and give them details about you and your fiancé, such as how you met, what you like to do together and pictures that chronicle your relationship.
Around Town
There's no shortage of things to do in New York State. No matter where you host your wedding within the state, your guests can find something they enjoy doing. Those who like outdoor activities can hike a portion of the Appalachian Trail in the Catskills, ski in the Adirondacks, take in the view of Niagara Falls or enjoy water sports in the Finger Lakes region. If they prefer arts and entertainment, they can visit Buffalo's The Albright Knox Art Gallery, or in New York City, take in Broadway shows or check out Museum Mile on the Upper East Side. There are also plenty of activities for sports enthusiasts, from a visit to Yankee Stadium or Citi Field to Madison Square Garden and the Olympic Venue at Lake Placid. Here are a few must-see spots in the Empire State:
New York City
Empire State Building
Statue of Liberty
Central Park
Prospect Park
Bronx Zoo
The High Line
Times Square
Staten Island Ferry
Capital District
Baseball Hall of Fame
New York State Museum
Shaker Heritage Society
Historic Cherry HIll
USS Slater
Hudson Valley
Walkway over the Hudson
Bardavon Opera House
Dia: Beacon
Catskill Mountain Railroad
Harness Racing Museum
Long Island
Long Beach
Old Westbury Gardens
Montauk Point Lighthouse
Sagamore Hill National Historic Site
Fire Island National Seashore
American Airpower Museum
Finding Your Way Around New York
Despite the large number of people moving around the state, getting around is relatively easy. The state has 13 international airports, including LaGuardia, JFK, Albany, Westchester County and Greater Rochester. Public transportation is also plentiful. Guests have the option of using one of four commuter railway systems or the New York City subway.
Go Local: Food and Favors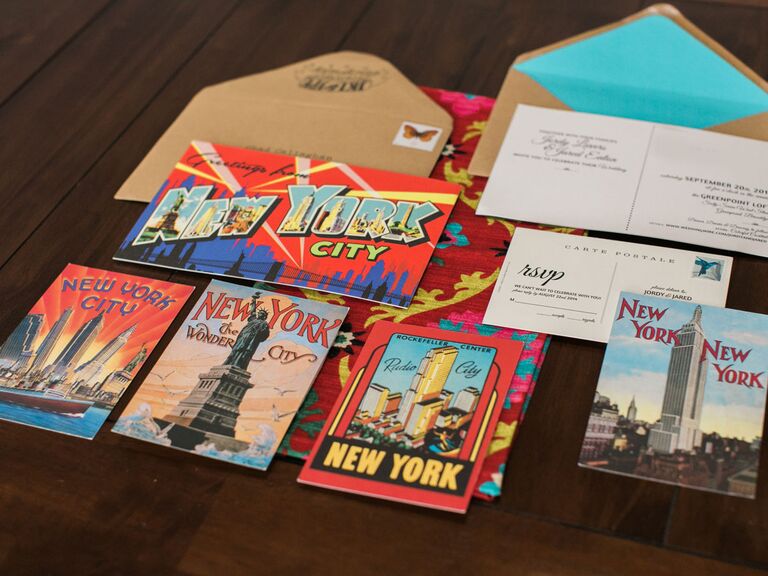 Considering the sheer number of people who call the Empire State home, it makes sense that some iconic foods are native to New York. Regional delicacies include Buffalo wings, tomato pie, spiedies, salt potatoes, a peppermint pig and grape pie in Upstate New York. The cuisine of New York City offers treats ranging from cheesecake, bagels and eggs benedict to General Tso's chicken, Manhattan clam chowder, chicken and waffles, and coal-oven pizza.
Share a meal with the bridal party or your guests at some of the state's best known restaurants. Try the Left Bank in Buffalo. Enjoy wine and tapas at Just a Taste in Ithaca. Savor a steak at Angelo's 677 Prime in Albany. Stop for a hot dog at Gray's Papaya in New York City.
Do Your Guests a Favor
After such a delightful time at your wedding, your guests will want to remember the occasion. Send them home in New York style with interesting gifts and favors that scream New York. Browse the vendors on The Knot Shop and look for items like prints of the New York City skyline, taxicab cookies and boxes you can stuff with cheesecake or candy. You can also give them personalized snow globes or bottle stoppers that remind them of your day when they look at it.
You can also stuff welcome bags emblazoned with iconic New York shapes like a silhouette of the state, the Statue of Liberty or Empire State building. Fill the bags with locally grown apples fresh from the orchard, pig candy wrapped in bacon, or black-and-white cookies. Include additional items such as subway maps, bus schedules and showtimes for Broadway plays.
City Guides
Whether you enjoy the vibrancy of New York City or prefer the serene country setting of Upstate New York, you can find a region that suits your wedding style and budget. This diverse state offers plenty of options for everything from country weddings in a barn to elegant seaside ceremonies and receptions in historic landmarks. Read more about the most popular cities in New York for weddings below, and visit our vendor marketplace to find your team of pros.
Manhattan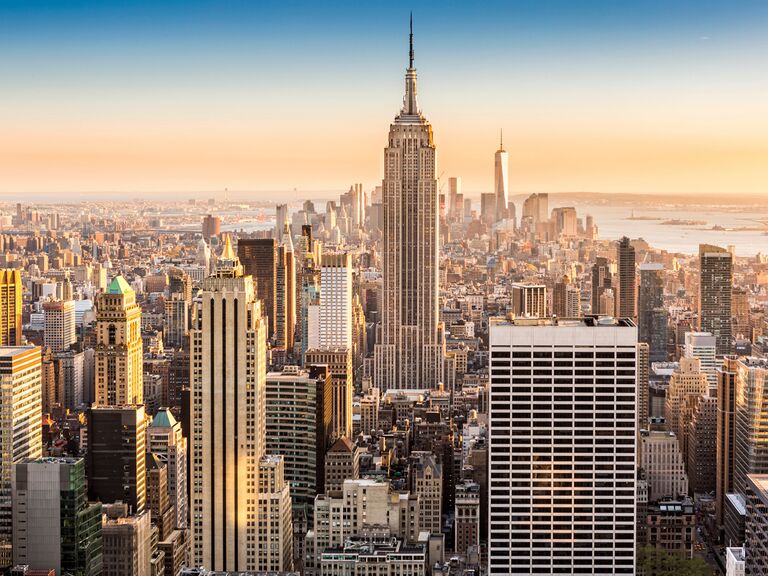 When most people think of New York City, Manhattan with its dazzling lights, iconic skyscrapers and bustling sidewalks is what they have in mind. The ethnically diverse neighborhoods of the Lower East Side, towering structures in the Financial District, tourist spots along Broadway and Times Square, museums along museum mile—this popular spot has plenty of neighborhoods with distinctive characteristics and unique ambience.
Whether you envision a trendy New York Public Library wedding, a New York City Hall wedding or a simple ceremony in a botanical garden, you can find the right spot on the island. Manhattan is home to plenty of beautiful venues for ceremonies and receptions. Here you can marry under a canopy of trees in Central Park or book a date in one of the landmark churches set in residential neighborhoods. Check out some local vendors who can assist you with your wedding plans:
Westchester/HudsonValley
From Yonkers to Albany, the cities and towns along the Hudson River are steeped in history, stunning natural landscapes and exciting cultural experiences. The Hudson valley is a scenic region with lovely backgrounds for photos and plenty of interesting wedding venues.
Here you can celebrate your union in one of the region's vineyards or exchange vows at a peaceful resort. The State Room in Albany is an elegant historic landmark with a banquet hall, and Germantown boasts rustic apple farms where guests can enjoy picking apples in the fall. Whether you want a simple affair amid the beauty of nature or want to treat your guests to a weekend getaway, you can find it here. Look for local Hudson Valley vendors on The Knot Marketplace to find just what you want.
Long Island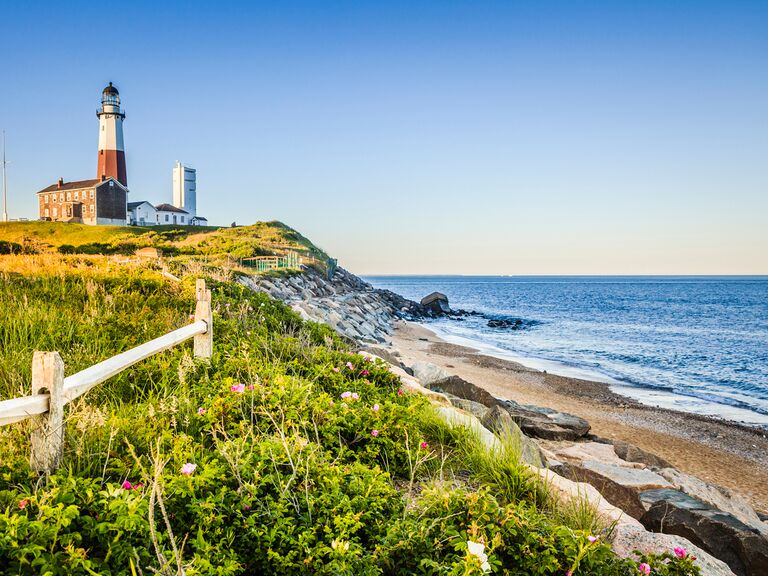 Known for miles of quaint beaches and villages as well as opulent mansions along the Gold Coast, Long Island has a reputation as a holiday for the rich and famous. History aficionados appreciate sites like the airstrip where Charles Lindbergh set off on his transatlantic flight, the homes of Teddy Roosevelt, and homages to Walt Whitman and Jackson Pollock.
Here you find an array of venues, including historic landmarks like Bedell Cellars and Corey Creek Vineyards, Oheka Castle Hotel and Estate, and Westbury Manor. You can also arrange for a wedding along the waterfront at Peconic River Herb Farm or Montauk Yacht Club. From elegant banquet halls to quaint village venues, Long Island offers plenty of options for your wedding. Here are some local vendors like New York wedding photographers who can help with the planning:
Outer Boroughs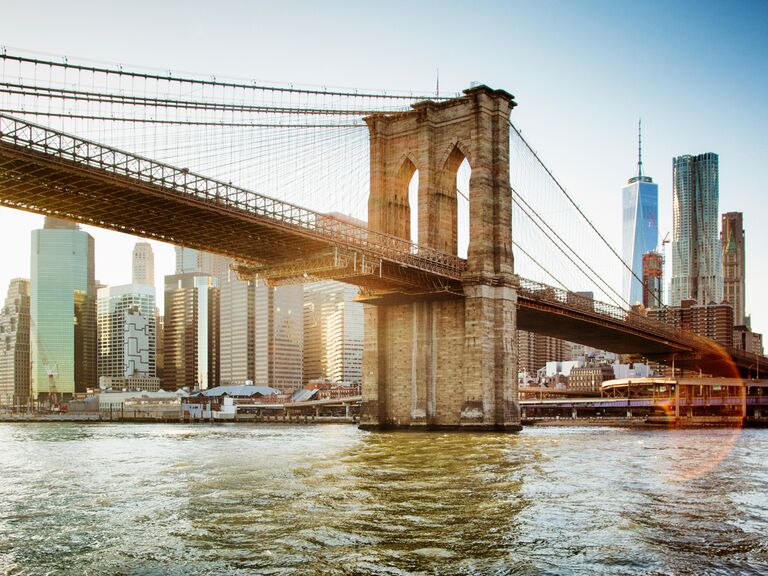 The Big Apple is more than Manhattan. From the Bronx and Harlem to Brooklyn, Queens and Staten Island, the Outer Boroughs have plenty of vibrant neighborhoods packed with historic buildings and outdoor parks that make beautiful wedding venues. Shaped by the cultural influences of the immigrants who claimed them as home, the Outer Boroughs offer plenty of interesting New York wedding venues, not to mention the best views of the Manhattan skyline for photos.
Here you can get married in a historic venue like Brooklyn's Grand Prospect Hall. There are also plenty of waterfront spots like The Boathouse in Brooklyn. Other options include renovated buildings with vintage details like The Green Building in Brooklyn or outdoor settings such as Pelham Bay or the Bronx Zoo in the Bronx and Queens Botanical Garden in Flushing. Contact New York wedding DJs and other local vendors for more information and help planning your wedding.
Capital District/Upstate NY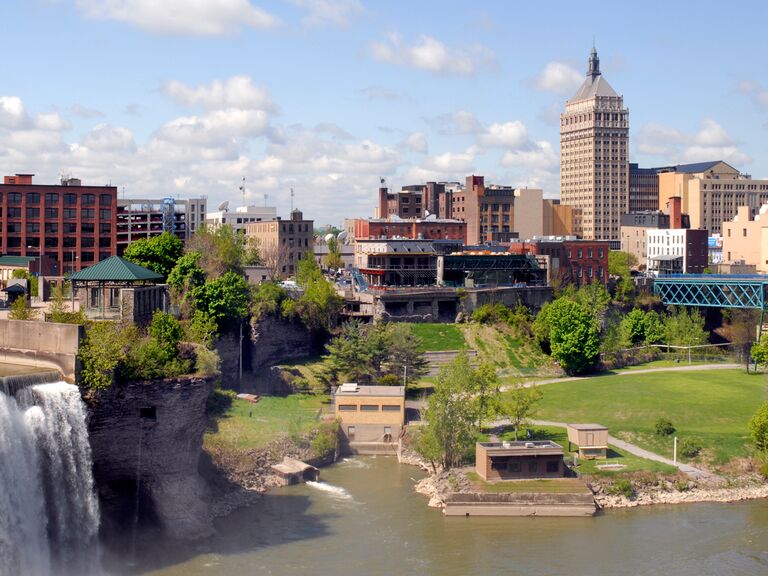 Encompassing most of New York outside of the Big Apple, Upstate New York includes Buffalo, Rochester, the Adirondacks and Syracuse. This largely agricultural area offers sweeping landscapes, rustic farms and an assortment of wineries that can serve as wedding venues. It's the home of the New York State Fair, Niagara Falls, the Finger Lakes and Catskills.
You have a variety of options for weddings in Upstate New York. Choose from sites like Handsome Hollow in Long Eddy, Spillian in Fleischmanns, or Historic Thayer Hotel at West Point for a wedding to impress history buffs. Plan a rustic event at a farm such as Stone Tavern in Roxbury, Stable Gate Winery in Castleton-on-Hudson or Apple Barn Farm in Germantown. Enjoy waterfront views during your ceremony or reception at High Peaks Resort in Lake Placid or The View on the Hudson in Piermont. You can find something that suits your style in this diverse region. Here are some local vendors who can help with the process.
Find more New York weddings here.

Don't forget to download The Knot Wedding Planner app—it's a must-have for on-the-go planning.
Download for iOS: Wedding Planner App by The Knot

Download for Android: The Knot Wedding Planner