18 Absolutely Unforgettable Long Island Wedding Venues
Escape the hustle-and-bustle of New York City: Long Island has a venue for any wedding style.
To the uninformed, Long Island is simply the region directly east of New York City. It's the area you need to get through to get to the Hamptons and Fire Island (both are actually on Long Island, and technically Brooklyn and Queens are, too). But when it comes to saying, "I do," Long Island wedding venues are ideal for nearly any type of wedding. On the Island, any day can be a beach day, including your big day. It's full of waterfront settings, from North Shore venues on the Long Island Sound and Peconic River to South Shore spots set on the Atlantic Ocean. The North Fork and Hamptons vineyards offer both rustic and high-end sites for a soiree, and there are Gold Coast mansions so gorgeous they'd even make Daisy Buchanan swoon. And plenty of caterers, like grand ballrooms with large dance floors and country clubs set on pristine golf courses, will excite couples with dreams of more traditional affairs.
There are a few things you'll want to keep in mind when planning your LI wedding. The region is home to all four seasons, which means there's a chance your guests will break a sweat while busting a move in the sand at your outdoor beach reception. Winters are cold, and spring and fall days can be rainy. But if you can deal with the elements, you'll have a picture-perfect day that epitomizes whatever season you're getting married during, regardless of what Mother Nature throws at you.
Having a top-rated team of pros can help ensure you have an unforgettable wedding day. You can start putting yours together on The Knot Marketplace. But one of the first questions they're going to ask is, "Where are you getting married?" Whether you grew up in the area or are looking to have a destination wedding there, you'll want to consider these unique wedding venues on Long Island.
Peconic ay Yacht Club in Southold, New York
If you're looking for a Long Island wedding venue with nautical vibes and just the right amount of elegance, consider this North Fork spot. Set right on the Peconic Bay, this yacht club offers couples the chance to exchange vows and dance for the first time on the perfectly manicured waterfront lawn. You won't need to go crazy creating Instagram-ready installations like flower walls (but you can if you want). This venue has an au-natural one: Couples have access to a private marina for photos. Though the bay serves as the venue's crown jewel, Peconic Bay Yacht Club is a versatile spot. There's also an indoor grand ballroom with marina views ideal for larger parties to eat and dance the night away, rain or shine.
Flowerfield in St. James, New York
A sprawling paradise in Suffolk County, Flowerfield exudes natural charm at every turn. The lush landscape features more than its fair share of backdrops for photos, including a weeping willow, reflection ponds, vineyards and whimsical gardens. On a sunny day, couples can tie the knot in a gazebo overlooking the grounds. The dreamy, 7,600-square-foot ballroom with high, draped ceilings leaves plenty of room for dinner and dancing. The space is bright and ethereal, with floor-to-ceiling windows allowing sunlight to pour in. And guests won't have to wait in a long line to sip signature cocktails—the ballroom has two bars.
Jericho Terrace in Mineola, New York
Couples dreaming of a sleek New York wedding but who don't want to have to hail a cab to get there should look no further than Jericho Terrace. This stylish banquet hall is less than an hour from Manhattan, Brooklyn and Queens. The event space boasts five beautifully appointed ballrooms to choose from based on the size of your wedding and party. The Dome Room is perhaps the most popular. Savor exquisite cuisine and dance the night away beneath the stars, courtesy of a dome-shaped ceiling window offering panoramic views of the sky above. There are also plenty of spaces for an array of photos inside the venue and outdoors, including textured walls and lavish gardens.
Essex Club in Brentwood, New York
True, there are quite a lot of country club wedding venues on Long Island, but the Essex Club is one of the best in the business. The beautifully-manicured grounds are ideal for ceremonies, and we love the elegant indoor event space that can be dressed up or down with your choice of decor. This venue and its accommodating staff wins raves from couples. Says one recent bride: "I don't think there are really any words that can describe how amazing my wedding was here."
Pavilion at Sunken Meadow in Kings Park, New York
Take advantage of Long Island's beautiful beaches by hosting your wedding on the Sound. The Pavilion at Sunken Meadow is a truly unique wedding venue on Long Island, as it offers ceremonies right in the sand. If you're not the toes-in-the-sand type, you can exchange vows on the terrace and deck area while still getting those Long Island Sound views. The indoor reception space is just as lovely, and you'll be thrilled to learn that the catering here is top-notch.
View in Oakdale, New York
The Lessing family has established itself as one of Long Island's top caterers, and you'll understand why during your first look at this gorgeous wedding venue. It's an ideal ceremony and cocktail hour spot for couples looking for a waterfront wedding. The outdoor area offers sweeping views of the Great South Bay and a 20-slip marina. On a hot or rainy day, guests can view the bay inside the airy dining room—the space features walls full of windows. The interior is also as crisp as the sea breeze. Think stylish white leather chairs, light walls and rich wood undertones. The event space holds up to 250, making View an ideal spot for couples looking for an intimate or mid-size affair.
Oheka Castle in Huntington, New York
You don't have to jet off to Europe to feel like royalty on your wedding day. Long Island's North Shore is home to a castle all its own. Oheka Castle's ambiance boasts all the Gatsby vibes (The Great Gatsby documentary filmed there, and Taylor Swift also used the mansion for her video Blank Space.). Located smack dab in the middle of NYC and the Hamptons, this reception venue emanates the opulence of both locales. Numerous chandeliers hang from the stately dining room's ceilings, and there are large windows draped with dramatic floor-length curtains. The expansive outdoor grounds of the estate seem endless and include gardens and a patio with far-off views of the Long Island Sound.
Stonebridge Country Club in Smithtown, New York
Couples envisioning a traditional wedding day with all of the modern trimmings will want to give Stonebridge Country Club a look. The perfectly manicured golf course practically sparkles in the sun, and the trees add natural pops of bright colors to photos each fall. Large windows allow the sunlight to shine through inside the white tableclothed dining room. They also let rainy-day couples get married with the same view they would have had if it were 70 and sunny. The dark wood furnishings balance out the airy feel of the indoor space. The neutral, natural aesthetic makes this Long Island wedding venue feel like a blank slate, where couples and their florists can go wild (or not) with blooms.
Three Village Inn in Stony Brook, New York
Nestled in the sleepy village of Stony Brook, this charming, historic inn is renowned for hosting intimate affairs and giving couples the most bang for their buck. The quaint dining room uses long, elegant drapes and dark wooden accents to create a colonial-style ambiance. Couples torn between having a nautical or garden backdrop for their wedding photos have met their match at Three Village Inn. The wedding venue is set along Stony Brook Harbor and also features romantic gardens, giving the newlyweds the best of both worlds (which is exactly what you deserve on your wedding day). It's also a hop, skip and a jump from the Village of Port Jefferson, which features a sizable marina ideal for couples to have a scenic and intimate first look away from guests' excited (but prying) eyes.
Bourne Mansion in Oakdale, New York
This Long Island wedding venue is perfect for couples who don't believe there's such a thing as too much Gatsby. The grand Vanderbilt estate takes guests back to a bygone era. On a sunny day, couples exchange vows on the sprawling lawn with the mansion in the background. After sunset, they can take a dramatic dip-kiss photo in front of the large fountain or columned entryway. Even the bouquet toss can have a little extra drama at Bourne Mansion. A newlywed can fling their flowers from a balcony overlooking the elegant dining room. Not doing a bouquet toss? Make a pact with your new spouse to sneak away to the balcony for just a moment to take in your big day from above.
Windows on the Lake in Lake Ronkonkoma, New York
This budget-friendly Long Island wedding venue doesn't skimp on style or views. Set on Lake Ronkonkoma, the largest freshwater lake on the Island, this venue's scenic background truly captures the region's nautical character. Couples can hold their waterfront wedding ceremony and share their first kiss right on the water. The sweetheart table is typically in front of floor-to-ceiling windows overlooking the lake, offering couples a chance to toast to their next chapter as the sun sets in the background. Windows on the Lake is also a noted restaurant on Long Island, so you know the food (one of the most important parts) will be good.
The Mansion at West Sayville in West Sayville, New York
Can't choose between a nautical or opulent mansion wedding? You can have both at this refined waterfront venue. Set in a restored 1909 mansion along the Great South Bay, The Mansion at West Sayville gives couples a chance to host cocktail hour inside a lavish glass-enclosed patio overlooking the sand and bay. The dining room boasts an unpretentious sophistication. Take the dark wooden walls, which offer a departure from the many beige and white-washed banquet halls on the Island. Meanwhile, the cozy fireplace provides couples with another opportunity to add personal touches with decor. Couples also have access to the neighboring historical society's docks for a seafaring-style ceremony and photographs.
East Wind Long Island in Wading River, New York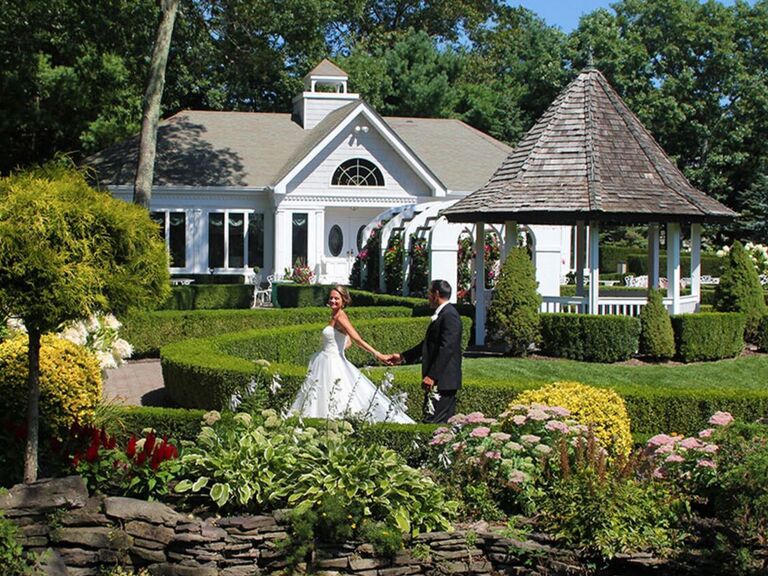 East Wind Long Island has multiple spaces for your wedding ceremony and reception. But even with the options, each couple's day is all their own—the venue offers a one-wedding-at-a-time experience. The English garden outside of The Cottage is ideal for a romantic outdoor ceremony. Couples can walk down a brick-road aisle and say "I do" underneath a Victorian gazebo. Those with their hearts set on a large black-tie affair will fall head-over-heels for The Estate, a chandelier-filled reception venue with room for more than 300 people. Couples can plan the entire wedding weekend there—an on-site restaurant, Desmond's, is ideal for rehearsal dinners. It's also 20 minutes from Riverhead, where LI's wine country begins, offering guests something to do if they arrive a day or two early.
The Vineyards at Aquebogue in Aquebogue, New York
Celebrate Long Island's famous wine scene by hosting your event at one of its best vineyards. The Vineyards at Aquebogue is one of our favorite unique Long Island wedding venues, as it features a variety of indoor and outdoor event spaces in a rural setting. Exchange vows on the stunning property, with the vines as your backdrop, then enjoy dinner and dancing inside the Grand Ballroom. This venue is a photographer's dream, as there are countless photo backdrops perfect for your portraits. With a capacity of 300 wedding guests, The Vineyards at Aquebogue is an ideal location to celebrate with your nearest and dearest.
Beach Club Estate in Lake Ronkonkoma, New York
Like Windows on the Lake, Beach Club Estate sits on Lake Ronkonkoma. The banquet hall holds up to about 150 guests, so it's best suited for couples looking for a more intimate but still magical indoor or outdoor wedding. On a warm, sunny day, the outdoor lakeside chapel makes for a breathtaking place to put a ring on it. Flowing palm trees typically flank the ceremony space, allowing couples and their guests to feel like they've made a great escape to warmer waters. During the spring and summer months, the beautifully manicured gardens are in full bloom. As fall sets in, expect foliage to add gorgeous pops of color to photographs.
Fox Hollow Catering in Woodbury, New York
Wedding planners picturing a day that's equal parts romantic and contemporary will want to give the Fox Hollow Catering a whirl. The banquet hall has a few locations to choose from, each with unique features sure to add a special touch to your reception. There's the Winter Pavillion with a skylight, Garden Terrace with views of the venue's lush terrain and The Somerly, which is located in the private wing of the venue and feels like it's miles away from Brooklyn. Each area has classic architecture and wooden furnishings, giving couples and their florists license to dream up any type of design.
The Barn at Old Bethpage Village Restoration in Bethpage, New York
Rustic farmhouse meets New York sophistication at this expansive Long Island wedding venue, which was recently purchased by the Lessing's. On their wedding day, couples will have 8,000-square-feet to say "I do," snap thousands of photographs and mingle with guests at The Barn at Old Bethpage Village Restoration. Outside, the sprawling country landscape provides a picturesque spot for an outdoor wedding and endless photo opportunities. The barn has an all-wooden interior and high ceilings. Couples can truly make it their own without worried about the decor clashing with the space's palette. Hang a chandelier from one of the exposed wooden beams, or add romantic ceiling drapes—or both. Anything goes here.
360° East at Montauk Downs in Montauk, New York
Start your new beginning at the place they call "The End." Montauk sits on the Eastern tip of Long Island and is about as far away from the fast-paced life of Manhattan and Queens as you can get. It boasts some of the most majestic water views on earth year-round, and 360° East at Montauk Downs is the perfect wedding venue for couples who believe life is better at the beach. Not even a little rain can ruin the space's beauty on your special day. The indoor area features walls made out of windows, offering aerial panoramic views of the Atlantic. Couples can get photos in front of the iconic Montauk lighthouse and near the dramatic cliffs, which brush up against the ocean. And if sand, sea and lighthouses didn't provide enough photo opportunities, there's also a meticulously manicured golf course on the property to explore with a photographer.