28 Ruby Engagement Rings That Are Chic AF
Best believe you'll be bejeweled.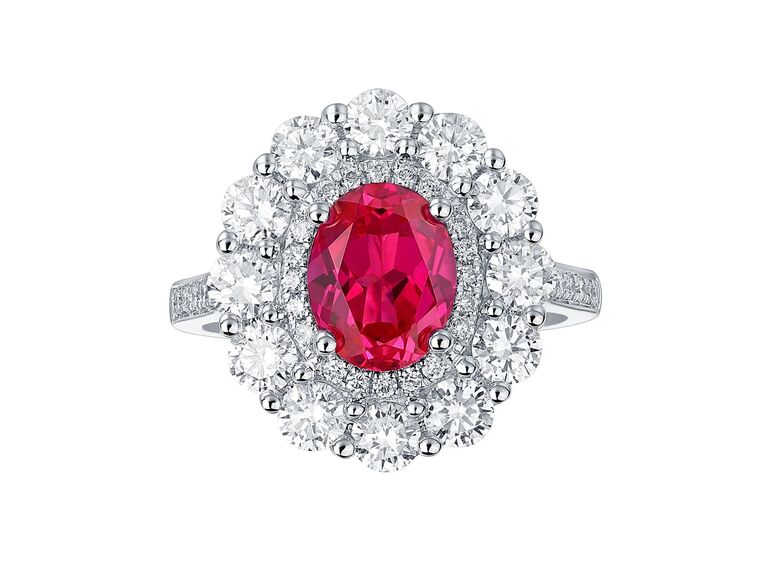 Smiling Rocks
We have included third party products to help you navigate and enjoy life's biggest moments. Purchases made through links on this page may earn us a commission.
Red is traditionally the color of passion and desire, so what better way to represent your love than with a ruby engagement ring? A variety of the mineral corundum, rubies come in a variety of rosy shades, ranging from light pink to blood-red (though in the US, pink rubies are technically classified as pink sapphires). The ruby's red hue and thus natural connection to love and romance might also explain why celebrity ruby engagement rings are so popular among the likes of Katy Perry, Jessica Simpson and Eva Longoria. "The luscious red ruby traditionally symbolizes love and fidelity and is often revered in poetry as eternity. As one of the rarest and most valuable gemstones, it was highly prized by European royalty and even Hollywood royalty—like Elizabeth Taylor, who owned an important suite of ruby jewelry," according to Neil Lane, a celebrity jeweler with a collection at KAY Jewelers.
So whether your birthstone is a ruby (Shout out to July babies!) or you're looking to make a statement with a unique sparkler, we've got everything you need to know about this fiery red gemstone, plus ruby rings to add to your wish list now.
In this article:
Do Rubies Make Good Engagement Rings?
The short answer is yes. Rubies rank a 9 on the Moh's scale of hardness—the same as sapphire because they're in the same gem family. This ranking means rubies are nearly as hard as diamonds (which are a 10 on the Moh's scale), making them more resilient and durable than other popular alternative gemstones like emerald, morganite and aquamarine. So, if you're looking for an engagement ring with a unique center stone that you can wear every day and not worry about cracking or chipping, a ruby ring is a great option and almost as sturdy as a diamond engagement ring. A word to the wise: It's still a good idea to take your ruby ring to a jeweler for an in-depth cleaning at least once a year. If you own an estate or heirloom piece, have your jeweler check the security of the stone once in a while—prong settings in particular can loosen over time.
What to Know Before Buying a Ruby Engagement Ring
So what do you need to know when buying a ruby engagement ring? Lane is taking you through the 4Cs, with a ruby-twist, that you need to know before swiping your credit card.
Color
"One of the most desired Rubies is "Pidgeon Blood Red," which is a deep and intense red color," says Lane. "However, if you like another tone of red in a ruby, I think you should always choose what speaks to you. An important tip to keep in mind is that rubies should not be pink because they could be considered Pink Sapphires. Since both Ruby and Sapphire are from the mineral family of Corundum, only the red tones are considered rubies and all the other colors are Sapphires."
Clarity
"Clarity is also an important factor when deciding which Ruby to buy," Lane tells The Knot. "Just like diamonds, many Rubies have certain inclusions and can range from very transparent to translucent to opaque. The cleaner and more transparent a ruby is, the more valuable it will be."
Carat
"The size and weight of a ruby help define its value, just as in diamonds," says Lane. "Very large rubies are extremely rare and can be valuable, but since Rubies already make a statement, standing out from traditional engagement rings, I wouldn't worry so much about size."
Cut

"Like diamonds, Rubies can be cut in many different shapes, but the most common are round, oval and pear shapes," Lane says. "The shape usually has little influence on the value of a Ruby, with the other Cs taking on a little more influence." So what does this mean? Choose a shape that you love.
The Best Ruby Engagement Rings for Every Style
Feeling a ruby engagement ring now? Get your wish list ready. Shop some of our fave ring styles below.
1. Best Heirloom Ruby Engagement Ring: Nicole Rose Jewelry Ruby and Diamond Oval Ring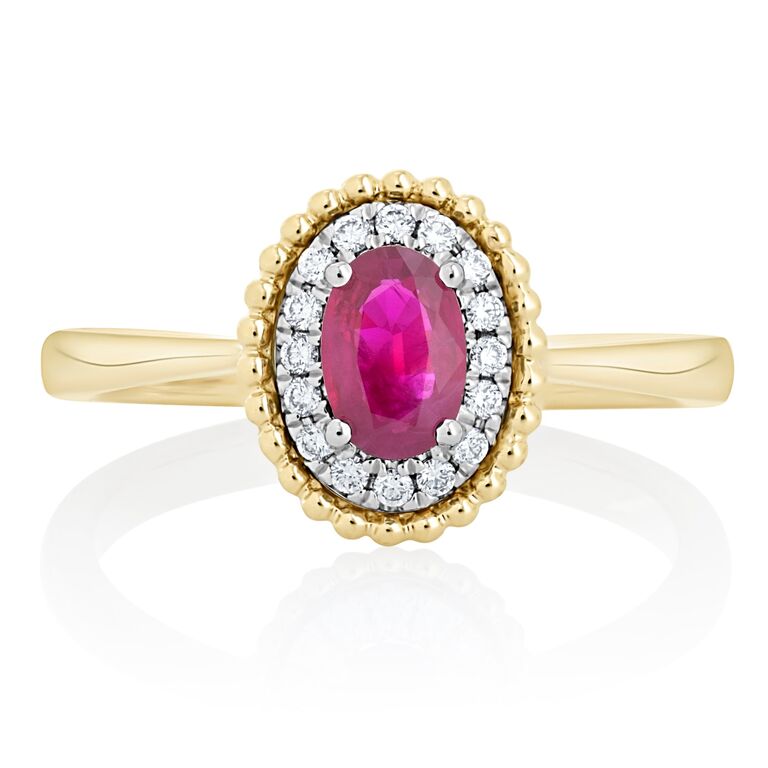 This stunning oval-cut ruby is surrounded by a halo of diamonds set in a beaded 14K gold, rose gold or white gold bead band that gives off serious heirloom vibes.
2. Best East-West Ruby Engagement Ring: Anna Sheffield East-West Solitaire Ring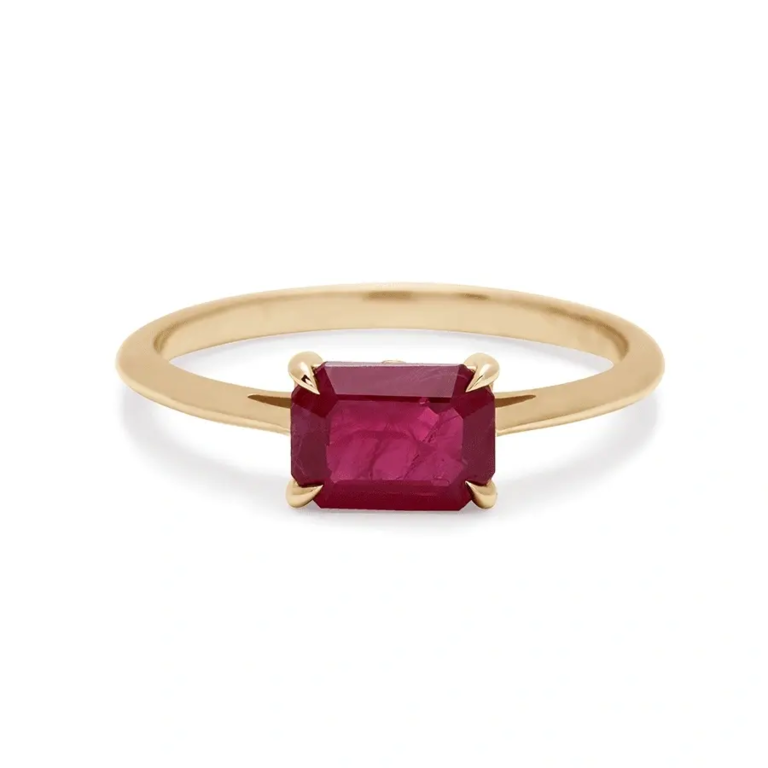 An east-west ruby on a classic gold solitaire band is the perfect combination of modern and vintage-inspired.
3. Best Halo Ruby Engagement Ring: Kay Jewelers Neil Lane Ruby Engagement Ring in 14K White Gold
This red ruby and diamond engagement ring from Neil Lane is a true stunner with its oversized halo of round-cut diamonds on the sides and top. It's the perfect bauble for the bride who wants to turn a few heads with her ring's gorgeous brilliance.
4. Best Rose Gold Ruby Engagement Ring: Blue Nile Oval Ruby Ring with Double Diamond Halo in 14k Rose Gold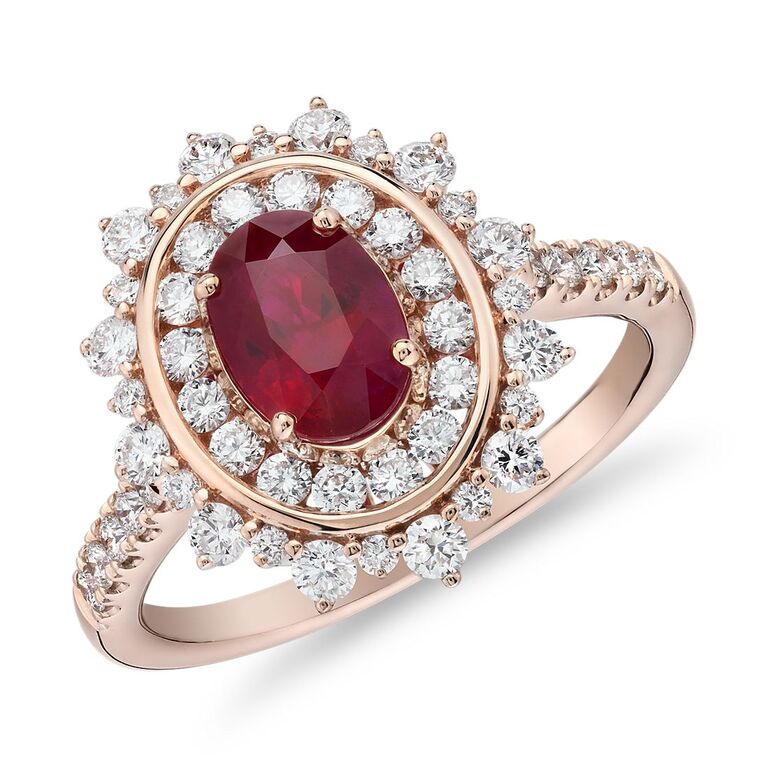 We've got one word for this ring: showstopper. This oval ruby surrounded by a diamond halo and prong-set petals is the definition of vintage-inspired glamour.
5. Most Whimsical Ruby Engagement Ring: Ileana Makri Grass Seed Ring
Nature lovers, take note: this rose gold ruby engagement ring was inspired by the magic of growing seeds (how sweet is that?) The dainty ruby center stone appears to sprout from a twisted ruby pavé band. It's an immediate add to cart.
6. Best Toi Et Moi Ruby Engagement Ring: Jemma Wynne Bespoke Ruby Pear and Pink Sapphire Open Ring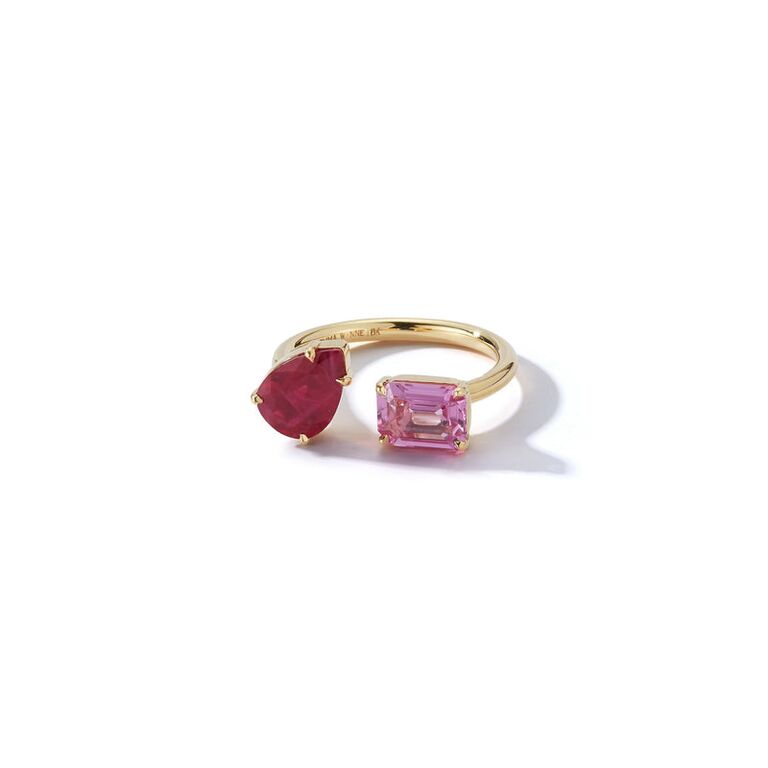 Having trouble deciding between a pink sapphire engagement ring and a ruby engagement ring? Choose both. This toi et moi ring (that's French for you and me) brings the bling of an emerald-cut pink sapphire and the fiery color of a pear-cut ruby.
7. Most Dainty Ruby Engagement Ring: Melissa Kaye Lola Ruby Ring in 18K Pink Gold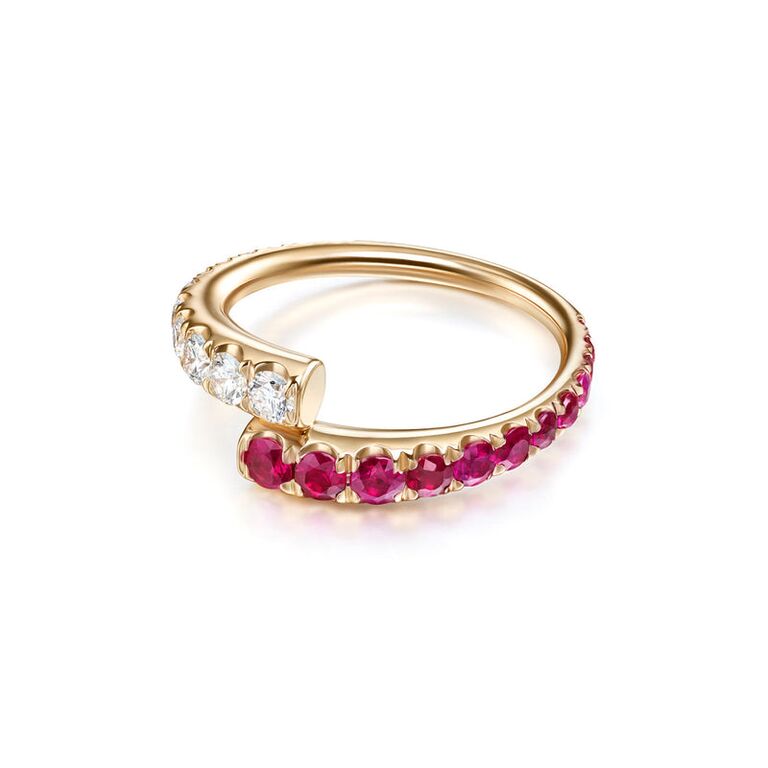 A more minimalistic take on a combo of rubies and diamonds, this rose gold ring works as an alternative engagement ring but is also gorgeous enough to stand alone.
8. Best Boho Ruby Engagement Ring: Reinstein Ross Tania Ruby Ring in 20K Peach Gold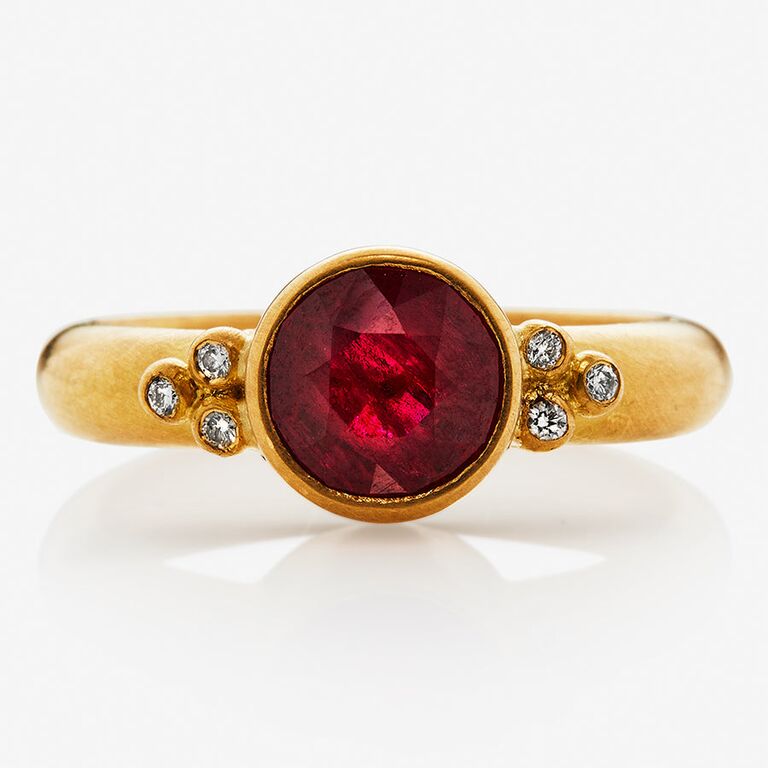 If an artsy vibe is more your style, consider this bezel-set ruby ring in a chunkier yellow gold bezel setting.
9. Most Unique Ruby Engagement Ring: Colette Jewelry Jeanne D'arc Marquise Cluster Ring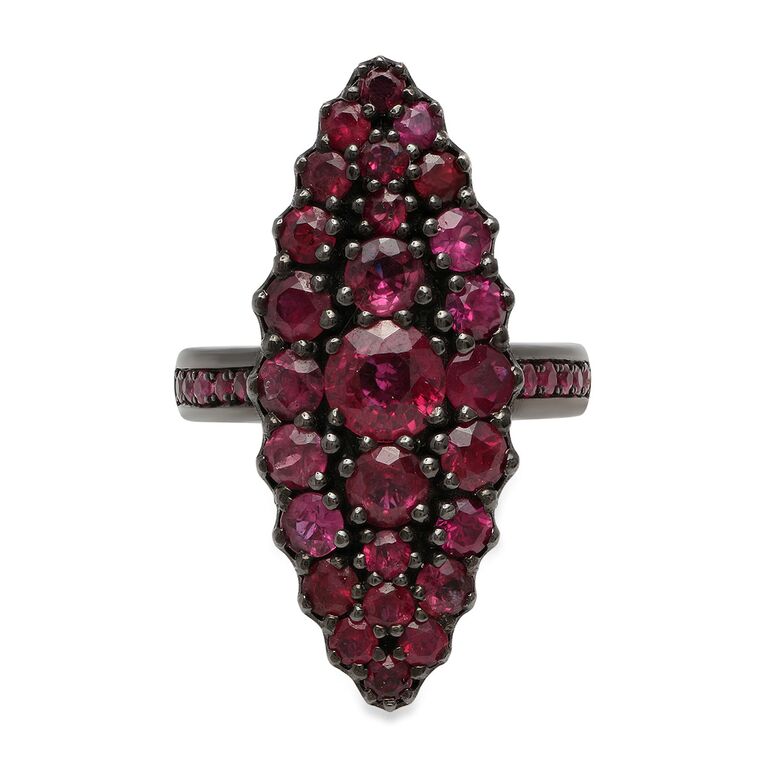 Calling all goth brides! This ruby cluster, inspired by a medieval coat of arms, sits in the coolest black gold setting. It gives off seriously enchanting, antique vibes.
10. Most Simple Ruby Engagement Ring: Aurate Birthstone Solitaire Ring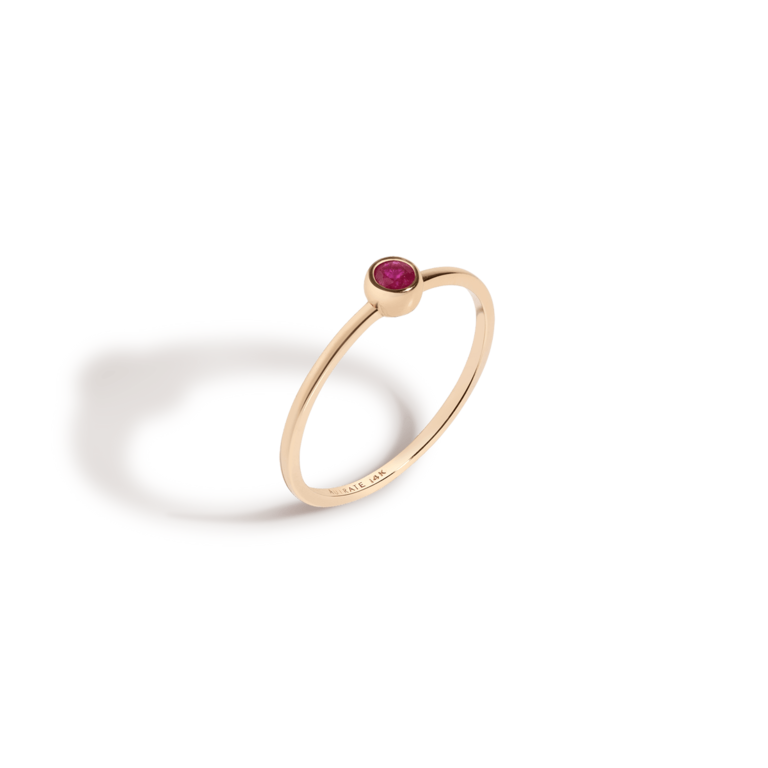 Sweet and simple is the name of the game when it comes to this Aurate ring. And if ruby isn't your color, you can set any birthstone color for this personalized bit of bling.
11. Best Pear-Cut Ruby Engagement Ring: Alison Lou Pear Cocktail Ring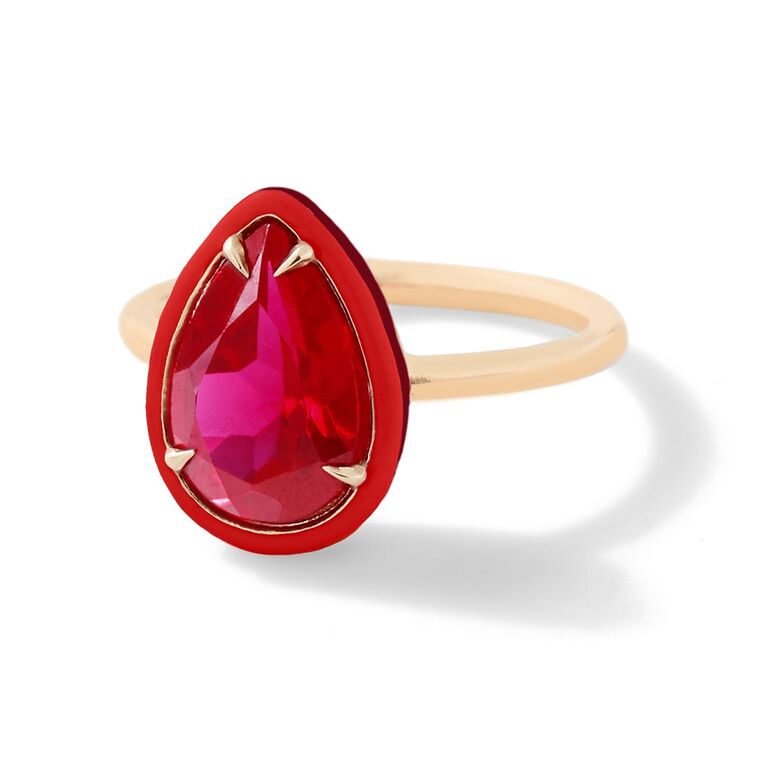 It doesn't get funkier (or more one-of-a-kind) than a ruby engagement ring with a pear-shaped center stone accented by a pink enamel halo.
12. Best White Gold Ruby Engagement Ring: Charles & Colvard Caydia® Lab Grown Ruby and Diamond Couture Three-Stone Fashion Ring in 14K White Gold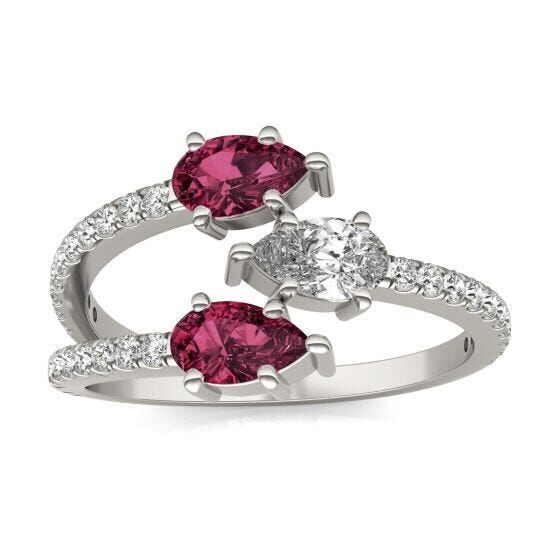 What do you get when you pair two shimmering lab-grown rubies with one lab-grown diamond and a twisted pavé band? One standout stack.
13. Best Stacked Ruby Engagement Ring: Yi Collection Ruby Essentials Ring in 18K Yellow Gold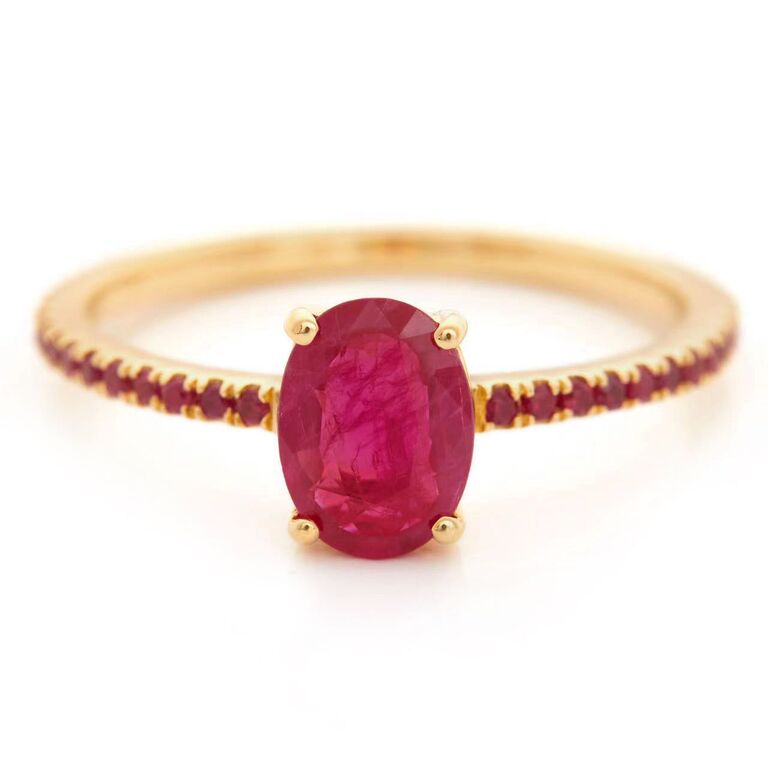 It's classic—with a twist. An oval ruby center stone with a complementary ruby pavé band is a colorful take on a classic solitaire engagement ring setting.
14. Best Engraved Ruby Engagement Ring: Brilliant Earth Rose Gold Hudson Engraved Ring in 14K Rose Gold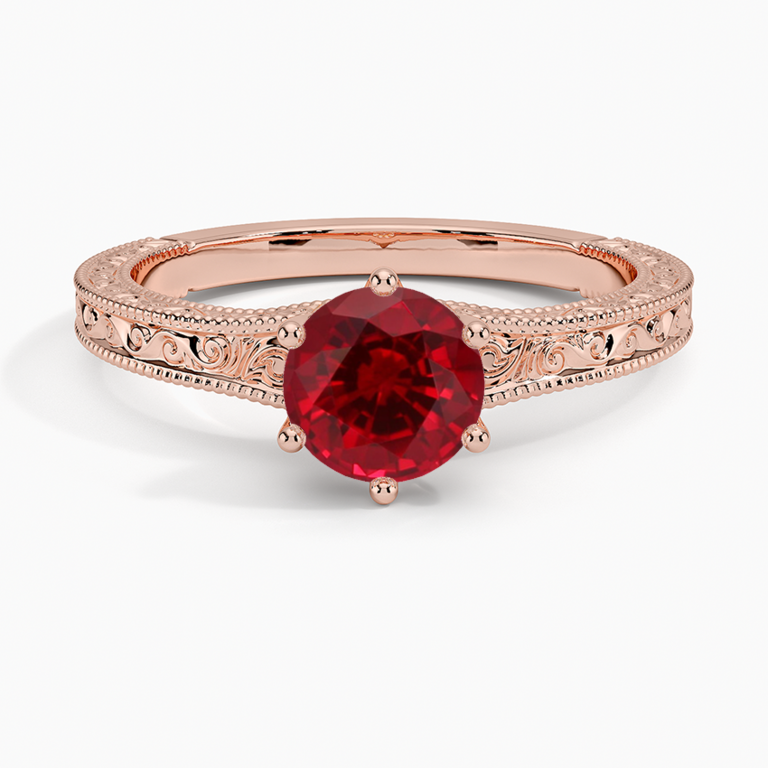 Created with intricate hand-engraving, this vintage-inspired ruby ring, available in rose gold, yellow gold, white gold and platinum, is all about maximum romance.
15. Best Cushion-Cut Ruby Engagement Ring: Blue Nile Three-Stone Cushion-Cut Ruby and Half Moon Diamond Halo Ring in 18k White and Yellow Gold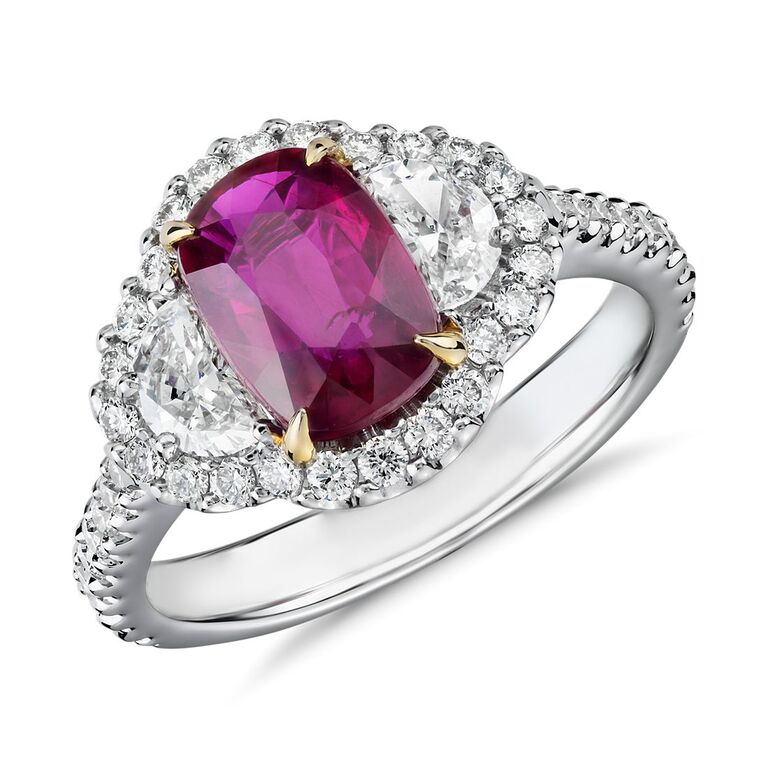 A vibrant take on a traditional three-stone setting, this sparkler features a pink-hued cushion-cut ruby center stone set off by two half-moon diamond side stones.
16. Best Cluster Ruby Engagement Ring: Lauren Addison Ruby and Diamond Cluster Ring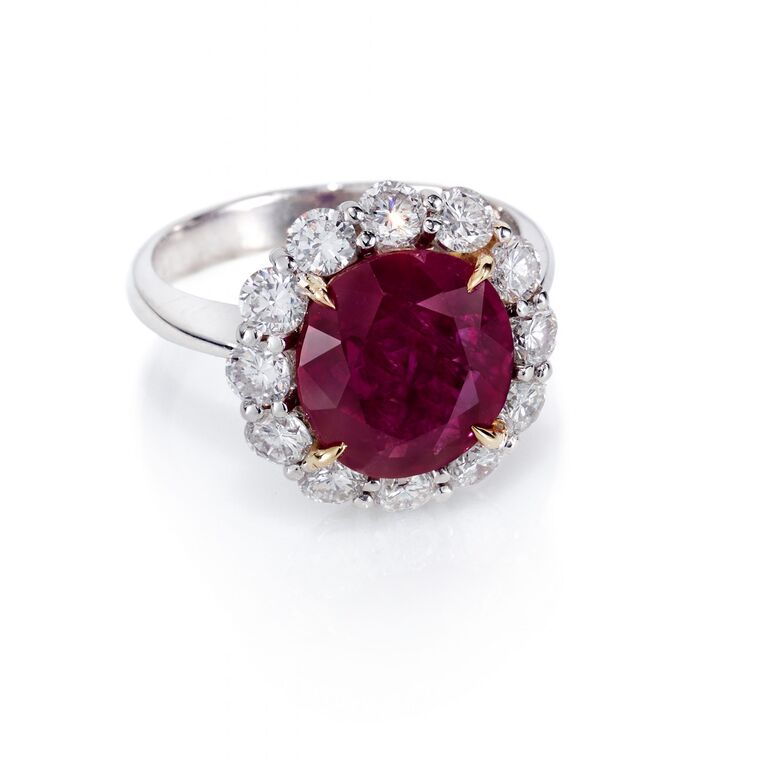 This ruby center stone is like a bouquet for your finger. The ring is surrounded by round brilliant-cut diamonds to create the prettiest vintage floral effect.
17. Best Minimalist Ruby Engagement Ring: Jennie Kwon Still Life Ruby Ring in 14K Yellow Gold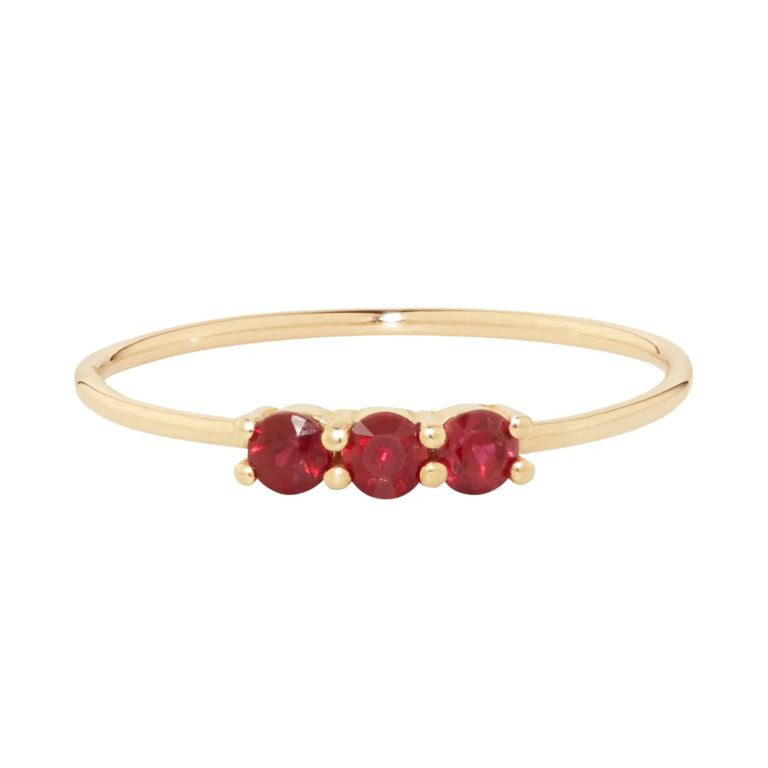 Bigger isn't always better. Three dainty rubies in a thin yellow gold setting are delicate and gorgeous.
18. Best Gold Ruby Engagement Ring: Astra Ruby Halo Ring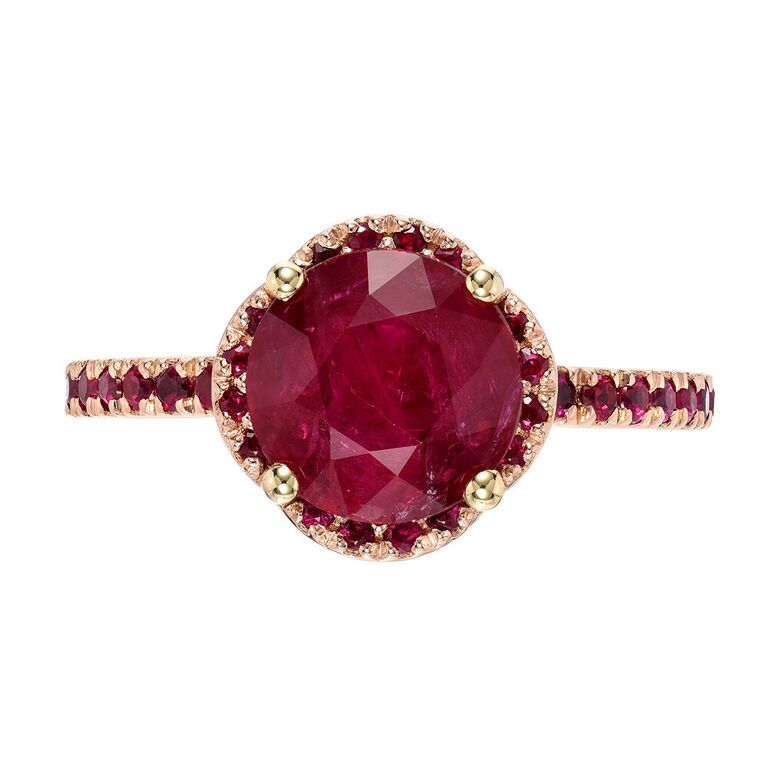 Channel the opulence of a bygone era and opt for a ruby ring with a unique round-meets-brilliant-cut ruby surrounded by tiny rubies on the halo and pavé band.
19. Best Three-Stone Ruby Engagement Ring: Grown Brilliance Oval Cut Three-Stone Engagement Ring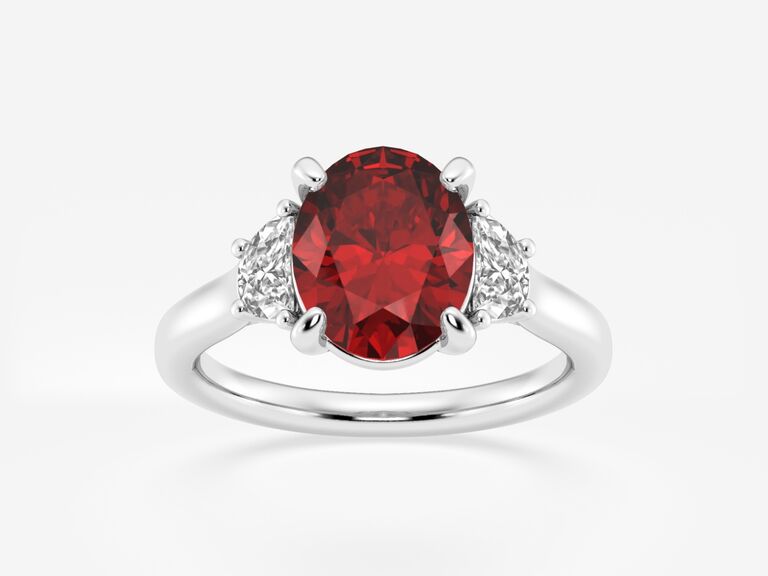 Simple can still be stunning. Diamond side stones give this solitaire ring a glitzy upgrade.
20. Best Vintage Ruby Engagement Ring: Kwait Large Argyle Ring with Rubies and Diamonds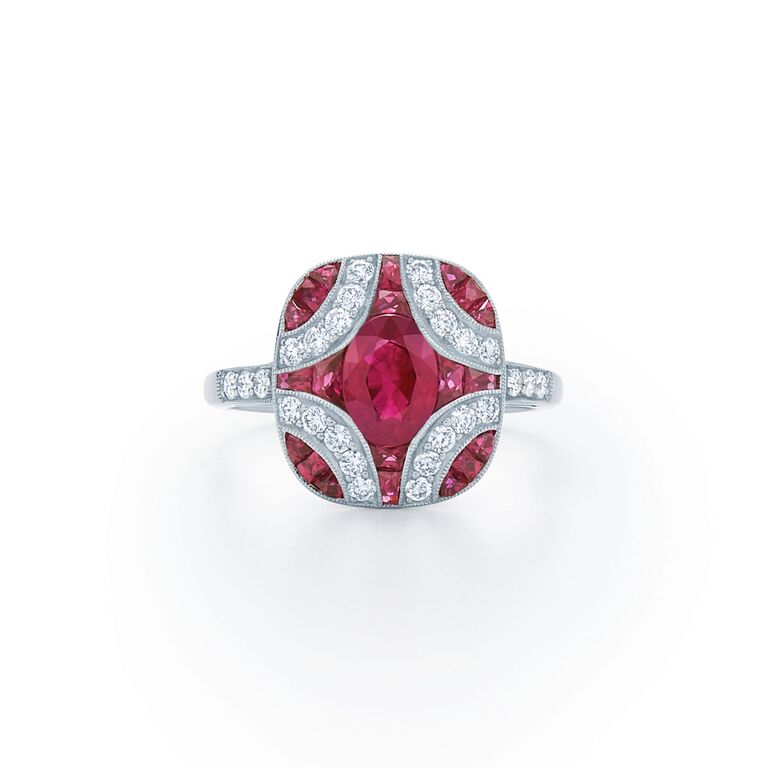 Get in on the vintage-inspired engagement ring trend with this intricate ruby and diamond ring, set in an elaborate argyle design.
21. Best Signet Engagement Ring: Holden Emerald Gem Signet Ring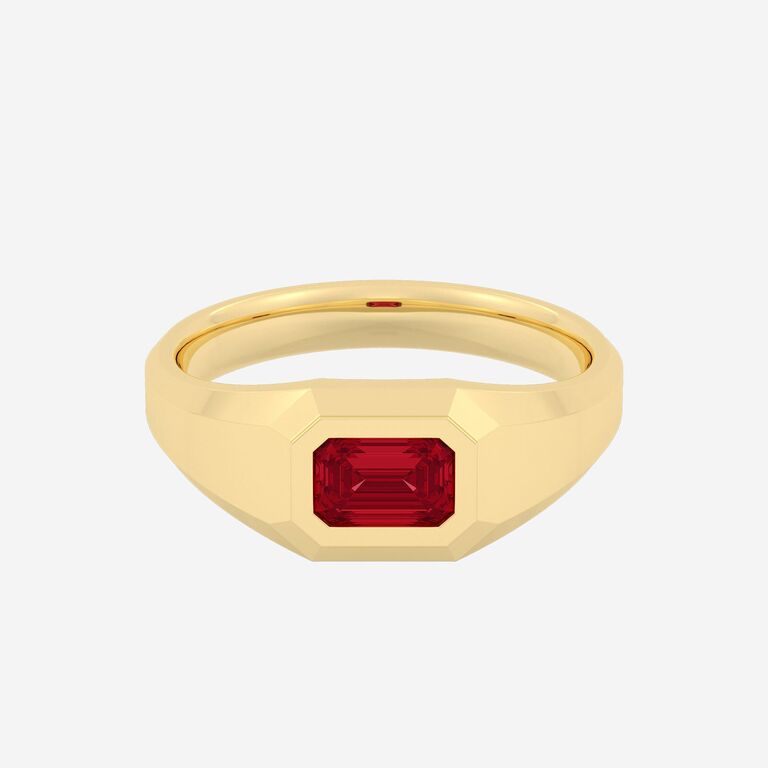 If you want to commit to a chunky ring, consider this signet style from Holden with an emerald-cut lab-grown ruby center stone.
22. Most Glam Ruby Engagement Ring: Smiling Rocks Lab Grown Diamond Oval Halo Engagement Ring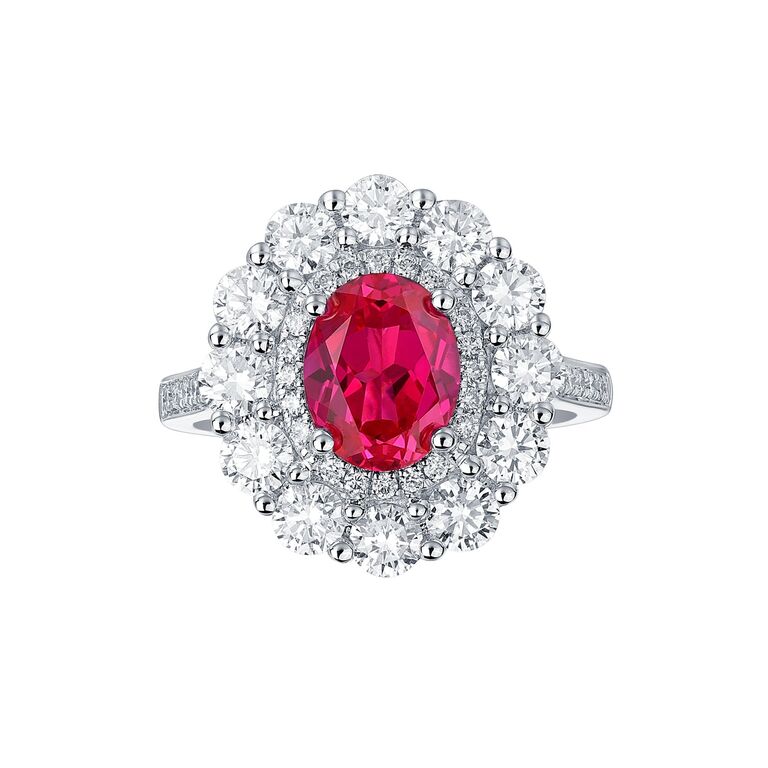 What's better than one halo? Two! This uber-glitzy setting makes a smaller center stone feel more dramatic.
23. Best Baguette Ruby Engagement Ring: Retrouvai Ruby Baguette Wrap Ring in 14K Yellow Gold
Take a cue from the boys and opt for this effortlessly chic menswear-inspired wrap ring with ruby baguettes.
24. Most Edgy Ruby Engagement Ring: Edward Avedis Sugar Stud Ruby Ring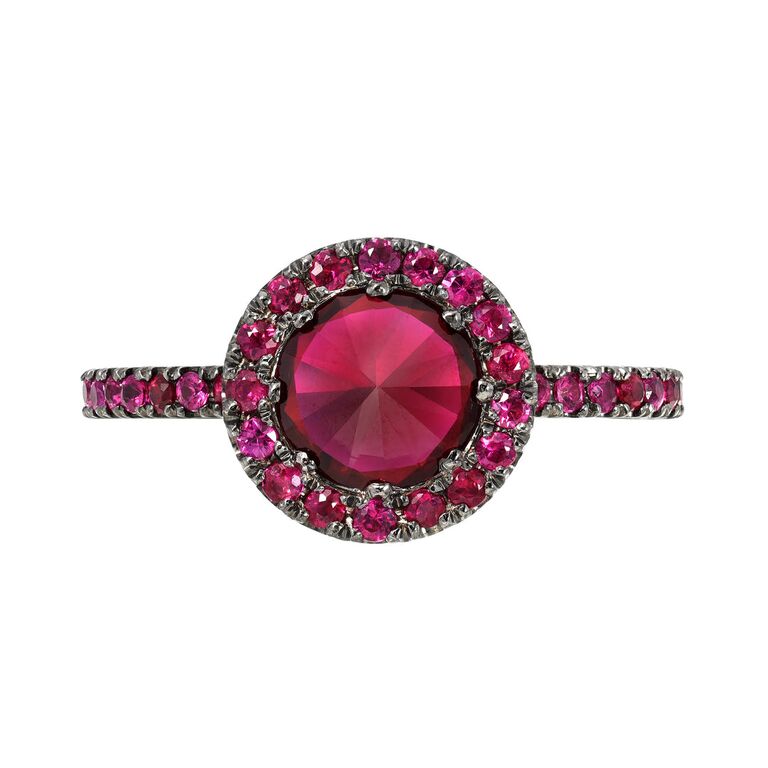 This ruby ring with a chic halo and black gold setting is as elegant as it is edgy.
25. Best Baguette Ruby Engagement Ring: Nicole Rose Jewelry Ruby and Diamond Mounting Ring in Platinum and Yellow Gold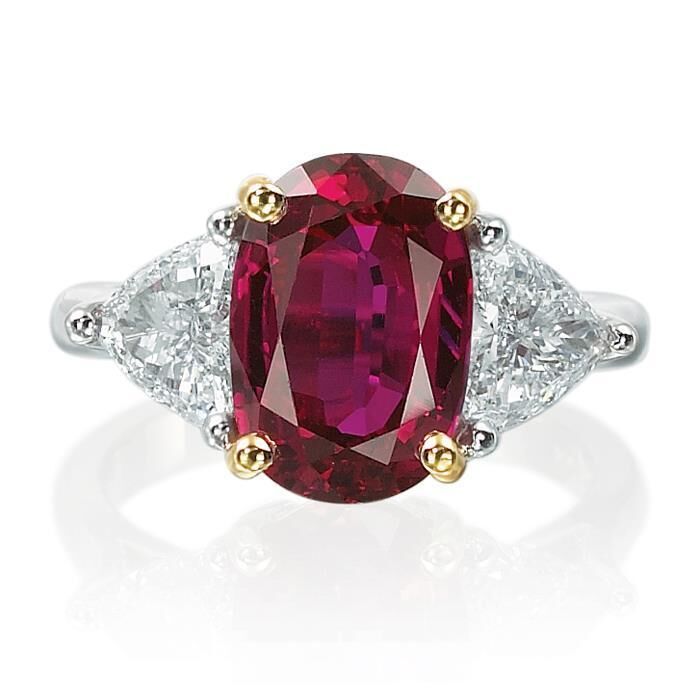 Make a cocktail ring-inspired statement with an oval ruby center stone and large diamond sidestones.
26. Best Open Ruby Engagement Ring: Lauren Addison Open Ruby and Diamond Ring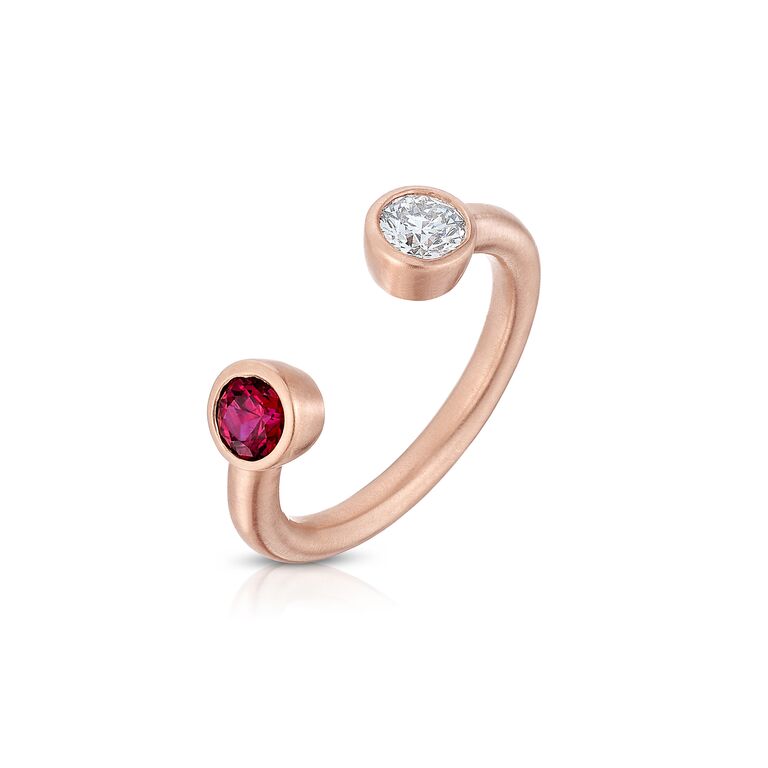 Minimalistic but striking, a brilliant-cut ruby and diamond paired with a satin open ring setting is all about cool, clean lines.
27. Best Gender Neutral Ruby Engagement Ring: David Yurman Modern Renaissance Band Ring in 18K Yellow Gold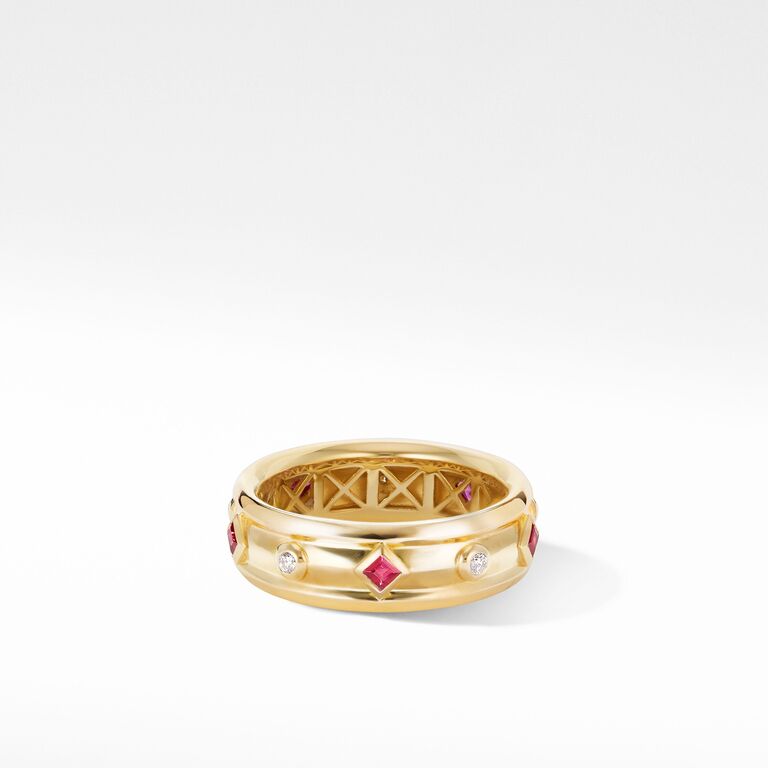 The rubies may not be the central focus of this engagement ring, but their geometric design definitely gives it an Art Deco twist.
28. Best Pear-Cut Ruby Engagement Ring: Grown Brilliance Pear-Cut Ruby and Lab Grown Diamond Halo Engagement Ring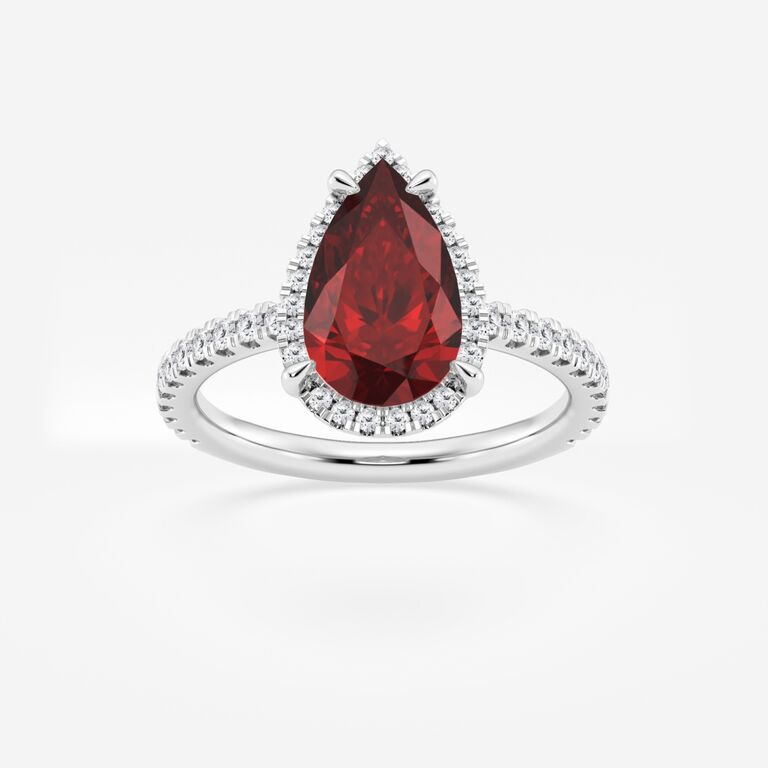 We love a pear-shaped center stone for two reasons: It elongates the hands and has unique flair.
Frequently Asked Questions About Ruby Engagement Rings
What does a ruby engagement ring mean?
The ruby gets its name from the Latin word for red, ruber. It is considered one of the traditional cardinal Gems (or most precious of all gemstones), along with amethyst, sapphire, emerald and diamond. Throughout history, there have been many different cultural beliefs surrounding the powers and properties of this gorgeous gemstone.
Due to its vibrant hue, the ruby is associated with the sun and is therefore believed to possess many of its energetic properties, bringing vitality and power to those who wear it. In India, for instance, the ruby is the king of all precious stones and is associated with both spiritual prowess and royal blood. Fun fact for to-be-weds: Rubies are also associated with heightened sexual and romantic energy (wink).
Where do rubies come from?
For centuries, the Mogok Valley in Upper Myanmar (Burma) was the world's main source for rubies. In central Myanmar, the area of Mong Hsu began producing rubies during the '90s and quickly became the world's main ruby mining area. Historically, rubies have also been mined in Thailand, Cambodia, Afghanistan, Australia, Brazil, Colombia, India, Namibia, Japan, Scotland, Madagascar, Nepal, Pakistan, Tajikistan, Tanzania and Vietnam.
Are rubies more expensive than diamonds?
Rubies are one of the most sought after gemstones and also one of the most expensive. A large, high quality ruby can be more expensive than a diamond of a similar size, and is actually rarer. However, where engagement rings are concerned, choosing a ruby center stone over a diamond is the more budget-friendly move—the average ruby you find in an engagement ring sells for between $2,500 and $10,000 per carat, whereas a diamond can cost between $10,000 and $15,000.
Shelley Brown contributed to the reporting of this article.