The 25 Best Sapphire Engagement Rings for the Princess Diana-Obsessed
Looking for a sparkler fit for royalty? Sapphire engagement rings come in a variety of hues and unique styles. Here are our top picks for a regal show-stopper.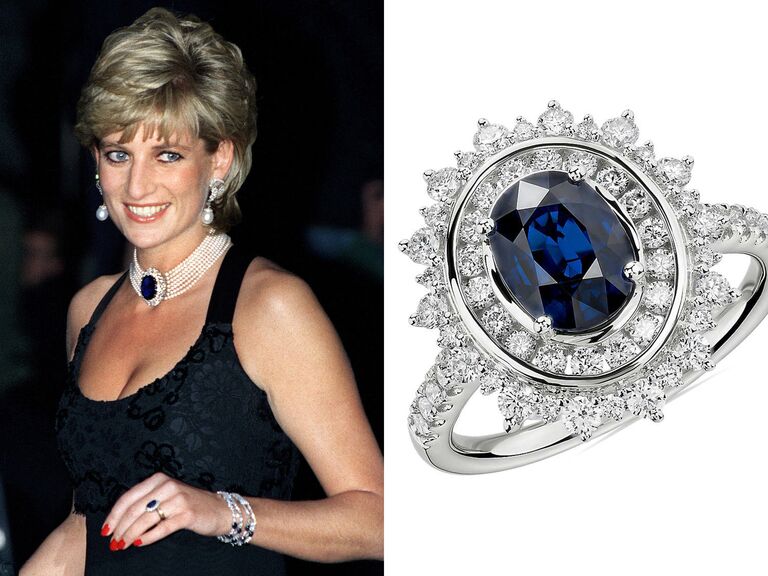 Getty Images/Blue Nile
We have included third party products to help you navigate and enjoy life's biggest moments. Purchases made through links on this page may earn us a commission.
If you're in the market for a colorful sparkler, a sapphire engagement ring is timeless. It's no wonder sapphires have been one of the most popular precious gemstones for centuries—they're a gorgeous "something blue," with lots of sentimental meaning. They're also considered one of the "Big Four" of precious jewels, alongside rubies, emeralds and diamonds. On a more technical note, these durable stones appeal to jewelers because they have a hardness of nine on the Mohs scale (diamonds are a 10). So if you're looking for a sturdy center stone that also stands out from the crowd, a sapphire ring might be for you.
What Does a Sapphire Engagement Ring Mean?
The meaning behind sapphire engagement rings goes way, way back. In ancient cultures, sapphire talismans were thought to have strong medicinal and protective powers because their blue color symbolized the heavens, says Yehouda Saketkhou, CEO of Yael Designs. A representation of honesty and wisdom, sapphires soon became the preferred gem of medieval royalty and clergy. Kings even wore them when they signed treaties as a symbol of good luck. In modern day, sapphire engagement rings are associated with wisdom and fidelity, as well as old-world romance. They're the traditional gift for a 45th wedding anniversary, and just so happen to be the engagement ring of choice for the British royal family. After all, Kate Middleton's stunning 18-carat, blue sapphire engagement ring given to her by Prince William was originally presented to Princess Diana, and is perhaps one of the most famous sparklers in the world.
Where Do Sapphires Come From?
While some of the most valuable sapphires in history were mined in Kashmir and Myanmar (Burma), these days most of the world's sapphires come from Sri Lanka and Australia, says Douglas Hucker, CEO of the American Gem Trade Association. Since Sri Lanka has been producing sapphires for thousands of years (like the Logan sapphire, one of the largest sapphires in the world), you'll pay for the historic connection, Hucker says. There are also smaller artisanal mines that use old-fashioned techniques (read: digging and sifting for stones by hand) in Madagascar. Though production in this developing country is spottier than in others, some of the sapphires produced there are just as high quality as those from Sri Lanka. Though not as valuable, sapphires are also mined in Montana.
Choosing the Right Sapphire Engagement Ring for You
It goes without saying that the most important quality in a blue sapphire is the richness of its color. A perfect blue sapphire will be royal blue without any modifying colors, such as gray, green or black, which might make the stone look inky or change its hue, according to Hucker. The cut of a sapphire isn't as important as the cut of a diamond, because it's harder to see inclusions (read: internal flaws) in darker stones with the naked eye. No standardized quality-grading system exists for colored gemstones, but it's rare to find a natural sapphire without inclusions. Bottom line: Don't worry about finding a flawless stone—as long as there aren't severe dark inclusions, you're good. No matter the shape of your stone (as long as it's symmetrical), look for one with even color and consistent sparkle. As with any gemstone, the setting choose will also help to determine the overall style of your bling. For example, an oval sapphire in an geometric white gold setting with pave details has an art deco feel, while a round stone in a yellow gold setting has a more modern vibe.
Pro tip: This may sound super technical, but it's important to know whether or not your sapphire is natural or heat treated. Some sapphires are found closer to thermal venting in the earth, which produces saturated color thanks to natural heating. More commonly, sapphires are treated with heat to enhance the richness of their color. Naturally vibrant sapphires that don't require any heat treatment will command a premium price, but they're also very hard to find, says Deirdre Featherstone, founder of Featherstone Design. Before you obsess over finding an untreated sapphire, know that heat treatments are permanent and don't affect the quality. In some cases, they can strengthen the chemical makeup, Hucker says. However, make sure you're dealing with a reputable jeweler who uses standard treatments—not nonstandard ones like dyeing—before you buy.
Other Colorful Sapphires
If a blue sapphire ring isn't your thing, don't fret. While blue sapphires are the rarest and most valuable, this gorgeous stone actually occurs in a rainbow of hues—and other colors tend to be more budget friendly. Sapphires that aren't blue (think: pink sapphires and yellow sapphires) are a great option if you want the look of a pink or yellow diamond engagement ring but don't want to splurge.
Caring for Your Sapphire Engagement Ring
Though sapphire rings are almost as durable as diamond rings, they still require special care. Grace Terezian, creative director of Kirk Kara, recommends using warm water, mild soap and a soft-bristle toothbrush for everyday cleaning. Take your sapphire ring to a jeweler for an in-depth cleaning at least once a year. If you own an estate piece, have your jeweler check the security of the stone once in a while—prong settings in particular can loosen over time.
Trendy Sapphire Engagement Rings in 2020
Feeling a sapphire engagement ring now? Shop some of our fave rings styles below.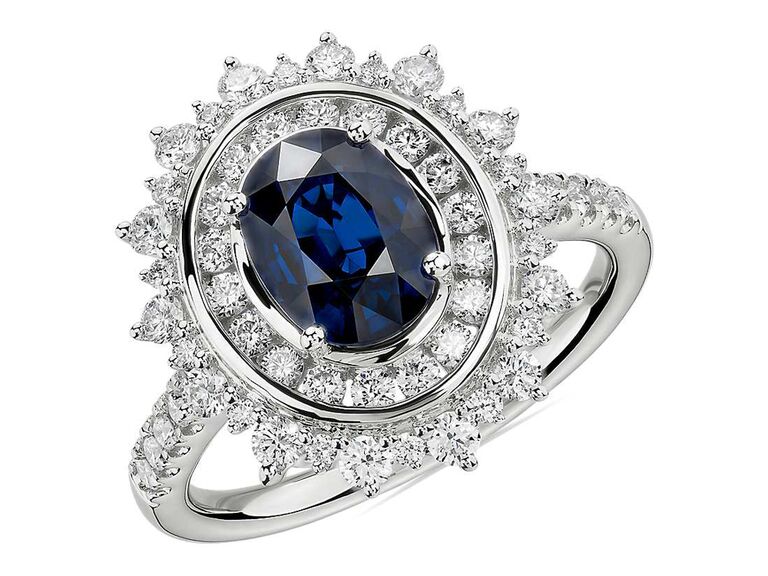 Blue Nile oval sapphire ring with double diamond sunburst halo in 14K White Gold, $4,100, BlueNile.com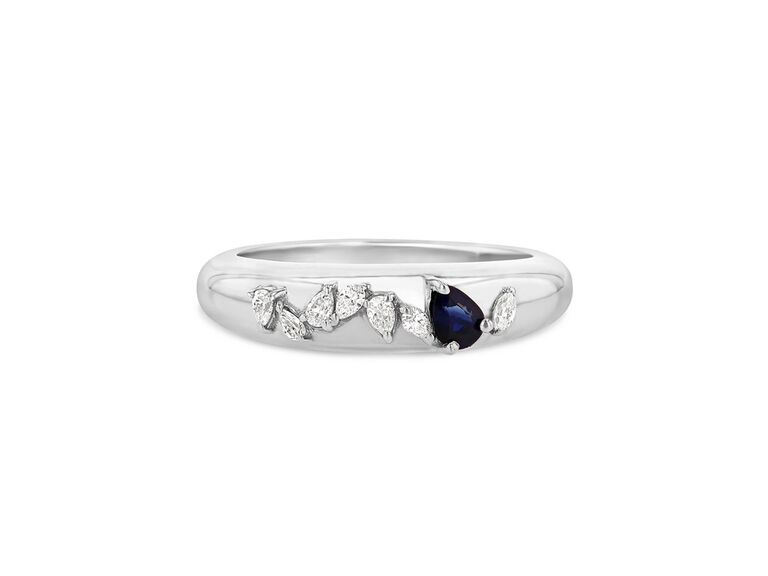 Grace Lee Demi Demi plus 8 blue sapphire ring in 14K White Gold, $2,880, GraceLee.com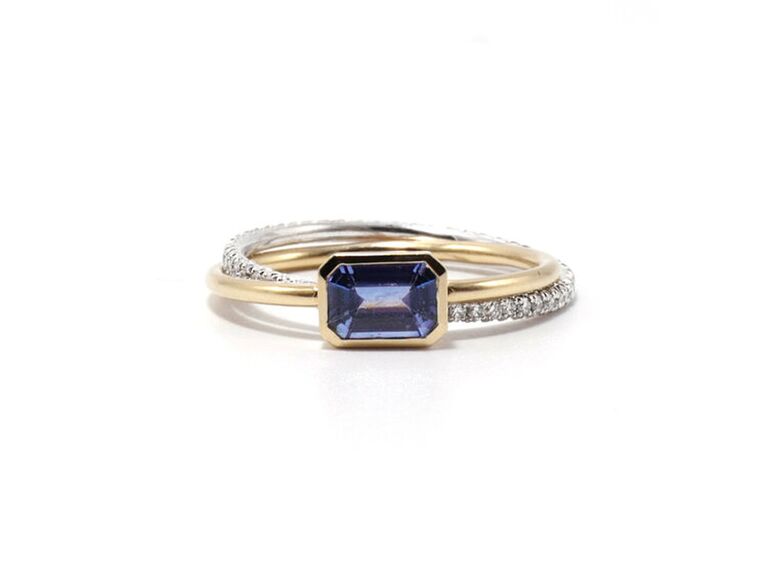 Ashley Zhang sapphire pavé rolling ring in 14K Yellow Gold Setting and 14K White Gold Diamond Pavé Band, $3,000, AshleyZhangJewelry.com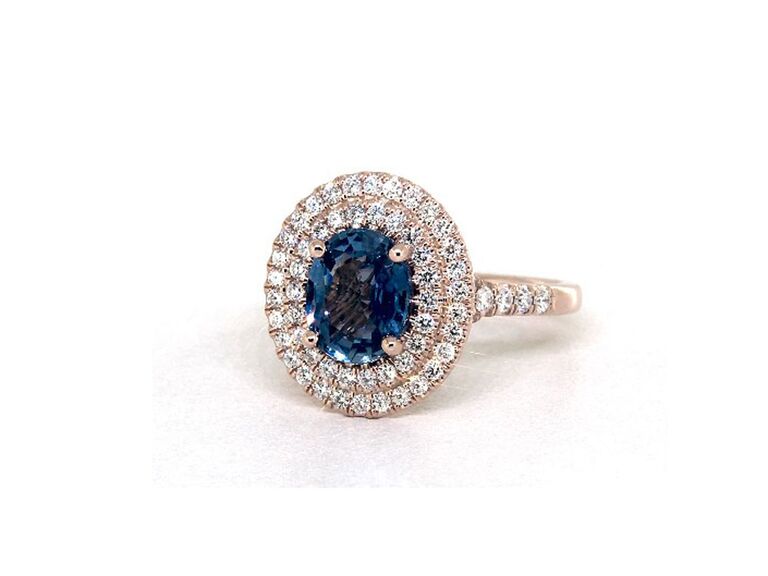 James Allen blue sapphire oval cut halo engagement ring in 14K Rose Gold, $3,080, JamesAllen.com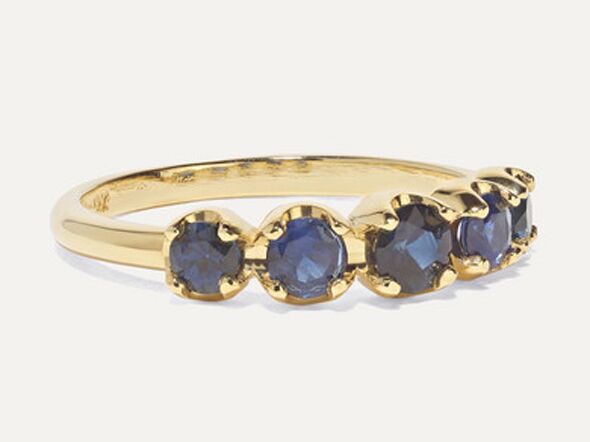 Jennifer Meyer sapphire ring in 18K Yellow Gold, $2,500, NET-A-PORTER.com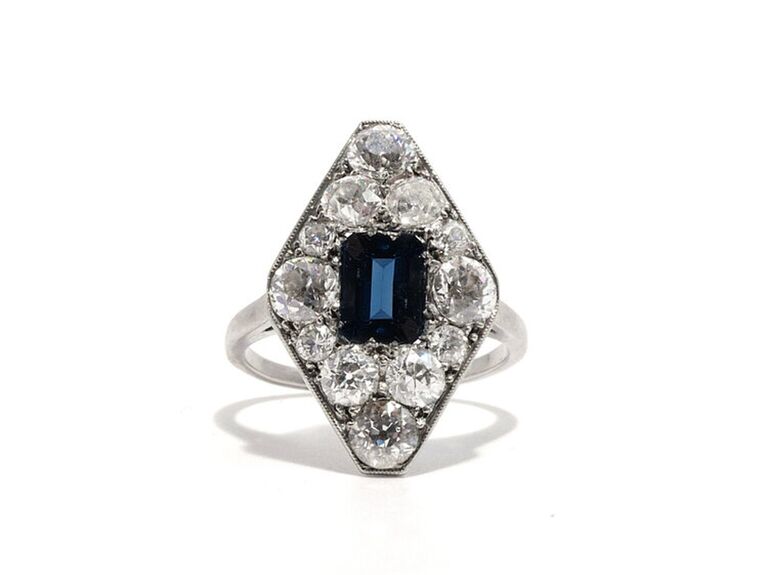 Ashley Zhang Chloe art deco sapphire ring in Platinum, $6,000, AshleyZhangJewelry.com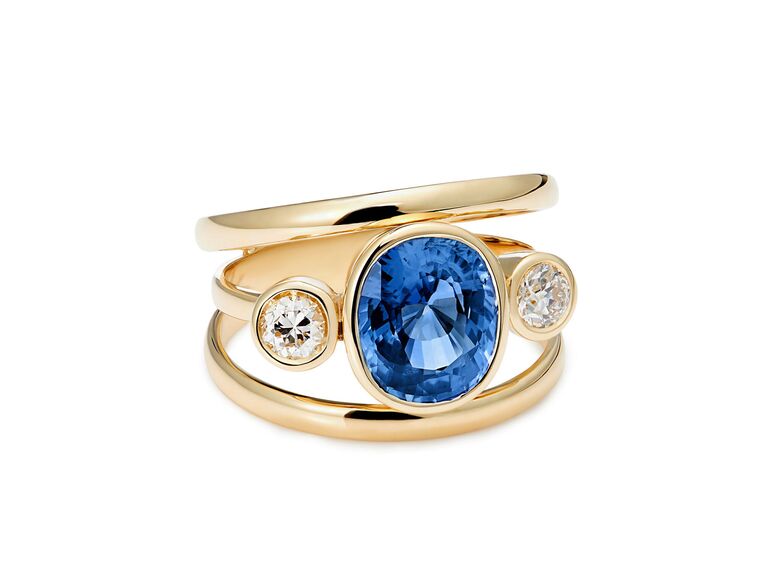 Minka Jewels 3-Way sapphire and diamond ring, Inquire for Details, MinkaJewels.com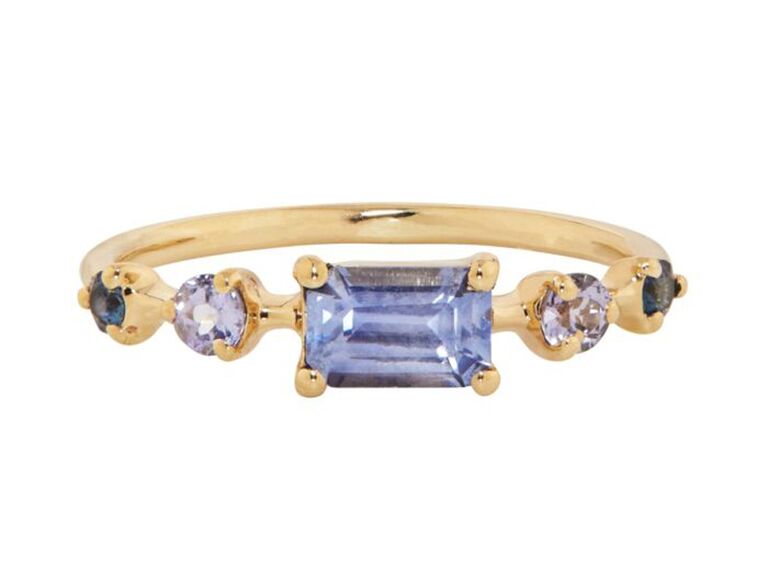 Wwake Blue Vistas ring in 14K Yellow Gold, $2,540, CatbirdNYC.com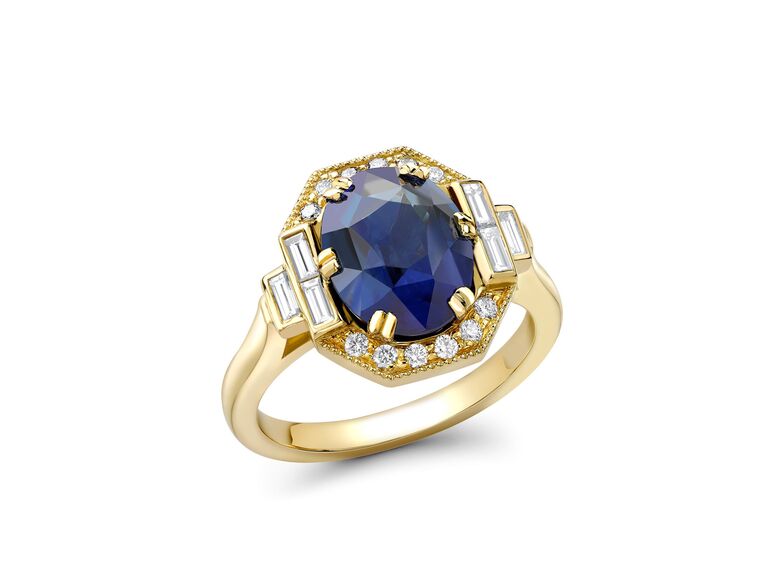 Emma Clarkson Webb Sarah 18 ct yellow gold sapphire engagement ring, Inquire for Details, EmmaCWebb.com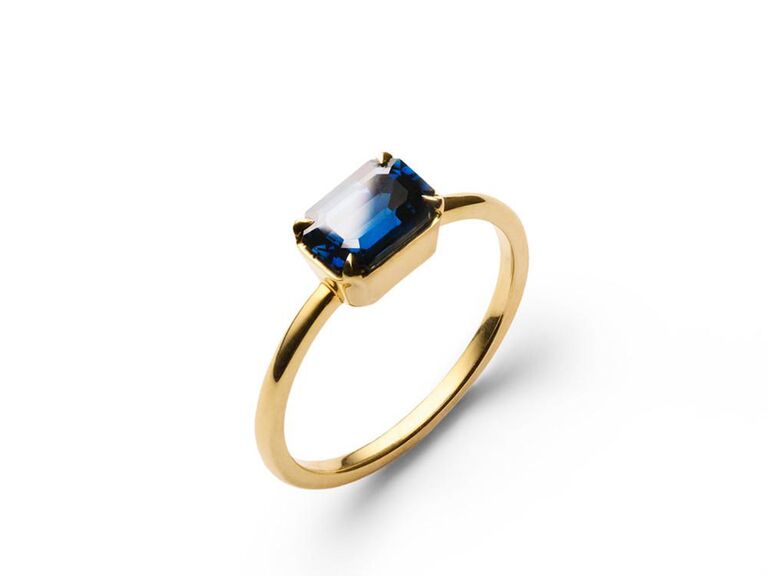 Nora Kogan Blue Velvet ring in 18K Yellow Gold, $1,950, NoraKogan.com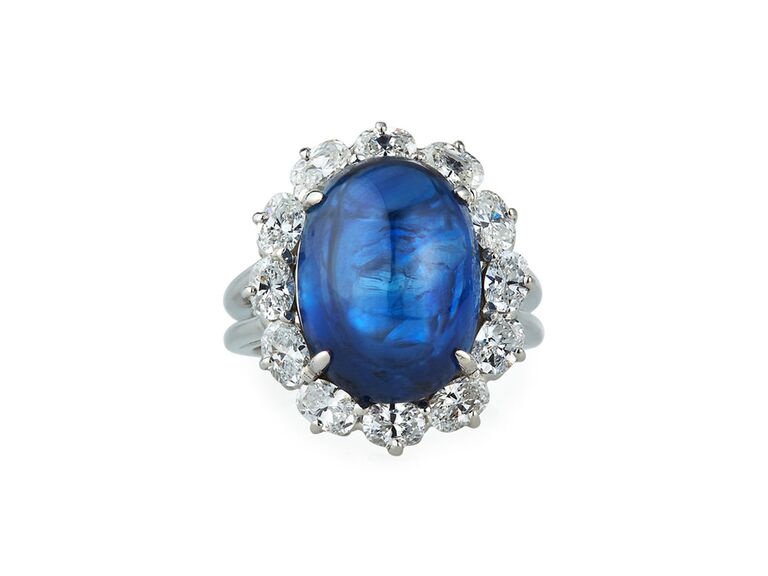 Oscar Heyman oval sapphire diamond-trim ring in Platinum, $55,500, NeimanMarcus.com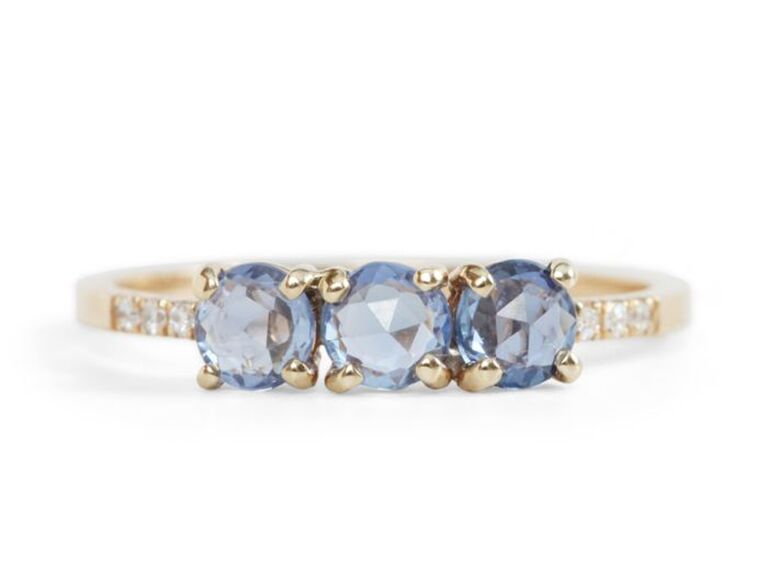 Jennie Kwon Painter's blue sapphire ring in 14K Yellow Gold, $675, CatbirdNYC.com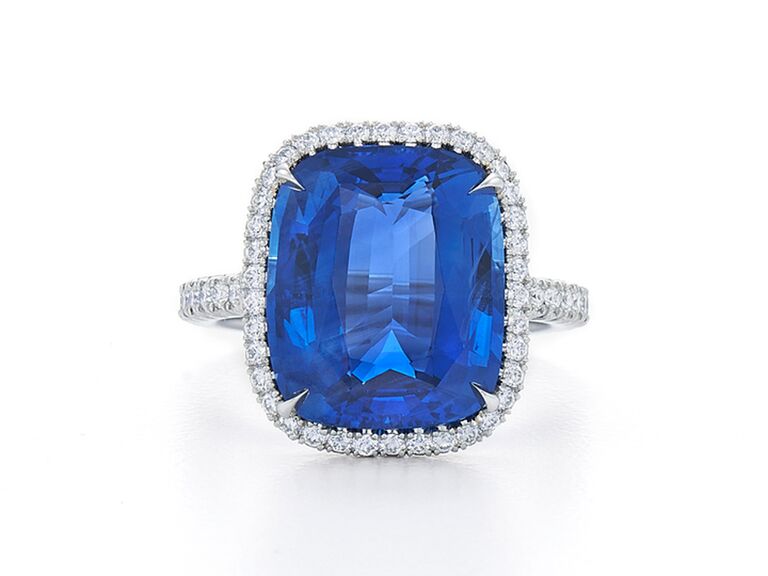 Kwiat cushion cut sapphire engagement ring in Platinum, Inquire for Details, Kwiat.com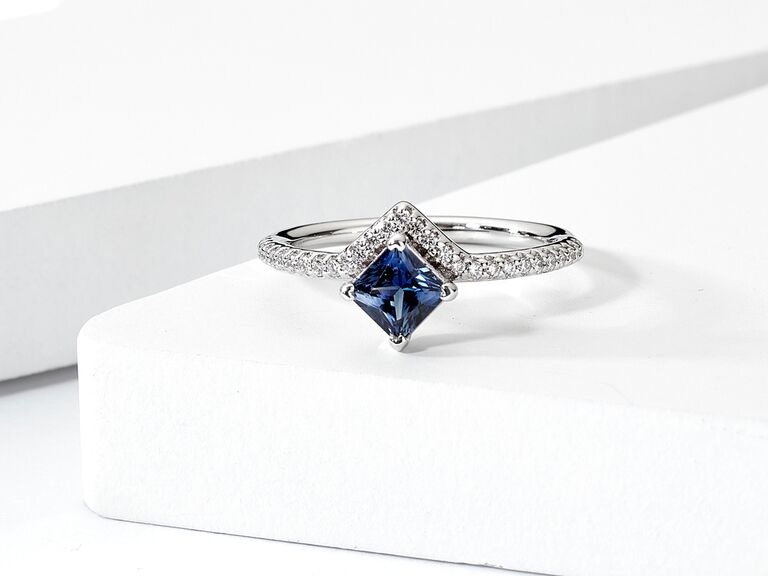 Ritani Valentina ring in 18K White Gold, $1,955, Ritani.com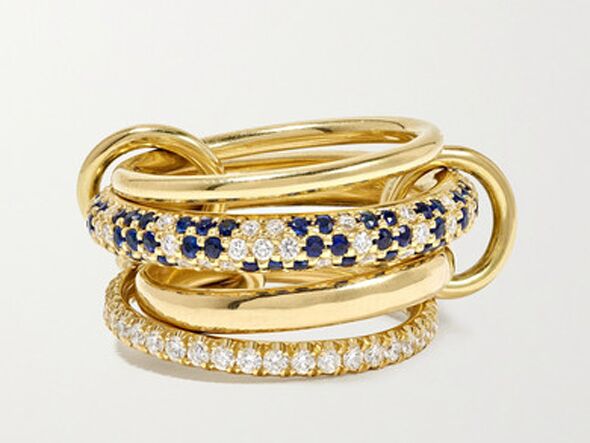 Spinelli Kilcollin sapphire and diamond rings in 18K Gold, $9,600, NET-A-PORTER.com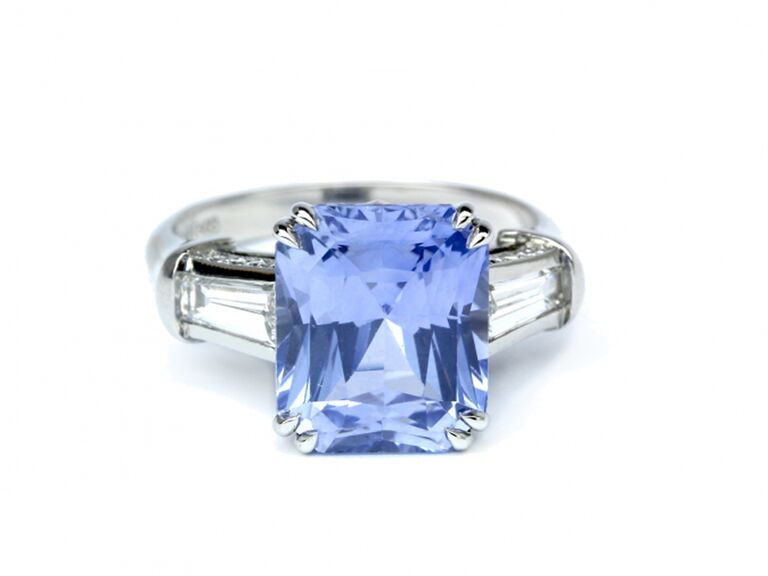 Featherstone Fine Jewelry emerald cut sapphire ring in Platinum, Inquire for Details, FeatherstoneDesign.com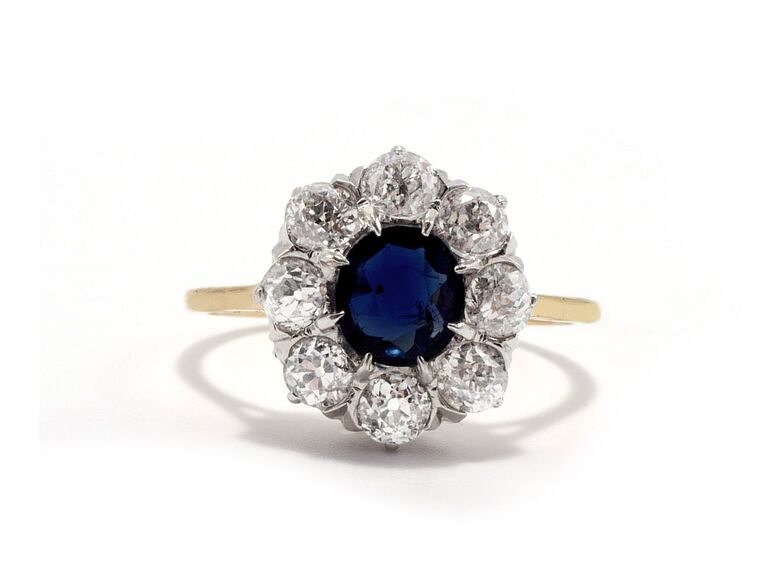 Ashley Zhang The Harper Sapphire Diamond Halo ring, $3,950, AshleyZhangJewelry.com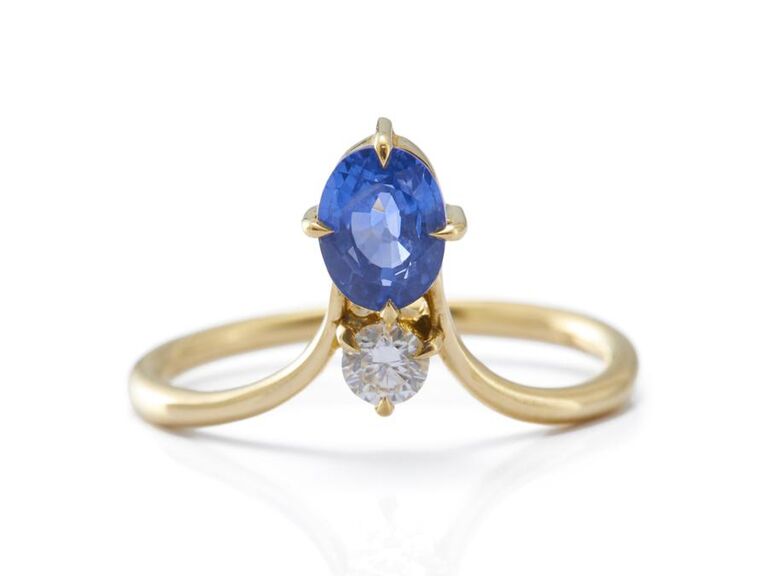 Yi Collection blue sapphire and diamond crown ring in 18K Yellow Gold, $1,950, YiCollection.com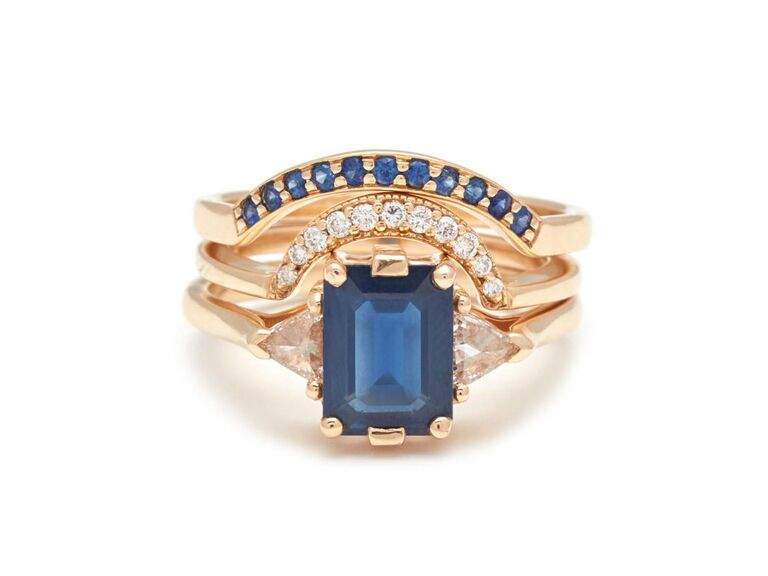 Anna Sheffield Bea Suite No. 30 rings, $9,350, AnnaSheffield.com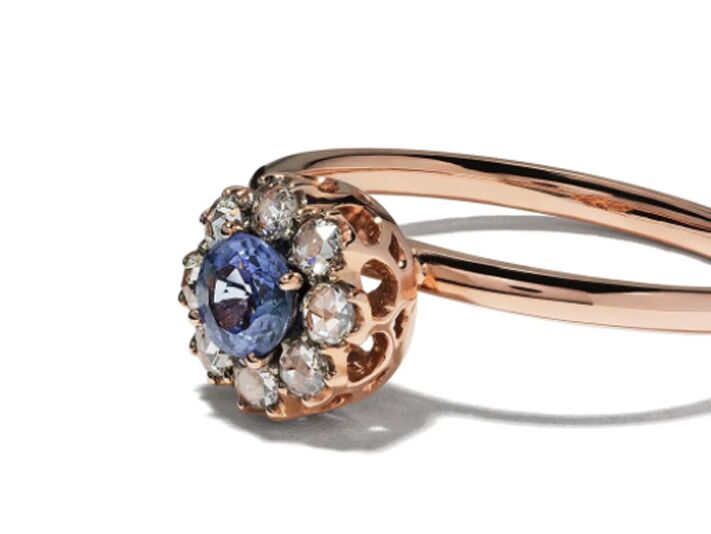 Selim Mouzannar Beirut diamond sapphire ring in 18K Rose Gold, $1,569, FarFetch.com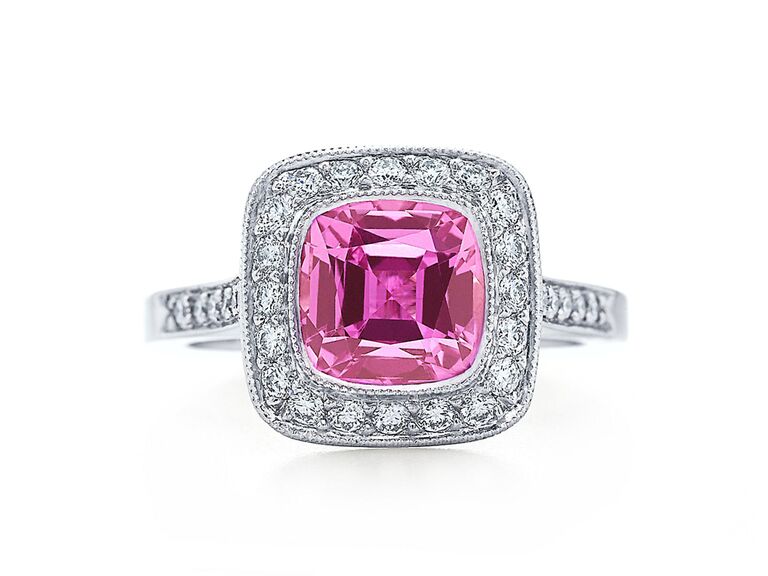 Tiffany & Co. Legacy pink sapphire ring in Platinum, Inquire for Details, Tiffany.com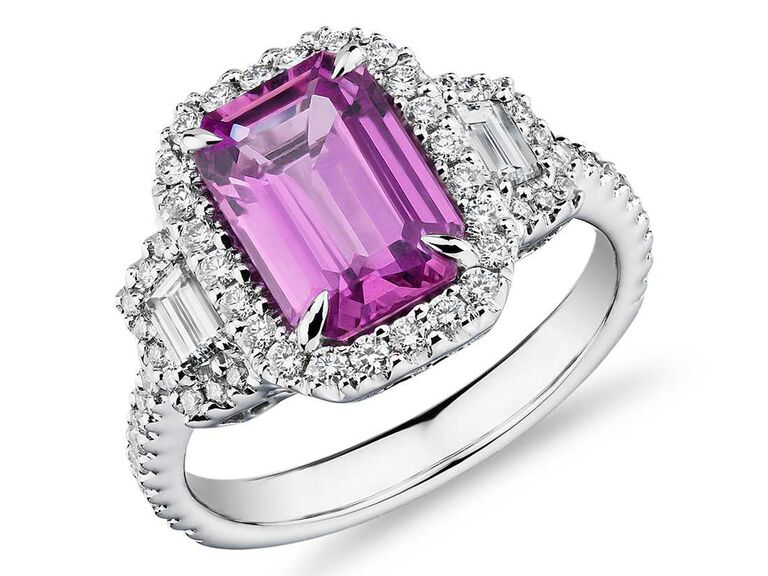 Blue Nile emerald-cut pink sapphire ring with diamond trapezoid side stones in 18k White Gold, $16,000, BlueNile.com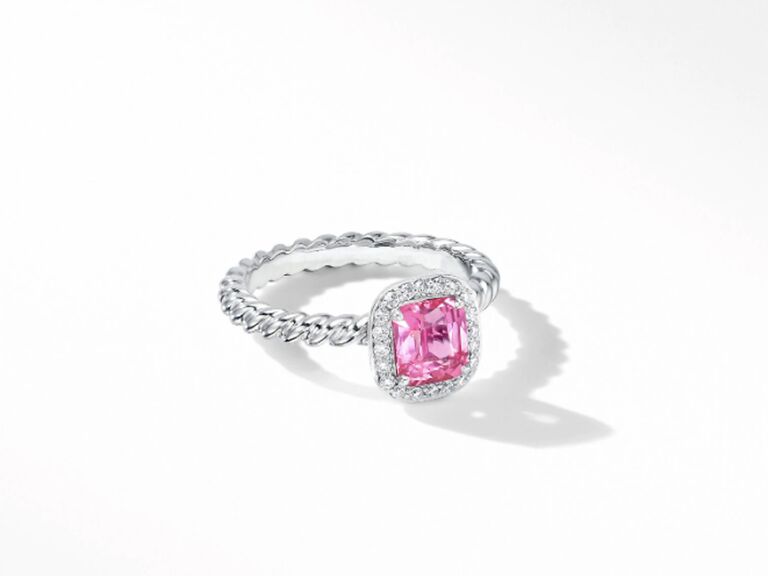 David Yurman DY Capri pink sapphire cushion engagement ring in Platinum, Inquire for Details, DavidYurman.com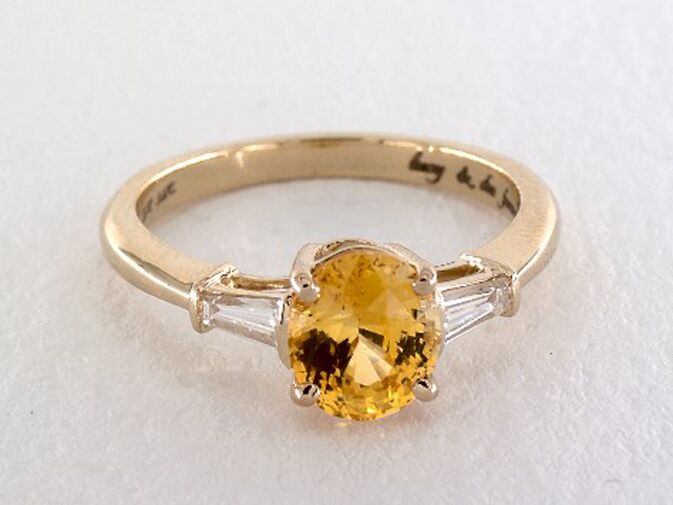 James Allen yellow sapphire oval cut side stone engagement ring in 14K Yellow Gold, $2,190, JamesAllen.com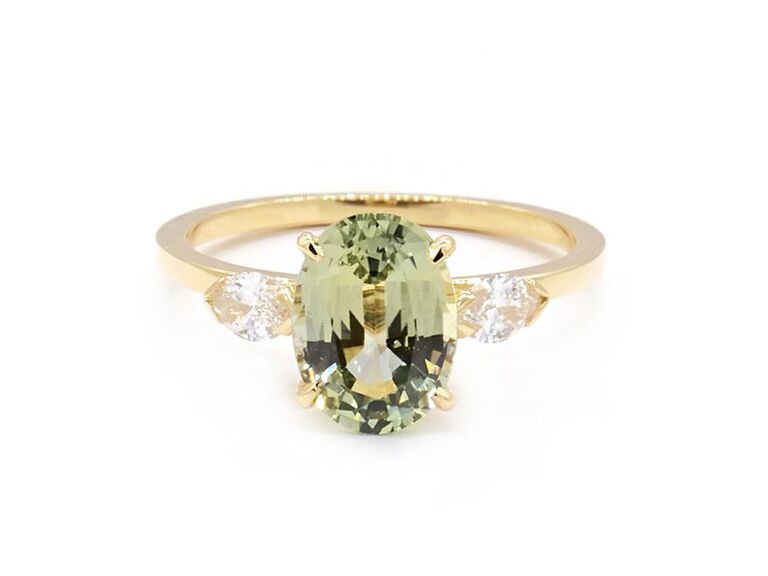 Natalie Marie Jewellry green sapphire tulip trio ring in 18K Yellow Gold, $4,438, NatalieMarieJewellry.com