25 Sapphire Engagement Rings Fit for Royalty
Everything you need to know about this historic stone—plus our top picks for a regal sparkler.
We have included third party products to help you navigate and enjoy life's biggest moments. Purchases made through links on this page may earn us a commission.
If you're contemplating a colorful sparkler, a sapphire engagement ring is a timeless choice. It's no wonder sapphires have been one of the most popular precious gemstones for centuries—they're a gorgeous "something blue," with lots of sentimental meaning and they're totally on trend. In fact, The Knot's 2022 Jewelry and Engagement Study shows they're one of the most popular colorful center stones, making up 15% of non-diamond engagement rings. Sapphires also just so happen to be one of the British royal family's engagement ring go-tos. After all, Kate Middleton's stunning 18-carat, blue sapphire engagement ring was originally presented to Princess Diana, and is perhaps one of the most famous pieces of jewelry in the world.
What is a sapphire, exactly? Sapphires belong to the corundum family of minerals and were once considered one of the "Big Four" of precious jewels, alongside rubies, emeralds and diamonds. On a more technical note, these durable stones appeal to jewelers because they have a hardness of nine on the Mohs scale (diamonds are a 10). So, if you're looking for a sturdy gemstone that stands out from the crowd and has a rich history, a sapphire might be for you. Read on for everything you need to know about sapphire engagement rings, including editor-approved styles you can shop now.
In this article:
Sapphire Engagement Rings Meaning
The meaning behind sapphire engagement rings goes way, way back. "Sapphires have been treasured for more than 2,500 years," says Greg Kwiat, CEO of Kwiat Diamonds and Fred Leighton. "Although they can be found in a range of colors, we generally think of them as blue—and it is blue sapphires that have been symbolic of royalty and romance, from Ancient Greece and Rome through the modern era." In ancient cultures, sapphire talismans were thought to have strong medicinal and protective powers because their blue color symbolized the heavens. A representation of honesty and wisdom, sapphires soon became the preferred gem of medieval royalty and clergy. Kings even wore them when they signed treaties as a symbol of good luck.
"Engagement rings used to only be for the royal and wealthy and were made of many different gemstones, including sapphires, before the diamond became the standard stone we use now," says Ashley Zhang, founder of Ashley Zhang Jewelry. "Some of the most famous sapphire engagement rings in history are Emperor Napoleon's diamond and sapphire toi et moi style ring for his wife Josephine, and of course Princess Diana's ring." In modern day, sapphire engagement rings are associated with fidelity and good luck. "It is said that sapphire engagement rings bring honesty and loyalty, as well as good fortune to the couple. It's a symbol of purity," says Yvonne Léon, founder of Yvonne Léon jewelry.
Sapphire Engagement Ring 101
Are Sapphires Good for Engagement Rings?
Yes, sapphires make good engagement rings. Unlike some other gemstones, which can be soft and easily damaged, sapphires are almost as hard as diamonds and will stand up to the wear and tear of everyday use. They're also an instant conversation starter, thanks to their color variety (more on this below). "Sapphires stand out and make a statement instantly, whether it's a one-carat or a five-carat stone," says Ali Galgano, founder of Serpentine Jewels. "Whereas with a white diamond, it's a little bit harder to get that overall knockout look without spending more on a larger stone. Plus, getting engaged with a colored stone is something that is not so commonplace these days, and will really allow someone to have an engagement ring that's incredibly individualized." Another pro? Sapphires are available in a wide range of settings, so you can easily find one that speaks to your personal style without having to go the custom route.
What to Look for in a Sapphire Engagement Ring
Color: The most significant factor in a Sapphire's price is its color. Natural, untreated pure blue Sapphires are the rarest and most valuable. However, they also represent a very small portion of the market. If you aren't on the hunt for a priceless stone, we recommend choosing the sapphire that appeals to you. They come in a wide spectrum of colors, each with their own significance. Are you classic? A traditional deep blue sapphire might be right for you. If you're going for edginess, consider an orange, green or gray option. Meanwhile, hopeless romantics will love the dreamy look of peach, pink and light purple sapphires. The choice is yours—just make sure you see the stone IRL before you purchase (or get very detailed photos) and you're happy with how it looks against your skin tone.
Cut: Like diamonds, sapphires come in pretty much every shape. The most popular ones are round, oval and cushion, as these tend to show off their color best. Whatever shape you choose, it's important to pick one that's cut symmetrically, is well polished and reflects the light evenly. Our advice? Working with a professional jeweler will help to ensure you're getting the best quality stone possible.
Setting: While the center stone is the focal point of your engagement ring, the setting determines its overall style. Sapphire engagement rings are available in almost every setting imaginable, so it's important to choose one that speaks to you.
Origin: Many vintage and antique rings have sapphires, as they were once more commonly used for engagement rings than diamonds. If you purchase an estate piece, have your jeweler check the security of the stone (or accent stones) once in a while—prong settings in particular can loosen over time.
Different Colors of Sapphires
If a blue sapphire ring isn't your thing, don't fret. While blue sapphires are the rarest and most valuable, this gorgeous gem actually occurs in a rainbow of hues—and other colors tend to be more budget-friendly. Where a sapphire comes from can actually influence its color, as is the case with the trendy Montana sapphire. What is a Montana sapphire? Simply put, a Montana sapphire is one that comes from the state of Montana. These stones are known for their distinctive hues of light pastels, teal and smoky gray, as well as more sustainable and ethical mining practices.
Below, find a list of colors sapphires come in. Fun fact: Red is noticeably missing because a red sapphire is called a ruby.
Colorless
Champagne
Peach
Orange
Yellow
Green
Teal
Blue
Pink
Purple
Gray
Brown
Black
Where to Buy Sapphire Engagement Rings
With any engagement ring purchase, it's important to buy a sapphire engagement ring from a professional jeweler. Get recommendations from family and friends or, check for retailers with an industry organization affiliation. Stores accredited by the Gemological Institute of America (GIA) the Jewelers of America or members of the are good places to start. And always find out what a store's return policy is. You want to be able to at least exchange the engagement ring or loose stone if it's not the one you want—especially if you're purchasing online and not in person. Some established retailers we trust include Kwiat Diamonds, Blue Nile, Brilliant Earth and Gemist, as well as any of the jewelers listed below.
Are Sapphires Cheaper Than Diamonds?
Sapphires are less expensive than diamonds—with some exceptions. A sapphire's value (and thus the cost of a sapphire engagement ring) is primarily based on the strength of its natural color; the more vivid a sapphire's natural hue, the more expensive it is. Frequently, sapphires are treated with heat to enhance the richness of their color. Naturally vibrant sapphires that don't require any heat treatment will command a premium price, but they're also very hard to find. "Sapphires come in a wide range of qualities, colors and treatments," says Burak Tirtirian of CICADA jewelry. "Natural, unheated sapphires in rare colors can be much more expensive than diamonds, whereas smaller, heated sapphires tend to be less expensive than diamonds." TLDR; most of the sapphires available to consumers are less expensive per carat than diamonds, unless you're opting for an extremely rare, unheated stone.
In fact, if you love the look of a white diamond but are on a budget, a colorless sapphire (also called a white sapphire) is a great diamond dupe. The same goes for yellow and pink sapphires, which won't cost you nearly as much as their colorful diamond counterparts. "A sapphire engagement ring offers the opportunity to get a ring that isn't so expensive but still feels really special, large and has a rich, well-respected history," Galgano says.
How to Clean a Sapphire Engagement Ring
Though sapphire rings are almost as durable as diamond rings, they still require special care. "Most things that you can do with diamonds you can do with sapphires," Galgano says. "I recommend that people clean their diamond or sapphire jewelry with either an ultrasonic machine or a toothbrush and a touch of dish soap." It's also a good idea to take your sapphire ring to a jeweler for an in-depth cleaning at least once a year—you'd be surprised how much grime can build up over time and dull your sparkler!
Solitaire Sapphire Engagement Rings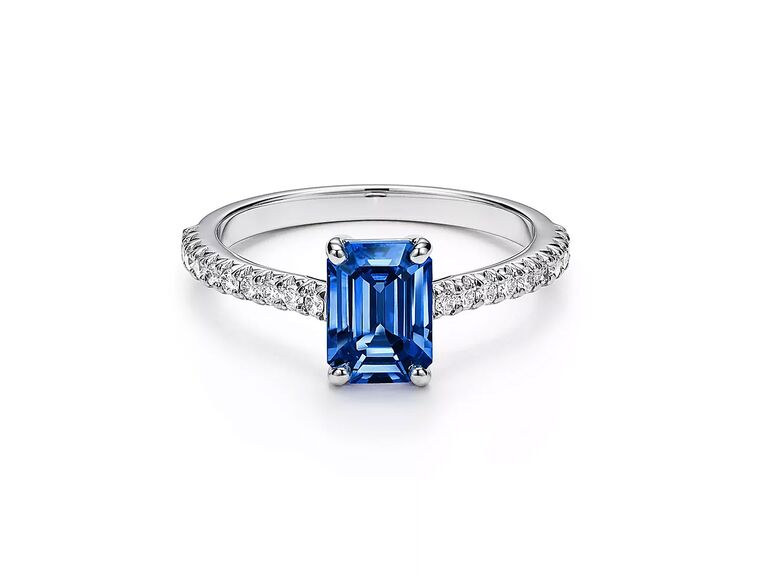 Tiffany Novo Emerald Cut Sapphire Ring
Simple doesn't have to mean expected. This solitaire engagement ring setting puts all the focus on a gorgeous cornflower blue sapphire center stone.
Ashley Zhang Sapphire Rolling Ring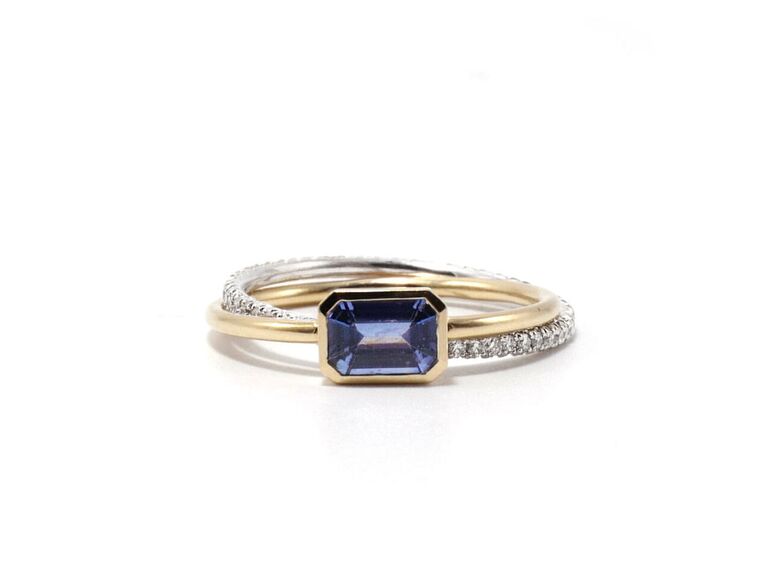 A totally modern take on a solitaire setting, this innovative rolling ring of an interlocked sapphire engagement ring and diamond pavé eternity band is a full stack in and of itself. Wear it alone or add more bands for a maximalist look.
Yi Collection Cylon Sapphire and Diamond Star Ring
Like we said, not all sapphires are deep blue—and we love the variety that offers. The periwinkle hue of this Sri Lankian sapphire is simply dreamy, especially when placed against this velvety yellow gold setting.
Meadowlark Jewellery Aphrodite Ring
Vintage lovers, take note. This intricate setting with fluid line details gives a nod to a bygone era. Sapphires aren't your thing? You can also opt for black or white diamond and in a range of different metals.
Brilliant Earth Sapphire Demi Diamond Ring With Sapphire Accents
Ovals are one of the most popular stone shapes out there for a reason: They have the classic vibe of a round but feel slightly more unexpected. This oval sapphire engagement ring takes it up a another notch thanks to its rich color. Another plus? It even has a hidden halo of sapphires that wraps around the center gem.
Eva Fehren Sapphire Offset Ring
Not all solitaire rings are created equal. This edgy version, featuring a blackened gold and white diamond setting, plus a shield-shaped sapphire that appears to hover over the finger, is made for the to-be-wed searching for something totally nontraditional.
Greenwich St. Jewelers Ludlow Cocktail Ring
Sometimes the best way to showcase a truly stunning gemstone is to let it stand alone. Case in point: This gorgeous square cut sapphire engagement ring. Its minimalistic bezel setting both protects the vulnerable sides of the stone and gives the design an overall über-modern feel.
Diamond and Sapphire Engagement Rings
Serpentine Jewels Mosaic Sapphire Ring
A sapphire engagement ring already has a certain heirloom quality, and this Art Deco-inspired setting takes it to the next level. A stunning asscher cut center stone surrounded by a diamond baguette halo gives a gorgeous nod to the great era of Gatsby.
David Yurman Three Stone Engagement Ring With Blue Sapphires
If you have your heart set on a diamond center stone but still want a colorful engagement ring, consider adding sapphire side stones. The three-stone setting of this ring has a sentimental meaning of its own (three stone rings traditionally represent your past, present and future) and it gives you thrice the sparkle.
Kwiat Emerald Cut Sapphire Engagement Ring With Two Brilliant Cut Trapezoid Side Stones
Sometimes more is more. Brilliant cut trapezoid diamond side stones flank an impressive sapphire for megawatt sparkle. Looking for something more understated? This style allows you to select the size of your center stone, ranging from 1 to 4 carats.
Blue Nile Oval Sapphire With Modified Diamond Halo Ring
Looking for a dupe of Kate Middleton's famous sparkler? This oval sapphire ring with a shimmering diamond halo and diamond-encrusted shank is sure to satisfy any royal watcher.
Yeprem 18-Karat White Gold, Sapphire and Diamond ring
What's better than one sapphire? Two, of course. This striking toi et moi (or two stone) ring offers a totally fashion-forward setting and twice the vivid blue color.
Hamilton Platinum Cushion Cut Sapphire and Diamond Ring
Pro tip: If you're opting for a sapphire engagement ring, consider one with a cushion cut center stone like this one. This particular shape retains and shows off color better than most others, making it a natural choice for a colorful sparkler.
Yvonne Léon Pompadour 18-Karat Gold, Diamond and Sapphire ring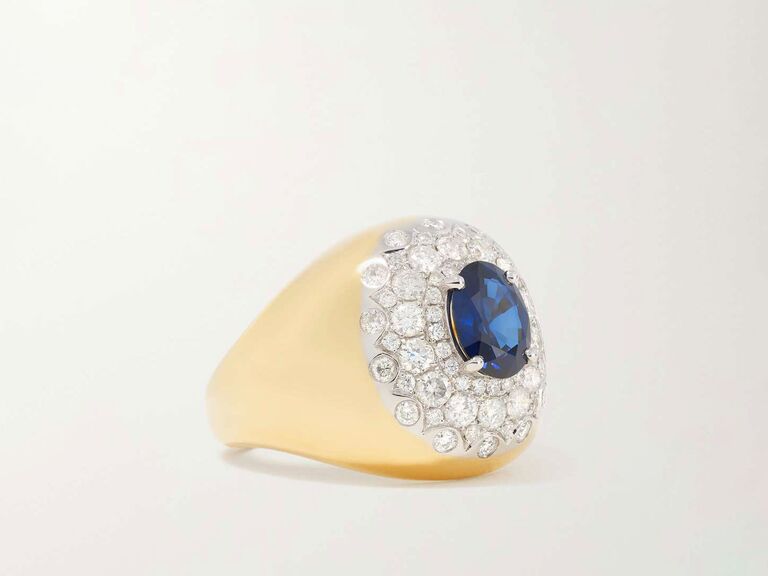 We've said it before and we'll say it again: Thick is in. Case in point? This maximalist sapphire engagement ring featuring a bold 18-karat gold band and a smattering of diamonds.
CICADA Sapphire Ring With Diamond and Sapphire Halo
If you want infuse even more color into your sapphire engagement ring, consider a design with additional sapphire accent stones or details. This standout sparkler features a double halo of diamonds and sapphires for a gorgeous, colorblocked effect.
Montana Sapphire Engagement Rings
Bruce Leroux Solitaire Sapphire ring
Not everyone wants a massive rock. This understated—but still striking—style featuring a teal Montana sapphire sits flush with your finger and is easily stacked with other bands. And, at well under $1,000, it's also a total steal.
SHW Jewelery Carina Ring in Gold
In the market for a more sustainable sapphire engagement ring? Montana sapphires are a great option, given they're mined stateside using modern practices. We love this streamlined design, made of recycled yellow gold and an ethically sourced center stone.
WWAKE Nestled Teal Princess Cut Sapphire Ring
The artistic design of this Montana sapphire engagement ring makes the teal princess cut gemstone appear to float over your hand. How cool is that? Psst: This ring was a custom design, but you can request a similar one made in your ring size.
Chroma Montana Sapphire & Diamond Hydrangea Flora Ring
The beauty of a cluster ring is that you have lots of room for customization. Enter: This style featuring a blue Montana sapphire, a green Montana sapphire and and four round-cut diamonds. The end result is a sapphire engagement ring that looks totally one-of-a-kind.
Sapphire Engagement Rings in Other Colors
Shay Jewelry 18-Karat Gold, Pink Sapphire and Diamond Ring
Who says your love of Barbicore can't influence your engagement ring design? This hot pink sapphire in a rose gold setting is equal parts glam and romantic. We're obsessed.
Mociun Luna Ring
Boho brides, this one's for you. Six different stones, ranging from white diamonds to lilac sapphires come together for a totally ethereal look that's sure to stand out from the crowd. We swoon.
Gemist The Oval Solitaire Pavé
It's timeless with a twist. This sapphire engagement ring features a classic diamond pavé solitaire setting, but the sunny yellow center gem gives it a totally alternative vibe. Yellow not your fave? You can also choose from white diamond, white sapphire, emerald, blue sapphire and champagne sapphire options.
Bario Neal Custom Green and Yellow Sapphire Ring
One of our favorite ways to wear the ombre trend is on your finger. The combo of a white diamond, green sapphire and yellow sapphire on this three stone ring create a gorgeous and subtle color change.
Jennie Kwon Caravaggio Green Sapphire Ring
You don't need a giant center stone to make an impact. A pale green sapphire gives a dainty solitaire setting a fresh feel. And, the budget-friendly price is hard to beat.
Jemma Wynne Pink Sapphire and Asscher Diamond Ring
Not ready to fully commit to a one vibrant gem? Go for a toi et moi style instead, and balance out a pop of color with a colorless stone. This duo of a pink sapphire and asscher cut diamond is a serious showstopper.