The Wedding Planning Struggles That an Only Child Will Face — and How to Handle Them
Planning a wedding as an only child comes with a different level of stress and pressure.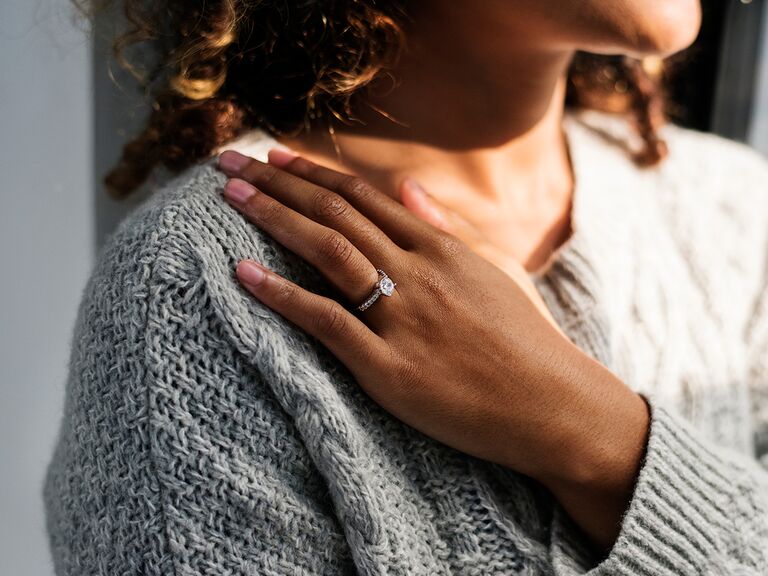 Rawpixel.com/Shutterstock
When making big life decisions or experiencing significant transitions, most people turn to their siblings or closest family members for advice and support. And getting married is no different. But for an only child, the support system can be limited — and is often causing them the strife to begin with. If you're an only child, there is no need to consult your imaginary friends; we've got you covered. Here's our guide to making the wedding planning process less awkward.
Struggle #1: All the pressure is on the only child.
Though every child is cherished within their immediate family, an only child is the heartbeat of the household. A guardian or parent's attention centers around what their "one and only" is interested in, excelling at, and working toward. In healthier family dynamics, this produces a doting parent or guardian. In unhealthy relationships, the child can be subject to helicopter parenting, stage mom behavior, or emotional exhaustion. (Hello, therapy!)
Once a bride-to-be or groom-to-be, the laser-focus attention on the only child is kicked into high gear. The parents or guardians can truly believe that the big day is their day too. And because they have only one "pride and joy," an immense amount of pressure can be put on the couple to "make it absolutely perfect," because there are no other weddings to compensate for a disappointing ceremony. This heightened pressure can lead to a power struggle between the bride or groom and their parents, or an internalized message that this wedding isn't about the couple, but rather, about everyone else around them.
How to Handle It
Practice empathy and acknowledge the bittersweet emotions your impending union could be inflicting on the family that raised you. Consider that they haven't completely let go of life without you as their one and only. Coordinate some special traditions where your bond is given a spotlight, and remember that you are blending families, among two people, who hope to sustain a lifelong relationship, are becoming one unit at last.
Ultimately, prioritize your marriage and your preferences first, but make sure your "first family" feels seen, heard, and loved along the way.
Struggle #2: Wedding Party Hunger Games
One of the greatest struggles any bride or groom will have is deciding who will stand by their side when they say, "I do." Those with siblings have a built-in option; in fact, some couples decide on hosting family-only wedding parties to avoid interpersonal conflicts and bruised feelings.
However, when you're an only child, you don't have the "go-to" option in a sister, and you may not have a sister-in-law or close cousins to choose from. Inevitably, you have to decide between your friends, and that can get sticky, especially if your best friends live all over the country.
How to Handle It
One option is to forego selecting a wedding party altogether. Whether it be because you and your partner elope, keep it intimate with a small guest count, or just choose to welcome everyone to enjoy as a guest, no wedding laws are forcing you into a tradition that doesn't feel authentic to who you are.
If your heart is set on standing by your squad, consider having friends from different life stages to represent your love story leading up to The Big Day. You could have a childhood bestie, your closest friend from college who helped you through the break-ups, and the friend who has spent the most time with you and your future spouse. A piece of advice? Don't get caught up in shallow measures of friendship (e.g.., "Who's going to throw me the best bachelor/bachelorette party?"); instead, think about which friends have and will continue to be there when you and your partner have hard seasons. Who is going to redirect you back to your true love? Those are the people who deserve to stand next to you both.
Struggle #3: Only children have a harder time asking for help.
Though asking is for help is something many people deal with, only children truly identify with their independence. In a Psychology Today interview with only children, an interviewee shared her experience, "I'm an only child. Pros: leadership, independence, comfortable with solitude, confidence, can entertain myself, acted like an adult as a child, because I was more exposed to adult conversations. Cons: lack of diplomacy, my way or the highway."
Whether flirting the line of stubbornness or not being familiar with dependence, only children will have the perceived burden of doing it all themselves. Combine this with a possible wedding party selection dilemma, and you have a recipe for pre-wedding burn-out.
How to Handle It
You may have done many things in life for yourself, by yourself, but your wedding doesn't have to be handled the same way. First, have an open mind when it comes to planning. You're about to get real comfortable with the things that make for a great marriage: compromise, partnership, and trust. Consider compromising on smaller details and know many suggestions are coming from a place of love and care. See your wedding party, soon-to-be in-laws, and existing family as partners. In most circumstances, they are delighted and itching to help; delegate the pesky tasks, and low-hanging fruit onto them. Finally, trust that you can rely on people to show up, help out, and execute what they're capable of. After all, you can't take care of your better half or yourself if you're trying to be everything to everyone before or on your big day.