How to Have an Instagram-Worthy Elopement
Because when COVID alters your wedding plans, an epic elopement is a necessity.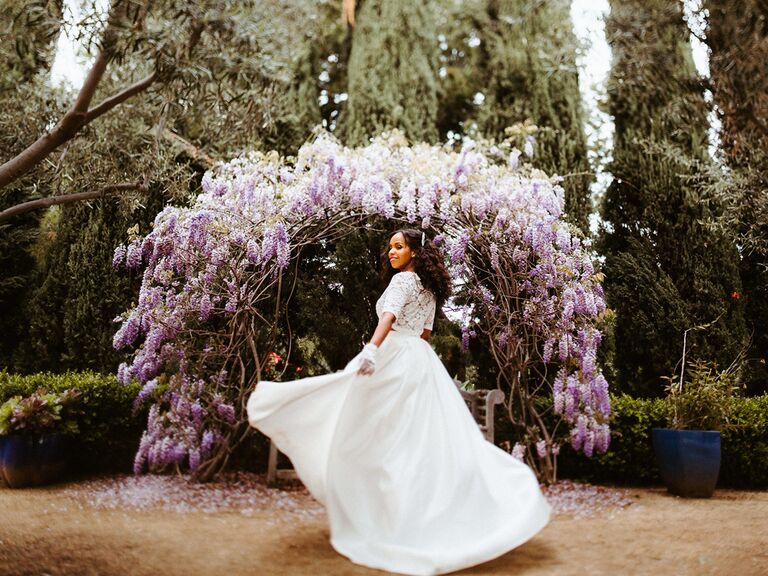 The Hendrys
As a fashion and beauty blogger, Malikah Kelly was excited to share everything leading up to her March 2020 nuptials in New York at City Hall with 25 guests followed by a larger destination wedding in Saint-Emilion, France. But like so many other brides, Malikah quickly learned that 2020 had other plans — which meant she drastically had to change hers and figure out how to elope.

Instead of perfecting the finishing touches for the international bash they'd planned for 100 guests on June 27, she found herself thrown into the unknown with a unique group of brides- and grooms-to-be trying to navigate this new world of wedding planning, postponement, or cancellation during the COVID-19 pandemic.

"Canceling the New York event was a pretty easy decision – City Hall and every restaurant closed so we had no choice," says the 35-year-old bride who is originally from New York but now lives in California. "But we were holding out hope for the big event in France." But by April she decided to cancel her destination wedding in hopes of beating the massive influx of incoming brides she knew would be scrambling for new dates in 2021 and still be able to secure all of her vendors for an alternative date.

"Even though we hoped things would be better by summer, we made the difficult decision to postpone our wedding a whole year," she says. "It was devastating but we felt like it was just the right thing to do. A few weeks after we sent out our postponement announcement the EU confirmed that borders would remain closed to American tourists, so we knew we made the right decision."
Although she enjoyed the process of planning her dream wedding abroad, when it came time to cancel, the decision came with mixed emotions. "Planning a destination wedding during a pandemic became a nightmare. In addition to all the usual wedding planning stress, you have to consider the health and safety of all your guests, plus the local staff," she says. "I had several freak outs in February and March."

And despite the unthinkable added stress of cancelling not one but two events right as California issued shelter in place orders, she suddenly was locked at home while faced with her new reality. "It wasn't just the wedding that was so disappointing. I had been so looking forward to starting our marriage and it seemed like I had no idea when that would be possible," she says. "It was really sad and anxiety inducing dealing with the stress and uncertainty. Wedding planning is so emotional and it was so hard to see all of that effort suddenly be uprooted."

Since getting legally married this year was still incredibly important to the bride and groom, Malikah knew she wouldn't let COVID-19 stop them, even if it wasn't going to happen in New York like she'd envisioned. "I spent days on end stalking every marriage bureau on the West Coast to see if there was anywhere we could get a marriage license," she says. "We even thought about eloping in Las Vegas and were a day away from driving out there when the marriage bureau there closed too!"

Through that research, she came across a full-service elopement planner and was instantly sold. Opus Events helped them figure out how to plan an elopement by finding a local location that didn't require a permit, since the city wasn't processing those. "They did all the heavy lifting associated with planning an elopement– location scouting, managing the officiant and organizing the ceremony, and even bringing in décor for a mini reception," she says. "It all came together in about a week and was just perfect."
Wearing a BHLDN crop top and blue crystal embellished Manolo Blahnik mules and carrying a baby photo of her groom in her pocket as her "something old," Malikah was ready to elope. They exchanged vows during a garden ceremony in Pasadena, California. Post-ceremony, they celebrated together with take-out food, vanilla and lemon cake, and champagne at home. And now looking back, this bride says she wouldn't have changed a thing.

But after going through such an unfortunately relatable experience for 2020 couples, she's sharing what she learned along the way to help others navigate new plans to not only figure out how to elope — but pull off an equally enchanting day.
1. Hire a planner.
Elopement packages are typically a fraction of what full wedding planning costs so this can still be an affordable option for many. "It also takes a lot of potential stress off your plate. You don't need to think about the permits, finding the best spot for the ceremony, or any of those details," she says. "All you have to do is show up and get hitched! I can't even describe how it felt to finish our photos and see our beautifully designed pop-up reception." But if you can't enlist a professional, she suggests at least having a friend or bridesmaid help coordinate.
2. Include a mini reception.
Although they couldn't pop champagne because of the location they chose, Malikah says it was incredibly special to be able to cut cake with her new husband and hang out after the ceremony and photos were done. "If you're not a baker, grab a cake from a bakery, a cake stand and some simple décor to make it pop," she says.
3. Include friends — virtually.
"We planned everything pretty last minute and I didn't think about setting up a wedding Zoom, but in retrospect it would have been nice," she says. If you can, set up a little hotspot and get a stand for your laptop so your friends and family can watch the fun.
4. Choose your location carefully.
You want somewhere that will give you a gorgeous, natural backdrop for your ceremony and won't be crowded so you will still have an intimate vibe. "You want that beautiful backdrop but you also don't want to have to hike a mountain and be all sweaty and gross when you get there, so you want to think about some of the practicalities with what you pick," she says. "We loved the garden we picked because it was easy to get to and accessible but also very low traffic, small community garden so it felt very intimate."
5. Make it legal.
Malikah says to make sure your officiant understands the process of sending back your marriage license. "Also, it may take longer than normal to receive the certified copy of your marriage license due to COVID-19," she says. "That can be pretty important if you need it for any legal or financial reason, so keep that in mind."
6. Invest in the photography
When thinking about how to elope, the key to making it sparkle is hiring a top-notch photographer to capture these priceless moments. "Even if you don't have over-the-top details, a talented photographer will make everything from the flowers to the decor look insanely pretty," she says.
7. Plan it as you would a big wedding.
"I think a lot of people still have mixed feelings about planning an elopement or see them as less significant than a big wedding," she says. However, she feels the perception has changed this year because of how COVID-19 has wreaked havoc on weddings. "My elopement was certainly not what I had fantasized about when I thought about getting married, but I wouldn't trade it for anything else," she adds. "It was beautiful, intimate, and still had our personal touches."