You've Probably Never Thought of This Easy Way to Pay for Your Wedding
Keeping track of payments for your wedding isn't always easy, which is why PayPal will be your new favorite solution.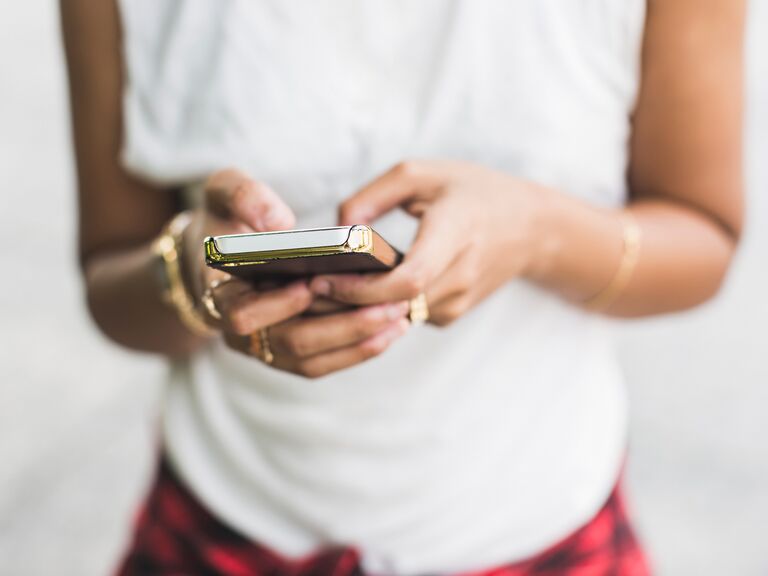 Getty Images
It's no secret that weddings are a check-predominant industry, but in this digital age, remembering to have your checkbook on hand for all of your payments, day of and otherwise, can be a hassle—plain and simple. And that's where PayPal, an online money transfer, can become the easiest tool to help you keep track of it all—plus you won't have to worry about a literal paper trail.
With 169 million active accounts (and counting), 203 markets and 26 accepted currencies, PayPal is one of the most widely known, global e-payment brands, so it's no wonder couples all over the world are using the website and app as super-simple ways to pay for their weddings. This goes hand in hand with the increase in millennial couples using their smartphones to plan their wedding, doubling from 2011 (33 percent) to 2014 (61 percent).
"With wedding vendors, you have multiple payments, deposits and day-of checks to write, making it hard to remember whom you paid what to when," says Amanda Miller, PayPal's head of global communications and wedding guru. "All of your transactions are recorded with PayPal, so you can clearly see your payment history, and you don't have to worry about carrying cash or checks around. The site and app are also completely secure and protected, making it the safest way to pay vendors without having to worry about a lost check or confusing the florist's envelope with the caterer's envelope."
Another PayPal perk is PayPal Credit. The tool is interest free for six months, making it an inexpensive way to use credit.
"Accustomed to paying digitally, I paid for my wedding band with PayPal Credit," Miller says. "It's the way of doing business in the future. Using PayPal marks a 35 percent increase in sales for vendors, since you can be approved at checkout and it takes less than a minute. Hardly any wait time means more sales for vendors, which is great because it's a largely entrepreneur community and helps to grow businesses in a smart, modern way. They also don't have to wait for checks to clear with the peer-to-peer payment option."
Whether you just want to use the peer-to-peer payment option or PayPal Credit, to-be-weds can be in control of their entire financial process this way. This means cutting out any potentially uncomfortable exchanges of checks and cash with your parents, using the flexible credit line built into your PayPal account for any unexpected expenses, and sending instant deposits to vendors you love before they get booked up, plus pooling expenses for the bachelorette and bachelor parties without any hassle.
San Francisco–based bride Andi Teggart is a frequent PayPal user who's using its tools for her wedding day (fun fact—she actually met her fiance at a concert two years ago when she used her PayPal app to buy beers for a group, including him!). After getting tired of vendors asking for checks, she started using PayPal to purchase items for her wedding and plans on paying her vendors on the day of the wedding with the app.
"I used PayPal to purchase two beautiful gifts—floral silk robes and these amazing gold bracelets—for my bridesmaids off of Etsy," Teggart says. "It was much quicker to pay via PayPal than dig out my credit card! And one of the most fun wedding to-dos that we've used PayPal for has been our wedding dance class. We took a class at a local dance studio in San Francisco and the only way to pay for the class was via PayPal, which was totally fine on our end. We've used PayPal for smaller wedding purchases too, like buying pretty stamps off of eBay, and the guys will be able to use PayPal next week to pay each other back after the bachelor party festivities."
Miller also used the peer-to-peer tool for her wedding day payments and found it to be a much better experience than relying on checks. "PayPal just makes everything so much easier," she says. "The process of paying for things is the worst part of getting married, and this way, it's a win-win for everyone."