Here's How Airbnb Can Help Plan Your Destination Wedding Abroad
When it comes to choosing your wedding destination, you don't have to be a Tuscan princess to score a charming countryside castle. Here's everything you need to know to find the worldwide wedding venue of your dreams.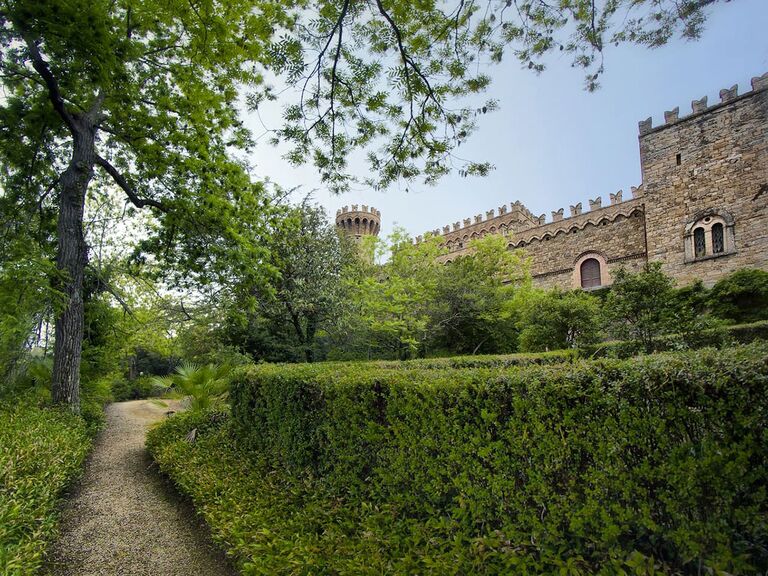 We have included third party products to help you navigate and enjoy life's biggest moments. Purchases made through links on this page may earn us a commission.
While some couples prefer to celebrate their wedding day with 250 of their closest friends and family at a bustling hotel ballroom, others might dream of a more intimate affair (and you can take our Style Quiz if you're not even sure what you're envisioning). If you fall into the latter category, you may want to consider checking out an unlikely source for wedding venues: Airbnb.
The vacation home marketplace has tons of listings all over the world that could be used for your day. Want to get married in a castle in Tuscany, Italy? There's a listing for that. How about a villa overlooking the sea in Croatia? There's one for that too. Read on for everything you need to know for planning your wedding abroad with the help of Airbnb.
How It Works
Go to Airbnb.com, and in the search bar, enter the location and date you want to get married (you'll probably want the space for at least a few days, maybe even a week if guests will be staying there too.) Under number of guests, choose 16 to get the maximum amount of space. Then, under amenities, check off "suitable for events." Once you apply the filter, you'll see all the available venues.
Questions to Ask the Host
When you find a listing you love, don't book quite yet. Instead, contact the host directly and explain that you're planning on having your wedding there. Ask about additional fees (the rate you see on the site may go up when events are involved) and the services they can provide. For example, some are wedding planners and can help coordinate vendors for you (especially helpful if you're planning a destination wedding). Others can act as your day-of planner to make sure things run smoothly. Some can even officiate your ceremony!
You'll also want to ask about the maximum number of people that could comfortably fit on the property for an event, seating options (do they have enough tables and chairs for your guests or will you have to rent those?) and catering (is there a kitchen big enough for someone to prepare all the food or would you need to have it delivered?). Be sure to also bring up those miscellaneous questions that pertain to your dream party, such as noise ordinances or fireworks regulations. Once you and the host discuss and agree on terms, book away!
Planning Your Event
If your host agrees to act as your wedding planner, set up check-in calls with them just as you would a regular planner. Send them ideas of what you'd like in terms of flowers, cake and so on, and they'll help coordinate with local vendors. If your host isn't taking on the task of being your official planner, you can still ask them for vendor recommendations. Because they're local, they'll most likely have an idea of which bakery is the tastiest or which florist has the most beautiful bouquets.
Using Your Venue as a Hotel for Guests
One of the perks of having your wedding at an Airbnb listing is that it doubles as a place for your guests to stay. Most of the homes that are suitable for events can accommodate 16 or more for sleeping—perfect for immediate family and bridal party members.
How Much to Budget
As with any wedding, your budget for an Airbnb event will depend on the venue, number of guests and details. Most listings that are suitable for events start around $1,000 per night and go up from there. As we mentioned above, it's important to reach out to the hosts and find out about any additional fees up front.
Ready to have your wedding at an Airbnb listing but not sure where to start? Get your Pinterest board ready, and head over to this wish list filled with some of the most gorgeous properties on the site. Your dream wedding is just a click away!
Looking to get married a little closer to home? Let us help you find the perfect wedding venue here.