The Complete Guide to Planning a Wedding in Spain
Pop open the cava! Here's our guide to a city or beach wedding in Spain.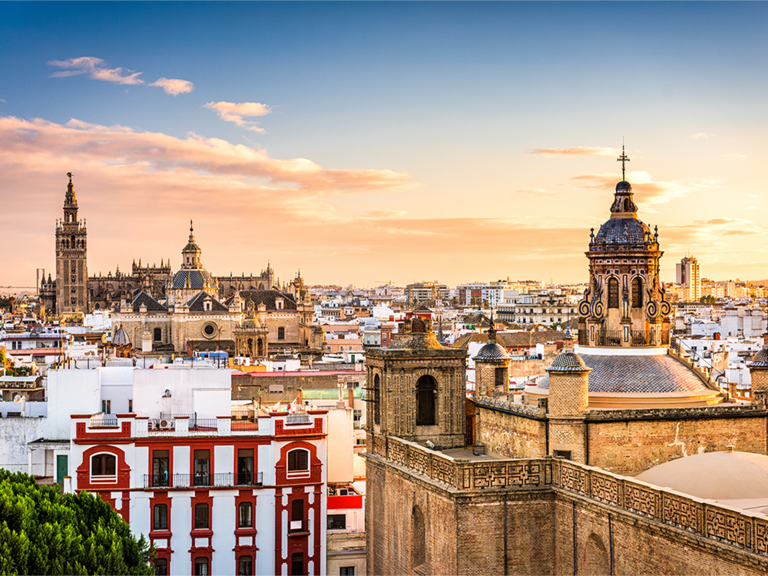 Sean Pavone / Shutterstock
A destination wedding in Spain is a dream-come-true for couples desiring a welcoming and jovial atmosphere. Whether they plan a ceremony on the turquoise beaches of Malaga, amongst the Moorish architecture of Andalusia, or before the renowned masterpieces in Barcelona, there's an incredible range of wedding locations to explore.
Each region comes with its own Spanish charm. However, the tie that binds them together is their love of a lively atmosphere where the party can easily go all night long. Plan a destination wedding in Spain, and you're in for a European experience neither you nor your guests will ever forget.
Why Couples and Wedding Guests Love Spain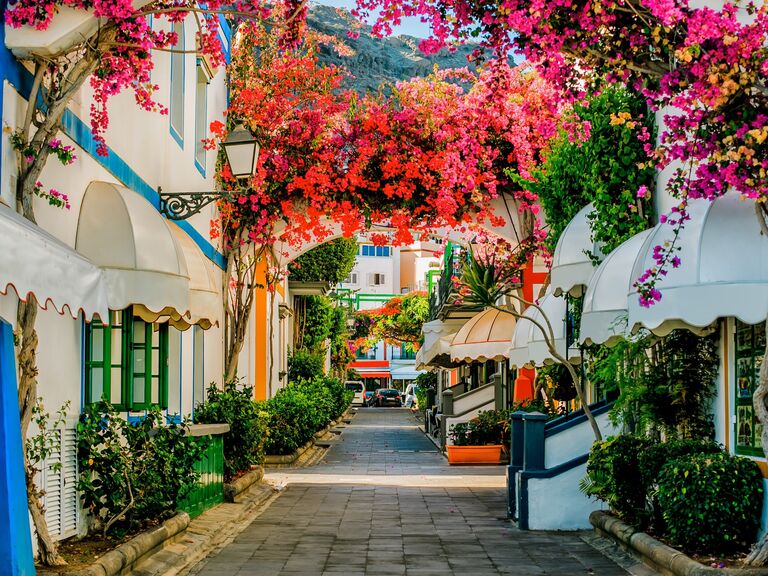 Elizabeth Babinski, founder of Vows Well Traveled, which specializes in European destination elopements and intimate weddings, gives all the details on weddings in Spain. (In fact, she was on a plane to Spain when we caught her first.)
"What isn't there to love about Spain?" says Babinski. "The weather is typically always beautiful, the folks are friendly, and the language barrier isn't too drastic. There's nothing greater than a Spanish party, and couples can be certain that they're going to have an entertaining time in Spain." Think about how much fun your wedding party and guests will have.
"Whether couples want a beach wedding, a city wedding or something in between, they'll find any vibe they're going for," adds Babinski. "Spain is one of the most welcoming countries in Europe and one of the easiest to plan weddings in, as it's a hot-spot for English speakers throughout the world. And did I mention the cava options?" If you love good tapas, mouthwatering cava, quality red wine and great parties, Spain is the wedding destination you've been dreaming of.
The Best Places to Get Married in Spain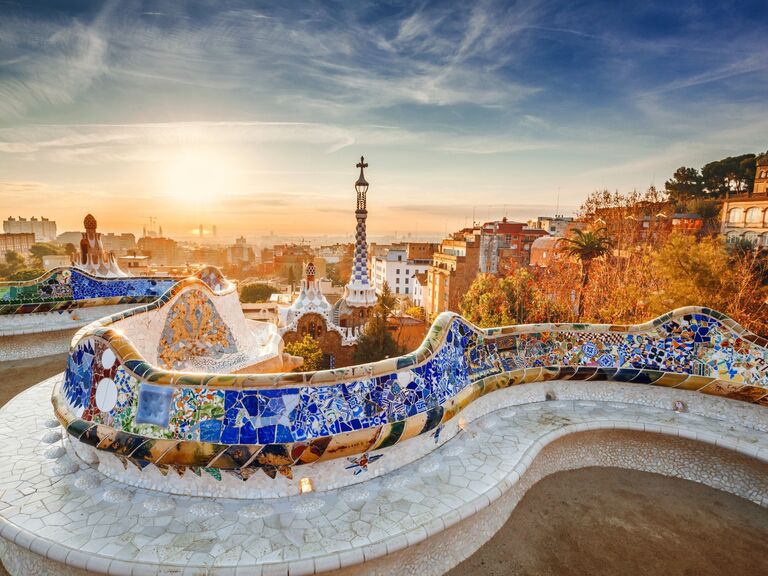 Barcelona is a great place to get married, especially for guests who want a taste of what Spain has to offer. The storied and fabulous architecture is both modern and centuries-old. "Barcelona is by far the easiest city to plan a wedding in," says Babinski. "It gives all the best of Spain in one place. Guests who aren't familiar with the country will easily find their way around Barcelona and get a good mix of beach and city."
The sophisticated city of Madrid is a wonderful wedding choice for those looking for a cosmopolitan atmosphere and world-class food. You'll find history at every turn and your guests will delight in exploring the city before and after your wedding day. Another idea: book a country house or luxury hacienda outside the city, with beautiful gardens and a swimming pool, and bring your entire wedding party on-site for the week to celebrate.
"Seville in Southern Spain is for couples that have well-traveled guests or going the extra mile to make sure their guests are comfortable traveling," says Babinski. It's one of the most fabulous cities in Andalusia, and you'll find a rich Moorish legacy, awe-inspiring, intricate architecture, flamenco and flowing sangria.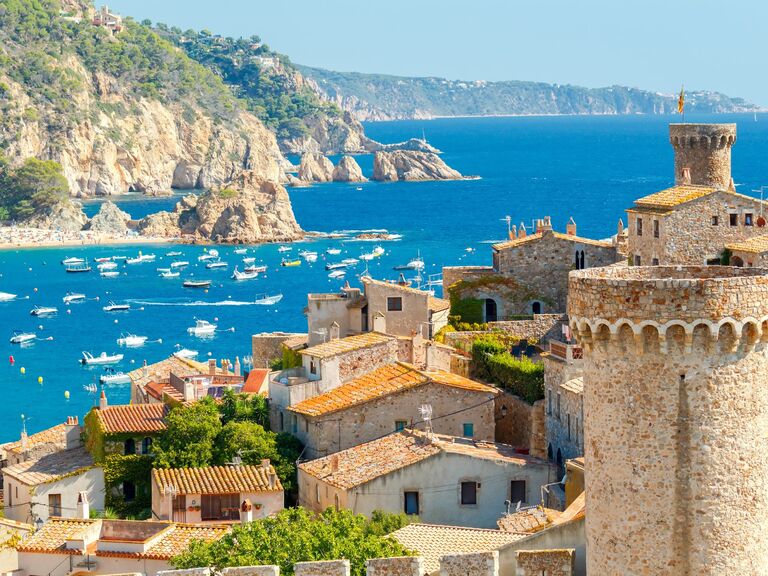 This region is marked by deep blue sea and old fishing villages. "If a couple really wants something special, nearly everywhere within Costa Brava is beyond beautiful," says Babinski. "It does require guests to know where they're going and possibly have some Spanish knowledge, but the views are incomparable." It's an unspoiled region with luxury wedding venues and some of the most stunning coastline in Spain.
The beachside Basque Country is a world away from anywhere else you'll explore in Spain. They speak their own language and the people are known as scrappy and industrious. The food is world-renowned, and there are impressive museums like the titanium-clad Guggenheim.
Malaga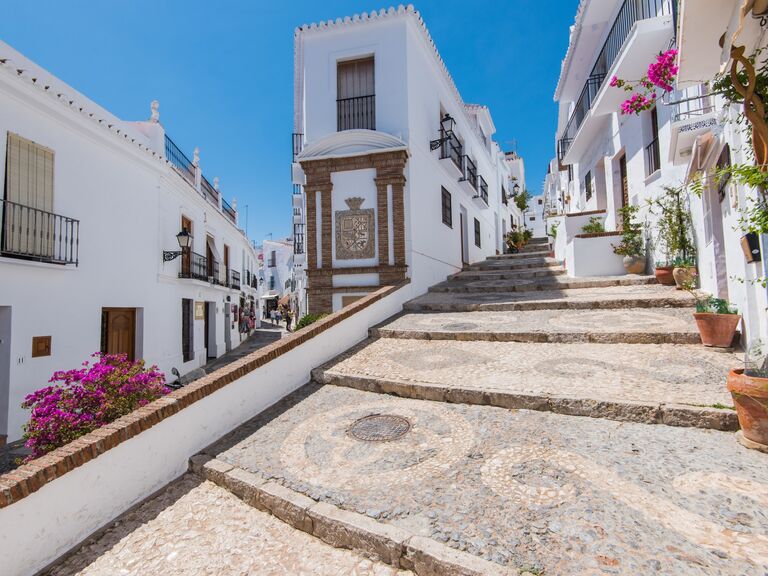 Pablo Picasso's hometown of Malaga is a hometown along the Southern Costa del Sol. This charming, historic city has some of the most exquisite examples of Andalusian cuisine and has an energetic, artsy vibe running through the city. Your guests will enjoy themselves and there's one major bonus for you: 300 days of sun a year. How's that for a low-stress wedding plan?
Another spot nearby is Marbella, which is great for those looking for more of a sleek nightclub or trendy beach club vibe to keep guests entertained.
Balearic Islands
The four Balearic Islands are Mallorca, Menorca, Ibiza and Formentera, all of which are perfect for entirely different reasons. On Mallorca, also known as the crown jewel of Spain's Balearic Islands, you'll find the glittering coastline, wineries and sweeping countryside. Menorca is charming, with pristine nature, cobblestone streets winding through town and wildflowers blooming. Ibiza, made famous by Mike Posner's song, is a party town indeed. It's geared towards those looking for late nights and pool parties. Meanwhile, Formentera is the adult version of Ibiza, with more laid-back cocktail spots along the water and a low-key restaurant scene. Which one is right for your wedding depends entirely on the vibe you're hoping to cultivate.
Spain Wedding Legal Requirements
Spain takes marriage very seriously—as we all should—but that means it isn't easy to tie the knot. There's lots of paperwork involved in the application, and Babinski says, "To legally marry in Spain non-religiously, couples can marry at a local registrar's office or town hall."
Legal weddings can't take place outside of these locations—your fairytale wedding ceremony overlooking the Mediterranean Sea isn't going to stand up to any government entity. It's probably a wise move to have a civil ceremony at home before saying, "I do," in Spain.
Legal Weddings v. Symbolic Weddings
If you choose to have a civil ceremony at home, that will serve as your legal wedding. You could have a small wedding celebration after a courthouse ceremony with a handful of witnesses, and save the blowout wedding party for your big day in Spain.
Even though the marriage process can be complicated for foreigners in Spain, you can still have a meaningful and beautiful wedding ceremony on your symbolic wedding day. There's nothing stopping you from having an officiant and going through all the pomp and circumstance!
Required Legal Documents
Getting married in Spain isn't taken lightly, and the number of forms will prove it. All of these forms will need to be provided, as well as translated into Spanish and apostilled, in order to be certified legal.
Long-form birth certificate
Any divorce decrees
Certificate of marital status
Certificate of no impediment
Valid passport
Registration of marriage from the town hall or registrar office
Extranieria (foreigner) form
Legal Marriage Timeline
Babinski warns, "The paperwork process can take 30 days to 4 months. It's much easier to marry in your home country!" While some countries make it quick and easy for foreigners to get married, Spain is not one of them.
Legal Marriage Cost
While it depends on how you go about accessing and providing the necessary documents for a legal wedding in Spain, you should expect to spend about 170 euros total, including the Apostille stamp to make it legal.
Spain Wedding Planning Tips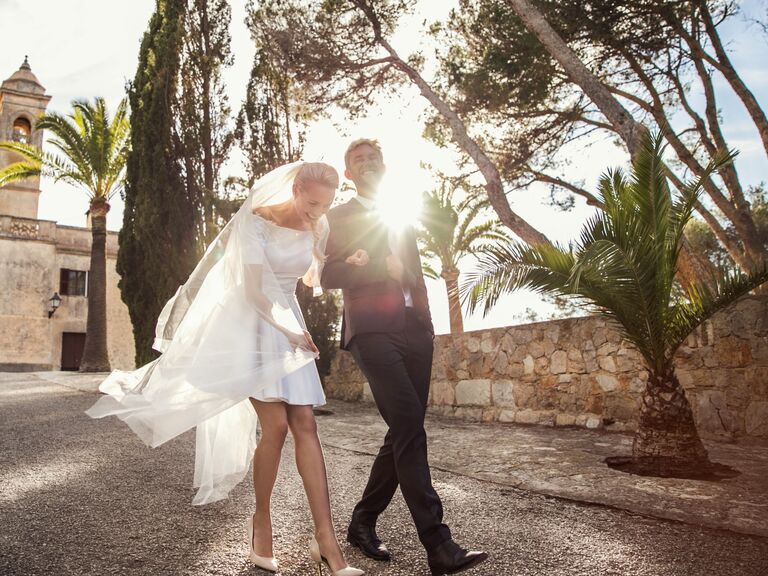 Given that she has more than a few Spanish weddings under her belt, Babinski know her way around the ins and outs of planning a wedding in Spain. "My biggest tip is to find a wedding planner if you're not comfortable speaking Spanish," she says. "While many vendors do speak English, having Spanish knowledge (or Catalan, if marrying in Cataluna) can save any translation or miscommunication issues." Even if you know some Spanish, be honest with yourself: do you know enough to read and negotiate contracts? There's a difference between ordering a meal and facilitating multiple business transactions.
Additionally, there's simply the knowledge of the wedding destinations and their particular nuances. Babinski adds, "Planners will also know the area much better, especially if there are uncontrollable events that happen close to the wedding, such as transit or airport strikes (which are relatively common in the summer months)."
How to Get There
Most flights from the U.S. will fly into Barcelona and Madrid, while United has the only flight that goes directly to Palma De Mallorca. Many travelers booking with points will fly Spain's national airline, Iberia Airlines, because it's part of the One World Alliance and partners with American Airlines and British Airways.
If your wedding is in a major city, you may not need to rent a car. However, if you've booked a luxurious villa out in the countryside, then there's no way around it: you'll need transportation and that may be in the form of a rental car. When renting a car in Spain, you may need to apply for an international driving permit, so factor that in ahead of time.
There is a train option, the high-speed train or AVE (Alta Velocidad), which will take you between major cities, but it allows for less flexibility if you need to go off the beaten path.
Spain Weather
Spain has a Mediterranean climate and generally pleasant weather, but the best months to visit, weather-wise, are between April to June and fall. Summers are hot, but not unbearable, whereas winter months are chilly.
Choosing Your Venue and Vendors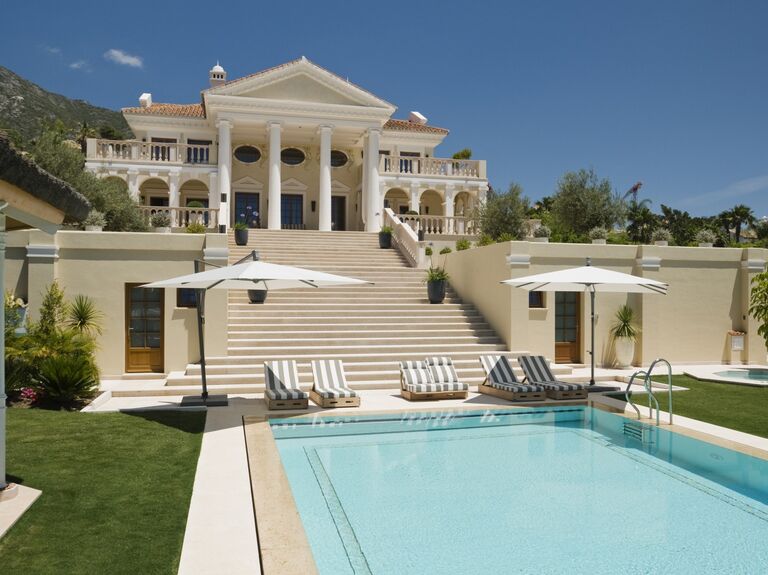 Babinski advises couples to add in extra time when planning abroad. She says, "Plan far in advance, regardless of the time of year. Summer weddings do fill up fast and can be trickier to plan, but planning in the winter can be difficult, too, especially if you've never been the country and need to adjust to planning a wedding outside of your home country."
It can be intimidating to find vendors in another country, particularly one across the Atlantic, but The Knot Marketplace has recommendations, reviews and advice for choosing the right vendors for your Spanish destination wedding.
And, remember, when it comes to choosing critical vendors like your wedding photographer, be sure to select one that knows the area well. If you're getting married by the seaside, choose a photographer that knows exactly where to get the best panoramic views. Additionally, consider finding vendors that speak both English and Spanish.
Budgeting Tips
Before you do anything, do your research. Look at venues and vendors to get an idea of the general cost of getting married in your chosen region in Spain. Level set your expectations, then make a budget."
In good news, Babinski says, "Weddings are generally less expensive in Spain versus the US." However, that doesn't mean it's a seamless process. She continues, "There may be currency differences depending on how vendors accept payments. Having this budgeted and set into an account that can send wire or bank transfers will help save money"—and headaches.