Never-Before-Seen Photos and Restored Video of Princess Diana and Prince Charles's 1981 Wedding
Not tired of obsessing over Princess Diana and Prince Charles's nuptials? We aren't either, which is why we're so happy these long-forgotten photos and video have surfaced.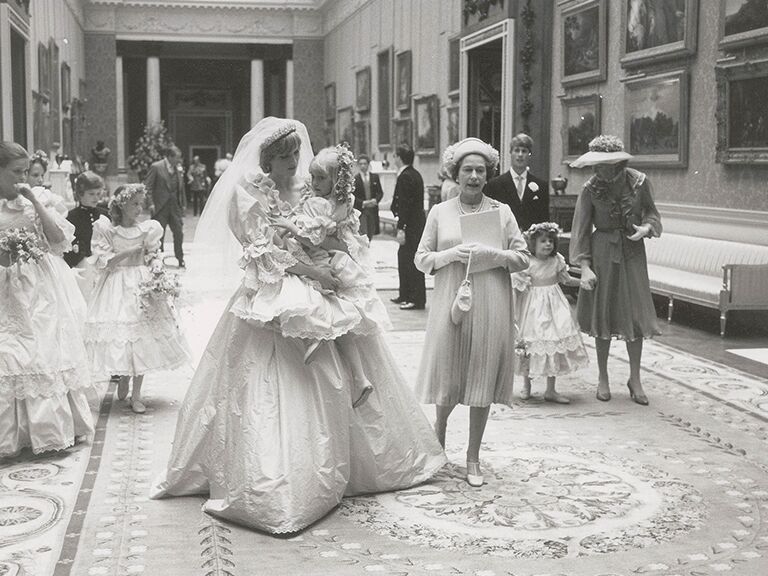 Patrick Lichfield/RR Auction
It's crazy to think that 36 years have passed since Princess Diana wed Prince Charles at St. Paul's Catherdral in the Royal Wedding of the decade (and as some say, the century) on July 29, 1981. And even though we've seen their iconic wedding photos countless times before, we were more than a little thrilled when 12 never-before-seen candid photos were found two years ago and put up for auction by RR Auction. The candid behind-the-scenes photos were taken by the assistant to royal photographer Lord Patrick Lichfield.
Snapped during the wedding reception at Buckingham Palace, Diana looks stunning in her fantastical wedding dress with a 25-foot train (designed by David and Elizabeth Emanuel) and Spencer tiara, tending to the tiniest member of her bridal party, then 5-year-old Clementine Hambro, with loving looks. Also present are Queen Elizabeth II, walking alongside Diana, the Queen Mother in the background and Prince Charles talking to the page boy. Diana's father, Earl Spencer, Princess Anne, Prince Edward, Prince Andrew, Princess Margaret, Princess Michael and other royal guests are also seen in the various photos.
But the best shot that's as close to being a fly on the wall as we'll ever get? Diana and Charles greeting the crowd from the balcony at Buckingham Palace—from their perspective.
And the newly released, restored video from the Associated Press lets us live that day all over again.
See the 12 stunning photos and video below.