Where to Find Wedding Invitations You Can Personalize and Print
Looking to save on stationery? Here are our favorite picks.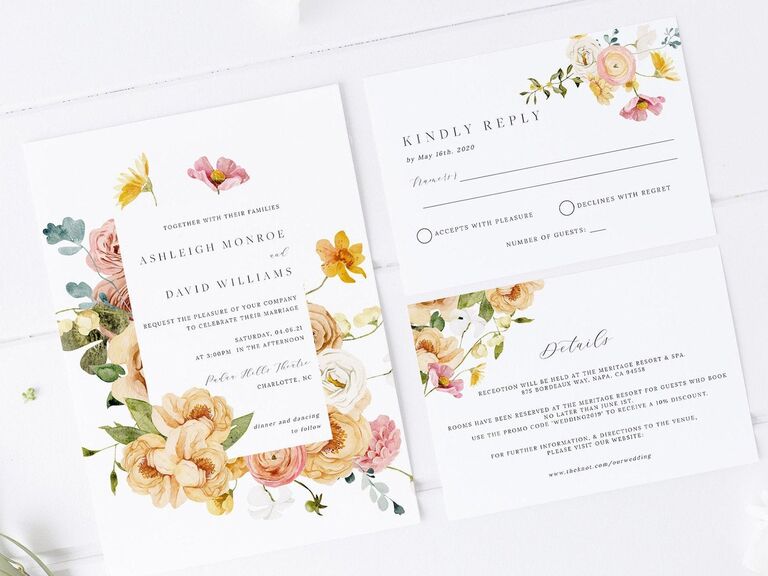 We have included third party products to help you navigate and enjoy life's biggest moments. Purchases made through links on this page may earn us a commission.
We get it: There's a certain charm and ease to using wedding invitation templates (templates that you can download and print out yourself). Couples have lots of reasons for wanting to print their own wedding stationery, whether it's to save money on the design and shipping or cut down on production time.
Of course, there are a few important things to consider before printing your own invites. For example, you'll need access to a high-quality printer and a hefty ink supply. If you have an extra-long guest list, you may also have to spend some serious time at the printer feeding it paper. Not to mention, some templates require more DIYing than others. There are the templates that ask for just a few personal details, and then there are the templates that are fully editable.
If you're looking for invites that are less hands-on but won't break your budget, check out The Knot Invitations. You can still personalize everything from the fonts to the colors, but free design assistance is available at any time. You can also seamlessly match your invites to your wedding website for extra convenience. Plus, you won't have to worry about printing anything yourself.
Certain that printable wedding invitations are the right move for you? We're here to help. We've rounded up some of the best places on the internet to find editable wedding invitation templates. Plus, we've picked out our favorite designs that you can shop on the spot.
In this article:
Where to Find the Best Wedding Invitation Templates
Wondering where to find editable wedding invitation templates online? You're in luck: The internet is full of resources, if you know where to look. Customizable wedding invitation templates are a great way to put your own personal spin on your wedding details. Some templates allow you to adjust everything, from positioning, to font, to colors. And there are plenty of free wedding invitation templates out there, too, to save you some budget room. Simply follow the directions and you'll have personalized printable wedding invites that perfectly reflect your unique day. Here are a few of our favorite sites:
Canva
A web-based alternative to image editing and design software like Photoshop, Canva has a number of free wedding invitations available. The user-friendly interface makes it easy to tailor designs to your taste. Add photos, adjust the font and change the color scheme with a few clicks. Some graphics available on the site may cost a few dollars to add to your template of choice, though, so be mindful of your options before committing to a certain design. Though Canva does offer in-house printing for an extra cost, just simply download your finished file as a "PDF Print" to take care of it yourself.
Etsy
Etsy is a treasure trove for so many things, so it's no wonder that it's one of the best places to find creative wedding invitation templates. You're sure to find an Etsy wedding invitation template to suit every budget and style, featuring designs with rustic florals to modern geometric patterns. Alongside the wedding invitation templates themselves, you'll also find cardstock and all the accessories you need to take your wedding stationery to the next level. What more could you want?
Download & Print
Printing an invitation from Download & Print couldn't be more simple. All you have to do is enter the details of your special day to make the design entirely your own. The colors are all customizable, too, if you want to coordinate it to your wedding's color story. A handy dotted line shows you where to cut the invitation to make it fit neatly into an envelope.
Lia Griffith
On Lia Griffith, you'll find so much more than printable wedding invitations. There are also wedding place cards, table numbers and thank-you cards, so you can print out an entire invitation suite. If you want to go the extra mile, each wedding invite template is accompanied by detailed instructions on how to DIY decor to tie the invite into your wedding day decorations, like paper hibiscus flowers to complement tropical downloadable wedding invitations.
Jukebox
Watercolor florals, vintage sketches and bold prints make the invitation templates available through Jukebox super special. It's an incredibly easy way to set the tone for your big day. If you're feeling especially creative, give their blank templates a try and design your own invitation from scratch.
Cards & Pockets
Sometimes the best things in life truly are free, and Cards and Pockets is proof. The site's free wedding invitation templates are elegant, colorful and fresh. It also features affordable embellishments like belly bands and wax seals, making it easy to transform your free printables into luxe keepsakes to treasure forever. Free printable wedding invitations will never look so good!
Greetings Island
Here's another retailer that offers a wide selection of printable wedding invitations. Greetings Island offers myriad options, ranging from classic and simple wedding invitation templates adorned with delicate illustrations to punchy and bright options that hint at the celebratory energy of your big day. The templates are free with a subscription plan and you have unlimited access to all of the available designs for $23.40 per year or $1.95 per month—not too shabby!
Wedding Invitation Templates You Can Print Right Now
With so many websites to check out, you might not know where to start. We've rounded up some of our favorite printable wedding invitation templates to help you out.
1. Canva Greyscale Photo Wedding Invitation Template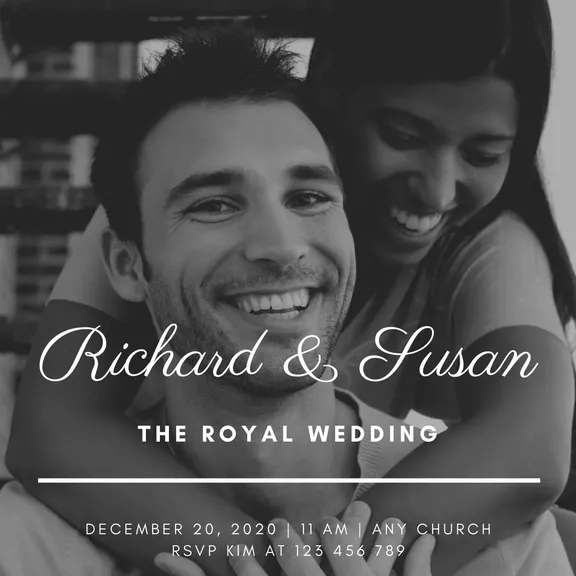 This greyscale wedding invitation template from Canva feels both modern and classic. Including a photo on your wedding invitation is such a simple way to add a personal touch. One from an engagement photo shoot would be ideal!
2. Invitations Templates Contemporary Calligraphy Wedding Invitation Template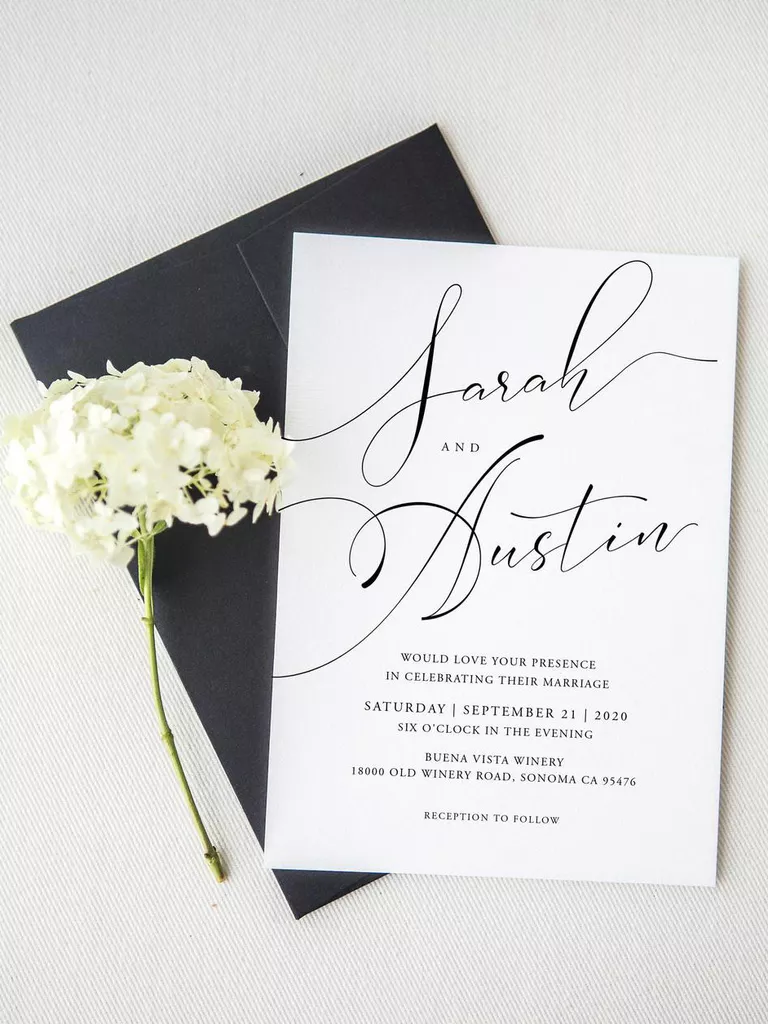 We love how this printable invitation template blends a modern monochrome palette with classic calligraphy. Once you've purchased this design, you'll receive an email with the link to edit and download your finished creation.
3. Cards & Pockets Banner Wedding Invitation Template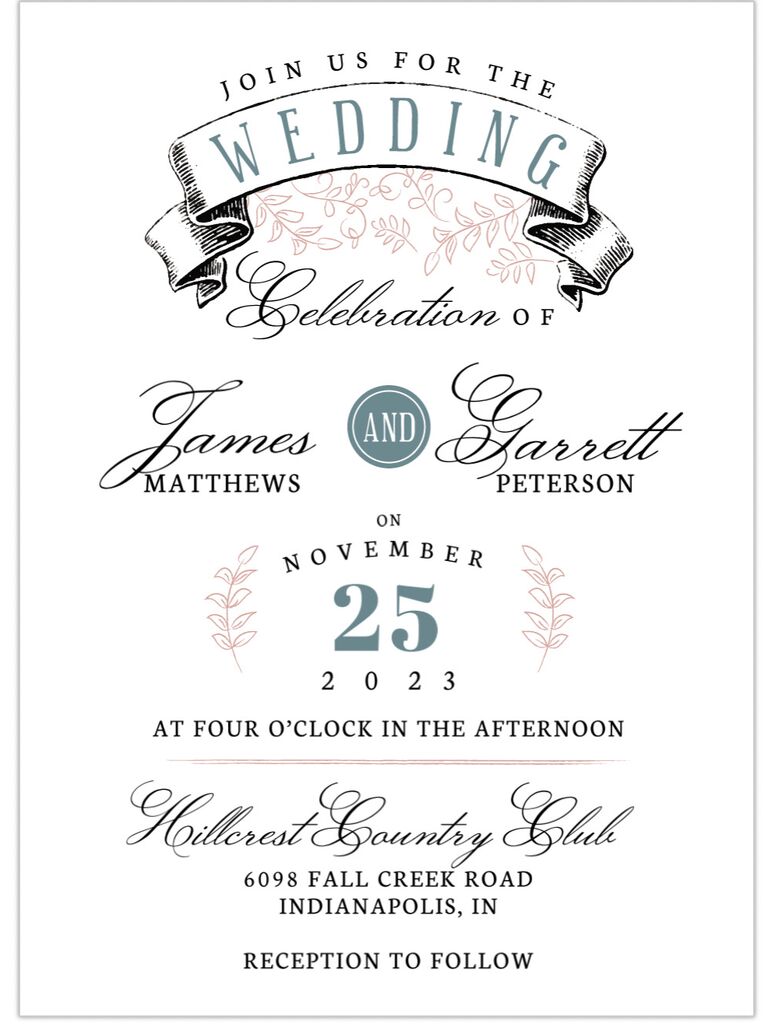 This invitation feels traditional, with a touch of vintage botanical whimsy. The sketched look of the banner provides visual interest when it comes to announcing your wedding, while the delicate pink leaves and vines balance out the blue-gray accents. But if these tones don't speak to you, you can customize your colors.
4. Blanche Paperie Lavender Wedding Invitation Template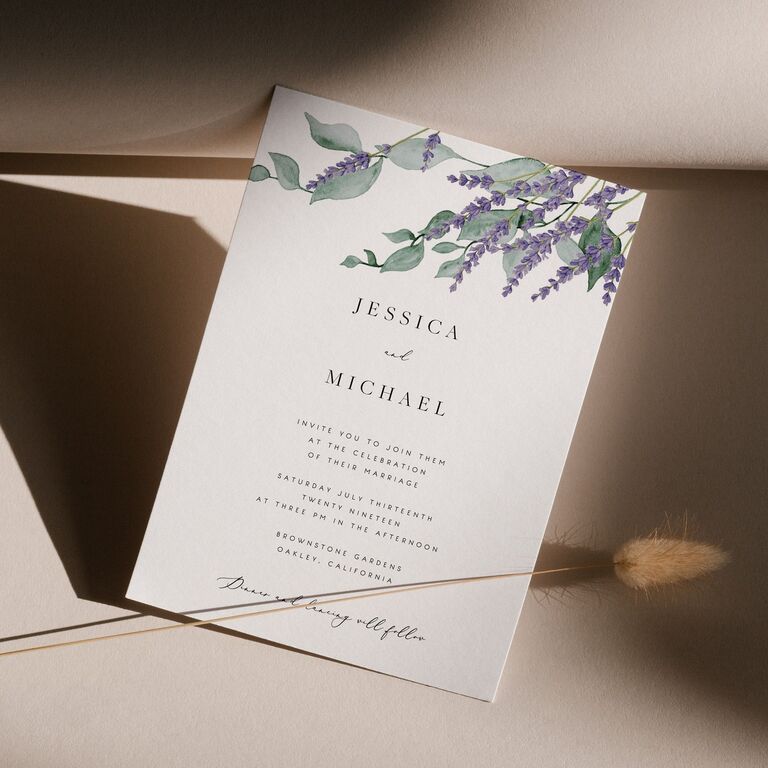 French countryside nuptials, anyone? Lavender accents make this printable wedding invitation perfect for rustic celebrations. With this design, you're free to edit the layout and information however you want after you buy.
5. Lia Griffith Citrus Squeeze Wedding Invitation Template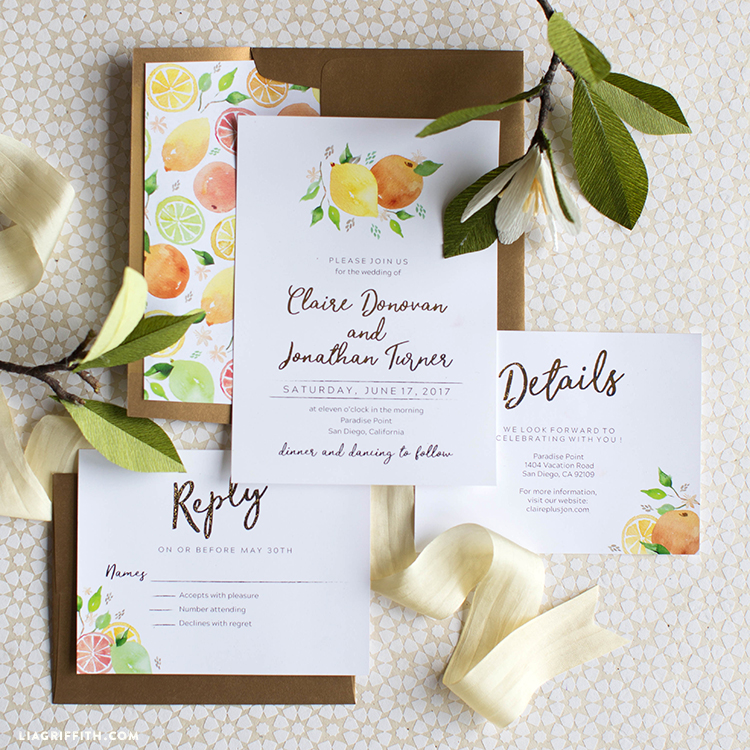 Summer citrus fruits adorn this adorable invite. All graphics are original watercolors from Lia Griffith herself, which perfectly complement the blend of script and modern typefaces. The details and RSVP cards are included, too (how sweet—not sour).
6. Download & Print Victorian Wedding Invitation Template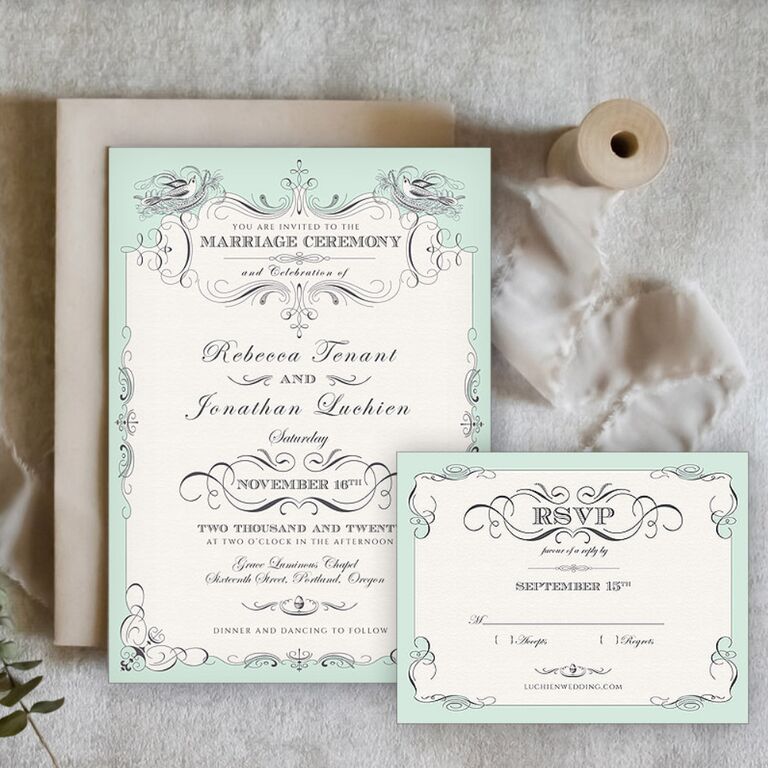 Don't these wedding invitations remind you of a lovely tin of tea imported from England? Between the illustrated birds flanking the upper corners and the opulent border, we can't decide which thoughtful design element we love most. We also adore the mint green accent color on this invite, but you can customize the colors (and fonts) to your liking.
7. Here's To You Shop Hand-Drawn French Vintage Wedding Invitation Template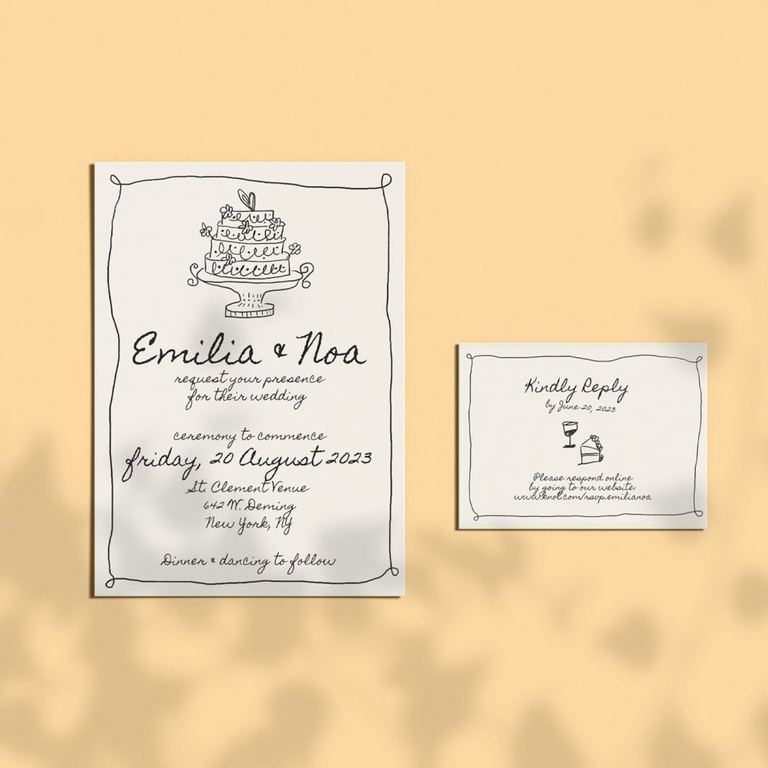 These printable wedding invites are equal parts trendy and timeless, featuring that oh-so-coveted vintage French illustration style we're seeing all over Instagram. A delicate, looped-corner border surrounds this simple design, topped with a sweet line-drawn wedding cake and laden with lush handwritten cursive. RSVP cards are included, too. C'est bon!
8. Blanche Paperie Rust Floral Wedding Invitation Template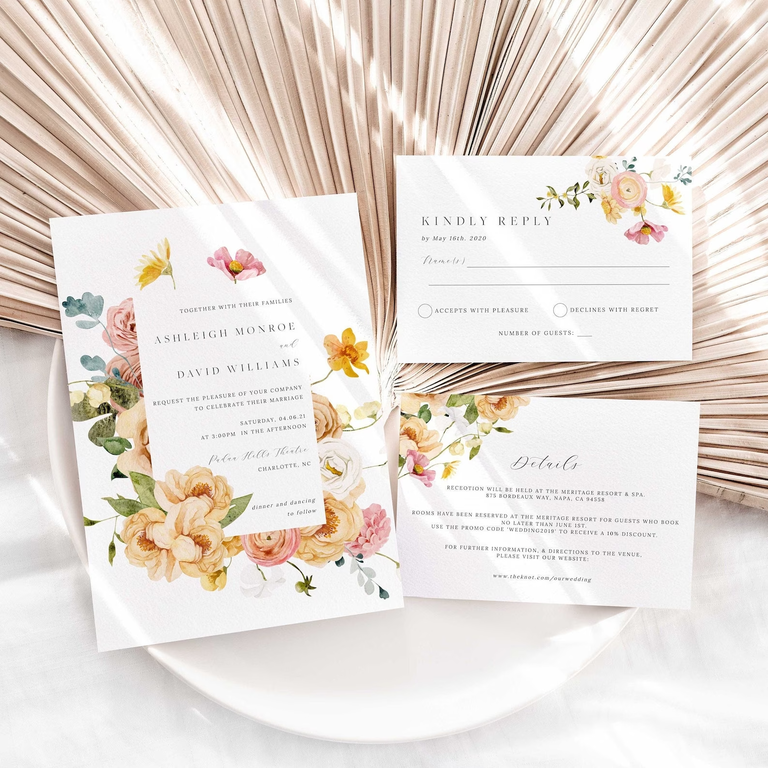 It's impossible not to swoon for the blooms adorning this Etsy printable wedding invitation template—they look both like a detailed illustration and a hand-assembled collage. Over-opened peach roses mingle with peony blossoms and leafy sprigs, a few petals breaking the rectangle of negative space that houses your day-of details. This stationery set also includes RSVP card templates and details card templates to match—perfect invitations for a summer wedding.
9. Rafico Studio Modern and Vintage Wedding Invitation Template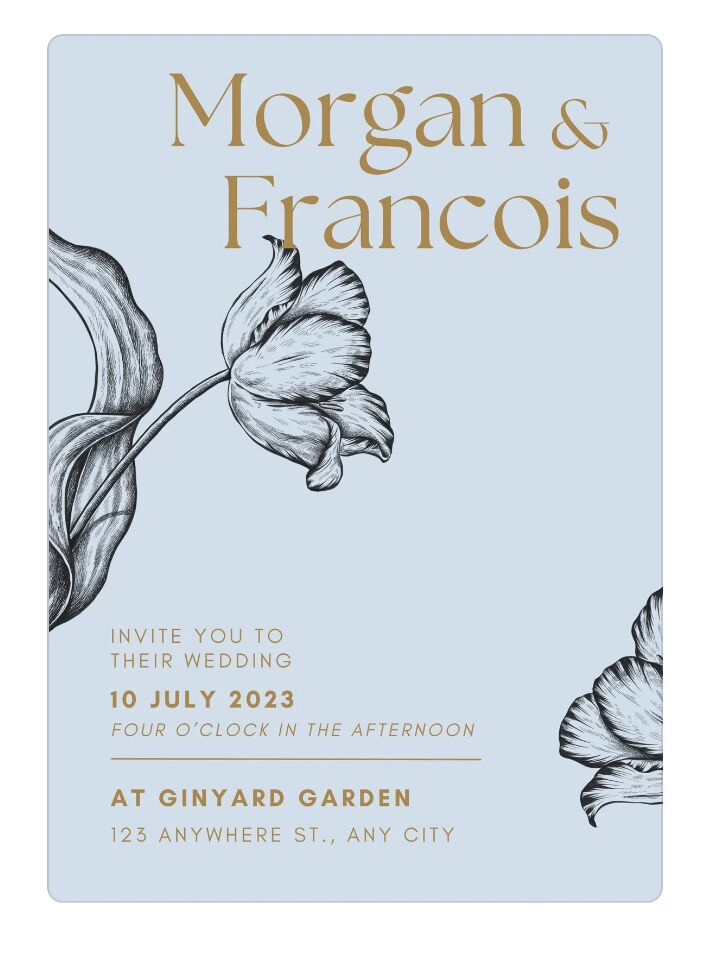 Your something blue on your big day could very well be these lovely editable wedding invitations, which feature a graceful swooping tulip atop a powder blue backdrop. A mix of fonts offers some visual interest. And the rounded corner detail is just plain dreamy.
10. Greetings Island Red Poppy Wedding Invitation Template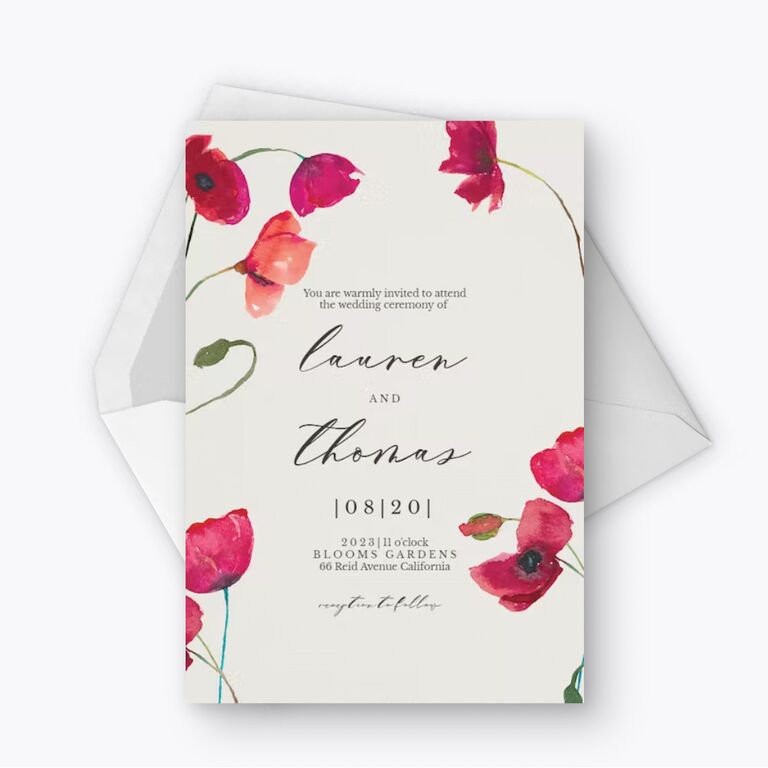 Pretty poppies are a unique take on a classic floral wedding invitation. We love the watercolor softness of the blooms on this wedding invite—minimalist, but still bold. We can almost see the flowers swaying in the breeze.
11. The Oopsy Daisy Co Good Vibrations Wedding Invitation Template
Do you have a Palm Springs wedding on the books? Or maybe you're just into a groovy vintage look. Either way, these punchy pink printable invitation templates feature an ultra-retro font and whimsically drawn sparkles that you'll def dig.
12. Flight Ticket Wedding Invitation Template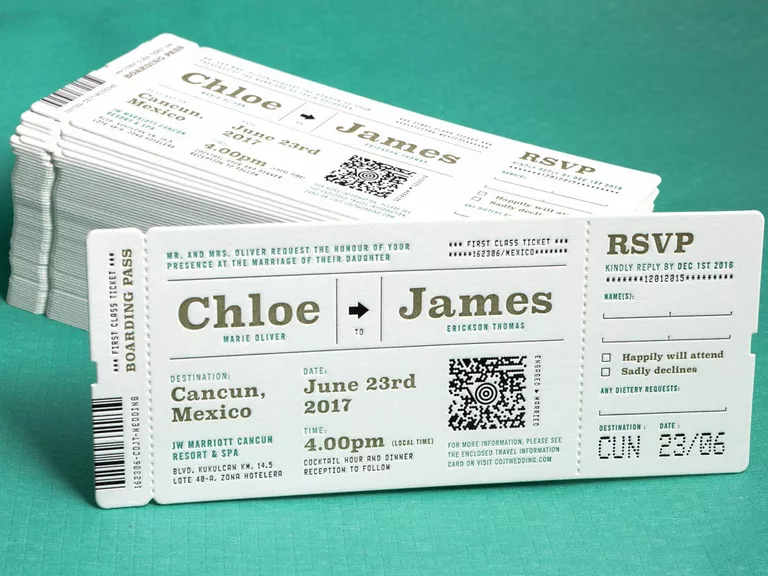 Whether you're setting off for a destination wedding, or you just love to travel together, this free wedding template in the shape of a ticket is super personal. Everything from the colors to the positioning is editable!
13. Minty Paperie Shop Sunflower Wedding Invitation Template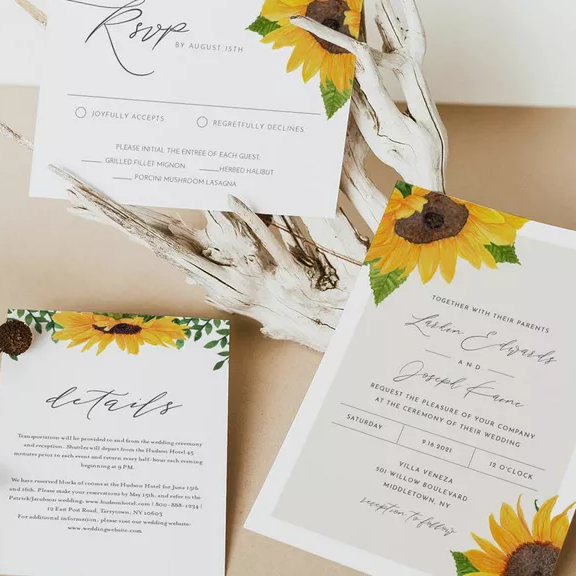 Choose colors as vibrant as your love with this sunflower-adorned editable wedding invitation, ideal for a summer wedding. You can edit and download this design as many times as you want, in case there's any last-minute changes.