DIY Your Wedding Invitations with These Easy Printables
Looking to save on stationery? Here are our favorite picks.
by Andrea Fowler
Even though we're serious stationery lovers, it's okay if all you really want out of your wedding invitation is a piece of paper that informs guests of a date, time and a location. If a simple invite is more your style and you want to keep paper costs low you can go the DIY printable template route—just remember anytime you take on a sizable wedding task solo there may be a couple more headaches in store. For example, if you don't have access to a high-quality printer or a hefty ink supply you're going to run into some issues. If you have an extra long guest list, you'll be camped out at the printer feeding it paper for a couple solid hours.
That said, there are a lot of different wedding invitation template designs you can choose from that are anything but cookie-cutter. Check out some of our favorites below.
Where to Find Wedding Invitation Templates
Customizable wedding invitation templates are a great way to put your own personal spin on your wedding details. Some templates allow you to adjust things down to font and colors. Simply follow the directions given on each invitation template, and you'll have a personalized wedding invite ready for printing in minutes. 
Wondering where to find free wedding invitation templates online? You're in luck: the internet is a treasure trove of these kinds of resources – if you know where to look. Here are a few of our favorite sites:
A web-based alternative to image editing and design software like Photoshop, Canva has a number of free wedding invitations available. Their user-friendly interface makes it easy to tailor designs to your taste. Add photos, adjust the font and change the color scheme with a few clicks. Some graphics available on the site may cost a few dollars to add to your template of choice, though, so be mindful of your options before committing to a certain design. 
Are you into...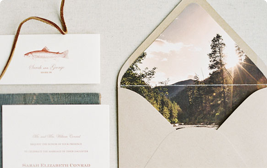 Rustic Weddings
Down-to-earth with organic elements and personal touches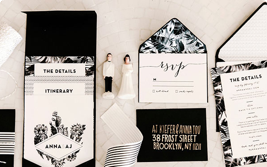 Modern Weddings
Simple-yet-sophisticated with playful nods and unique accents
Wow your guests with customized wedding invitations from Temploola. Each of their free wedding invitation templates is completely editable, making it easy to customize design elements to your vision. Exporting your design into Microsoft Word is simple, too, since each Temploola wedding invitation template includes cutting lines for printing. Save the dates and RSVP cards are also available to download for free, making Temploola a must-have for couples planning a wedding on a budget.
Watercolor florals, vintage sketches and bold prints make the invitation templates available through JukeBoxPrint impossible to resist. Hosting a destination wedding? Add your details to a template shaped like an airline ticket. It's an incredibly easy way to set the tone for your Big Day. If you're feeling especially creative, give their blank templates a try. It's never been easier to master the art of graphic design.
It's easy to fall in love with the printable wedding invitation templates available on the Wedding Chicks website. From contemporary to whimsical to wacky, these invites are nothing if not unique. While many of the templates themselves are free, some edits may run you a small fee. Still, there's no denying the value in using these vibrant templates. While you're there, grab matching RSVP cards, menus and table numbers to carry your theme throughout your wedding day and beyond.
The best things in life truly are free, and Cards and Pockets is proof. Their free wedding invitation templates are elegant, colorful and fresh. Guests will never guess that you got your wedding invitation design for free. The site also features affordable embellishments like belly bands and wax seals, making it easy to transform your free printable into a luxe keepsake to treasure forever.
1. Rustic Woodland Scenery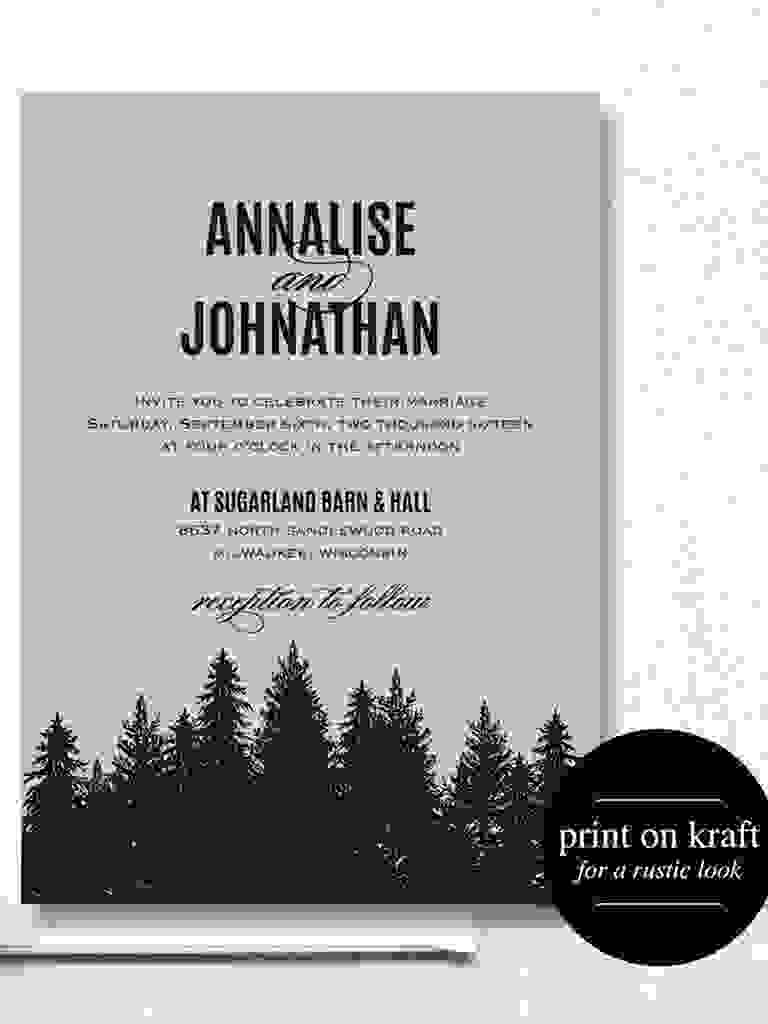 BlissPaperBoutique rustic wedding invitation printable, $13, Etsy.com
2. Whimsical Calligraphy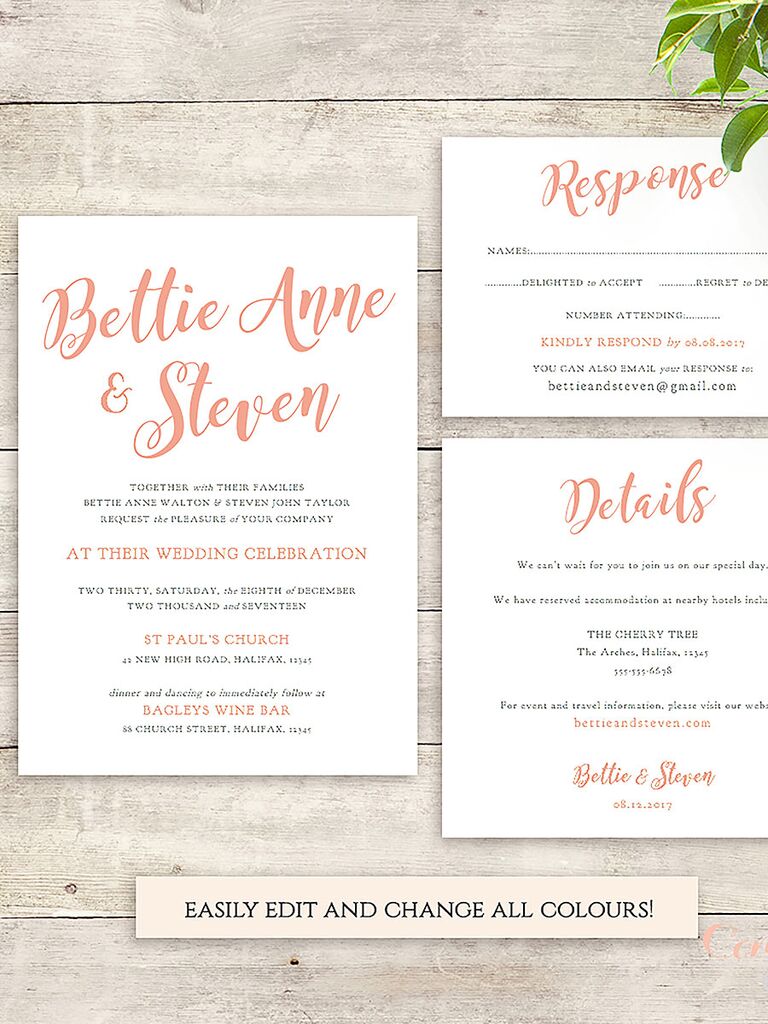 ConnieAndJoan wedding invitation template set, $22, Etsy.com
3. Floral Romance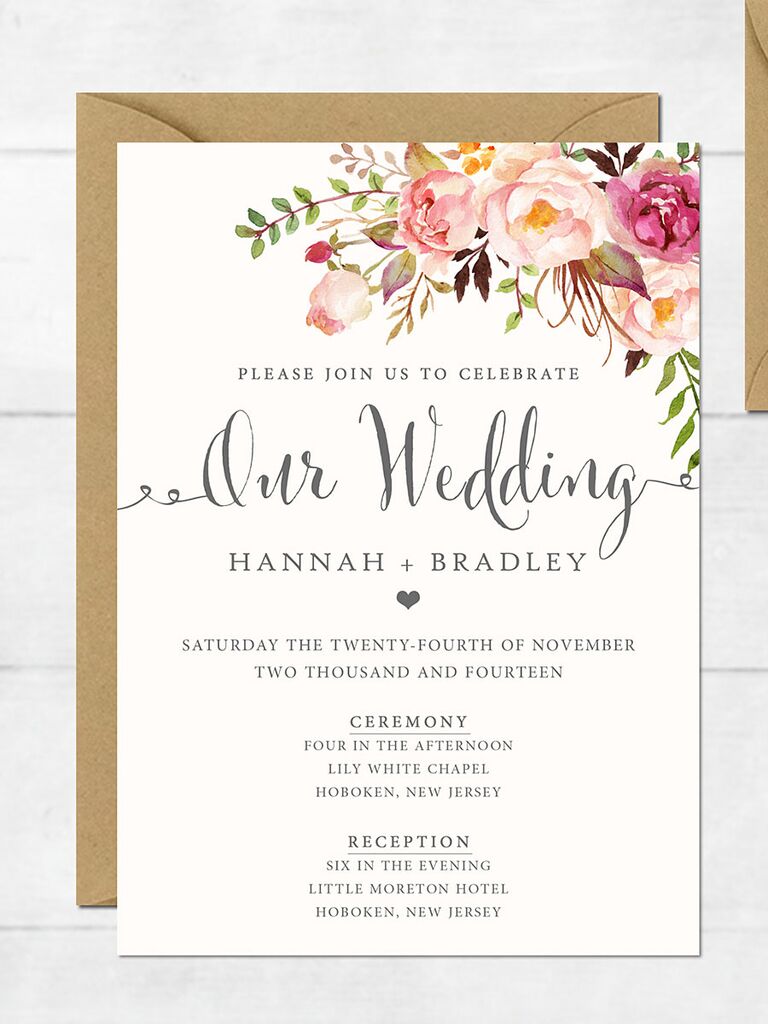 DarlingPaperCompany Floral wedding invitation printable, from $13, Etsy.com
4. Boho Garden Party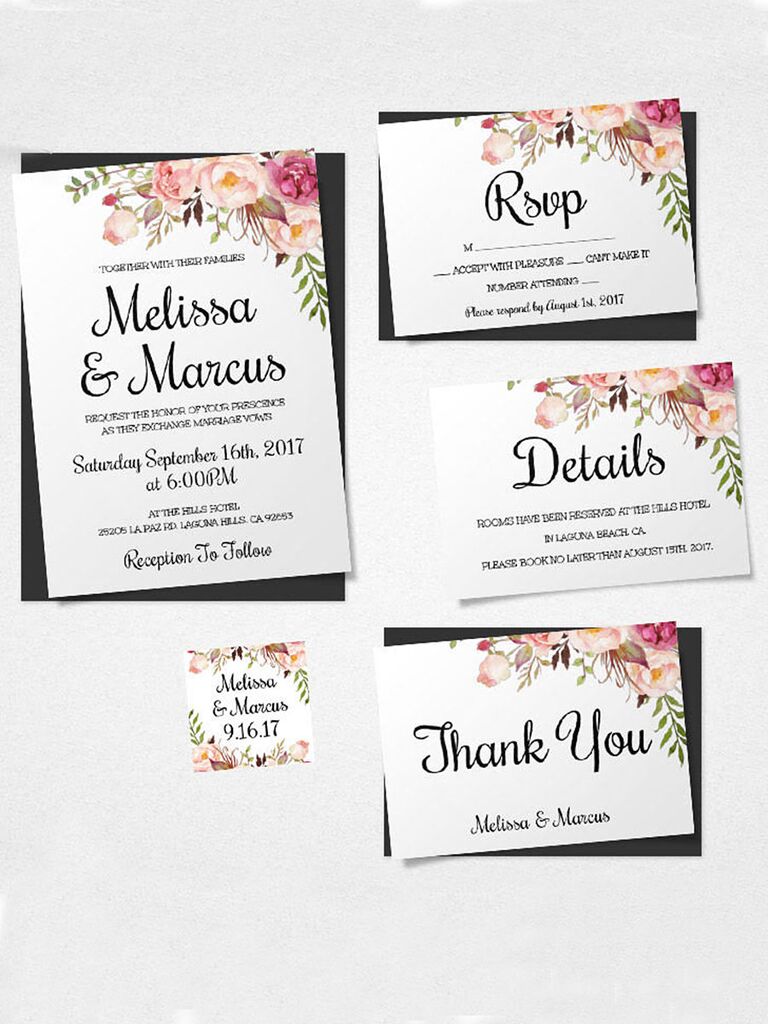 PrintableMoment Floral boho wedding invite, $13, Etsy.com
5. Modern Gray Palette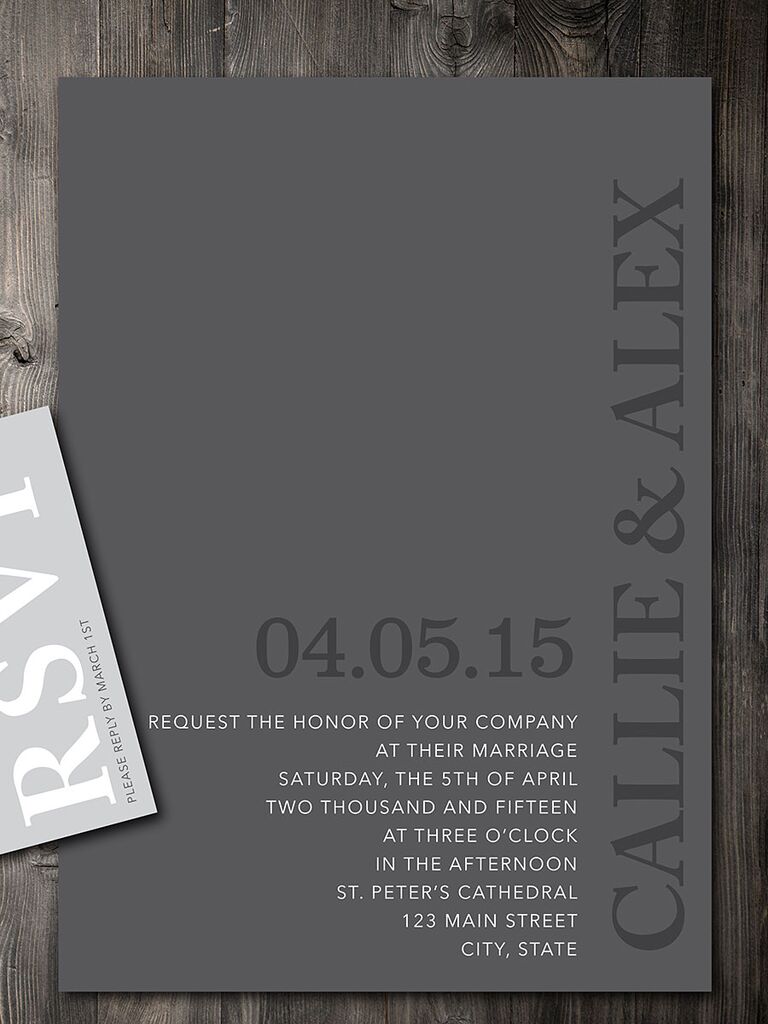 TwinkDesigns34 Printable gray wedding invitations, $30, Etsy.com
6. Rustic Lover's Wreath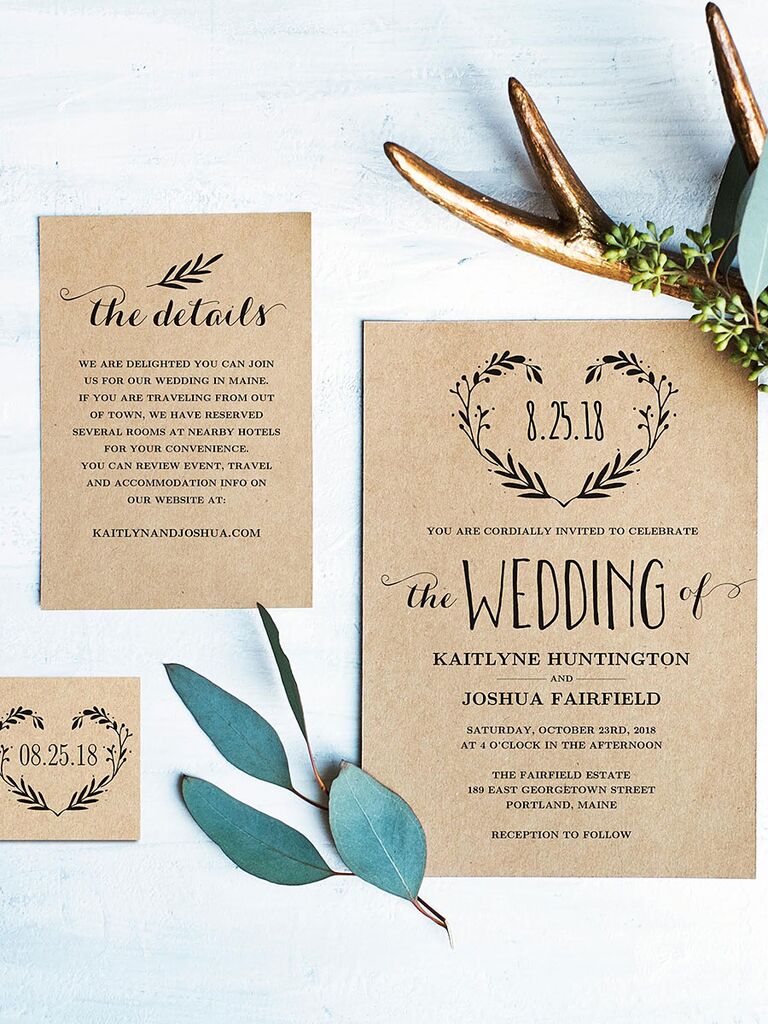 VineWedding Rustic wedding invitation template, $18, Etsy.com
7. Minimalist Banner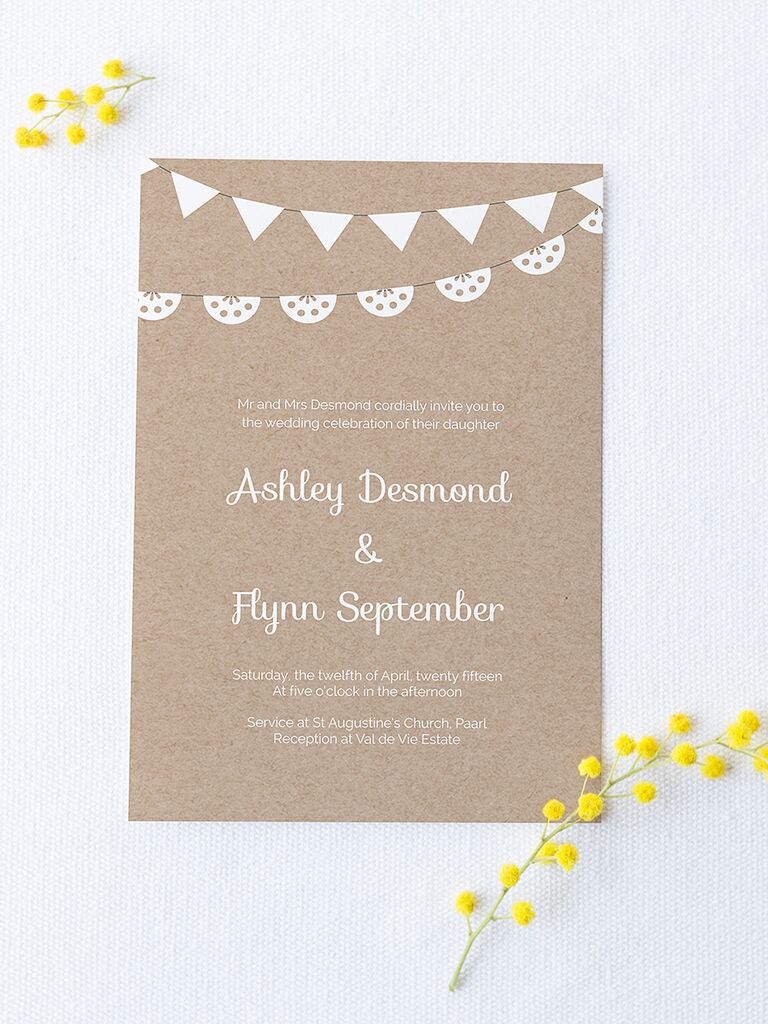 Clementine Creative free printable wedding inviation template, ClementineCreative.com
8. Vintage Charm
Download & Print Free DIY transluscent wedding invitation, DownloadandPrint.com
9. Faux Chalkboard Design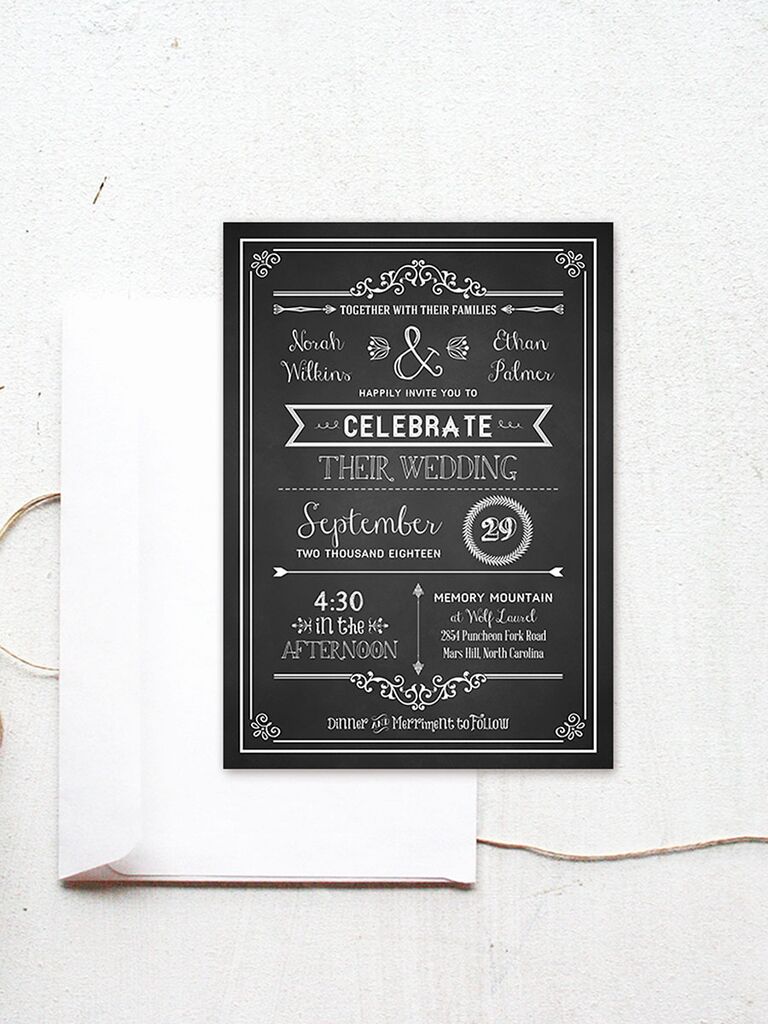 Mountain Modern Life chalkbaord rustic DIY wedding invitation, $5, MountainModernLife.com
10. Playful Invitation Design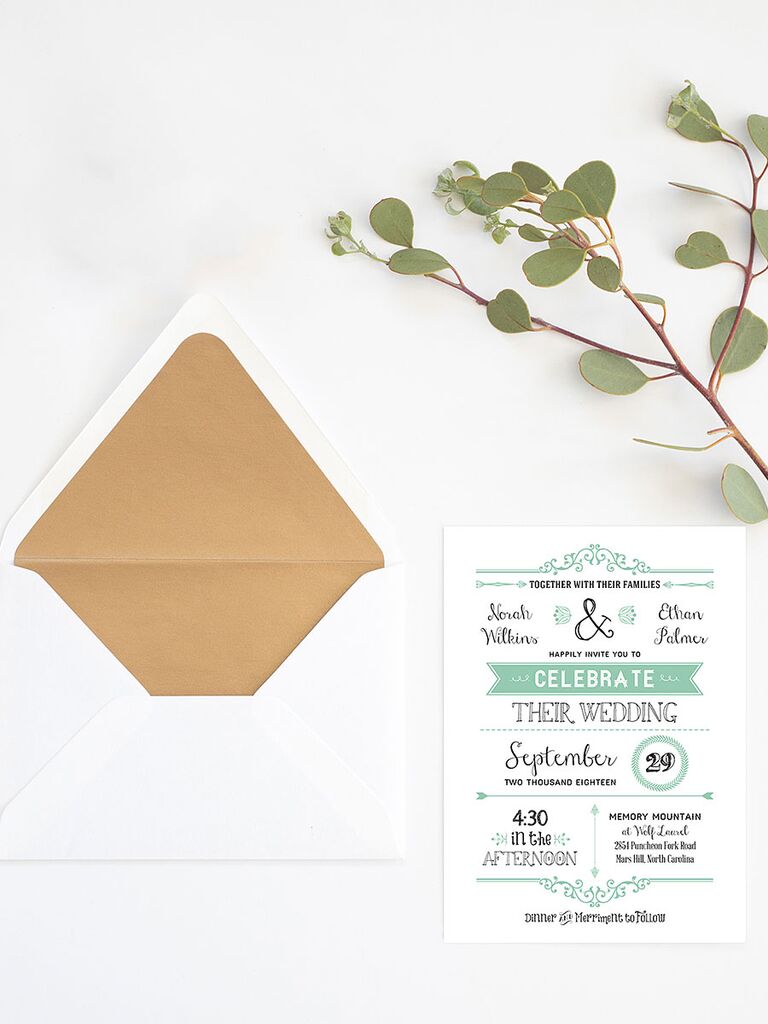 Modern Mountain Life Free rustic wedding invitation template, MountainModernLife.com
11. Whimsical Rose Garlands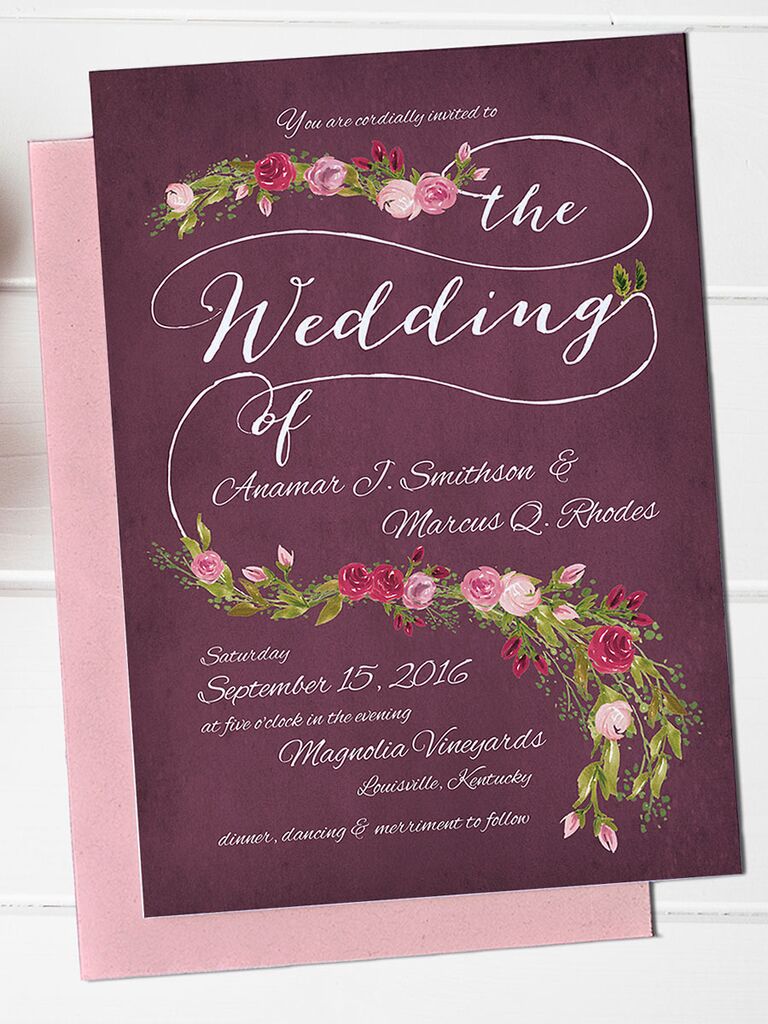 PetitePrintShopLLC Floral wedding invitation template, $17, Etsy.com
12. Spring Fling Color Palette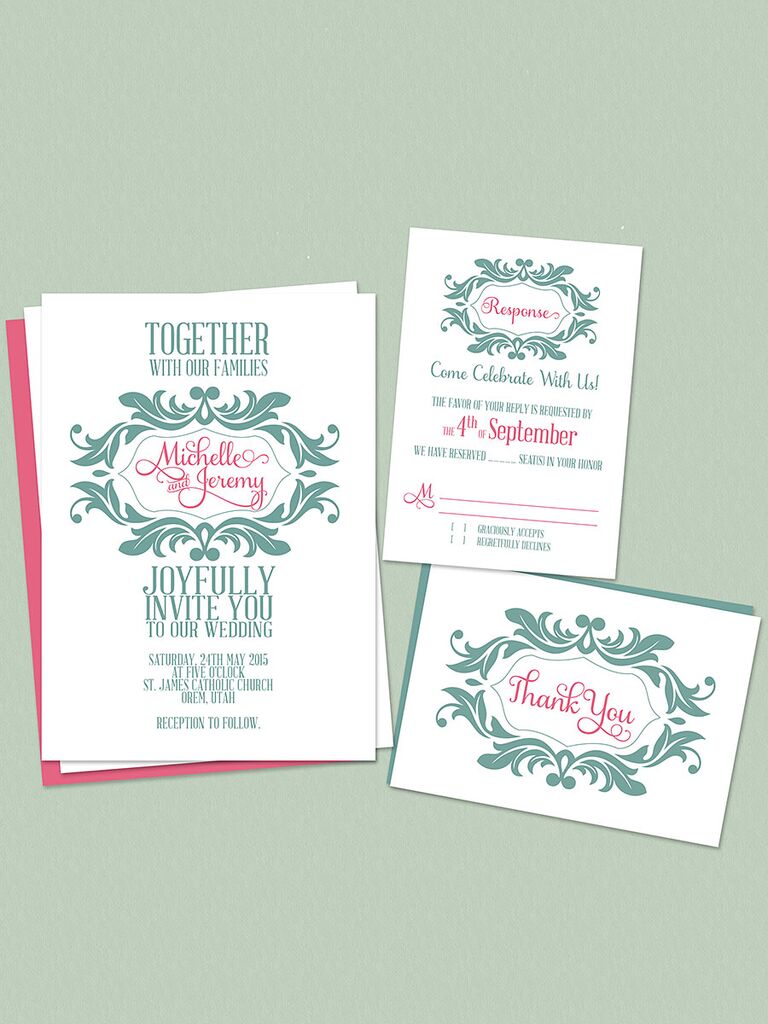 Printable Invitation Kits Free stylized monogram mint and pink wedding invitation, PrintableInvitationKits.com
13. Modern Calligraphy
PrintandPoste Modern calligraphy printable wedding invitation template, $15, Etsy.com
14. Romantic Script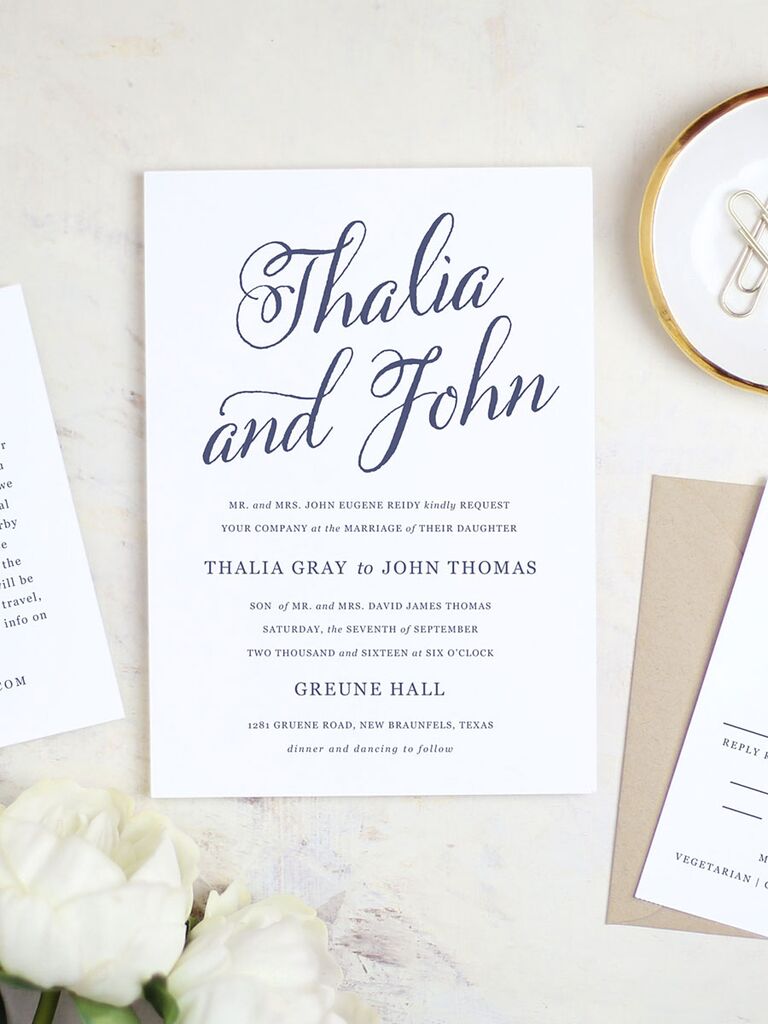 SwellAndGrand Romantic script printable wedding invitation template, $25, Etsy.com
15. Playful Fonts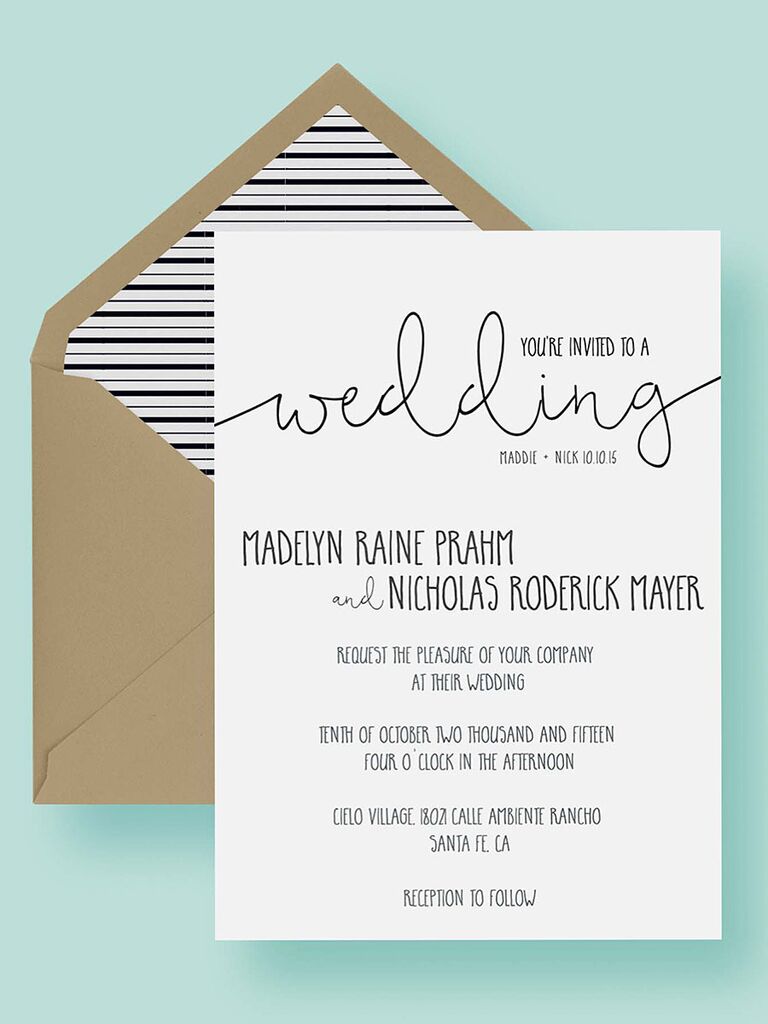 LetterLoftPrints Modern simple wedding invitation prinatble, $15, Etsy.com
16. An Extra for Insta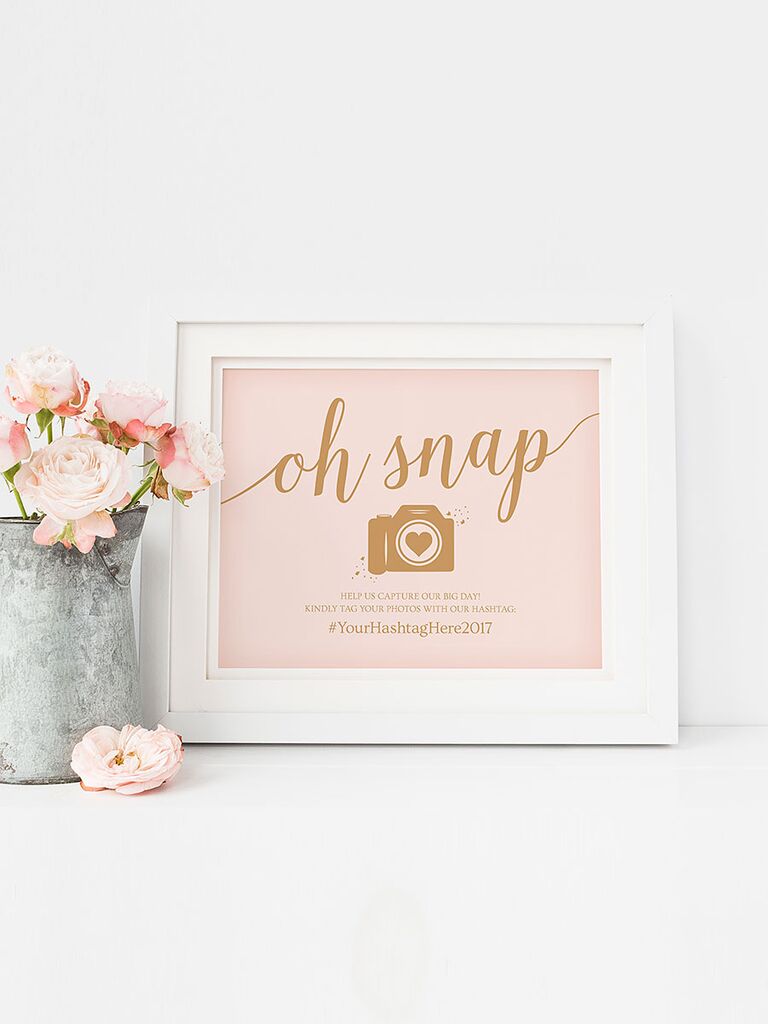 MyCrayonsDesign Oh Snap wedding sign printable, $6, Etsy.com
Not sure where to begin with your wedding planning? Take our Style Quiz and we'll pull together a custom wedding vision and vendors to match, just for you. After that, create a free, personalized wedding website to keep your guests informed (and excited!) about your plans, and a time-saving Guest List Manager to organize your attendees. Even better? You can sync your Guest List Manager and wedding website to update everything at once.