28 On-Trend Summer Wedding Invitations That Are Pure Sunshine
We've got you covered—from destination beach bashes to retro, free-spirited fetes that rival Coachella.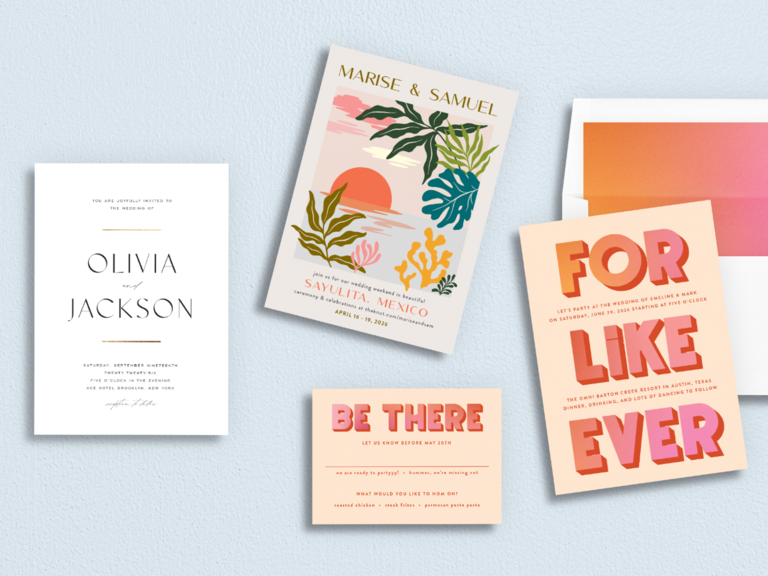 Oh, how we love summer weddings. The way a warm breeze makes the flowers in a bouquet sway and hearing vows punctuated by the lap of ocean waves make our hearts swell. If your big day is set in June, July or August, keep reading, because we're breaking down our favorite summer trends for wedding invitations this year and showcasing an editor-curated selection of designs from our new seasonal drop over at The Knot Invitations. These invites suggest soirees that are entirely al fresco—think: ceremonies set to the soundtrack of cicadas and balmy evening receptions spent spinning barefoot on the dance floor, surrounded by the clink of champagne coupes and the ethereal glow of taper candles.
From tropical, resort-ready invitations to ones dotted with waving wildflowers, we've got summer wedding invitation ideas perfect for your unique summer nuptials, no matter which aesthetic you're going for.
Themes in this article:
Green Garden
One of the most beautiful parts of the summer is how lush and green everything is. Verdant leaves make the trees framing a garden wedding look extra graceful and soften the landscape in the most magical way. If this sounds like your thing, Green Garden might be the trend for you, with stationery featuring wispy leaves, eucalyptus wreaths and just the right amount of little floral accents. Some invites even feature gold details that make the surface look sun-dappled, like the invitation is sitting under swaying branches on a sunny afternoon.
The Knot Gilded Branches Wedding Invitations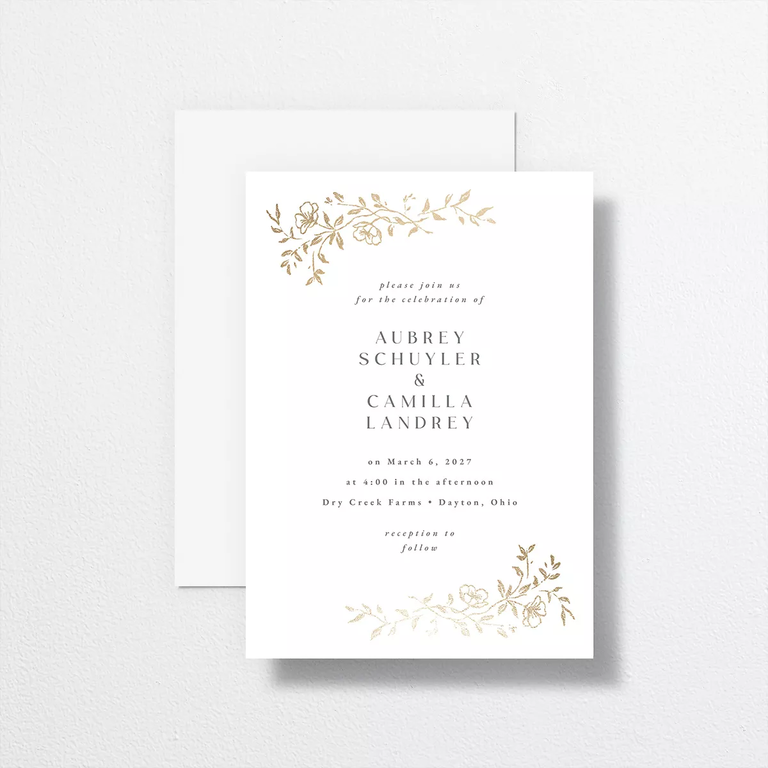 The delicate floral branches that frame these summer wedding invites across the top and bottom recall the kind of detail that would adorn a rare book of folktales. With a blank background and simple typography, the curved vines really shine—both literally and figuratively. They're decorated in sparkling gold, rose gold or silver foil.
The Knot Eucalyptus Edges Wedding Invitations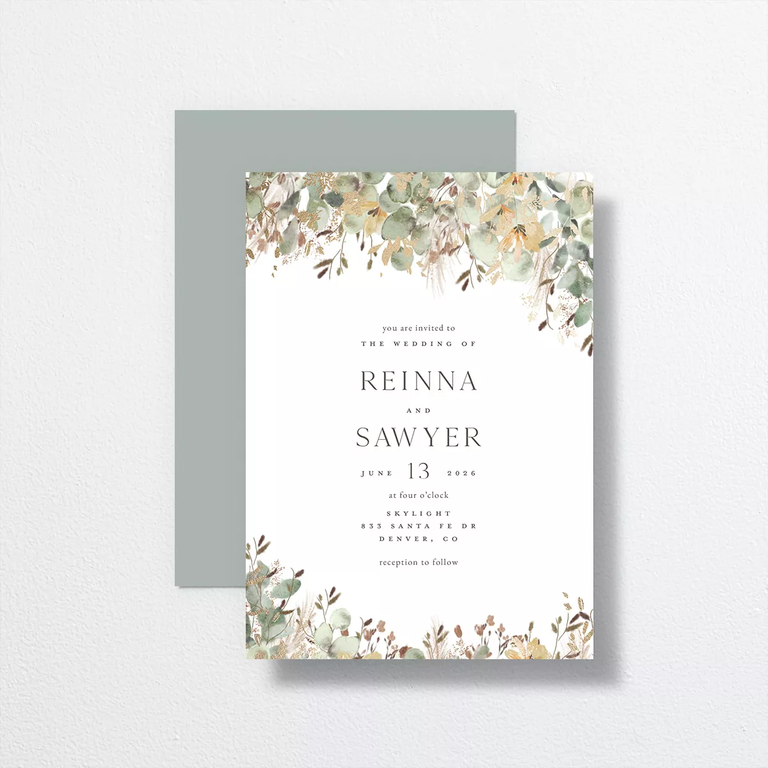 The way the thick swaths of eucalyptus leaves hug the edges of this invitation make us feel like we're peering through an enchanted summer forest. Foil petals add a welcome kiss of sunny sparkle (especially if you select the gold hue). And the muted tones of the botanicals will seamlessly blend into the palette of any affair.
The Knot Delicate Boho Wedding Invitations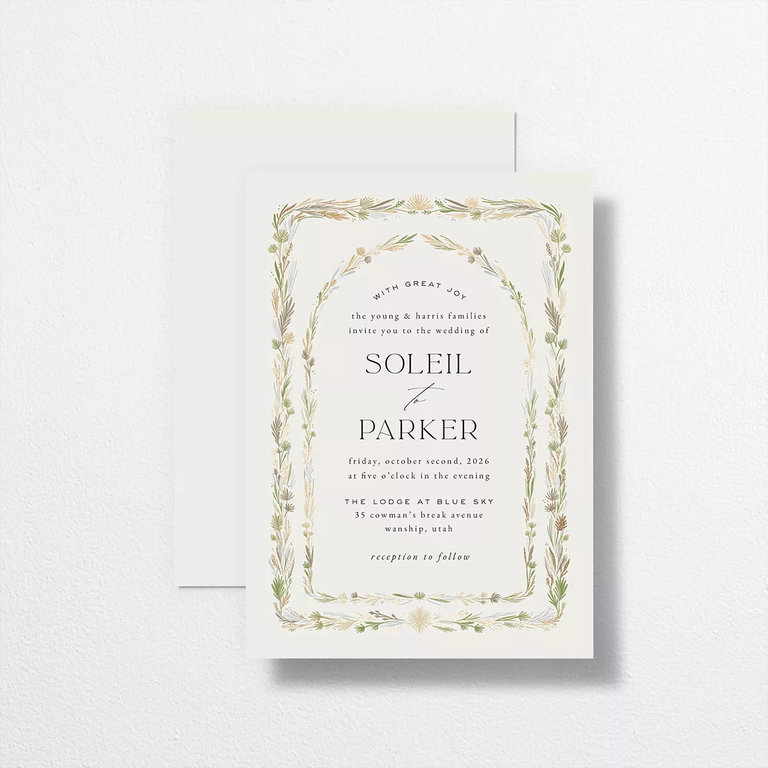 There's something so lovely about this bohemian botanical border—it resembles stripes on a cottagecore peasant dress. So lovely, in fact, that we decided to add two of them to this invitation design. We adore the elegance of each little illustrated leaf and the subtle sparkle of foil adds extra magic.
The Knot Midnight Floral Wedding Invitations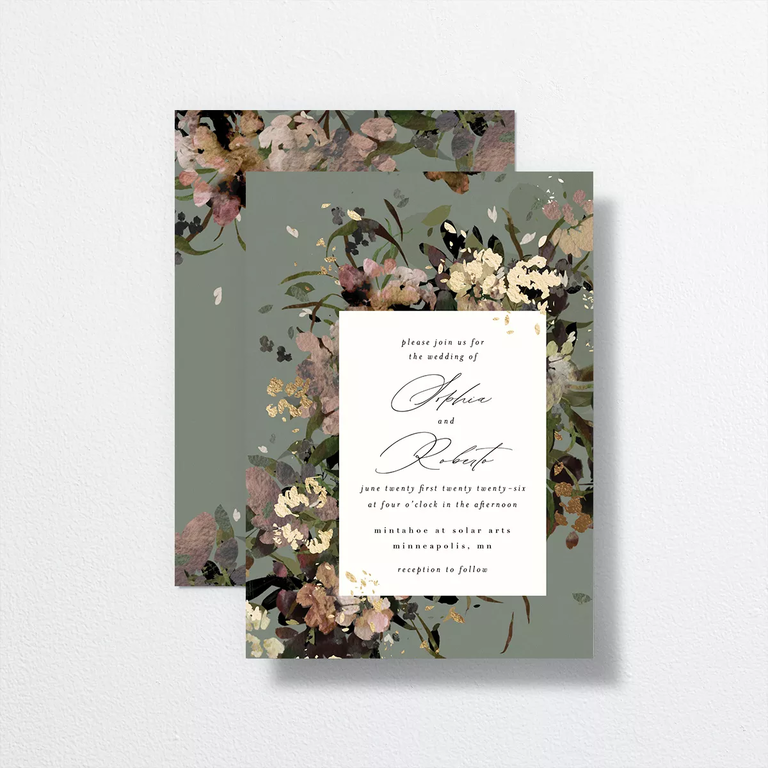 The loose petals and sage green backdrop of these summer garden wedding invitations remind us a little of French Impressionist paintings in how soft the painted petals are. There's so much movement between the foil-adorned blooms, like they're being nudged by a summer breeze. We love how the elegant script in the center makes this invite suitable for a formal affair, too.
Modern Simplicity
A clean and contemporary invitation is lovely in any season, but there's something about a sleek, modern design that brings to mind the minimalism of a coastline or how crisp city skyscrapers can look against the bright blue sky. These simple, yet stunning invites are appropriate for any summer affair—many of which feature dreamy blue hues and other soft, seasonal tones. And all are effortlessly elegant.
The Knot Overboard Wedding Invitations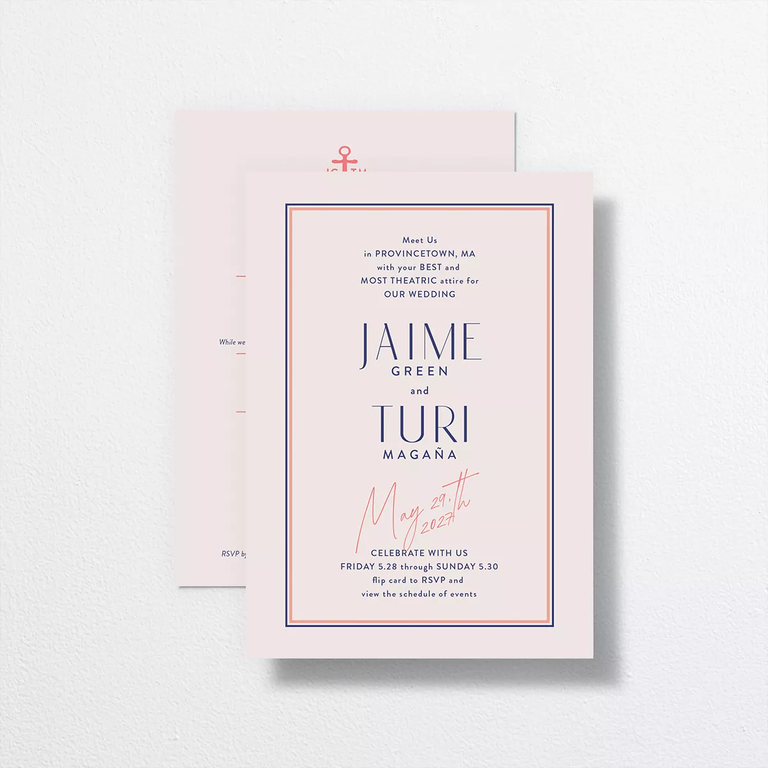 Don't be fooled by the simple design—there are so many cheeky and thoughtful touches making up this nautical-themed invite. We don't know what we love more—the sample text that requests that guests wear their "most theatric" attire or the hand-scrawled feel of the wedding date. And the orange colorway is the most perfect preppy salmon hue befitting of a seaside affair.
The Knot Joyful Union Wedding Invitations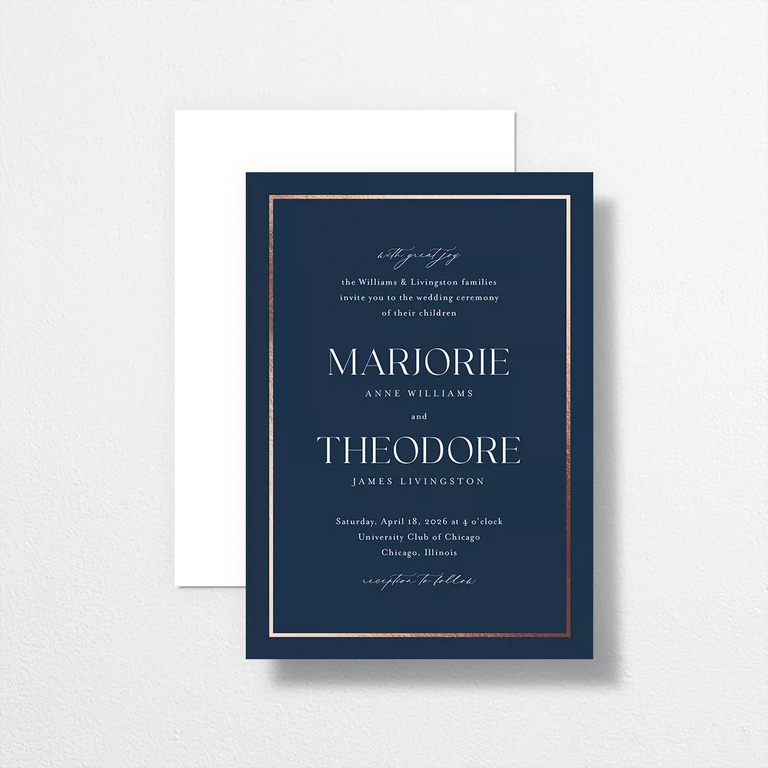 Though the gilded border is truly what brings this elegant invitation together, we can't get over the attention to detail here when it comes to the typography. A mix of script, serif and all-caps serif fonts provide dimension without being too busy. Choose from a selection of elegant jewel tones and neutrals.
The Knot Cosmopolitan Wedding Invitations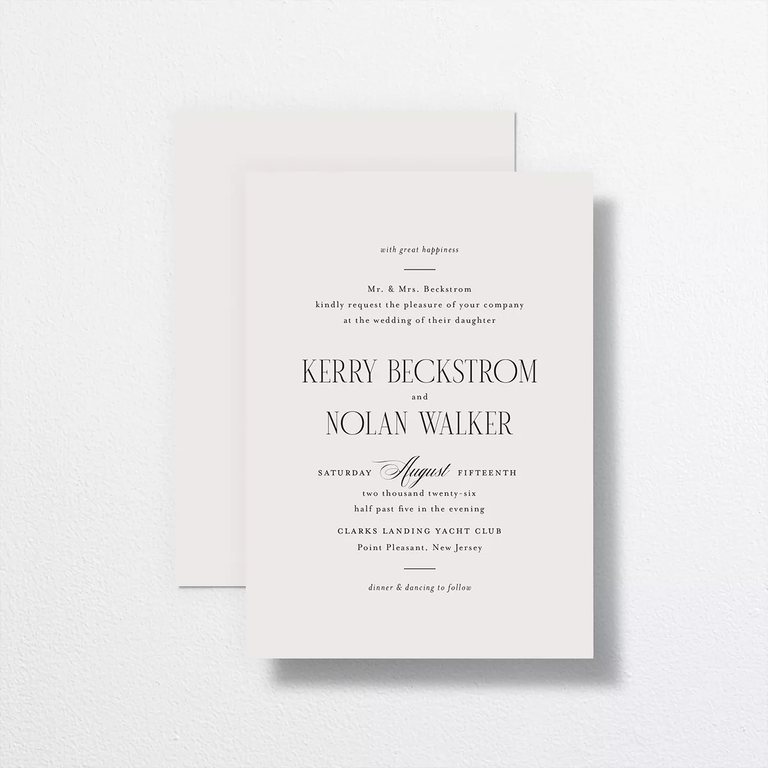 These summer wedding invites are clean and simple, but have layers of nuance and interest due to the sophisticated shifts in typography. We love how your two names are displayed in all caps in the center, while kisses of slanted serif and script offer some movement to the design. The myriad neutral backgrounds you can choose from all pair so perfectly with the rich hues of text, but we especially love the classic cream and black colorway.
The Knot Iconic City Wedding Invitations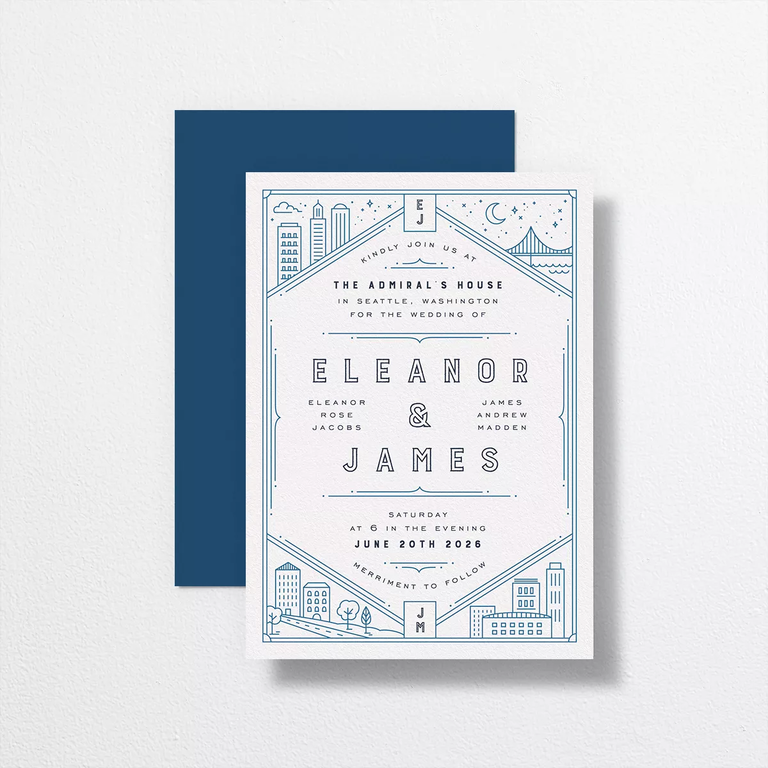 If your affair is taking place on a swanky city rooftop embraced by the summer breeze or within the walls of a sunny brick urban loft, this whimsical, yet minimal city-inspired invite is for you. The sketched skyscrapers in each corner bring a touch of whimsy to the linear hexagon frame that sits at the center, while both sets of your first and last initials post up at the top and bottom points. The central block font displaying your names is incredibly creative, too, reminding us of a chic billboard.
Nouveau Waters
These vintage-y Art Nouveau-inspired designs feature gentle botanical curves that bring to mind summer flora and cresting waves. They'll be perfect for a wedding next to a placid summer lake or pond (preferably with flower-topped lily pads floating near the water's edge). Our favorite design elements on these invitations include cascading, gilded ginkgo leaves and soft turquoise tones.
The Knot Nouveau Frame Wedding Invitations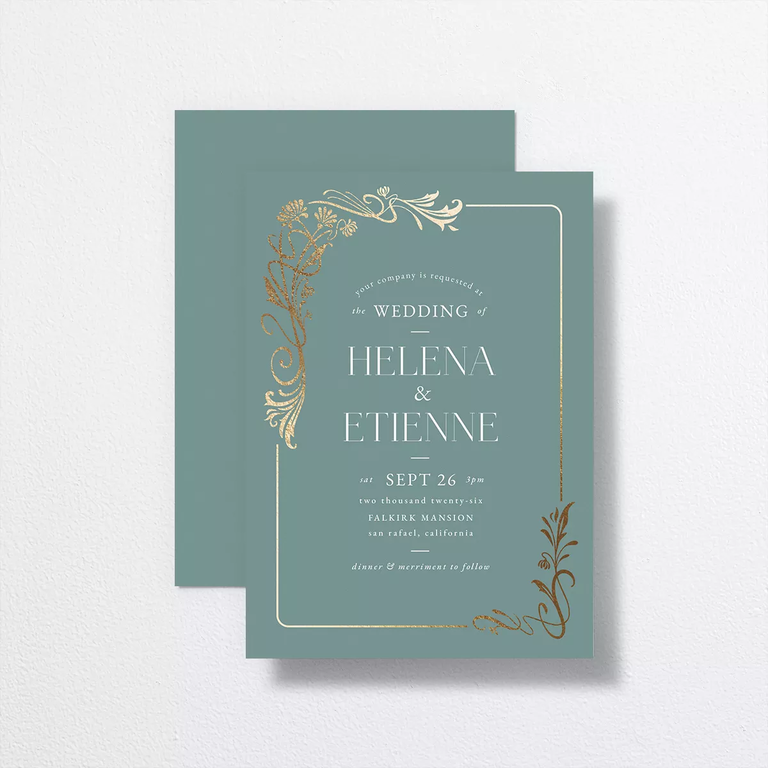 A pool blue backdrop is the perfect accent to the swirling botanical frame on this Art Nouveau invite. It's just the right amount of opulence for an affair that's unfolding in the backyard of a historic estate—the florals and flourishes give a whimsical, organic feel, while the sparkling gilding offers the richness and elegance necessary for a wedding like this. Use the lively vines and loose florals as inspiration for a matching wedding day bouquet.
The Knot Ginkgo Leaves Wedding Invitations
Ginkgo leaves are symbols of beauty and longevity in Japan, so they're the perfect element of nature to include on your wedding day summons, especially if your outdoor ceremony will be punctuated by delicate dropping leaves or flower petals. We adore how this invitation lets the unique fan shape of the leaves be the highlight, outlining a delicate cascade in shimmering foil. The best part might just be the whimsical pair that's floated on the reverse side.
The Knot Twilight Pond Wedding Invitations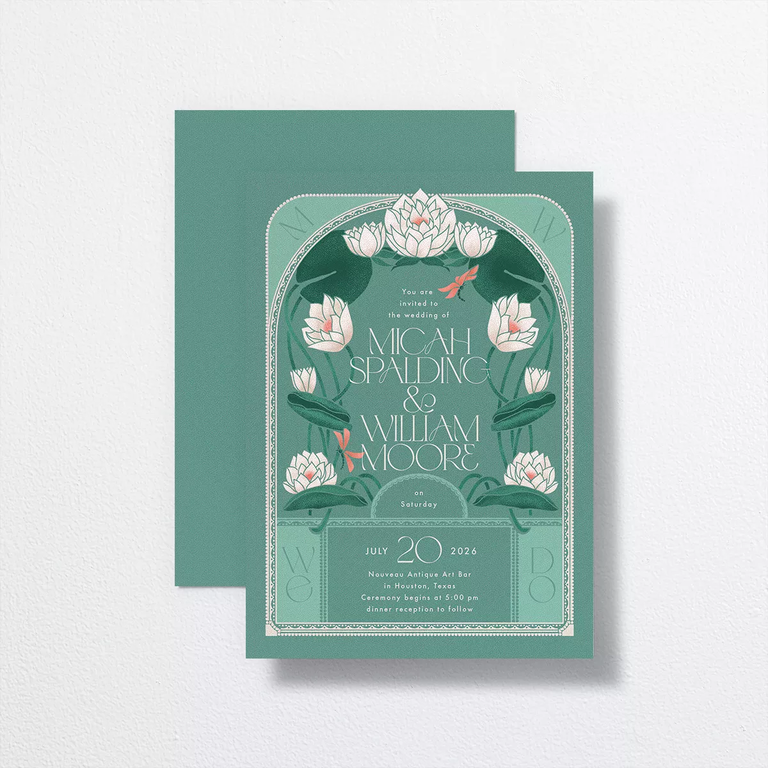 Storybook romance is the phrase that comes to mind when we look at this stunning invitation that's washed in shades of teal. The arch detail across the top reminds us of the gentle curve of a reflection pond or hidden lake, while the fluffy white flowers incorporate that classic natural element that's so intrinsic to the Art Nouveau aesthetic. And for any Disney fans out there, it also reminds us of the "Kiss the Girl" scene in "The Little Mermaid" when Ariel and Prince Eric row a little boat across a firefly-lit pool at twilight.
The Knot Elegant Nouveau Wedding Invitations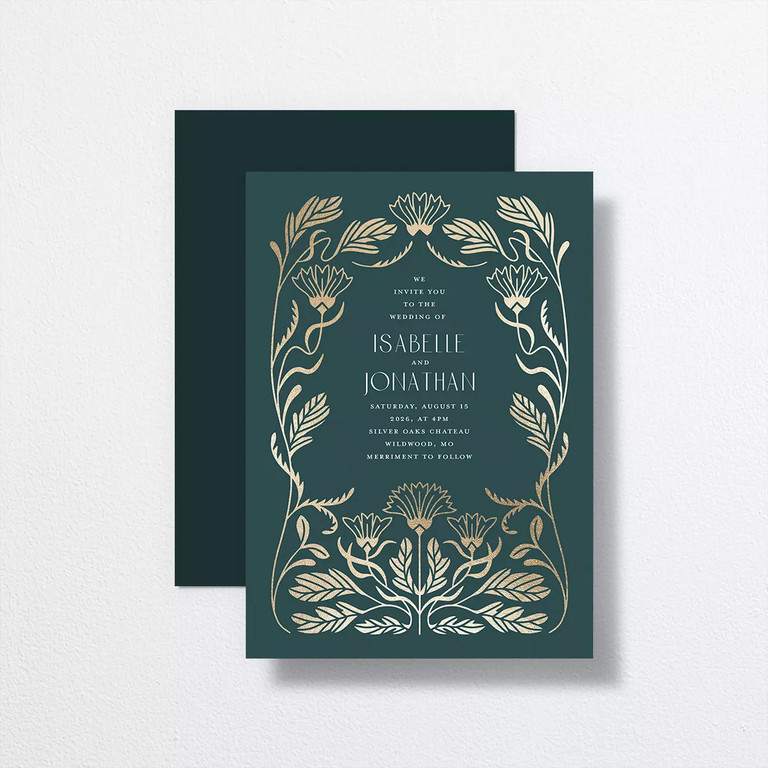 Gold and teal make the richest color combination in these summer garden wedding invitations, which highlights blooms with curved stems stretching up to the sky. The vibe is mysterious and ornate, while still reading as somewhat minimalist. And we love how graceful the oak-like leaves look, too—like they've been plucked and pressed into a book from the most stately tree.
Resort Maximalism
Whether you're having a destination wedding or simply looking to infuse your big day with tropical colors or rich jewel tones, this trend will be paradise for you. These invitations are punchy and bright, with juicy and fruity hues, feathery florals and intricate patterns you'll want to make into a wallpaper. Also worth noting: The foil touches are like tropical sunsets.
The Knot Golden Age Wedding Invitations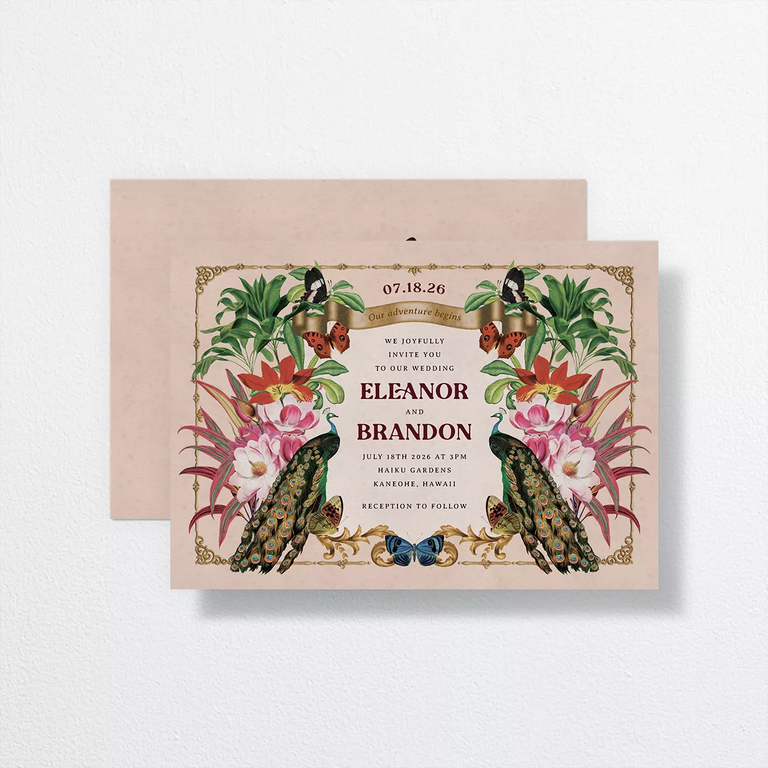 Something about the carefully designed tropical motif at the center of these invites makes us think of a vintage advertisement for a top-shelf rum. The horizontal orientation makes it feel postcard-like—as do the peacocks, butterflies and punchy blooms all collaged together. The thin, yet ornate frame finishes off the luxurious look.
The Knot Cinematic Wedding Invitations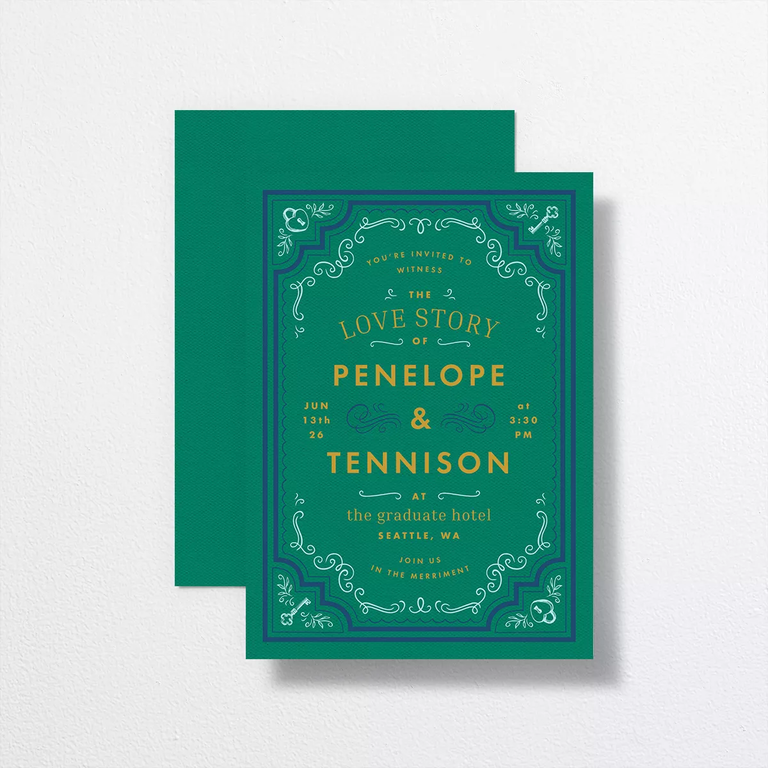 Wes Anderson called, he wants his wedding invitation back. There's a hint of mystery and whimsy infused in this invitation, which features tiny heart-shaped locks and keys in each corner. The delicate swirls and flourishes are incredibly detailed and do so much to move the viewer's eye through the bevy of lovely fonts. If you're having your wedding at the Grand Budapest Hotel, these are the perfect summons for your guests.
The Knot Woven Frame Wedding Invitations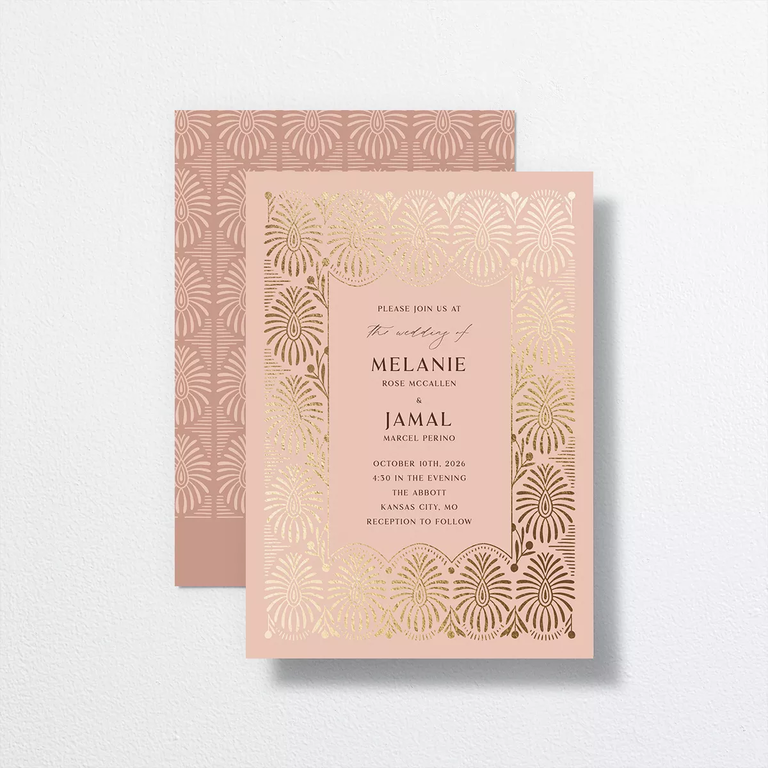 Blush and gold hues automatically give a feeling of experiencing the first kiss of a sunset while on vacation, with warmth and lots of shimmery sparkle. These invites capture the feeling of paradise perfectly, with a bursting pattern that reads like abstract palms. And we love how the top and bottom border of the central rectangle displaying your details yields to the curves of the pattern for an extra touch of interest.
The Knot Marco Elegante Wedding Invitations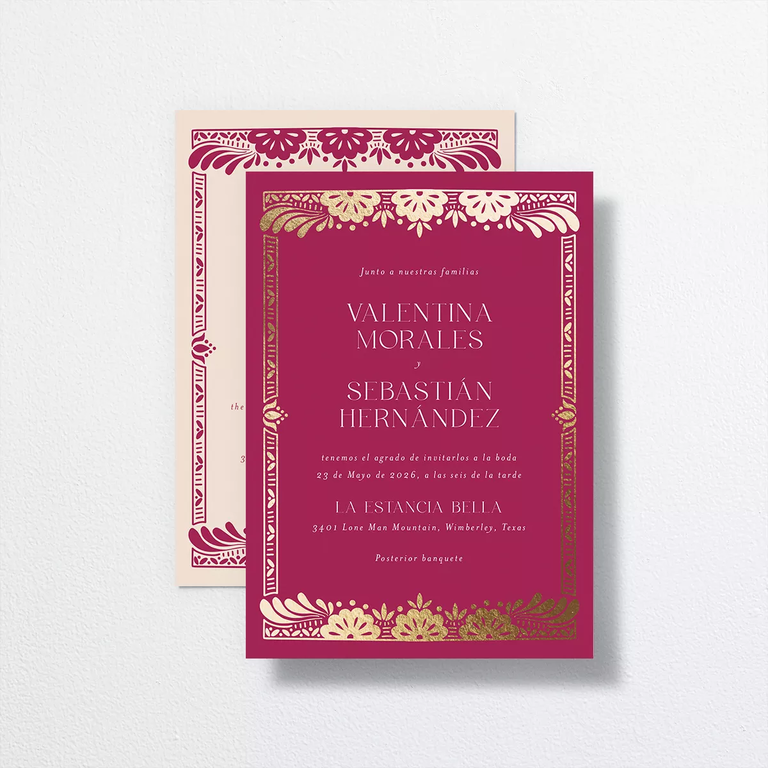 The gilded border on these unique summer wedding invitations reminds us of a hand-woven Mexican textile. That's to say it's beautiful, bold and floral. We love how the juicy fuschia background makes an eye-catching pair with the bold gold. The text reads in Spanish, but can be customized to suit your special day.
Tropical Sunshine
While Resort Maximalism is giving more of a stately aesthetic, Tropical Sunshine is embracing the fun and fancy free side of a beach getaway. These orange dreamsicle palettes evoke images of tucking your toes in the sand while sipping a frothy fruit cocktail adorned with a pineapple slice. These sunset-hued, palm frond-adored invites will feel like a ticket to paradise for your guests.
The Knot Impressionist Paradise Wedding Invitations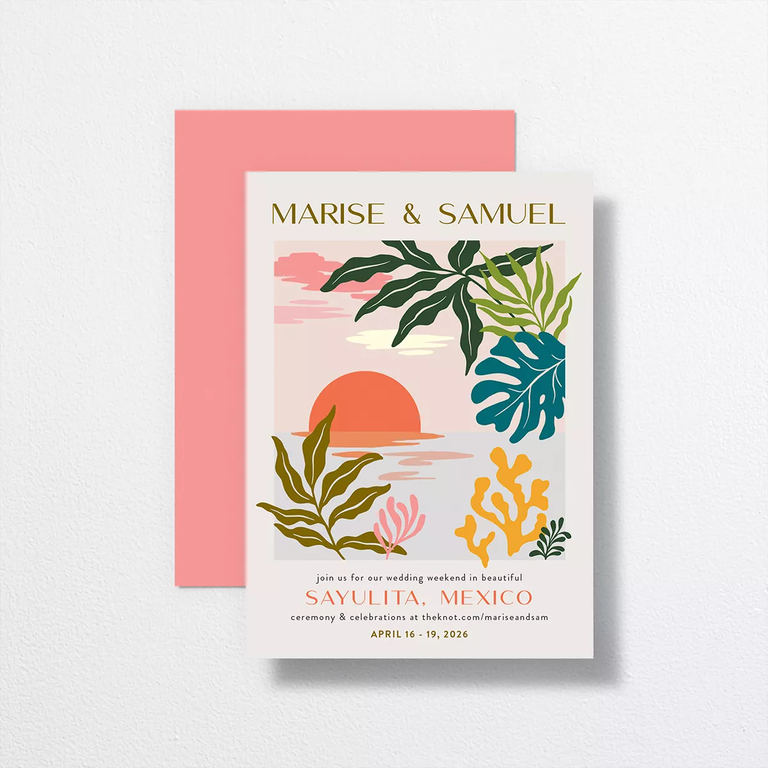 The Matisse-inspired, stamp-like design of this tropical wedding invitation feels so on trend right now, you could totally see this as a framed print in a cool couple's LA apartment. Tropical leaves and waving seaweed add a little softness to a bright sun dipping below the waterline in this beachy scene. It's the perfect balance between maximalism and minimalism.
The Knot Pack Your Bags Wedding Invitations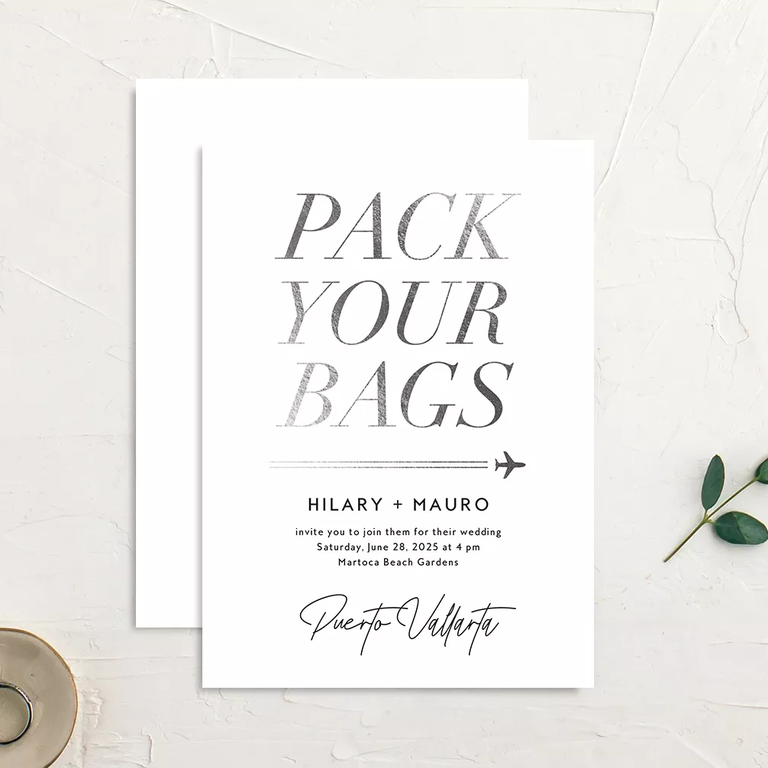 Destination wedding, anyone? This cheeky invite spells it right out in glittering foil—your guests have a tropical trip in store. We especially adore the little plane that underlines the central message as well as the touch of script for softness at the bottom.
The Knot Sparkling Tropics Wedding Invitations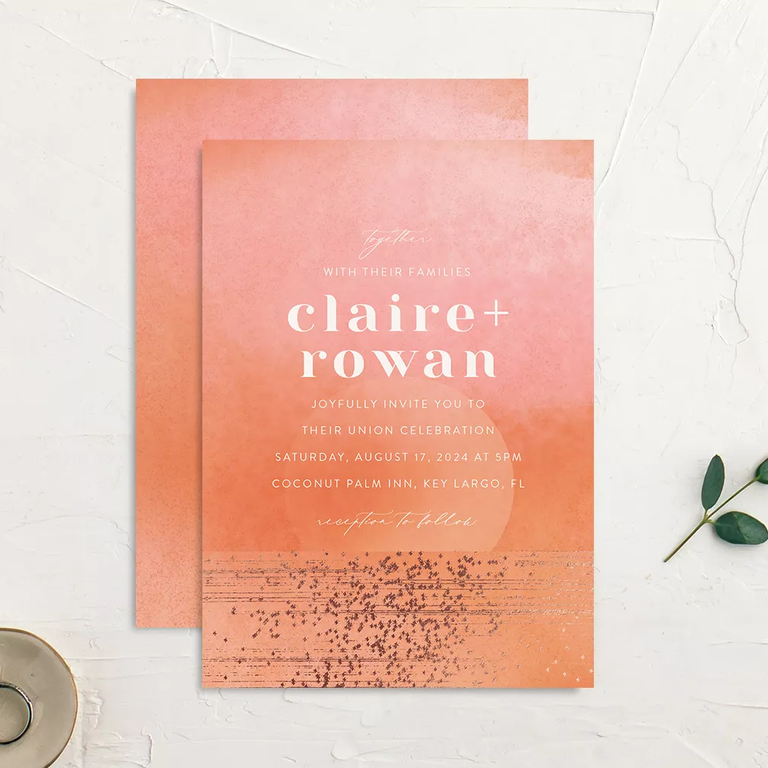 Peachy sunsets and rippling ocean waters sprinkled with sunshine is what comes to mind when we look at this lovely invitation. (And we could look at it for hours, get lost in it, really.) The watercolor-like background provides some softness, while the strands and splatters of gold that ground the bottom make the whole thing downright ethereal.
The Knot Iconic Beach Wedding Invitations
Illustrations of palm trees and seashells kiss the corners of these summer-themed wedding invitations, which are modern, yet whimsical. The geometric border on these letterpress-like invites provides the perfect amount of balance. And the curved text adorning the top and bottom adds even more interest. We love these as a choice for July wedding invitations.
Wedstock
These retro invites will speak to your hippie heart. With groovy fonts, warm '60s and '70s-inspired color tones and fun lingo explaining your day-of details, your guests might feel like they're being invited to Woodstock instead of a summer wedding. Either way, they'll get excited to sway to Stevie Nicks until the wee hours.
The Knot Wedstock Invitations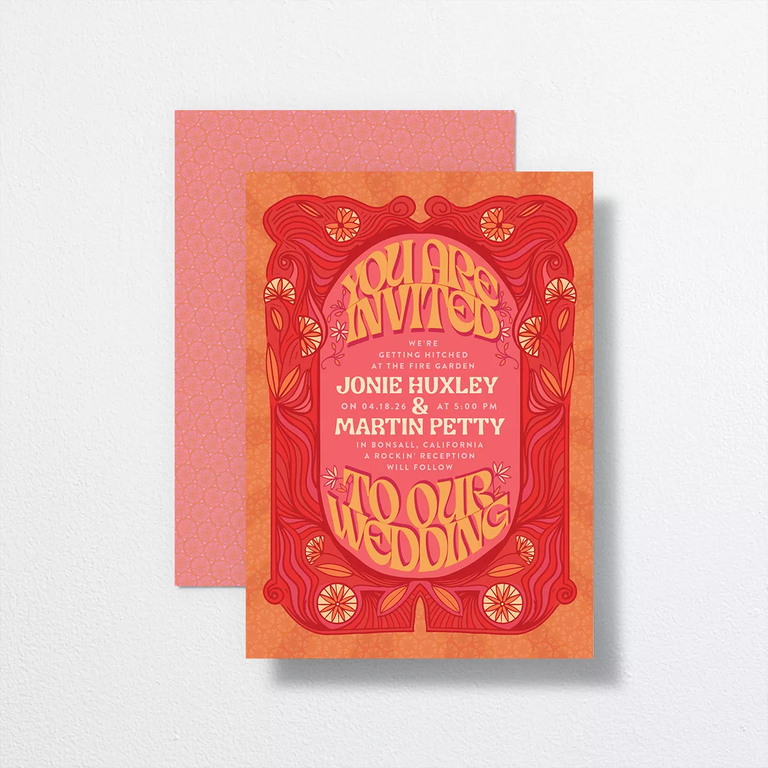 Nothing quite says "summer of love" like these ultra-groovy '60s wedding invitations. The freeform retro font makes it look like a cool poster for a music festival (hence the Woodstock-referencing name) and the sprinkle of sweet daisies throughout remind us of tucking flowers behind our ears in the summer or donning festival flower crowns. Bonus points if your first dance song is something by Fleetwood Mac.
The Knot For Like Ever Wedding Invitations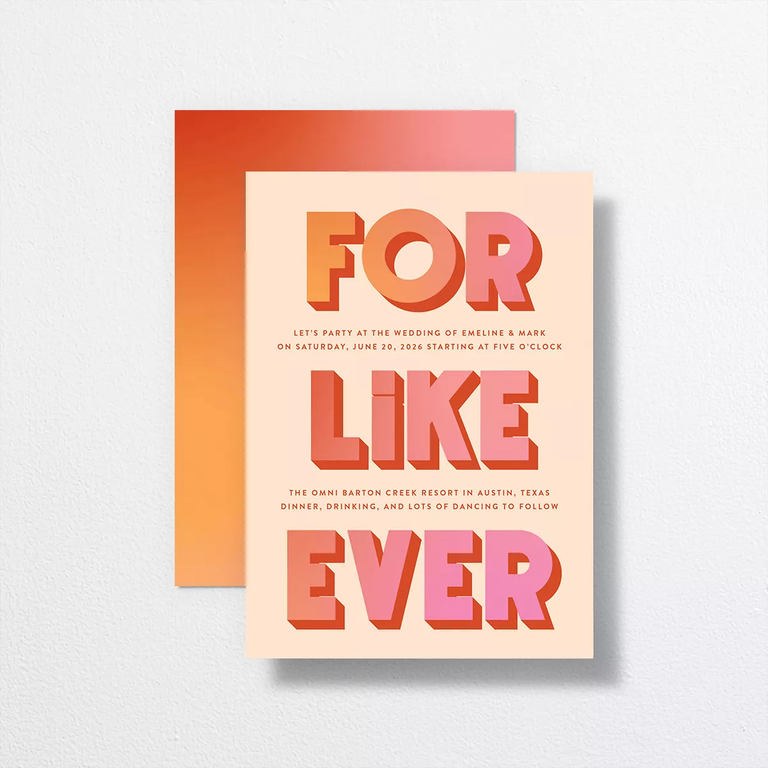 The sunset-amber color scheme of this invite says retro, but the central text is giving us more '90s vibes. (Doesn't it sound like Cher Horowitz from "Clueless" wrote it?) Regardless of which era you fancy, these fun and casual invitations will instantly set the mood for a chill, celebratory bash. We're guessing there might be a disco ball, non-traditional bites and a super-sassy short wedding dress involved in your big day.
The Knot Groovy Lines Wedding invitations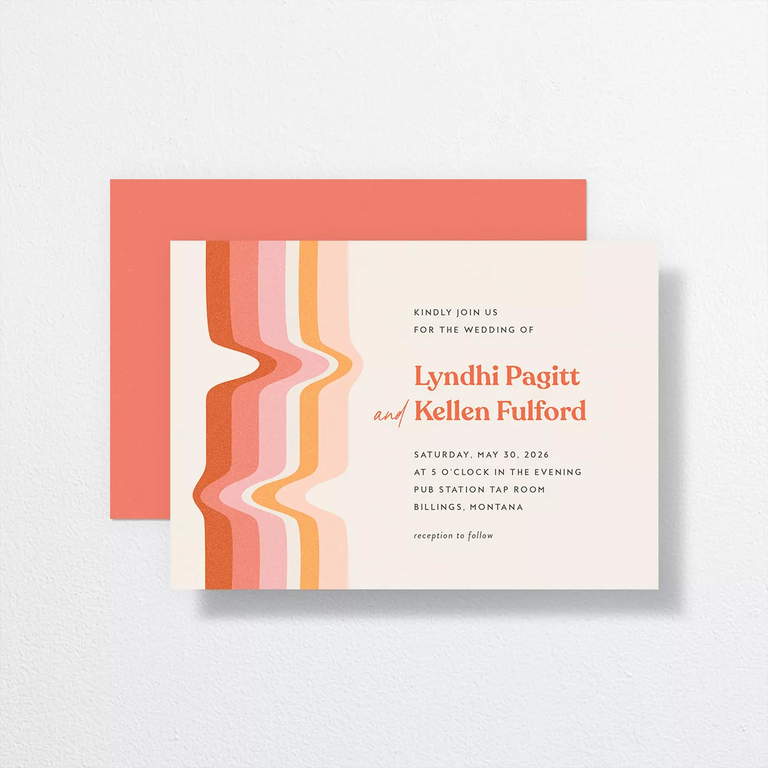 We're getting major '70s vibes from these minimalist retro wedding invitations. The wiggled lines on the left side look like something you'd see in a vintage roller skating rink, or striping down the side of a cool pair of breezy bell bottoms. And the pink, sherbet-like colorway is giving major summer ice cream truck energy.
The Knot Adventure Icon Wedding Invitations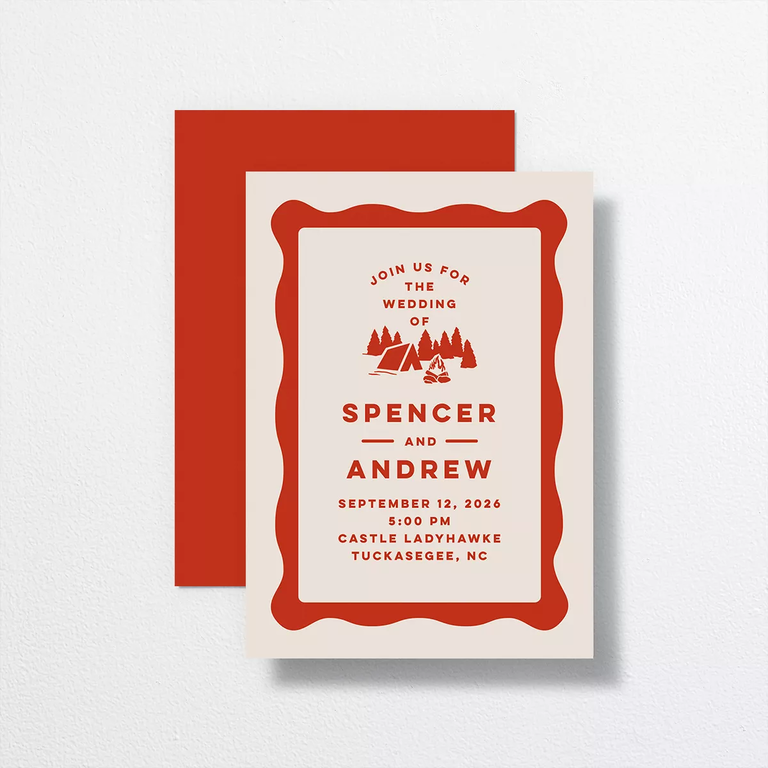 There's nothing sweeter than these summer camp wedding invitations. With a vintage design featuring a tiny campsite tucked amongst a mountain range, this invite also resembles a postage stamp with the wiggled border. They're perfect summer mountain wedding invitations, too.
Wildflower Countryside
We're feeling a little nostalgic over these Wildflower Countryside rustic wedding invitations, which remind us of slow summer days spent wandering through flower fields or driving with the windows down along backroads. If your wedding is equally as dreamy and whimsical as those cherished memories, choose one of these invitations. They all feature pretty wildflowers that look as if they were plucked straight from the meadow and fastened onto the stationery.
The Knot Glistening Wildflower Wedding Invitations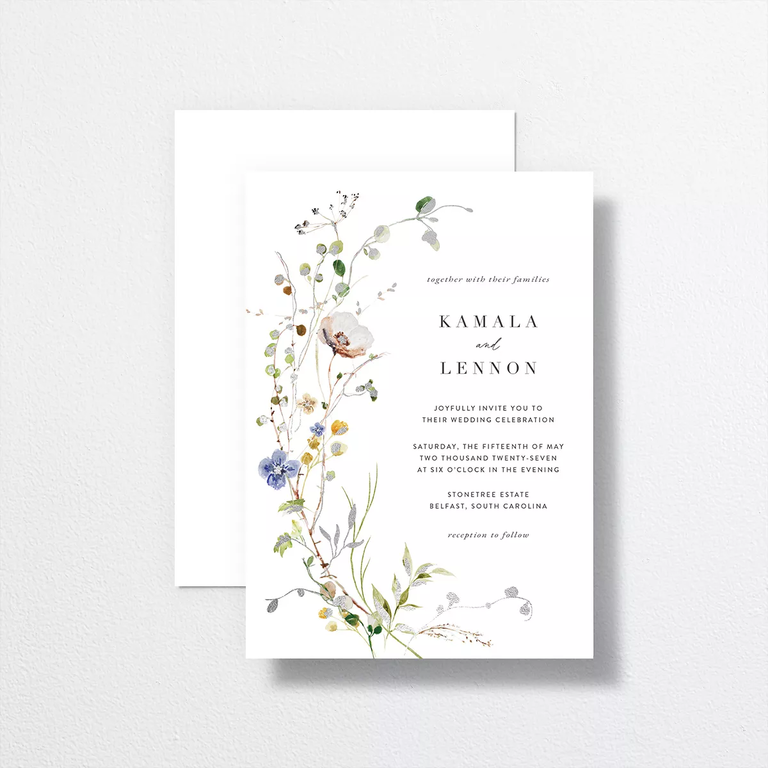 The wispy arrangement of stems and blooms gracefully curving along the left side of this invitation is the perfect way to invite guests to a summer outdoor wedding amongst swaying natural blooms. It feels effortlessly romantic—like running barefoot in the summer grass. We also love the attention to detail in the flowers—each blossom looks different, like they were plucked from a real field. And if you opt for the silver foil, it looks like summer dew drops.
The Knot Gilded Wreath Wedding Invitations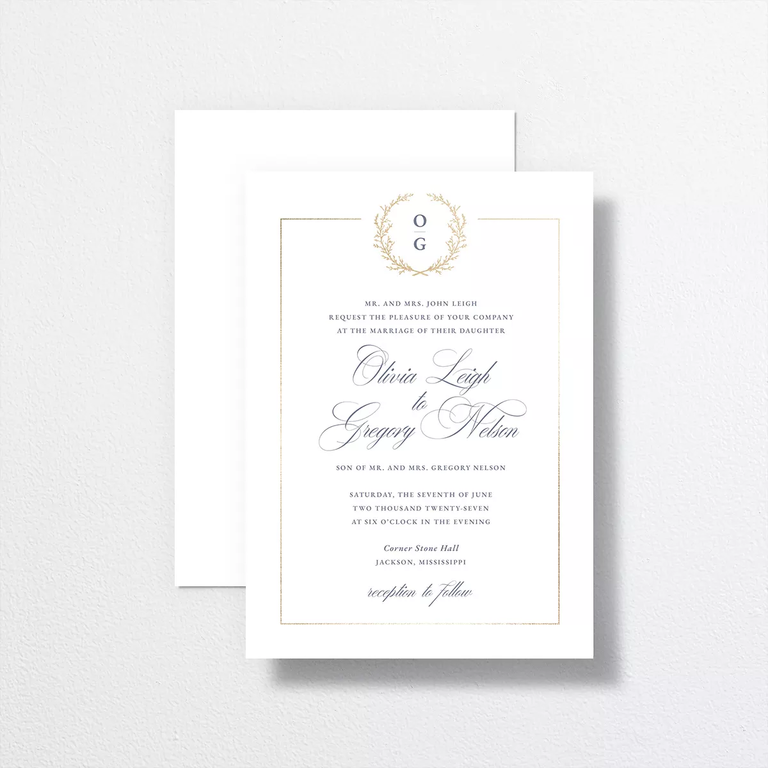 Just because wildflowers are typically freeform doesn't mean you can't find a more buttoned-up, sophisticated version of a floral invite. This elegant stationery has just enough botanical beauty, featuring a delicate foil wreath encircling both of your first initials. We think these would be perfect for a wedding at a stately historic home situated on swaths of green rolling hills and flower-speckled meadows.
The Knot Rustic Butterflies Wedding Invitations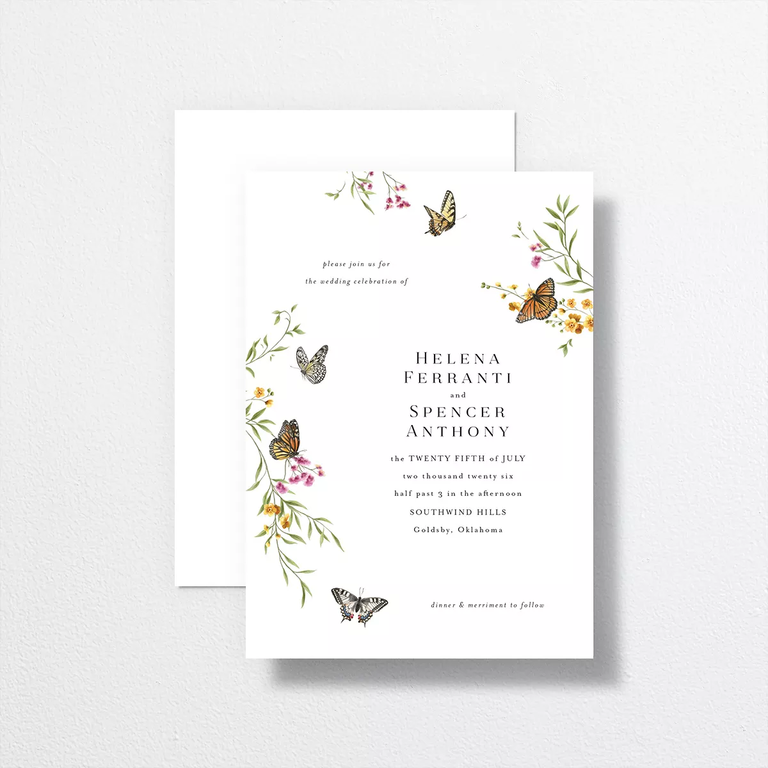 Sweet monarchs and swallowtails adorn this fluttery invitation, perfect for a summer meadow or botanical garden wedding. Everything is so delicate, yet still evokes a sense of breeze movement, between the botanical illustrations and the gently cascading text placement. It truly looks as if one of these butterflies could flitter right off the page and onto your shoulder.
The Knot Wildflower Border Wedding Invitations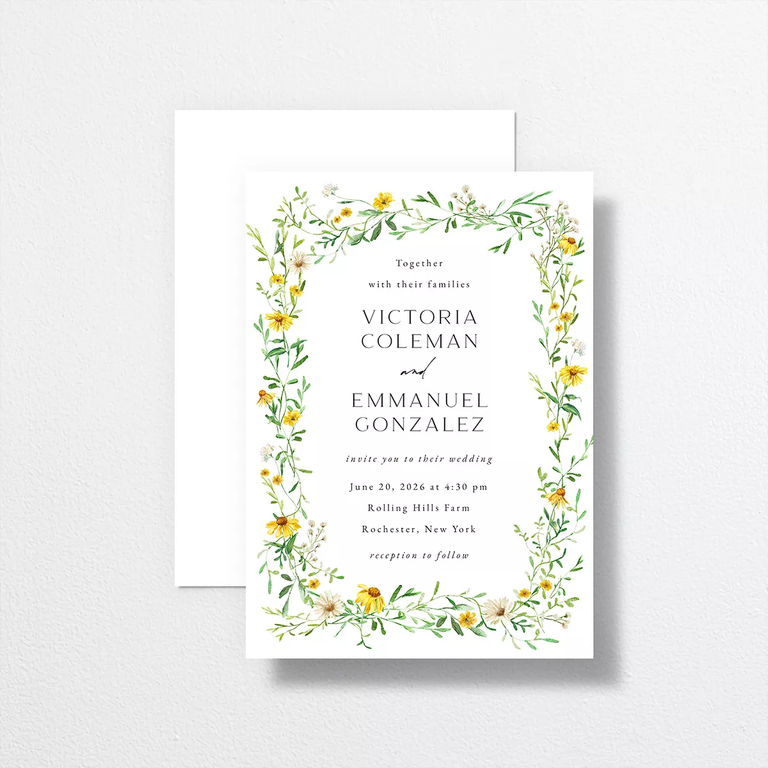 Surrounded by the sweetest border of delicate daisies, this invitation is a dream. It's just enough to set the whimsical, countryside mood of your affair without being too overpowering as it frames your day-of details. The lovely florals look like something straight off a box of luxury English tea.