Puerto Vallarta Honeymoon: Weather and Travel Guide
by the knot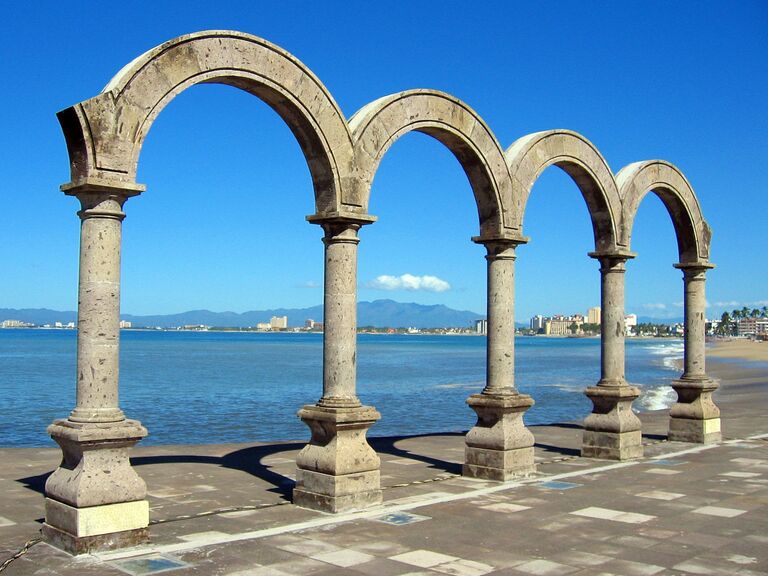 Puerto Vallarta became an instant hit after the release of the film The Night of the Iguana, staring Ava Gardner and Richard Burton. Located at the edge of the Sierra Madre range in Mexico, the cobblestone streets of this once-quiet Pacific Coast fishing village are now full of visitors during high season.

Before You Go: Need-to-know info
Entry requirements: Passport that's valid for at least six months from the date of entry and a tourist card (usually included in the price of your flight)
Language: Spanish
Currency: The Mexican peso is the official currency, though US dollars are accepted at some places.
Flight time: 7 hours from New York City; 3 hours from LA; 7 hours from Chicago; 5 hours from Dallas
Getting around: Taxi, car and bus

When to Go: Puerto Vallarta at its best
Best weather: October to May
Best prices: July through September
Festival highlights: Semana Santa, which begins in March or April, leads up to Easter and is celebrated with parades and passion plays; Fiestas de Mayo, a traditional fair, runs through May; Mexico's independence is celebrated in mid-September with fireworks and parties in the central plaza.

What to Do
Surf and shop: Puerto Vallarta's golden sands are a major draw for honeymooners and a beach-lover's dream come true. To shop and people watch, head for Playa de los Muertos, but for surfing, try Sayulita. You can pay homage to The Night of the Iguana and visit Mismaloya Beach (where the movie was filmed), or go snorkeling at Quimixto, a beach south of Puerto Vallarta that's accessible only by boat (so it's remote and romantic).
Experience old-world ambience: Old Town is a crisscross of crooked cobblestone streets lined with Spanish-style white-washed buildings. Here, you can sip coffee and catch some city sights.