The Wedding Gifts Real Couples Returned—and What They Got Instead
Panini presses, wine coolers, and Cards Against Humanity are all on the list.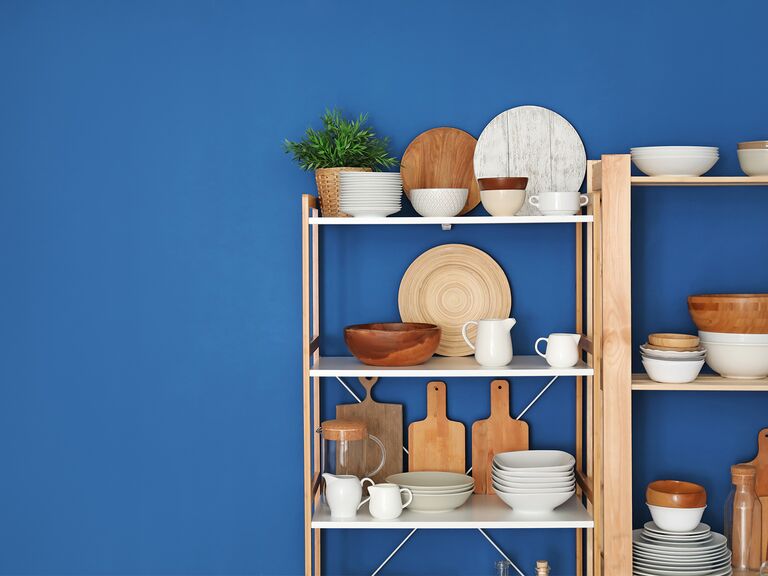 Africa Studio/Shutterstock
There's a reason why so many couples create a wedding registry after getting engaged: Not only does it make it easier for loved ones to figure out what gift a couple actually wants, but it also helps to ensure that the newlyweds get the presents they were hoping for.
However, most couples end up returning some wedding gifts. From guests going rogue and gifting something completely off of the list to registry regrets or additions that you knew you were never going to keep, it's rare to make it through the wedding without returning wedding gifts after the big day. These 11 brides and grooms have first-hand experience with that and got real about the different wedding gifts they returned and why as well as what they ended up going with instead.
Everything But the Kitchen Sink
"Truthfully, I returned almost all of my kitchen-related wedding gifts: serving platters, a Kitchenaid mixer, a food processor, etc. I registered for all of the 'traditional' things because I thought that was what you were supposed to do—but after I received them, I soon realized that I didn't need to stick with tradition 'just because.' My husband and I really don't cook, so we certainly didn't have a need for a cake mixer. We returned most of these items for a gift card, which was eventually put toward a far more practical purchase for us: luggage! We travel A LOT, so for us, having nice luggage was far more important than having fancy kitchen gadgets." —Lindsay S.
See our pick: Rimowa Essential Lite Cabin carry-on suitcase, $520, Bloomingdale's
An Online Mistake
"Our guests overall did a great job with gifts! We only returned one: water glasses that were from our registry. They were a bit of a weird shape and felt like the glass was thin, so we replaced them with a different type of glass we liked better. Pro tip: go to the store and pick up glasses before you order them so you can tell what feels sturdy and a nice weight to hold. We picked ours out online and while they looked nice in the pictures, they didn't feel right." —Rachel M.
See our pick: Crate & Barrel Duralex Picardie glass tumblers, $60 for 18, Crate & Barrel
Incomplete Sets
"My husband and I returned one off items or incomplete sets from our registry (a bowl, two forks, one small vase, three plates...). Instead we bought an eight-piece silver-plated cutlery set that came in a beautiful egg-shaped holder. We thought we'd get more joy and use out of the cutlery right away and the holder looks like a modern sculpture in our dining room. This has allowed us to dine in great style and with gratitude for the gifts instead of waiting to fill out sets from our registry over multiple years." —Emilie D.
See our pick: Christofle 25-piece service for 6, $1,490, Amazon
Unexpected Gadget
"The only gift I can remember returning was an immersion blender that I never asked for. In fact, I'm pretty sure I looked at it and said, 'What the heck is this thing? I will NEVER use this!' But I was wrong… and have since purchased two of them after returning the original one!" —Dori W.
See our pick: Breville BSB510XL Control Grip immersion blender, $88, Amazon
Kitchen Appliances
"We got a super fancy refrigerated wine cooler from my aunt. It's super cute but totally impractical because we ended up buying a tiny home (the Bay Area is expensive!) and it just takes up so much space. I definitely recommend that couples hold off on adding big appliances to their registries until moving into a new home/apartment. You never know what you're going to be working with space-wise! We ended up getting a nice set of towels and bedsheets with that money." —Rahel M.
See our pick: Hudson Park Collection luxe Turkish bath sheet, $75, Bloomingdale's
Change of China
"We returned some serving platters that matched our fine china but we thought were a tad excessive. Never should have registered for fine china in the first place — we've still never taken the china out of the box." —Maggie R.
Wine Splurge
"We returned a $250 Coravin purchased (off registry) at Neiman Marcus and replaced it with Diptyque candles. We are just not into wine gadgets and it seemed absurd." — Jillian C.
See our pick: Diptyque Baies scented candle, $68, Bloomingdale's
Still TBD
"We didn't return any gifts. We probably should have because we have a few gifts that we haven't used yet, like our panini maker. One of these days we'll get around to it…" —Jarrod J.
Price Point Picks
"When I registered I tried to choose items that were at certain price points so that people could find something in their price range. People just feel more comfortable giving a tangible gift instead of a gift card sometimes. Then, we gathered up all of those and exchanged them for our plates and silverware." —Sarah R.
See our pick: Crate & Barrel Mercer dinner plates, $48 for 8, Crate & Barrel
Duplicate Entertainment
"We returned Cards Against Humanity because someone else had already bought it for me. I got the money back and bought an iHome that was meant for sound therapy for sleep and stress. It was totally worth it and I use it every night. This wasn't on my registry at all but I'm so happy I got it!" —Kuri
See our pick: iHome Zenergy bedside sleep therapy machine, $54, Amazon