The Best Luggage to Add to Your Registry for All Your Newlywed Travels
Find the perfect luggage to suit your lifestyle.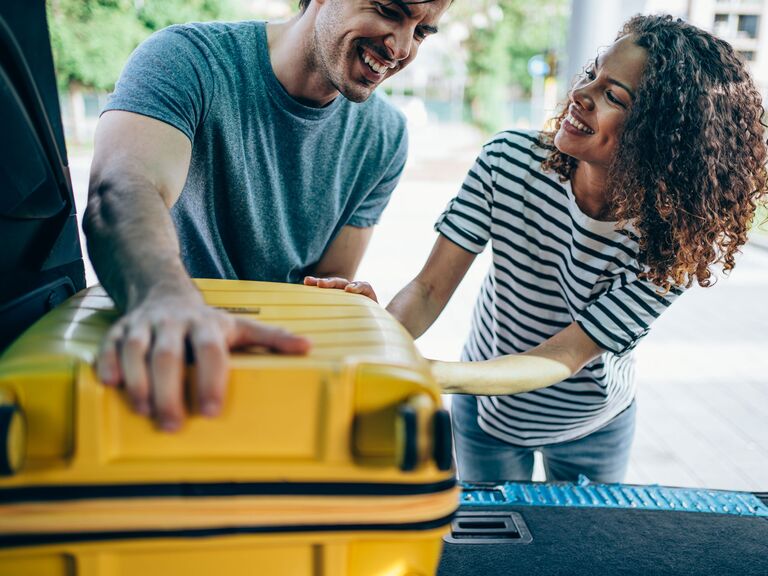 VioletaStoimenova / Getty Images
We have included third party products to help you navigate and enjoy life's biggest moments. Purchases made through links on this page may earn us a commission.
With more luggage brands on the market than ever before, it can tricky to decide on the best travel gear for you and your lifestyle. That's where we come in—below, we've listed the best luggage for your wedding registry that you can add directly from The Knot Registry Store or by using The Knot's ingenious browser button. Basically, you can add any and all of our top picks to your registry on The Knot (or if you prefer, set up a cash fund dedicated to purchasing travel essentials).
Whether your honeymoon is your first time jetting off together or you've been travel buds since the beginning, you could really benefit from adding some of this sweet new luggage to your wedding wish list. But before you do that, read our advice about choosing the right suitcases for you.
In this article:
How to Choose Luggage for Your Wedding Registry
Packing for a long trip can be a pain, even if it's for something as fun as your postwedding getaway. From trying to stay organized to attempting to fit all those souvenirs into your carry-on, it can definitely add stress to your trip. Mitigate any travel anxiety ahead of time by making sure you've got the right type and size of luggage. Figuring out the best option for you is actually pretty simple—you just need to know what to consider.
Where do you like to travel?
Depending on where you usually jet off to, you might want to think about adding special suitcases to your wedding registry. For example, if you love exploring different wine regions, wine luggage is a must for bringing back souvenirs. This specialty type of suitcase is designed to hold bottles in place and protect them from shock.
If you prefer hiking or camping vacations, regular luggage may not be your best bet either. Instead, opt for a large adventure-ready backpack or duffel that's easy to carry and won't weigh you down. Wheels will come in handy at the airport, but they're not so useful on grassy, muddy or rocky terrain. The North Face has lots of great travel gear for couples who love adventuring outdoors.
How often do you travel?
The best luggage for newlyweds who travel frequently is practical and hard-wearing. Generally, hard-shell luggage is more durable than soft-sided options, which are made from woven fabric. There are a few different types of hard-shell luggage available, but the most popular are made from polycarbonate, ABS or polypropylene. Polycarbonate is the most durable (but it's not quite as lightweight), ABS is a great budget-friendly option, and polypropylene offers a nice balance of durability and lightness.
How long are your getaways?
If you spend weeks at a time exploring different cities or countries, the best luggage to register for will have space for extra clothing and other travel necessities. It's also helpful to have a suitcase with multiple pockets or compartments for staying organized. If you're not frequent flyers, lightweight soft-sided luggage will allow you to pack heavier (i.e. more) stuff without going over your airline's weight limit. But if you do travel a lot, it's best to stick with the most durable option, which is still hard-shell luggage.
The Best Carry-On Luggage for Your Wedding Registry
No matter where you're going, having a good carry-on will make packing and travel run so much smoother. You'll have access to more of your things while flying and you can keep valuables nearby rather than waving adieu at check-in. It's also a lifesaver if your luggage gets temporarily misplaced—just make sure you pack a few outfit changes in your carry-on.
Before you start shopping, it's important to be aware of size restrictions. Each airline has its own carry-on requirements, though luckily, the majority of these are actually the same. In most cases, your carry-on should not exceed 22 inches long, 14 inches wide and 9 inches high. You should include the wheels and handle when taking your measurements, and always double-check the guidelines for the airline you're flying with before you go to the airport.
Monos Carry-On Pro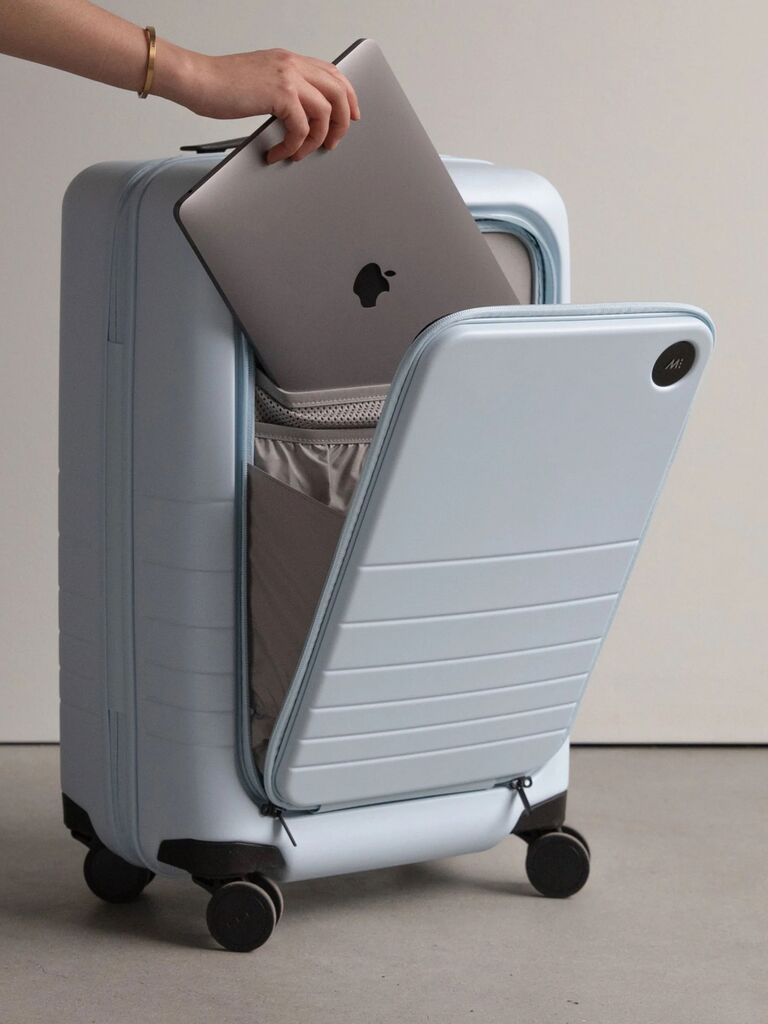 You might've heard of Monos already—it's a pretty popular brand when it comes to travel gear, and for good reason. Pretty much every aspect of the site's Carry-On Pro suitcase demonstrates sleek functionality. Plus, it looks great too. The minimalist polycarbonate outer shell comes in eight core colorways, from neutral tones to pretty pink, blue and green hues.
Best features: So, what exactly makes Monos the best luggage for newlyweds? Let's start with the outside. A durable, water-resistant polycarbonate shell, unbelievably quiet 360-degree wheels, and TSA-approved combination lock set this suitcase up for success. There's also a genius front pocket (also protected by polycarbonate and a lockable zipper) that makes flight must-haves (like your passport and laptop) easy to access. Inside, there's an anti-microbial lining and the luggage also comes with two shoe bags, an anti-microbial laundry bag and a luggage tag. How's that as a wedding gift for a travel-loving pair?

Potential downsides: While the Monos Carry-On Pro measures up to the exact maximum size specs given by most airlines (22 inches by 14 inches by 9 inches), some reviewers found it to be on the smaller side. If you're not the biggest fan of traveling light, the Carry-On Pro Plus is extra roomy. Just make sure it's not too big for your airline's overhead bins.
TUMI 19 Degree International 22" 4-Wheel International Carry-On Suitcase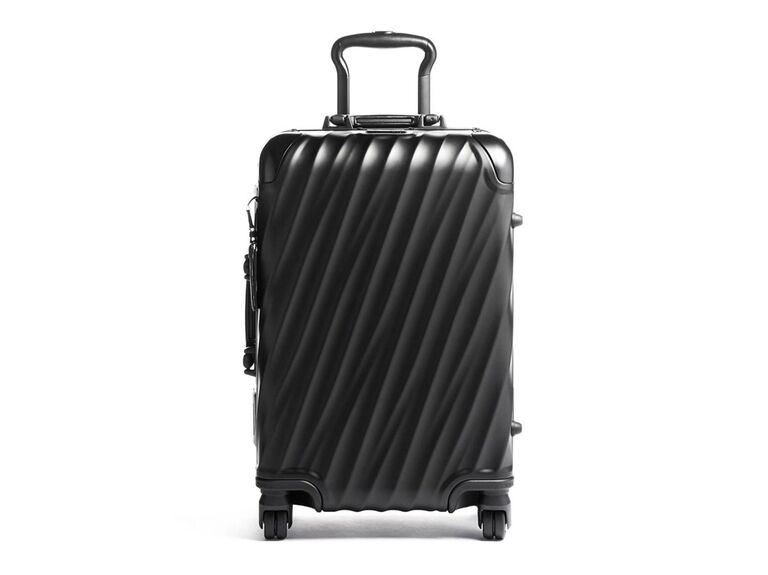 TUMI is a slightly higher-end luggage brand, ideal for couples who like to pay a little extra in return for quality and reliability. You can add this bad boy to your wedding registry directly through The Knot Registry Store (or purchase it right away if you can't wait that long!). The classic black exterior has a sharp, textured finish that looks good up close and far away.
Best features: The outer shell of this sturdy suitcase is hands-down its best feature. It's made from aluminum, which is even more durable than polycarbonate. The adjustable handle is made from aircraft-grade aluminum, which is lightweight and sturdy. There's also a unique patented system in place to further protect the handle from damage and patent-pending DuraFold construction at the corners for even more resistance. Ultimately, this luggage is designed to last.

Potential downsides: Aluminum might be extra reliable when it comes to keeping your things safe, but it's also what makes this carry-on pricier than some of its competitors. Additionally, while aluminum is lightweight as far as metals go, it's heavier than polycarbonate. This suitcase weighs in at a total of 11 pounds, which could get in the way if your airline has a weight restriction for carry-ons.
Paravel Aviator Carry-On Plus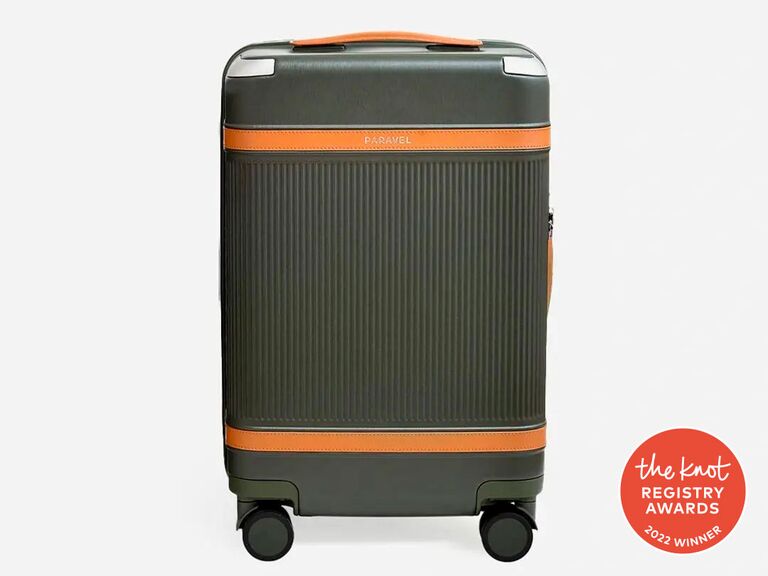 Paravel is another well-known maker of stylish luggage, duffels and other travel-ready bags. And the site's Aviator Carry-On Plus just so happened to score a winning spot at The Knot's 2022 Registry Awards. This hard-shell carry-on comes in four gorgeous dual-tone colorways or all black.
Best features: Paravel's Aviator luggage has a recycled polycarbonate shell, giving you durability and sustainability in one. The zippers, lining, vegan leather details and handle are also made from recycled materials—score! This suitcase isn't just easy on the eyes and the planet, it's also easy on you. Thanks to the frictionless 360-degree wheels, you'll glide through the airport effortlessly. The interior compression board helps you fit even more belongings inside, and the TSA-approved lock keeps them safe. It's ideal luggage for your honeymoon and beyond.

Potential downsides: The Aviator Carry-On Plus is slightly larger than the 22-inch by 14-inch by 9-inch dimensions that many airlines use. However, it's an ideal size for long-haul flights by larger carriers. If you and your S.O. like to go the distance on your vacations, it's well worth the extra space. If you're generally more domestic flyers, stick with the regular Aviator carry-on.
Bric's Ulisse 21" 4-Wheel Expandable Carry-On Suitcase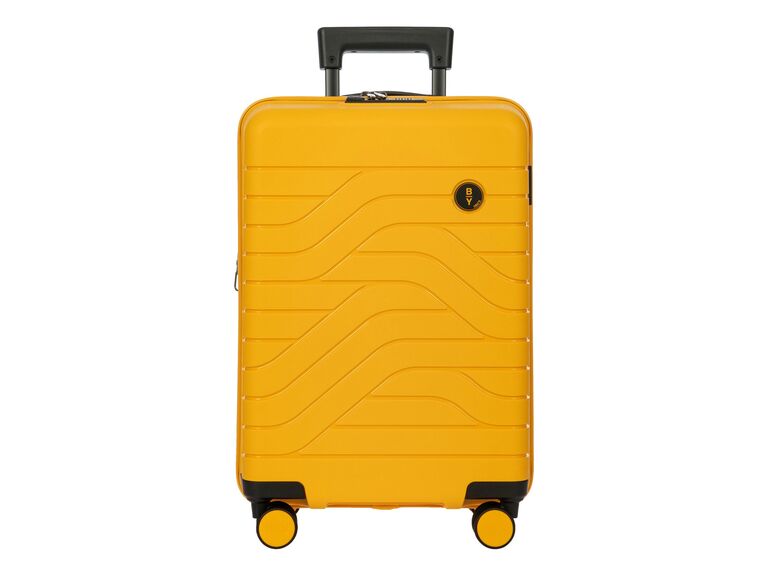 Inject some color into your travel ensemble with a bright yellow carry-on by Bric's. This cheery luggage is perfect for sunny getaways (but if you prefer to keep things classic, there are also black, navy and light pink colors.) The striking colorways aren't the only eye-catching thing about this carry-on. The stylish urban aesthetic comes through beautifully in the suitcases's unique grooves.
Best features: Bric's Ulisse carry-on has pretty much all the features you'd expect from a good piece of luggage: a durable polypropylene shell, an ergonomic, adjustable handle, 360-degree wheels and a TSA-approved lock. But that's not all. This awesome carry-on also boasts a USB port so you can carry your own battery for charging your phone or tablet. Inside, a printed lining adds an extra dose of luxury.

Potential downsides: The polypropylene shell makes this suitcase more affordable than polycarbonate and aluminum options, but it is slightly less durable. The carry-on's interior doesn't have a lot of extras for organization, featuring two main compartments and one small pocket for accessories. If you're someone who likes everything to have its own place, you might prefer a carry-on with additional pockets and compartments.
CALPAK Hue Mini Carry-On Luggage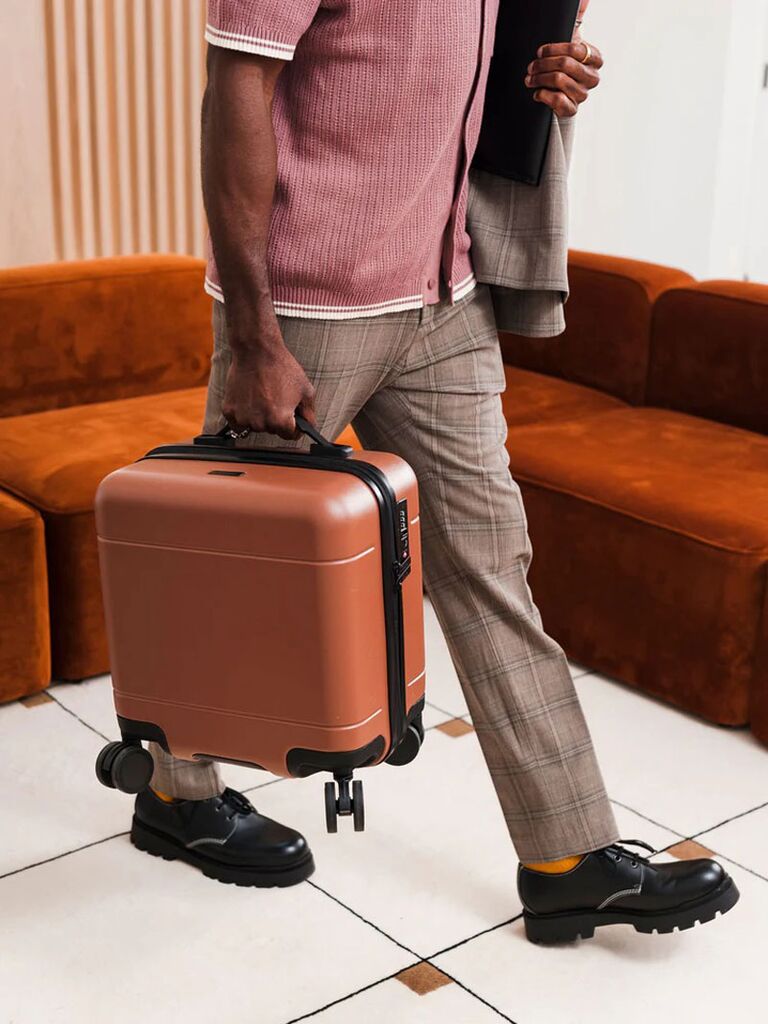 Like to travel light? If quick, overnight trips are more your speed, choose a carry-on that reflects those needs. You don't have to choose a bag that measures up to the maximum size restrictions if it won't serve you. Having extra space is great, but so is having a lightweight, easy-to-transport suitcase. Trust us, this mini carry-on will be a welcome (and adorable) new addition to your collection. (Psst, CALPAK also has some of the best luggage sets for your wedding registry if you want to invest in matching suitcases.)
Best features: This compact case has a hard-wearing polycarbonate shell, 360-degree wheels, a smooth extending handle and a TSA-approved lock. It's basically got all the features you'd find in a regular carry-on, but downsized. The interior is designed to help you make the most of the space, including compression straps and an interior divider with pockets.

Potential downsides: If space is something you're usually lacking when you travel (or you plan on bringing back souvenirs), the Hue Mini Carry-On may not be your best choice. That said, it may fit the dimensions of some airline's personal bag specifications, meaning you could take it on board in addition to your regular carry-on. Check with your airline to find out if a 16-inch by 14-inch by 8-inch bag will fit under the seat.
Travelpro Maxlite 5 21" Expandable Carry-On Spinner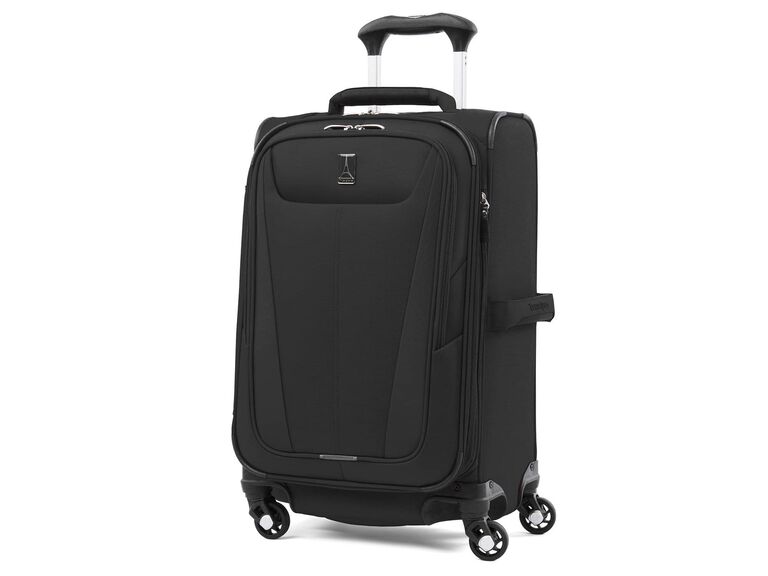 Hard-shell luggage might be more durable, but soft-sided carry-ons have advantages too. Travelpro has some of the best luggage to register for if you're looking for something simple and fuss free. The Maxlite 5 is a great example with a streamlined design.
Best features: This thoughtfully designed luggage is one of Travelpro's lightest offerings coming in at an impressive 5.4 pounds. That means it 1) shouldn't take you over the weight limit and 2) is easy to carry. There are also lots of pockets for maximizing organization, including two handy front pockets, a full-length lid pocket on the inside and a side accessory pocket. The 360-degree wheels promote a smooth ride and the lightweight handle locks into two positions to suit your height. All in all, this soft-sided carry-on is a lightweight and budget-friendly option for your registry.

Potential downsides: Travelpro's Maxlite has an overall measurement of 23-inches by 14.5-inches by 9-inches when expanded, which is slightly larger than most airlines' requirements. However, when it's not fully expanded, the case should fit in the overhead bins of most major US airlines.
The Best Checked Luggage for Your Wedding Registry
Carry-on suitcases are more than enough if you typically only travel for a few days at a time (weekend getaway, anyone?). But if you're traveling for a week or more, it's safe to say you'll need a checked bag with additional clothes, shoes, toiletries and anything else you can't go without for more than a few days.
Luckily, the rules are a lot easier to follow when it comes to check-in luggage. The most common size restriction is that your bag should not exceed 62 linear inches. The length, width and height of your suitcase added together will tell you how many linear inches it is. There's also a maximum weight limit. This varies depending on the airline, but in many cases it's 50 pounds. Again, you should always double-check your airline's guidelines before you fly as size and weight restrictions can change.
Samsonite Freeform 29.5" 4-Wheel Checked Suitcase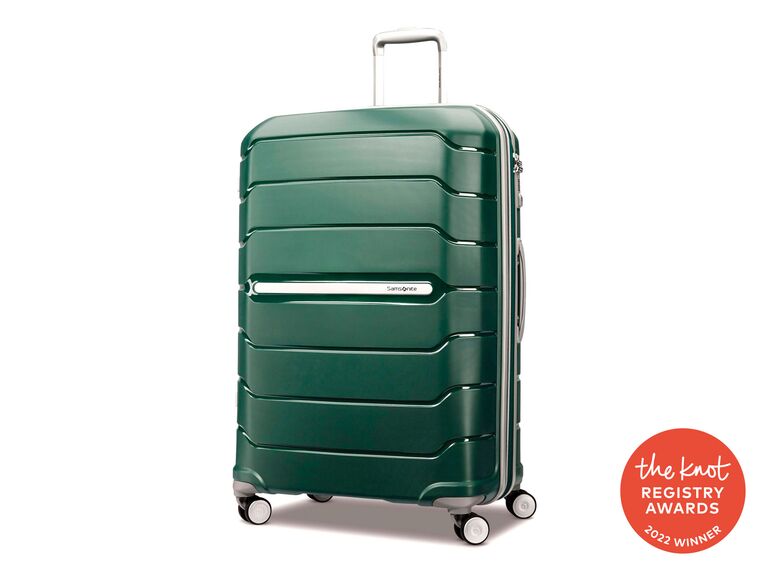 As far as check-in baggage goes, the best luggage for newlyweds is sturdy, secure and spacious. Since you'll be parting with this bag (and everything inside) once you get to the airport, durability is more important than ever. Enter: Samsonite's hard-shell Freeform suitcase. It comes in four chic colorways, including black, white, navy and green.
Best features: The Freeform 29.5-inch check-in suitcase has a durable yet budget-friendly polypropylene shell. Like we said before, it strikes a perfect balance between longevity and lightness. A TSA-approved combination lock secures the inside, which boasts two spacious compartments with handy interior dividers. Internal cross straps help keep clothing in place during travel, so when you arrive you'll be opening the same neatly packed suitcase.

Potential downsides: Again, polypropylene isn't the most hard-wearing of all the hard-shell suitcase materials. If you're particularly worried about damage to the contents of your suitcase or plan on packing fragile valuables or souvenirs, opt for luggage with an aluminum shell (or at the very least, polycarbonate).
Away The Large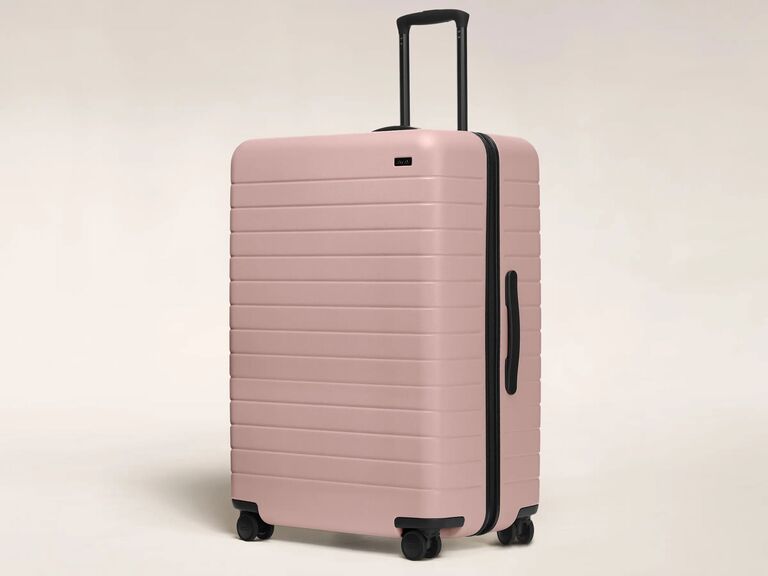 Away is the trendy luggage brand you've likely been seeing all over your Insta feed. The site's modern and practical suitcases are an instant hit with buyers. Choose from nine solid colorways in Away's aptly named "The Large" and have your luggage personalized for an extra-special (and easy-to-recognize) touch. As a reminder, you can add Away travel gear (as well as any other brand) to your wedding registry on The Knot using our clever browser button feature.
Best features: Away's biggest checked bag comes in at the typical maximum measurement of 62 linear inches. That means you'll get the most space possible while staying within the guidelines for most airlines. The outside is durable polycarbonate with luxe leather details (including a luggage tag). There's also a standard TSA-approved combination lock and gliding 360-degree wheels. Inside, you'll find two roomy compartments with an interior compression system for efficient packing. Bonus: A hidden laundry bag allows you to keep dirty clothes separate.

Potential downsides: The Large has a whopping capacity of 99.2 liters, but keep in mind that many airlines have a maximum weight limit of around 50 pounds. Since the luggage itself weighs 11.6 pounds, that leaves you with a 38.4-pound allowance.
Monos Check-In Medium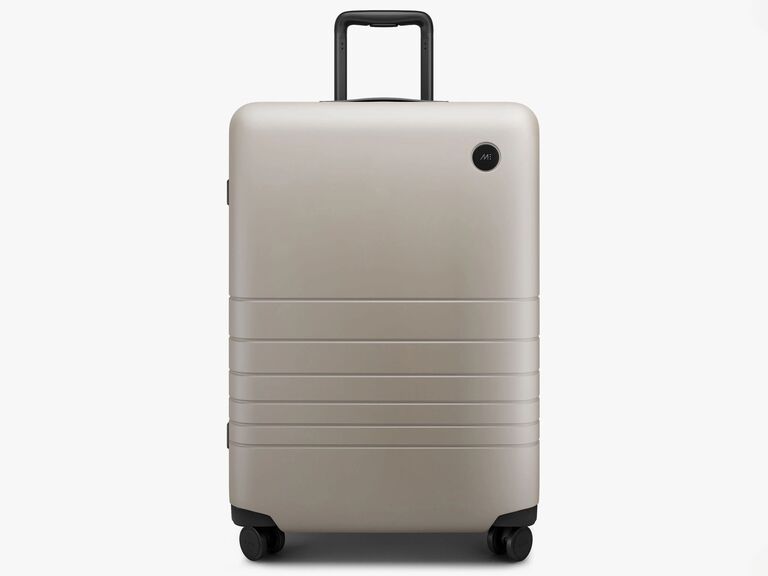 We're just as impressed with Monos' check-in luggage as we are with its carry-ons. The brand's reliable gear is exactly what you need for your future travels, especially if you plan to explore far and wide. The checked bags are available in the same eight core colorways as the carry-ons, so you can snag a matching set if you're in the market for both.
Best features: We love Monos' medium check-in for its versatility. Measuring just 55.5 linear inches, you should be well within the maximum range when it comes to sizing requirements. The convenient size is also less bulky to take through the airport or throw in the trunk of a cab. But don't let this compact size fool you—there's still a capacity of 70 liters inside. The outer shell is made from aerospace-grade polycarbonate that's sturdy and reliable. Plus, a TSA-approved combination lock adds extra security. The 360-degree wheels are designed to be ultra quiet and the handle has four different height settings. Inside, take advantage of compression straps, a divider and soft antimicrobial fabric.

Potential downsides: Some reviewers have flagged that shipping is on the slower side, so if you've got your heart set on this suitcase, it's best to order well in advance of your next trip.
BÉIS The 29" Large Check-In Roller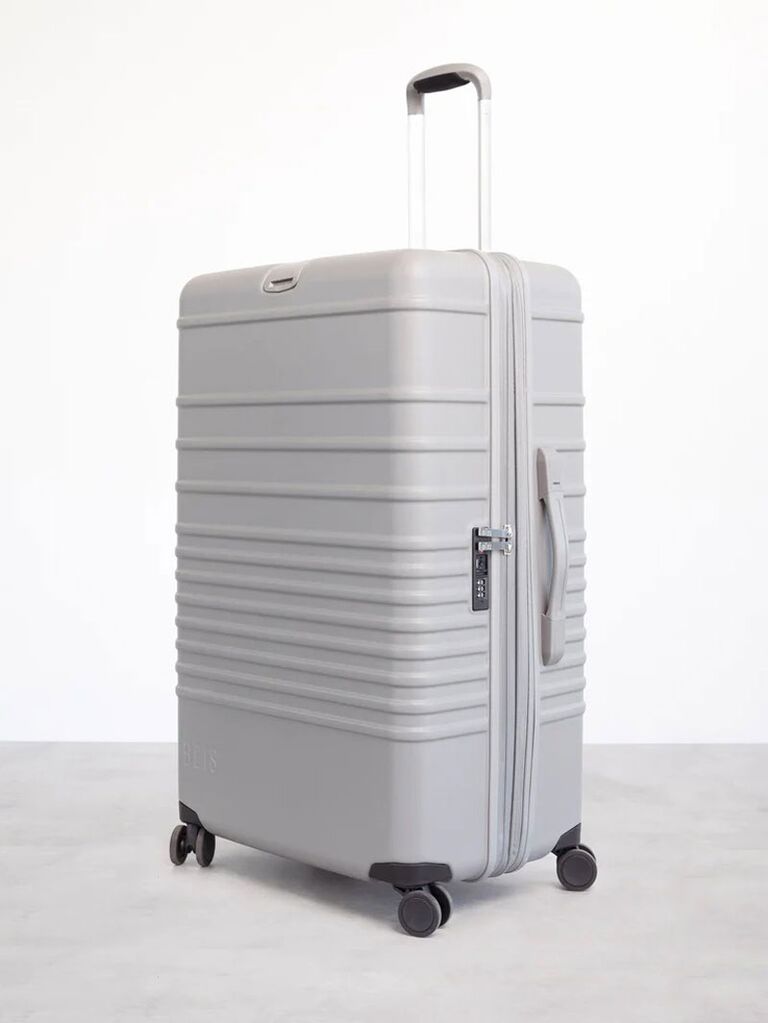 Another trendy luggage brand with five-star reviews? BÉIS. The site's large check-in suitcase comes in four classic shades: beige, gray, black and navy. Bonus: You can save up to 15% by buying a set. Add the small or medium check-in rollers (or both!) to your cart in your favorite colorway.
Best features: The Large Check-In Roller is BÉIS' biggest checked luggage, measuring 61.25 linear inches. It has an impressive capacity of 112 liters distributed between two compartments and two separate pouches. Use one for small accessories and the other for storing laundry before you get home. There's also a compression flap and straps to help you make the most of the space. On the outside, the case has a durable polycarbonate shell, TSA-approved locks, 360-degree wheels and an extendable handle.

Potential downsides: A bigger suitcase means you get more space for your belongings, but it also weighs more, so you can only take advantage of more space as long as it's still under your airline's weight limit. This suitcase weighs 11.84 pounds, leaving you with a little over 38 pounds to work with. But there's a pro here too: The case has a weight limit indicator that lets you know if you're toeing the line.
Bric's Bellagio 32" 4-Wheel Expandable Checked Suitcase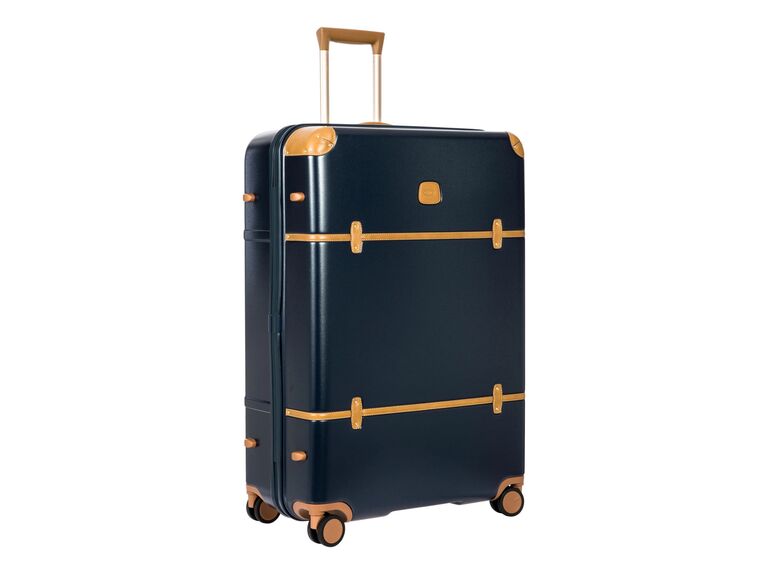 Finding the best luggage to register for is easy when you know what to look for. If style is one of your priorities, this might just be the perfect suitcase for you. Meet Bric's gorgeous Bellagio trunk, featuring a timeless design with a vintage-inspired leather trim.
Best features: From the handle to the wheels, every part of this luggage has been carefully designed for an easy travel experience. The wheels glide effortlessly in any direction, the sturdy polycarbonate shell offers secure protection and the adjustable handle has three different height settings. Even the inside of this suitcase is stylish, featuring a matching lining and unique herringbone-patterned dividers. There are two spacious compartments, as well as pockets in the dividers for ultimate organization.

Potential downsides: Trunks are extra spacious, which is ideal if you're traveling for a significant length of time. However, they are slightly bigger than checked baggage and could pose a problem if your airline doesn't accept luggage above 62 linear inches. This stunning suitcase measures 66.1 linear inches.
RIMOWA Original Check-In M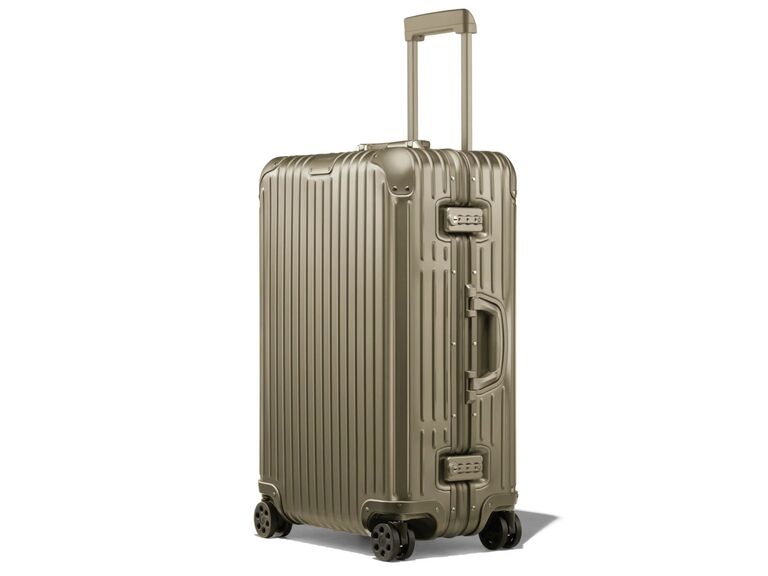 RIMOWA makes aluminum hard-shell luggage, like this titanium-tone suitcase (which also comes in quartz pink, black and silver by the way). You can rest assured your belongings are extra safe in the confines of aluminum. But that's not the only thing we love about it. The iconic grooved design is undeniably sleek.
Best features: This medium suitcase measures just over 53 linear inches, so it should be well within the maximum size limit for most, if not all, airlines. It also has plenty of space inside divided into two compartments that are each fitted with an adjustable divider. On the outside, TSA-approved locks add an extra layer of security and top-of-the-range wheels make steering effortless. The handle has stage-free adjustment, meaning you can set it at the perfect height for you. What more could you ask for from a check-in bag?

Potential downsides: Luxury luggage comes with a luxury price tag. This long-lasting aluminum suitcase will go the extra mile, but it doesn't come cheap. Depending on your lifestyle and your wedding guests' typical budgets, it may be a little too expensive for adding to your wedding registry (but that's where cash funds and group gifting come in!).