This Influencer Wants to Make The Engagement Ring Shopping Experience More Inclusive
Casey Walker Brown, self-love advocate and creator behind Streets, Beats and Eats, opens up about her experience shopping for a wedding ring.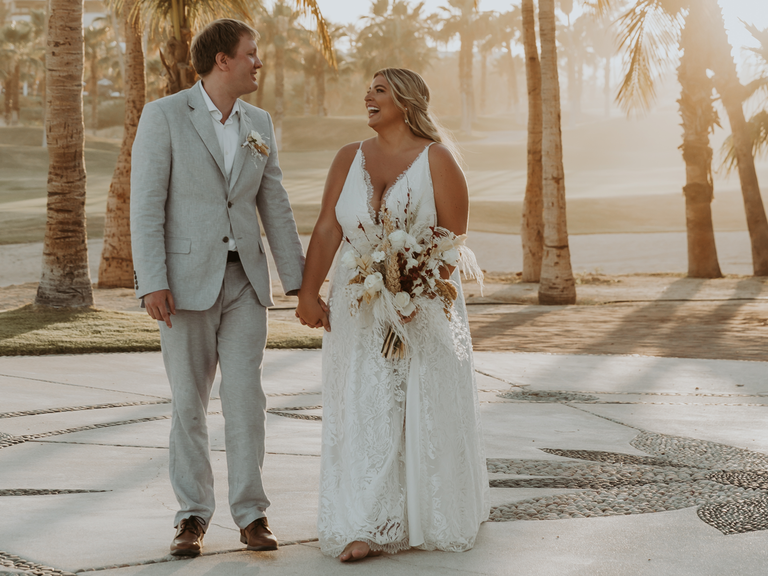 We have included third party products to help you navigate and enjoy life's biggest moments. Purchases made through links on this page may earn us a commission.
Casey Walker Brown's engagement was like a movie. The content creator (known for her self love advocacy on her blog, Streets, Beats and Eats) was filming a video when her partner came into the frame and knelt down beside her. At first she thought he was joking, and waved him off. But then he knelt down again. She playfully patted him down, and found a ring box in his back pocket.
But when ring shopping came up, things became less cinematic. Walker Brown wasn't sure what she wanted. "I wasn't the girl who dreamt of her wedding since she was a little kid," she says. She had been on Pinterest and Instagram, but all of the rings she liked were different: One ring had a black diamond, while another had a sparkly hexagon-shaped stone. Not to mention the images weren't particularly helpful. "It's a lot of the same looking hand: white, long, narrow fingers," she says. "I have short, stubby fingers. I have big hands—I was a thrower and a volleyball player in high school. My hands always benefited me."
But, in this situation, she felt the opposite. Her hands looked different from any of the images she saw on her social media feed, which made her search even harder. Her partner, Austin Brown, suggested she go try on rings. What started as a great idea turned into a tumultuous experience, as Walker Brown quickly realized none of the stores she went to had rings in her finger size.
Walker Brown opened up to The Knot about her ring shopping experience and having to confront insecurities she didn't even know she had about her hands. "I felt alone in all my struggles, and I don't want anyone else to feel alone," she says.
The marketing around engagement rings and wedding rings can lack inclusivity.
Walker Brown's initial confrontation with this issue began when she was gathering inspiration. After scrolling through Instagram, she noticed something: All of the hands shown look the same. Every picture showed white skin, long, thin fingers, even skin, hairless hands, and perfectly manicured nails. "It's just a lot of the same-looking hand over and over," she says.
Walker's observations are spot-on, according to industry experts. "Engagement ring marketing is typically highly-styled, curated and photoshopped," explains Olivia Landau, owner and founder of The Clear Cut. All of which, she notes, can often be intimidating.
A lack of representation in marketing images is problematic, says Gianluca Russo, co-founder of The Power of Plus, a size-inclusive community that promotes respect, love and style for every body. "In 2021, we know how deep the power of representation is. We know the impact that it can have when we see ourselves reflected and when we don't," he says. "When we don't see ourselves reflected, it really hurts."
Russo adds that those feelings intensify when a lack of representation is tied to big life moments like getting engaged. That's why he says inclusive imagery is so important. "We need other people to share their joy to allow us to feel like we can step into ours," he says. "When you see plus-size people breaking a barrier by wearing a certain item or getting married, it makes others realize they can do that too."
Unfortunately for Walker Brown, the representation simply wasn't on social media. So, she decided to try on rings at a store to understand what she wanted.
Due to the cost, brick-and-mortar ring retailers often don't carry a variety of sizes.
The content creator had an idea of what ring size she was, but she wasn't sure—so the sales associate took out the sizer and started at a size six. "I could've told you right off the bat that I at least needed to be up to a nine," she says. "It was just embarrassing at that point."
Still, Walker Brown tried on the sizing samples. "The whole process was them saying, 'Oh, too small, let's try the next size up,'" she says. "It felt like the playground in school—they kept telling me that my fingers were big."
After a negative experience at the first store, Walker Brown and her partner went to a different spot. "They looked at me and said they didn't have anything for me to try on, that they didn't have a band in that size for women." Instead, they told her she could try on men's bands.
The same thing happened at the third store. They could only offer Walker Brown men's wedding bands. "They put on the thinnest men's bands they could find and then put different stones over it so we could get an idea of what it would look like," she says. "They would say, 'Imagine this but thinner' or 'Imagine this but with the stone a bit bigger to fit your finger so it won't look so small.'" While Walker Brown says she appreciated the third associate's effort, it was awkward. "I didn't want to do it anymore. I wanted to get married, but I just couldn't do ring shopping."
Unfortunately, this is the reality of most traditional, in-store ring retailers. "The standard ring size is a six," Landau says. "If you go to a traditional retail store, you'll probably only see that size."
But the stock decisions go beyond standard sizing. Carrying different size rings comes at a significant cost. "It's very expensive to stock all sizes, especially when most customers want to make slight changes to the ring to make it their own," says Brooke Brinkman, VP of Marketing and Communications at Simon G. Jewelry. "The cost to stock sizes, coupled with the fact most rings are customized to some degree, does impact the decision to stock various sizes in store."
Plus, jewelers know that there's a little bit of wiggle room when it comes to sizing. "Most stores know they can size a ring up or down approximately one finger size, so anything they have in store can usually accommodate a 5.5 to 7.5 finger size," Brinkman says.
It's not just the rings that cost money either. "A lot of retailers don't have multiple sizes because it increases the cost of insurance," explains Madeline Fraser, founder and CEO of Gemist.
But having inclusive imagery on hand can improve the ring shopping experience.
So, what's the answer? Due to the costs and logistics involved, asking retailers to carry a variety of different sizes in stores isn't realistic. But Russo says there are still ways to make the experience more inclusive. "As a community, we're at the point where we understand not every brand can carry every size. That goes for clothing, for jewelry—for all of it," he says. "If a brand can't stock all sizes in the store, they should at least have inclusive imagery so clients can picture it without seeing it in person."
It comes down to ensuring customers don't feel othered because of their size. "The last thing you want is to go in for one of the most joyous moments and feel terrible about yourself for something that isn't your fault," Russo says. "We have to switch the narrative here: It's not someone's fault that the ring didn't fit them. Once we realize it's not the fault of the customer for existing in a bigger body, we can start to have a better conversation about what steps we can take to be more inclusive and make the experience a more welcoming one."
Custom Can be a Size-Inclusive Alternative
"It's problematic that women have to imagine what their ring will look like given it's such a big purchase and probably the most important investment in their lives," Landau says. "We believe that this needs to change, and it's something we're addressing head-on."
The Clear Cut is among several newer ring retailers that have identified size inclusivity as an issue (such as other brands like Ben Bridge, James Allen, Marrow Fine, Simon G. Jewelry and more). They use technology that allows to-be-weds to create custom diamond engagement rings.
To-be-weds can see exactly how the ring will look, so they feel confident in their purchase.
It's a movement that's quickly taking hold of the engagement ring industry. While some brands are creating their own platforms, others are using existing imaging programs in creative ways. "We use CAD to create lifelike renderings of rings so clients know exactly what they are getting before it goes into production," says Jillian Sassone, owner of Marrow Fine. "They can see what the ring will actually look like—it's one of the ways we're reimagining the fine jewelry experience."
Designing your own engagement ring means you have complete control. You get to decide the thickness of the band, the colors, the stones, the details—all of it. Because it's custom made for you, it'll be made in your size. It's an incredibly inclusive option for those who have size nine fingers or above. Plus, engagements rings are a great options for gender nonconforming folks who want something special.
How to Shop for Size-Inclusive Engagement & Wedding Rings
If you're shopping for an engagement ring or wedding ring (or might in the near future), there are ways to find size-inclusive options. Read on to find out what they are.
Follow Size-Inclusive Social Media Accounts
First thing's first: Follow size-inclusive social media accounts. Seek out brands (like Automic Gold) or influencers (like Casey Walker Brown) who display diverse ring images. Representation matters, and it makes a real difference, Russo says. "Someone at a jewelry store might not even think about that, but I can guarantee you every plus-size bride scrolling through social media, that's the first thing that comes to their mind: What is this ring going to look like on me?" he says. "I think a lot of people don't take the time to have these conversations."
Call the Retailer Ahead of Time
If you want to go to a brick-and-mortar store, call ahead to find out what they have in stock. While some retailers carry size-inclusive options, many do not. Calling before you go could save you a trip and some serious frustration.
Go to a Retailer Who Offers Imaging (or Inclusive Imagery)
Our top suggestion is to lean into the new trend of virtual ring shopping. Working with retailers who offer imaging will be able to show you exactly what your ring will look like on your hand. While some stores can project a virtual image of the ring onto your hand, others might be able to supply you with images of the ring on different-sized hands. " While we want more, we have to recognize from a business standpoint what is possible," Russo says. "If you can't carry a range of sizes in store, then I think the only solution is having inclusive imagery that reflects different types of people."
Build a Custom Ring
Another option? Build your own ring. Engagement rings are a big expense. According to The Knot 2020 Jewelry and Engagement Study, the average cost of an engagement ring in 2020 was $5,500. You don't want to spend that amount of money on something you don't absolutely love. Going the custom route ensures you get the ring of your dreams. You can choose the size, color, clarity and placement of the stone. You can decide the thickness and color of the band. You can add extra, thoughtful details (like inscriptions, hidden halos or heirloom stones). Seek out your favorite ones and ask them questions. The right ring retailer will work with you to bring your dream to life. Plus, creating a custom ring will ensure it fits your hand perfectly.
Practice Self Compassion
The most important step in ring shopping is practicing self compassion. Between shopping for a ring and showing other people your new ring, there's a lot of attention on your hands. Walker Brown admits the experience revealed insecurities—ones she didn't even know she had. " I held my hand in a fist to show my ring," she says. "I didn't like the way it created love handles in certain spots, and I would scoot it up so it wouldn't do that. Or, I would take it off and hold it between my thumb and forefingers to show it."
After scrolling through countless images of the same hand and trying on rings that didn't fit, Walker Brown became profoundly aware of the fact that her hands were different. "I never understood that my hand made me so self conscious until going into a ring shop and taking the ring off and having to show everyone," she says.
She shared this experience with her followers on Instagram and was overwhelmed by the fact that so many other women said they felt the same way. "Whether it was the size of their hand or their wrinkles or not having thin, long bony hands on having hair, bruises, birthmarks, they had a similar experience," she says. "Our world is so focused on fitting the mold and looking a certain way that we don't even realize we're developing these insecurities along the way, like how our hands look."
But Walker Brown wants that to change, so she's sharing her story. "Nobody wants to say out loud that they didn't have a wonderful wedding ring shopping experience," she says. "I'm trying to open those doors and create dialogues for people to feel safer so they can realize that it's not just them."
As the engagement ring and wedding ring space continues to evolve, Walker Brown says the key is to be kind to yourself and remind yourself that it's a societal issue. Despite the intense pressure to look a certain way for your wedding (think: shedding for the wedding or achieving perfect skin), remind yourself that you're already beautiful as you are.
"We're constantly bombarded with the toxic messaging that we have to change who we are for this one day," Walker Brown says. "But our future spouse loves us for who we are, and our friends and family are here to support us no matter what."
See Photos From Casey Walker Brown's Wedding Here
Looking for extra wedding inspiration? Scroll down to see all the gorgeous details from Casey Walker Brown's beach ceremony.
Vendor List:
Ceremony and Reception Site: Paradisus Los Cabos | Photographer: Daniela Ortiz | Planner: Look At Me Brides | Event Designer: Look At Me Brides | Florist: Velvet Floral | Officiant: Kendra Short (Grooms Sister) | Partner 1 Attire: Grace Loves Lace | Earrings: Jennifer Behr | Headpiece: Jennifer Behr | Anklets: Grace Love Lace | Partner 2 Attire: Macy's | Engagement Rings: Bachendorfs | Hair: Blanc Bridal Salon | Makeup: Blanc Bridal Salon | Wedding Party Attire: BHLDN, Macy's| Invitations: Hannah Wells Design | Menus: Us Creating | Rental Equipment: Cabo Rental Decor | Catering: Paradisus Los Cabos | DJ: Emmanuel Ibarra | Welcome Bag: Tula, Megababe, Party Patch, Courtney Taylor Tumblrs, Liquid IV | Travel Agent: Alexa Spahr