The One Wedding Gift All Sports Fans Need to Register For
If you and your S.O. love attending games, you're going to want to read this.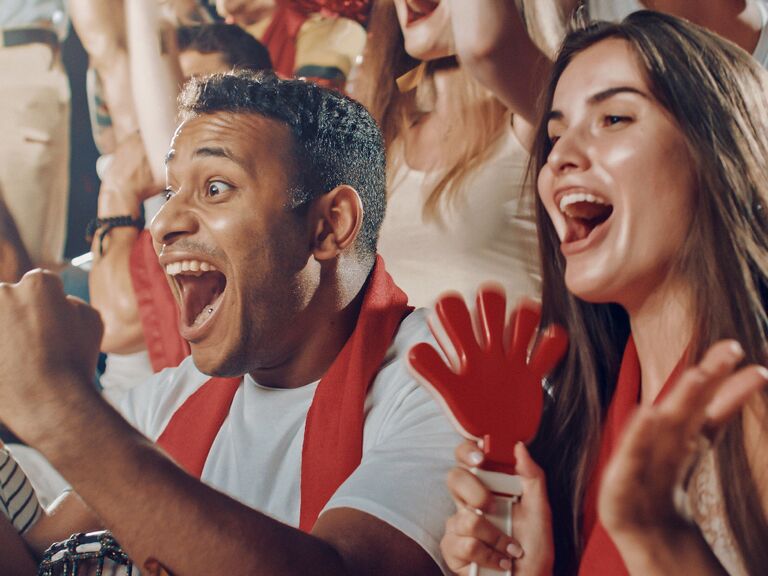 Vasyl Shulga/Shutterstock.com
When you think of wedding registry gifts, your mind probably goes to the classics: linens, fine china, colorful standing mixers and monogrammed hand towels, for example, have been go-to selections for years. But what if we told you that registry gifts can be way more fun than you realize? We're all about registering for what you need and what you want—so while you may need an extra set of towels for your master bath, you should also indulge in a few personalized gift requests too. And if you just so happen to be a sports fan, you'll be thrilled to know that sports wedding gifts are 100% a thing—and you can register for them right here on The Knot.
Extra-personalized experience gifts are certainly on the rise. More couples are opting to request cash funds and pre-planned excursions to make newlywed life that much sweeter. And thanks to our exclusive new partnership with SPUR Experiences, you can register for tickets to your favorite sporting events, only available through The Knot Registry Store. (Yes, really!) Regardless of which team or league you and your S.O. love most, our latest offering allows you to register for tickets to catch a variety of games, from the NFL to the NBA to more niche events like the US Open, the X Games or the US Gymnastics Championships.
If you've ever felt like traditional registry items just aren't for you, you aren't alone. Perhaps you and your partner have been living together for years and have already accrued the basics, or maybe you just don't have the space for another set of pots in your kitchen. Instead, opting for sports wedding gifts is a great way to maximize your registry and get the things you really want. Keep reading to see how to request tickets, along with even more wedding registry gift ideas for sports fans.
How to Register for Sports Tickets on The Knot
The ability to register for sports tickets is exclusively available through The Knot Registry Store, so you'll need to make your registry on our site first. From there, you can compile all of your gift requests in one shoppable list, making it insanely easy for you to manage and for guests to purchase items. With a registry on The Knot, you'll be able to ask for traditional gifts (like kitchenware or home decor), along with non-tangible items too, like cash funds, charity donations, gift cards and experiences.
To register for sports tickets, head to The Knot Registry Store and hover over "Experiences" in the top menu bar. Click on "Event Ticketing" to find all of the options available on our site. To request tickets for a specific team, first click the league you want. For example, if you select "NFL Tickets," you'll be taken to a landing page that features a dropdown menu of every single team in the league. Select the one you'd like to see, choose a monetary amount, and finish by clicking "Add to Registry." When a guest purchases the gift, you'll instantly receive an email voucher from SPUR Experiences with all the details on how to choose where and when you'll enjoy the game—it's as simple as that!
Sports Gifts That You Can Add To Your Registry
If you love the idea of registering for sports tickets, we have great news: your options don't end there. There are plenty more amazing wedding gifts for sports fans that you can find on The Knot Registry Store. Get started by browsing 15 of our favorite ideas below.
NFL Tickets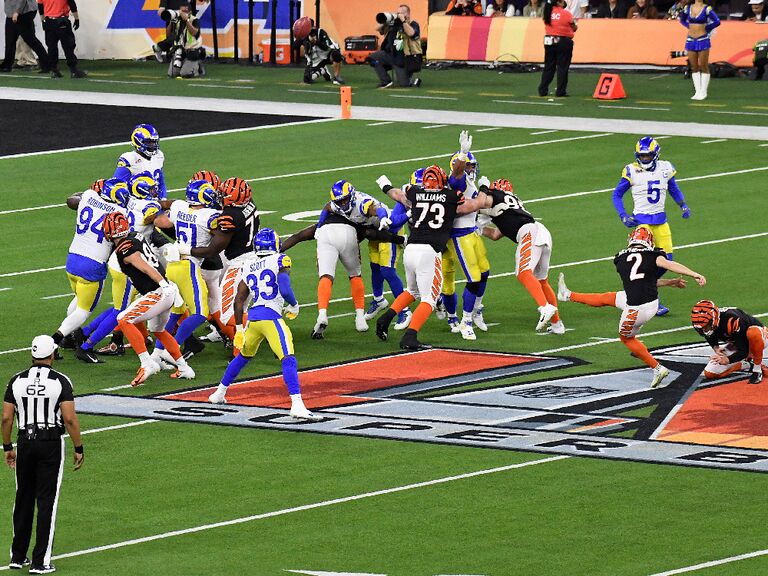 From the Los Angeles Rams to the Philadelphia Eagles, you can register for tickets to see any of the 32 teams in the NFL. If football isn't your thing, you're in luck: Our store also offers tickets for the NHL, NBA, MLB, and WNBA. Foam fingers not included.
US Open Tickets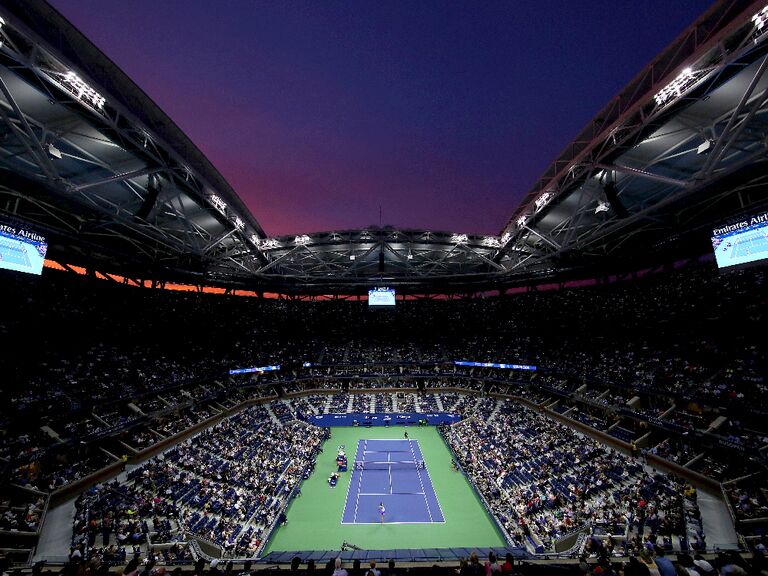 Grab your favorite polo or shirtdress and prepare to sip on an ice-cold Honey Deuce while enjoying the US Open, courtesy of your wedding registry. Don't forget to bring a pair of binoculars for celeb sightings!
US Figure Skating Championship Tickets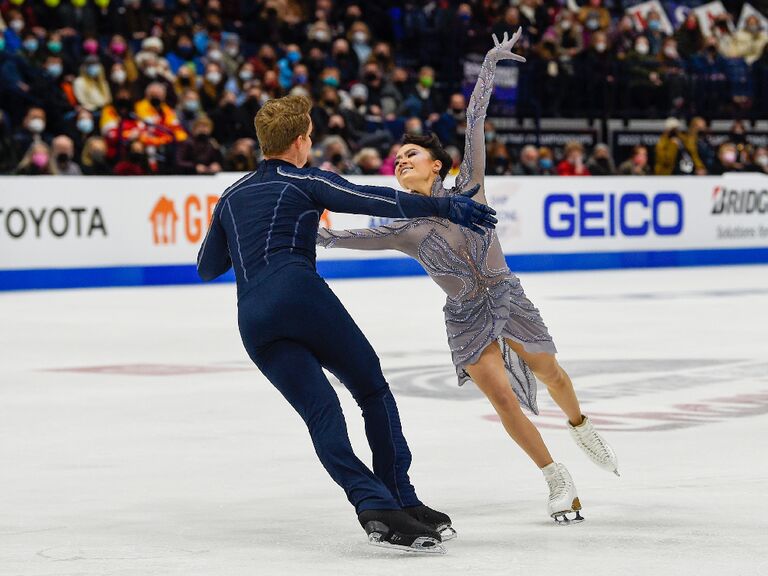 If you're the kind of person who religiously counts down the days until the Winter Olympics commence, you definitely need to take advantage of our figure skating tickets. This option can be used as a credit toward a seat at the US Figure Skating Championship, or any other event of your choice. And if you happen to love the Summer Olympics more, consider registering for tickets to the US Gymnastics Championship instead.
OtterBox Venture 65 Qt. Hudson Cooler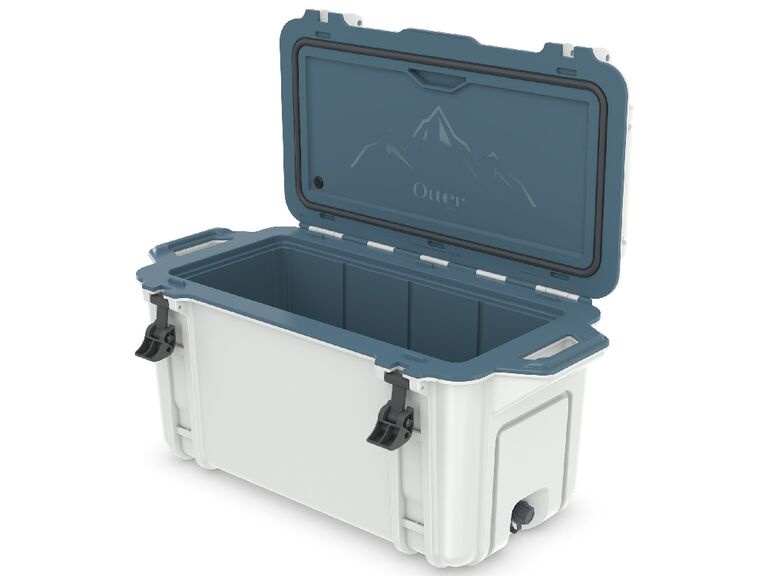 What's a game without a tailgate? Extend the fun of your wedding registry gifts by requesting a cooler to fill with your favorite beverages to enjoy in the parking lot before you head to the stadium. This heavy-duty selection comes with a bottle opener and a dry storage tray, along with a mounting system that ensures the case stays stable and upright.
YETI Daytrip Lunch Bag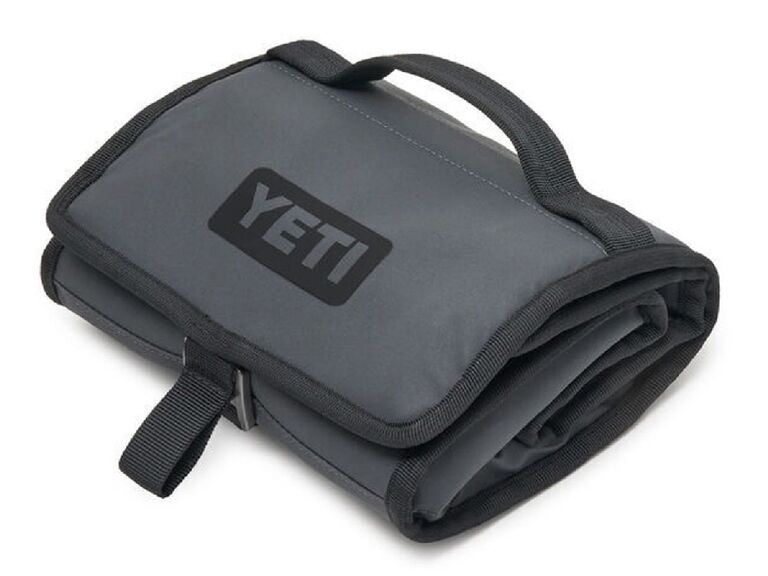 Of course, no tailgate is complete without food as well. While nothing beats a classic ballpark hot dog or soft pretzel, pack a few snacks to enjoy with your pregame beverages in this foldable grab-and-go lunch bag.
GoSports Football Cornhole Board Set
As a sports fan, you know that nothing quite compares to attending a game in real life—but you probably love hosting your own friendly competitions too. You definitely need to register for a cornhole set to pull out for your next family cookout or house party. This football field-inspired game set is perfect for NFL fans. Plus, it comes with eight weather-resistant bean bags (and a rule book for those who like to stick to the regulations).
GoSports Ladder Ball Set with Carrying Case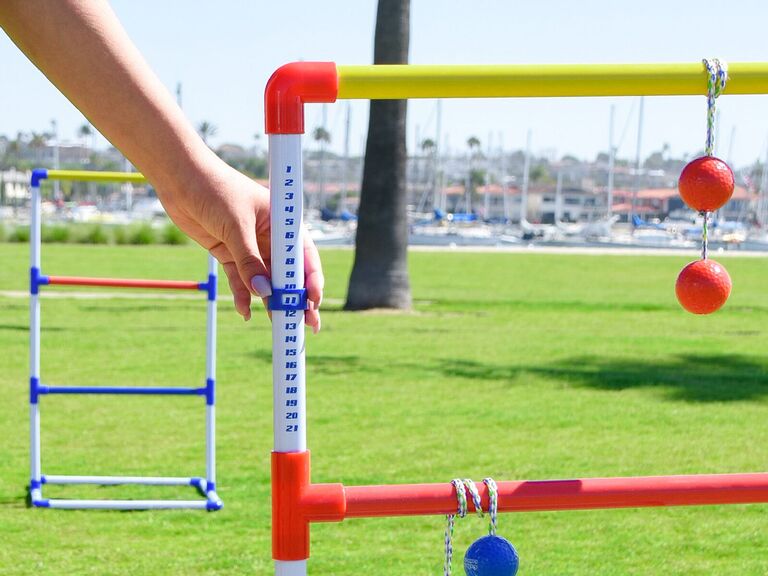 To truly build out your outdoor game collection, we also recommend registering for a ladder ball set. From beach days to family camping trips, gatherings are more fun when they include a good, old-fashioned ladder ball tournament.
Libbey Football Tumbler Glass, Set of 8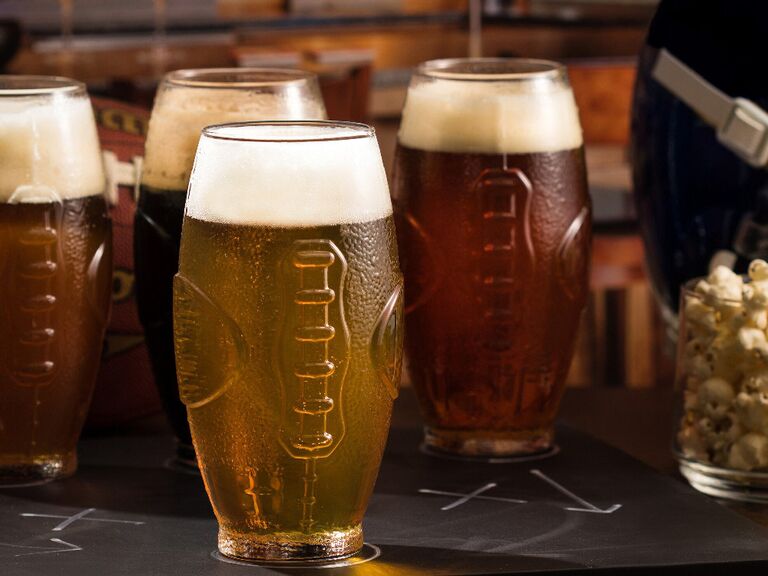 Whether you're hosting a full-blown Super Bowl party or you're just having a few friends over to catch a college game, serve your favorite brews in these football-shaped tumblers. When they aren't in use, they'll look extra cool on display at your home bar.
Cuisinart All-Foods Roll-Away Portable Propane Gas Grill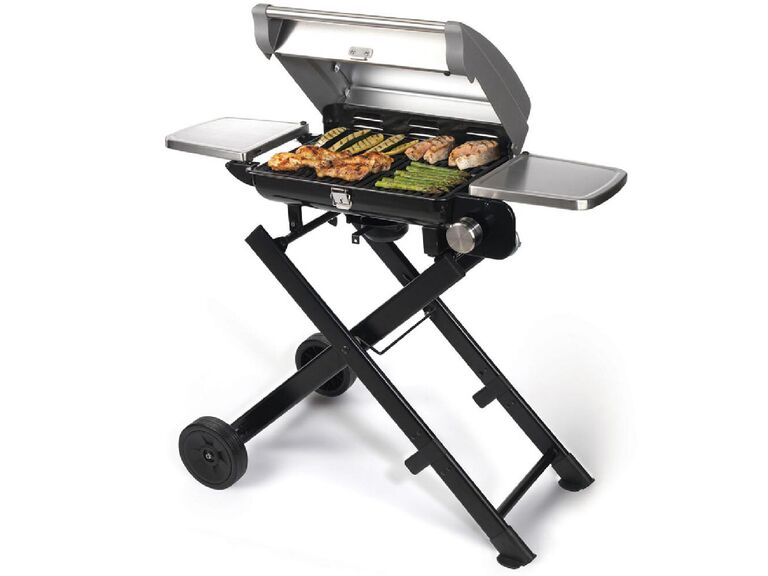 If you're going to take on the challenge of hosting a viewing party at your place, you'll need a great grill to whip up crowd-pleasers like burgers and hot dogs. This top-rated portable gas grill is a customer favorite, especially for those who love to entertain but don't necessarily have the space for a traditional propane unit. (Pro tip: Don't forget to register for a set of grilling tools too!)
Libbey 9-Piece Game Night Entertaining Set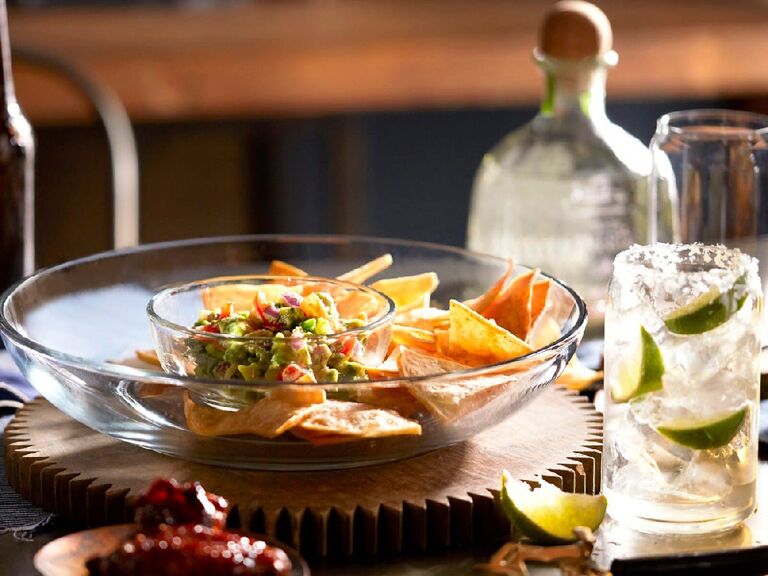 After grilling up all that amazing food, you'll need a set of platters to serve it. This nine-piece entertaining set was designed with game days in mind—it includes six beer glasses, one glass chip-and-dip bowl and one plastic dip bowl lid.
GoSports Table Top Hockey Game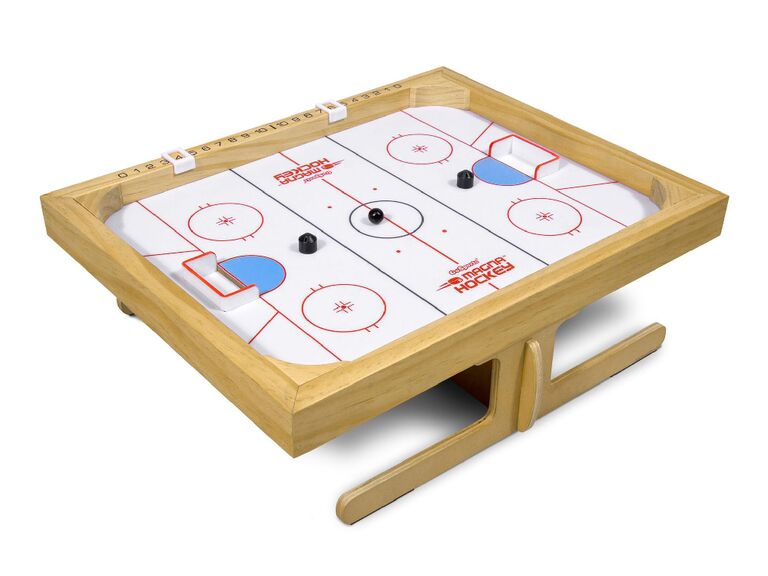 Looking for another addition to your game room? Go for this tabletop hockey game, which is perfect for couples who don't mind a little friendly competition.
GoSports Pool Volleyball Game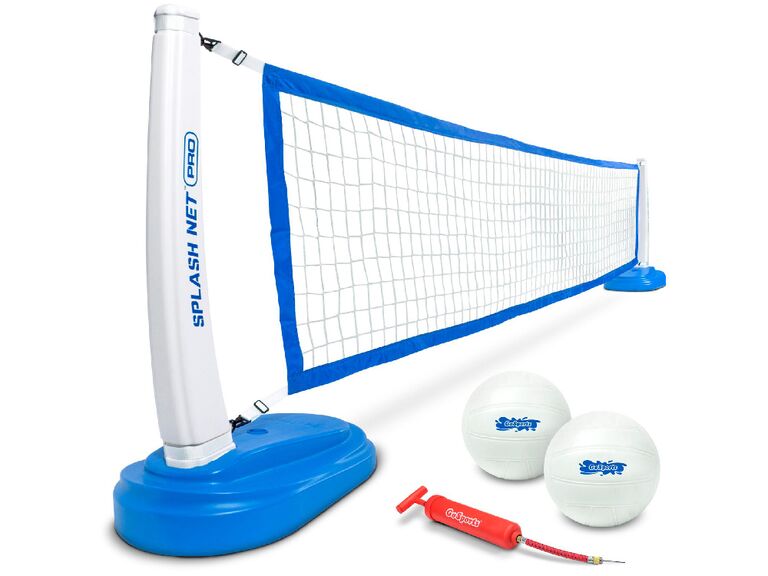 Pool days will be so much more fun with a volleyball net. Invite your friends and fam over to enjoy the water and practice your serves with this toy, suitable for kids and kids at heart.
GoSports Golf Mat Set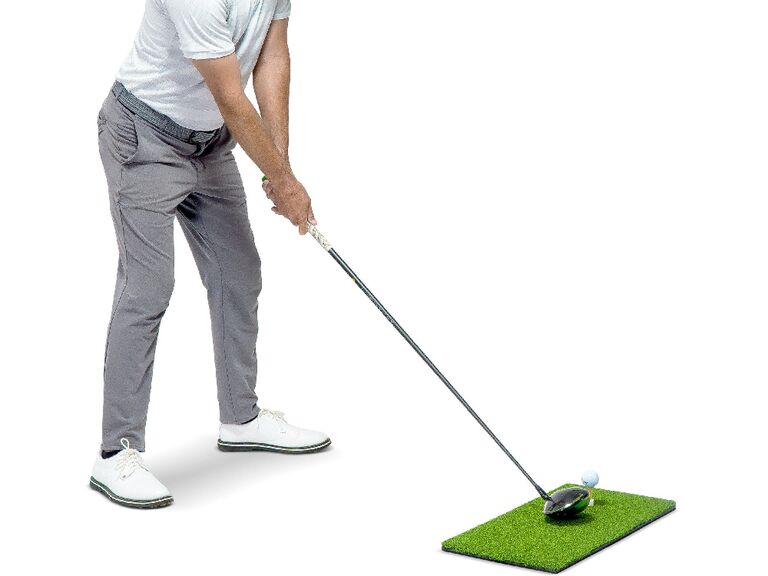 Who says you have to head to a professional green to practice your putt? Bring the golf course to your backyard with this easy-to-assemble patch of greenery, which comes with three different tees of varying heights.
TRX All-In-One Suspension Trainer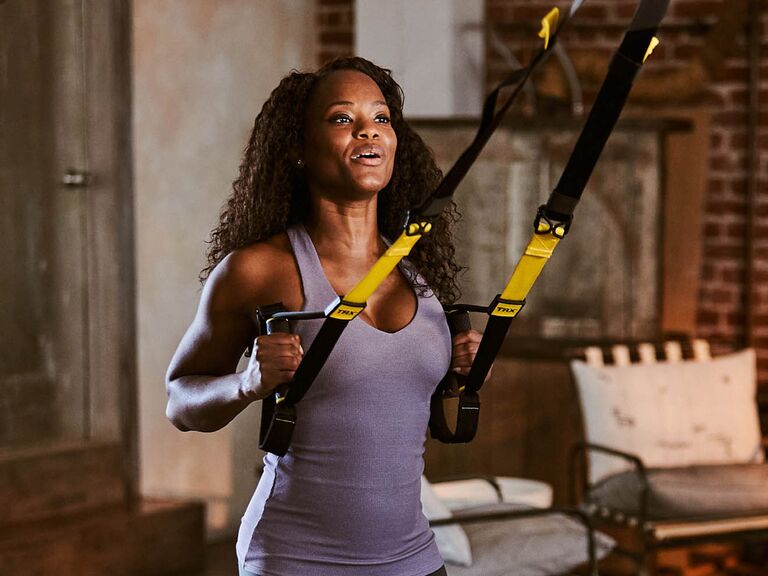 If you like to get active but hate paying an expensive membership, perhaps you'd like to register for this all-in-one suspension trainer from TRX. A great addition to your home gym, this set includes a suspension trainer, a suspension anchor, a door anchor and a guide to get you started. It also includes access to a TRX app.
Cash Funds
The sports gift ideas above are just a starting point. When it comes to finding great wedding gifts for sports fans, the sky really is the limit—especially with the option to register for cash funds. Perhaps you want to set money aside for future road trips to see every baseball stadium in the country, or maybe you'd rather start a home reno project to bring your dream sports den to life. Set up a cash fund through The Knot to register for monetary gifts to support your love of sports in whatever way makes the most sense for you. Guest will love knowing their contribution will be put to good use.