7 Ways to Take Time for Yourself on Your Wedding Day
Remember—this is your day, so find some moments to let it all sink in.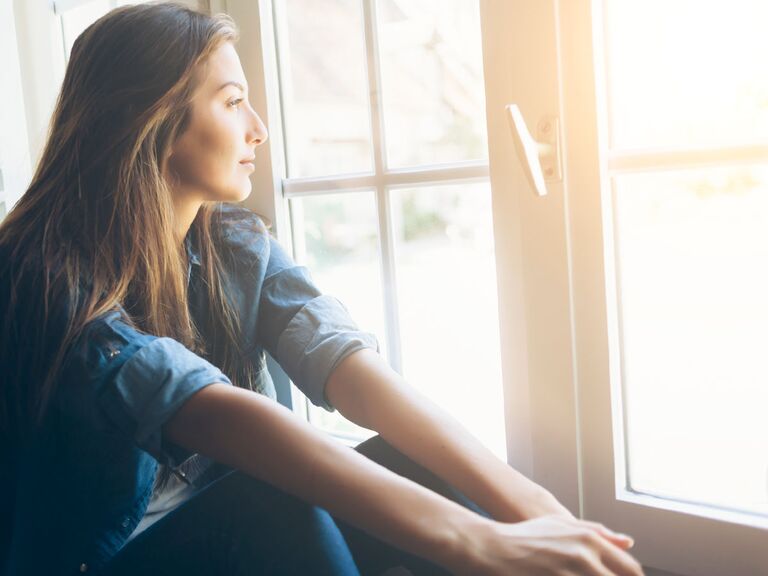 iStock
We hear it from couples all the time—the wedding day goes by in the blink of an eye. Between getting your hair and makeup done, taking first look photos with your soon-to-be spouse, being ushered from the ceremony to the cocktail hour to the reception, then cutting the cake, it's hard to find a moment just for yourself. But we think that's one of the most important to-dos for you that day. Find a time when you can just relax and soak it all in before saying "I do." Here are some ideas for some me-time.
1. Meditate
When you wake up in the morning, take some time to sit peacefully by yourself to reflect on your relationship with your partner and think about everything that lies ahead for you. Or, just take a few minutes to totally zone out so you can remain more "bridechilla" than "bridezilla." Use an app or some breathing techniques, then you'll be ready to take on the day.
2. Pray
If faith is an important aspect of your life, this is a good time to say a prayer for your partner and for your marriage that's between only you and God. You could even pick passages out from the Bible to read the morning of your nuptials.
3. Work Out
Run, do yoga, go for a spin class, take your dog for a walk—whatever workout you enjoy most. If you have the time the morning of your wedding to fit any of these in, it's sure to get rid of any last-minute prewedding jitters.
4. Write
Use the free time you have the day of your wedding to write in your journal, or even to pen a letter to your partner. It will be a chance to reflect on the moments you two have shared and the journey you're about to embark on together. It's a way to really capture your emotions on your wedding day—and will be a nice memento to have in the future (you can even read it to your kids someday).
5. Do Something You Love
Does nothing get you more zen than baking cookies? Or knitting a scarf? Or even cleaning? (We know that last one's a stretch, but sometimes there's something so satisfying about vacuuming your living room rug.) Feel free to carve out some time to do one of these activities on your wedding day.
6. Pamper Yourself
While we don't recommend getting any crazy treatments, like a chemical peel or even a facial, the day of, why not go for a massage in the morning? Or take a nice, hot bubble bath? You could even fit in a mani-pedi the morning of, if your ceremony start time is later in the day.
7. Celebrate Being a Single Lady
This is the last morning you're not wife-d or huband-ed up, so feel free to really let your hair down. Do you secretly love watching I Love Lucy reruns while eating cookie dough? Go for it. Enjoy rocking out shamelessly to T-Swift in the shower—with a mimosa? Have a sing-along before your walk down the aisle. Whatever your guilty pleasure is that puts you in an amazing mood sounds like the perfect way to start your wedding day to us.