Your Complete Guide to a Dreamy and Adventurous Utah Honeymoon
Get ready to snuggle under the stars and relax in alpine luxury.
Narrow at Zion National Park (Checubus / Shutterstock)
We have included third party products to help you navigate and enjoy life's biggest moments. Purchases made through links on this page may earn us a commission.
Even city slickers will want to leave behind the bright lights for a few days to explore Utah, an outdoor wonderland with the perfect blend of luxury and adventure.
It's easy to see why Utah honeymoons are becoming more and more popular—after all, a honeymoon in Utah blends varied landscapes and out-of-this-world natural sights with outdoor adventures and five-star resorts made with romance in mind.
Thinking about a Utah honeymoon? Here's what you should know (and what destinations and activities you won't want to miss).
Is Utah Good for a Honeymoon?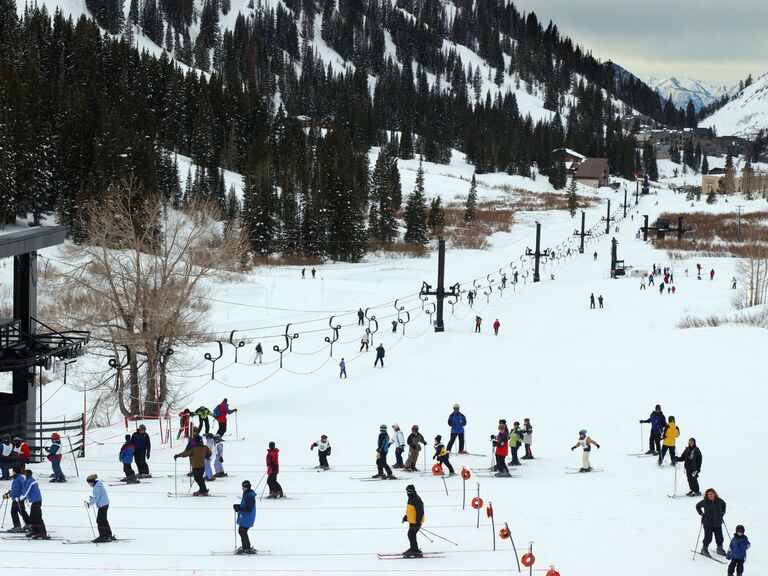 Whether Utah is a good place for a honeymoon depends entirely on what you want. If you're after a tropical beach getaway, you may want to keep looking. But if you want to experience some of the most beautiful national parks in the country, stay in luxurious desert-chic hotels, ski down massive snow-covered mountains and enjoy romantic dinners in the shadow of a massive red cliff, Utah may be a great choice.
The state is fairly easy to get to from most parts of the US. Honeymooners visiting southern Utah can fly into Las Vegas, while Salt Lake City's airport offers easy access to northern Utah. It's also a great road trip destination, especially if you want to rent a luxurious camper van and live the #vanlife for a few days.
Pros of a Utah Honeymoon
The US has some absolutely stunning landscapes, but you could easily make the argument that Utah is the most beautiful—and varied—of them all. It's hard not to be wowed by the otherworldly rock formations in Arches National Park or the mountain views from a lodge at the top of Sundance Mountain Resort.
In those amazing landscapes, you'll find plenty to do. There's no shortage of outdoor activities. Newlyweds can ski, hike, climb, go horseback riding, and even scuba dive or soak in hot springs. With five national parks in the state, there's always somewhere new to go—and no shortage of luxury hotels tucked into the landscape like modern-day desert oases.
Cons of a Utah Honeymoon
There aren't too many downsides to a Utah honeymoon, other than the obvious fact that this is not a tropical beach destination. That being said, Utah does get hot—summertime temperatures can swing well above 100 degrees, which is why you'll definitely want a resort with a pool.
The only other minor detail to note is that the popular tourist towns in Utah can get quite crowded. Plan to visit well-known destinations like Zion National Park or the Grand Canyon (Utah's Kanab is the gateway town to the North Rim) midweek to avoid most weekend traffic from Salt Lake City. You'll probably also need to rent a car (or a modern converted camper van) if you plan to explore anything outside of the cities.
The Best Times of Year to Go on a Utah Honeymoon for Good Weather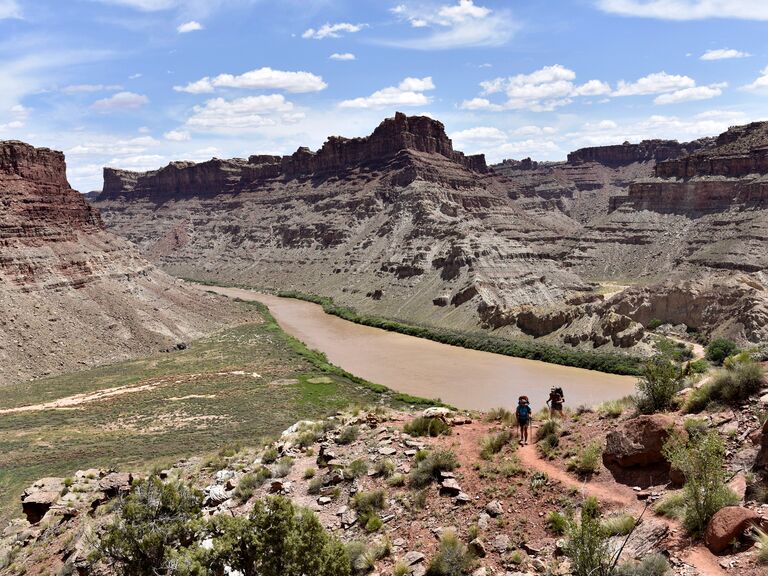 Because of Utah's variety—from arid, cacti-spotted canyons to enormous mountain ranges—there's plenty to do year-round. The hard part is deciding when you want to go.
It all depends on what you want to do. Summer is a fabulous time to hike, bike, paddle and otherwise play outside at many of Utah's luxury mountain resorts.
However, it's generally too hot for low-elevation hiking in the state's desert-heavy parks, like the Moab area or Canyonlands National Park. Spring and fall are usually wonderful times to visit weather-wise for hiking and outdoor recreation, though they're also the most crowded and the most expensive.
Honeymooners who want to ski should visit between December and April, when mountain ski resorts like Snowbird and Park City Mountain Resort are in full swing. Winter also happens to be the best time of year for taking advantage of resorts' outdoor hot tubs and saunas, though evening temperatures can drop 20–30 degrees below the daytime temperature year-round, especially in the high desert.
Places to Visit in Utah on a Honeymoon
"The Big Five"
While technically you could go to Utah and not visit any national parks, why would you? Utah's "Big Five" national parks—Bryce Canyon, Zion, Arches, Capitol Reef and Canyonlands—are world-class destinations serving up unparalleled western beauty. You can hike the photo-worthy narrows in Zion National Park, go stargazing beneath the Milky Way at Arches National Park, or go whitewater rafting on the Colorado River through Canyonlands National Park.
Deer Valley
Deer Valley is generally considered one of the most luxurious ski resorts in the country, making the alpine paradise the perfect romantic getaway for newlyweds. Conveniently, the resort's Stein Eriksen Lodge also happens to be one of the country's most luxurious mountain lodges.
Honeymooners in Deer Valley can spend the morning taking a guided ski tour, the afternoon trying high-end cocktails around an outdoor fire pit, and the evening going on a sleigh ride to a gourmet fireside dinner at the Empire Canyon Lodge. Summer visitors will have the same amenities with epic mountain biking and hiking at their disposal in lieu of skiing.
Things to Do During a Utah Honeymoon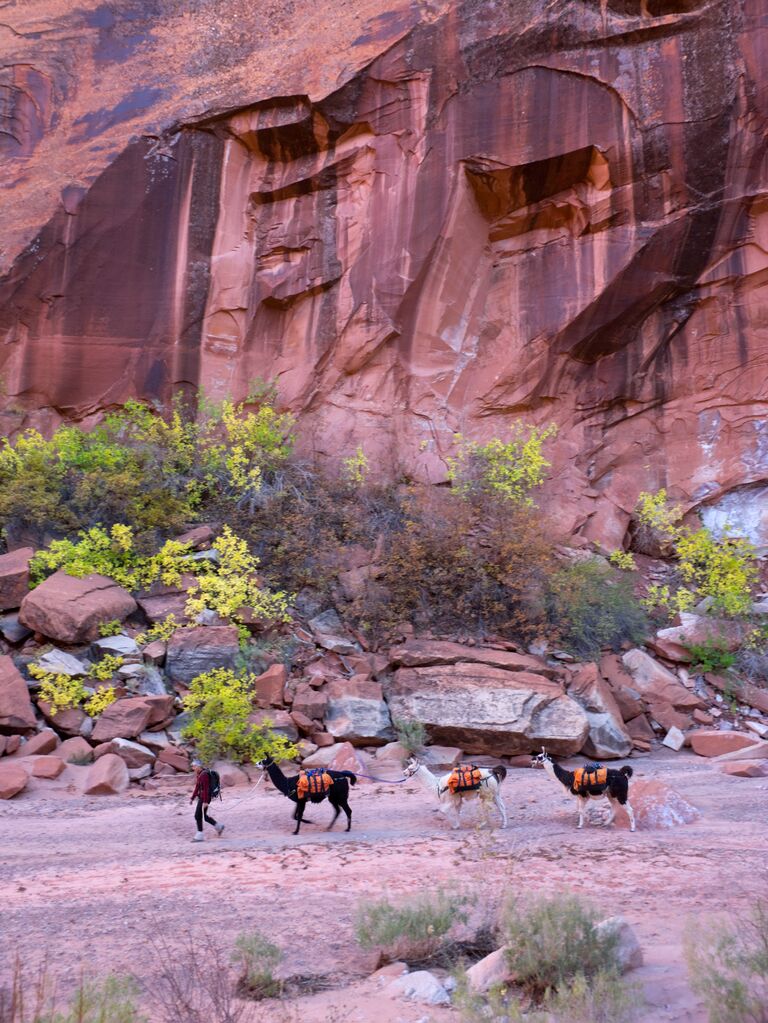 Take a Hot Air Balloon Ride
Utah is one of the US's most beautiful places when you see it from the ground, so imagine getting a bird's-eye view of the remote landscape—and sipping champagne while you do it. Early risers can book a sunrise hot air balloon tour over Moab with the Moab Adventure Center, or fly over the Greater Zion and St. George areas in the afternoon with Skywalker Balloon Tours. If a hot air balloon ride is too leisurely, you can book a helicopter adventure tour, during which you'll be helicoptered to a mountaintop before biking or hiking your way down.
Soak in the Water at Homestead Crater
Homestead Crater is not your average hole in the ground. It looks similar to a tropical cenote like those on the Yucatán Peninsula, but you don't need to worry about jumping into cold water, as the crater is also a hot spring. It's between 90 and 95 degrees year-round, and is an amazing place for a swim, a paddle-board yoga session or even a scuba dive. The crater is at the Homestead Resort, which also hosts a massive ice castle installation every winter.
Snowshoe to a Fine-Dining Experience
If you're not willing to compromise on romance but still want to squeeze in a little adventure, sign up for a guided snowshoe hike to a mountaintop dinner. Deep inside Wasatch Mountain State Park, couples can enjoy a four-course meal in a yurt—a temporary structure built in the snow, similar to a safari tent. Inside, there's a roaring fire to keep you warm while you dine, though it's the outside fire you'll want to snuggle around after dinner for making s'mores.
The snowshoe trek is only a half-mile long, and you don't need any previous experience. Though groups are small, you can also book a private dinner if you'd prefer the night to be even more romantic.
Take an Overnight Llama Trek
For a truly once-in-a-lifetime adventure together, consider booking an overnight llama trek with Capitol Reef Resort. You'll be led by an experienced guide to some of Utah's top backcountry destinations, and you don't even have to carry your own gear—the friendly llamas will do that for you. Trips include gourmet meals for breakfast, lunch and dinner, as well as everything you'll need for cozy camping, including plush sleeping bags and weatherproof tents.
Best Hotels and Resorts for a Utah Honeymoon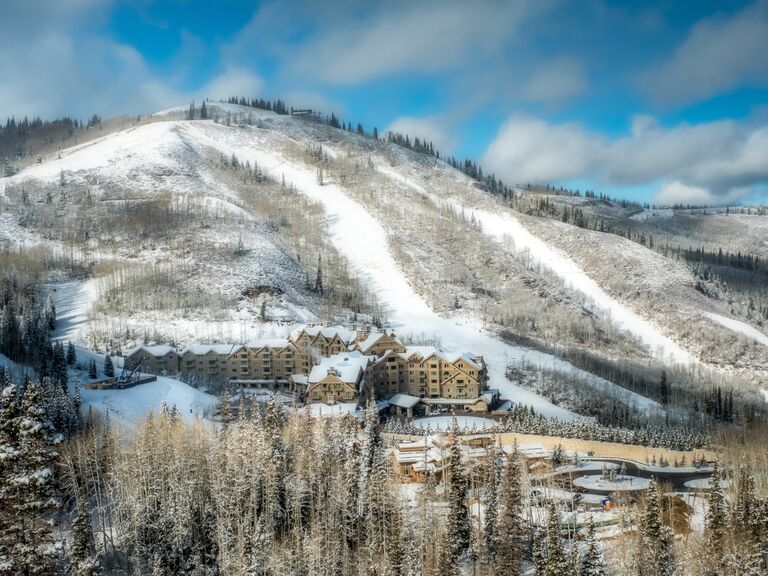 Amangiri is one of the most unique, romantic resorts in the entire country, and you'll have to pay a steep nightly fee for the privilege of experiencing it. The five-star resort is built deep into the Colorado Plateau, and is designed to fit flawlessly into the landscape; its modern buildings, open-air living spaces, roomy suites and even pool feel as though they're a natural part of the scenery.
Amangiri has attracted more than its fair share of celebrities, probably because of the adventures: Each room at Amangiri includes access to an adventure specialist who will plan a custom honeymoon itinerary, from horseback riding along the Red Vermillion Cliffs to helicopter rides and guided canyoneering tours. The outdoor adventures—and the luxury—are endless.
If you love the natural, outdoorsy vibe of Amangiri but aren't too keen on the price tag, consider Under Canvas Zion. The glamping resort is near Zion National Park, and each tent has luxury bath products, comfortable furnishings, and access to camp activities like morning yoga and evening s'mores. Utah honeymooners will want to book the "Stargazing Suite," which has a large window above the bed so you can snuggle while watching the heavens late at night.
A treat any time of year (but especially in the winter thanks to its ski-in, ski-out access), Montage Deer Valley is regarded as one of the country's most elegant ski resorts. In addition to everything you'd expect from a high-end Park City hotel—like a top-notch spa, several high-end dining options and outdoor fire pits with mountain views—the Montage has great proximity to downtown Park City. That's the starting point for exciting outdoor adventures like taking a sleigh ride to a four-hour, Norwegian-inspired dinner on a mountaintop.
Note that Deer Valley is one of the country's few remaining ski-only resorts, so if you're snowboarders, you'll want to get lift tickets for nearby Park City Mountain Resort instead.
If you want to explore Canyonlands and Arches, stay at the budget-friendly Springhill Suites Moab. The hotel has large rooms, free Wi-Fi, several pools and a fabulous mountain-view patio for sunset cocktails. It's a great honeymoon hotel if you want to save money on lodging and spend it on activities instead.
You'll be just a few minutes from the entrances to Canyonlands and Arches, as well as Dead Horse Point State Park, a destination arguably as pretty as a national park, but far less crowded. Springhill Suites Moab also partners with the nearby Moab Adventure Center to offer vacation packages that include lodging and activities like whitewater rafting and off-road safaris.
What to Pack for a Utah Honeymoon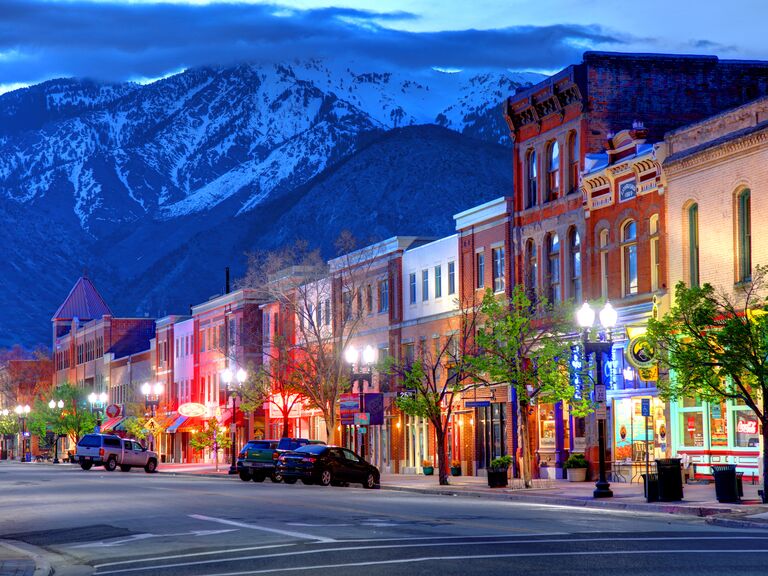 Packing for Utah is easy—bring seasonally appropriate outdoor clothing for the daytime and a few cool jackets for the evening. If you're visiting in the winter, bring ski and snow clothing, as well as hats, gloves and waterproof boots.
If you're visiting outside of winter, stick to hiking shoes, moisture-wicking clothing and a lightweight windbreaker. Most honeymoon resorts have pools, so bring a swimsuit or two as well. Don't forget to bring a reusable water bottle, sunscreen and sunglasses, as it's easier to get dehydrated in the dry, high-desert landscape.