9 Men's Vacation Outfits, by Destination
Sit back, relax and enjoy your trip—without the added stress of trying to decide what to wear.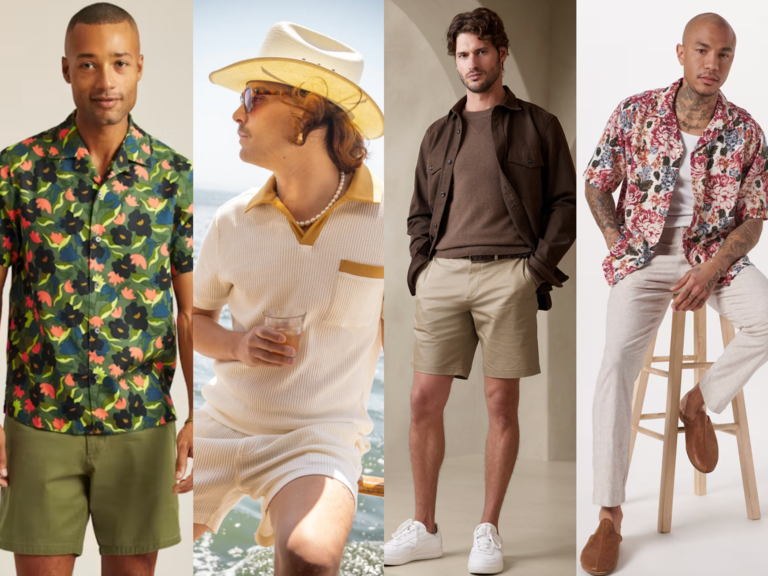 Photos, From Left to Right: Bonobos, Dandy Del Mar, Banana Republic, Abercrombie & Fitch
We have included third party products to help you navigate and enjoy life's biggest moments. Purchases made through links on this page may earn us a commission.
Whether you're about to head off to your bachelor party, honeymoon, destination wedding or an anniversary trip with your significant other, packing men's vacation outfits for a trip can feel more stressful than it should. Standing in front of your closet and staring at your wardrobe, it can suddenly feel like you have absolutely nothing appropriate for the seaside destination you're heading to. At the same time, finding the perfect men's vacation clothes at the store can also feel overwhelming.
That's why we've done the work for you. No matter where you're headed or why, the below casual outfit ideas are ideal for spending some time by the beach. They're lightweight, comfortable, easy to pack and versatile, and most of them consist of items you can wear at home too. From the shirt to the shoes and even the accessories, we've got you covered.
9 Men's Vacation Outfits for Beach, Sun & Fun
You want to be comfortable and cool on a beach vacation, but you also want your outfits to be impressive – especially if all eyes are going to be on you, like at a bachelor party or your honeymoon. Opt for easy basics that can go from day to night or beach to restaurant. Keep your looks functional and simple, but don't shy away from fun prints and colors.
French Riviera Vacation Outfit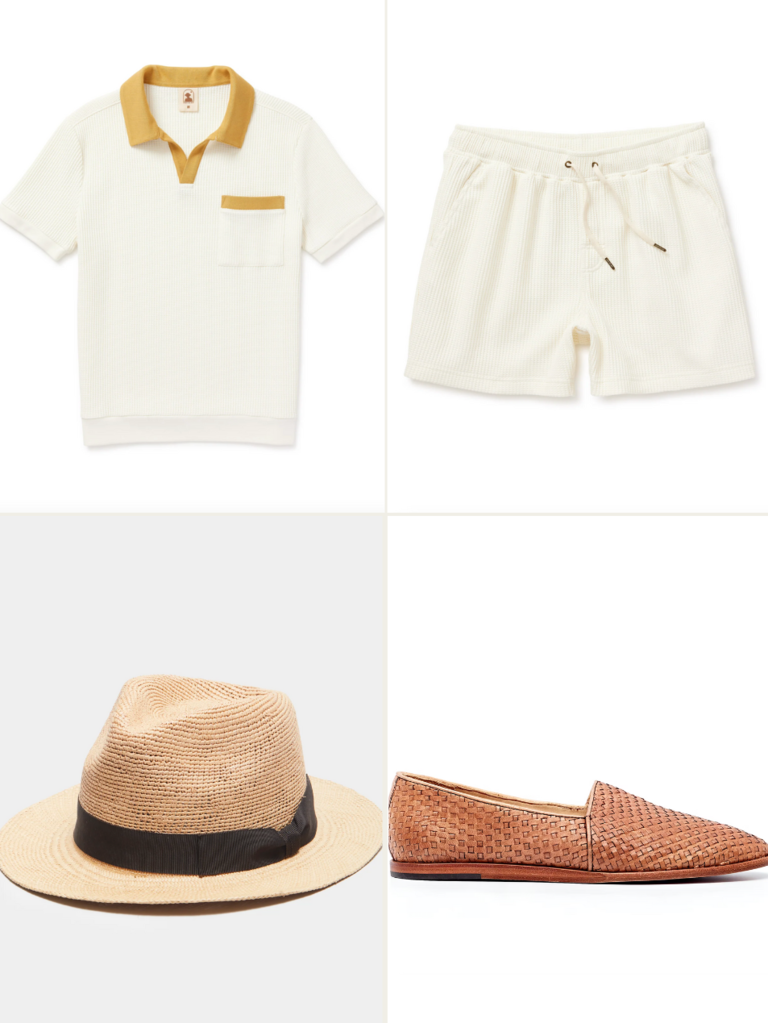 Heading down to Cannes, Nice or somewhere else along the Mediterranean coastline? You want to look chic, yet laid-back, and also vaguely luxurious (without having to spend too much money). Since you'll likely be spending time on the rocky beaches, grabbing meals by the water, and meandering through some seaside villages, you want outfits that are comfortable but still impressive. This matching ivory shorts and shirt set feels more elevated and ideal for wedding vibes. It's made of a comfortable waffle knit material that can easily take you from a day on the yacht to cocktails at the bar. The shoes can be worn again and again, and the hat protects you from all that sun.
Montauk Vacation Outfit
Casual and vaguely preppy, Montauk, New York features a very low-key beachy style that is still nice to look at. Whether you're headed to Montauk, the Hamptons or somewhere else on the East End of Long Island, you'll want to wear something that makes you feel like you fit in. A crisp white polo like this one is a versatile pick that can easily go from day to night, and we love the navy blue trim on this option that makes it stand out a bit. Neutral shorts are another versatile option, and navy boat shoes will work whether you're shopping or heading to the beach. Throw on a linen overshirt at night when it gets chilly.
Santorini Vacation Outfit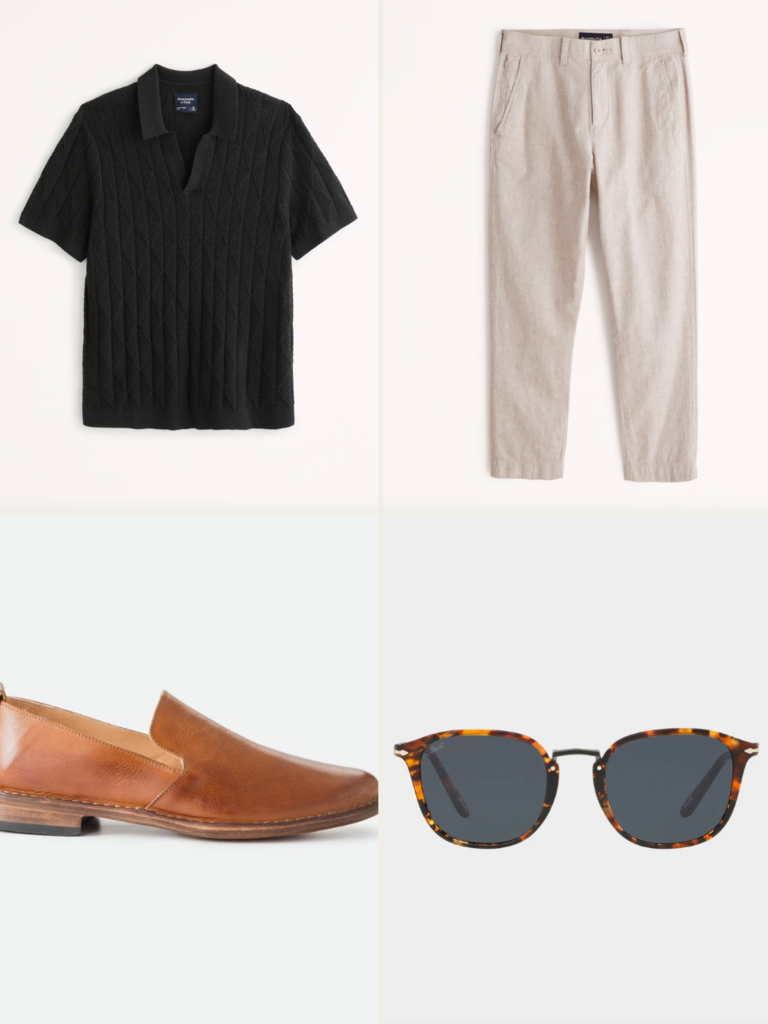 A good pair of linen pants is a great staple to have for any beach vacation, especially somewhere very warm and trendy, like Santorini. They can easily be worn from day to night, and it's okay if they get a little wrinkled in your suitcase. We like this pair from Abercrombie, which has a slightly loose and comfortable feel. A knitted polo offers some nice texture and contrast, and is great for chillier nights. Add some stylish loafers for going out for dinner or to get drinks, and some sunglasses for the afternoons.
Miami Vacation Outfit
Heading to South Beach? Don't shy away from bold patterns and brighter colors, but also remember to keep yourself as cool as possible: South Florida gets really hot at certain times of the year. Dock shorts are easy and breezy, with no belt required, and when paired with a fun patterned shirt like this one, can easily be worn at night as well. For daytime trips, keep it simple with white sneakers. A leather watch is always a nice touch, and this one comes in at a budget-friendly price point.
Southern Italy Vacation Outfit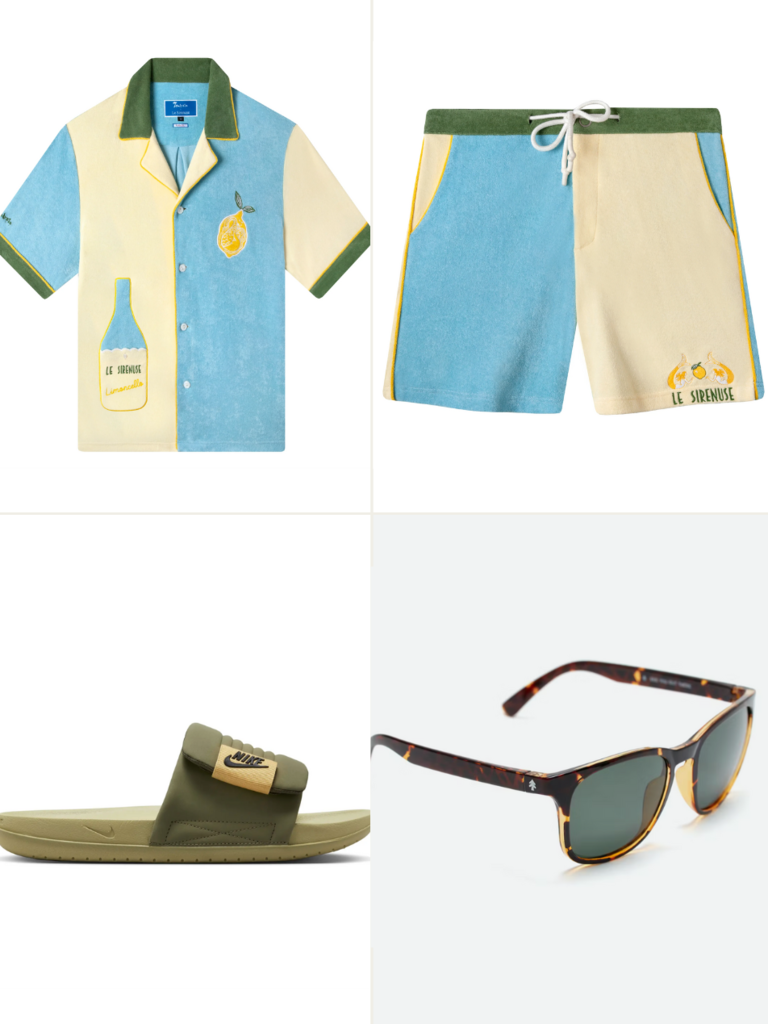 Spots in Southern Italy like Positano, Amalfi, Capri and Sorrento call for items of clothing you might not usually find yourself wearing. A super comfortable matching set like this one is perfect for all of the activities: wear it when hopping on a boat for a daytrip, going to a beach club for the day, or heading out to get a few slices of pizza. Casual and comfortable slides are the way to go for the hilly terrain and easily take you from sand to pavement. Don't forget the sunglasses – not many other accessories are needed with this comfortable and casual look.
Yacht Trip Vacation Outfit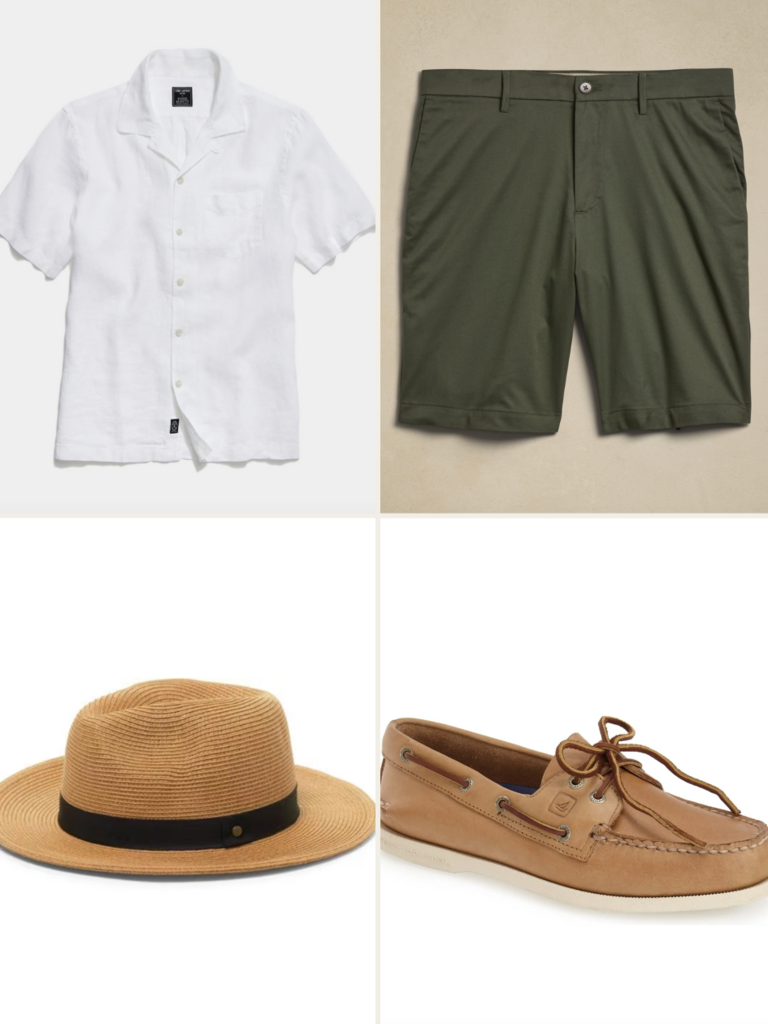 No matter where you go, spending some time on a yacht (or, let's be real, any type of boat) seems like it requires some sort of outfit that screams quiet luxury. A great men's vacation outfit that works for multiple destinations, including a yacht trip, is a lightweight white linen shirt, shorts, and a pair of boat shoes. You can't go wrong with that formula. Add a straw hat for some extra sun protection and style, and you've got a look that will get you through pretty much anything.
Tulum Vacation Outfit
Button downs or polo shirts in neutral colors are a great option for any men's beach vacation outfit, but don't forget to have some fun with patterns and prints too, especially if you're going to a colorful spot like Tulum, Mexico. This crochet shirt has a casual yet chic feel to it, and a pair of black performance shorts are comfortable enough for walking around and nice enough for going out to eat. White sneakers are a must for any suitcase, and a silver necklace like this one will work for multiple outfits and add some shine to your look.
Cape Cod Vacation Outfit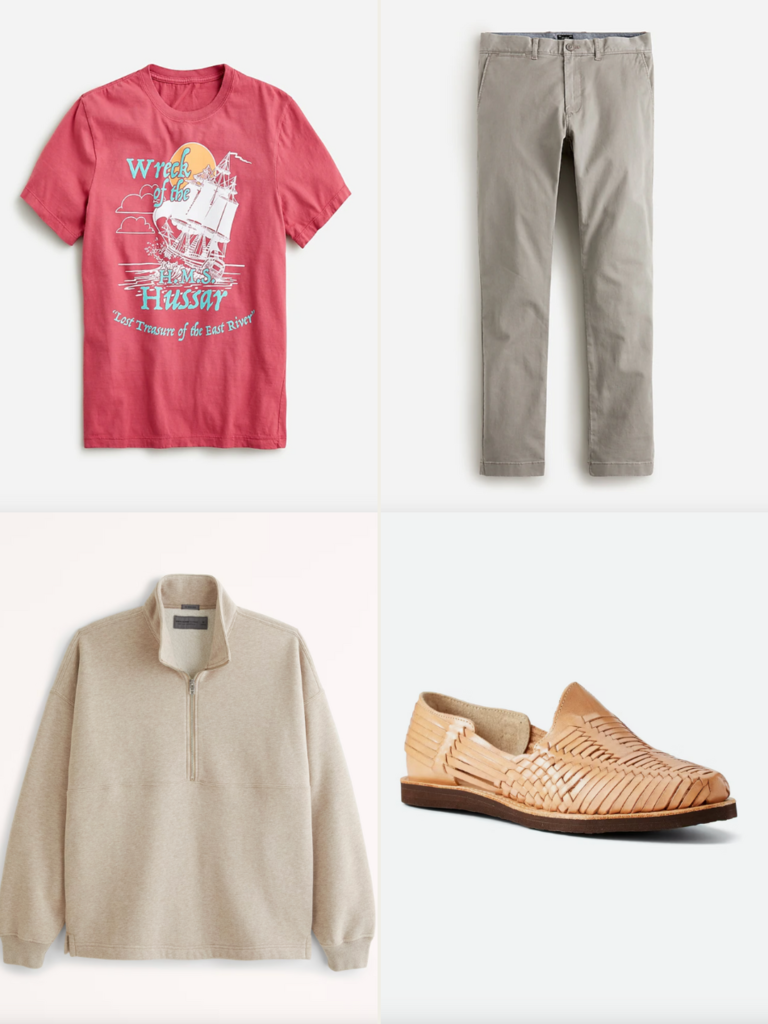 If you're headed to Cape Cod, Rhode Island, somewhere in Maine or another New England destination, you'll want to pack vacation outfits that look casual yet preppy. This lobster t-shirt is perfect for daytime outings, especially if you're going to grab a famous lobster roll somewhere. Stretchy chino pants are another versatile staple and are a more elevated option (and more lightweight) than jeans. Add nicer loafers to dress up the t-shirt and keep a sweater on hand for those chilly nights.
Tropical Island Vacation Outfit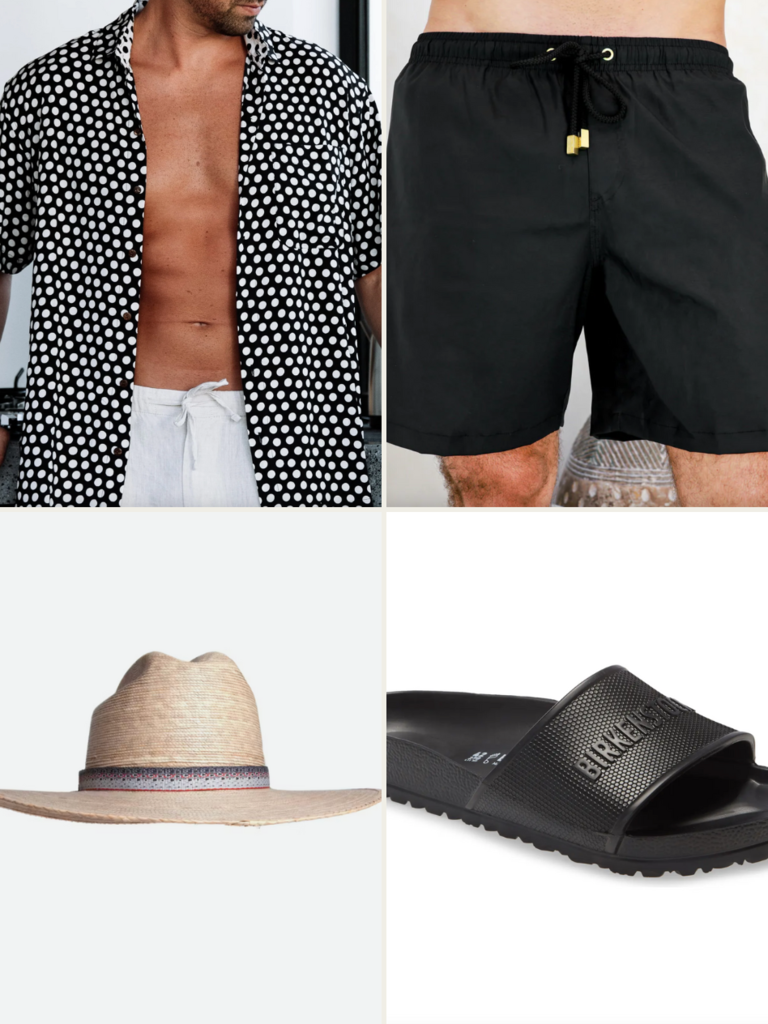 You don't want to be caught without a swimsuit in the Caribbean. When looking for men's island outfits, you want your look to be casual, yet still stylish enough that you never feel totally underdressed. Pairing solid colored bathing suit bottoms with a fun printed button down shirt is a good way to go from the beach to a restaurant or out shopping. Keep it simple with sandals that slide on and off, and add a hat to make your look even more chic.
What to Look for in Men's Vacation Clothes
A beach vacation calls for specific types of clothes. Whether you're going to the Caribbean, having a European summer, or staying stateside on the East Coast, you'll want your overall look to match the vibe of your location but still be versatile and functional.
Airy, Lightweight Fabrics
At the beach, the days are sunny and super warm, so you really want to stick with clothing that will keep you cool and comfortable whether you're on a touristy outing or relaxing on a boat. Linen is the best option, since it's so light and easy to pack, and cotton is another breathable choice that will keep you cool. Look for loose, light pants like chinos or linen pants instead of heavy jeans. For tops, cotton polos or breathable button-down shirts are your best option.
Functional Accessories
Since you may not have a lot of room for accessories in your suitcase, you want the ones you do pack to be versatile and useful. Having at least one great hat on hand is a great choice – it protects you from the sun and makes almost any outfit look instantly more elevated. And sure, a baseball hat works, but a straw hat feels right for the beach. Sunglasses are a must for sun protection, and a nice piece of jewelry is a good way to make your outfit more stylish.
Layering Pieces
Look for lightweight sweatshirts or button-down shirts to use as layering pieces over your outfit. It can quickly get chilly and breezy by the beach at night, so you want something that is easy to grab and bring with you. A neutral colored half-zip or a linen button-down shirt are both vacation clothes you can't go wrong with.
Easy Basics
Think solid-colored shorts or polo shirts that can be matched with a variety of things, like bathing suit bottoms or basically any kind of patterned shirt. These will go far, especially if you're going away for a while and need a lot of clothing options.
Comfortable Shoes
You want your shoes to keep you cool and comfortable when walking, especially since you may be doing a lot of that. Slip-on shoes, slides or loafers are all great picks for warmer, beachy weather. Flip-flops may not be as comfortable as they seem. Boat shoes are another great choice, and having at least one pair of white sneakers is basically a must.