19 Interactive Reception Amenities Your Guests Will Love
These interactive reception ideas will get everyone out of their seats and make your wedding memories last.
What's the secret to a memorable wedding reception? Anything and everything that keeps your guests (and you!) talking, smiling, laughing, dancing and eating—in no particular order. No one wants their guests in their seats all night, so check out these interactive reception ideas that will make people have fun and talk about your wedding for years to come. Make these ideas your own and incorporate them into your reception.
1. Date Night Ideas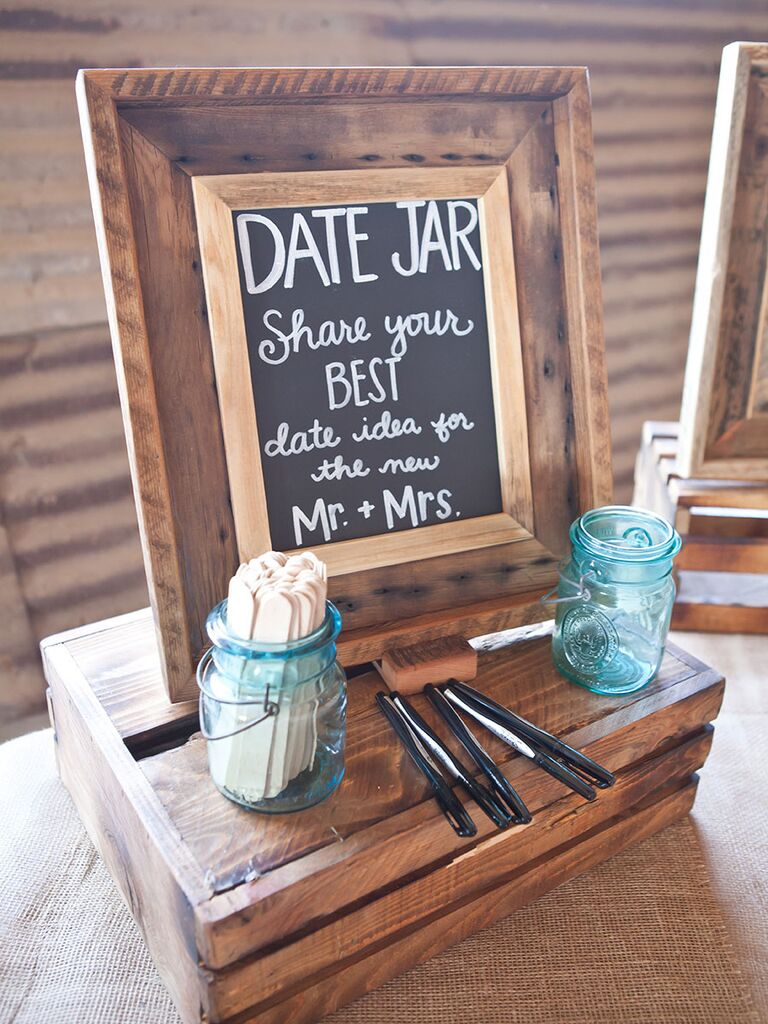 Let everyone contribute their two cents with a date night suggestion. Place this next to your guest book so friends and family participate in both.
From: A Rustic, DIY Wedding at Santa Margarita Ranch in Santa Margarita, California
2. Quilt Signing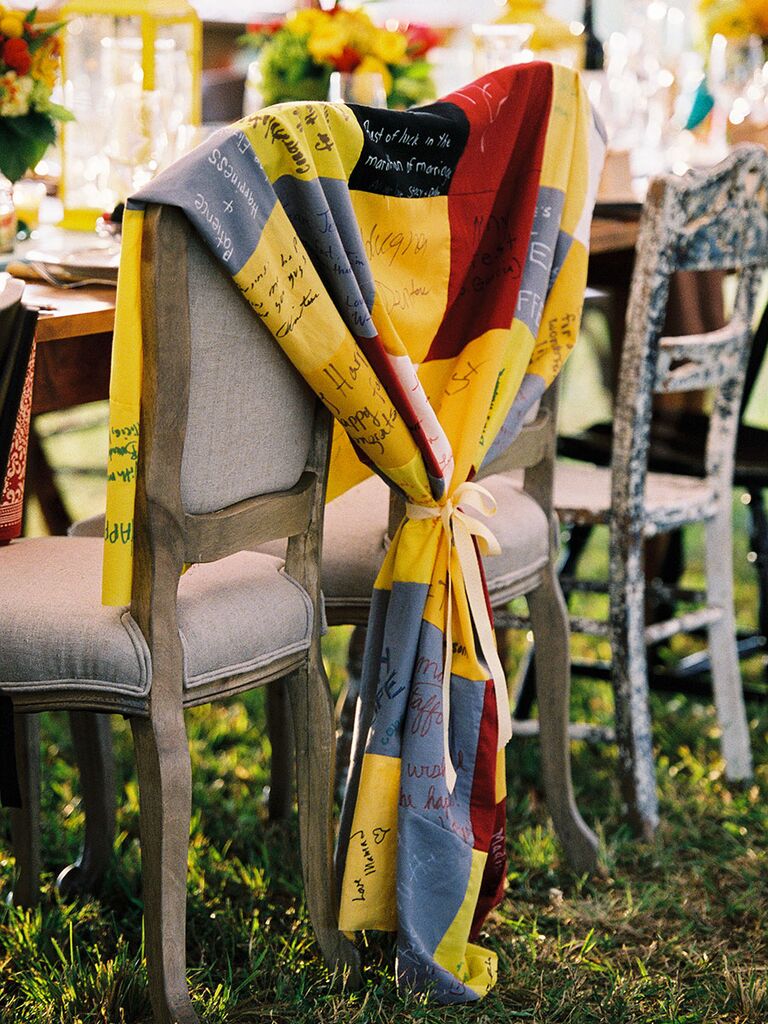 Everyone will have fun reading the messages from other family and friends. In addition to a guest book, this is a fun twist on signatures from your guests.
From: A Fiesta-Style Wedding in Scottsville, Virginia
3. Photo Booth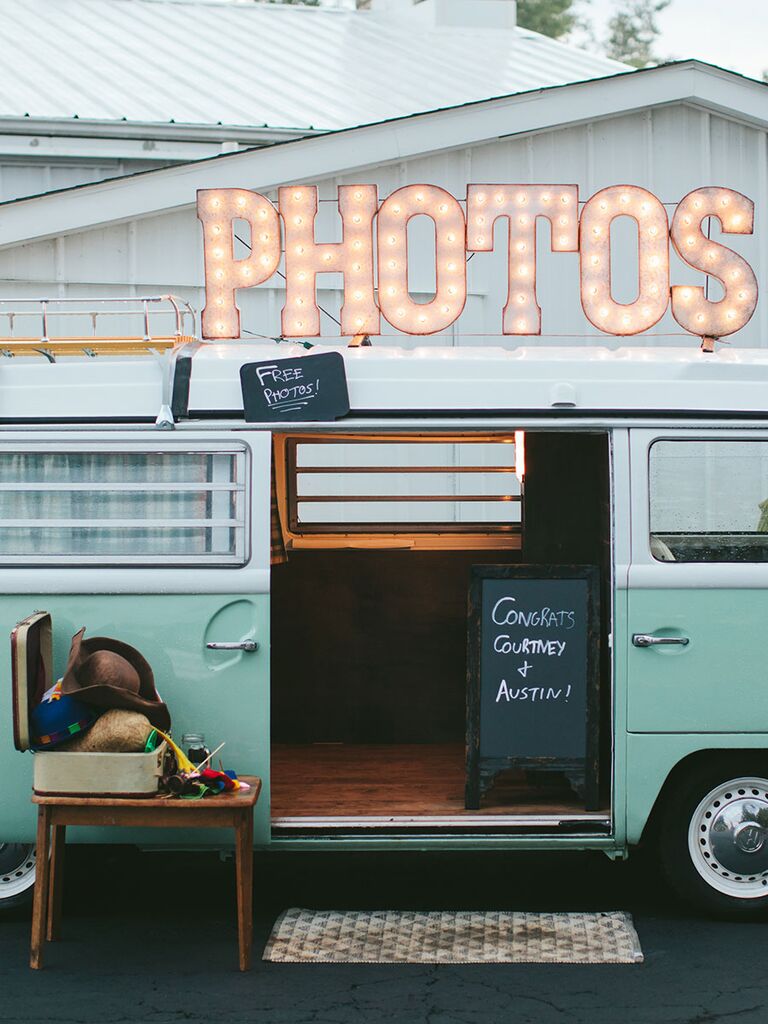 This is a classic amenity that never gets old—everyone loves a photo booth. Plus, digging through a box of props always creates some laughs.
From: A Rustic, Elegant Wedding at Dorral Farm in Marysville, Ohio
4. Framed Signatures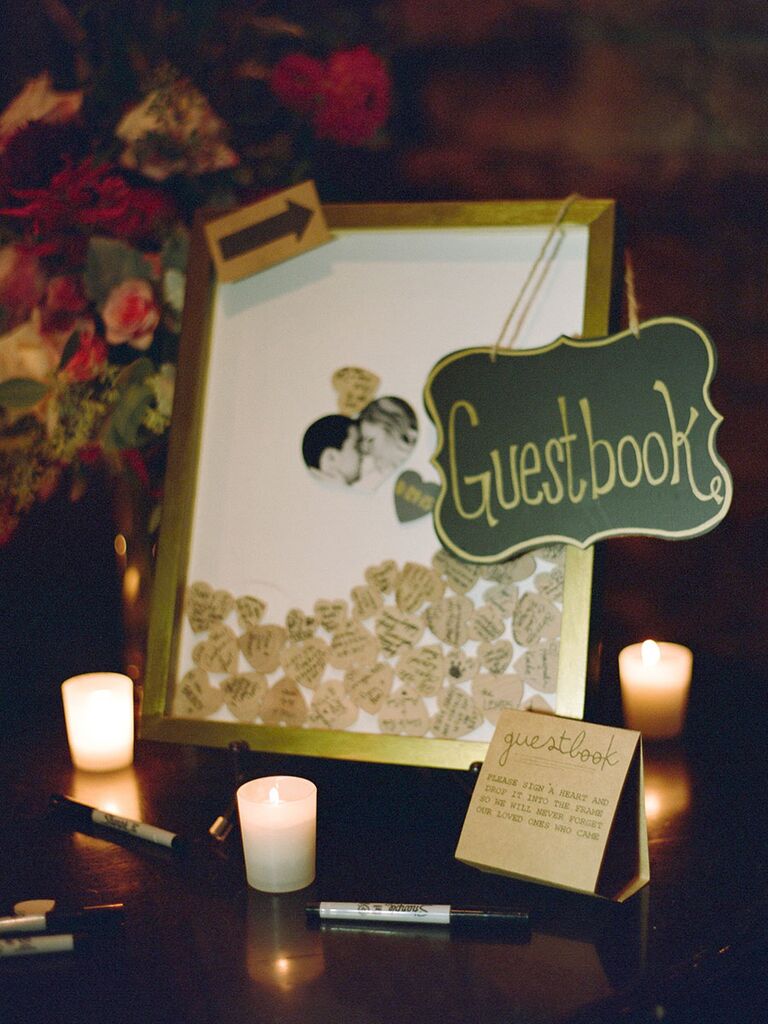 Instead of a traditional guest book, have guests sign their name and slip it through a slotted picture frame. Then hang it in your newlywed nest.
From: An Intimate Summer Wedding at Lucas Park Grille in St. Louis, Missouri
5. Polaroids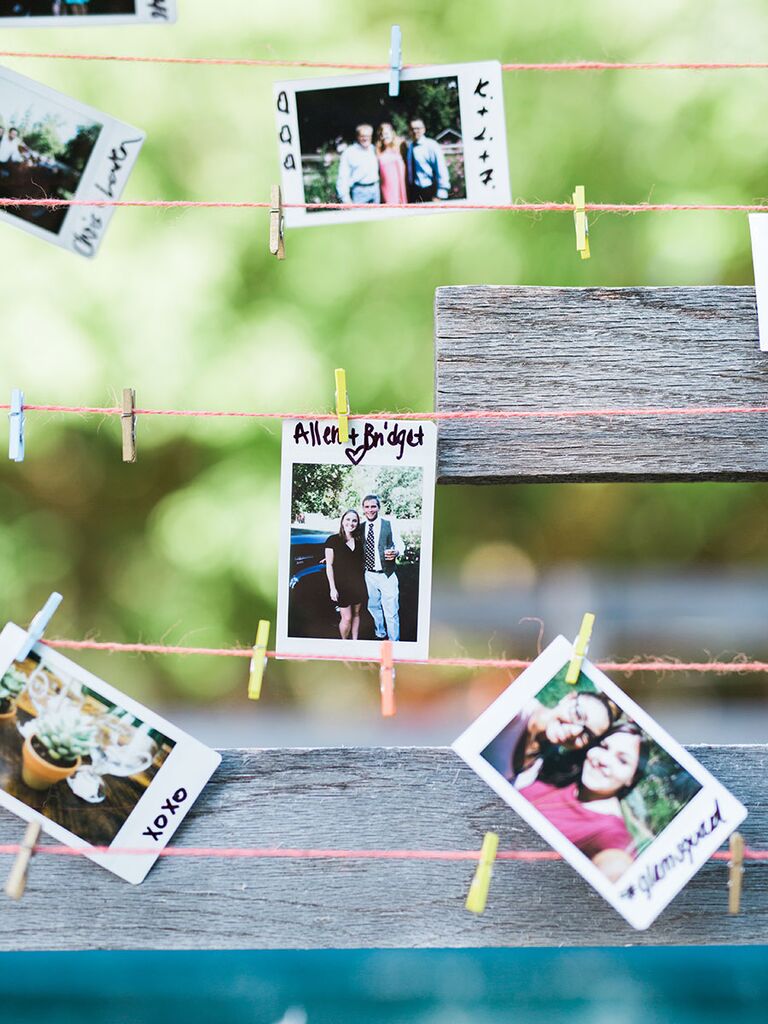 Encourage everyone to take polaroids of each other throughout the reception, and then invite them to pin their photos on a photo wall.
From: A Colorful Farm Wedding With DIY Details at Lyons Farmette in Lyons, Colorado
6. Surfboard Signatures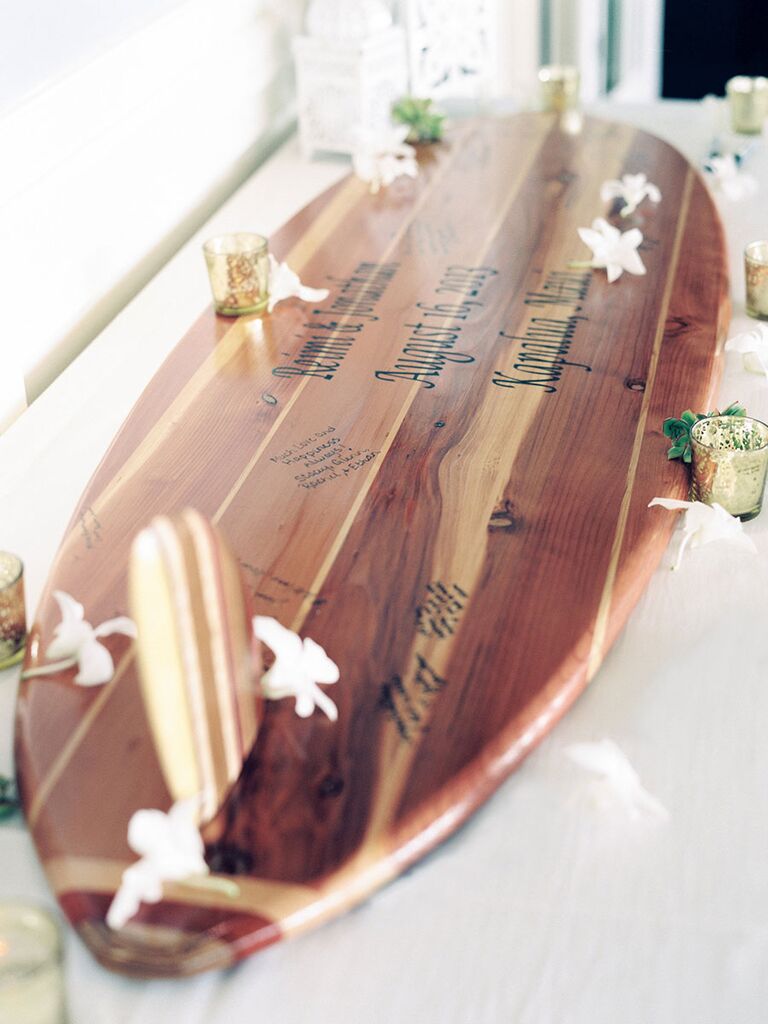 For the beach-loving couple, replacing a surfboard for a guest book is a no-brainer.
From: A Romantic Hawaiian Wedding in Kapalua, Hawaii
7. Handmade Frames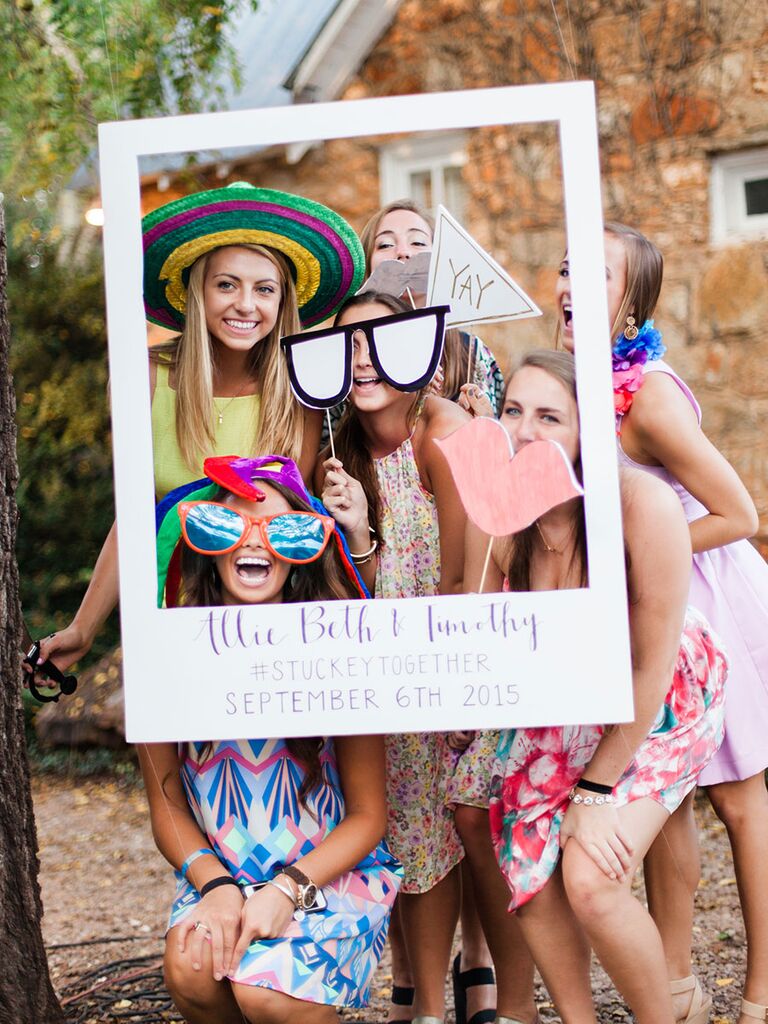 Create a cutout of a photo frame and brand it with your wedding hashtag. Throw in some costumes and let your guests go wild.
From: An Organic, Garden Wedding at the Hill in Athens, Georgia
8. Build-Your-Own-Dessert Bar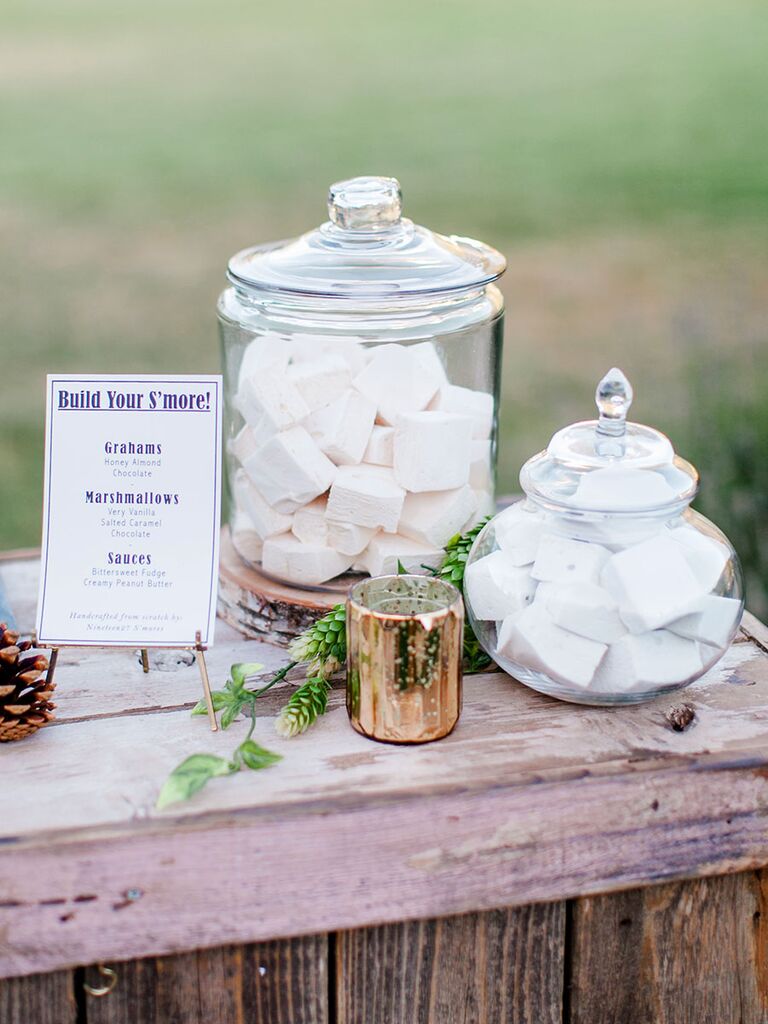 One word: s'mores.
From: A Romantic Outdoor Wedding at Wind Mountain Ranch in Stevenson, Washington
9. Play on Words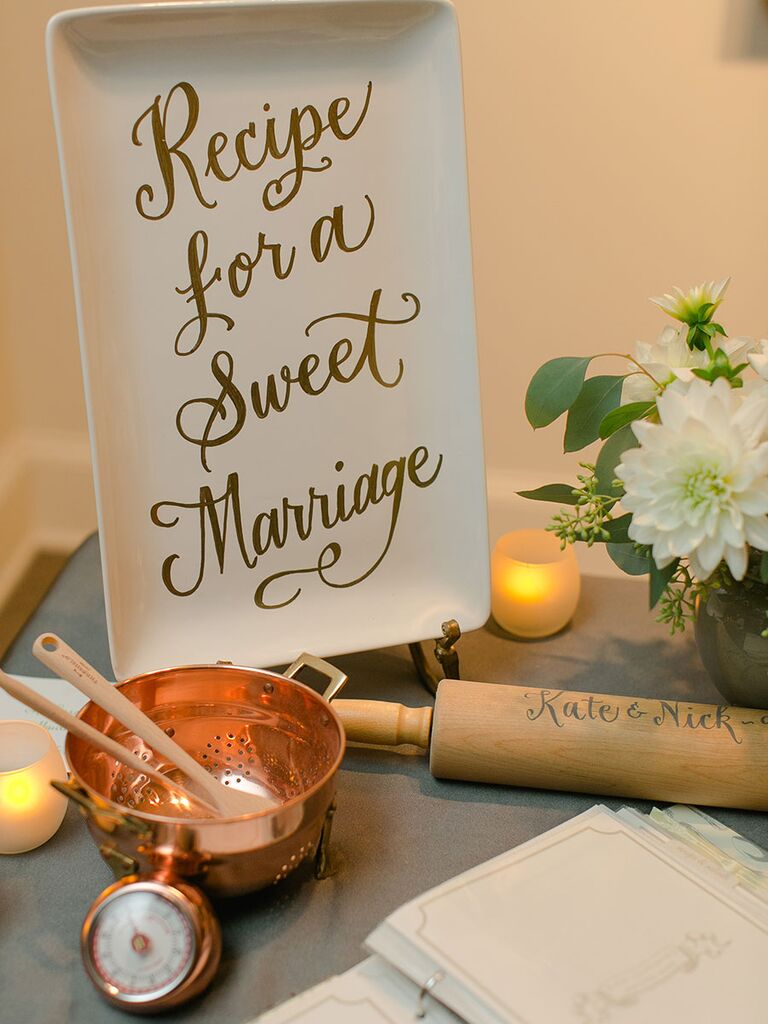 No, these aren't recipes! Get creative to spice up the look of your guest book, like this bride who incorporated her work as a baker into their guest book.
From: A Classic Wedding at the National Museum of Women in the Arts in Washington, DC
10. Wine Bottle Notes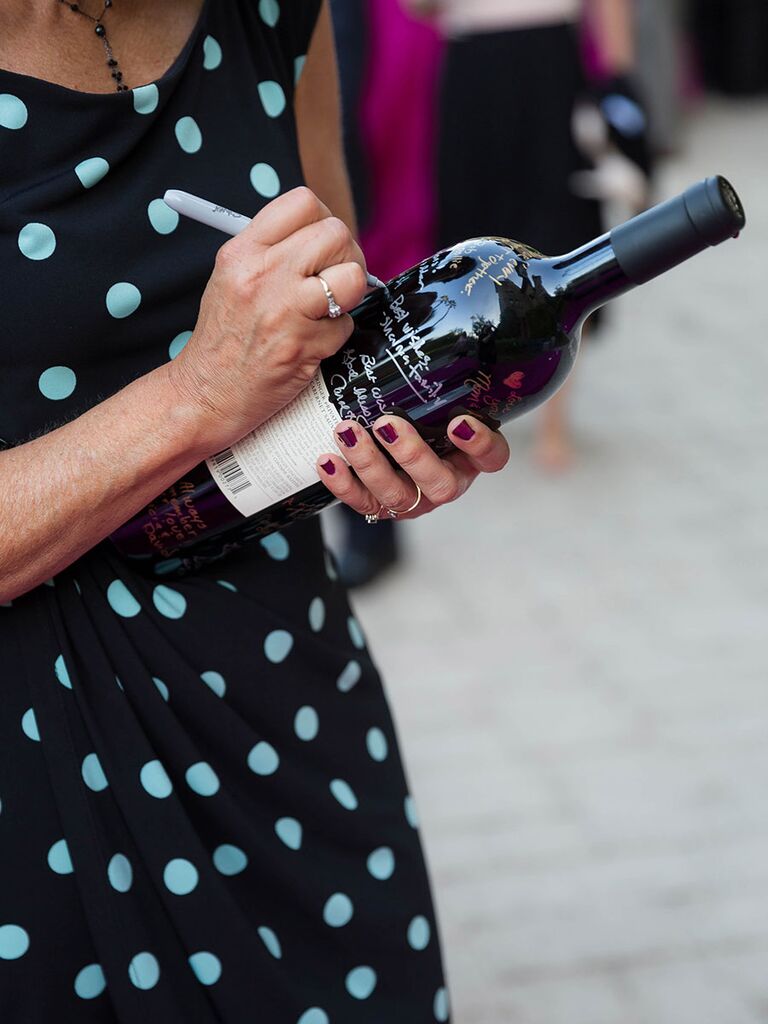 Choose a wine that will last until your first anniversary so you can reread the messages from your friends and family while you celebrate.
From: An Elegant Wedding at the Culinary Institute of America at Greystone in St. Helena, California
11. Post Cards
Ask everyone to choose a postcard and sign the back. Store them in a vintage travel suitcase to take your theme to the next level.
From: A Romantic, Fall Vineyard Wedding at Chalk Hill Estate Winery in Healdsburg, California
12. Reception Games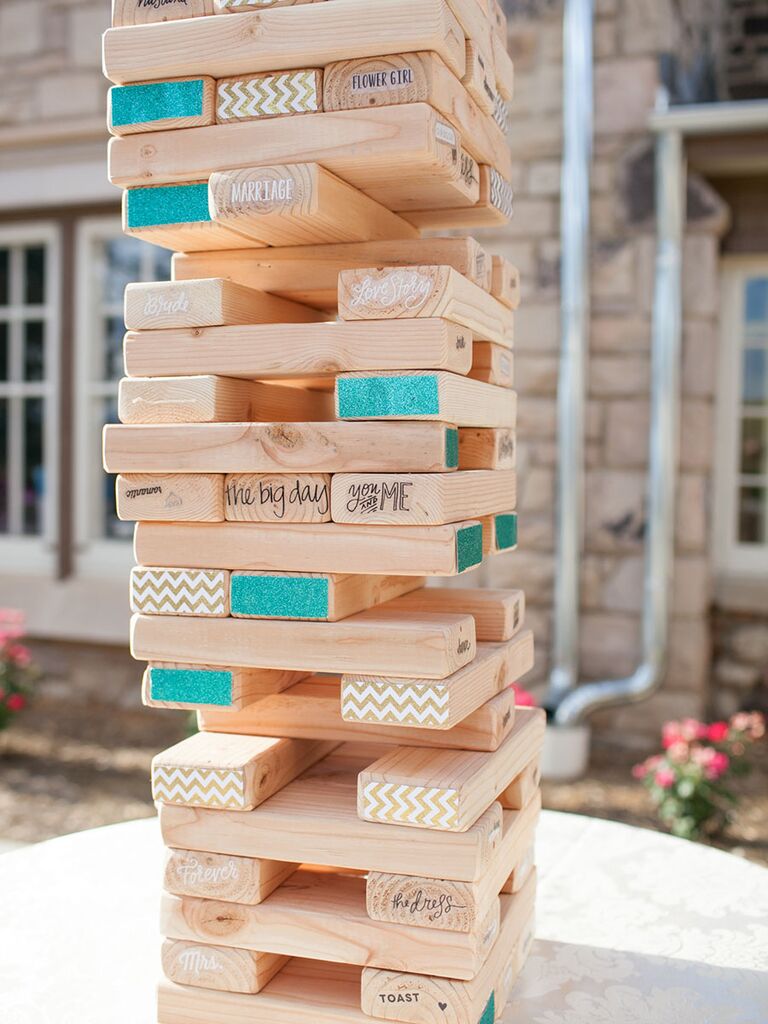 This bride hand-painted a game of Jenga for guests to play during the reception. But that's not your only option: Cards, oversize checkers or anything from your childhood work too (and, bonus, it will be a big hit with kids).
From: An Elegant, Space-Themed Wedding at Highlands Ranch Mansion in Highlands Ranch, Colorado
13. Message in a Bottle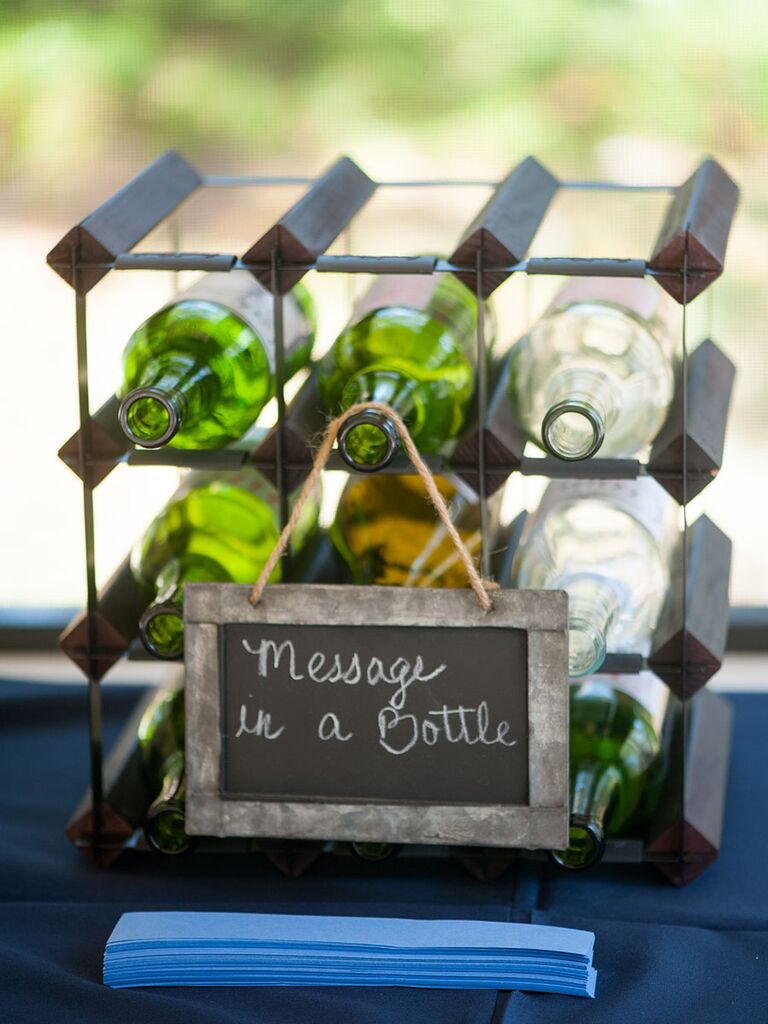 Ask your guests to share well wishes or advice and put their message in a bottle. It's perfect for a sandy beach celebration.
From: An Elegant, Space-Themed Wedding at Highlands Ranch Mansion in Highlands Ranch, Colorado
14. Guest Map
Not only will this get your guests out of their seats, it can double as décor in your home. Ask guests to pin where they live on a map. It will be a fun conversation starter for guests.
From: A Travel Themed Wedding in Brooklyn, New York
15. Key to Success
Invite your guests to share their key to success with you and your partner.
From: A DIY Country Wedding at a Private Residence in Pray, Montana
16. Antique Keepsakes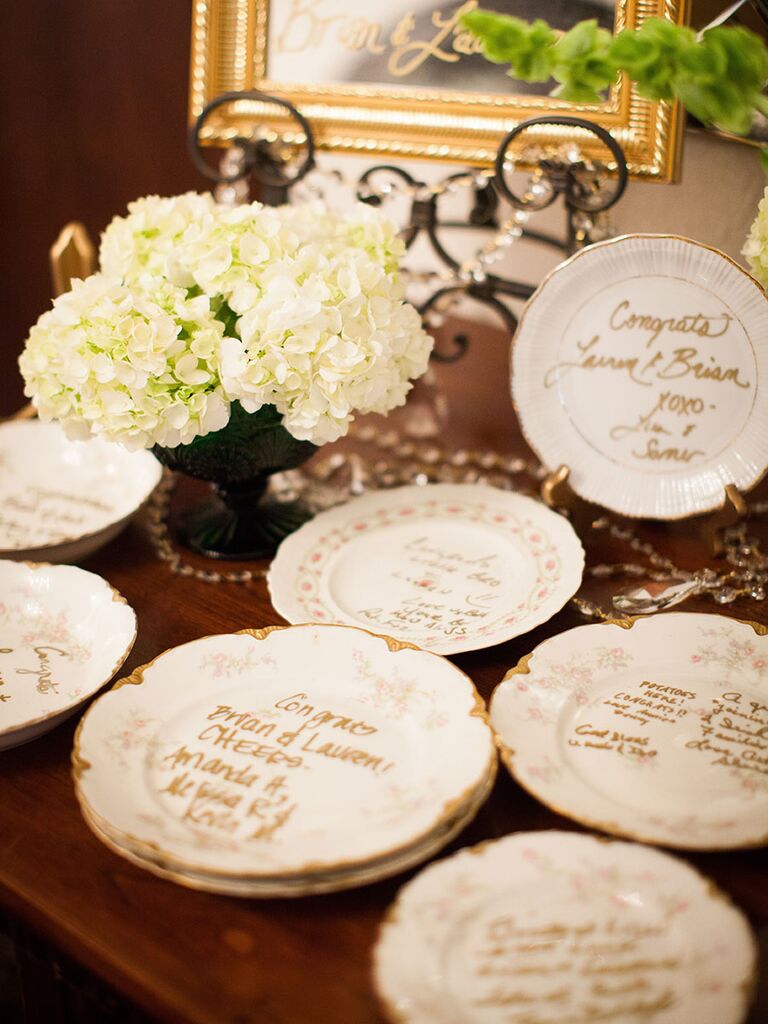 Have everyone sign gorgeous plates with gold messages. The collection can be saved for special occasions or displayed around your home.
From: A Timeless Irish Wedding in Wickliffe, Ohio
17. Lasting Love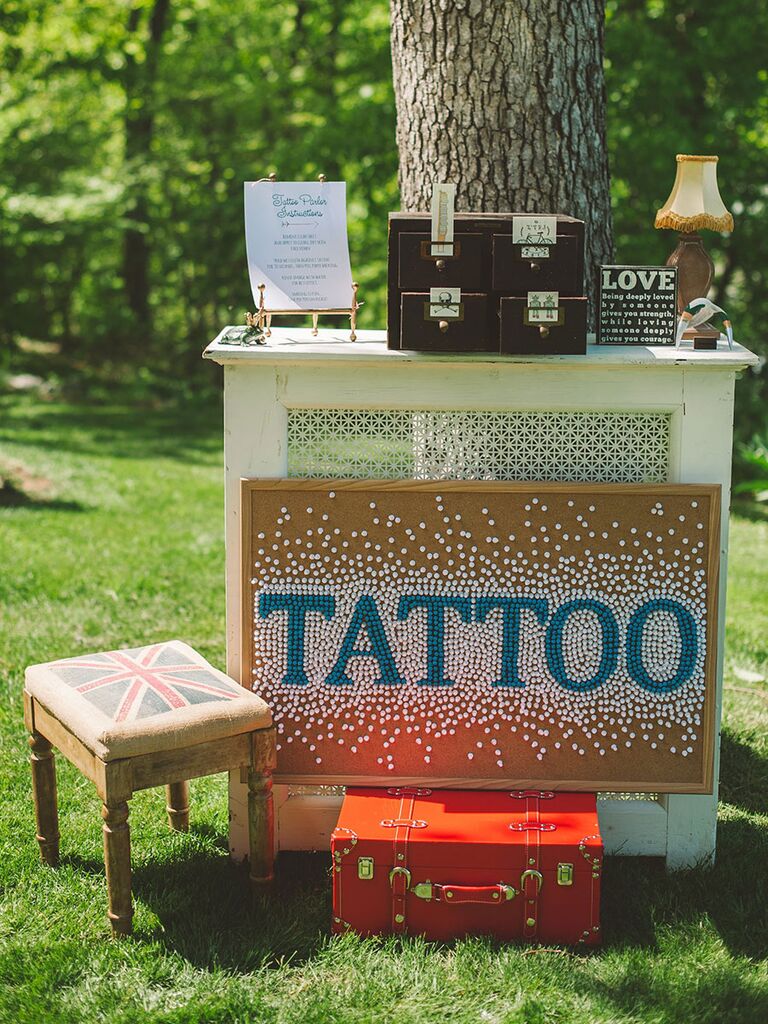 This is one way to make your guests remember your day forever (just kidding!). A temporary tattoo booth is a totally unique concept that'll have your guests excited.
From: A Murray Hill Wedding in Leesburg, Virginia
18. Wine Barrel Signatures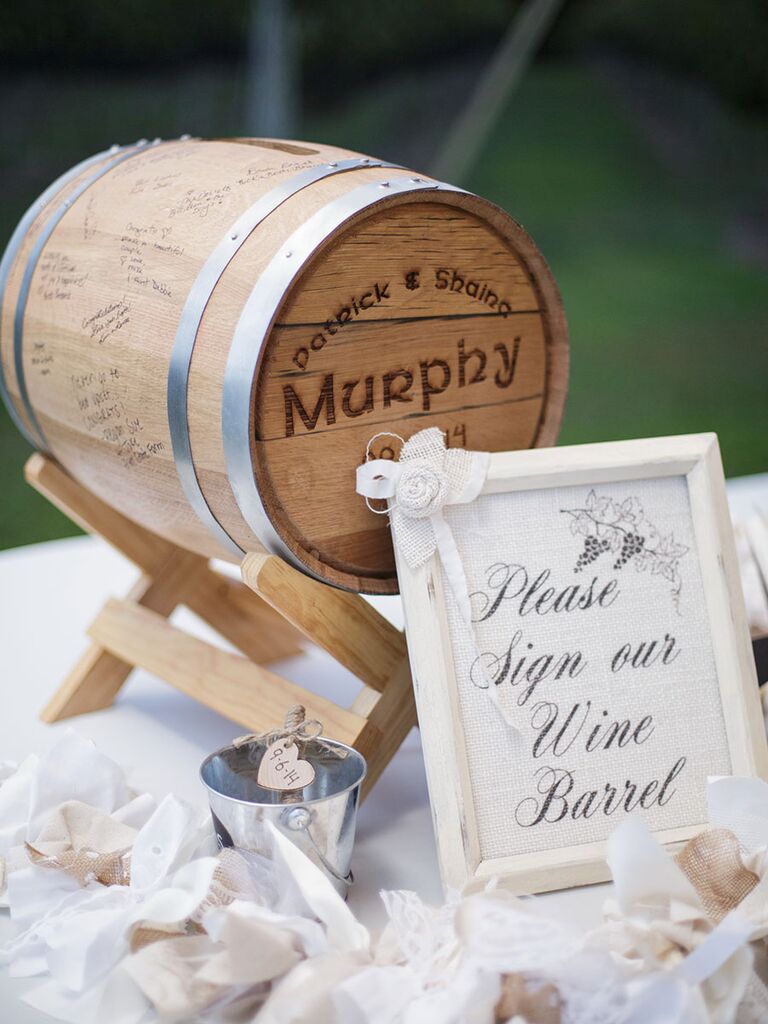 For the vino-loving couple, a mini wine barrel branded with your names and wedding date adds a subtle, personal touch to the typical guest book.
From: A Backyard, Vineyard Wedding at a Private Residence in Bryantown, Maryland
19. On-Site Poetry Writer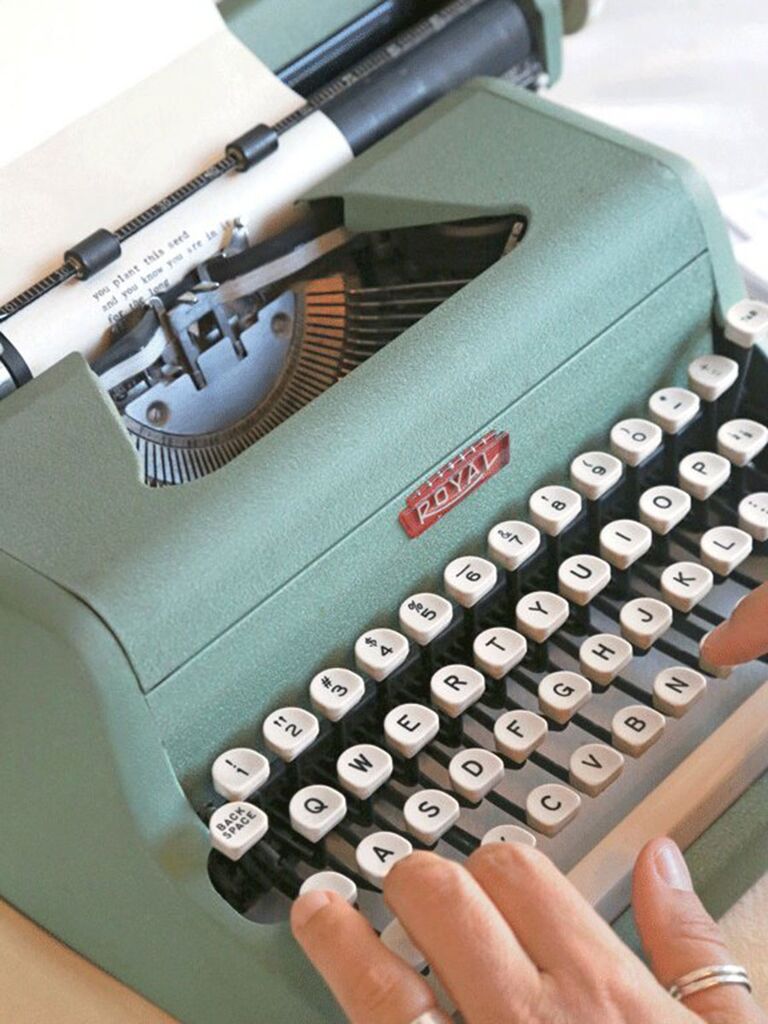 Provide an amenity that's interactive and personalized and will be a hit your guests. This couple even had a writer create custom poems based on one word.
From: A White Beeches Golf and Country Club Wedding in Haworth, New Jersey