5 Wedding Day Slipups Only a Planner Will Know How to Fix
A planner is the wedding fairy godparent you never knew you needed.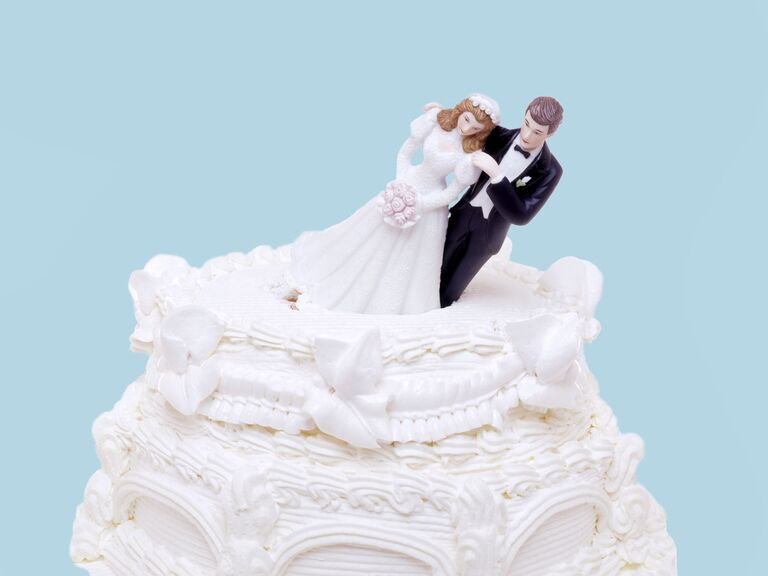 istock
You'd be hard-pressed to find one wedding in the history of weddings that actually went off without a single hitch. Whether the flower girl has a meltdown or the groomsmen oversleep for the ceremony, there will always be something, however big or small, that makes you panic. But don't worry: Allison Aronne, event planner and partner at Fête, is here to share five common wedding day mishaps she and her team see all the time—and how the pros tackle them to ensure a (seemingly) flawless event.
1. Wardrobe Malfunctions
The disaster: You know the story—a broken zipper, loose buttons, snagged lace and a snapped high heel (and that's only one bridesmaid outfit).
Pro fix: "We recommend having a professional seamstress available to make sure everything goes smoothly on the day of. Have them bring a steamer and iron and oversee everyone's wardrobe. For those who don't have the budget for an on-site seamstress, find out if someone in your bridal party or a family member can sew and tie a bow tie."
2. Transportation Hiccups
The disaster: Everyone piles into the limo or party bus to head to the ceremony, but the car ends up taking them to the wrong location. Womp, womp.
Pro fix: "Put a wedding planner on one of the buses. Having someone [either a planner or a designated bridal party member] in charge of knowing the exact address, the best route and the approximate number of people on the bus is extremely helpful. It's also important to review this information with the driver when they arrive."
3. Unprepared Vendors
The disaster: The cocktail hour guitarist leaves his guitar on the train, the drummer forgets his drumsticks, and you're left without a functioning band.
Pro fix: In anticipation of a snafu like the above, Aronne recommends having a Spotify or iTunes backup plan. That way if the guitarist does show up sans instrument (heaven forbid), you can fill the silence with a little jazz or Spanish guitar music while the musician hunts down his strings. "Things like this happen on-site and it's just about thinking on your feet," she says.
4. Inclement Weather
The disaster: It's a tale as old as time, but no matter how intricate your rain dance choreography is, you can't stop Mother Nature from doing her thing.
Pro fix: "Couples stress themselves out by looking at the weather too far in advance, but once you hit that Monday of the wedding week, you'll have a good forecast. The best thing to do, especially with an outdoor wedding, is to be really prepared, whether it's with large golf umbrellas for your guests or, if you see the temperature dropping, ordering fleece blankets in bulk. The climate is very important, and guests' comfort is paramount for an event."
5. Misinformed Band
The disaster: Your grand reception entrance as newlyweds turns into an awkward episode when the emcee pronounces your names wrong (oops) and plays the amped-up, contemporary cover of your first dance song instead of the original, romantic one.
Pro fix: "Having planning meetings and sitting down with your band is vital. Going through the small things in person in addition to on paper, like how you pronounce your names, prevents these mistakes. When requesting a first dance song, there are so many variations of songs that you need to make sure you're on the same page with your band. Checking in on the day of the wedding is also helpful because you can never be 100 percent sure anyone's going to be completely right."
Need a wedding planner? Find the perfect pro for your celebration on The Knot Marketplace.