6 Meaningful Items to Keep in Your Wedding Dress Pockets
A pocketed bridal gown creates a secret space to tuck away a treasured memento.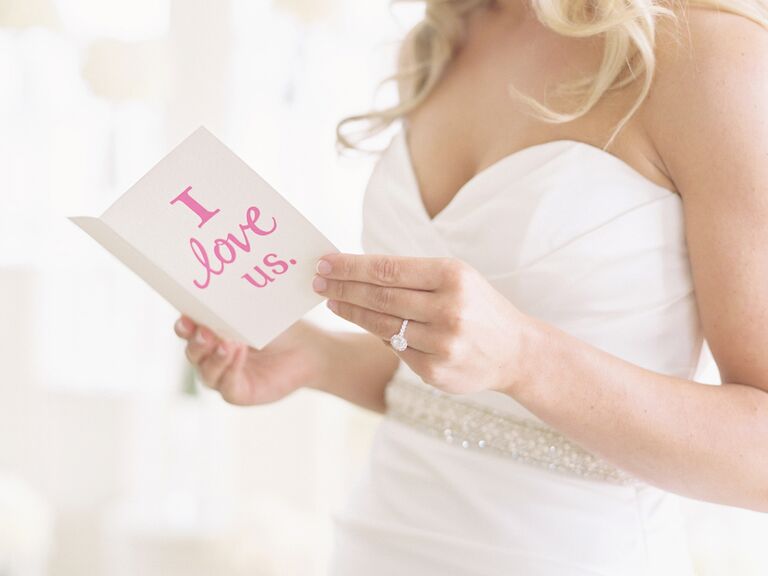 Abby Jiu Photography
Pockets in wedding dresses might have started as a design trend, but they've also proven to be quite practical. When your bouquet moves to the head table and you've yet to be served a cocktail, empty hands feel less awkward—while looking quite sophisticated—when placed into pockets. And don't forget storage—items like lip gloss and tissues are easily stowed away in a quick grab-and-go place. But before you bulk up on too many items, be sure to leave some space for something special. We've rounded up all kinds of tiny, sentimental items that you can discreetly carry with your on your day.
1. Heirloom Hankie
Wipe away joyful tears with a vintage hankie passed down from a favorite female family member.
2. Worry Stone
Feeling a little nervous on your wedding day is to be expected. Tuck a smooth stone to rub between your fingers whenever you need a touch of stress relief.
3. Key to Your Heart
Remember what this day is about: opening the door to a new journey together.
4. Memory Keepsake
Carry with you a memorial of loved ones who have passed, remembering they're always in your heart no matter where you go.
5. Love Note
Keep a folded love note from your soon-to-be spouse stowed away in your pocket to read in the hours before your first looks.
6. Good Fortune
When a fortune from a cookie ends up coming true, it's a keeper.