The 13 Best Wedding Hair and Makeup Pros in Atlanta
Because you deserve to feel as pampered as possible.
If a serious glam session is a top priority for you on your wedding day, then you want to put a lot of time and effort into finding the best possible hair and makeup services. Those getting married in Atlanta, GA will find that there are tons of wedding hair and makeup pros to check out—and when so many of them have great reviews, it can be hard to make a decision. That's why we've done the work for you, selecting a handful of the best Atlanta beauty services to work with local weddings and destination weddings.
If you're getting married in the Atlanta area, you really want to work with a local hair and makeup artist, since they will truly understand the heat and humidity in the area, and work with you to ensure that your hair and makeup looks last all day and night long. It's also ideal to choose a service that has a salon where they might offer pre-wedding prep services, like spray tans, deep conditioning treatments and more. And of course, you'll want to find a pro that's within budget. We read client reviews and checked out long lists of services offered to find the best wedding hair and makeup services in Atlanta. Check them out below.
Formal Faces
Formal Faces is one of the most highly rated Atlanta wedding hair and makeup services for a reason: they offer a wide variety of services for the bride for the wedding day and make the whole experience as easy as possible. One of the things that really stands out about this vendor is their attention to all of the little details. Once you book with them, they create a detailed day-of beauty schedule that takes all of the pressure off of you—they even make it available for you to email it to your wedding party. Bridal consultants work with everyone to create customized looks using high-quality, waterproof makeup that stays put for hours. They provide on-location services in the Atlanta area, which include a practice session where you can really go over exactly what you want.
Review spotlight: "Formal Faces far exceeded my expectations! From the start of booking to wedding day the whole process was seamless. Emily was my bridal make up artist. She was AMAZING. She brought my vision of elegant hair and makeup to life. The entire team wedding day was so personable and genuine. They truly cared about bringing your vision to life. They even finished our makeup and hair early! This made the whole day flow so much easier. I cannot thank formal faces enough for making me feel like a princess for a day! I HIGHLY recommend!"
RefEYEance II Makeup and Hair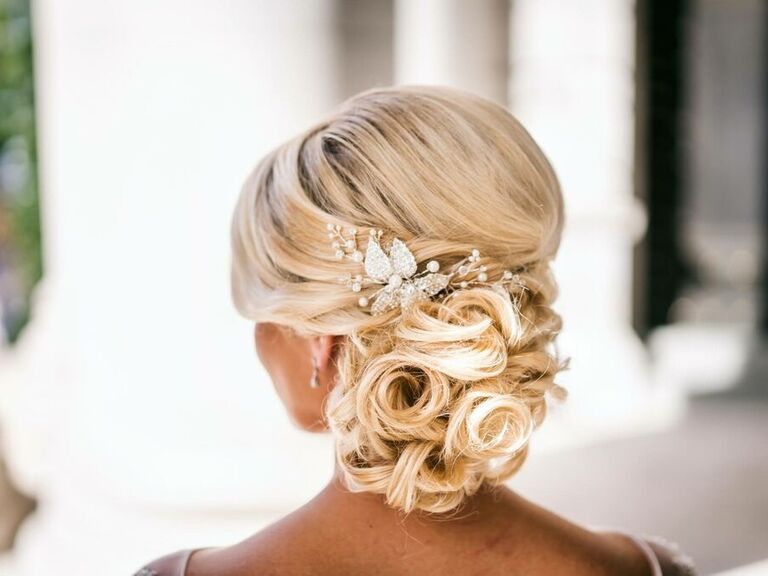 The award-winning team behind RefEYEance II is dedicated to creating a look that the bride and every member of the bridal party truly loves. They are also all about professional training so that they can be the best at what they do. The team was trained in airbrushing techniques by the lead trainers of Temptu, so you can feel confident in the fact that they really know what they're doing, and they take hair-styling classes throughout the year to keep up with the trends. Brides receive a detailed schedule on how the day is going to go a few weeks before the event, so they don't have to think about that part of the day and can rest easy knowing it's organized.
Review spotlight: "Every single girl in my bridal party that got her hair and makeup done absolutely loved it. They were flawless and made all of us look and feel beautiful!"
Beauty by Beé
For brides who want to go for a soft glam look on their wedding day, Beauty by Beé is an excellent option. Owner and licensed Master cosmetologist, Army veteran and mom named Brittneé has deemed herself the "soft glam expert," saying bridal looks are her speciality. She offers premium hair and makeup styling for a wedding, with a focus on diversity and serving all ethnicities. Onsite services are available and she provides a variety of different services that you may not find elsewhere, including blowouts, hair extensions, textured styling and updos and tattoo coverage.
Review spotlight: "Bee and her team were phenomenal! They were professional and personable. Their work is top notch! They work with all skin complexions and all hair textures. Makeup looked incredible. Bee and her team made sure that I felt like the most beautiful girl in the world on my wedding day. Highly recommend!!"
Brushworx Hair & Makeup
Looking for a large team to accommodate a large bridal party? Brushworx delivers with a team of 17 diverse makeup artists who are professionally trained and able to work with anyone of any ethnicity, with a focus on inclusivity. They're available for onsite hair and makeup and are also able to travel worldwide for your destination wedding. They're able to do all sorts of hairstyles and use premium and luxury makeup brands to create looks that last for hours. Services include blowouts, tattoo coverage and lashes, and they can work with whatever style you're looking for.
Review spotlight: "Melissa and Brushworx were absolutely amazing!!! From the makeup and hair trial months ago to my wedding day; the entire experience was beyond my expectations! Melissa made me look and feel gorgeous on my wedding day! My makeup didn't run at all and my hair looked great all night. And my bridesmaids and flower girls loved everything too! I'm beyond happy that I chose them because I couldn't have asked for a better experience! Thank you!!!!!"
Vigilante Makeup & Hair Artistry
Vigilante Makeup & Hair Artistry is willing to work with their clients anywhere, whether it's local or a destination wedding. They have two studios (one in Atlanta and one in Chattanooga, TN) and they can do onsite services and travel. They offer a large team of diverse hair and makeup artists and offer all of the basic services you could need: updos, down-dos, false lashes, airbrush and traditional makeup, blowouts and curls only styling. The team has stellar reviews because of their excellent communication and the way they bring a bride's dream look to life.
Review spotlight: "If you are considering Vigilante for your big day...JUST DO IT! I can't recommend them enough—Lauren did my makeup as well as some of my bridal party, Andi did my hair and some of the bridal party's, and then Kyle did the rest of them. Everything I had ever envisioned for my wedding for how I would look, they brought it to life and then some :) I felt like a princess but still felt like I looked like myself. Everyone else LOVED their hair & makeup too and all of the bridesmaids & my family just looked so amazing. I'm so grateful that I found Vigilante and would definitely recommend!!"
Bombshell Creations
The bride and bridal party might be the usual focus for wedding hair and makeup services, but sometimes the groom likes to get in on the pampering as well. Not every beauty vendor offers men's services, but Bombshell Creations does. For grooms and groomsmen, they offer hair styling, blemish coverage and eyebrow sealing. They also have a variety of bridal packages, which can include clip-in extensions, airbrush foundation and strip lashes. As a nice bonus, they also offer airbrush tanning at their tanning salon in Athens, GA. For regular hair and makeup services, they will go onsite and travel.
Review spotlight: "Bombshell Creations was hands down the BEST to work with for my wedding! Everything was so straight-forward, so easy to book and I couldn't be more grateful. Paige was super great and everyone loved her! She really took everyone's opinions into consideration and was so great to work with. She made sure everyone was happy and the makeup/hair didn't move through the whole wedding day. Thank you!!!"
MayaRenee Beauty
Some wedding hair and makeup services go the extra mile when it comes to little details. That's MayaRenee Beauty. Not only will this vendor do your hair and makeup for the big day, but founder Maya Ladson loves to act as a personal stylist to her clients as well. During your consultation before the wedding day, you'll go over exactly what you're looking for, and she'll help customize a look that works for you (and will later do the same for the wedding party). Based in Marietta, Georgia, she will do weddings in the Atlanta area and other destinations.
Review spotlight: "Maya Renee is an amazing MUA and very professional. Upon inquiring about booking for my wedding party, I received a questionnaire so that she knew exactly what I wanted. Communication was great as she advised in detail what her services included. The day of she was prompt and went over and beyond to make my day special. I will definitely book Maya Renee for any and all of my future MUA needs."
GlamKrazy Hair and Makeup
Patrice Morgan, owner of GlamKrazy Hair and Makeup, isn't just a professional makeup artist. She's also a licensed esthetician, which means she has a great idea of skincare as well. All of the bridal services include a full face of makeup (airbrush as well as traditional), as well as lashes and a touch-up kit to use throughout the night.
Review spotlight: "I could not have asked for a more pleasant experience from beginning to end! On a day so important yet so stressful Patrice made everything makeup and hair seem easy-breezy !!! I mean my bridesmaids adored her and her work just as much as I did and we all looked exactly how we imagined . If I had to get married and do it all again Patrice as the MUA would be one of the things I dare not change ! Thank you for everything you did for me, my hubby loved it, I loved it, everyone loved it."
HT Salon
Located in Alpharetta, GA, HT Salon can accommodate brides and wedding parties in the Atlanta Metro and North Georgia areas. The team is determined to make any vision come to life, especially during the pre-wedding trial where they will talk to you about what you're looking for on the big day. They offer traditional wedding hair and makeup services, like classic makeup or airbrush, as well as services for flower girls and other members of the wedding party besides bridesmaids. For pre-wedding treatments, this is a full service salon that can do extensions, hair cuts and coloring, deep conditioning treatments and hair removal services—basically anything you need to do to prepare for the wedding day.
Review spotlight: "Hollie and her team made me look and feel like the most beautiful bride! I used HT Salon for my engagement photos as well as on my wedding day. My bridesmaids and mom are still gushing over their hair and makeup!! They traveled to my venue and were completely set up by the time we all arrived and stayed on schedule the entire day. We never felt rushed and truly got to enjoy every moment of the getting ready process. Big thanks to Hollie and her team for giving me a flawless face and gorgeous hair for the most important day of my life!"
Lace Cosmetics
If you're just looking for someone to do bridal makeup in Atlanta, it's worth looking into Lace Cosmetics. A highly rated on-location makeup service, Lace puts a big focus on inclusivity and promises to find the perfect makeup look for any skin tone and ethnicity. Bridal makeup includes fake lashes, as well as optional services like an after-ceremony touch-up and makeup application lesson. They also do airbrush tans, on location in their salon or at your location of choice, which is perfect for the bride who wants a sunless glow.
Review spotlight: "Amanda was the best EVER! I have been in a lot of weddings where my makeup was done by a professional but never was the result this amazing. I felt like the prettiest version of myself, and my makeup didn't need to be touched up all night! Amanda was also responsive, kind and professional—which was so refreshing. I would highly recommend working with her."
FIXX Beauty
FIXX Beauty is made up of a team of professionally trained hair and makeup artists in Cummings, GA, but they are able to travel around the state and elsewhere for your wedding. They also provide a variety of services, including traditional and airbrush makeup, lashes, formal hair styling, blowouts and straight styling and extensions. If you want to prep your skin to look its best before the wedding day, you can get in touch with their esthetician to hear their services. FIXX is really dedicated to diversity and also to making every client feel as special and heard as possible. This shows in their five star ratings, where reviewers rave about how easy they are to work with and how beautifully they did their makeup and hair.
Review spotlight: "Renee and her team were amazing!!! I highly recommend the FIXX Beauty team if you are a bride looking for someone on your special day. Renee is responsive, easy to work with, trustworthy and so kind. Caleb was my day-of HMU artist. He showed up on time, efficient, talented and made me feel like the most beautiful bride. Renee and the rest of the FIXX Beauty team took the stress out of hair and makeup."
B.Wild
Brides who don't mind skipping the popular airbrush makeup technique will love B.Wild. Founded by licensed cosmetologist Brandie, B.Wild focuses on manual makeup application and specializes in natural and soft glam looks. This is the Atlanta wedding hair and makeup service to book if your wedding vibe is a mix of boho and romantic. Here's what stands out about B.Wild the most: Brandie only services the bride, so you'll have to get different artists for your bridal party (if you have one). Brandie only services the bride to make the experience as luxurious and comfortable as possible, and aside from doing makeup and hair, she also offers veil placement, skin prep and recommendations that are determined during the trial, custom hair and makeup prep and optional two-hour touch-up period.
Review spotlight: "I love Brandie so much! She worked so hard to make me feel the most beautiful on my wedding day down to even helping me find a good skincare routine in the months before. I received so many compliments from everyone and even gave her contact information to my venue by request because her work on myself and my girls was that good. Highly recommend her if you're looking for someone to make you feel beautiful on your wedding day!"