A Glossary of Photography Terms
Do you know the difference between a first look and a shot list? Read on to decode all the terms your photographer will toss around.
by Amy Levin-Epstein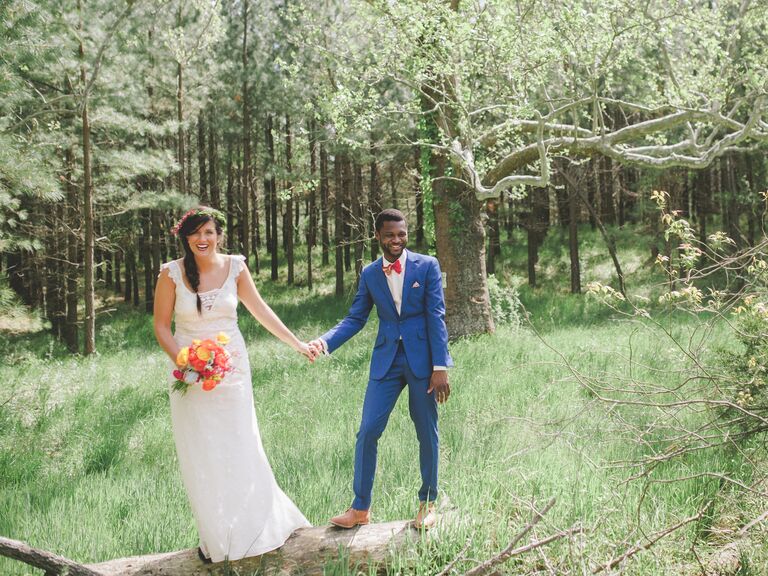 When you start meeting with potential photographers, it can sound like they're speaking another language. Learning their lingo can help you clearly communicate what you want your album to look like, as well as help you determine if a particular photographer is the one who can deliver what you want. Before you head to your first appointment, get up to speed with the terms you need to know.
Boudoir shoots
This sexy set of photographs is usually done separately from your soon-to-be-spouse and given to them as a gift. Unlike the rest of your wedding album, these aren't meant to be shared with anyone but each other—but you can bet they'll be fun to look at privately for years to come!
Bridal portrait
Traditionally, the bride would go to a photographer's studio a few months before the wedding to be photographed in her gown (perhaps even holding a replica of her bouquet). While this is now less common, some women still choose to pose for this formal shot so they can include it in their wedding announcement. A modern take on this is the engagement shoot (see below).
Day-of slideshows
Your photographer can quickly create a slideshow of images from the ceremony and cocktail hour and project them onto a big screen during dinner. Guests will love looking at what they just experienced (and at themselves!), plus it will give them plenty to talk about at the tables.
Digital
One of the first decisions you'll need to make is whether you want your photographer to shoot with digital or film (see below). Digital is the most popular way to shoot. The major advantage is time—depending on your photographer, you could see snaps just days after your wedding. Digital cameras can also shoot in very low light—a perk when you're photographing an afternoon-into-evening wedding. And thanks to a display screen, your photographer can preview shots and adjust accordingly as he goes.
Engagement shoot
This has become a very popular add-on to photography packages. Not only is it a great way to get a sense of your photographer's style (and make any suggestions or voice concerns before your wedding day so he can make adjustments), it's an easy way to capture a perfect image for your save-the-date or wedding website as well. Make the shoot truly your own by choosing a theme, picking an unexpected location, or just give it a little flavor with some fun props, like balloons, pennants, umbrellas or a tandem bicycle.
First-look photos
This set of shots, which is done before your ceremony, captures the first time you and your about-to-be-spouse see each other all dressed up on your wedding day. Doing a full set of photos (with you, as well as your families and wedding party) beforehand frees you all up to fully enjoy your cocktail hour postceremony (making it an increasingly popular option!).
Film
Film is your other option if you don't want digital. Images shot with film have a soft, organic quality to them, but shooting with film is, well, more work -- and more money too. In addition to purchasing rolls of film, processing and editing images take time. Some photographers will shoot both film and digital, so you can get the best of both worlds.
Photo booths
This popular form of entertainment for cocktail hour and receptions has become mainstream, and couples are finding fun ways to personalize their photo booths. Variations include: modern ones that upload photos directly to social media, retro versions that print Polaroid prints automatically or full-service companies that bring a personalized backdrop and props.
Suggested Shot List
If you have photos you absolutely must have (think: your dress hanging up, a close-up of your groom waiting at the altar, your mom helping you get dressed), you might want to provide a list with a few suggested images. Don't go overboard by listing all the photos that you think you need. After all it's the candid photos (like of your grandparents dancing) that you'll eventually love the most. Also remember, your photographer has probably done this many times before and knows the standard shots most couples want to see, so have trust in them. If you do provide a list, it's helpful to include a list of names of the wedding party and family. That way your photographer doesn't have to point at people when he needs them to switch places or look up at the camera.
Style
Your photographer is going to ask you what style of photography you like and show you the types he specializes in. It will help to have a basic understanding before you start flipping through portfolios. Here are five main styles and what you need to know about them:
Artistic
With this style, the photographer's unique take allows for a different perspective (for instance, the couple may not be looking at the camera). If you don't want your photos to look like anything you've seen on Pinterest, go with a pro who is eager to use a little artistic license to tell your story.
Classic
Like the ones in your grandparents or parents' wedding album, these are the images that stand the test of time—striking, gorgeous and a bit formal. Classic photos reflect reality (similar to documentary, below), but they're infused with the shooter's artistic license.
Documentary
Rather than posed or highly styled shots, documentary photography captures candid or spontaneous pictures of people, décor and action—in the moment. These shots feel intimate and "real."
Dramatic
Lighting—especially using an off-camera flash—is a key component of dramatic photography. If the sun isn't cooperating, the photographer will use lighting equipment to capture the same gorgeous effect.
Lifestyle
This take on wedding photography is mostly candid with some direction and style—the end result being beautiful but relaxed. A good photographer will look for moments but also help set the scene.