These 5-Year Anniversary Gift Ideas Are Destined to Delight
Celebrate half a decade of marriage with symbolic gifts of wood and silverware.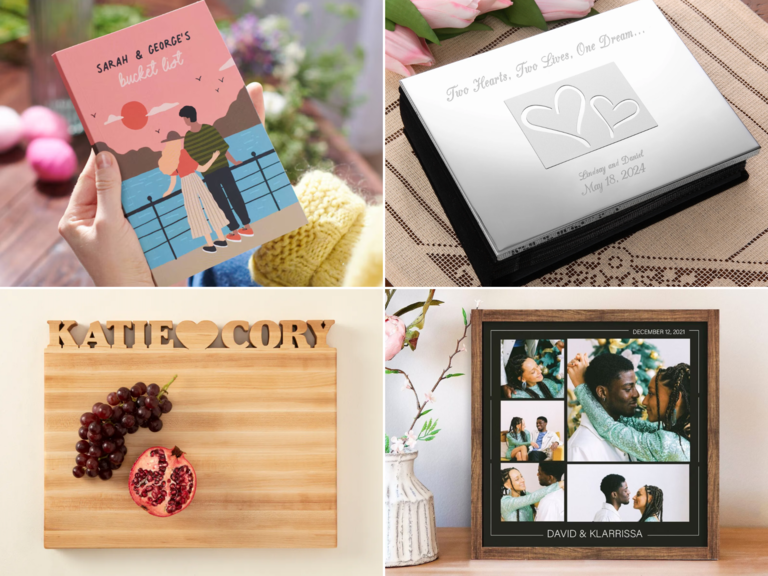 Photos, From Clockwise: OakdeneDesigns, Personalization Mall, Uncommon Goods, inspireddecorco
We have included third party products to help you navigate and enjoy life's biggest moments. Purchases made through links on this page may earn us a commission.
A marriage that's reached the five-year milestone is a strong one—and one that deserves to be commemorated in a meaningful way. Whether you want to wow your spouse with a romantic gesture or congratulate your favorite couple, a thoughtful five-year anniversary gift is a great place to start. Looking for inspiration? We've rounded up the best fifth anniversary gift ideas for your husband, wife or married friends below. Our list includes plenty of cool and unusual presents that follow the traditional and modern themes for the five-year anniversary, as well as some unique alternatives that break the mold. Here's to five years of marriage!
In this article:
Traditional Five-Year Anniversary Gifts
The traditional five-year anniversary gift is wood. Symbolizing strong roots and a relationship that's made to last, this natural material makes for some really great gift ideas. While it might not seem like the most romantic choice initially, we're here to show you just how versatile (and memorable) it can be. Wood anniversary gifts come in all shapes and sizes, including beautiful handmade jewelry, sentimental keepsakes and so much more. Shop our top traditional fifth anniversary gifts below.
Custom Four-Across Game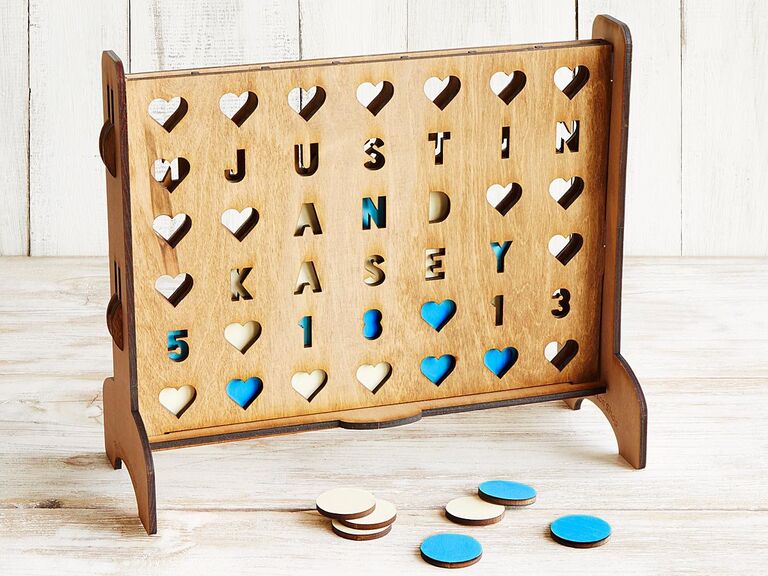 Still trying to figure out what to do for your five-year marriage anniversary? Celebrate by inviting loved ones over for a fun game night (or keep it low-key and romantic with just the two of you). Either way, this beautiful reinvention of the classic four-across game will be a stunning centerpiece for the occasion. Instead of the usual circular shape, the holes in the shape of romantic hearts surround your names and the all-important date you said "I do."
Interlocking Wood Bangles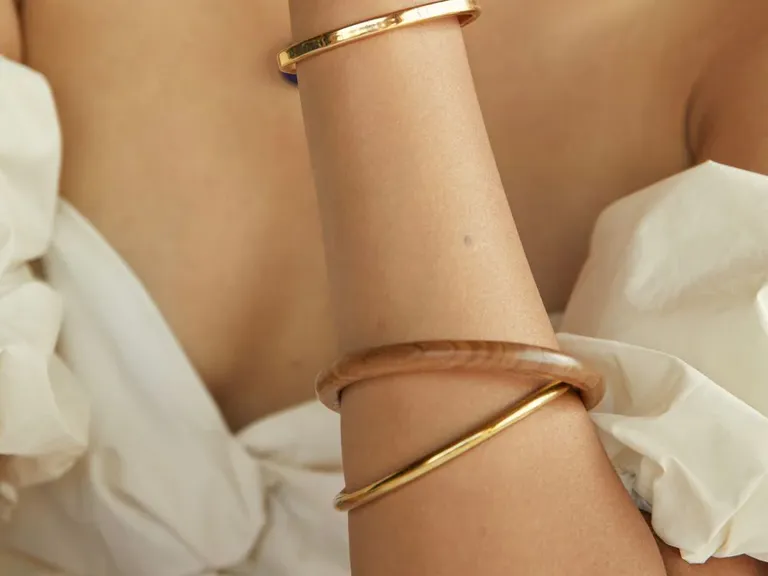 Jewelry is an excellent choice for any occasion, and your fifth wedding anniversary is no exception. Any fashion-forward spouse will love these beautiful bangles, expertly crafted by artisans in Kenya using ethically sourced wood and recycled brass. The teak and 24K gold-plated brass materials give these accessories a unique edge, while the interlocking design nods to two lives coming together as one.
Tree-Inspired Artwork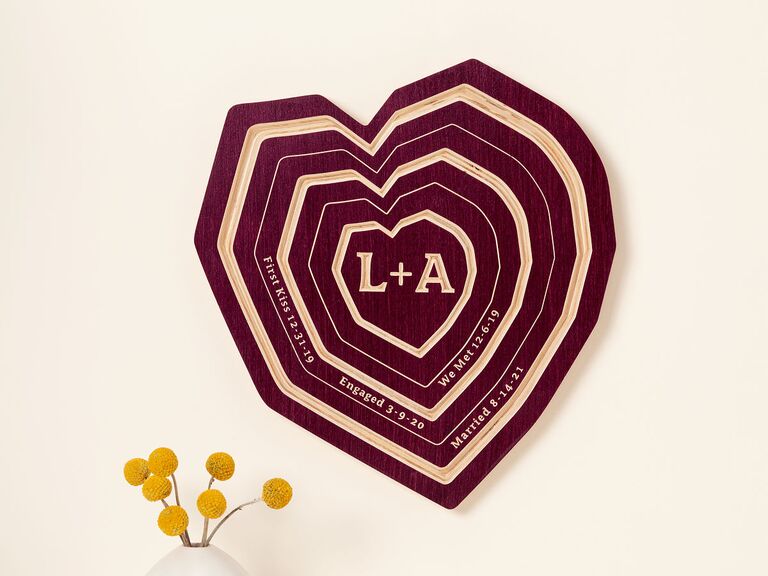 This personalized anniversary gift is easily one of our favorite traditional picks for the five-year anniversary. Shaped like a heart, but fashioned to look like the concentric circles of a tree, it helps tell the story of your marriage. Your initials are carved in the middle and then you can choose up to eight notable moments from your relationship to add to each ring. Pick between a navy, burgundy, gray or taupe finish and two size options to suit your home.
Etched Sound Wave Art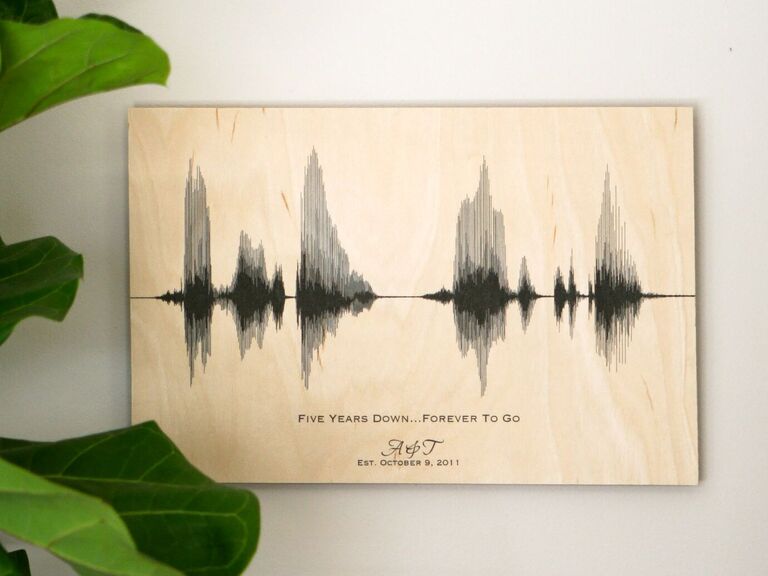 This Etsy shop lets you record a sweet anniversary message—a private joke, a line from your spouse's favorite song or simply, "I love you"—and have that unique sound wave etched onto birchwood. Every time your partner sees it, they'll be reminded of just how much you love them. (Psst, take it to the next level by adding a scannable QR code that lets them actually hear the sound wave on their phone.)
Whiskey Barrel Anniversary Watch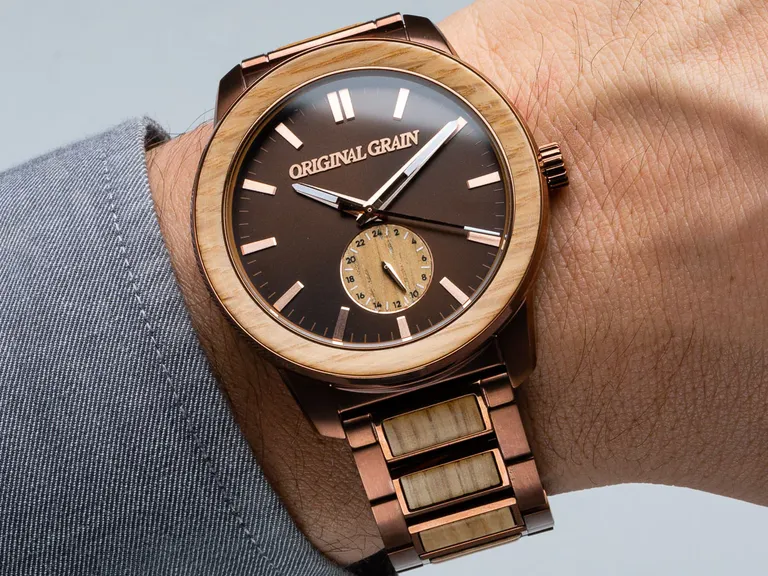 We couldn't write a roundup of gifts for the fifth wedding anniversary without including an Original Grain watch. This striking timepiece is made from reclaimed whiskey barrels, perfectly encapsulating the traditional five-year anniversary symbol. Espresso-colored stainless steel adds a subtle shine that blends in beautifully with the wood for a stylish (and symbolic) five-year anniversary gift they can rock daily.
Personalized Wooden Cutting Board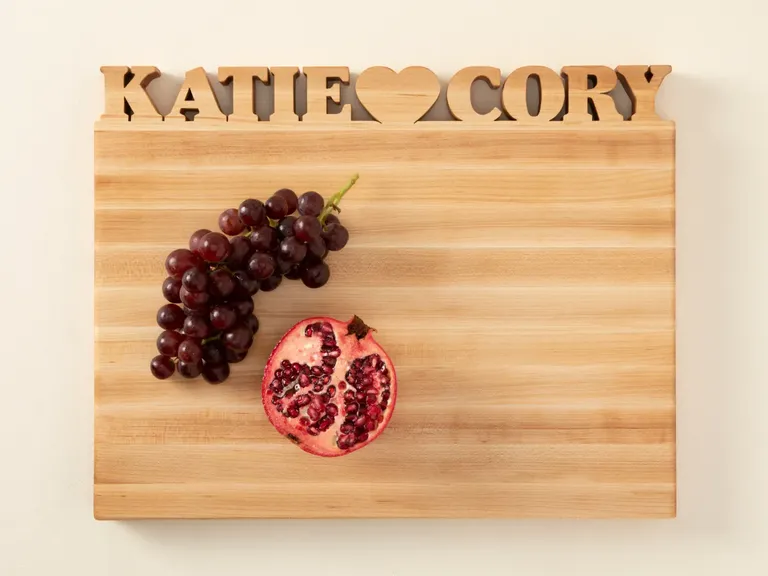 Uncommon Goods has some pretty cool fifth wedding anniversary gifts that celebrate tradition in fun and creative ways. This personalized wooden cutting board is a winning present for any couple who loves to cook or entertain at home. It's made from maple wood and features their names carved into the top for a thoughtful finish. There's even an option to add mineral oil to preserve the wood, so they can enjoy this thoughtful present for years to come.
Engraved Wooden Serving Utensils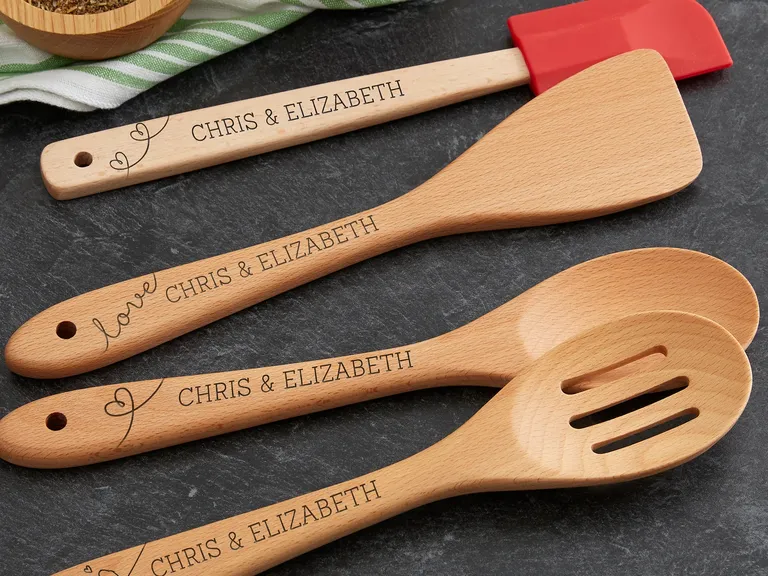 Searching for a gift for someone who loves to cook? Impress the talented home chef in your life with this set of personalized wooden utensils. It includes a serving spoon, a slotted spoon, a wood spatula and a silicone spatula, each made from durable beechwood and etched with your names for a sweet and symbolic touch. Use them to dish out a homemade dinner for your fifth anniversary celebration.
Anniversary Material Art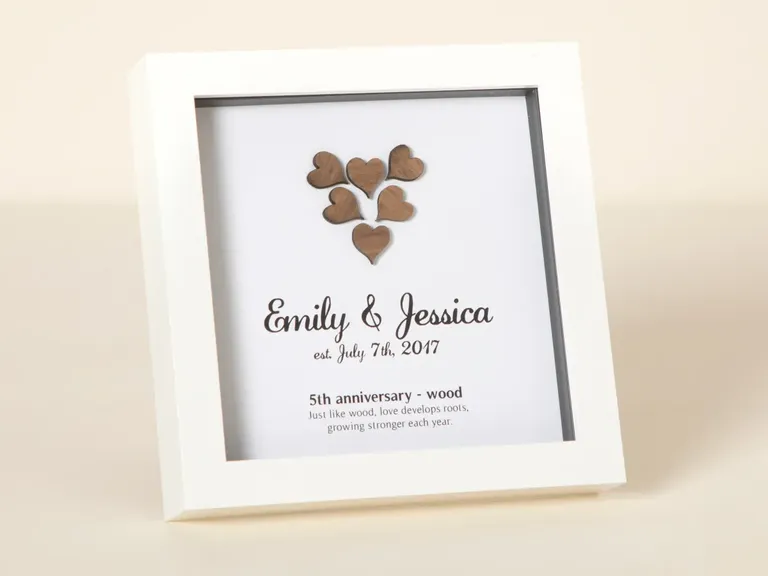 Here's a meaningful anniversary gift for him or her: A framed keepsake representing the traditional fifth year anniversary material. This piece of art features small wooden hearts alongside your names, wedding date and a message about the sentiment behind the wood theme. It's a lovely way to pay tribute to your thriving relationship and your deep-rooted affection for one another.
Engraved Wood Cuff Links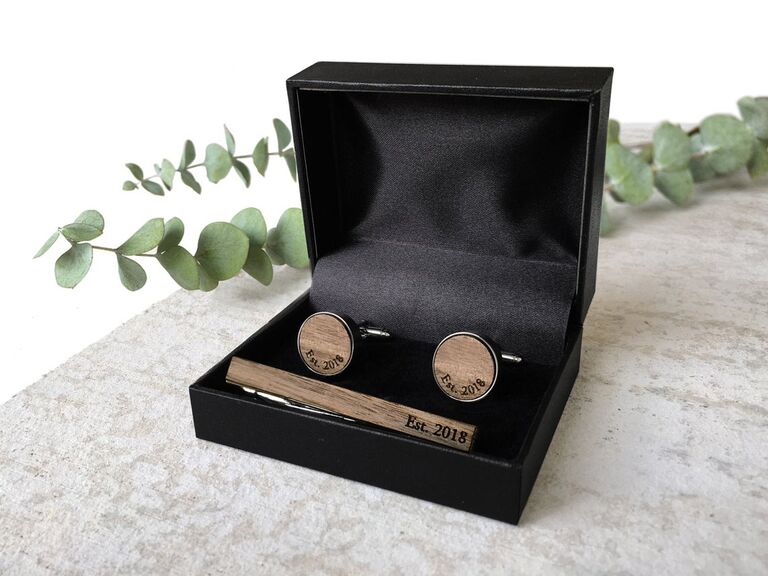 Whether you're going out to celebrate or staying home, getting dressed up is a simple way to make your five-year anniversary feel all the more special. The perfect finishing touch to your spouse's suit? A pair of elegant wooden cuff links personalized with the year you tied the knot. You can also add a tie bar to take this traditional anniversary gift to the next level.
Stained Wood Photo Frame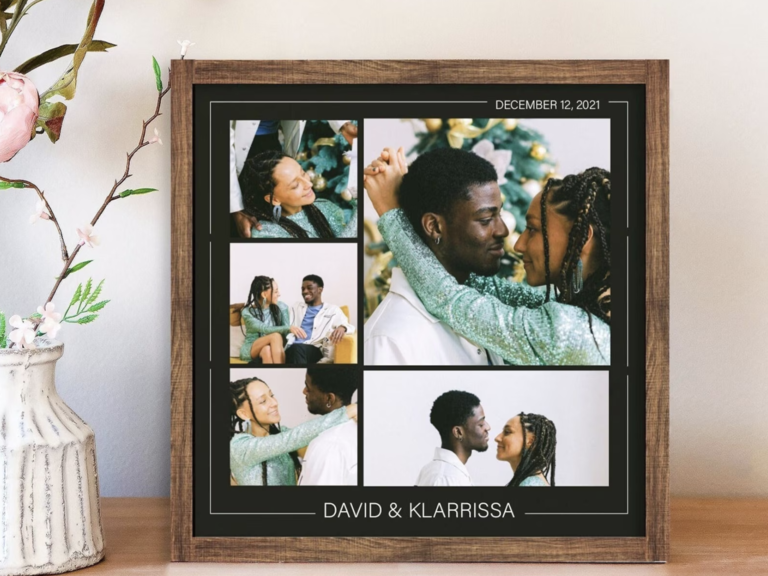 It's not a coincidence this wooden frame holds five pictures! Take a trip down memory lane and choose five of your favorite moments together to display in this custom photo collage. Pick a snapshot from each year of marriage before adding your wedding date and names for a thoughtful fifth year anniversary gift that'll give your spouse all the feels.
Modern Five-Year Anniversary Gifts
The modern fifth anniversary symbol is silverware, a practical gift that represents the strength and purity of a relationship that has flourished over five years. It also nods to the simple moments that help a couple bond, like preparing and sharing meals together. With this in mind, we've rounded up the best silverware-inspired gifts that go way beyond simple knives and forks. From wow-worthy wine chillers to personalized photo albums, there are so many ways to choose a meaningful modern fifth anniversary gift for your spouse or favorite couple. Just don't be afraid to put your own spin on things—after all, you know them best.
Stylish Cutlery Set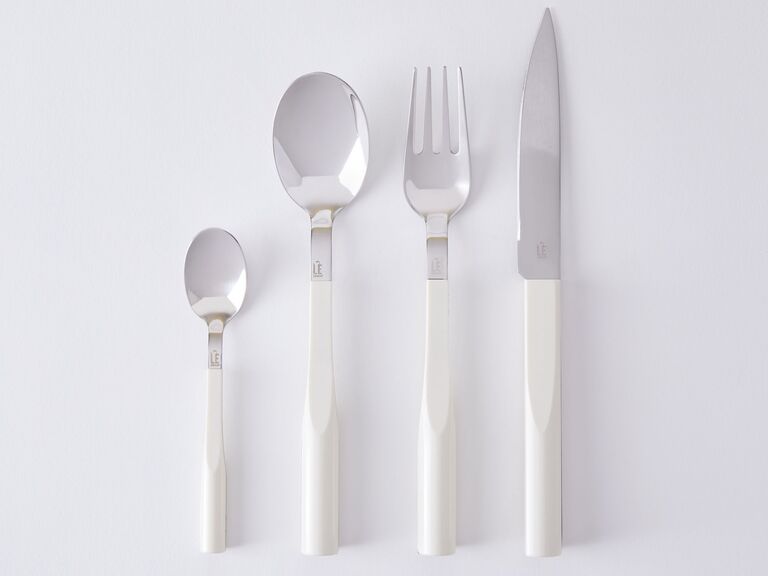 If your wedding was the last time you upgraded your tableware, the fifth anniversary is the perfect excuse for a refresh. This 24-piece cutlery set includes six knives, six forks, six spoons and six teaspoons, each made from durable stainless steel and finished with a stylish colored handle. Choose from four hues (green, pink, black or white) to add an elegant touch to your dining table.
Silver Wine Chiller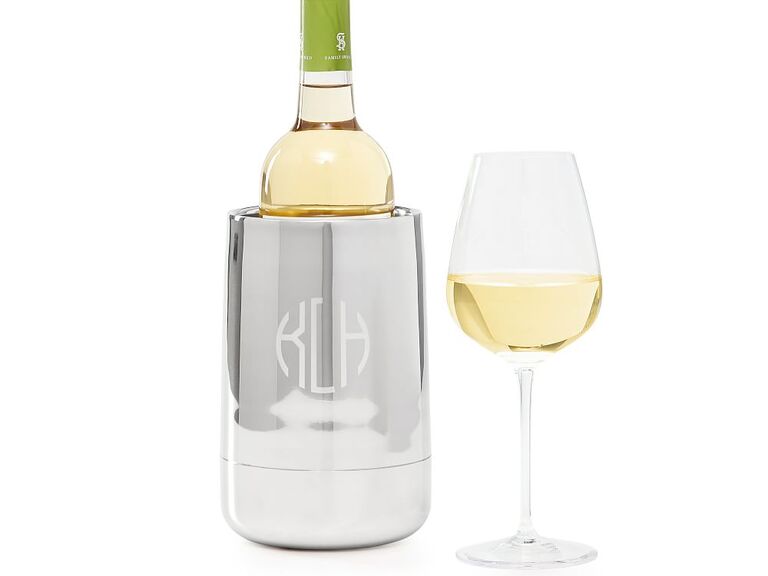 Planning to toast your latest marriage milestone with a bottle of special anniversary wine? Make the occasion feel a little more luxurious with this personalized silver wine chiller. It's made from nickel-plated stainless steel and can be etched with your (or the couple's) monogram for a display-worthy finish.
Silver-Dipped Forever Rose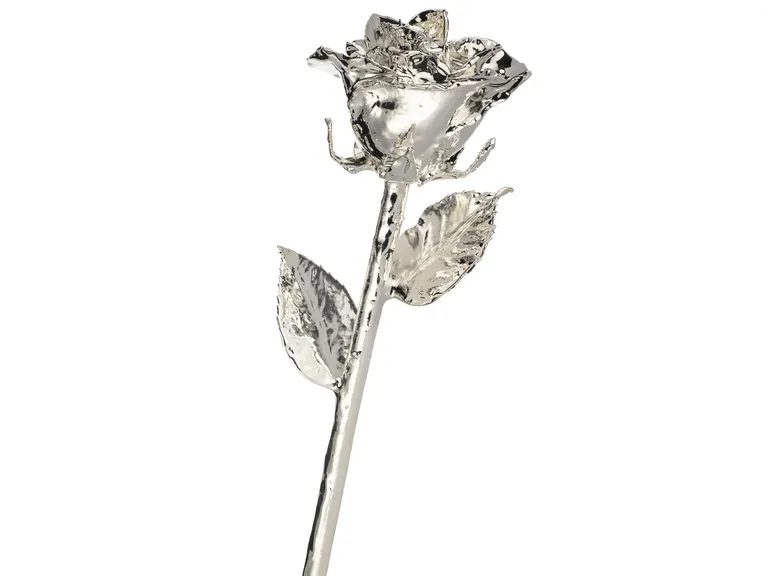 Treat the modern five-year anniversary theme as a helpful guideline rather than a hard-and-fast rule. For an ultra-romantic gesture, why not swap the silverware for something that's just silver? This stunning (and very real) rose has been carefully preserved and dipped in the precious metal to produce a gorgeous, shiny bloom. Up the ante by having the stem engraved with a special message to your husband or wife.
Engraved Silver Photo Album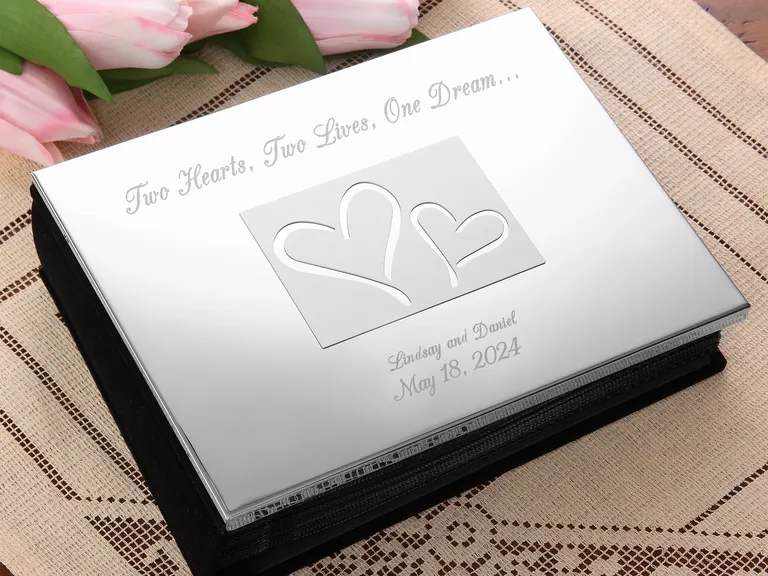 Stretch the silverware theme just a little with this engraved photo album. The shimmering silver-plated book can be customized with your names or a romantic message on the front cover and offers space for up to 80 snapshots. Fill it with your favorite throwback pictures and leave a few spaces free for future special occasions. It's a modern fifth anniversary gift that will surely bring on plenty of nostalgia (and maybe even a few happy tears).
Engraved Chopsticks Gift Set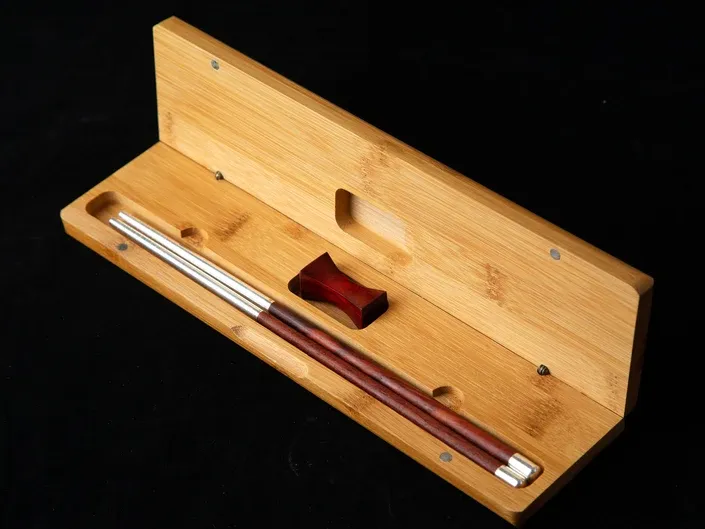 If your other half loves Asian cuisine, prepare their favorite dish at home served alongside a set of custom chopsticks. Each pair can be engraved with your names, the date of your anniversary or another meaningful message. The best part? They're made out of silver and red rosewood, honoring both the modern and traditional materials for this milestone.
Travel Flatware Set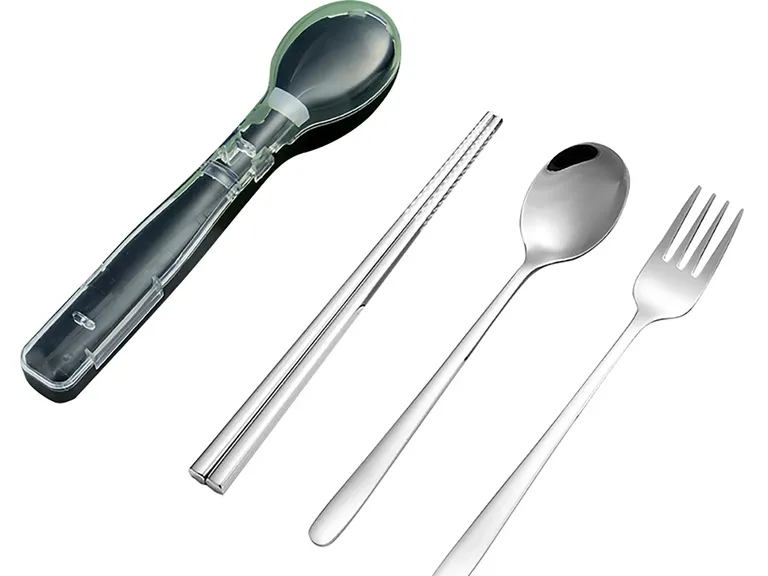 Shopping for a partner or couple who loves spending time outside? Grab a pack of portable silverware to elevate their next al fresco celebration. These matching sets come with all the must-haves—reusable forks, spoons and chopsticks—and are the perfect accouterments for an anniversary picnic. Choose from four different color combos to suit their personal tastes.
Symbolic Silver Necklace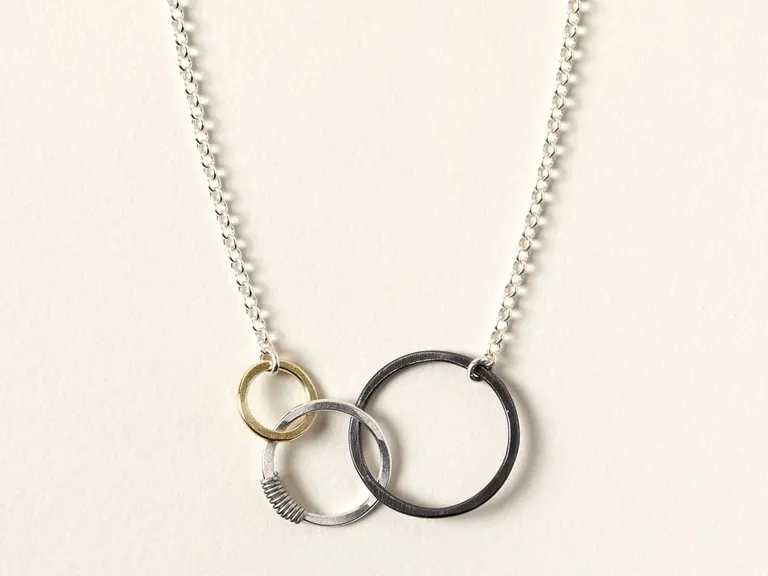 If you're finding the silverware theme a little tricky, we've come up with the perfect workaround. This sterling silver necklace is worth bending the rules for and is a modern five-year anniversary gift any stylish spouse will be thrilled to unwrap. With three interlocking rings representing the past, present and future, it's a stylish (and symbolic) accessory that'll remind them to live in the moment.
Stylish Silver Pitcher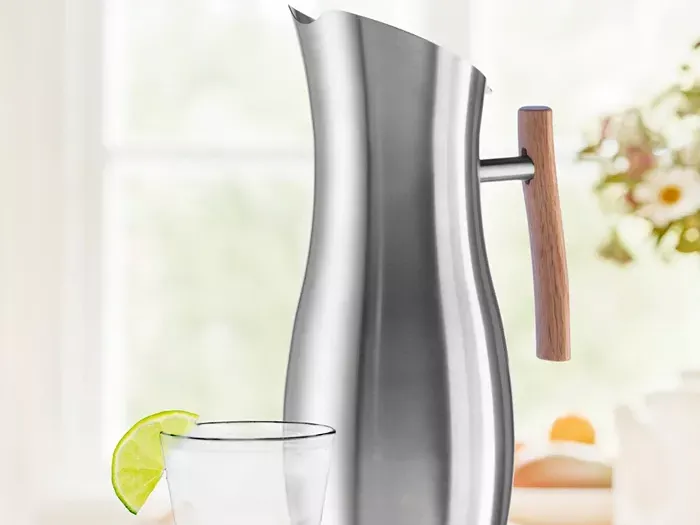 Practical gifts are always welcome, especially if the couple can use them daily. This stylish silver pitcher is ideal for serving water, iced tea and homemade lemonade, but that's not all we love about it. The jug combines both the traditional and modern five-year anniversary materials with a stainless steel body and a rustic wooden handle. Bonus points for the integrated ice guard that allows easy, splash-free pouring of chilled beverages.
Upcycled Cutlery Storage Hooks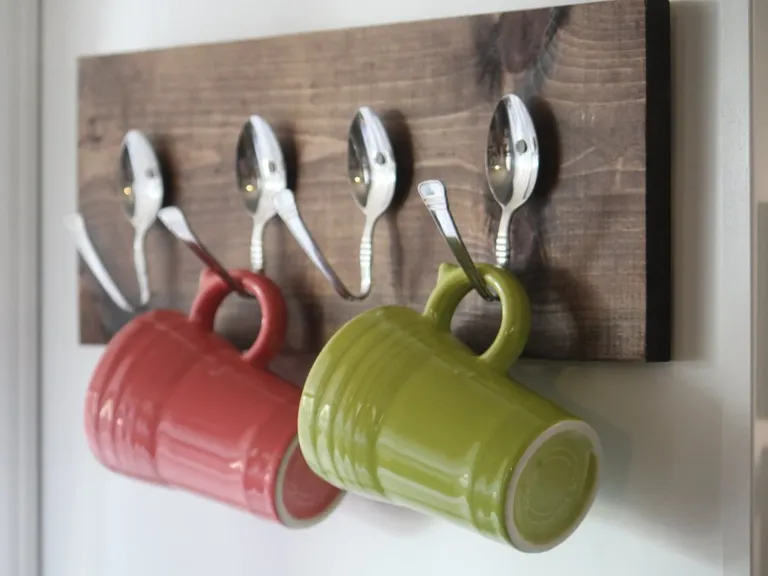 Appeal to your spouse's creative side with this unique silverware-themed gift. These handy storage hooks are fashioned out of upcycled forks and spoons and are a really cool way to recognize the modern five-year anniversary symbol. They're mounted on wood for a rustic finish and are ideal for storing everything from serving utensils to coffee cups and kitchen towels.
Personalized Silver Compact Mirror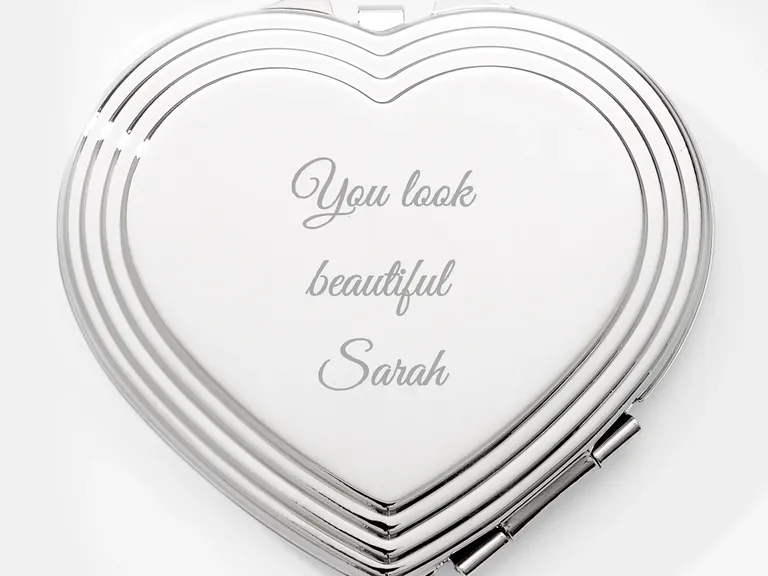 Remind your spouse how beautiful they are inside and out with this silver heart-shaped compact. It features two mirrors (one in actual size and one magnifying) and can be engraved on the outside with a thoughtful message. It's a sweet yet simple anniversary gift they can carry with them wherever they go.
Unique Five-Year Anniversary Gifts
Wood and silverware aren't the only gifting materials associated with five years of marriage. Why not take inspiration from the fifth anniversary flower (daisy), gemstone (sapphire) or colors (blue, pink or turquoise) instead? Of course, you don't have to embrace five-year anniversary gift traditions if you don't want to. We've also included plenty of alternative ideas below that'll work for any spouse or couple.
Date Night Inspiration Cards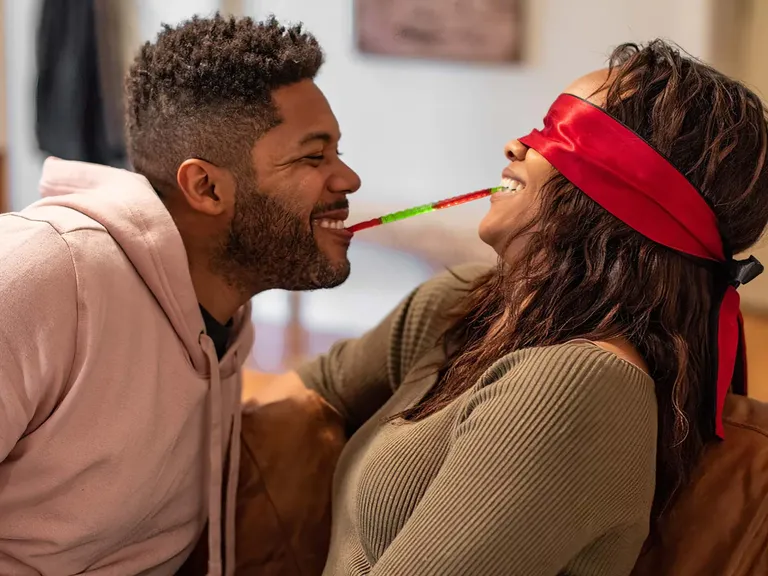 Finding time to dedicate to dates isn't always easy. Luckily, The Adventure Challenge has clever date night books and card decks crammed with fun and exciting activities for couples to do together. Busy duos will get a serious relationship boost from this Mini Dates deck, which includes 30 scratch-off challenges that can be completed in 30 minutes or less. The date ideas are split into four different categories, with topics related to food, games, playful moments and intentional conversations. Get 20% off your order with the code THEKNOT20.
Multi-Fuel Pizza Oven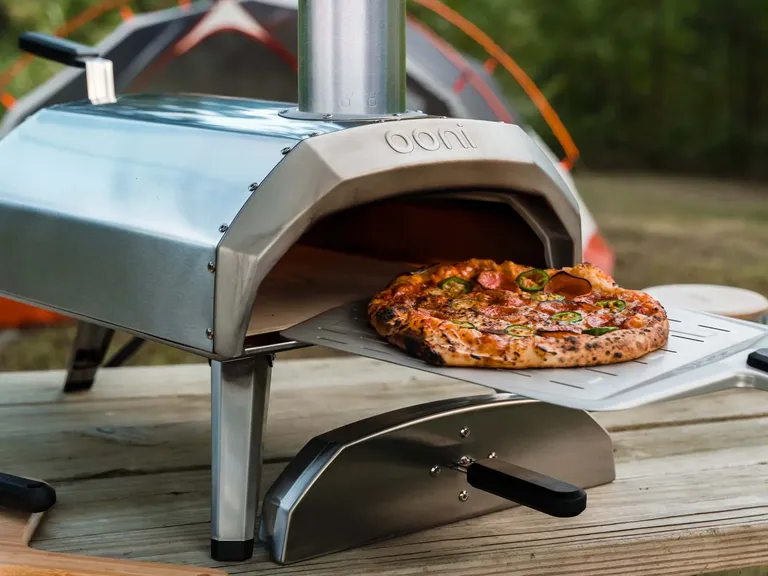 Sometimes, unusual anniversary gifts are the best of all. This portable multi-fuel oven uses gas, charcoal or wood to make fresh homemade pizzas in no time. Planning an anniversary pizza party to mark year five of marriage? This handy device is all you need to get the celebrations started. It works so fast that you'll be chowing down a delicious slice of stone-baked pizza within minutes.
Anniversary-Themed Candle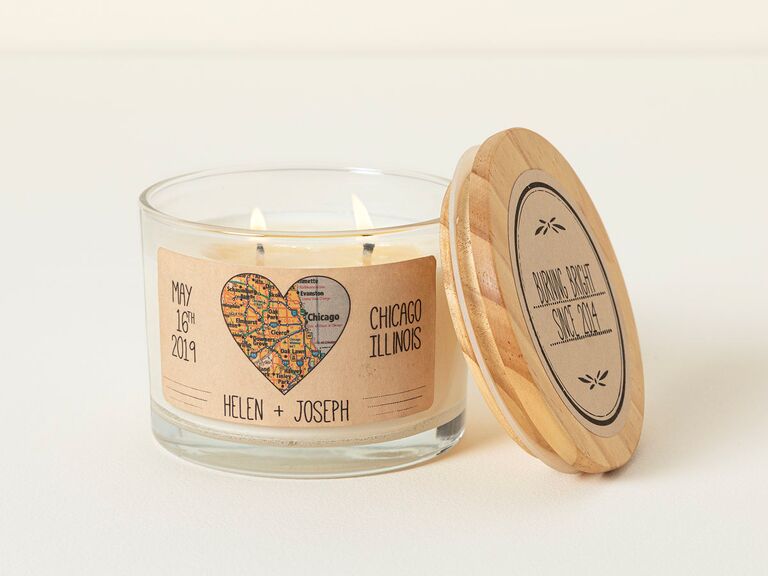 Sparks flew the day you met your other half—and they'll fly again when you gift them this anniversary-themed candle. It comes personalized with your names, a meaningful date and a special location (like your wedding venue or where your paths crossed for the first time). You can also nod to the year you tied the knot on the lid, which reads "Burning bright since..."
Innovative Indoor Garden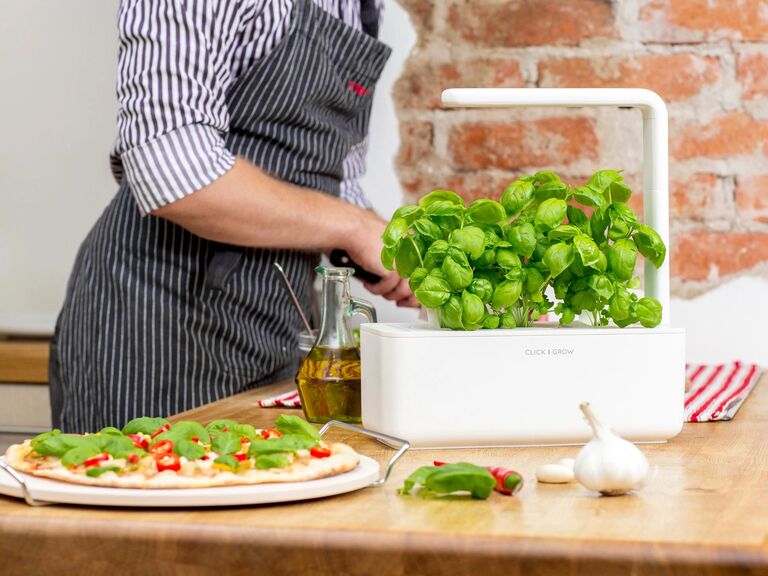 Gardening novices rejoice! This smart-technology indoor garden has an automated watering and light cycle so you can grow fresh herbs, fruits, vegetables or flowers all year long, no matter where you live. The cool device comes with three basil plant pods (you can also buy starter seeds for over 75 different plant varieties), which are the perfect start for a night of fresh, homemade Italian cuisine to celebrate your fifth anniversary.
Pretty Daisy Necklace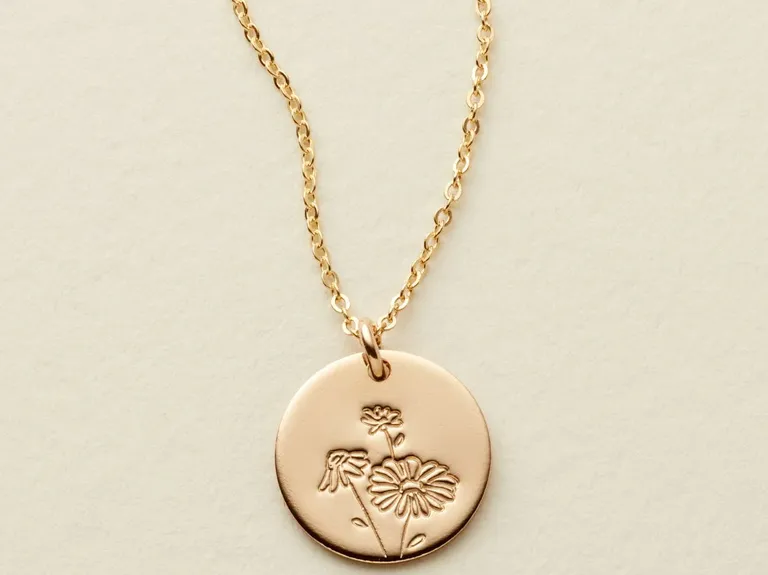 The flower associated with the fifth anniversary is the daisy, a pretty bloom that symbolizes fidelity, fun and affection. Each petal reaching out from the center represents the experiences you and your spouse have shared over the years. This gorgeous gold necklace features a hand-stamped daisy motif for a wearable gift that acknowledges past memories and the playful nature of your relationship.
Elegant Sapphire Bracelet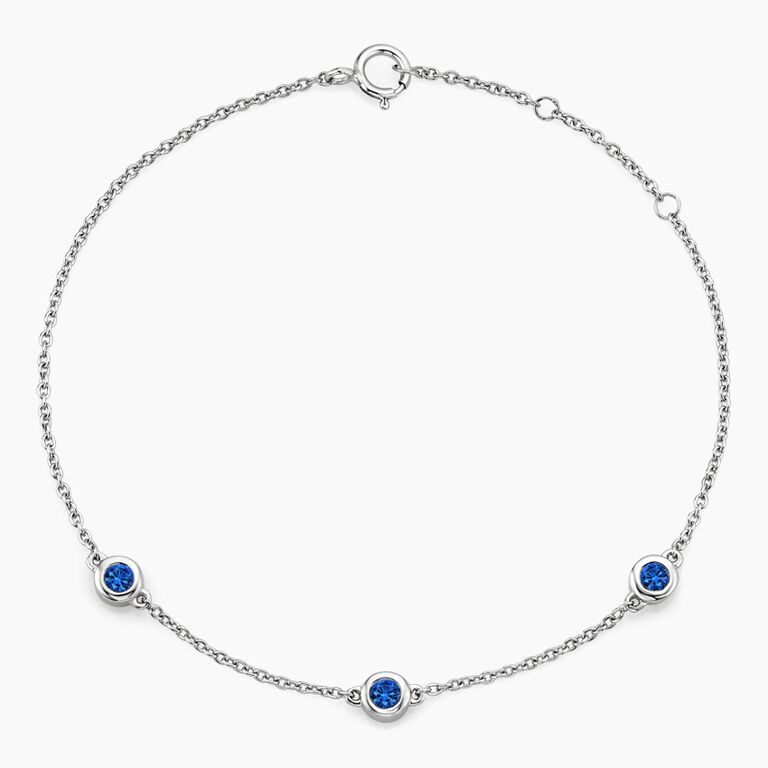 Take inspiration from the five-year anniversary gemstone (sapphire) with this pretty bracelet. It features three dainty stones on a silver chain and will make your spouse feel like a million bucks every time they wear it. Bonus: This understated accessory looks great with any ensemble, plus the blue sapphires also represent one of the fifth anniversary hues.
Trendy Travel Backpack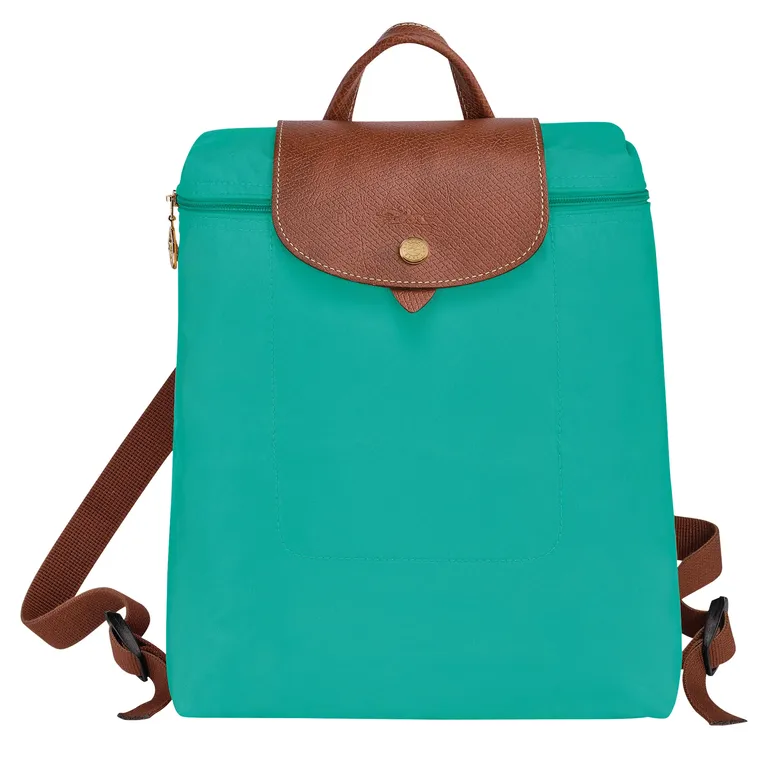 If your spouse loves to travel, this trendy backpack is a practical gift they'll appreciate. It's made from sleek nylon and has a top zip closure, interior storage pocket and water-resistant lining for added durability. But that's not all—this cute holdall also features stylish leather trim and is available in several colors, including two of the five-year anniversary colors, pink and turquoise.
Celebratory Cupcake Jars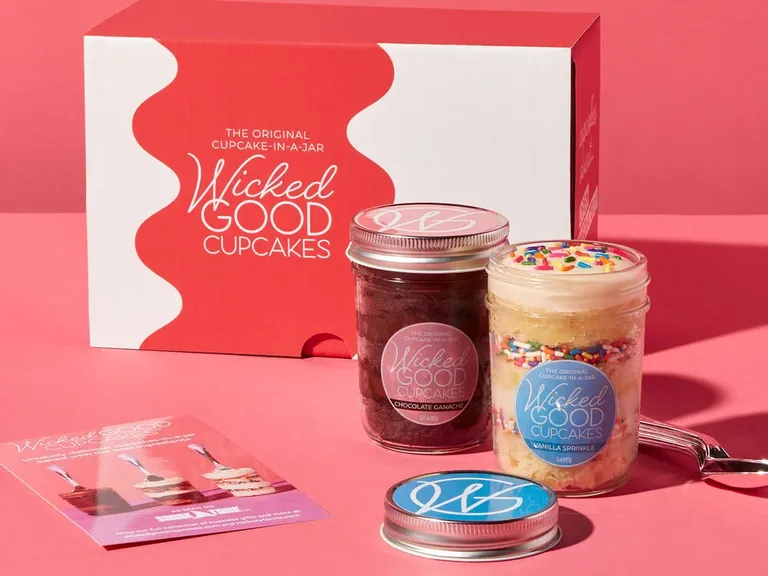 Cake will always hold a special place in our hearts (and our stomachs). Help the lovebirds commemorate their latest marital milestone by sending them a virtual gift card for Wicked Good Cupcakes. Depending on your budget, you can gift them a two-pack, four-pack or six-pack of delicious cupcake jars. The best part? They get to choose their own flavors, so they're sure to find something to satisfy their sweet tooth.
Colorful Daisy Bouquet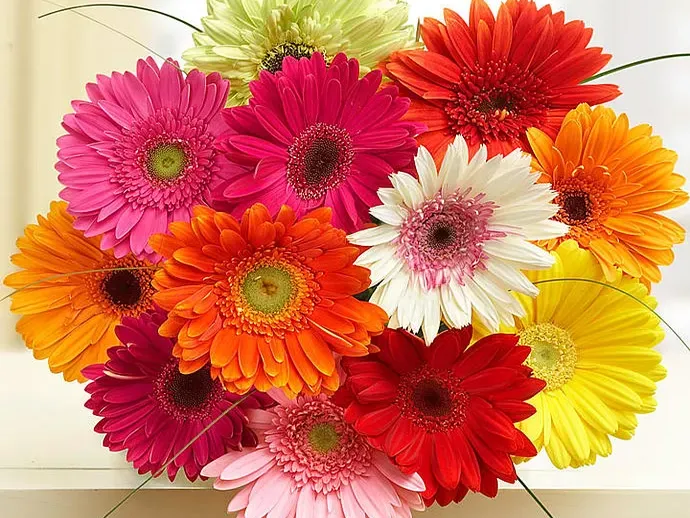 Show your spouse some love and pay homage to the five-year anniversary flower with a bouquet of pretty, jumbo-sized daisies. This vibrant bunch includes the Gerbera floral variety in shades of pink, orange and yellow and is a lovely tribute to the fifth year of marriage. Make it extra special by adding a pink vase, metallic pail or romantic sign that reads "Live Life in Full Bloom."
Couple's Bucket List Journal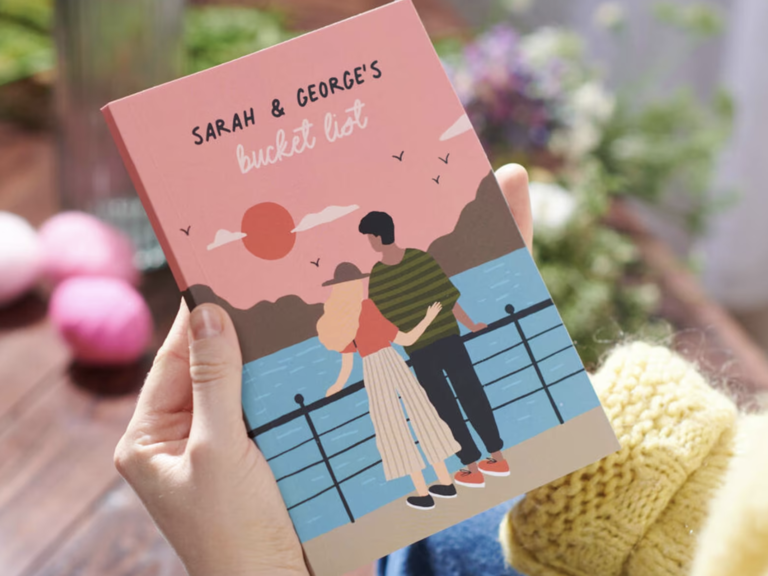 If you're searching for something for a travel-loving couple, this cute journal is guaranteed to inspire their wanderlust. Inside, they'll find a blank checklist where they can record all the dream destinations on their bucket list. There's also space for them to jot down their feelings and memories about each of their shared experiences. Add a personalized illustration inspired by your favorite duo, along with their names, to the cover to make this simple gift really shine.