The Best 5-Year Anniversary Gifts for Your Spouse or Favorite Couple
Looking for the perfect fifth wedding anniversary gift? Find out what the traditional and modern presents are, then check out our top picks.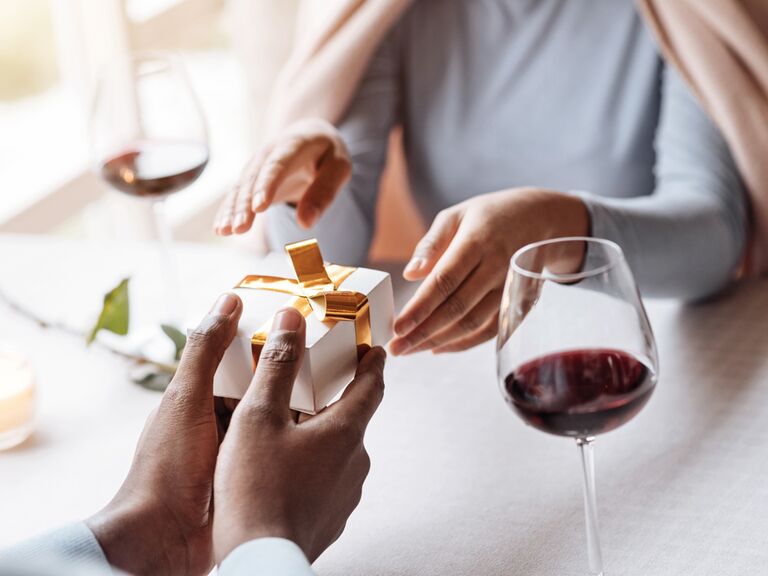 Yakobchuk Viacheslav / Shutterstock.com
We have included third party products to help you navigate and enjoy life's biggest moments. Purchases made through links on this page may earn us a commission.
Five years of marriage is an incredible achievement, and one that's deserving of a meaningful five-year anniversary gift. Looking for ideas? There are so many ways to commemorate the special occasion. Some couples celebrate by planning a party with their nearest and dearest, while others prefer something a little more private (think: dinner at a nice restaurant or a romantic weekend break). Regardless of the celebration, buying a thoughtful gift for your spouse or the happy couple is a lovely gesture that'll show them just how much they mean to you. That said, finding the right present isn't always easy. To help you out, we've listed all our favorite fifth anniversary gift ideas right here—just take your pick! But before you dive headfirst into shopping, brush up on your knowledge of the traditional and modern presents for this unique milestone, also known as the wood anniversary.
What is the five-year anniversary gift?
The traditional five-year anniversary gift is wood, a symbol of strong roots and an enduring relationship. There are actually lots of really cool presents made out of natural wood, but if it's not really their thing, don't worry. Try turning to the modern fifth anniversary gift, which is silverware. (And trust us, that goes way beyond simple forks and knives.)
If you're not sold on either of those ideas, feel free to take inspiration from the traditional gemstone, color or flower associated with five years of marriage instead. The fifth anniversary gemstone is sapphire, a symbol of wisdom and fidelity. When it comes to colors, there are actually three for this special milestone— blue, pink or turquoise—giving you plenty of opportunities to find a colorful and symbolic present. Finally, the fifth anniversary flower is the daisy.
Of course, you don't really have to go with any of the traditional or modern themes if you don't want to. We've included plenty of alternative ideas at the bottom of our list that'll work for pretty much anyone. 
In this article:
Wood Anniversary Gift Ideas
At first, wood may not seem like the most romantic choice for such an important milestone. But take our word for it, there are some amazing options out there—you just need to think outside the box a little. Lucky for you, we're total experts. Ready to check out some of our favorite traditional fifth anniversary gift ideas? We've got something for everyone, from beautiful handmade jewelry to sentimental keepsakes.
Games for couples to play at home together are in high demand right now, and while there are plenty of fun options to choose from, this one really takes the cake. Personalized with their names, wedding date and lots of adorable hearts, the wooden four-across game doubles as a meaningful keepsake.
Kasey and Justin Pearson personalized hearts four-across game, $85, UncommonGoods.com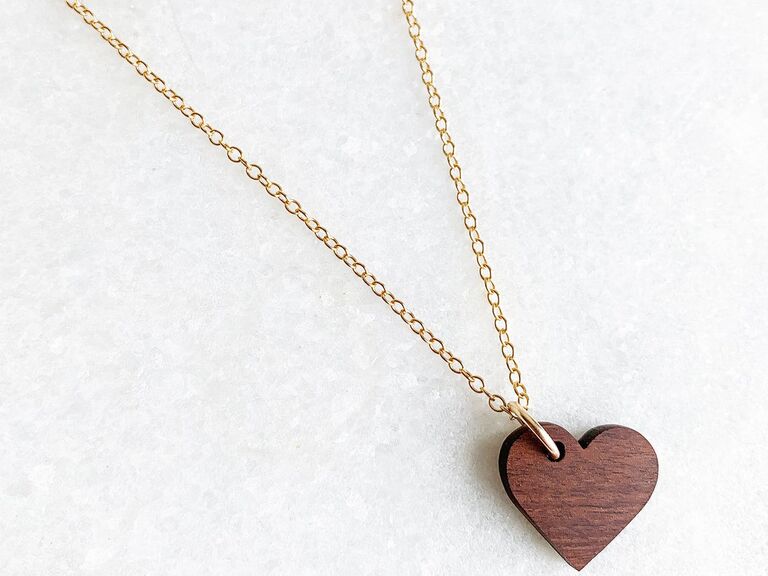 Carved in the shape of a heart and crafted from wood, this chic pendant is doubly symbolic. Who knew wood anniversary gifts could be so wearable? (Tip: Request gift wrapping free of charge so it's ready to hand over right away.)
Liel and Lentz heart necklace 5th anniversary wood gift, $87, Etsy.com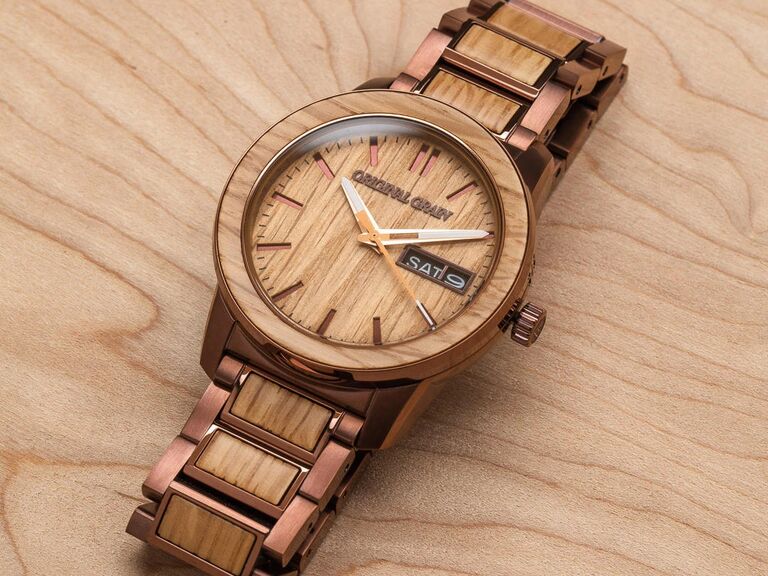 We couldn't write a roundup of our favorite wood gifts for your five-year anniversary without including an Original Grain watch. Made from reclaimed bourbon barrels, it's a beautiful testament to this important milestone. 
Original Grain 42mm Barrel in Whiskey Espresso, $299, OriginalGrain.com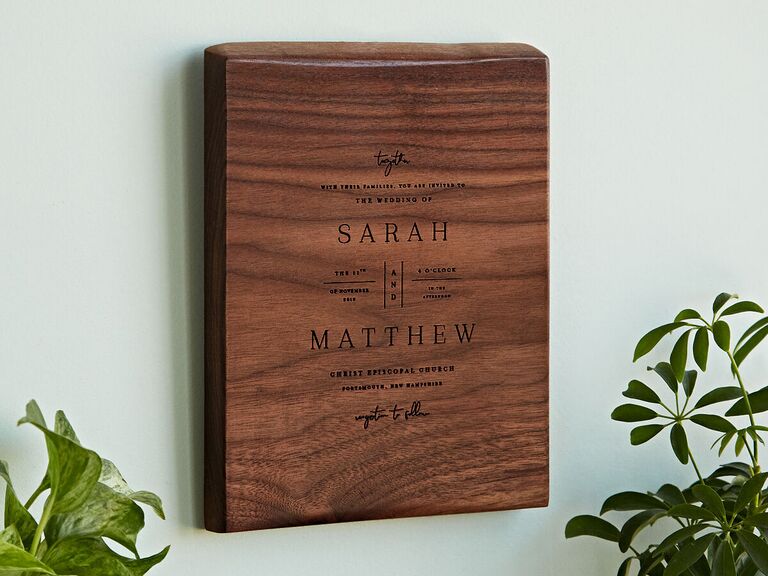 When it comes to five-year anniversary gifts made out of wood, this might just be the most sentimental. Lots of couples hold onto their wedding invitations after the big day, but as time goes on, the risk of them getting lost or damaged grows. Have their cherished stationery recreated in stunning maple or walnut for a lasting memento they can treasure for a lifetime. 
Melyssa, Michele and Christine Kirn personalized wedding invitation keepsake, $130, UncommonGoods.com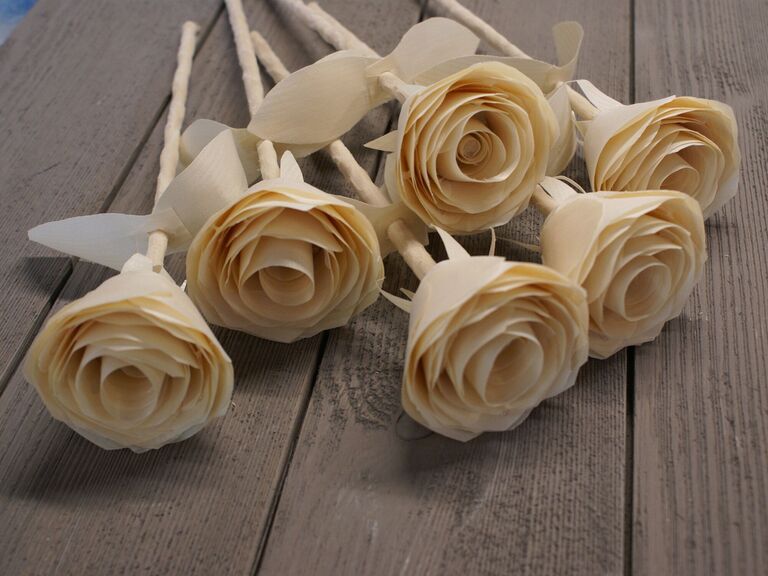 Fresh flowers are great, but what if we told you your spouse could have blooms that'll last forever? This wood rose bouquet is ultra realistic and beautifully handcrafted.
Adamz Originals wooden roses, $99 for a set of 6, Etsy.com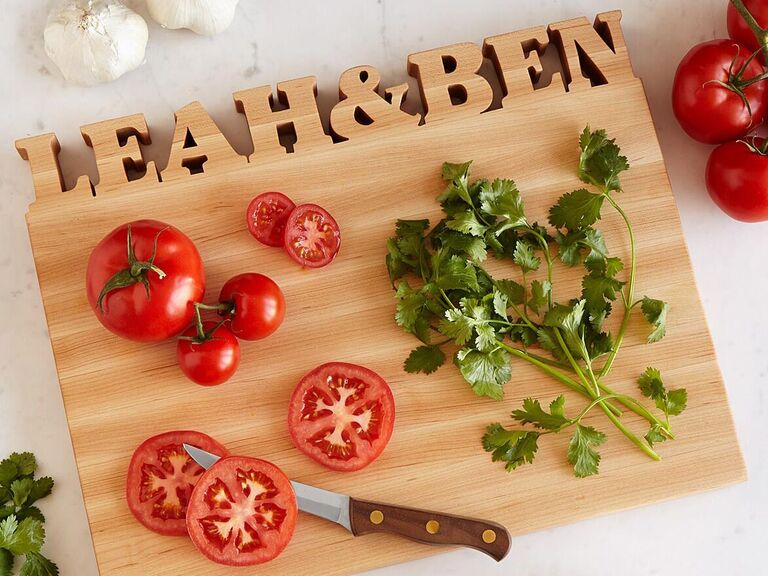 Couples who love to cook always need new cutting boards—and we bet they don't have one with their names carved into the top. This one also doubles as the ultimate presentation board, perfect for parties. It's a unique five-year wedding anniversary gift they'll get tons of use out of.
Kim Strassner and Mike Pararas personalized cutting board, from $159, UncommonGoods.com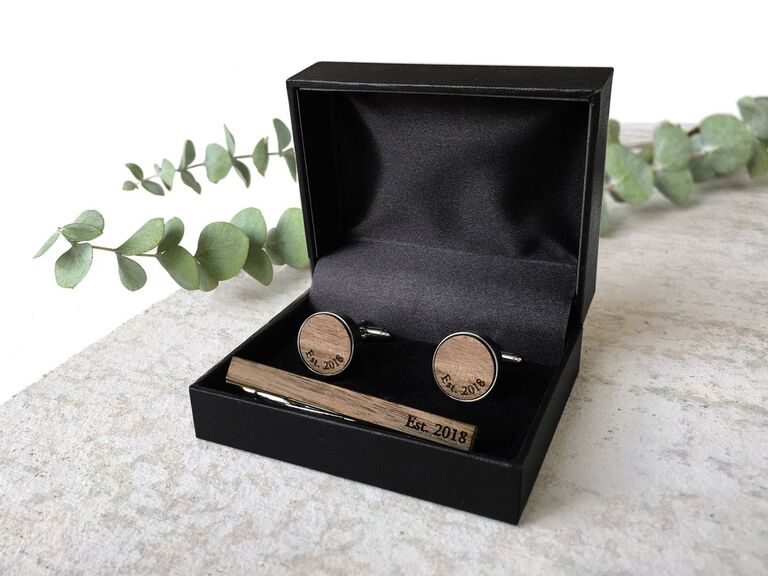 Whether you're going out to celebrate or staying home, getting dressed up is a simple way to make the occasion feel all the more special. The perfect finishing touch to your spouse's suit? A pair of elegant wooden cuff links personalized with the year you tied the knot.
Paper Anniversary Love personalized walnut wood cufflinks, from $89, Etsy.com
This Etsy shop lets you record a sweet message—a private joke, a line from your other half's favorite song or simply, "I love you"—and have that unique sound wave etched onto birchwood. Every time your S.O. sees it they'll be reminded of just how much you love them.
Artsy Voiceprint wood sound wave art, from $35, Etsy.com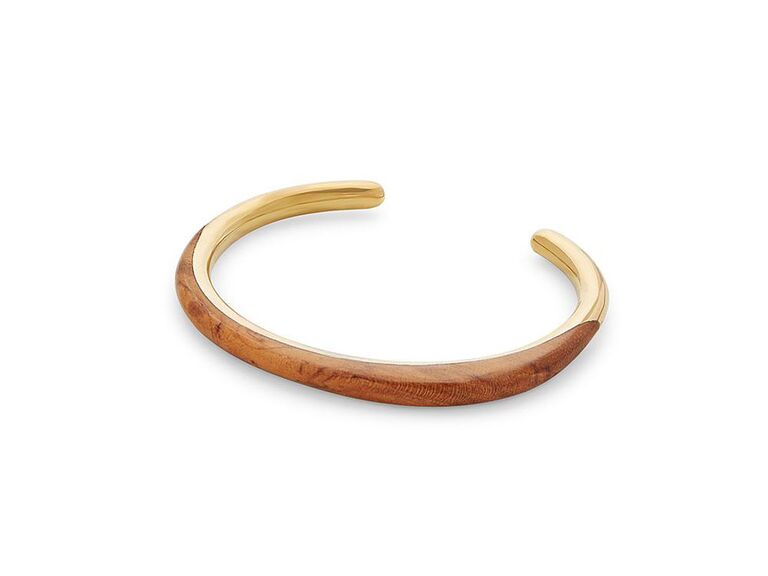 Expertly crafted by artisans in Kenya with ethically sourced wood and recycled brass, this chic bracelet is a great gift for your understated other half. The unusual teak accent gives each piece a unique edge, while the classic cuff design maintains minimalism.
SOKO teak Sabi outline cuff bracelet, $98, ShopSOKO.com
Wood collar stays personalized with your wedding date are the perfect way for your S.O. to carry a little piece of you with them wherever they go. Your spouse will smile every time they think of the sweet souvenir hidden within their shirt. (And that's not to mention how sharp they'll look!) 
Maria Allen Boutique personalized collar stays 5th anniversary gift for him, $38, Etsy.com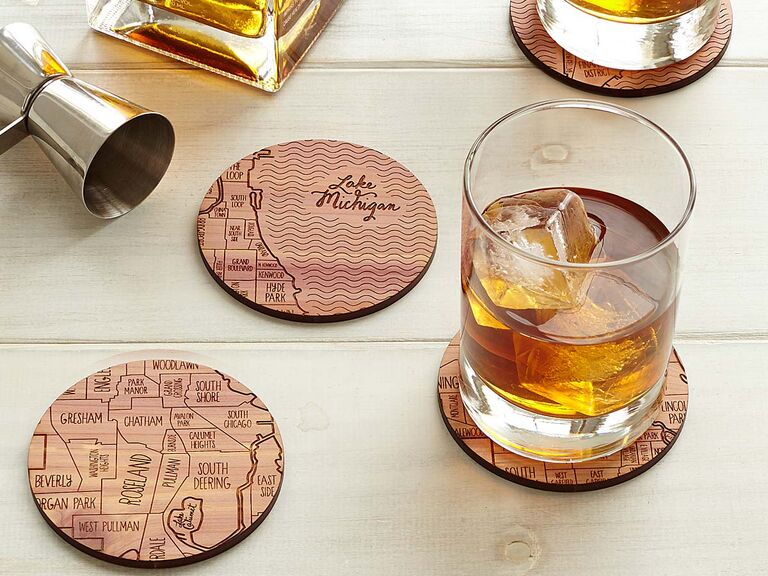 What could be more meaningful than a set of eye-catching coasters engraved with the grid of the city your partner grew up or went to college in? These coasters are excellent wood anniversary gifts for him or her, especially if they've moved away from their hometown to be with you.
Mary Dawson Neighborwoods map coasters, $36 for a set of 4, UncommonGoods.com
This wooden belt buckle adds a rustic touch to any ensemble. But the clincher? You can add anything you like to personalize it—a message, their initials or even the coordinates of the place you first met. It'll be your partner's most prized accessory.
Treeline & Tide wood belt buckle, from $44, Etsy.com
Silverware Anniversary Gift Ideas
If you want to hand over something a little shinier than traditional wood, consider honoring the fifth year of marriage with silverware. The best part? You don't have to break the bank to present your loved one(s) with some dazzling new dinnerware. There's no hard rule that your gift actually has to be made out of silver (or meant for the dining table). Instead, opt for some hand-stamped stainless steel coffee spoons or a set of handy barbecue utensils. Don't be afraid to put your own spin on things—it all comes down to what the recipient would prefer.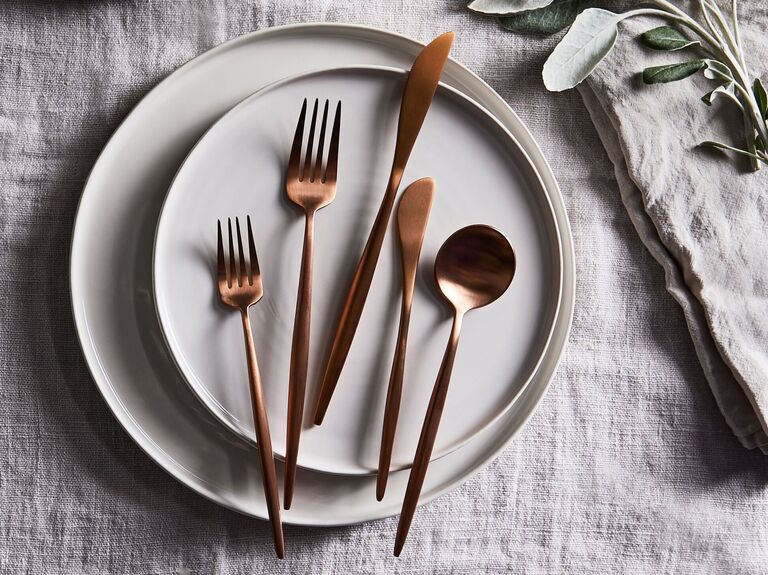 This one's for the trendsetters. These pink-hued pieces will add a cosmopolitan touch to any table setting. Made from durable stainless steel, they should keep their shine for years to come. Just make sure to get two sets.
Borrowed Blu Luna flatware in Brushed Rose Gold, $89 for a set of 5, Food52.com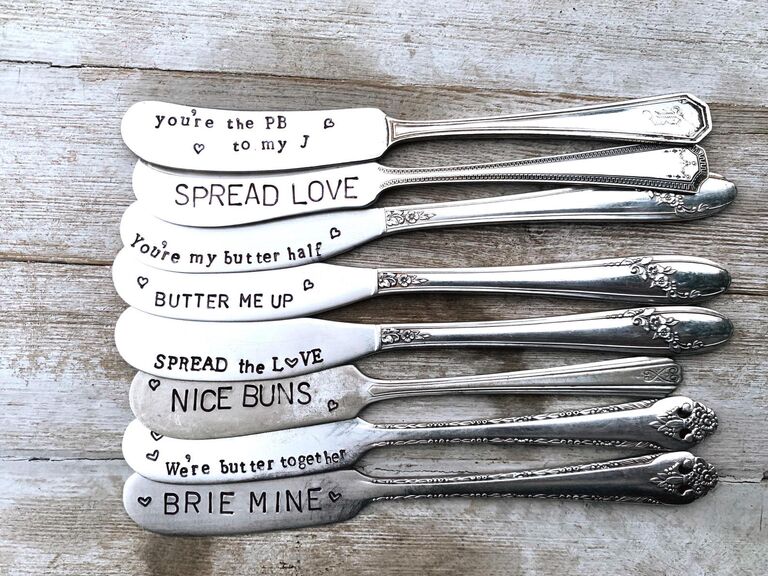 If your other half is always reaching for the peanut butter jar, here's a thoughtful five-year anniversary gift for him or her. Each of these vintage-style spreading knives is stamped with a cute quip like "we're butter together" and "you're the PB to my J." How cute!
The Woodsy Way handstamped vintage butter knife, $19 each, Etsy.com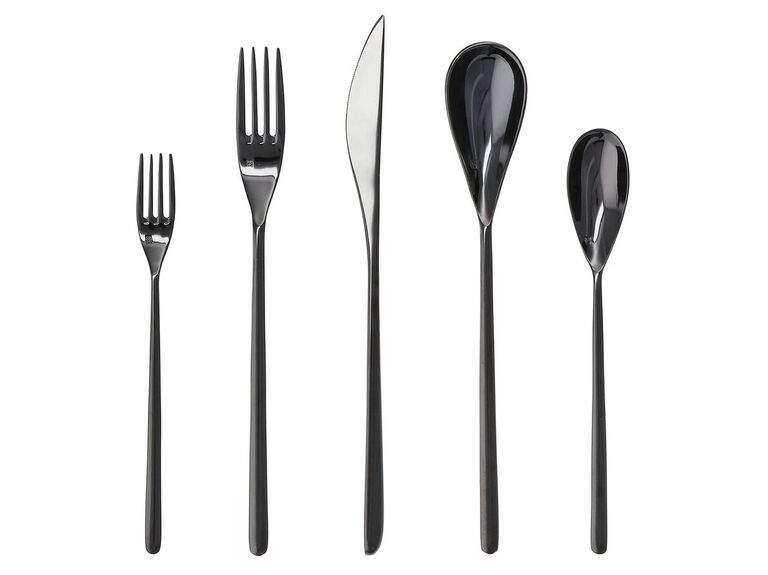 Flatware doesn't get much more fabulous than this contemporary collection inspired by cut diamonds. Treat the couple to a complete cutlery overhaul by gifting them a 20-piece set containing four dinner forks, salad forks, soup spoons, teaspoons and knives. The icing on the cake? They're made with dishwasher-safe stainless steel for easy cleanup and extra durability.
Fortessa Dragonfly black flatware set, $210 for a set of 20, SurlaTable.com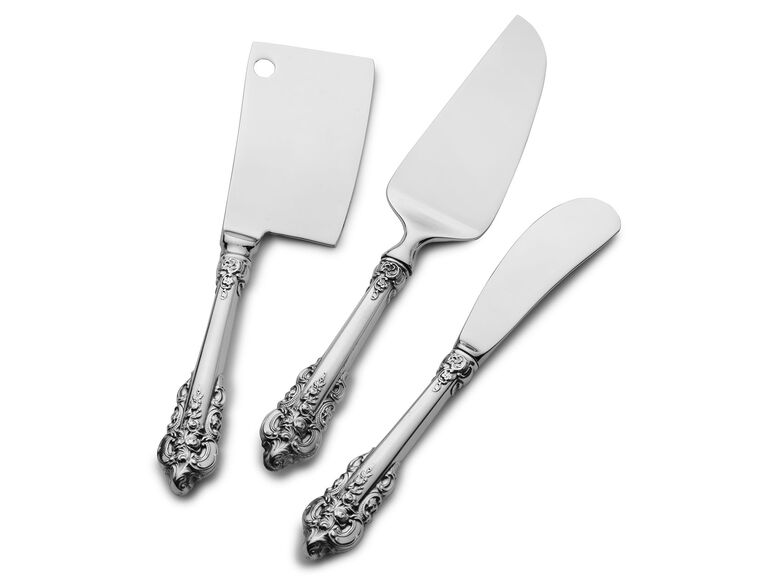 Shopping for someone who makes a mean cheese board? A set of ornate cheese knives made with stainless steel and sterling silver is the flatware of their dreams. One thing to keep in mind: You might want to keep them out of the dishwasher. 
Wallace Silversmiths Grand Baroque 3-piece cheese knife set, $380, NeimanMarcus.com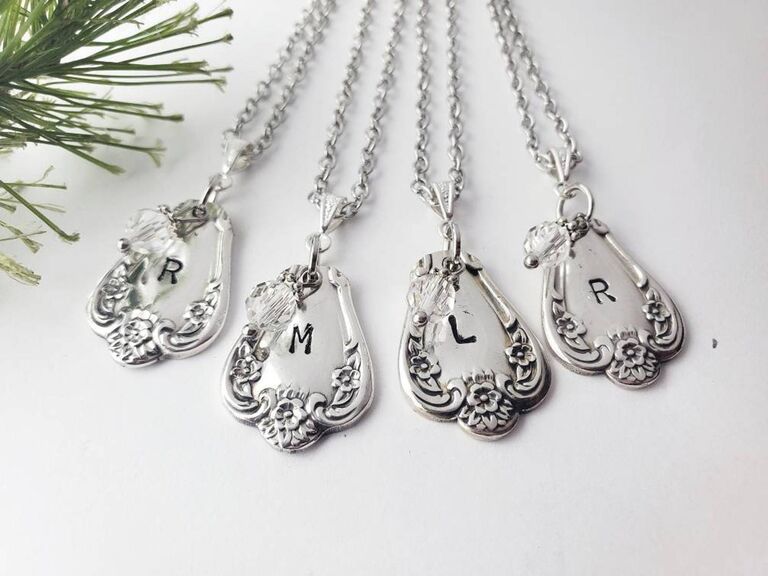 We bet you didn't expect to find jewelry on our list of silverware-themed presents! Made from upcycled antique-style flatware, each necklace can be personalized with an initial and a colored bead.  
Spoon Me Maryland silverware jewelry, $22, Etsy.com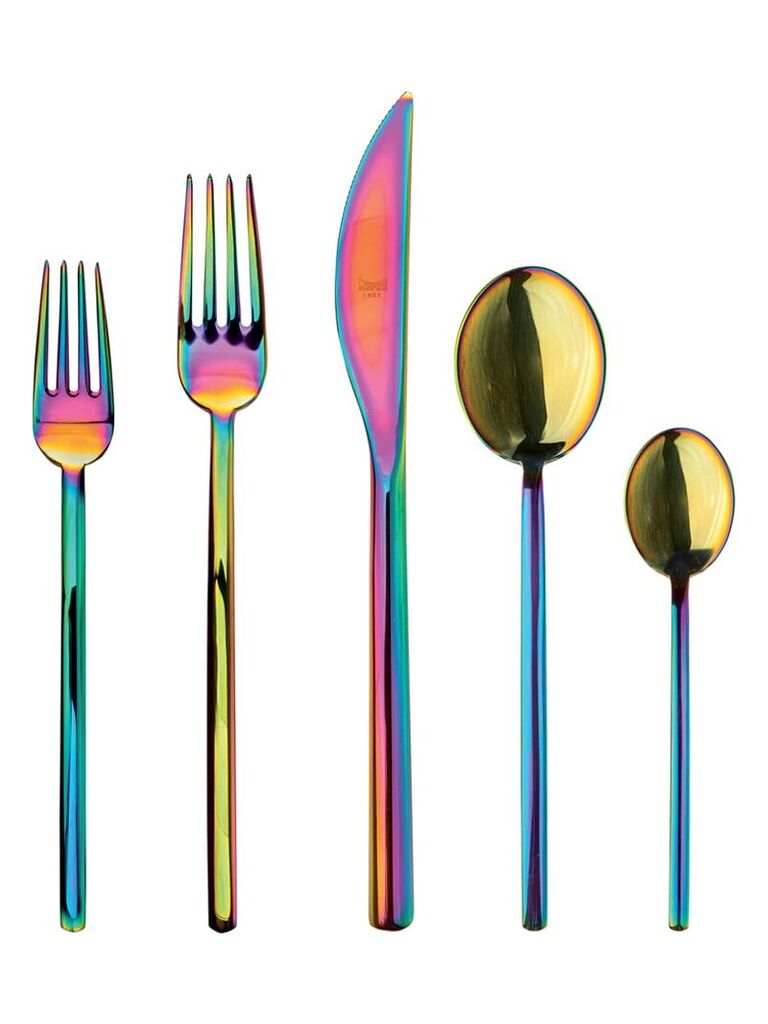 This mesmerizing set will bring a whimsical-yet-stylish touch to the dinner table. It's a unique fifth wedding anniversary gift for the couple with lots of colorful home decor. Bonus: Pink and blue hues give a nod to this milestone's traditional colors.
Mepra Rainbow 5-piece place setting, $217, Nordstrom.com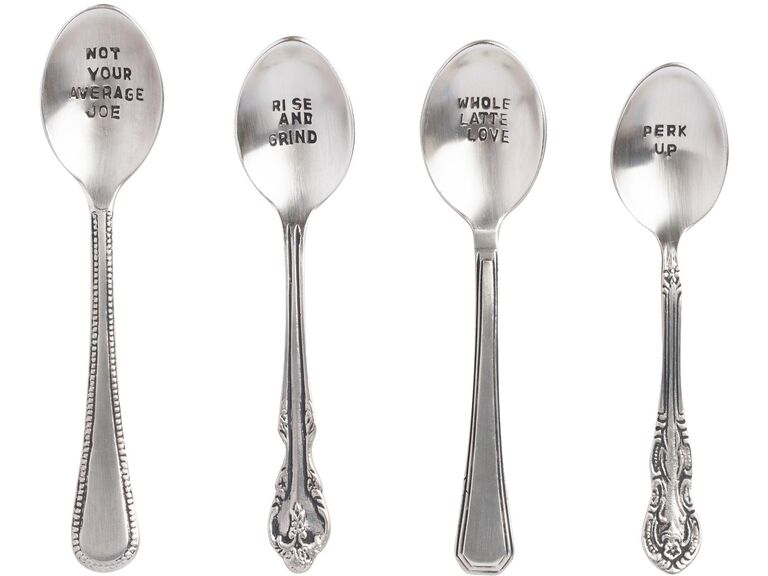 This one's for the coffee lovers! Upgrade their daily caffeine ritual with this set of stainless steel spoons hand-stamped with fun phrases like "rise and grind" and "whole latte love."
World Market hand stamped coffee spoons, $17 for a set of 4, WorldMarket.com
The fifth-year anniversary is undoubtedly a big one. If you're looking to really impress the couple with something silverware-inspired, have an elegant serving tray personalized with their family name or monogram. This stunning serveware is made from recycled aluminum, which is a little more affordable than silver (but just as shiny).
Mariposa String of Pearls personalized oval tray, $90, PersonalizationMall.com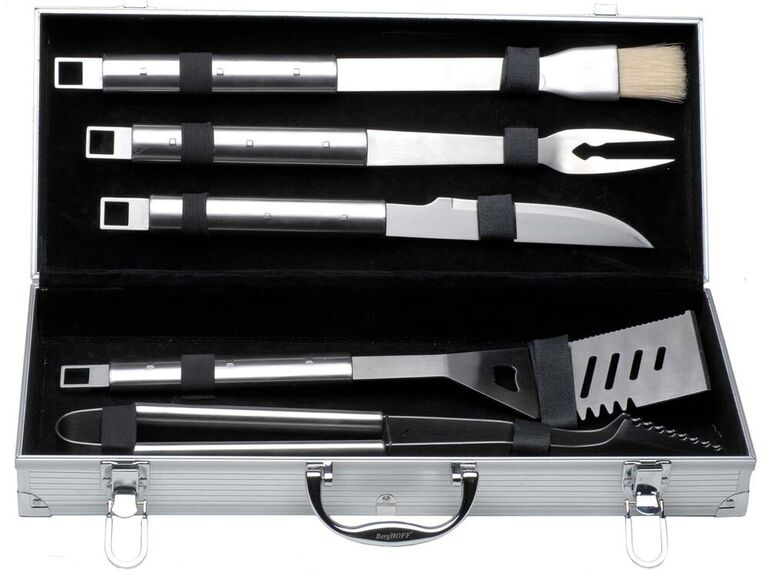 If your other half prefers cooking outdoors, ditch the traditional flatware for a set of sleek stainless steel barbecue utensils. This six-piece set includes a meat fork, basting brush, barbecue knife, slotted turner, tongs and a convenient and sturdy storage case. You could even plan a fun anniversary barbecue to celebrate!
BergHOFF Cubo 6-piece stainless steel BBQ tool set with case, $90, SurlaTable.com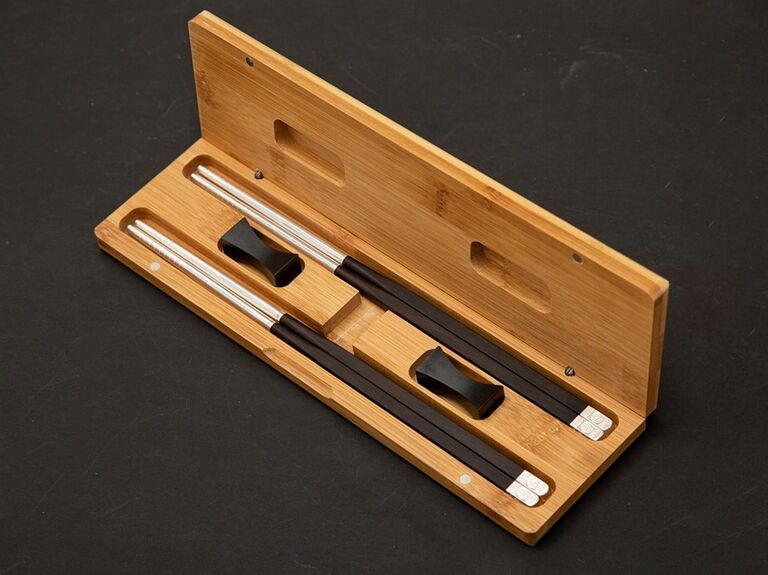 Looking for more five-year anniversary ideas? If your S.O. is a lover of Asian cuisine, prepare their favorite dish at home served alongside a set of custom chopsticks. Each pair can be engraved with your names, the date of your nuptials or another meaningful message. The best part? They're made out of silver and ebony, honoring both the modern and traditional gifts for this milestone.
iWood Shop custom silver chopsticks, from $48 for a pair, Etsy.com
Alternative Five-Year Anniversary Gift Ideas
Five years of marriage is a special milestone, and that means celebrating with something you know they'll enjoy. If the traditional and modern presents just don't tick all the boxes, that's okay. We've got plenty more thoughtful gift ideas that'll work for any spouse or couple. Keep reading to find out our top picks.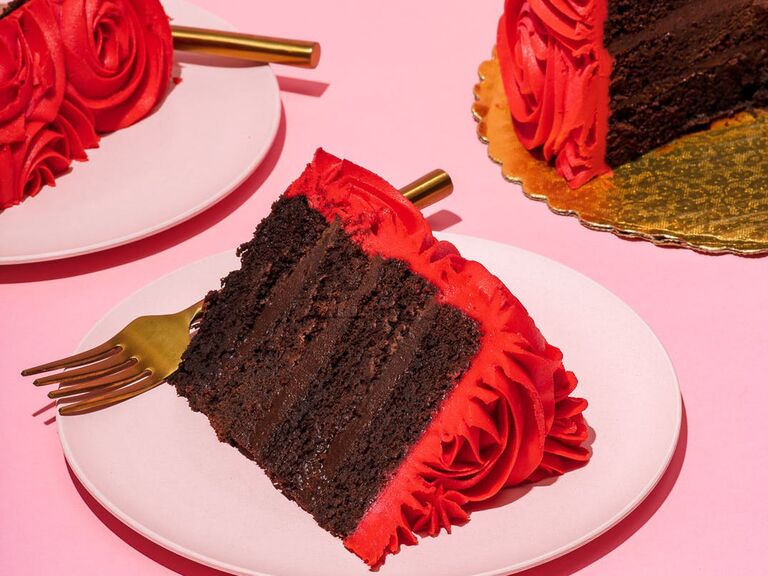 Okay, this one literally takes the cake. It's four decadent layers of delicious chocolate sponge with chocolate cream cheese frosting, beautifully finished with red vanilla buttercream in the form of rose petals. If that's not enough to persuade you, it comes from We Take the Cake—a favorite among celebrities and luxury caterers alike. 
We Take the Cake red rose chocolate cake, $79, Goldbelly.com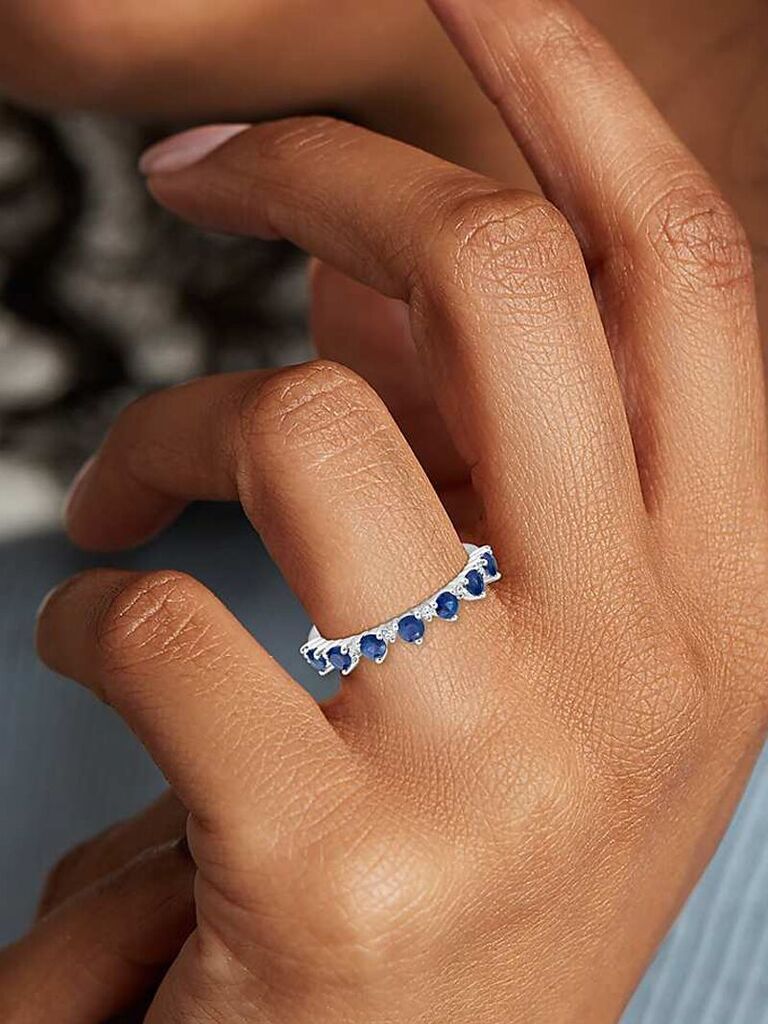 Another five-year anniversary gift tradition? Jewelry—specifically sapphires. Make your S.O. feel like royalty with a ring featuring Duchess Kate's engagement stone. If you choose a sapphire-studded band like this one, it'll look great stacked next to their wedding and engagement rings.
Blue Nile sapphire and diamond tiara stacking ring, $625, BlueNile.com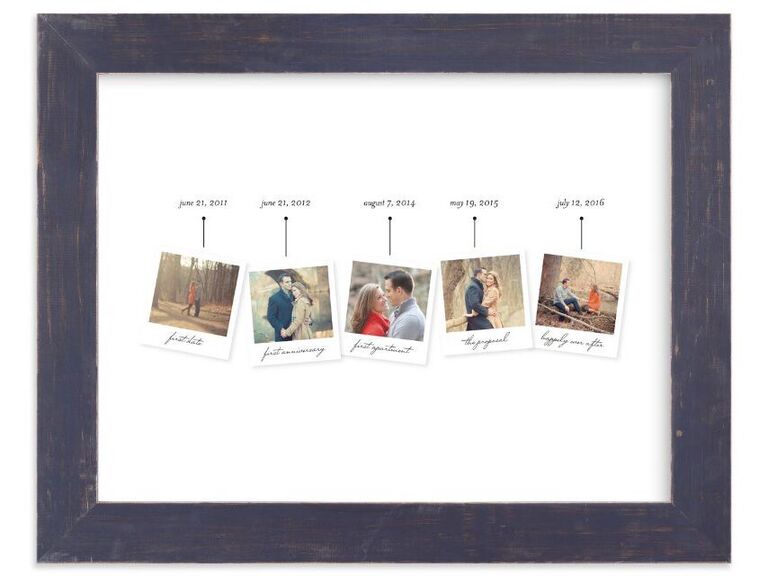 What better way to celebrate a new milestone than by looking back on your favorite memories? Follow the prompts on this romantic art print, or include a photo from your wedding day and previous four anniversaries—either way, the finished picture frame will give them all the feels. 
Liz Conley Timeline custom photo art, from $24, Minted.com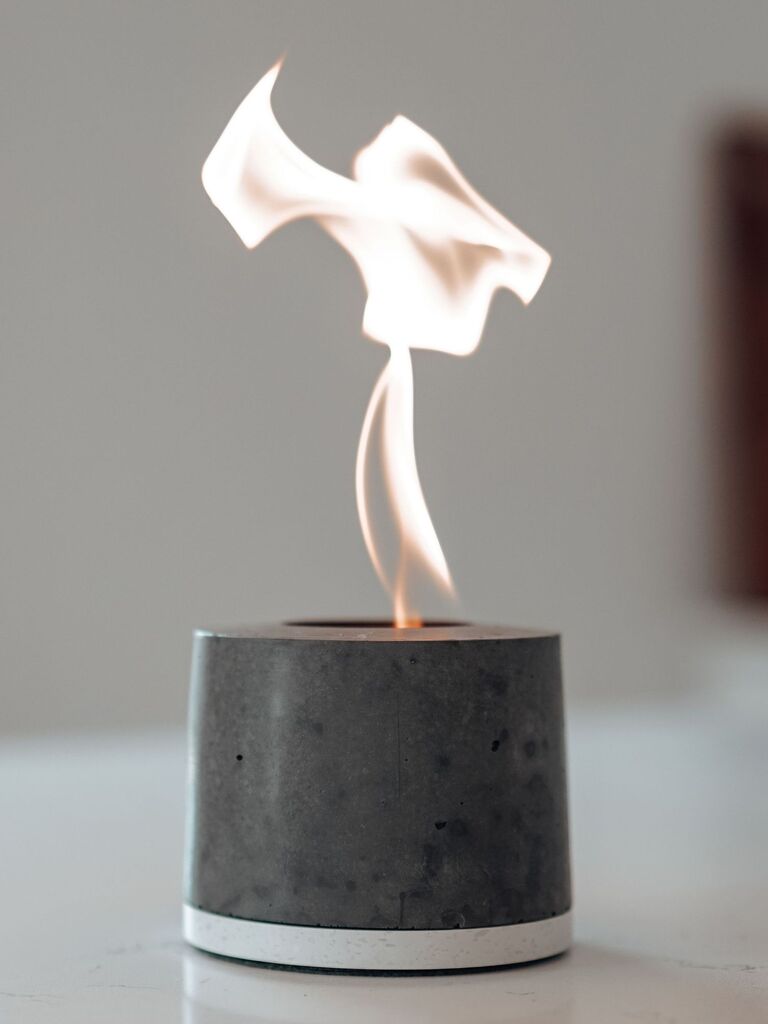 If your spouse is more interested in cool gadgets than keepsakes, use that as inspiration! We're obsessed with this handy miniature fire pit, and if your S.O. has ever dreamt of roasting marshmallows from the couch, they will be too. 
FLIKR Fire personal concrete fireplace, $95, Food52.com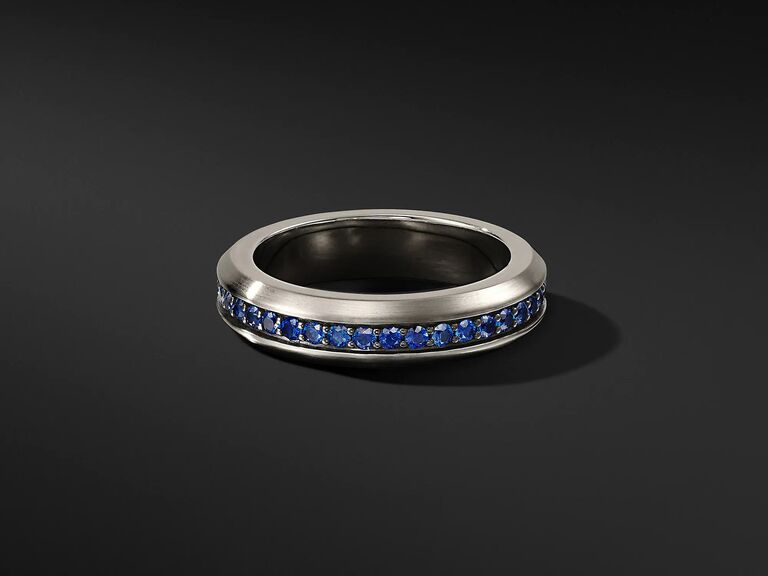 Here's another gorgeous accessory in line with the five-year anniversary theme of sapphires. The dazzling blue gemstones add a colorful twist to this otherwise minimalist ring. Choose between sterling silver, white gold or yellow gold for the band depending on your partner's personal style. 
David Yurman Streamline band ring with sapphires, from $1,400, DavidYurman.com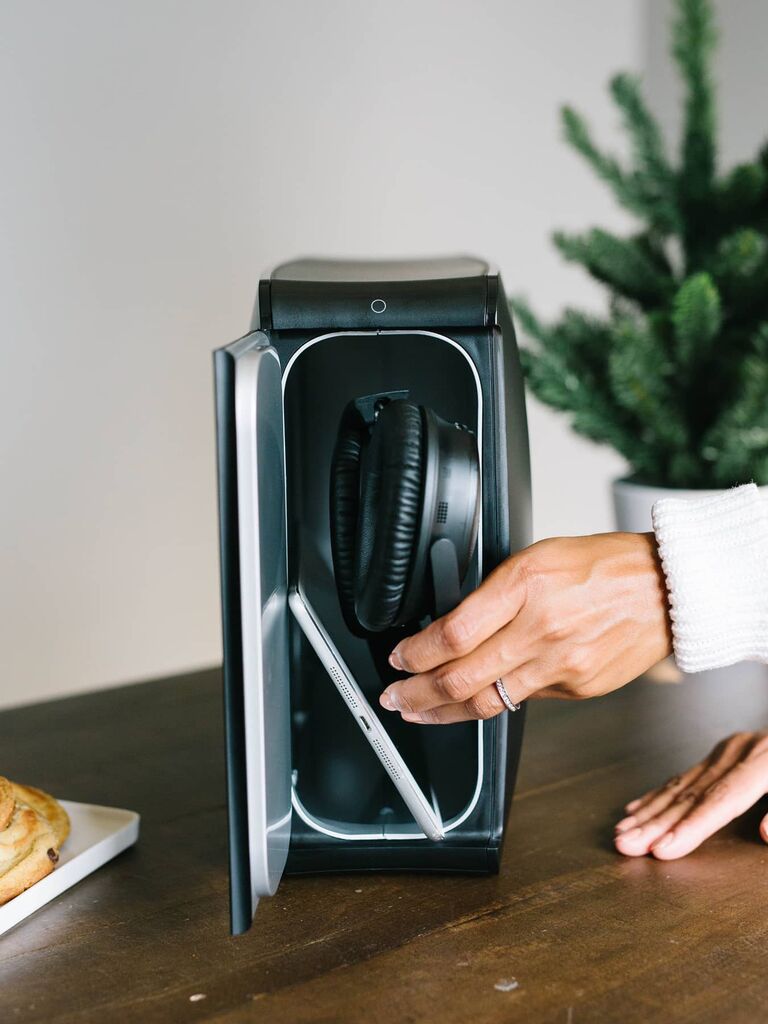 Regardless of whether or not they already have a PhoneSoap, any couple would be happy to welcome the HomeSoap into their abode. This bigger and better model has all the disinfecting power of the PhoneSoap with room for even more items (think: children's toys, tablets, game controllers and more). A smart UV-C light effectively kills germs without damaging their tech, jewelry or whatever like soap and water would.  
PhoneSoap HomeSoap, $200, PhoneSoap.com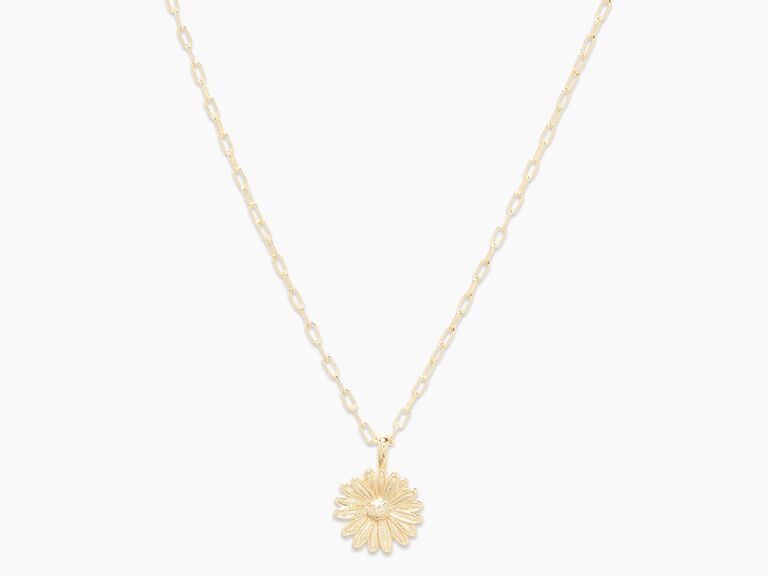 As we mentioned earlier, the flower associated with this special occasion is the daisy. A symbol of fidelity, these pretty blooms have a mesmerizing structure. Each petal reaching out from the center is indicative of the experiences you and your S.O. have shared and have yet to share. With that in mind, this gorgeous gold necklace is a lovely way of celebrating past memories and toasting what's yet to come. (Psst, there's also a pair of matching earrings, if that's more your spouse's style.) 
Gorjana daisy necklace, $55, Gorjana.com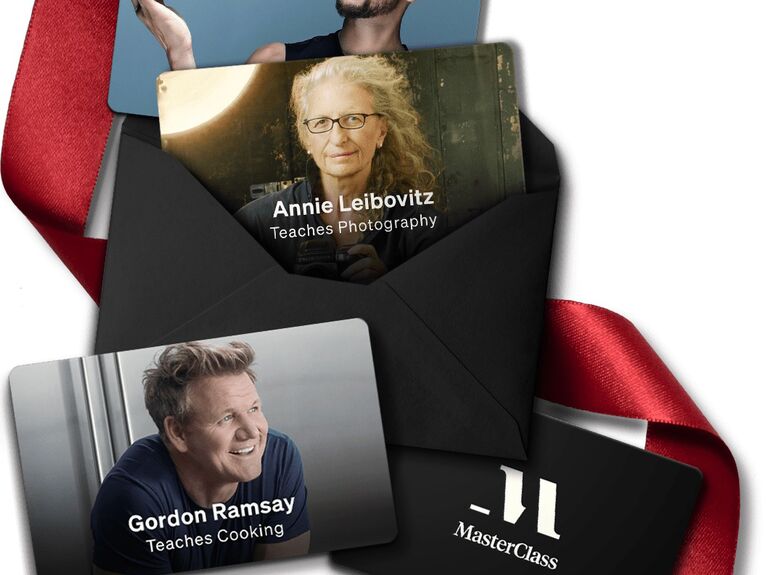 While experience gifts like hotel breaks and photo shoots might have to be put on the back burner for now, we've got a cool alternative they can enjoy right at home: a MasterClass subscription. It'll give them access to a whole host of new experiences, from photography classes to mindfulness courses. There's something for everyone, whether you're shopping for a five-year anniversary gift for your wife, husband or the couple.
MasterClass gift subscription, $180 annually, MasterClass.com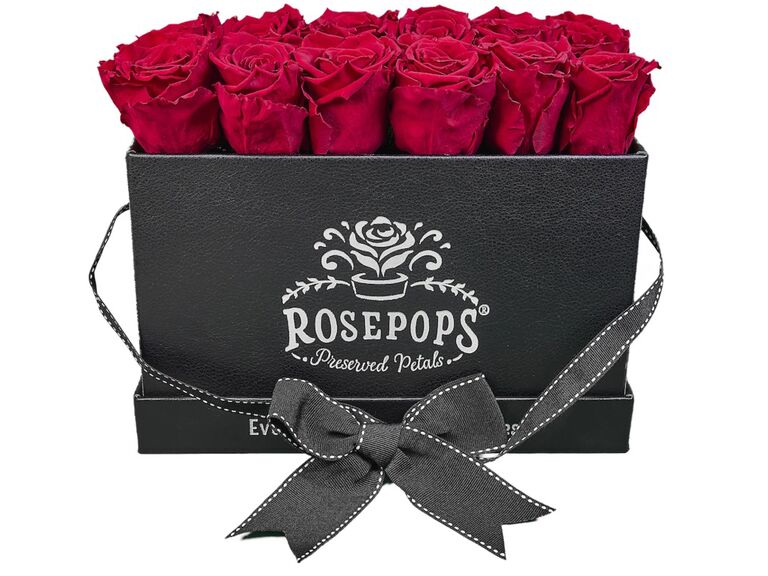 Roses in the form of cake is a cool (and delicious!) idea, but if you want your present to last, your best bet is to go with preserved flowers. Send your sweetheart a faux leather gift box filled with a dozen red roses that pop up after opening for a romantic surprise they won't soon forget. If your S.O. is a little more understated, you can send them a single preserved rose instead.
Rosepops The Keeper by the Dozen, from $160, Rosepops.com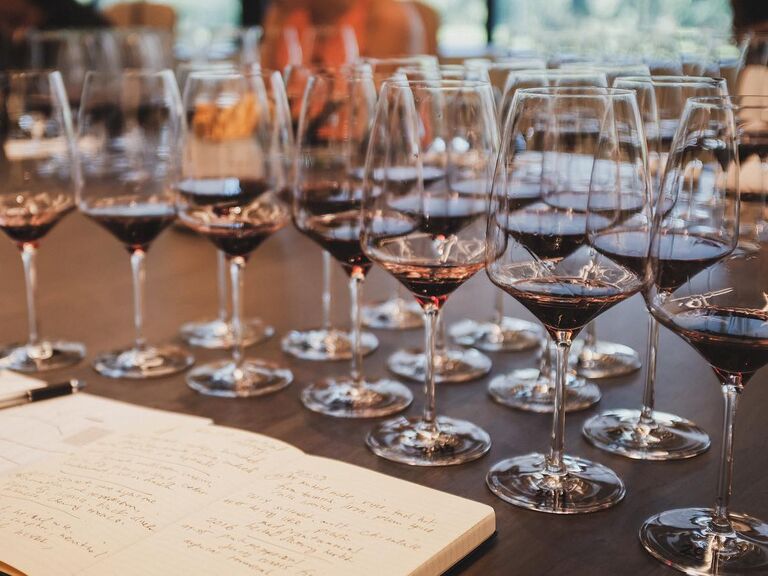 Sure, a bottle of wine is a great gift, but if you really want to leave an impression, try giving them a subscription instead. If you're shopping for your other half, why not plan an elaborate wine tasting on your special day to celebrate? Then, you can recreate the experience every few months when your next delivery arrives. Choose between a selection of six classic and new-wave bottles, or a set of two luxury red wines.
Wine Access Wine Club membership, from $150 per shipment, WineAccess.com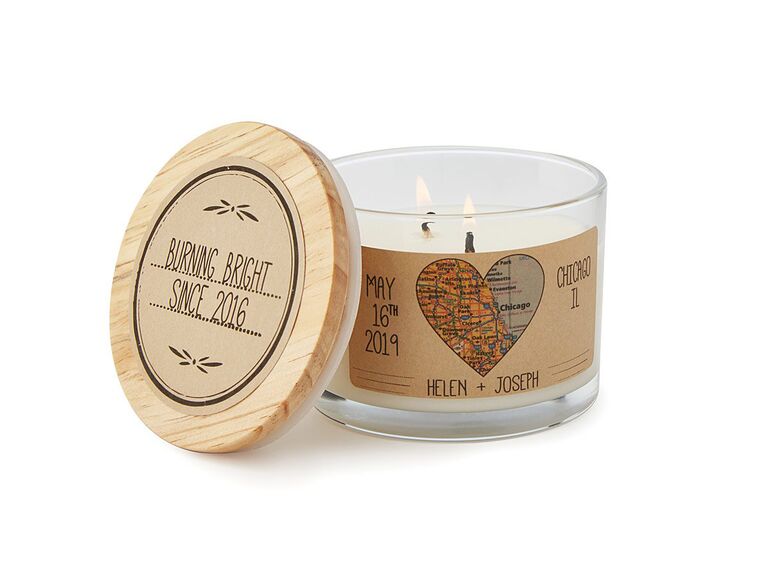 Trying to impress a Bridgerton fan? A milestone anniversary candle will let them know just how much you burn for them. This unique candle comes personalized with your names, a meaningful date and a special location. You can also give a nod to the year you met or tied the knot on the lid, which reads "burning bright since..."
Sandrine Froehle anniversary map candle, $45, UncommonGoods.com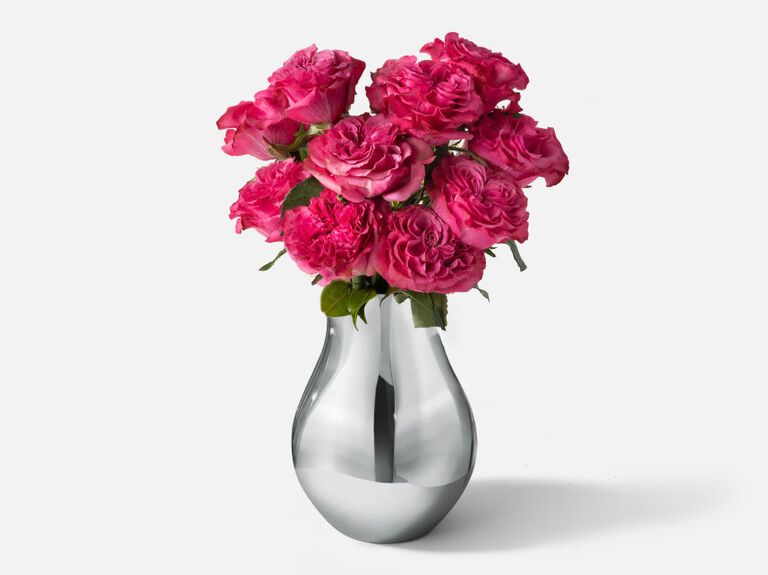 Looking for last-minute five-year anniversary gifts? Check with your local florist to see what they can do. Alternatively, UrbanStems offers next-day flower delivery from Tuesday to Saturday. Choose from a range of beautiful bouquets like this romantic bunch of pink roses. The chic stainless steel vase is included, so your spouse can put it on display instantly. Feel free to select other cute add-ons like champagne gummy bears or chocolates.
UrbanStems The Enchantment bouquet with vase, $175, UrbanStems.com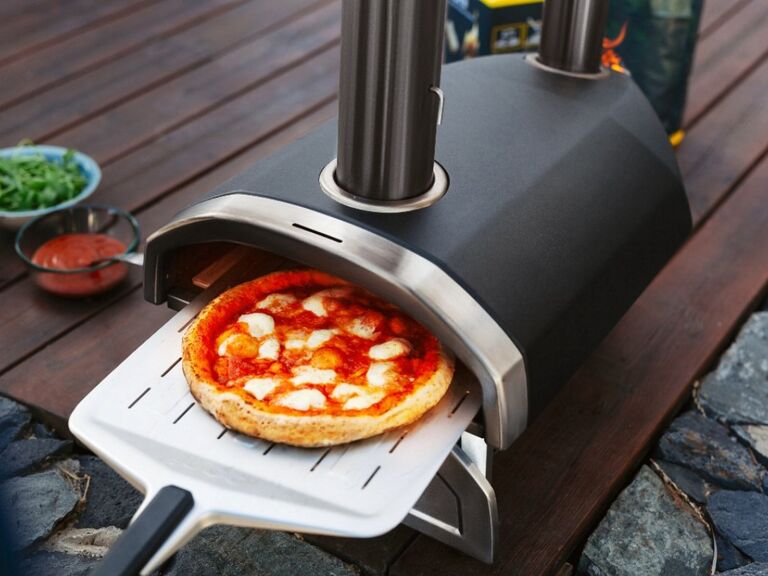 Sometimes, unusual fifth wedding anniversary gifts are the best of all. This portable wood-fired pizza oven gives a subtle nod to the year's traditional material, and it'll make planning an outdoor celebration easy. Who doesn't want to have a pizza party?
Ooni Fyra portable wood-fired pizza oven, from $299, TheGrommet.com