The Best 3rd Anniversary Gifts for Marking the Occasion
Celebrate the leather anniversary with a meaningful gift.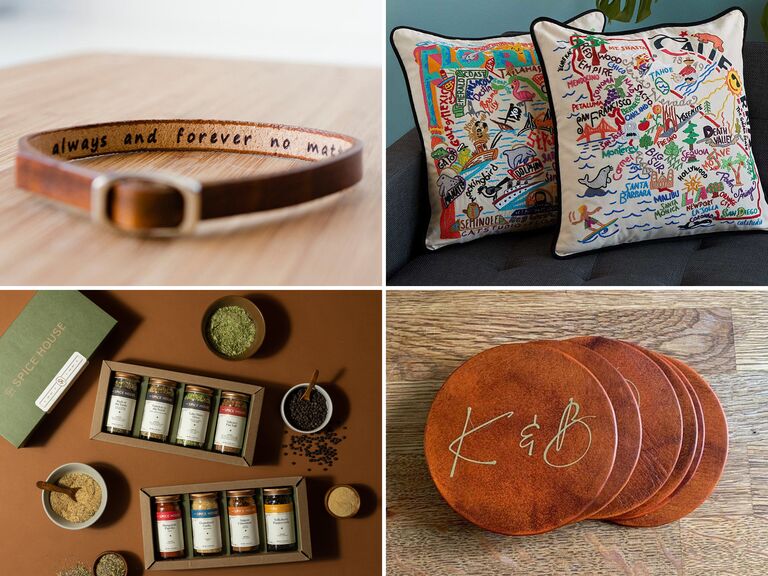 We have included third party products to help you navigate and enjoy life's biggest moments. Purchases made through links on this page may earn us a commission.
While three years might not feel like such a big deal compared to the first anniversary, it's still just as important to celebrate. Every year counts when it comes to strengthening a marriage (especially if that year involved spending a lot of extra time together). Buying a third anniversary gift is a sweet way to mark the occasion, whether you're commemorating your own milestone or you want to congratulate a couple you know and love. 
If you're not already familiar with the traditional and modern third anniversary gifts, we've done a quick rundown below that'll tell you all you need to know to pick out an awesome (and on-theme) present. Otherwise, feel free to skip ahead to our list of the best leather, glass and alternative gift ideas.
In this article:
What is the three-year anniversary gift?
Whether you decided two years ago to stick with each milestone's unique theme or you're playing it by ear, the traditional three-year anniversary gift is one of the easiest materials to work with: leather. It's also a meaningful tribute to a marriage that's lasted three years, representing the flexible durability a successful union depends on. 
Worried your other half (or the couple) won't be too keen on leather? There are a few other gifting themes that fall under this special milestone. Crystal (or glass) has been adopted as the modern symbol associated with three years of marriage, symbolizing the beauty and fragility of a union in its early stages. Alternatively, you could look to the third anniversary color (white or jade), stone (pearl) or flower (sunflower) for inspiration. 
Leather Anniversary Gifts
Leather comes in many different forms, from clothing and accessories to unique homeware and decor. To make finding a special present for your loved one(s) easy peasy, we've listed our favorite picks for every type of couple below. These traditional third anniversary gift ideas will definitely make it one to remember.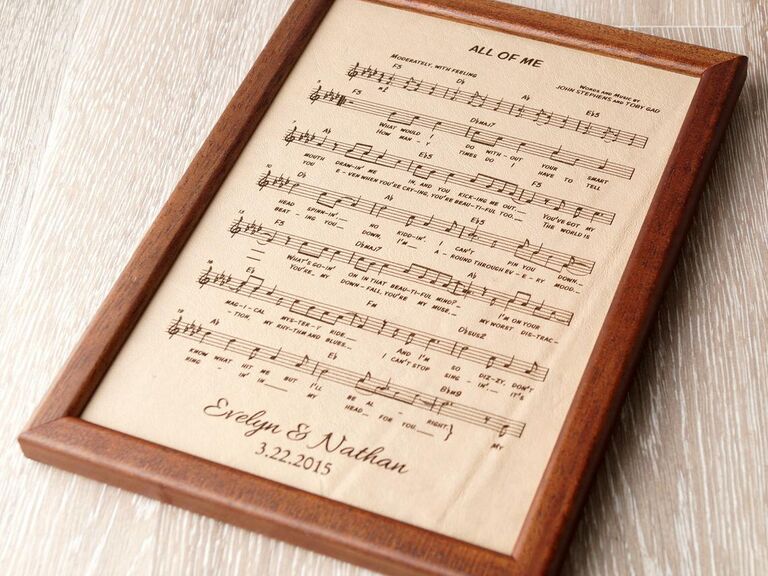 What could be more meaningful than a personalized throwback to your (or the lovebirds') first dance song? This engraved leather sheet music comes in a stylish wooden frame so it's fully display-ready. It's a meaningful present whether you need a leather anniversary gift for her, him or the couple.

Cork Country Cottage leather engraved music sheet, $49, Etsy.com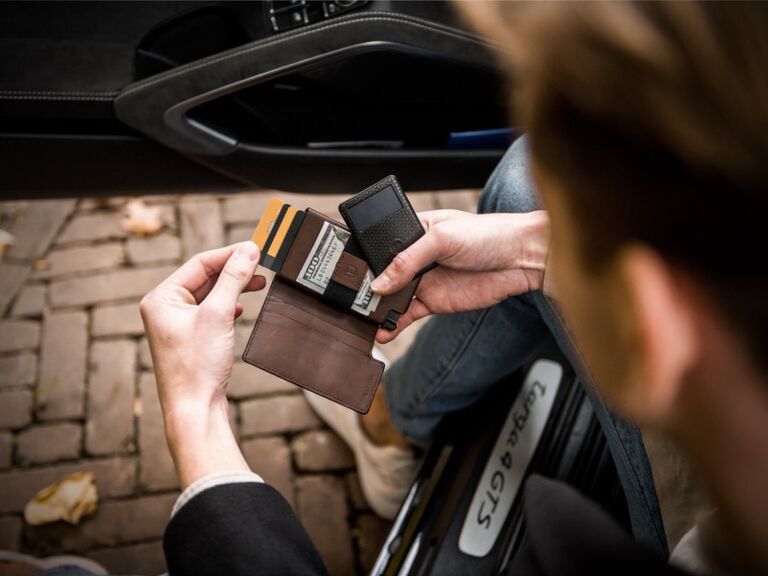 Yes, a leather wallet may seem like an obvious choice. But this one comes with smart technology to help your spouse access their cards at the push of a button. Plus, the sturdy material will last for years to come.
Ekster Parliament wallet, $89, Ekster.com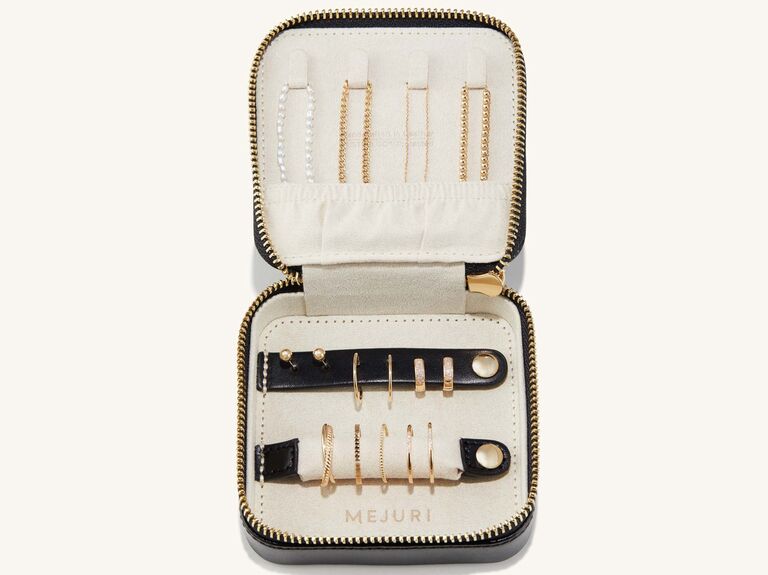 This clever third-year anniversary gift will help your other half avoid tangled necklaces, misplaced rings and intertwined bracelets when they're on the go. The stylish leather jewelry case comes with compartments to keep everything organized. Better yet, it can easily be tucked away in a larger tote.
Mejuri jewelry case, $75, Mejuri.com
When it comes to celebrating any important milestone with your spouse, jewelry is consistently a great gift pick. And if you've decided to buy a leather third anniversary gift, this minimalist bracelet is a sure winner. Have it customized with your initials, wedding date or a sweet message like: "always and forever, no matter what."
Porter & Hazel personalized leather bracelet, $19, Etsy.com
An everyday tote is invaluable, especially if your S.O. is always on the go or has a daily commute. This classic faux leather option is stylish, roomy and comes with an insulated removable pouch specifically designed for packing lunches or snacks. The icing on the cake? You can have it monogrammed with their initials!
Modern Picnic The Tote, from $210, ModernPicnic.com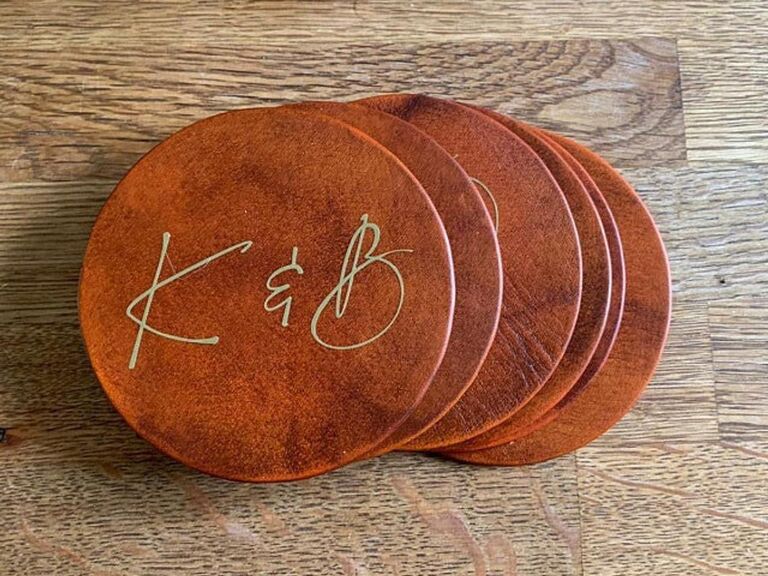 Believe it or not, there are so many different types of leather wedding anniversary gifts to choose from. We love the sentiment behind these chic coasters embellished with the happy couple's initials in an elegant gold font. Pick up a set of two so they'll each have somewhere to put their morning brew, or—if they're natural-born hosts—opt for a set of six.
Parkin & Lewis couple initials leather coaster, from $24 for a set of 2, Etsy.com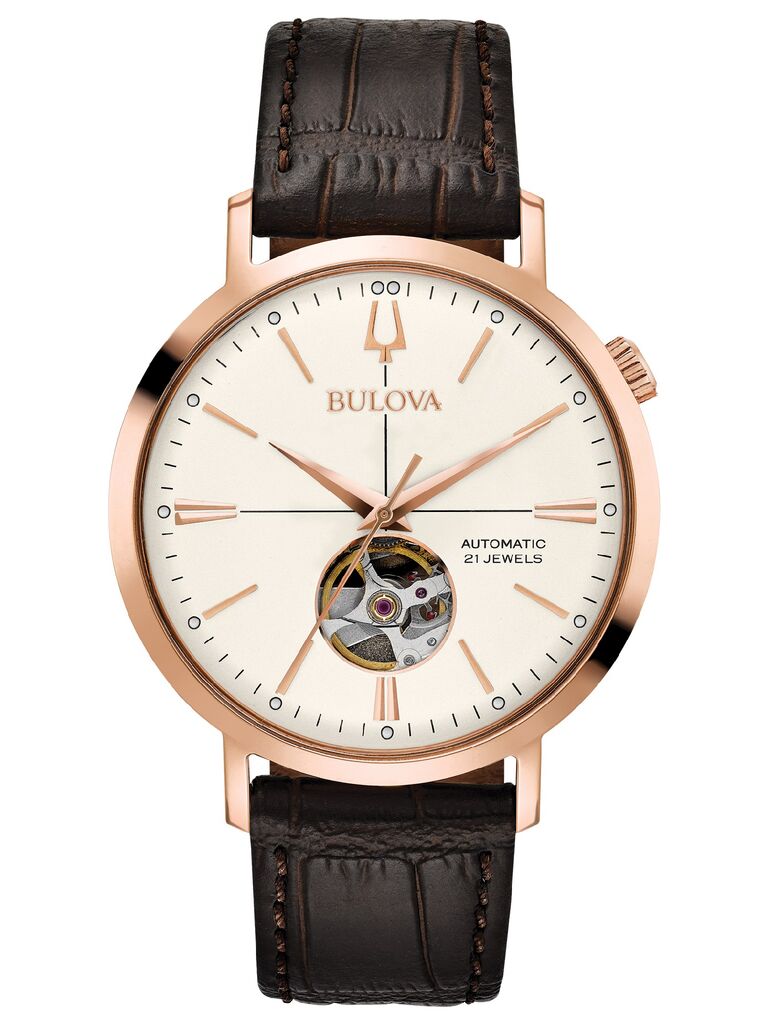 Since anniversaries are all about commemorating the passing of time, a watch is a classic choice. Anyone who loves watches (or even just appreciates good engineering) will love this timepiece's open-aperture dial. Complete with a rose-gold stainless steel case and textured leather strap, it'll be a stylish addition to your partner's collection.
Bulova Aerojet, $380, Bulova.com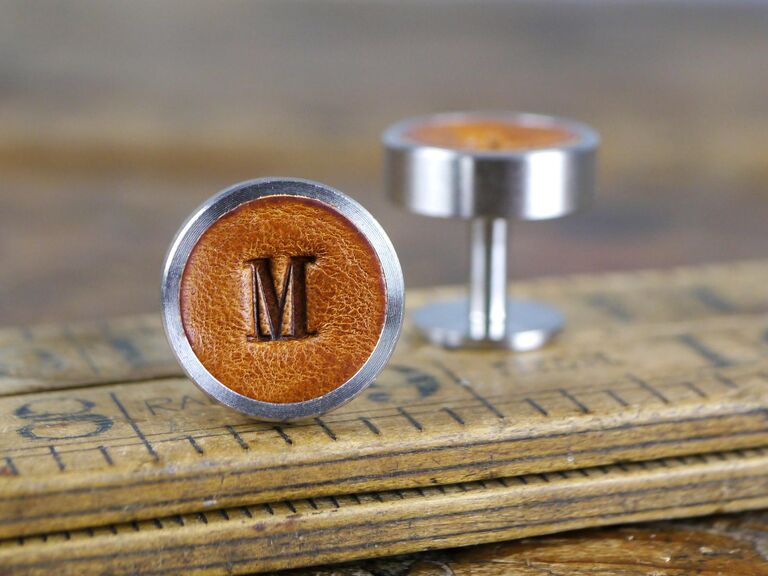 How about a three-year wedding anniversary gift your spouse can wear out to dinner to celebrate? These monogrammed leather cuff links are a unique accessory they'll want to pull out for all future occasions.
Kingsley Leather personalized cuff links, $73, Etsy.com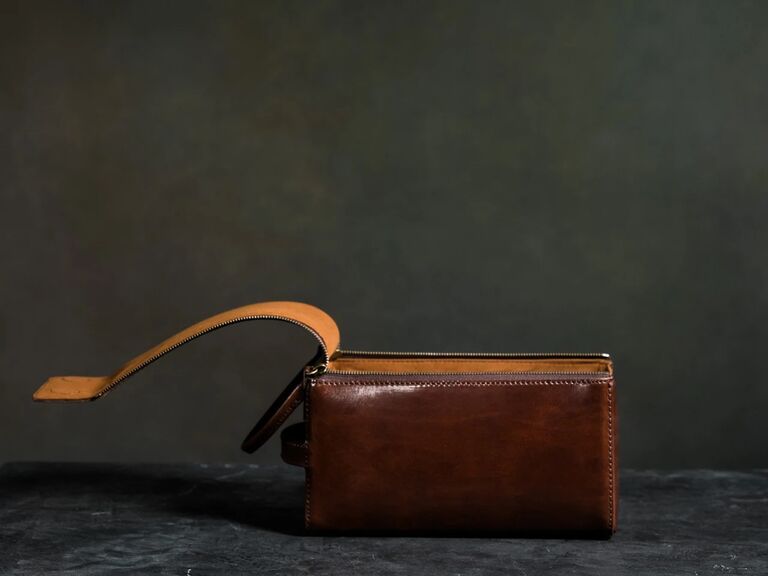 Looking for a present your partner can use time and time again? Two words: dopp kit. This genuine leather gift idea is the perfect place for them to store their grooming essentials on your next romantic getaway (or even just in the bedroom). The sleek toiletry bag is made from premium Italian leather, meaning it should last a long time.
Satchel & Page dopp kit, $145, Satchel-Page.com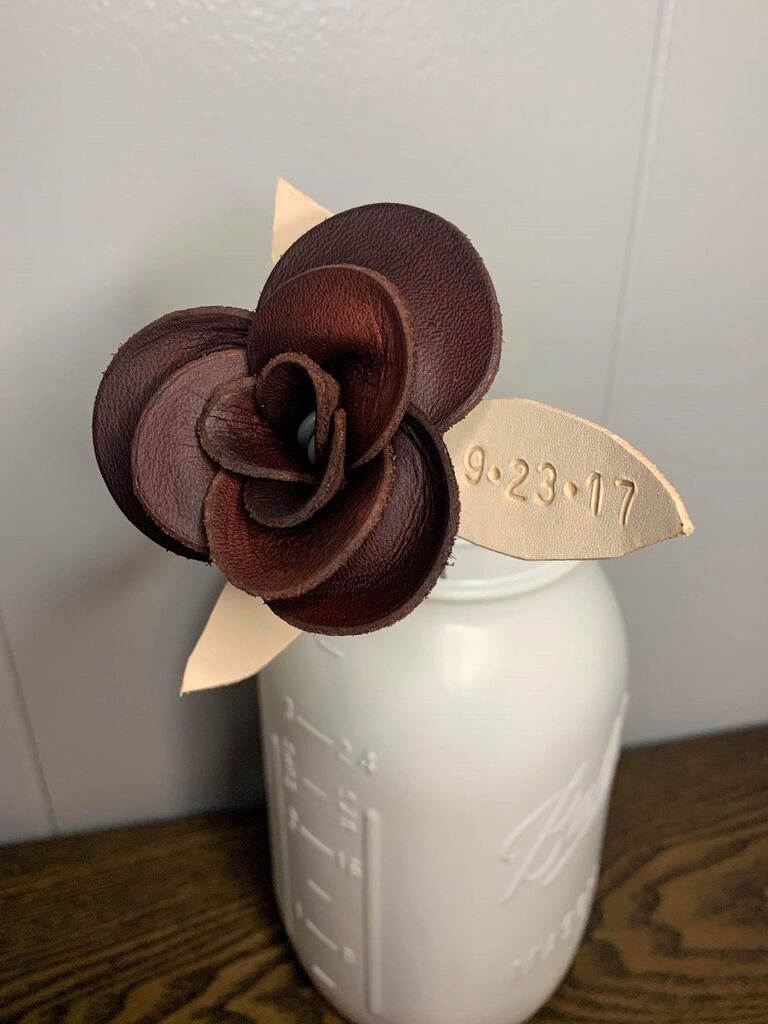 If it's unique leather anniversary gift ideas you're after, look no further. How cool is this handcrafted leather rose?! It comes stamped with the date of your choosing on one of the leaves for an extra-meaningful touch. (Psst, you can also get one with both of your initials on it!)
8:39 Leathercraft leather rose with custom date stamps, $25, Etsy.com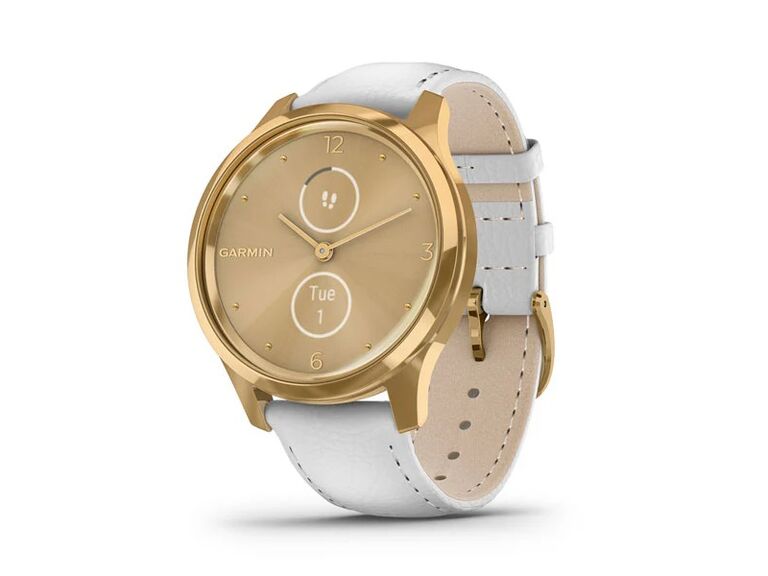 Don't be fooled by the elegant analogue design—this isn't a regular watch, it's a smartwatch. It does pretty much everything you'd expect (like displaying notifications, tracking steps and making contactless payments), but keeps up the appearance of a classic timepiece. Bonus: The white leather band pays tribute to one of the milestone's designated colors.
Garmin 42mm Vívomove Luxe in 24k Gold and White Italian Leather, $450, Garmin.com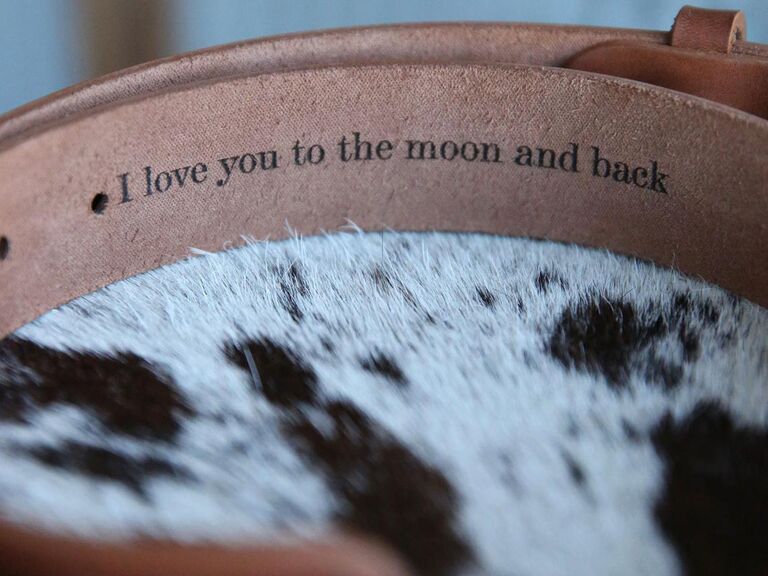 Thought a belt couldn't be a romantic present? Think again! This luxury leather accessory can be personalized with your spouse's initials and a sweet hidden message from you to them. This one reads: "I love you to the moon and back."
Holtz Leather fine leather belt in Chestnut, from $80, Etsy.com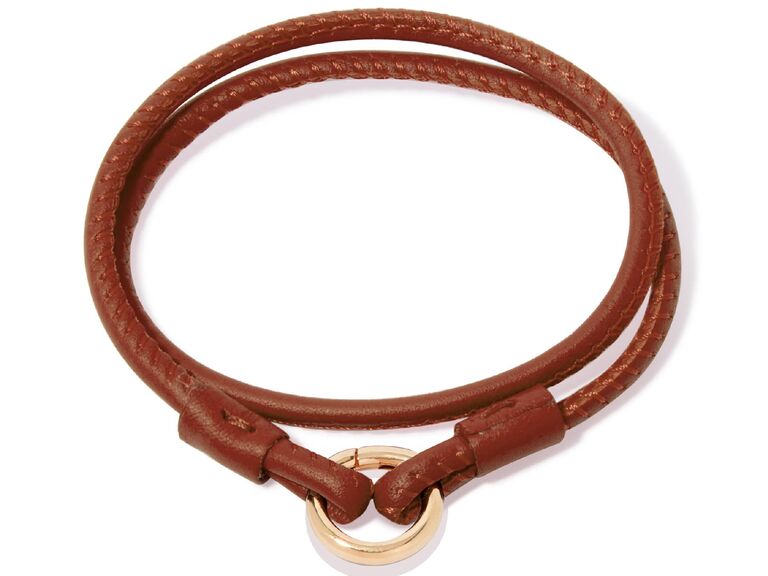 Here's another stylish piece of leather jewelry your spouse can wear as a symbol of your love. Other meaningful charms can easily be attached to the yellow gold link at the center of this unusual bracelet. 
Annoushka 14ct gold Lovelink brown leather bracelet, $285, Annoushka.com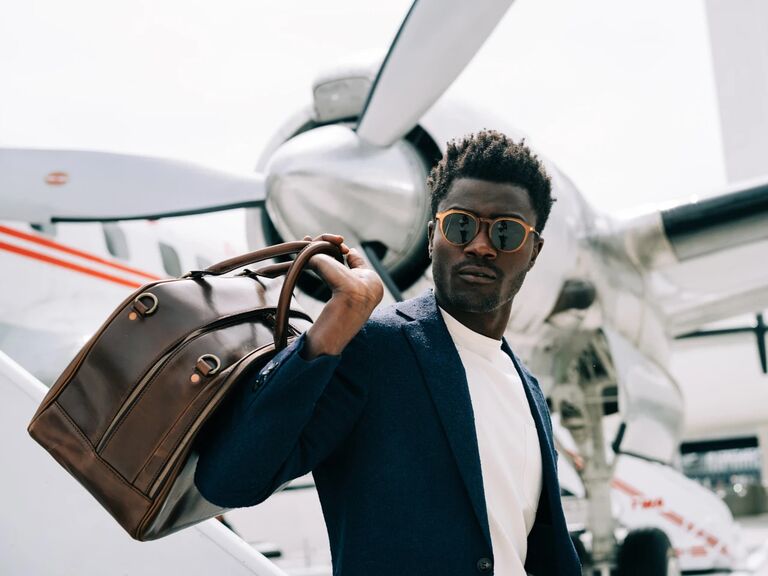 If your S.O. can't wait to get back to their jet-setting lifestyle post-pandemic, this luxe leather bag is sure to excite them. A handy hidden pocket at the front is perfect for stowing their passport, and there are plenty more compartments inside to make packing a piece of cake.
Satchel & Page weekender, $595, Satchel-Page.com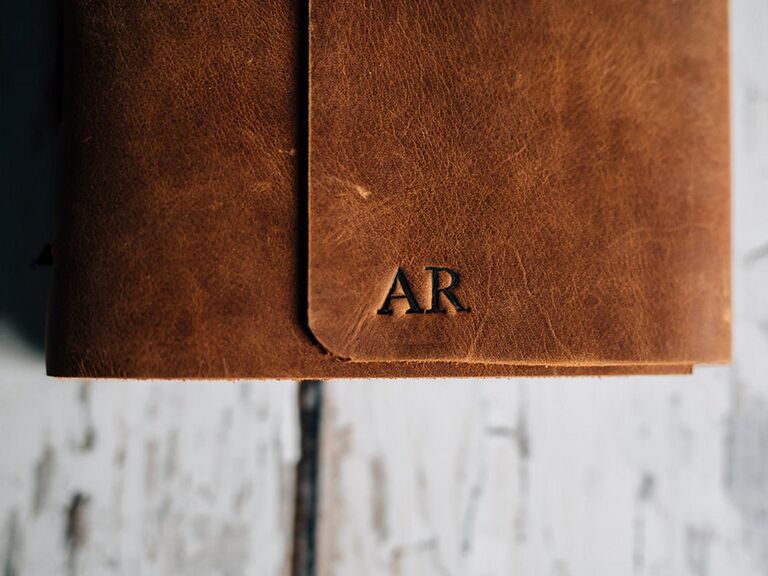 Bound in soft leather, this notebook will be your partner's go-to place to record and cross off bucket list items, track their daily events or practice some mindful journaling. Have it personalized with their monogram and leave a sweet handwritten note inside to make it an extra-special three-year anniversary gift for him or her.
Forest Nine personalized leather journal, from $64, Etsy.com
Crystal and Glass Anniversary Gifts
It's clear as crystal: Three years together is an incredible achievement. But if you're not feeling so clear on what to get your spouse or loved ones as a present, we've got you covered. Check out these unique third wedding anniversary gifts for your wife, husband or the couple that are made with glass or crystal.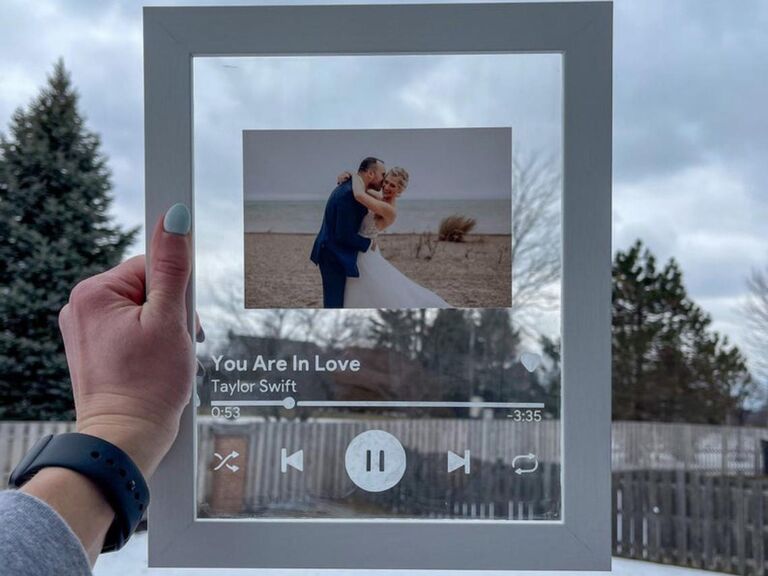 Got a special song you've both made your own? This romantic glass plaque will show the tune as it's displayed on Spotify with a photo of your choice as the album cover. It's a unique gift your other half will cherish.  
Clicked Craft personalized Spotify glass frame, from $13, Etsy.com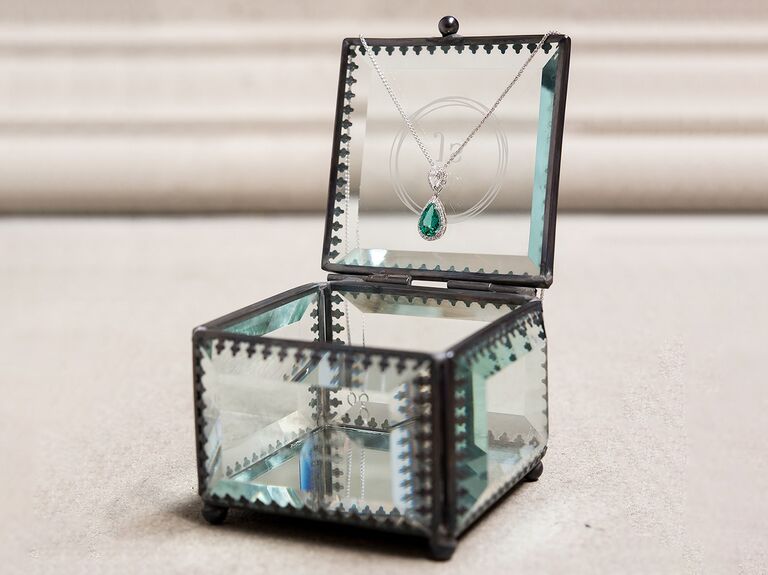 Give your spouse a beautiful home for their ring when it's not on their finger. This vintage-inspired jewelry box is see-through, meaning the prized possessions inside can still be appreciated even when they're not being worn.
The Knot Shop vintage-inspired glass jewelry box, $30, TheKnot.com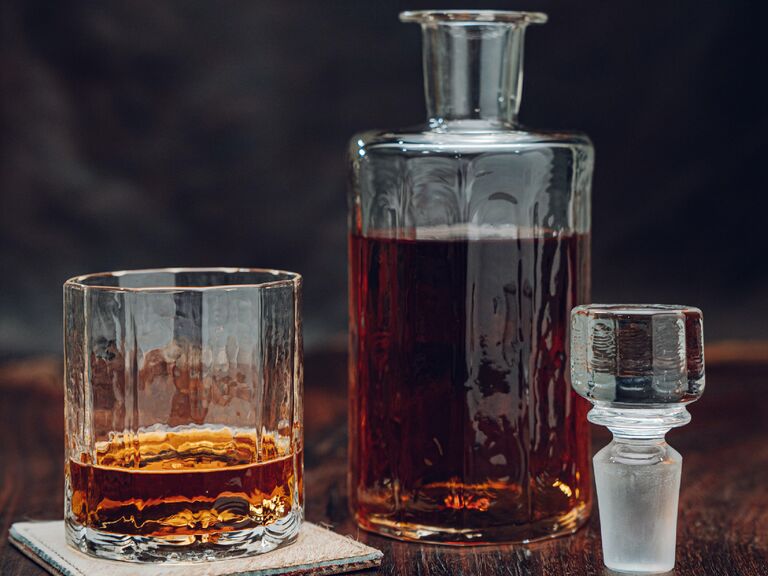 This modern gift set includes a decanter and two rocks glasses with a unique textured finish. It's one of the best third anniversary gift ideas for couples who appreciate a good scotch or bourbon.
Terrane No. 12 whiskey set, $255, Huckberry.com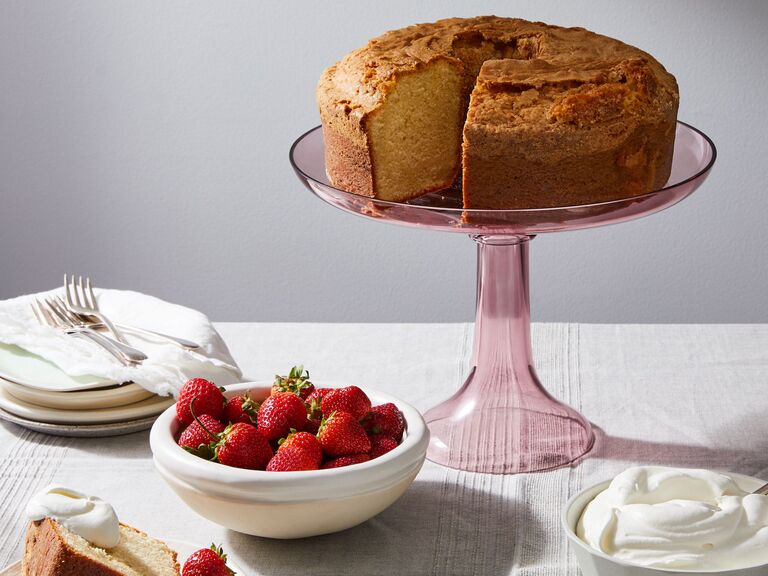 Shopping for the spouse who loves to bake? This colorful hand-blown cake stand will take their creations to the next level.
Estelle Colored Glass hand-blown color glass cake stand, $225, Food52.com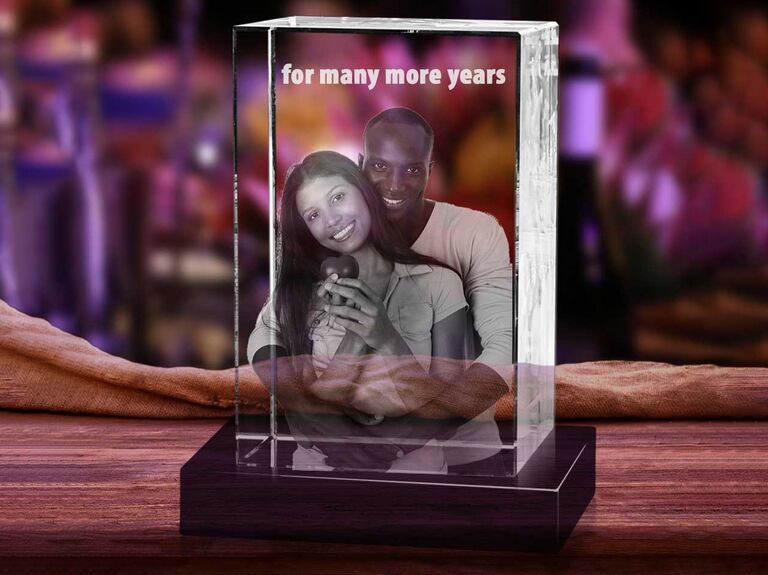 Surprise your spouse with a picture from your wedding day (or another favorite memory) etched onto crystal. Pair the ornament with a blacklight or rotating LED base so it's ready to show off right away. It's a meaningful third anniversary gift for him or her.
The 3D Gift anniversary portrait, from $129 for 1-2 faces, The3DGift.com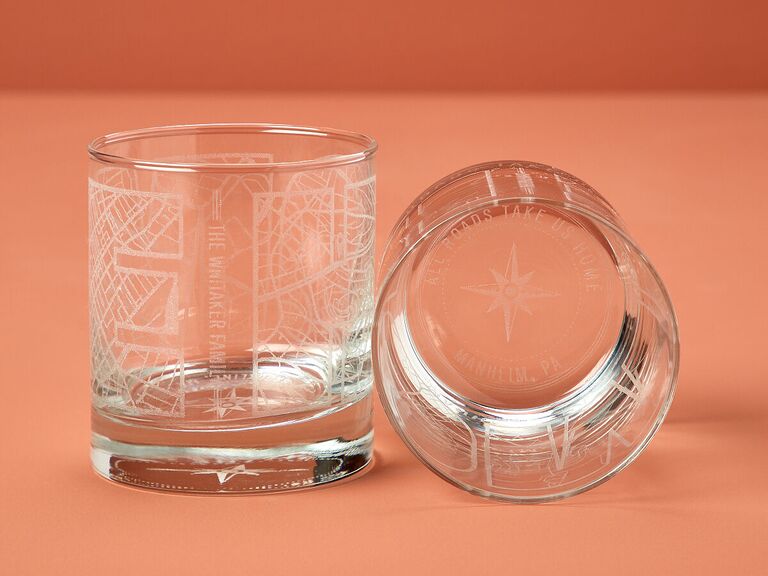 A personalized glassware set will make sipping their favorite drinks all the more enjoyable. For the couple building a new life together, commemorate the place they call home by having a map of their neighborhood engraved on each of these glasses. You can add the name of the location or their family name for an extra-special touch.
Uncommon Goods All Roads Take Us Home map glass duo, $48, UncommonGoods.com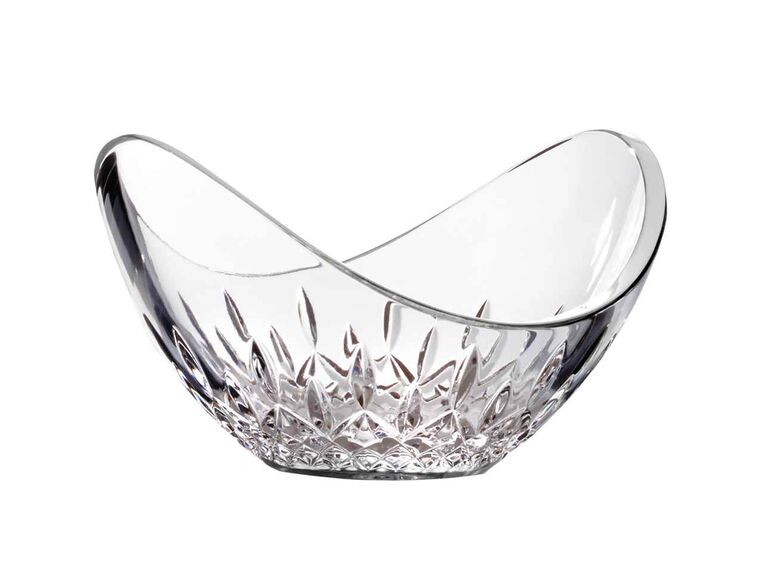 Gorgeous crystal homeware isn't the type of thing the couple would splurge on for themselves, but they'll 100% welcome it as a present. Just picture how graceful this serving bowl would look as the centerpiece of their next party spread.
Waterford Lismore Essence 6in Ellipse bowl, $135, Waterford.com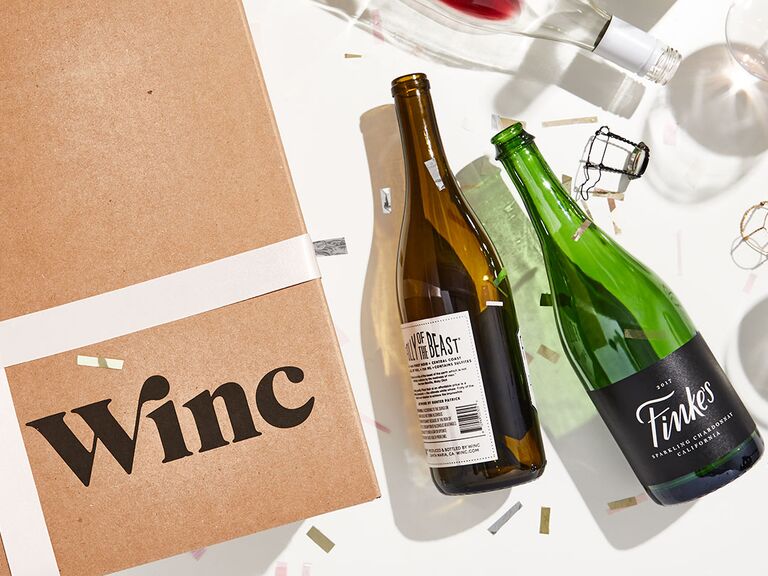 Don't be afraid to take a creative spin on the modern third anniversary theme. If the lovebirds are self-proclaimed wine connoisseurs, they'll be overjoyed to receive a delivery of delicious vino right to their door—every month! The glass bottles may not be the focus of this thoughtful gift idea, but that doesn't make it any less awesome.  
Winc gift card, from $60, Winc.com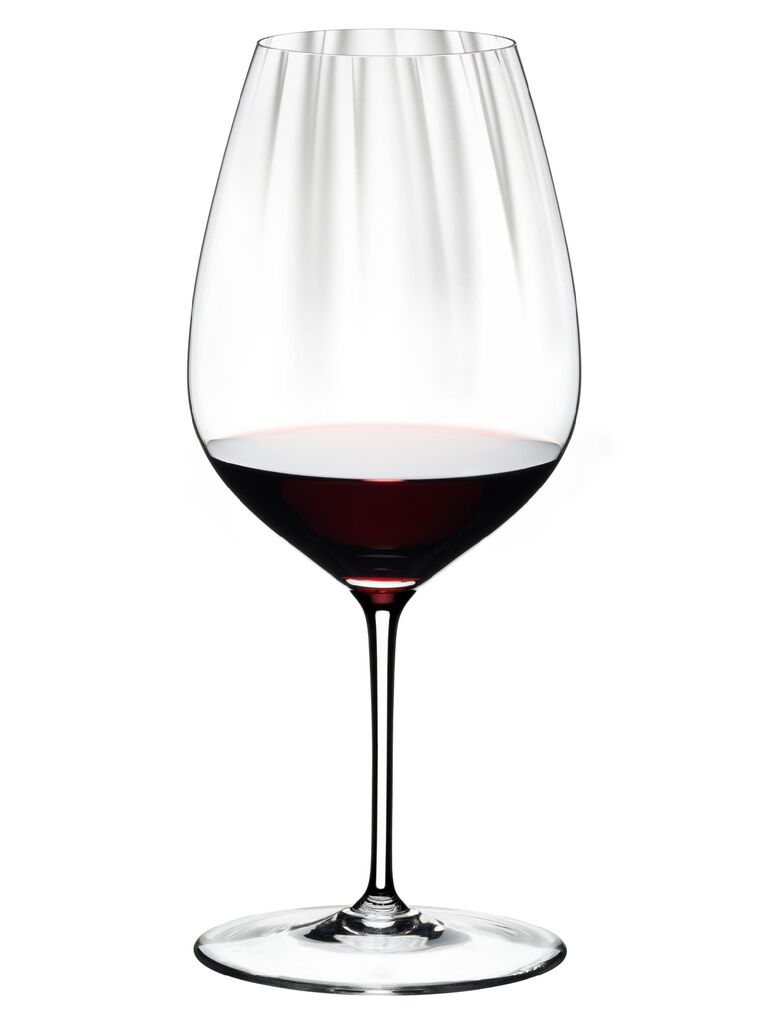 Of course, if you'd rather play up the glass theme, any couple that can tell their Pinot Noirs from their Cabernets will appreciate this pair of expertly crafted wine glasses designed to enhance the wine-tasting experience.
Riedel Performance cabernet glasses, $69 for a set of 2, Nordstrom.com
When it comes to three-year anniversary gift ideas for your husband or wife, you can't go wrong with a practical present—especially if it's something they've been hinting at. If your other half has been on the lookout for some blue light-screening glasses, LensDirect has lots of stylish frames to choose from. Just make sure to select the BluDefend lenses! 
LensDirect glasses, from $85, LensDirect.com
Alternative Three-Year Anniversary Gifts
It's the three-year anniversary, meaning you've probably already exhausted some of your best gift ideas picking out presents for the last two milestones. Lucky for you, we've got a few unique and thoughtful ideas you can add to your list. These alternative picks don't follow the modern or traditional gift themes—they're special in their own way. 
Are they a dynamic duo when it comes to cooking? If so, treat the couple to a deluxe set of bestselling spices that'll bring out flavor in their food (and their creativity in the kitchen). 
The Spice House best sellers deluxe collection, $68, TheSpiceHouse.com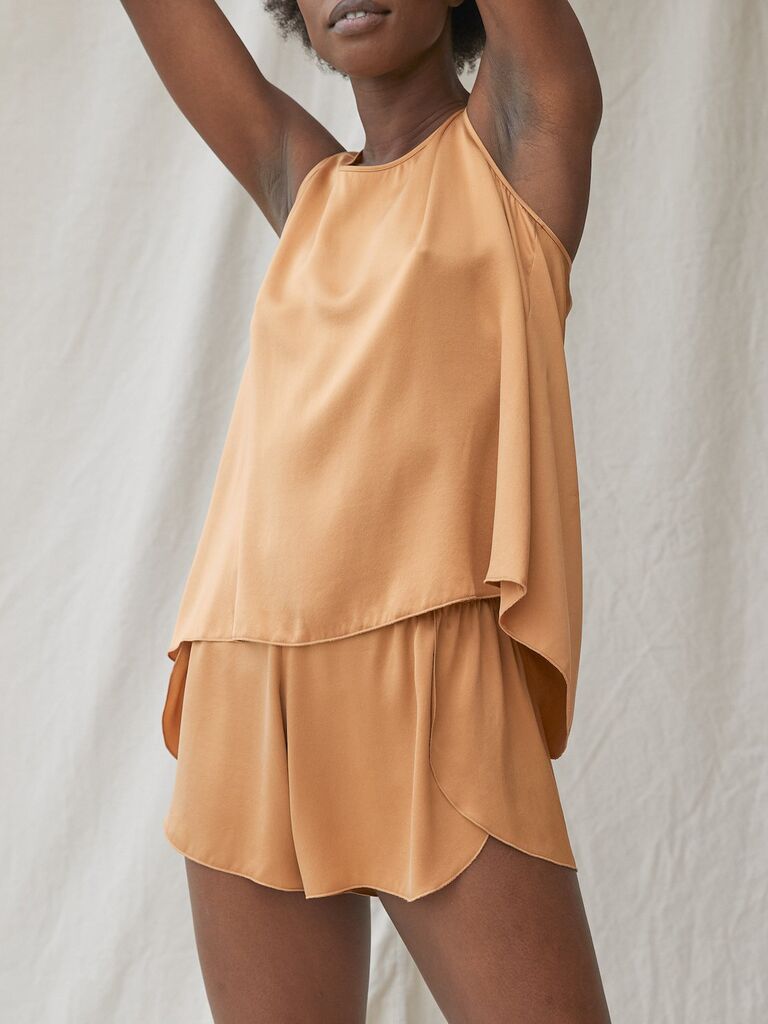 If your significant other hasn't already splashed out on these luxury PJs for themselves, take the special occasion as an opportunity to buy them a pair. Trust us, they'll never want to take this silk loungewear off (but when they do, it's fully machine washable).   
Lunya washable silk set, $178, Lunya.co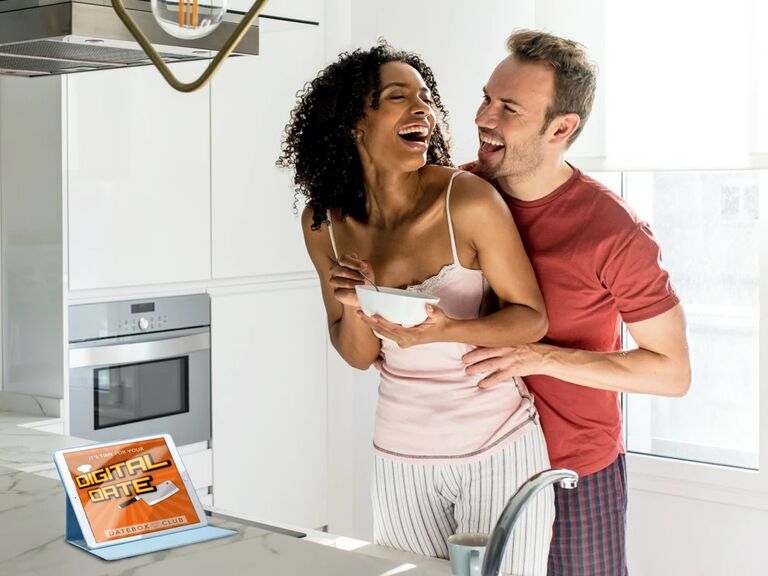 Coming up with new things to do together can get more and more challenging as time goes on. Refresh your inventory of date night ideas by treating your partner (and yourself!) to one of DateBox Club's handy subscription plans. Every month, you'll have a new date idea delivered right to your door or inbox. 
DateBox Club subscription plan, from $5 per month, DateBoxClub.com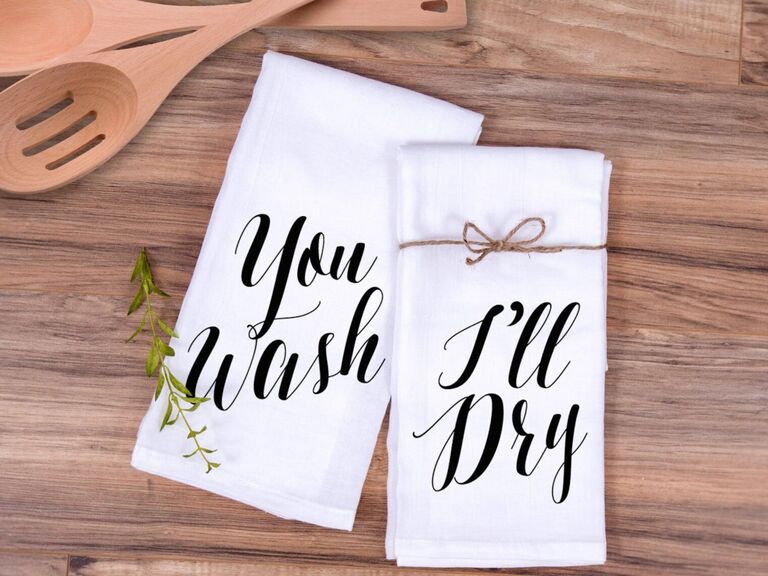 Show the couple that you think they're a great team (in and out of the kitchen) with these adorable tea towels. One reads "you wash," and the other: "I'll dry."
Z Create Design You Wash I'll Dry kitchen towel set, $23, Etsy.com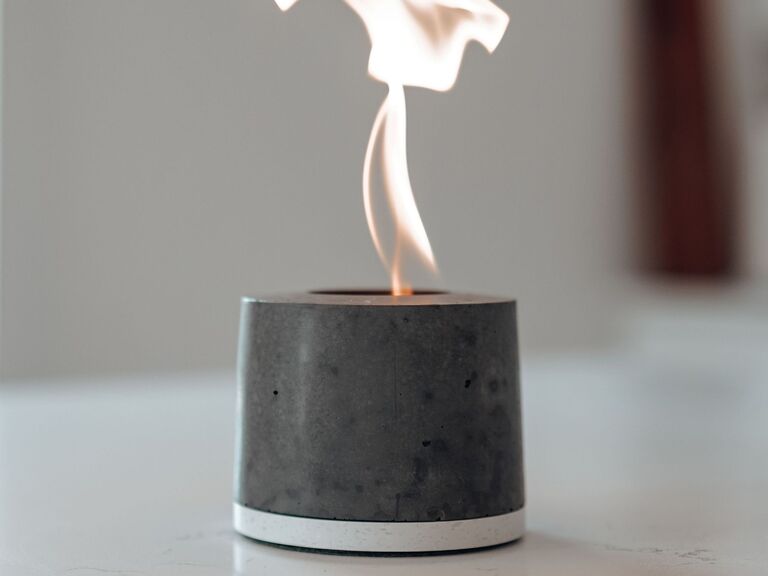 Cool gadgets make for excellent gift ideas, especially if you want to surprise your spouse with something they never would have thought to ask for. People love these mini fire pits—and who can blame them? Toasted marshmallows—any time, anywhere.
FLÎKR Fire personal concrete fireplace, $95, Food52.com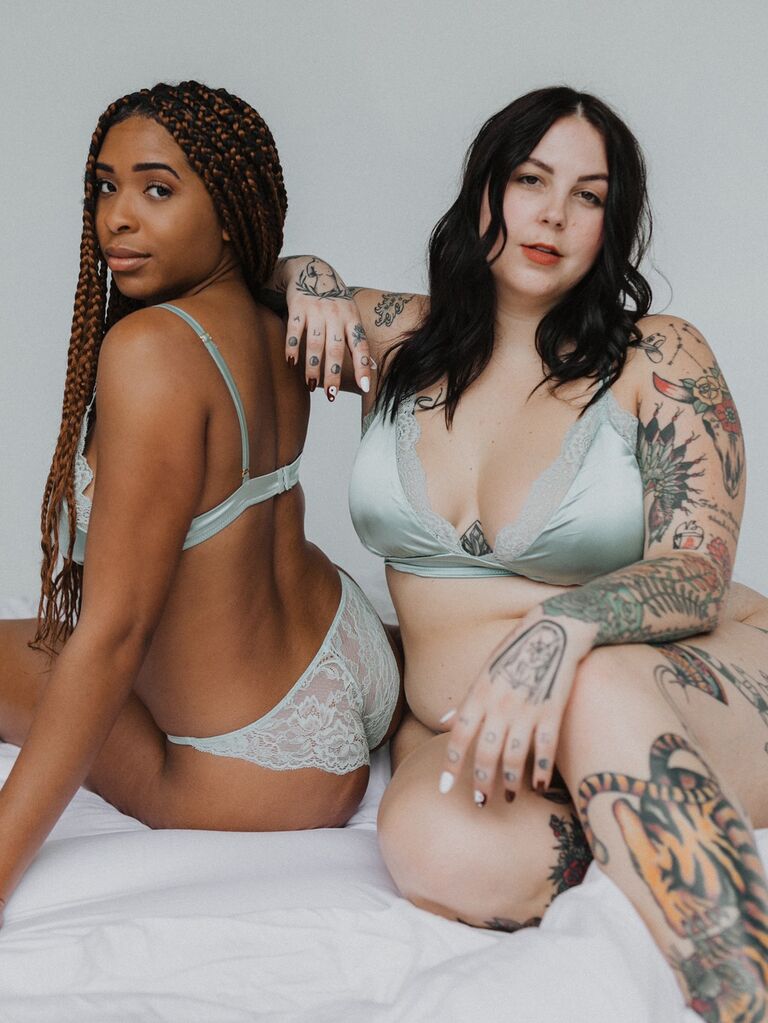 Elevate your other half's underwear drawer with a monthly subscription to Underclub. Simply select a date (ahem, your anniversary) for them to receive a gift message via email. From there, your partner can take a short style quiz to help curate their next delivery. You can also select a few add-ons to be included in the first shipment, from comfy loungewear to sexy lingerie.  
Underclub gift subscription, from $45 for 3 months, Underclub.com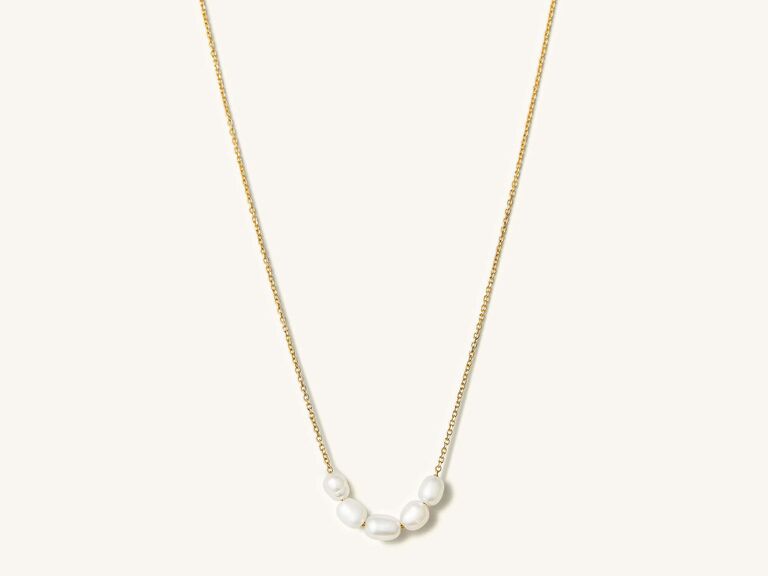 Pearl is the third anniversary stone, so lean into the theme and get your spouse this gorgeous pearl and yellow gold necklace. Its delicate, minimal design can easily layer with the jewelry they already have.
Mejuri organic pearl bead necklace, $165, Mejuri.com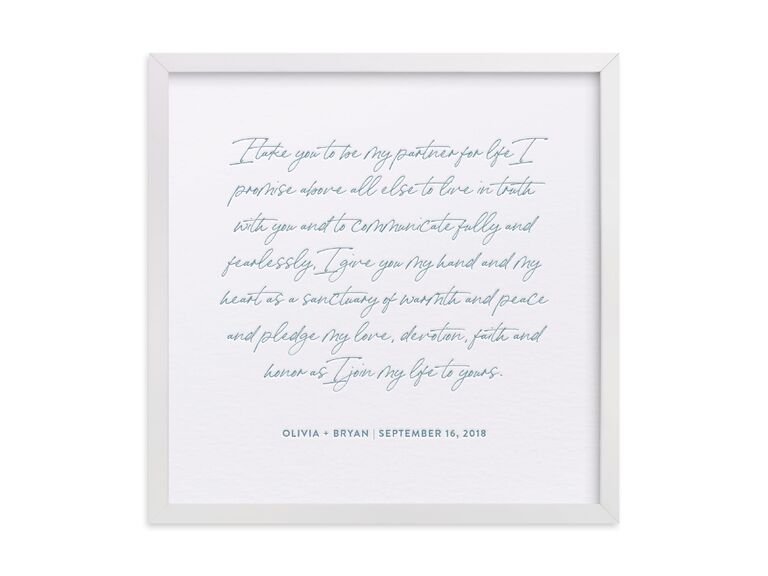 You poured your heart and soul into writing your wedding vows. Instead of trying to top them this year, why not give your other half a copy of the most meaningful words you've ever written? This letterpress print is a stunning memento of your wedding day that'll likely cause a few happy tears. We recommend adding a frame before you checkout—they'll want to put this one on display ASAP. 
Minted your vows as a letterpress art print, from $158, Minted.com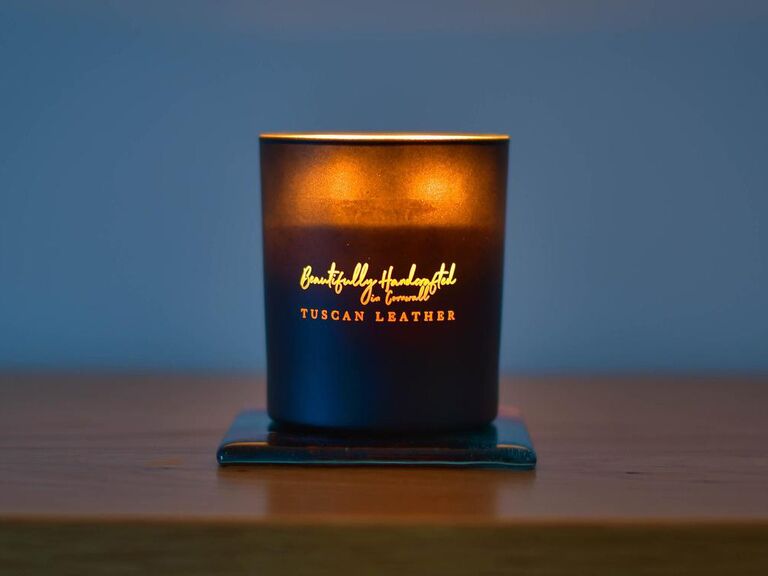 This Tuscan leather-inspired candle is a unique twist on the milestone's traditional material—but that's not even the best part. Have the glass engraved with a sweet message to your spouse that'll light up when the candle glows inside.
Beautifully Handcrafted Tuscan leather glow-through soy glass candle, from $33, Etsy.com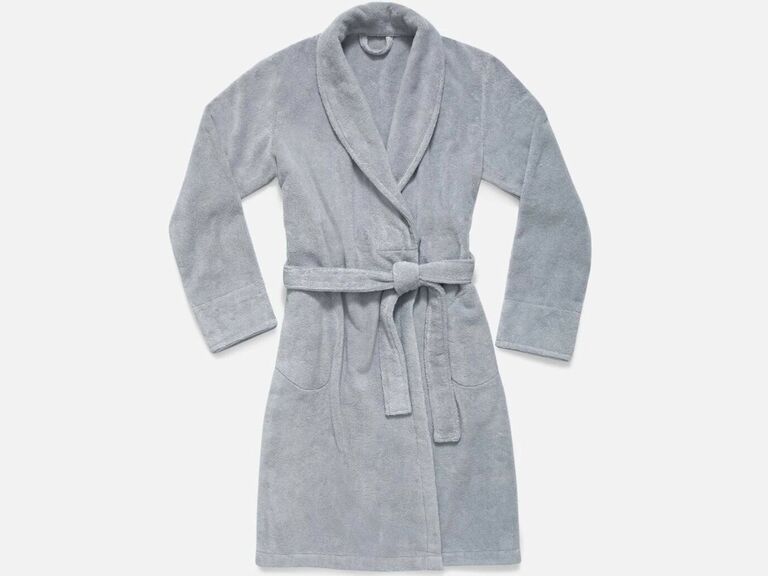 Planning to celebrate your anniversary at home? Treat your partner to a full-blown spa day, complete with foot rubs, face masks and a super-snug bathrobe. All of their troubles will instantly melt away when they slip into this loungewear from Brooklinen.
Brooklinen super-plush robe, $98, Brooklinen.com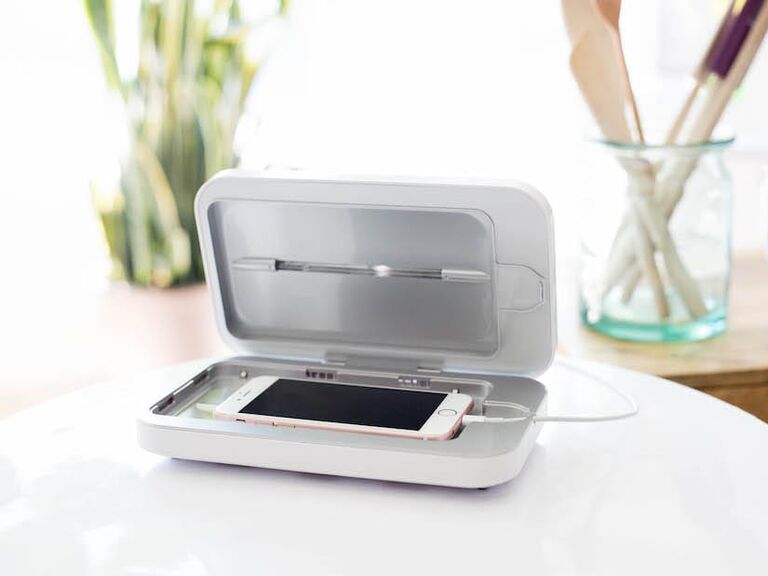 One of the coolest gadgets to come out of 2020, the PhoneSoap makes sanitizing small, hard-to-clean items (think: their phone or car keys) super simple. Just pop the phone inside, close the lid and wait 10 minutes for the UV-C light to work its magic. Choose between seven different colorways to suit your spouse's personal style.

PhoneSoap PhoneSoap 3, $80, PhoneSoap.com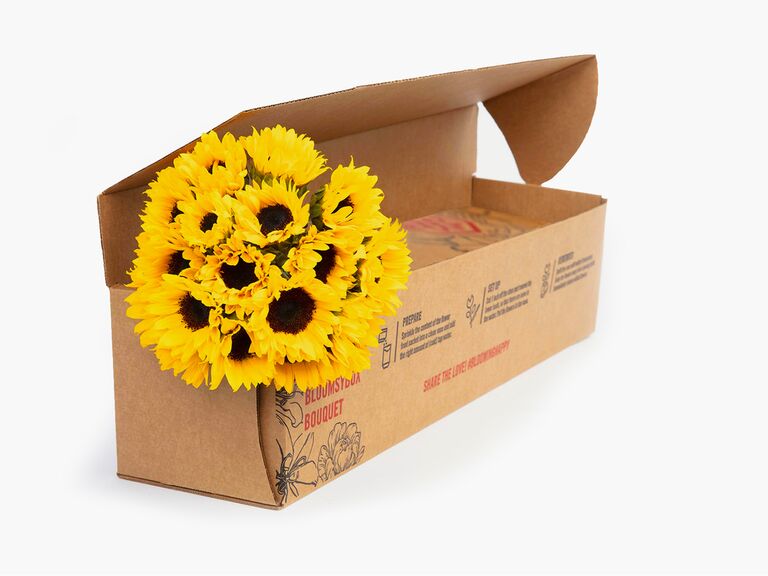 Sunflowers are indicative of positivity, love and loyalty—and since they're also the third wedding anniversary flower, this vibrant bouquet will be even more meaningful. The best part? BloomsyBox will deliver right to your (or the couple's) door.
BloomsyBox Sunny bouquet, $40, BloomsyBox.com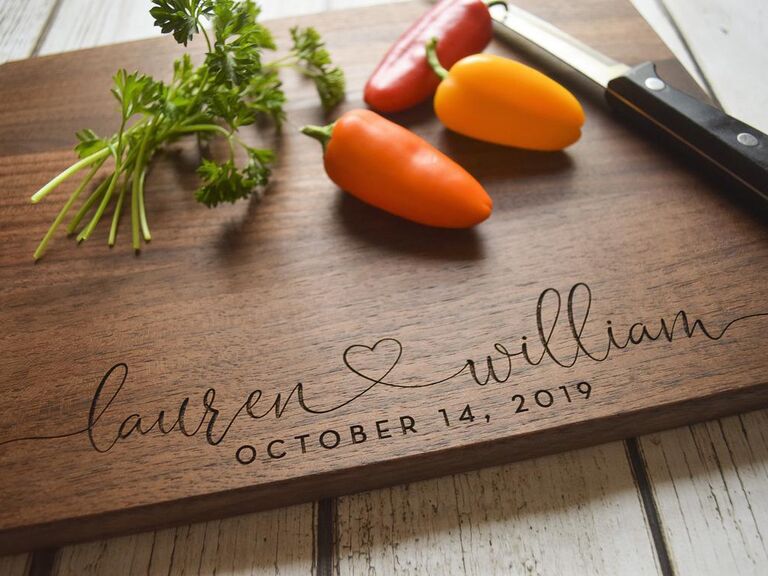 Shopping for a couple that's obsessed with charcuterie? A personalized serving board will let them put their own unique stamp on every decadent display. This one comes engraved with their names and a special date. 
Circle City Design Co. personalized cutting board, from $39, Etsy.com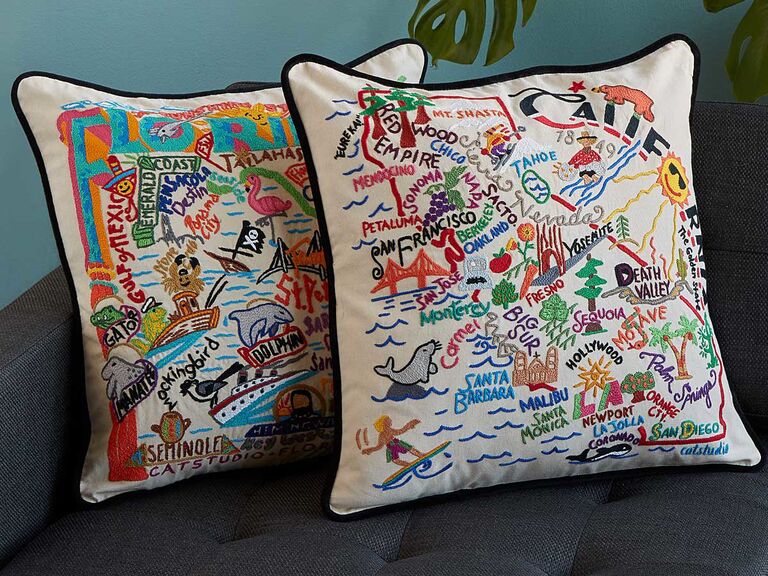 Commemorate the state(s) where the couple experienced many of their firsts. These intricately embroidered throw pillows make a great gift, combining home decor with the couple's history.
Carmel and Terrell Swan hand embroidered state pillows, $196 each, UncommonGoods.com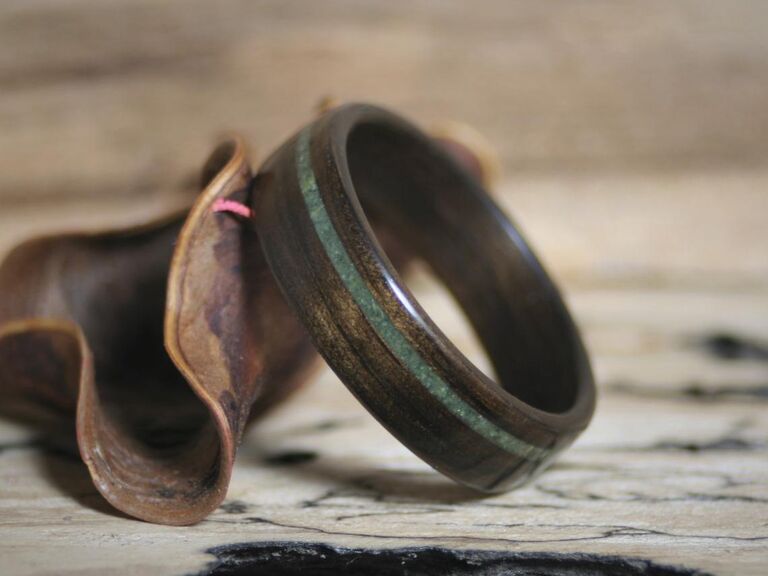 The color jade is another third wedding anniversary symbol you can take inspiration from on your hunt for the perfect gift. This minimalist wooden ring features a unique jade inlay that'll remind them of your three-year milestone every time they put it on.
Ridgewood Rings jade wood ring, $180, Etsy.com