The Best 3-Year Anniversary Gifts for Celebrating 3 Years of Marriage
Mark your marriage milestone with this thoughtful assortment of traditional, modern and unique anniversary gifts.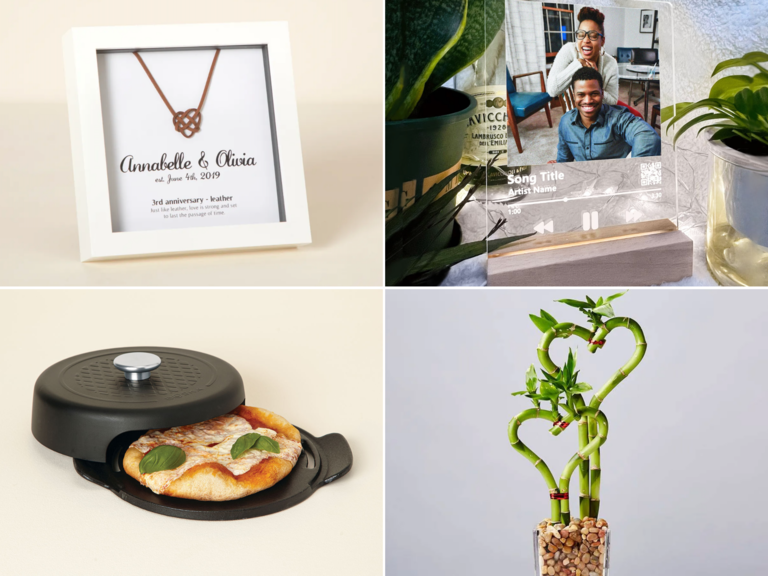 Photos, From Clockwise: Uncommon Goods, ARTOPSHK, Uncommon Goods, Plants.com
We have included third party products to help you navigate and enjoy life's biggest moments. Purchases made through links on this page may earn us a commission.
While three years of marriage might not feel as major as your first anniversary, it's just as important to celebrate. After all, every year counts when it comes to strengthening a loving relationship! Buying a three-year anniversary gift for your spouse is a sweet way to honor the occasion and celebrate the love you two share. To help you along the way, we've done the shopping for you, rounding up the best traditional and modern anniversary gifts for your third wedding anniversary. We've even picked out a selection of alternative gifts if you're looking for an idea as unique as your love story. Keep scrolling to shop our three-year anniversary gift picks—plus learn more about the year's official flower, why it's referred to as the leather anniversary and more.
In this article:
Traditional Three-Year Anniversary Gifts
Leather is the traditional material for a three-year anniversary gift, and with it comes a stylish assortment of thematic gifts you can buy. This strong and versatile material represents the flexibility of a marriage that has lasted three years (and a relationship that has likely lasted much longer than that!). It's durable and resilient, making it the perfect tribute to couples who have settled into the cadence of married life together. Lucky for you, there are tons of leather anniversary gifts out there to help you celebrate your third year of marriage, from clothing and accessories to sentimental artwork. Here are some of the top traditional three-year anniversary gifts.
Faux Leather Tote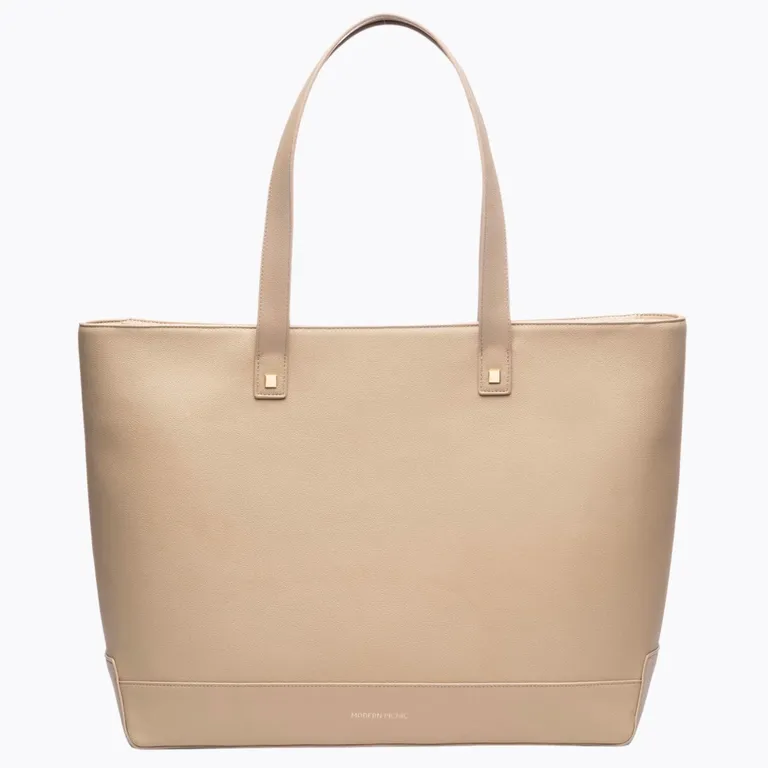 A roomy tote bag is an essential wardrobe addition, especially if your spouse is always out and about. This stylish faux leather option comes with an insulated removable pouch specifically designed for packing lunches or snacks. To make this three-year anniversary gift even more special, add a personalized monogram for an elegant finishing touch.
Convenient Leather Wallet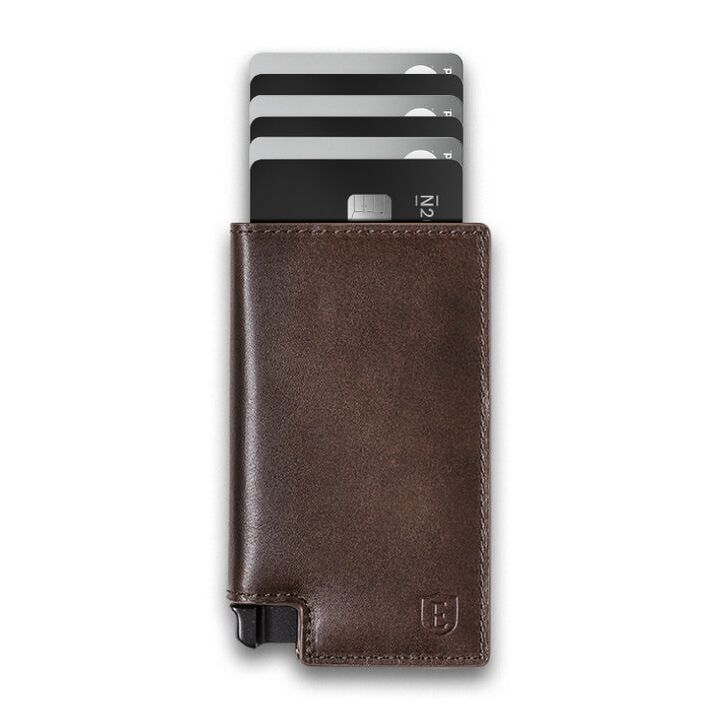 If you're looking for a practical third anniversary gift for your partner, it's hard to go wrong with a wallet. This sleek design is made from environmentally certified leather and comes with smart technology that makes credit cards accessible at the push of a button. It's also compact enough to carry around in a pocket while still holding up to 12 cards (or plenty of cash). Best of all, this wallet boasts technology that protects against wireless card skimming to keep everything secure. What's not to love?
Leather Sheet Music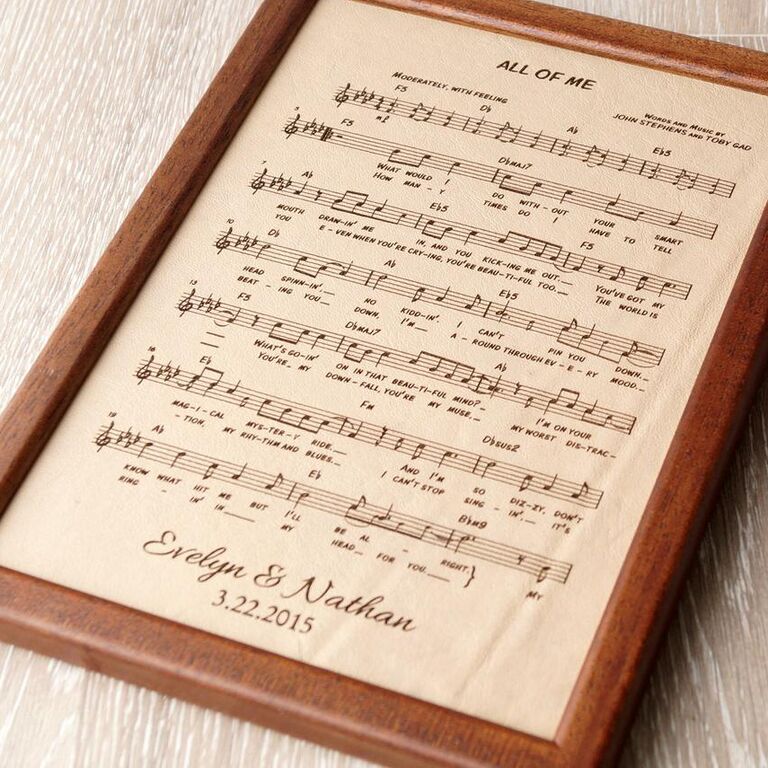 Married to a big music fan? We can't think of anything more fitting than a personalized throwback to your first dance song. This engraved leather sheet music comes in a stylish wooden frame so it's fully display-ready. It's a sweet third anniversary gift that'll remind your spouse of the romantic tunes of your wedding day.
Leather Jewelry Case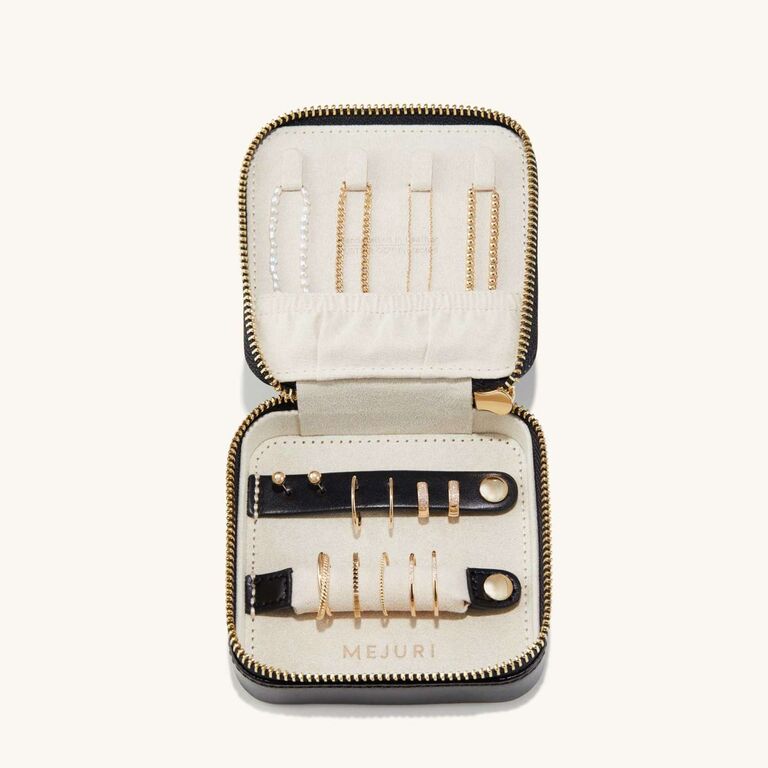 If your other half loves jewelry and travel, here's a three-year anniversary gift that checks all the right boxes. Stylish and compact, this leather jewelry case comes with compartments to keep rings and necklaces safe while they're on the go. You can even add your partner's monogram to the outside of the case to make it more personalized.
Personalized Material Art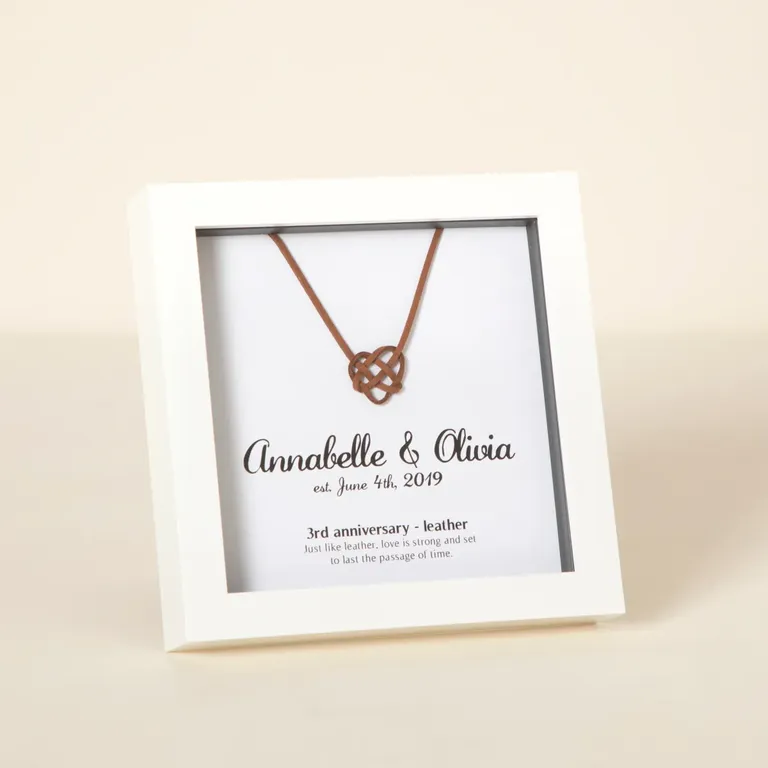 When it comes to personalized anniversary gifts, Uncommon Goods has a ton of unique options to choose from. This framed piece of artwork is inspired by the three-year anniversary material and features a pretty heart motif made from woven strips of vegan leather. Your names and wedding date appear underneath, along with a short message about the sentiment behind the leather symbol.
Beaded Leather Bracelet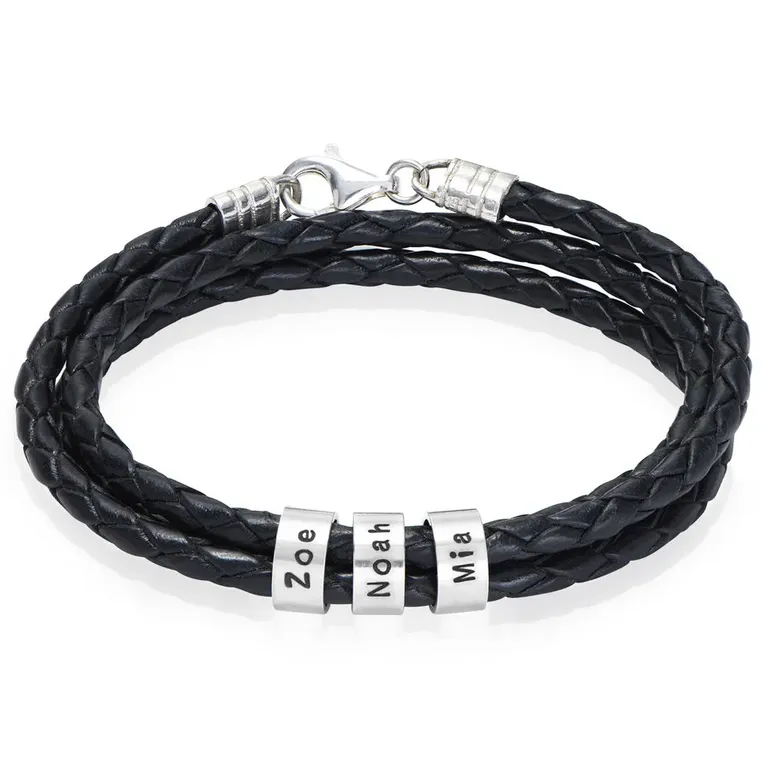 Wearable anniversary gifts are always a good idea, particularly when you're working with a versatile material like leather. This braided bracelet features metallic beads (there are four finishes to choose from) engraved with personal details like your names or a short romantic message. Best of all, it's available in both men's and women's sizes, making it a thoughtful (and on-theme) third anniversary gift for him or her.
Monogrammed Leather Coasters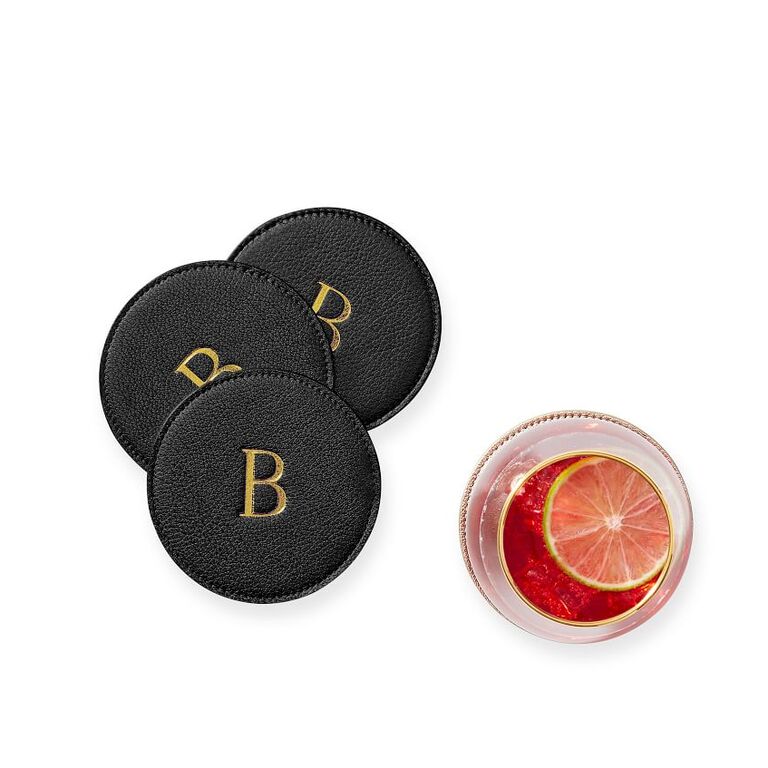 If you and your spouse love catching up over a cup of coffee, these leather coasters will bring a sophisticated touch to your daily ritual. Sold as a set of four, they're made from black Italian leather and can be personalized with a gold foil monogram for added elegance. They're a winning traditional third anniversary gift for anyone who values practicality and style.
Personalized Leather Journal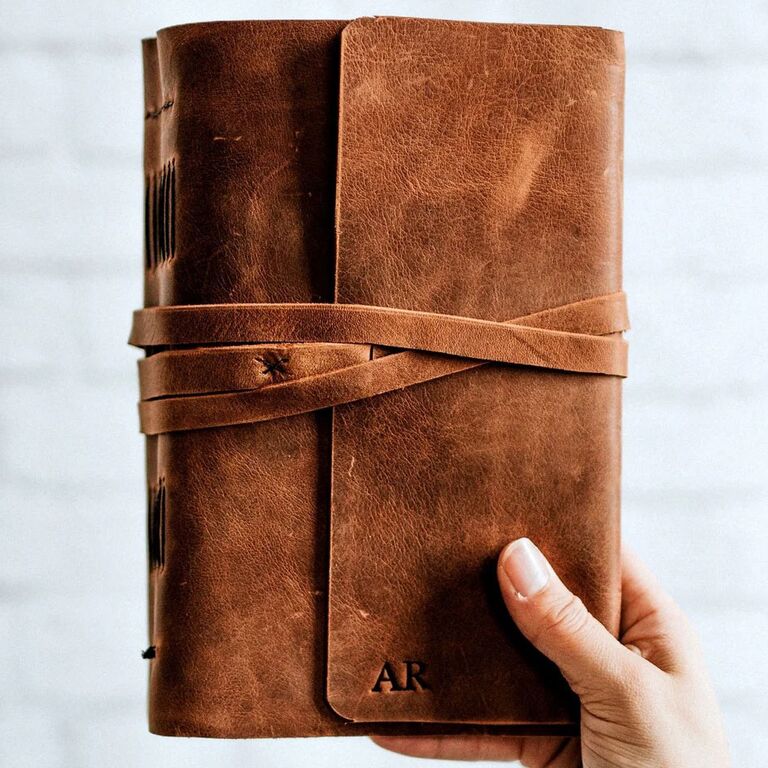 For the spouse who loves to record everything on paper, a softbound leather notebook is a great three-year anniversary gift idea. Whether they use it for journaling, jotting down lists or planning for the future, this beautiful gift will make every note feel special. Have it personalized with their monogram, and leave a hand-written message inside for a sweet surprise.
Stylish Leather Loafers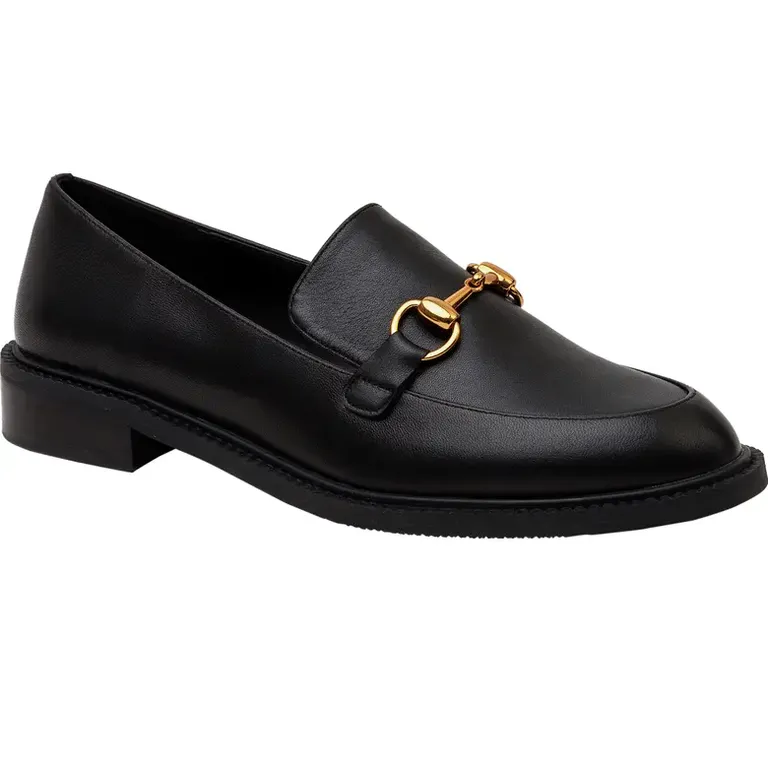 Leather loafers are having a major fashion moment right now and it's not hard to see why. They're stylish, versatile and timeless, not to mention a comfier alternative to high heels. Surprise your spouse with a chic new pair of shoes they can wear everywhere from the office to Sunday brunch. These ones are made with metallic detailing and a low stacked heel for maximum comfort.
Personalized Leather Belt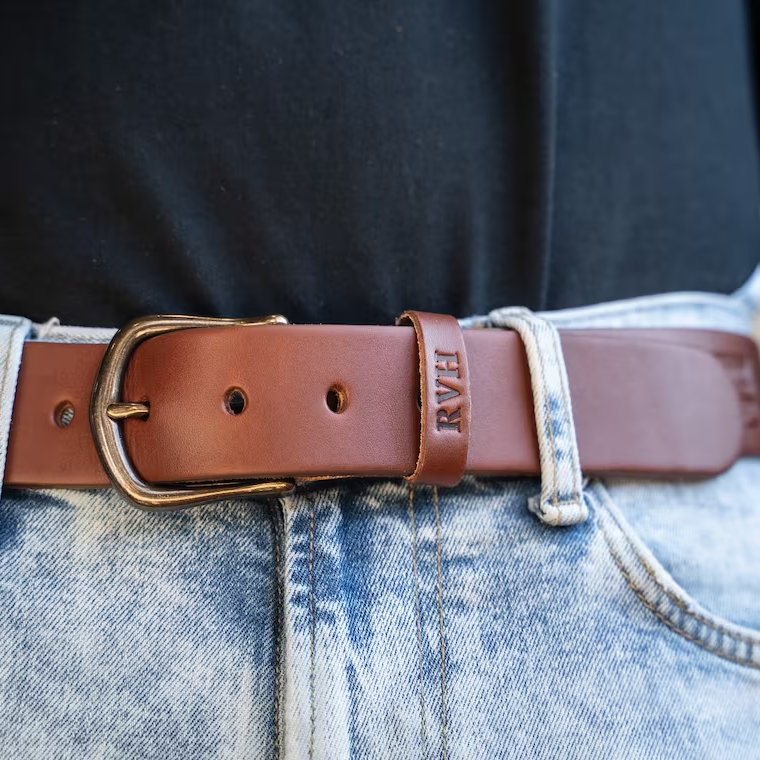 If you think a belt can't be a romantic year-three anniversary present, think again. This luxe leather accessory can be personalized with your spouse's monogram and a sweet hidden message from you to them on the inside. Whether they wear it daily or only on special occasions, it'll remind them of your heartfelt love and appreciation (for them and their impeccable sense of style).
Modern Three-Year Anniversary Gifts
Crystal and glass are the two modern gifting materials associated with the third wedding anniversary. Fragile yet beautiful, they symbolize the clarity and honesty couples share after three years of marriage, while also reminding the lovebirds to care for each other and nurture their relationship. With this in mind, we've selected the best modern third-anniversary gifts for your wife or husband. Prepare to be dazzled!
Hometown Map Drinking Glasses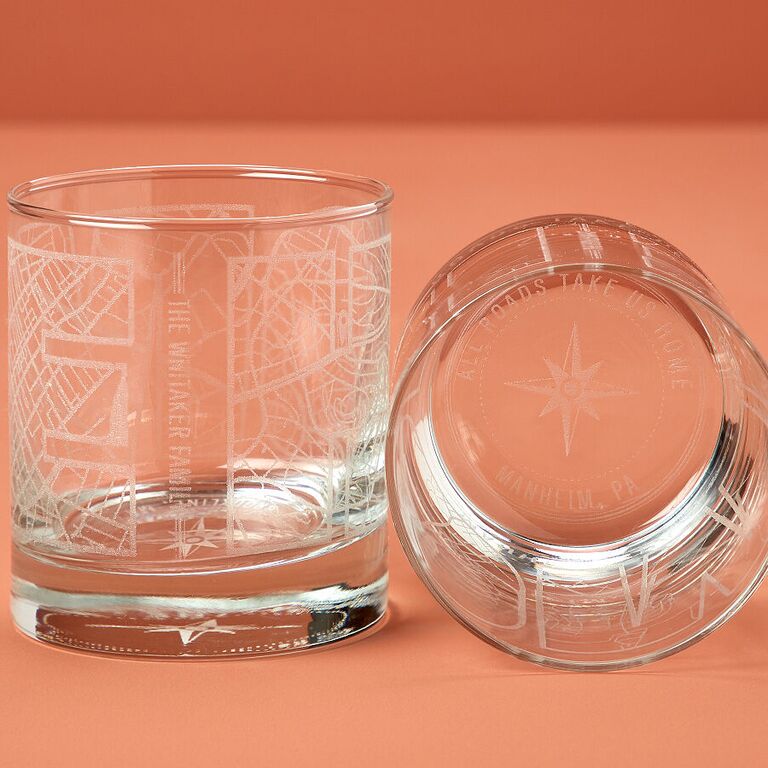 Celebrate your third anniversary in style with a modern set of whiskey glasses engraved with a map of the place you call home. This display-worthy duo will make sipping your favorite drinks all the more enjoyable, as well as add a fun decorative element to your bar cart. You can also add the name of the location or your shared last name to make this three-year anniversary gift feel extra special.
Engraved Crystal Vase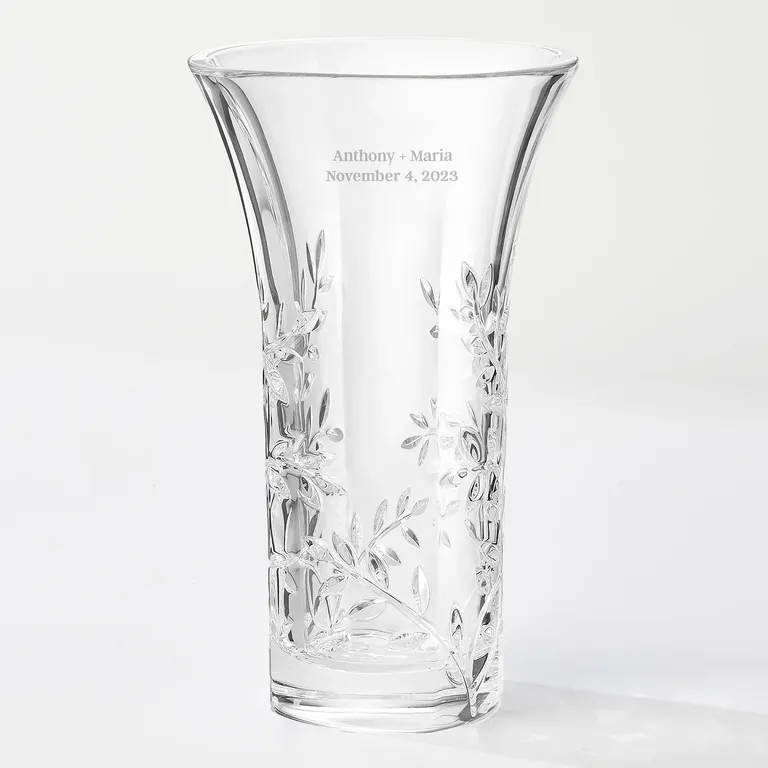 If your spouse loves to display fresh blooms in your home, they'll swoon over this elegant crystal vase from Vera Wang and Wedgwood. The pretty vessel features an intricate leaf motif pattern and can be etched with up to five lines of text. Add your names, wedding date or a romantic quote for a modern and meaningful three-year anniversary gift.
Custom Song Plaque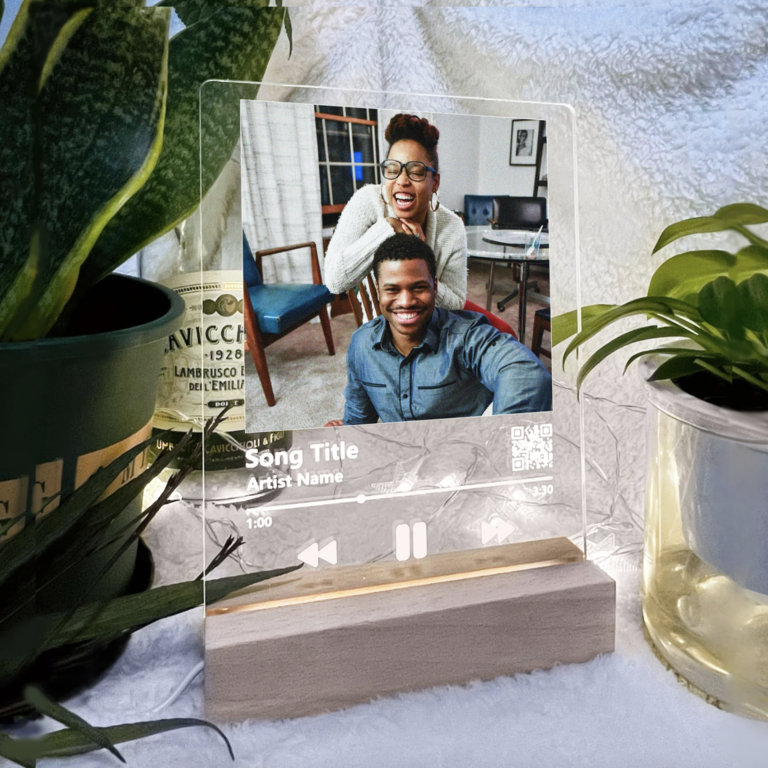 Do you two have a special song you've both made your own throughout your relationship? This romantic glass plaque comes with an LED light that will display your chosen tune as it's shown on Spotify. Up the ante by adding a memorable snapshot (from your wedding or a more recent celebration) as the album cover. It's a charming and thoughtful gift that's clearly worthy of the three-year milestone.
Tinted Wine Glasses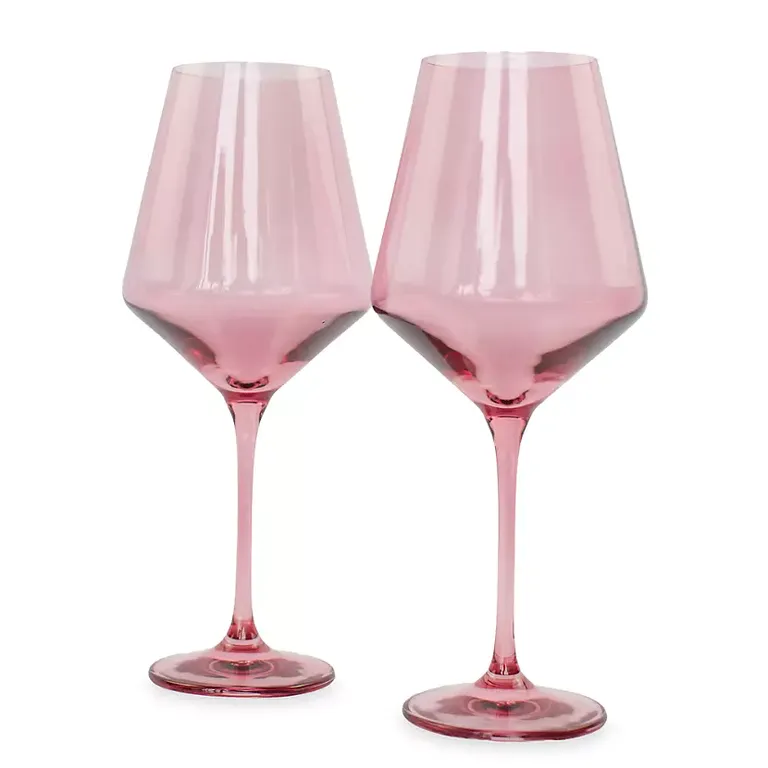 If you're planning to mark year three with a bottle of anniversary wine, consider upgrading your glassware for the occasion. These wine glasses come in a range of punchy colors—from mint green and rose pink to royal blue and emerald green—and will surely add a playful touch to your existing collection. They're made from hand-blown glass and have a sleek silhouette that feels modern yet timeless.
Swarovski Crystal Rose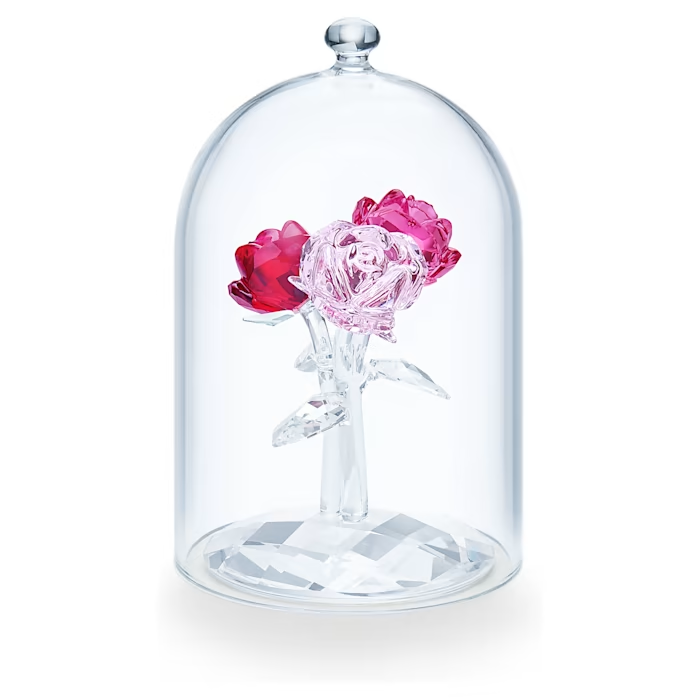 Your love is crystal clear, so why not show it with a decadent gift from Swarovski? This dainty glass ornament features three pink roses that come together in a delicate bouquet for a magical and modern third anniversary gift. Whether they display these glass blossoms with the accompanying bell jar or not, your spouse is bound to be dazzled.
Glass Cocktail Smoking Kit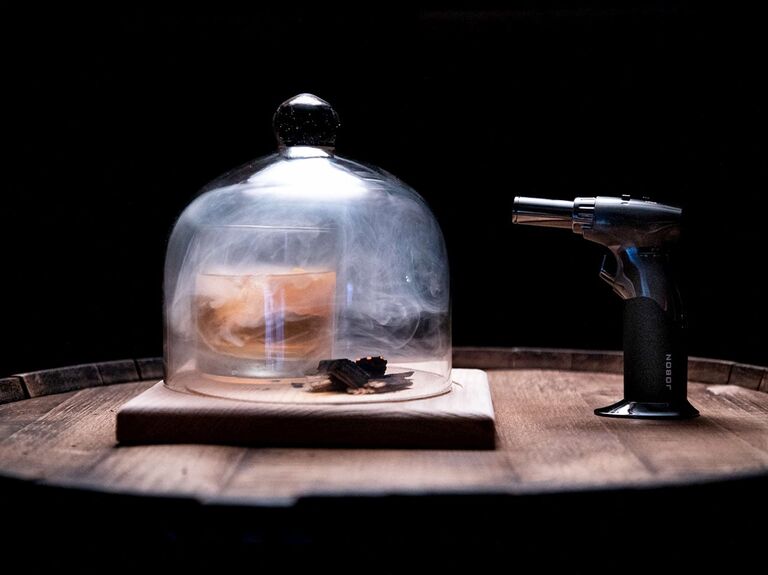 Shopping for a budding mixologist? Think outside the box with this cool cocktail smoking kit. It includes all the essentials for making the perfect signature drink, like an oak platform, a glass smoking dome, a butane torch, a cocktail glass and a pack of barrel-aged smoking chips. Want to take this modern-themed gift one step further? Buy them all the ingredients they need to create a special anniversary cocktail—with a smoky touch, of course.
Glass Anniversary Photo Gift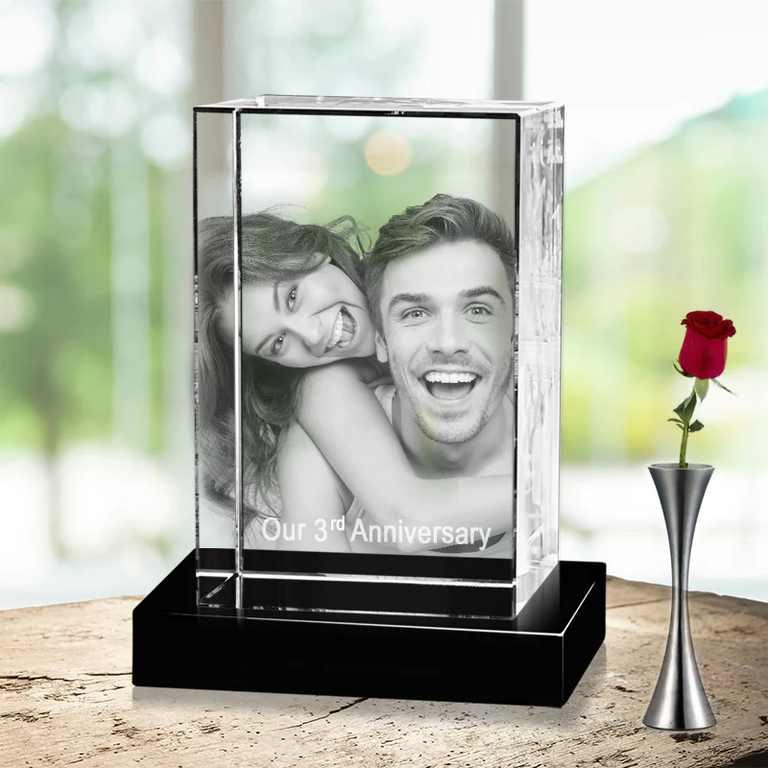 Surprise your spouse with a picture from your wedding day (or another favorite memory) etched onto crystal glass. Pair the ornament with a backlight or rotating LED base so it's ready to show off right away. This sentimental modern third-anniversary gift is guaranteed to take them right back to the fateful day you both said "I do."
Engraved Anniversary Hourglass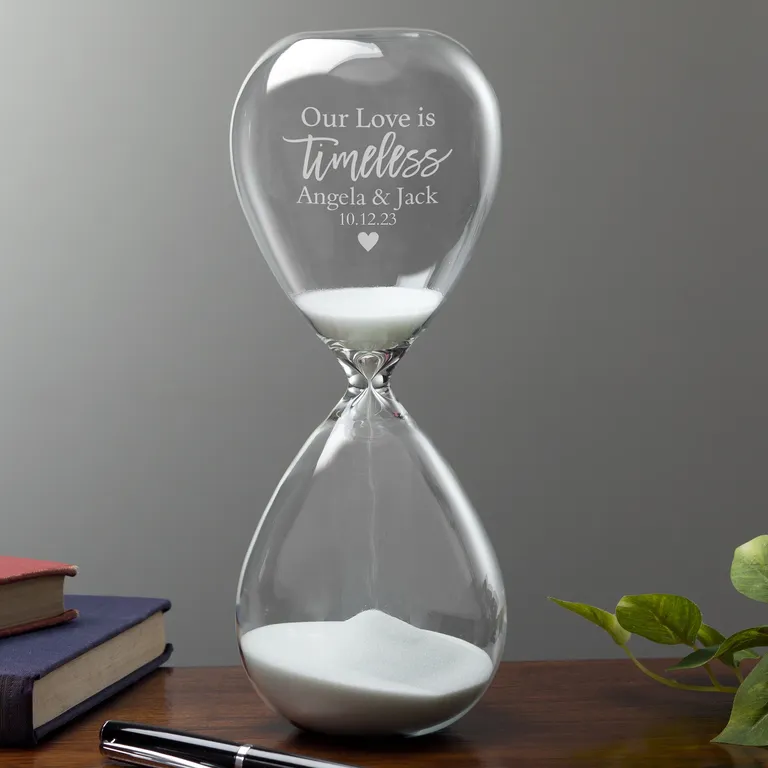 Here's a sentimental gift that fits the modern three-year wedding anniversary theme: A beautiful hourglass engraved with your names and wedding date. It's filled with white sand and features a simple yet sweet message that reads "Our Love is Timeless." As an added bonus, this meaningful keepsake arrives in a satin-lined box for an elegant presentation.
Personalized Glass Pitcher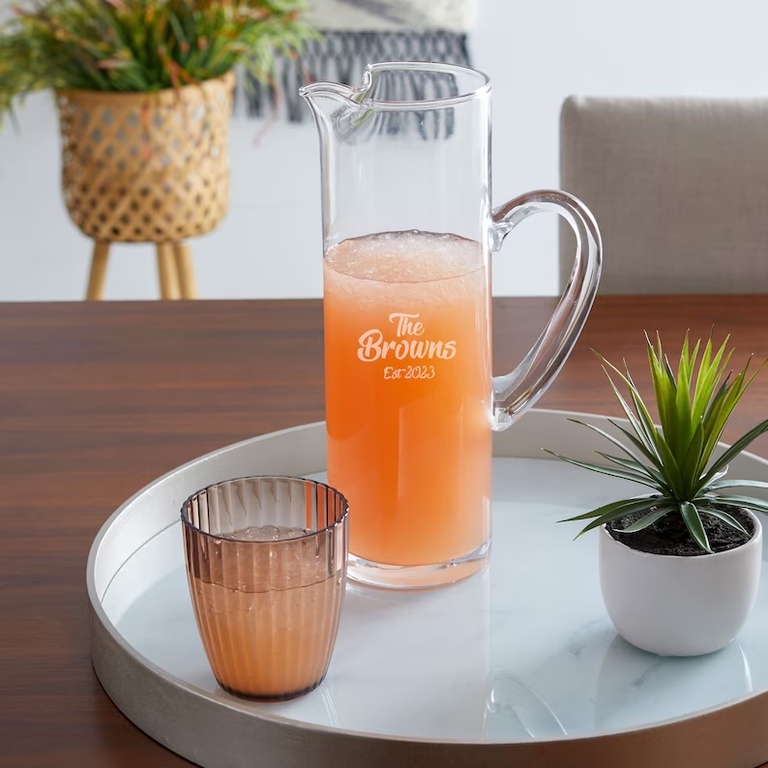 Make daily hydration a little more exciting with this personalized glass pitcher. Made from lead-free crystal, it's ideal for serving everything from iced tea to homemade lemonade. You can even have it engraved with up to four lines of text to add a thoughtful (or cheeky) message to this modern three-year anniversary gift.
Glass Weather Predictor
Science meets art in this quirky modern-themed gift that predicts the weather. The "storm cloud" is made from glass filled with a special liquid that changes appearance based on the barometric pressure. It's a playful (and budget-friendly) third anniversary gift that'll amuse anyone who likes to keep an eye on the weather.
Unique Three-Year Anniversary Gifts
In case you didn't know, there are even more third wedding anniversary symbols to inspire you beyond the traditional and modern gifting ideas. White and jade are the colors associated with this marriage milestone, while pearls are the official gemstones. If you're considering anniversary flowers as a thoughtful gift, you can use the bright and cheery sunflower as your guide. Even if you don't feel strongly about any of these three-year anniversary gift traditions, we've still got you covered with some fun and unique presents.
Luxe Silk Pajama Set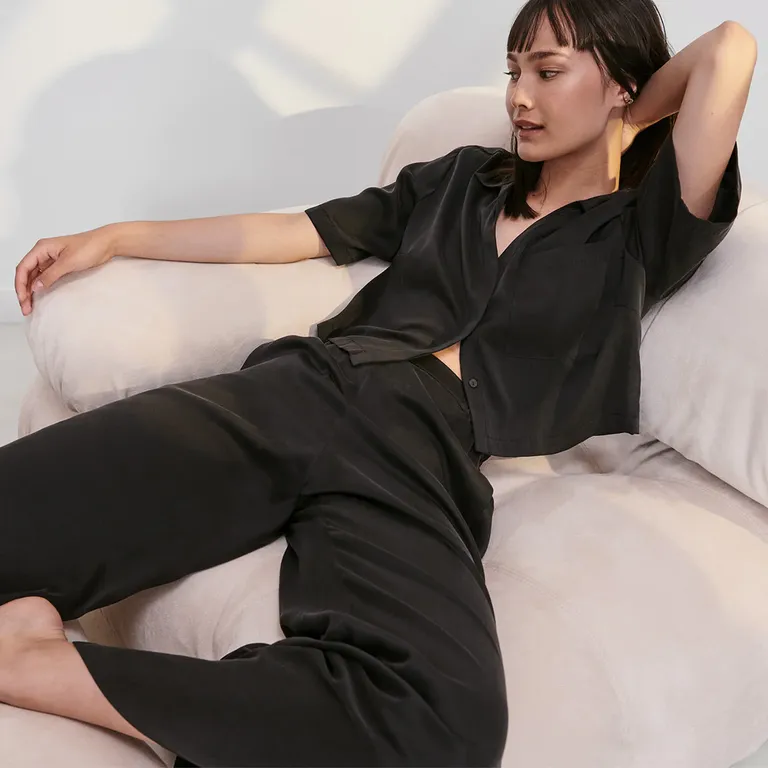 If your spouse hasn't already splashed out on a pair of luxury pajamas, the third wedding anniversary is a perfect excuse to treat them. This cute set includes a button-up top and sleek pants to make bedtime a dream. Trust us, they'll never want to take this silk loungewear off—but when they do, it's machine washable.
Sunflower Bouquet Delivery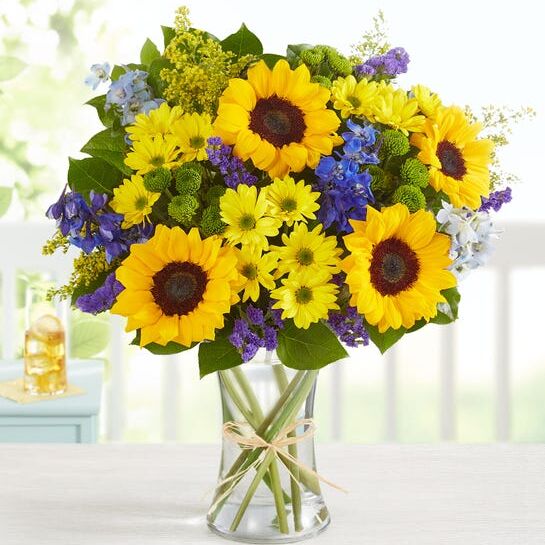 Sunflowers represent positivity, love and loyalty—and since they're also the third wedding anniversary flower, this vibrant bouquet will feel even more meaningful. These cheery yellow blooms are paired with dreamy purple blossoms for a color combination that really pops. Have them delivered to the door to surprise your spouse on the morning of your anniversary.
Adventure Challenge Mini Dates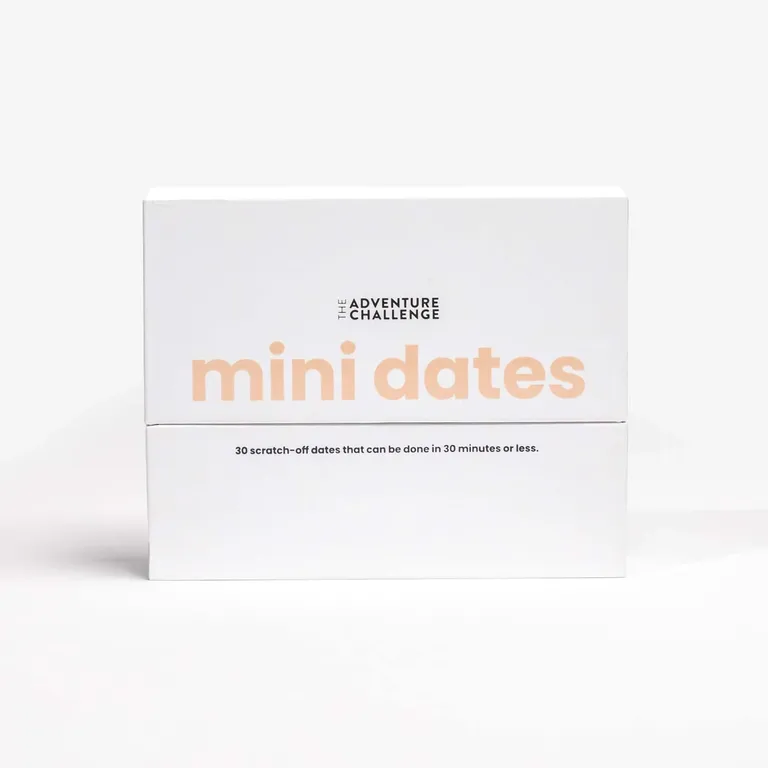 After three happy years of marriage, it's totally normal if you're running out of great date night ideas. Not to worry, though—The Adventure Challenge Mini Dates pack will change all that. It includes 30 cards of fun date-night activities you can enjoy as a duo, from playing games to eating a meal together. The best part? Each activity can be completed in a half-hour or less, so you can easily take some time out of your busy schedules to reconnect. (Psst: Use the code THEKNOT20 for 20% off sitewide).
Indoor Smart Garden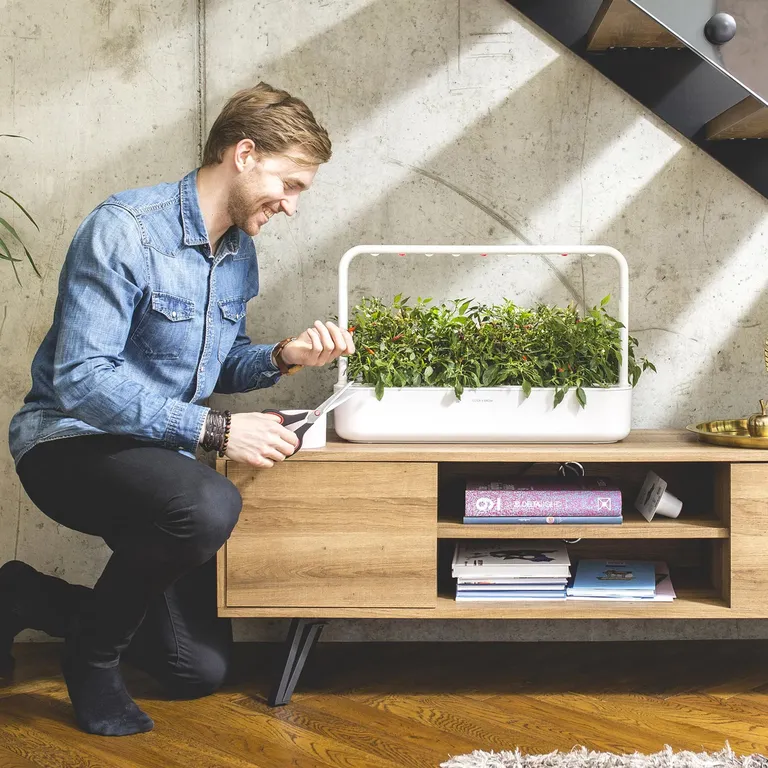 Whether your love is a gardening novice or a green-thumbed pro, an indoor smart garden is sure to be a hit. Perfect for apartment living, this version from Click & Grow includes nine plant capsules for tomatoes, basil and lettuce. If you're worried they'll forget to water the plants, fear not—the kit comes with an automatic watering system, as well as timed lights that go on and off to deliver the perfect amount of "sun."
Personal Pizza Maker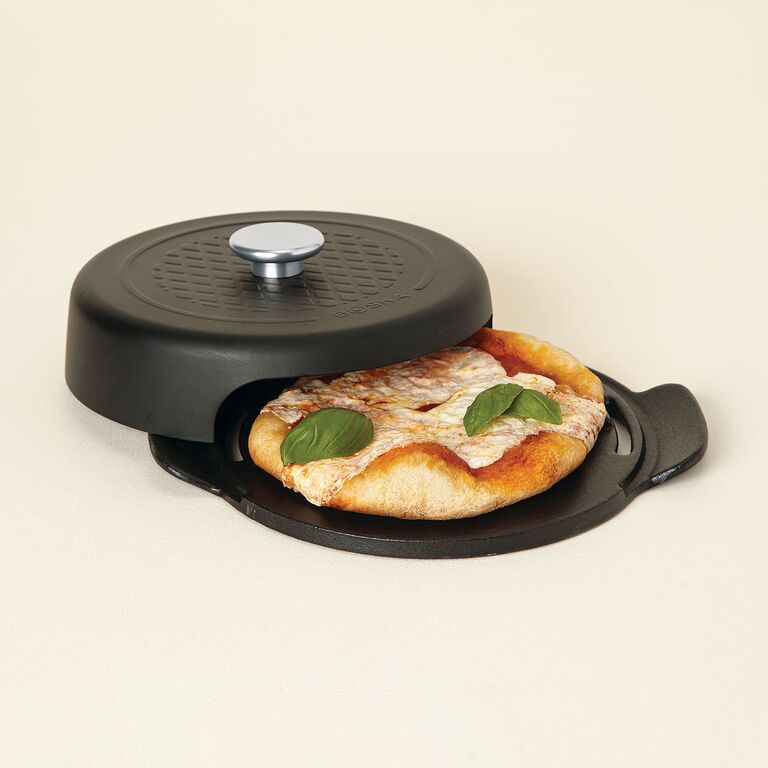 If your spouse loves making homemade pizza, this miniature oven is a practical anniversary gift they'll appreciate. The compact baker is made from cast iron and can be used to make personal pizzas on the grill in less than 10 minutes. Best of all, it's portable—so you can easily bring it on your next camping trip or outdoor adventure.
Pretty Pearl Watch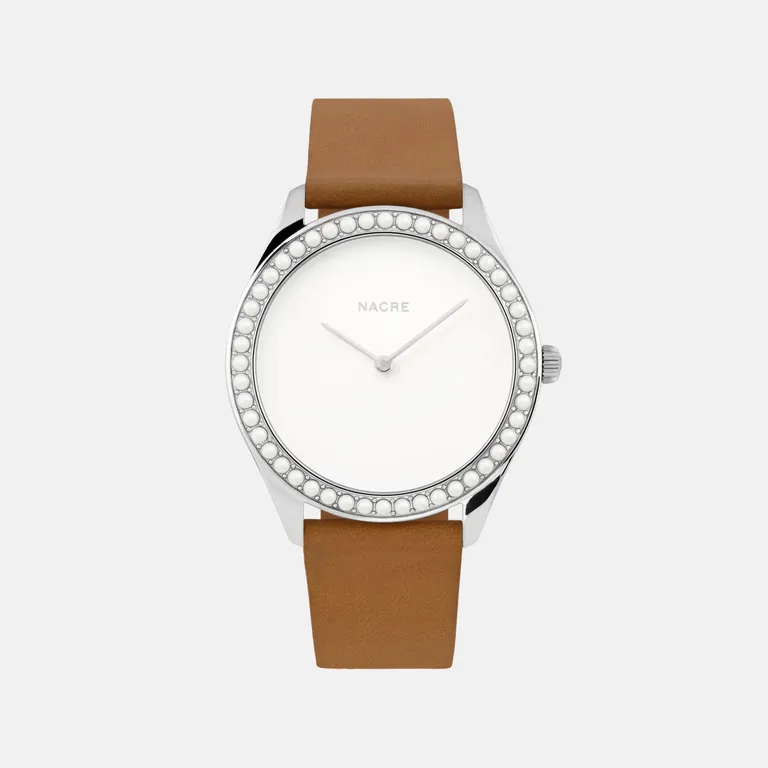 Pay tribute to the classic pearl (the three-year anniversary gemstone) with this pretty watch that looks great with everything. This gorgeous timepiece features a round dial adorned with 48 handset nacre pearls and a luxurious leather band with a buckle enclosure. Choose from several strap colors, including brown, navy and black to suit your spouse's personal style.
Wooden Reading Valet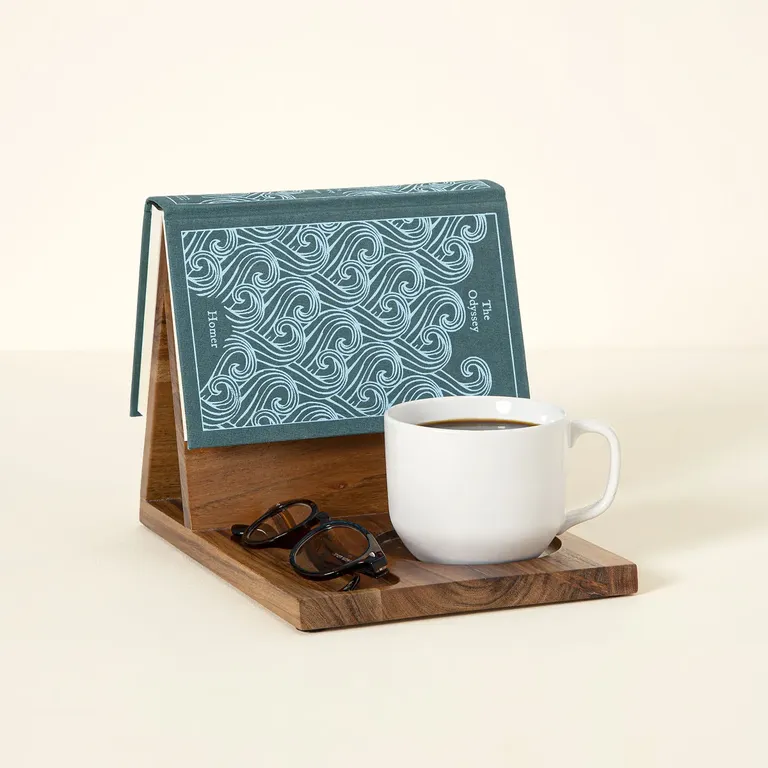 Taking inspiration from your spouse's favorite pastime is a great way to find a unique third anniversary gift they'll actually use. If you're married to an avid reader, this wooden valet will give them a designated spot to keep their latest page-turner. It also offers space for reading glasses, a cup of coffee and a phone, so they'll have all their essentials to hand when they finish a chapter.
White Sheet Set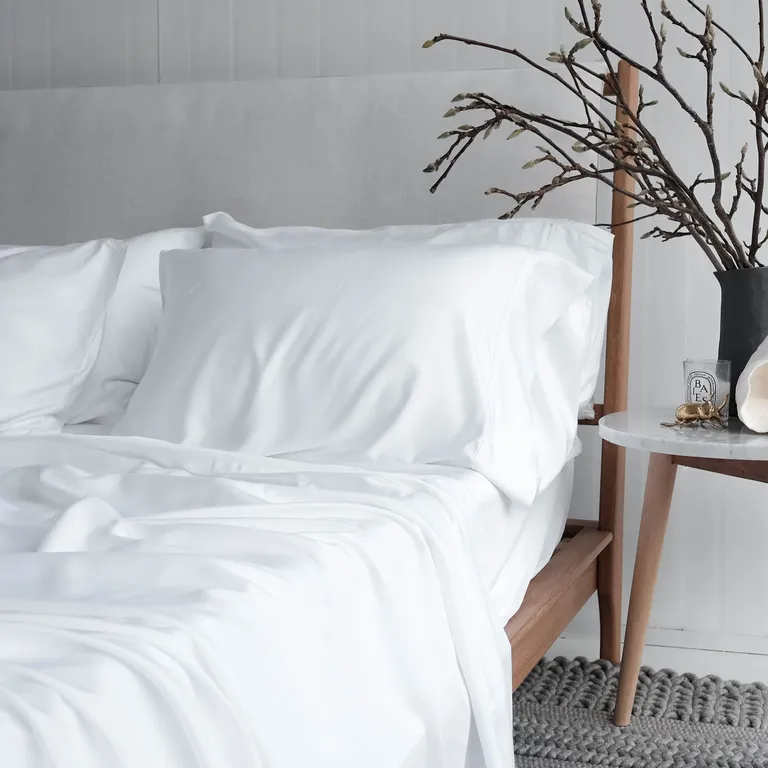 Luxurious bedding is a gift idea we'll never tire of—after all, who doesn't appreciate a peaceful and comfortable night's sleep? Give your bedroom a fresh upgrade with this silky sheet set. It includes a fitted sheet, a flat sheet and one or two pillowcases, all made from eco-friendly bamboo fabric. If that's not enough to convince you, these soft and breathable linens come in several colors, including white, one of the third anniversary colors.
Personalized Makeup Bag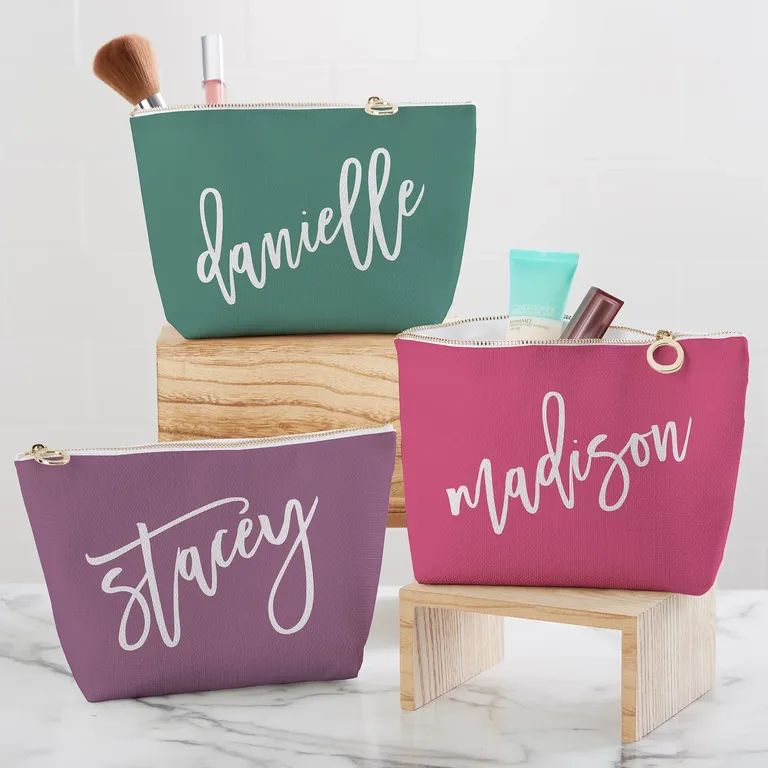 If you're looking for something jade, the other third anniversary color, you're in luck. This pretty makeup bag comes in a dark green shade and can be personalized with your spouse's name for a thoughtful touch. Want to make this practical gift feel extra special? Hide a surprise inside, like a gift certificate to shop their favorite makeup brand.
Heart-Shaped Bamboo Plant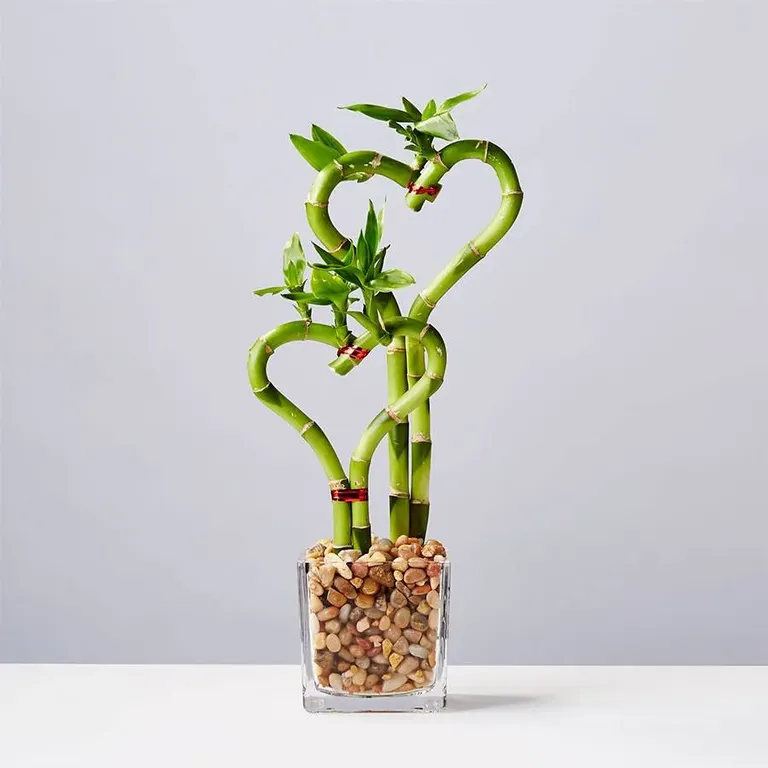 Flowers not your partner's thing? Consider a cute plant instead, like this heart-shaped bamboo. The stalks are uniquely shaped to resemble two hearts for a sweet and creative gift representing your growing love. It's not just nice to look at, though—this low-maintenance plant also removes pollutants from the air to keep your home fresh. Cool, right?
Our team received [some of] these products as promotional samples in exchange for editorial consideration and independent review.