4th Anniversary Gift Ideas for Him, Her and Them
Not sure what to give as a four-year anniversary gift? No problem! Shop our list of traditional and modern presents for your husband, wife or the couple.
by The Knot
Not sure what to give for a fourth wedding anniversary? Don't sweat it—we've got you covered. Whether you're shopping for the perfect present for your spouse or want to treat a couple celebrating their four-year milestone, we've rounded up a list of the best fourth anniversary gifts (with probably four times as many gift ideas as you could ever need). Keep scrolling to find out what the fourth anniversary gift is, both for traditionalists and modernists, and get plenty of present inspiration.
What is the four-year anniversary gift?
So, what is the four-year wedding anniversary gift, you ask? That not only depends on who you ask, but also where you're asking. In the United States, the traditional fourth anniversary gift is fruit and flowers, while the modern fourth anniversary gift theme is appliances. That said, if you ask someone in the UK, they'll tell you that the go-to fourth anniversary gift is linen.
And it doesn't stop there. Every anniversary is associated with a certain stone. So when you're looking for a four-year anniversary gift, keep the gem of choice, blue topaz, in mind. Naturally, that lines up with the fourth anniversary gift color: blue. (Green is also accepted.) And while a traditionalist will tell you that your fourth anniversary is your "flower anniversary," there are also two special types of flowers that symbolize the fourth anniversary—the geranium and the hydrangea. The more you know, right?
Fourth anniversary gift ideas in this article: 
Four-Year Anniversary Gifts for Him
Of course, while we just explained the many "traditional" fourth anniversary gift themes, you don't have to follow a single one. There's an endless list of fourth anniversary gifts for your husband. But how to choose the perfect one? It all depends on him. Is his taste rugged or sentimental? Does he love adventures abroad or right in his own backyard? See our favorite personalized four-year anniversary gift ideas for him, below.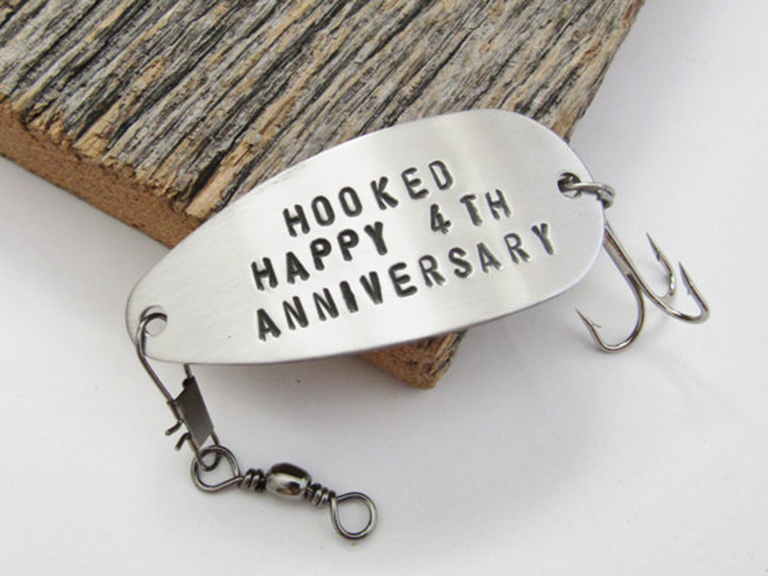 If he loves to fish—and appreciates a good pun—wrap up this steel fishing lure, inscribed with the message: "hooked—happy fourth anniversary." Want to go one step further? Tie it to the end of a new fishing rod.
C and T Custom Lures 4th anniversary fishing lure, from $32, Etsy.com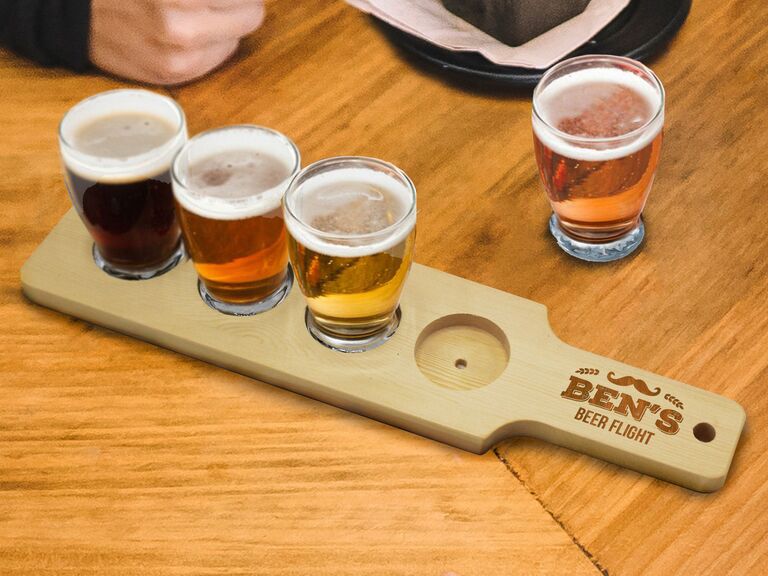 Why take your husband out for one beer when you can offer up a whole lineup? That's the rationale behind this tasting flight fourth anniversary gift for him. The statement piece comes with four (how thematic) spots for brews, including complementary glasses. It also has a spot for personalization—your wedding monogram, perhaps?
My Personal Memories personalized beer flight set with tasting glasses, $40, Etsy.com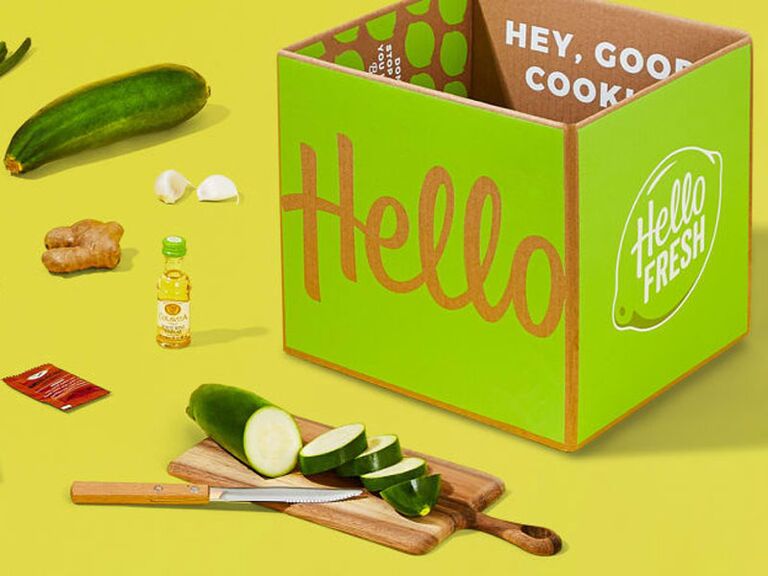 If you're a couple that loves to stay in, you're certainly not alone. While going out on the town can be fun, snuggling up at home is often the ultimate reward after a long week. But how to turn that into a fourth anniversary gift? Go gourmet. Sign up for a food delivery service like HelloFresh, and you can have all the ingredients for delicious (and, most importantly, uncomplicated) recipes sent right to your door. Dinner in bed? You bet. Just don't ruin those new linens, UK folks!
HelloFresh meal kit, from $8 per serving, HelloFresh.com
Four-Year Anniversary Gifts for Her
When it comes to a fourth anniversary gift for your wife, something heartfelt and unique to you both as a couple is perfect. Here are some of our favorite general four-year anniversary gift ideas for her, as well as some picks from the lesser-known fourth anniversary themes. For more traditional presents, keep on scrolling!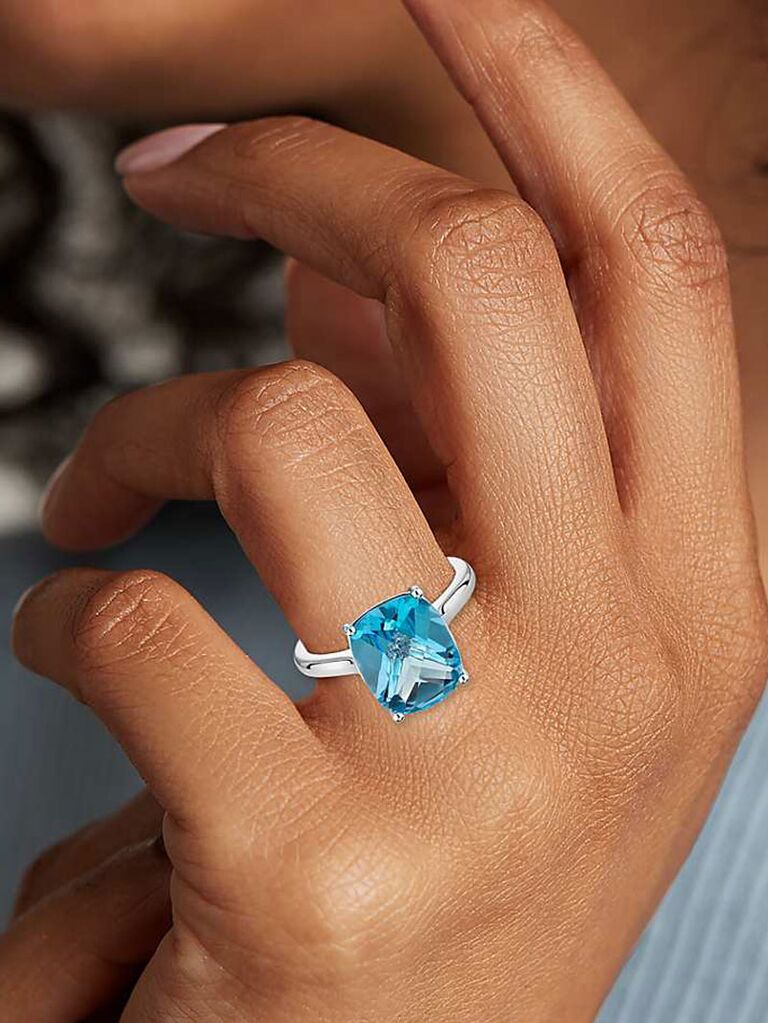 Since blue topaz is this year's associated stone, a new accessory featuring the gem is a welcome choice. Our pick? This gorgeous fourth annivesary ring sure to make a statement. Not her style? Blue Nile sells tons of options, from trendy blue topaz drop earrings to a beautiful blue topaz cluster necklace.
Blue Nile blue topaz cushion cut cocktail ring, $450, BlueNile.com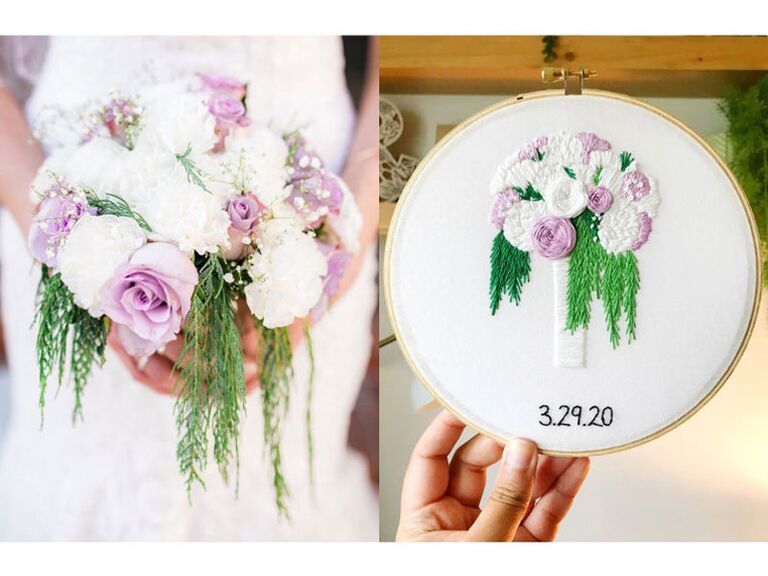 This hand-embroidered replica of her wedding day bouquet on linen is a meaningful way to combine both the European and American traditions for four-year anniversary gifts. Add the date of your wedding, or your initials, to further personalize it.
Kim Art personalized wedding bouquet replica on linen, from $100, Etsy.com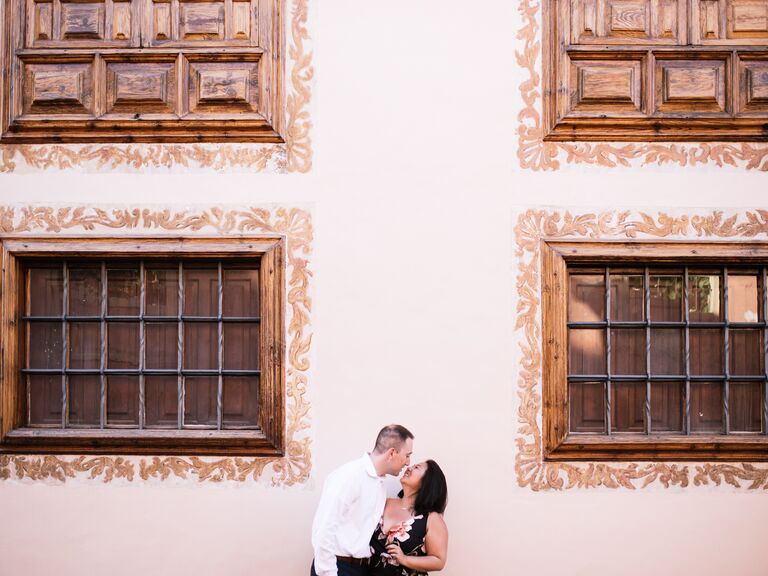 To celebrate the four years since your wedding, go back to where it all began: the city where you had your nuptials. What could be a better fourth anniversary gift than dinner in the town where you said "I do," or, even better, if your venue was a public locale, at your venue itself? If you had a destination wedding, it's also a great excuse to travel. And you know what would really be the icing on the cake? A surprise anniversary photo shoot there booked through our favorite service, Flytographer.
Flytographer photo shoot, from $250, Flytographer.com 

Four-Year Anniversary Gifts for Them
So, you know a couple that's about to celebrate their fourth wedding anniversary. Maybe they're your best friends; maybe they're your children. Maybe they're even your parents. No matter who they are, they deserve to celebrate, and these creative four-year anniversary gift ideas will help them do just that.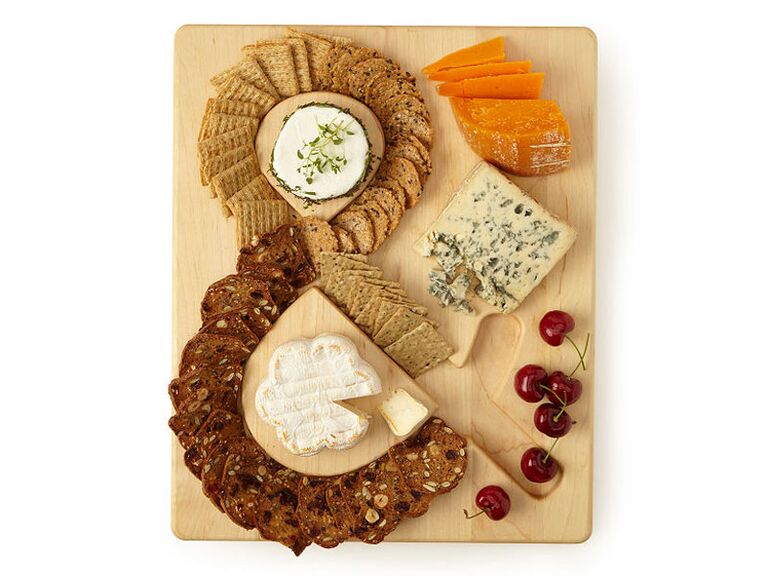 Your favorite couple is forever an "and," and this cheese and crackers serving board from Uncommon Goods celebrates that. It's a subtle but symbolic fourth anniversary gift, not to mention quite the pretty piece to put out at a party. (And they definitely won't be mad if you deliver it with a nice brie.)
J.K. Adams cheese & crackers serving board, $48, UncommonGoods.com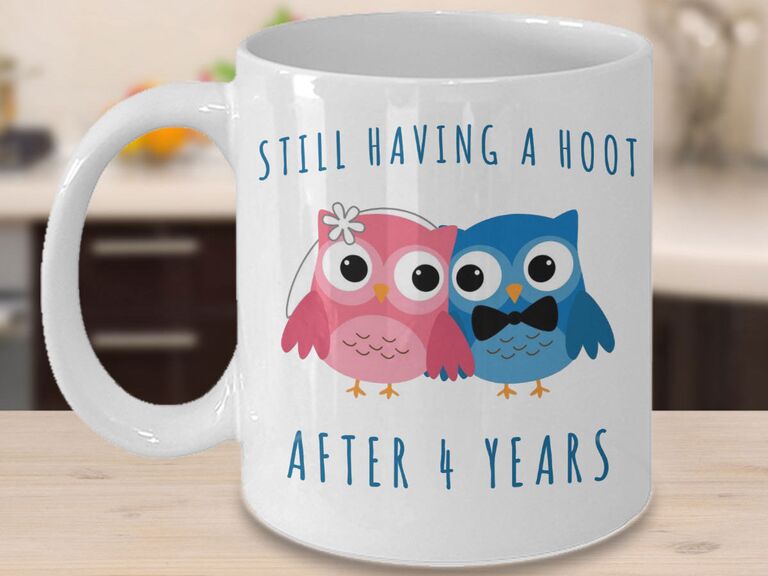 Gifting a couple who loves to laugh? Get two of these cheeky fourth anniversary gift mugs featuring a pair of owls in wedding attire with this cute message: "Still having a hoot after four years."
Humble Expressions HQ 4th anniversary coffee mug, from $16 each, Etsy.com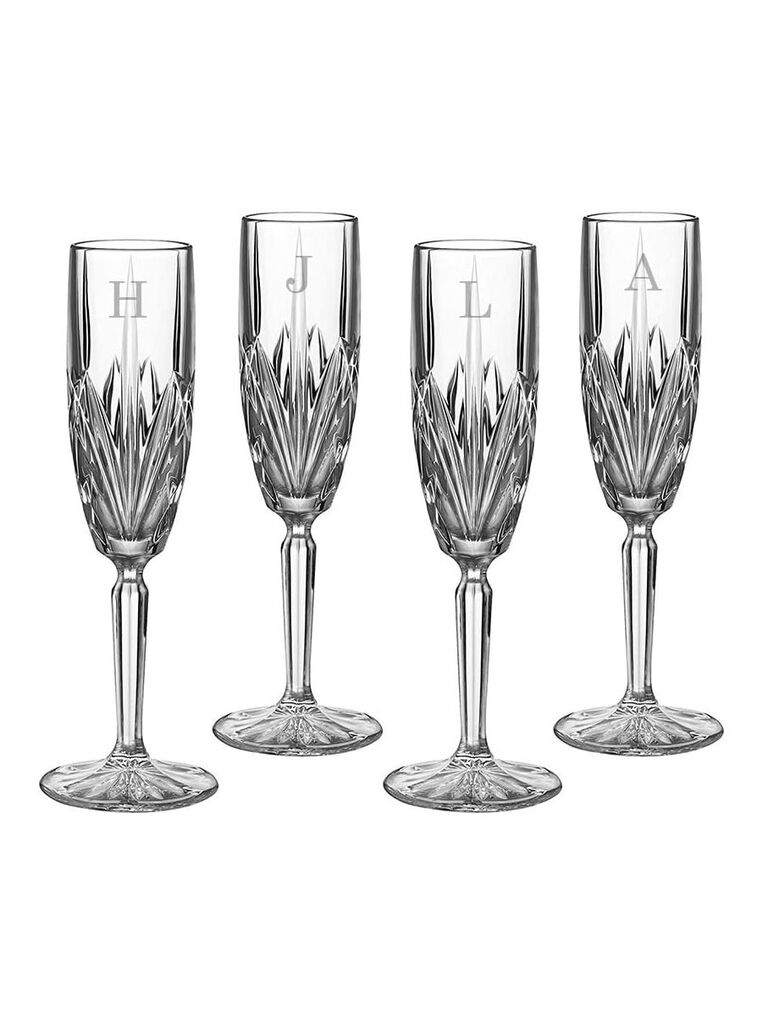 Pop that bottle! The easiest—and perhaps still the best—way to celebrate an anniversary is with a bottle of champagne. But instead of just bringing the bubbly, bring the glasses, too—one for every year they've been married. This personalized crystal flute set is an elegant fourth anniversary gift choice.
Waterford personalized Marquis Brookside champagne flutes, $60 for a set of 4, Amazon.com
Fruit and Flower Anniversary Gifts for Him
Your fourth anniversary is also your fruit and flowers anniversary for a lovely reason: Four years in, your marriage is still fresh and blooming, and what embodies that better than fruit and flowers? You know what your husband loves almost as much as you? Food! And what better anniversary than the fruit and flowers anniversary to make his stomach happy? Still, it's worth noting that he might enjoy receiving flowers or other plants too. Blooms are a gift that can make anyone feel special (as are most of the presents in this roundup). It's all about finding a personalized way to present them. Speaking of which...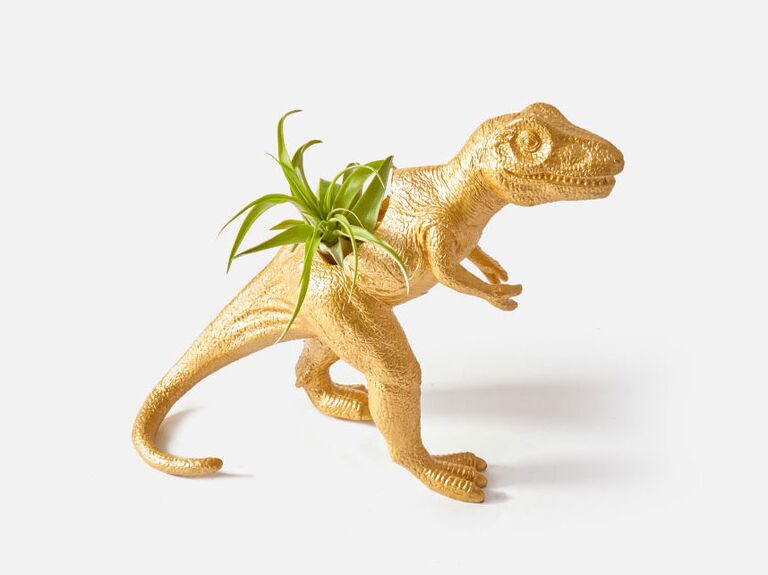 The first pick on our list of fruit and flower anniversary gifts for him? The Rex—a gold, tyrannosaurus rex-shaped planter that comes complete with one very easy-to-maintain air plant. 
UrbanStems The Rex, $55, UrbanStems.com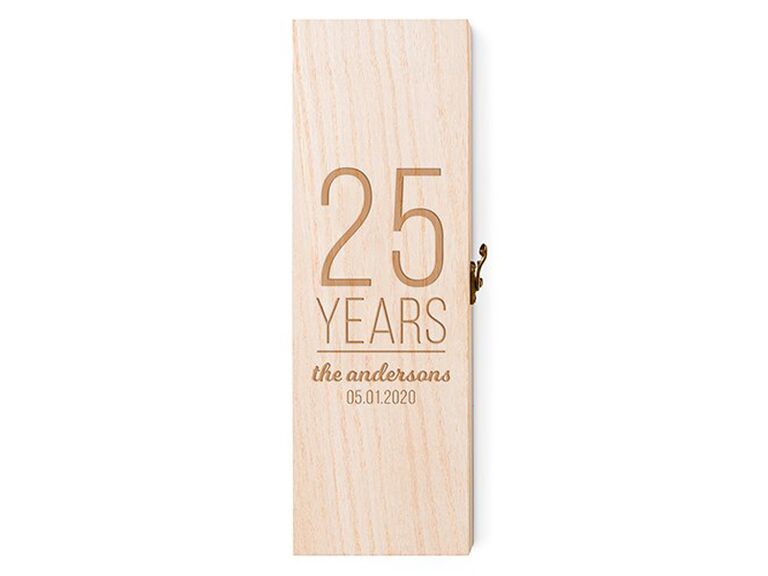 Thinking that your anniversary calls for a getaway? Then you've got to go to a vineyard. After all, wine is made out of grapes, and we're celebrating the fruit anniversary here—you get the idea. And make sure you bring a bottle home with you. You can save it and pop it open for your next anniversary. (If you can't swing a trip, a special bottle of vino works too—try presenting it with a celebratory custom label or in a personalized keepsake box.)
The Knot Shop personalized wooden wine gift box with lid in Happy Anniversary, $20, TheKnotShop.com
Citrus fashion motifs are always fun, but even if he isn't keen on patterns, this lemon-print tie is subtle enough to suit his tastes.
The Tie Bar teal Luedke Lemons tie, $25, TheTieBar.com
Fruit and Flower Anniversary Gifts for Her
There are plenty of ways to interpret the tradition for your wife's  fourth anniversary gift. You can go literal with actual flowers or choose an item embellished with a botanical print. Check out more four-year anniversary gift ideas for her—fruit and flowers edition—below.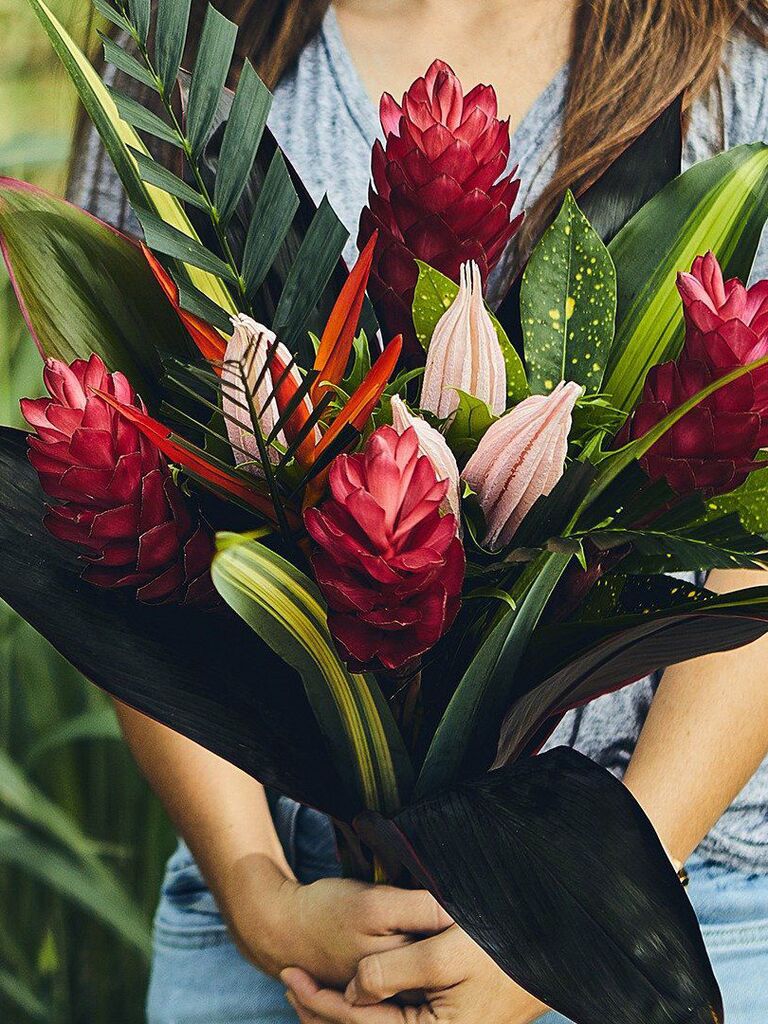 Because who doesn't love a beautiful bouquet? But since this is a fourth anniversary gift, go bigger—one bouquet for every month for the next four months (or longer), courtesy of a subscription through The Bouqs Co. You can personalize the posies by choosing the size and type of arrangement.
The Bouqs Co. subscription, from $52, Bouqs.com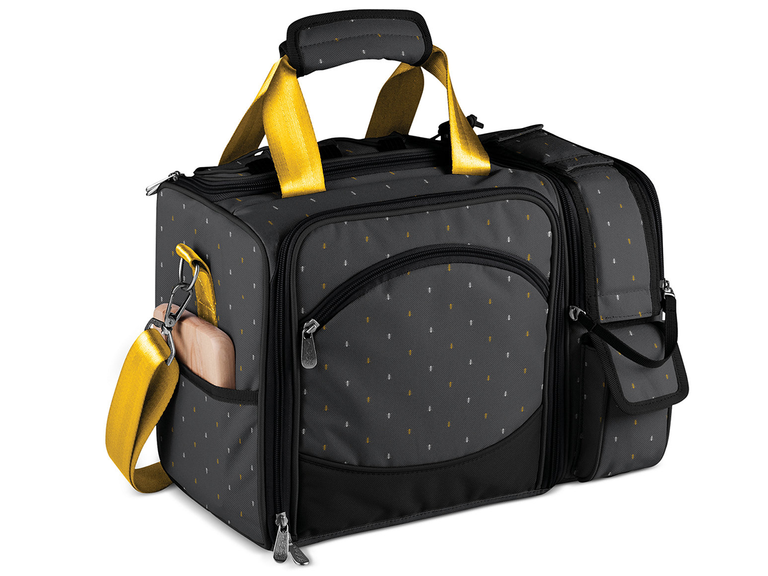 Road trip! If you got married in the summer or fall, then your fourth anniversary falls during prime picking time, which means you can celebrate with an orchard adventure—complete with a picnic. Pick the juiciest fruits, then grab your picnic basket filled with sandwiches, wine and anything else you love. From there, head out for a deliciously relaxing day.
Picnic Time Laguna picnic tote, $208, Macys.com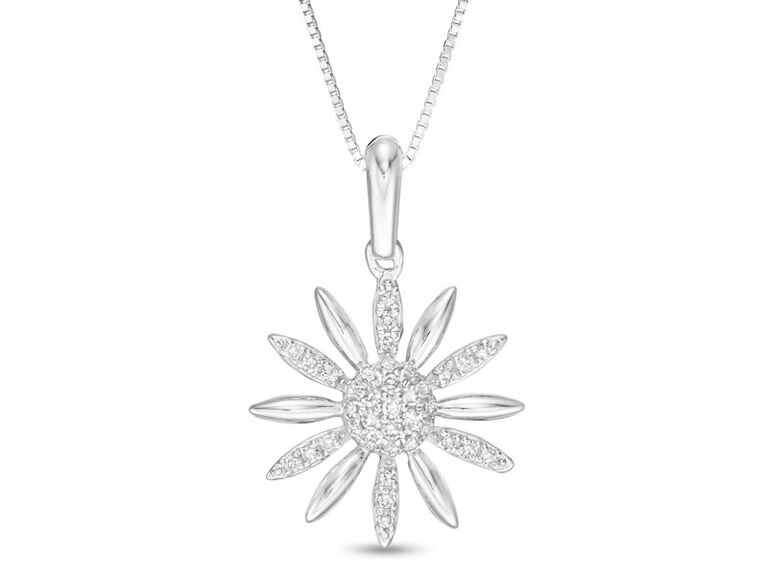 This white gold flower pendant is thematic but understated, making it an ideal everyday piece—and a flawless fourth anniversary gift.
Zales Endless Brilliance white gold diamond flower pendant, $349, Zales.com
Fruit and Flower Anniversary Gifts for Them
And now, for the couple celebrating their fruit and flowers anniversary. From deliciously easy (an edible arrangement) to seasonally appropriate (a monthly subscription), each of these fruit and flowers-themed four-year anniversary gift ideas will help them celebrate in style.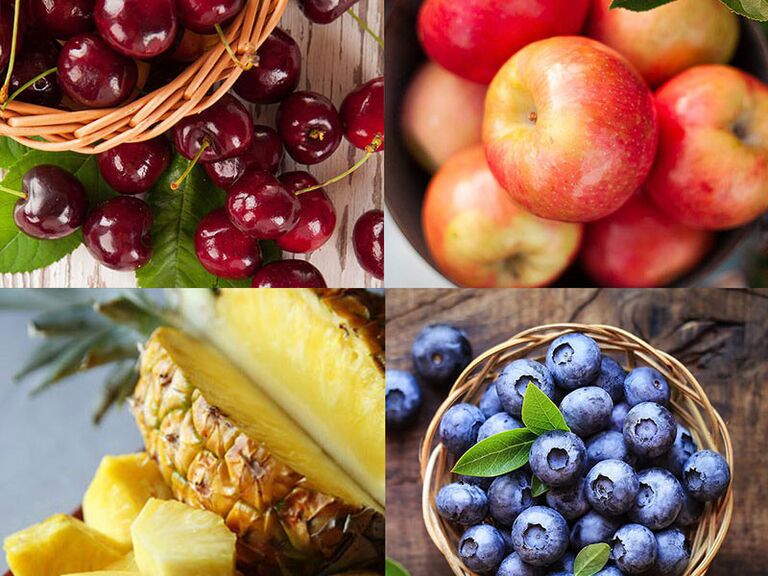 One way to help the couple celebrate all year? A fruit of the month club, like The Fruit Company's HarvestClub. You pick the weight and The Fruit Company will do the packing, from Malibu Navel oranges in January to Webster Comice pears in December. Feeling even more generous? Pair a card explaining the gift with a new countertop basket to display their goodies in.
The Fruit Company HarvestClub Americana monthly fruit club, from $99, TheFruitCompany.com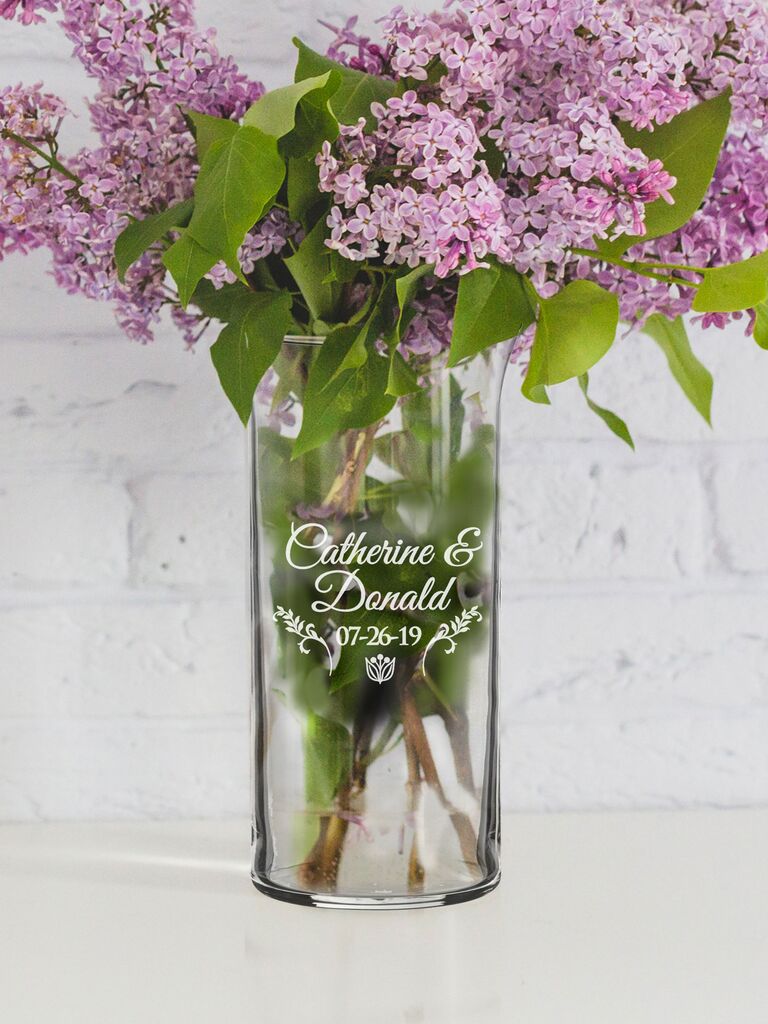 Encourage the flower-anniversary couple to keep fresh stems in their home by gifting them with a pretty glass vase, like this personalized one. Engrave it with their names and wedding date, along with some subtly botanical motifs to really double down on the theme.
My Personal Memories personalized flower vase, $30, Etsy.com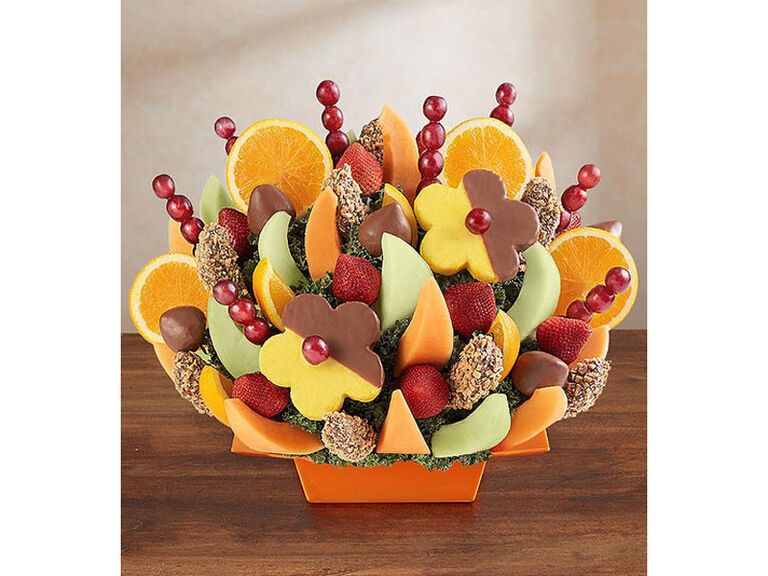 If you want to stick to the theme, a fruit arrangement honors the best of both worlds—the fruits and the flowers (as the fruits are cut into floral shapes). Dipped in chocolate too? It's a traditional fourth anniversary gift that can't lose.
Shari's Berries abundant fruit & chocolate tray, from $90, Berries.com  
Appliance Anniversary Gifts
Now that we've covered unique and traditional four-year anniversary gift ideas, we've only got one more category to go: the modern fourth anniversary gift—appliances. While appliances may not sound romantic in theory, they're incredibly useful. And let's be honest: If someone gave you an ultra-convenient or super-stylish gadget, would you not call it love? Scroll to see our favorite appliances as fourth anniversary gifts.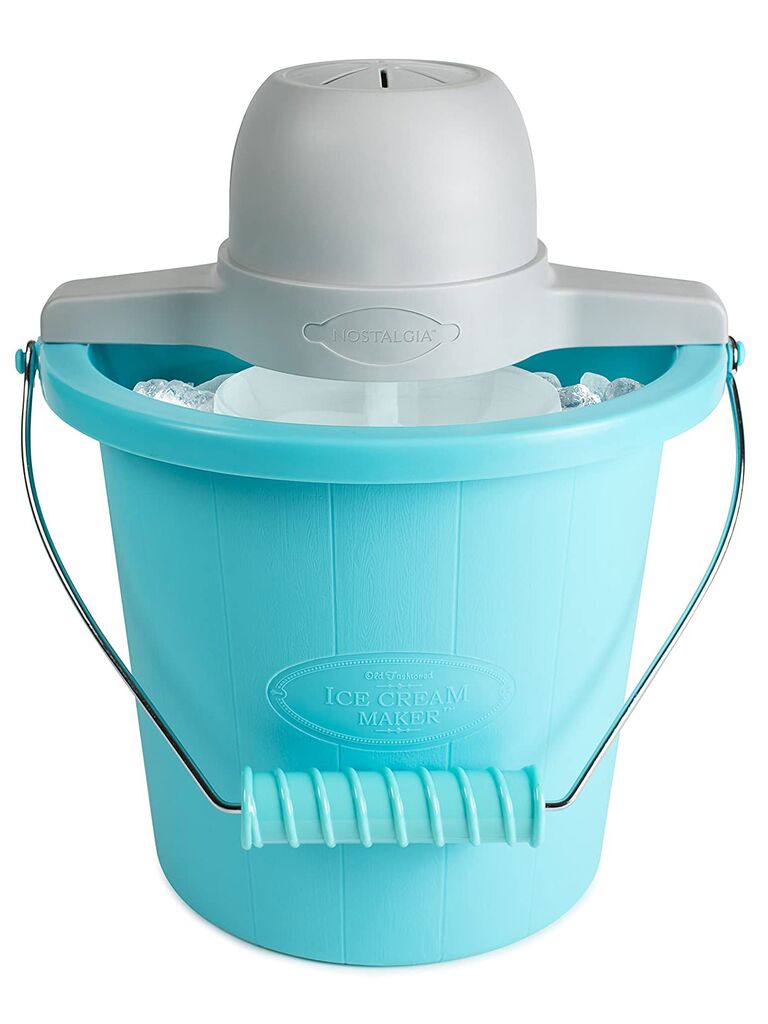 Shopping for a spouse with a sweet tooth? Say hello to this awesome ice cream maker. And for the final cherry on top, it comes in a color that resembles blue topaz—the fourth wedding anniversary gemstone.
Nostalgia ICMP400BLUE 4-Quart electric ice cream maker, from $35, Amazon.com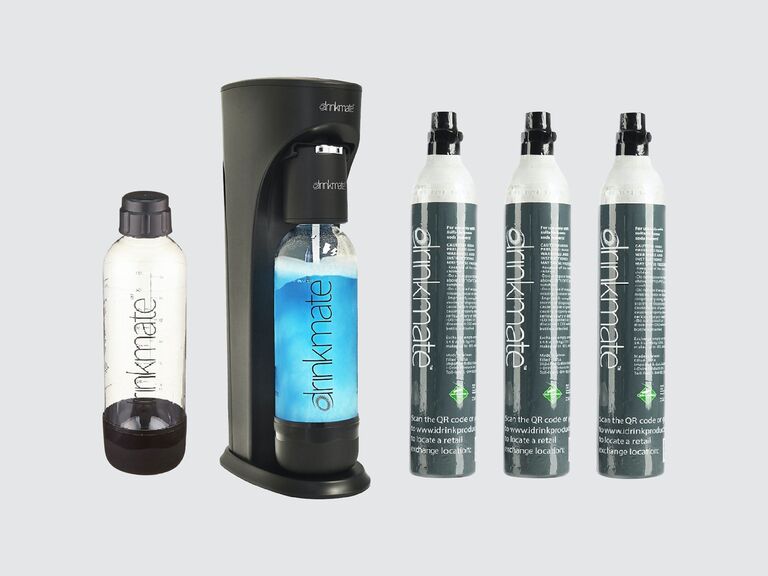 This one's for the couple who's all about doing things on their own. This Drinkmate bundle comes equipped with everything they need to make refreshing fizzy drinks whenever they want. 
Drinkmate Drinkmate bundle, $170, Verishop.com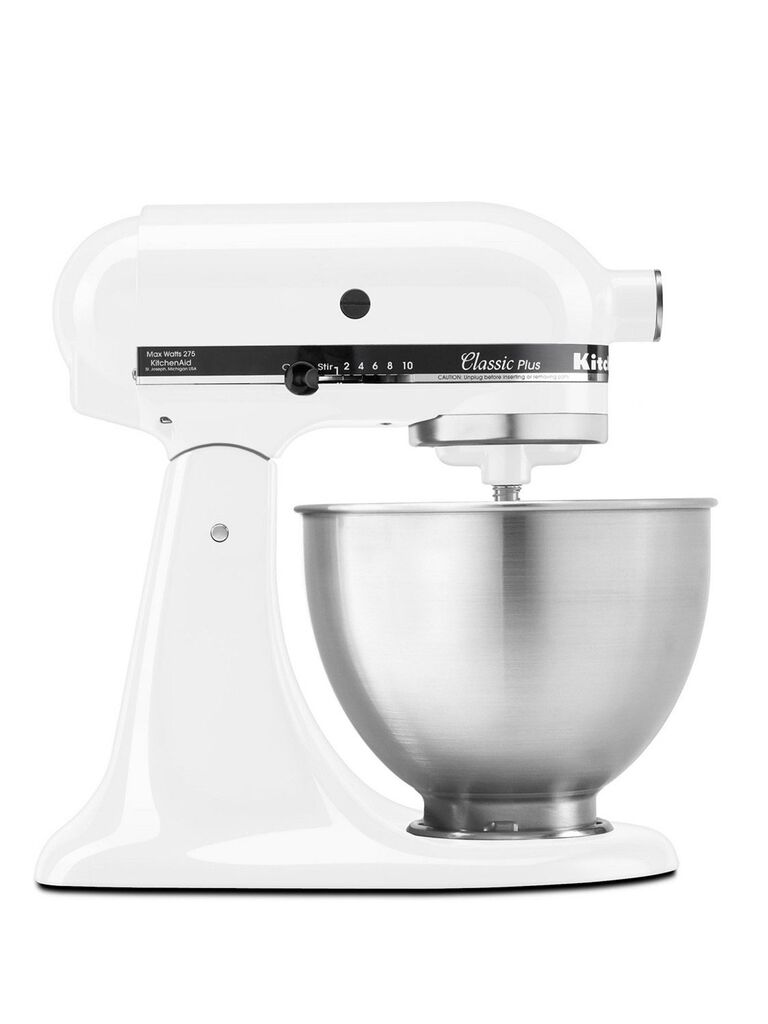 For the spouse who loves to bake, give one of the most popular—and useful—kitchen tools they'll use over and over again. It's perfect if they didn't get the one they registered for. 
KitchenAid KSM75 4.5 quart Classic Plus stand mixer, $260, Macys.com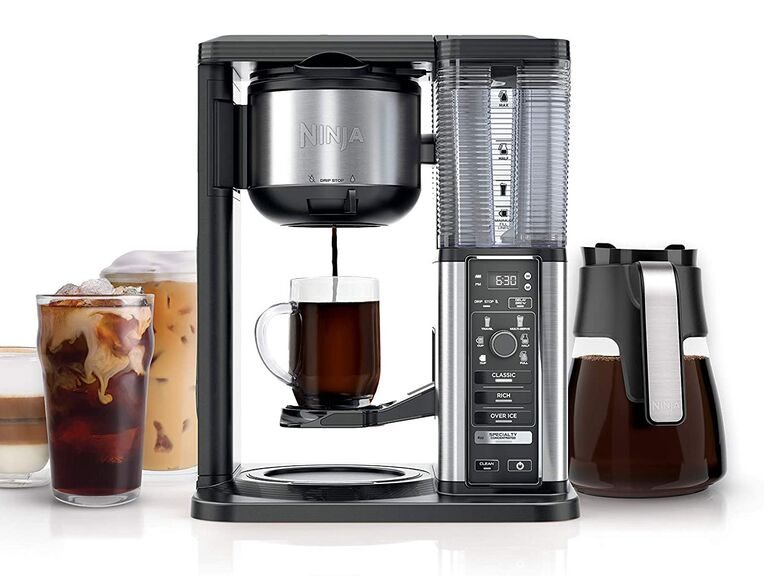 For the pair that adores specialty coffee, consider this awesome appliance—which comes with a frother and tons of fancy, customizable settings—for the ideal fourth anniversary gift.
Ninja Specialty coffee maker and carafe, from $149, Amazon.com
Cinephiles who love turning their home into their own personal movie theater—complete with a concession stand!—will appreciate this fun four-year anniversary gift.
Nostalgia Electrics '50s style stir popper, $40, BedBathandBeyond.com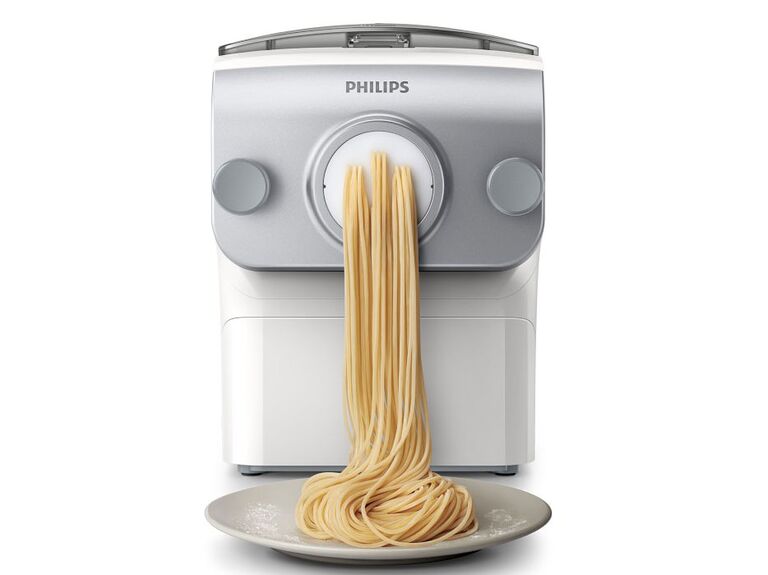 For the couple who loves Italian culture (the kind who pride themselves on never topping their spaghetti with store-bought sauce), help them take dinners a step further with this handy pasta maker.
Philips pasta maker, $300, Williams-Sonoma.com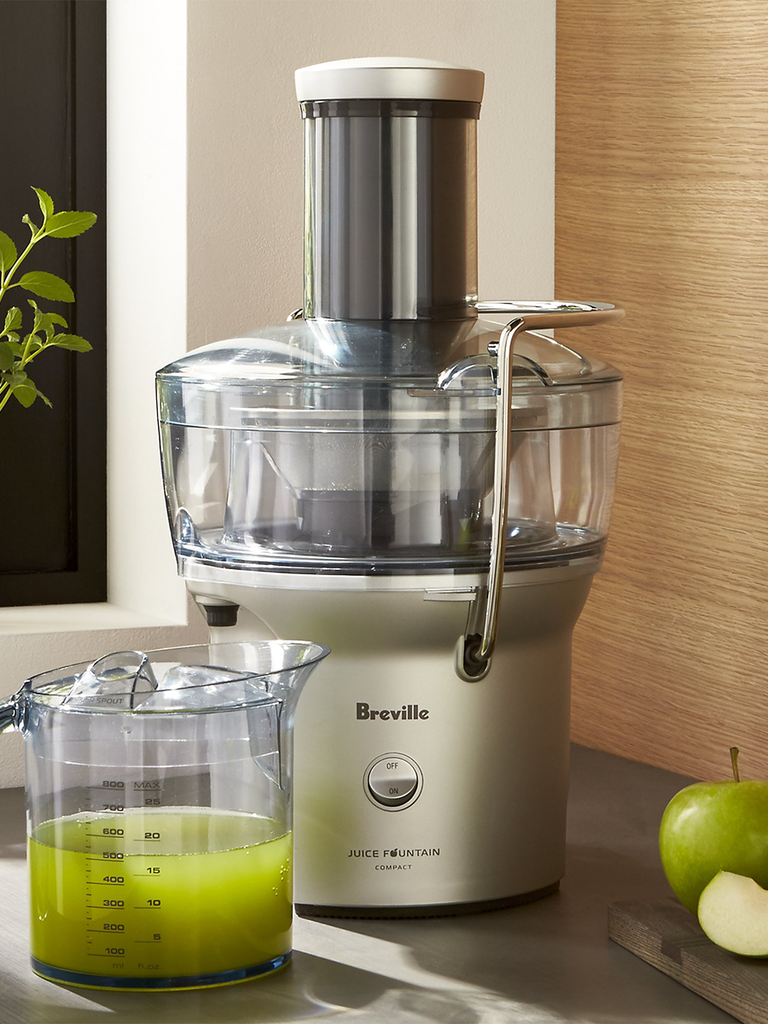 The couple that hosts Sunday brunch will never drink store-bought orange juice again with this four-year anniversary gift. Some might even consider it fruit-themed, too!
Breville juice fountain compact, $100, CrateandBarrel.com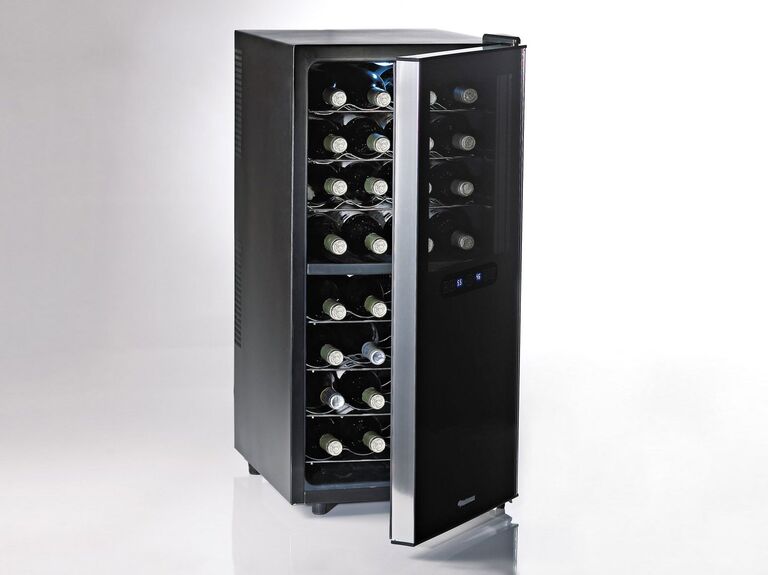 This wine fridge has fancy temperature controls that let them keep reds and whites at the perfect temperature—at the same time. The only thing that'll make the appliance a better fourth anniversary gift? If you help them stock it, too.
Wine Enthusiast silent 32 bottle dual zone touchscreen wine refrigerator, $369, WineEnthusiast.com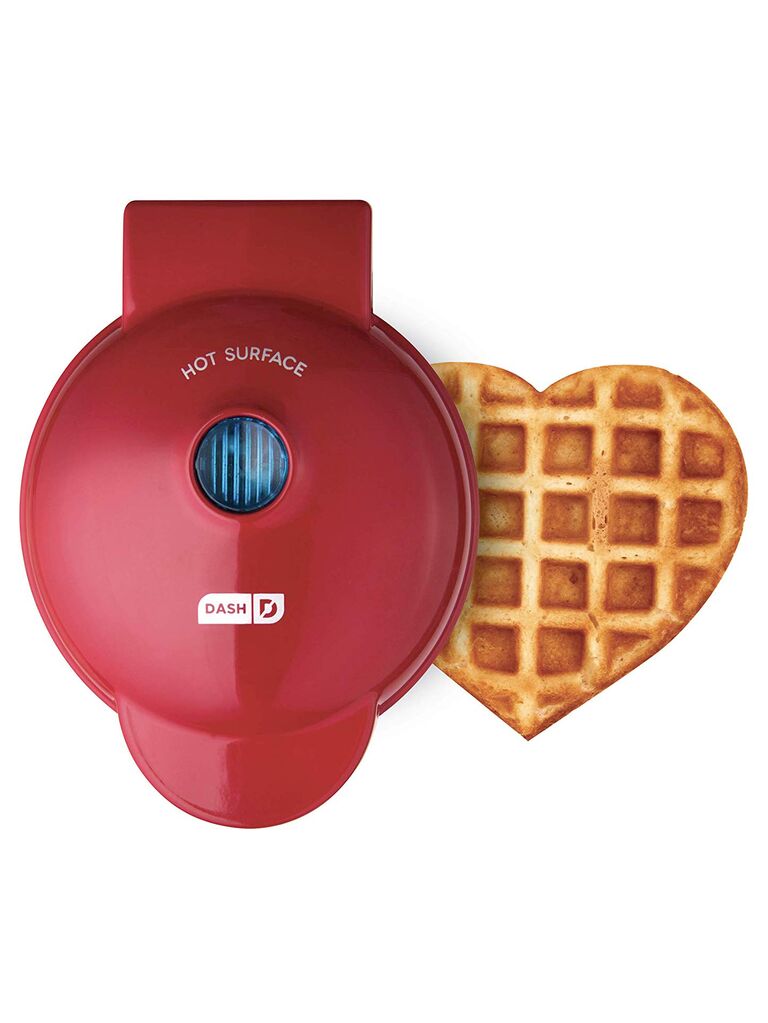 On the hunt for an affordable fourth anniversary gift that's still cute and useful? Buy this mini heart waffle iron. You'll get extra brownie points if you use it to serve a romantic anniversary breakfast.
DASH DMW001HR mini waffle iron in Red Heart, $15, Amazon.com
For more of the best anniversary gift ideas for all the major milestones, check out our comprehensive guide to anniversary gifts by year.
Disclosure: This post contains affiliate links, some of which may be sponsored by paying vendors.
Updated June 2020