32 Unique 4th Anniversary Gifts You Haven't Thought of Yet
From traditional and modern gifts to creative alternatives.
Prostock-studio / Shutterstock
We have included third party products to help you navigate and enjoy life's biggest moments. Purchases made through links on this page may earn us a commission.
A marriage that's lasted four wonderful years deserves to be commemorated with something truly special. Whether you're looking for a new way to shower your S.O. with love or you want to congratulate a couple on their latest milestone, you can't go wrong with a thoughtful four-year anniversary gift. But what makes a present special enough to hand over in celebration of four years of marriage? Find out all you need to know about the milestone's traditional and modern symbols that'll add an extra layer of meaning to whatever you pick. Then, check out our list of unique fourth anniversary gift ideas, from on-theme presents to cool alternatives.
In this article:
What Is the Four-Year Anniversary Gift?
So, what is the traditional fourth anniversary gift? Depending on your location, the answer might surprise you. In the United States, the theme is fruit and flowers, representing a relationship in full bloom. But if you ask someone from the UK, they'll likely tell you that the fourth wedding anniversary symbol is linen—indicative of a marriage that's continuously growing stronger.
Of course, the gift inspiration doesn't stop there! There are several other symbols associated with this milestone, including the modern fourth wedding anniversary gift: appliances. Practical presents show just how settled a couple is after almost half a decade together. Alternatively, you can look to the milestone's traditional stone (topaz), color (green or blue) or flower (geranium or hydrangea) on your hunt for the perfect gift. These unique symbols each have their own special meaning.
Fruit and Flower Anniversary Gifts
What could be a sweeter way of celebrating four years together than fresh fruit and vibrant blooms? We've searched the web for the most thoughtful and unique traditional fourth anniversary gift ideas that'll work for spouses and couples alike. From flower delivery services to on-theme subscription boxes, one of these presents is sure to win them over.
Pretty Birth Flower Necklace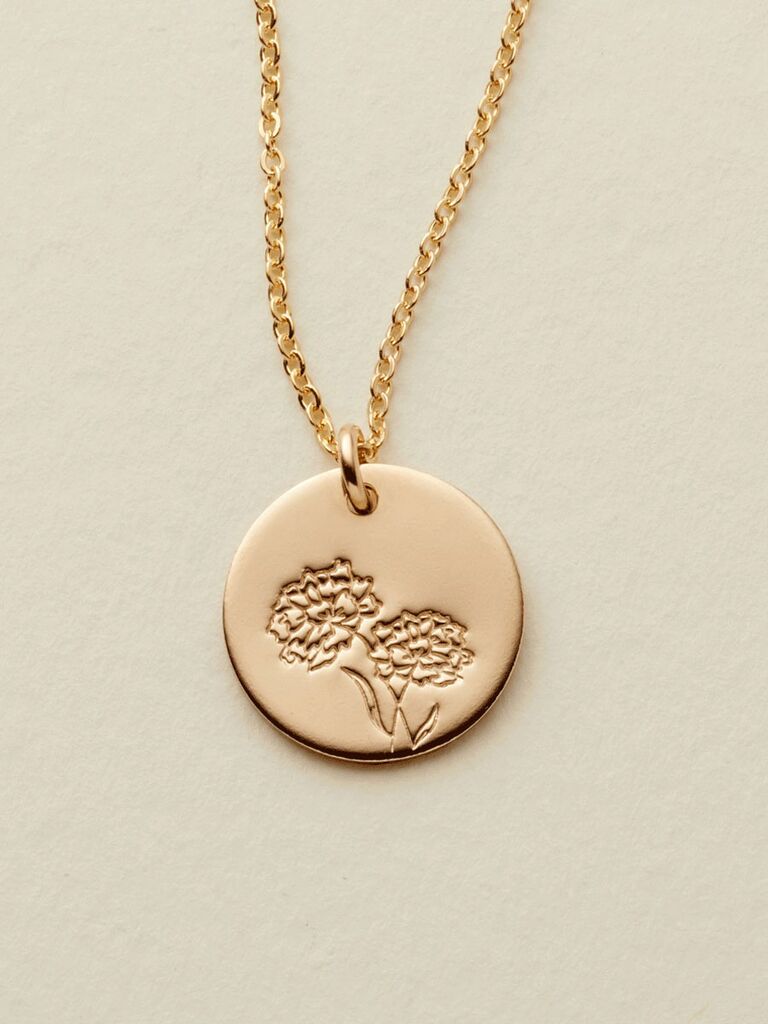 There are so many ways to interpret the traditional fourth-year wedding anniversary gift of fruit and flowers. For the spouse who prefers something a little more permanent, swap the fresh blooms with a meaningful gold pendant necklace featuring their birth flower. It's a special keepsake they can wear as an everyday reminder of your love.
Gorgeous Dried Hydrangeas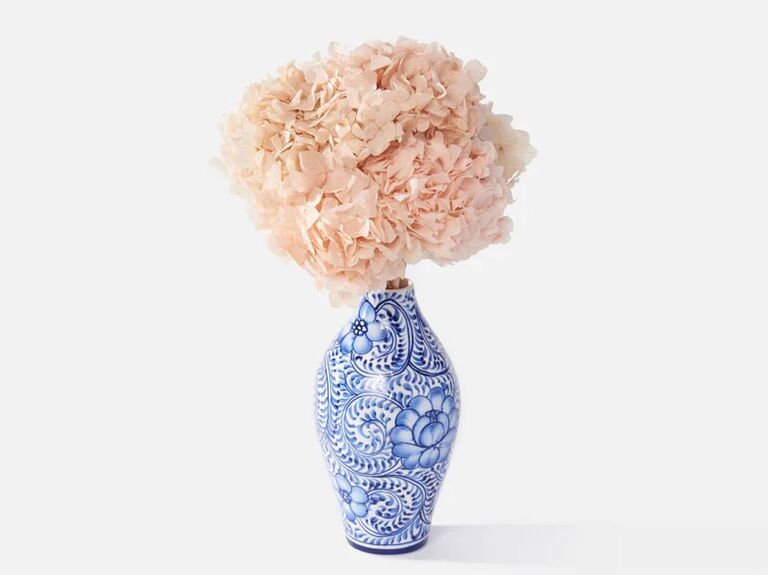 Take the classic bouquet up a notch for this special occasion. Dried blooms are a cool spin on the traditional bunch of flowers. They're super on trend right now, and they'll last much longer than a fresh bouquet. The best part? This gorgeous arrangement features the fourth anniversary flower: hydrangea. Specifically, pink hydrangeas, which symbolize deep, heartfelt emotion, making them a fitting choice for your other half. They come in a regal blue vase for a presentation-ready anniversary gift. Get 15% off plants and floral arrangements with the code THEKNOT15.
Beautiful Bouquet Delivery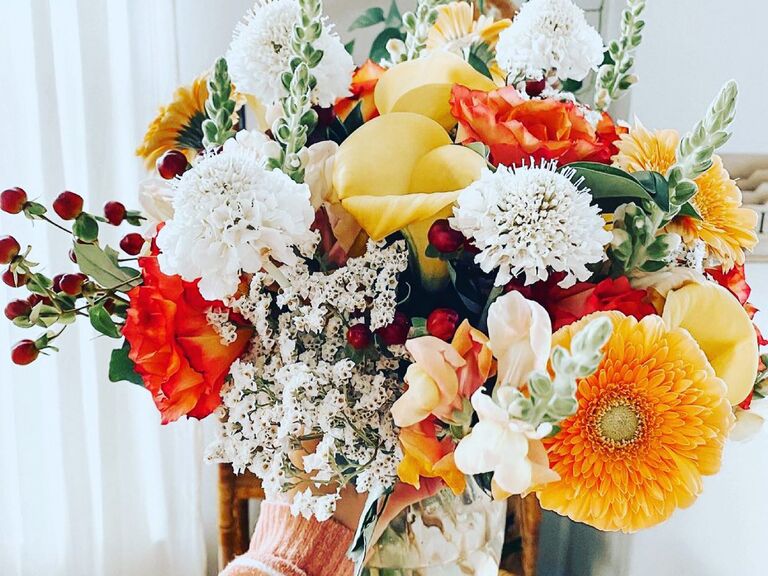 One bouquet is great, but why not take it a step further than that—it is the flower anniversary, after all! This subscription service will deliver a bunch of gorgeous blooms right to your partner or the couple's door every week or month (depending on the plan you choose). Anyone who loves brightening up their home with fresh flowers will adore this gift idea.
Gold-Dipped Forever Rose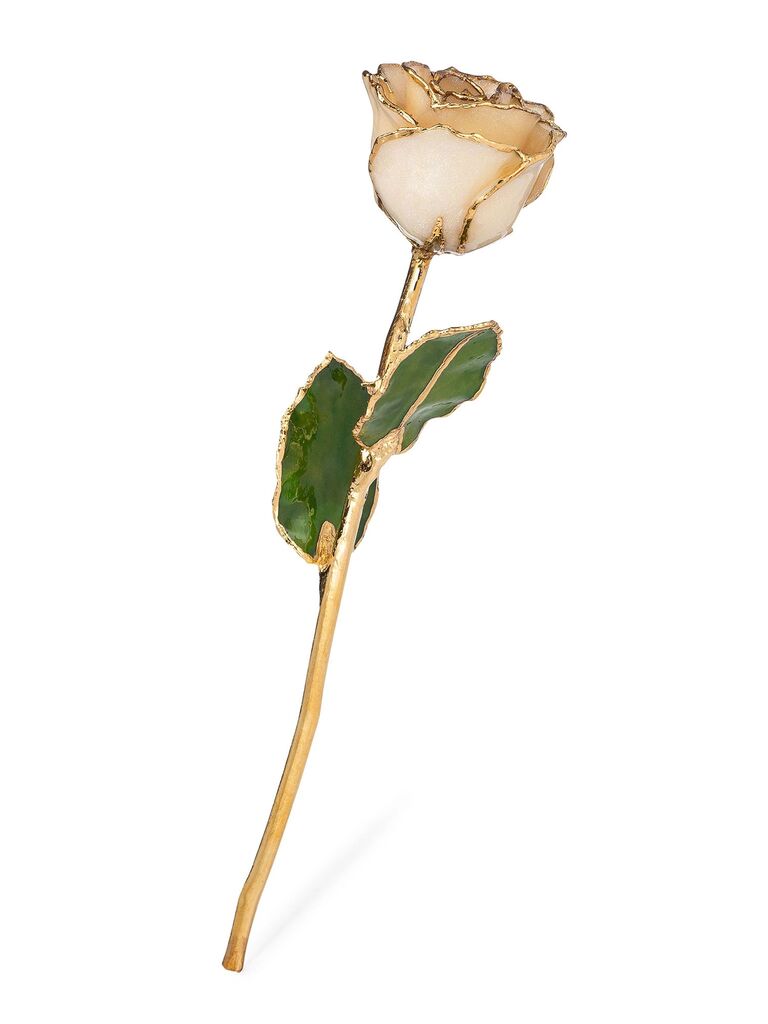 How about a flower that will never wilt? The Forever Rose takes real roses and preserves them in a durable lacquer as a symbol of true love and eternal relationships. This white rose has a high-gloss glittery finish with real gold plating for a timeless piece of art. For even more romance, have the stem engraved with a custom note.
Fresh Fruit Subscription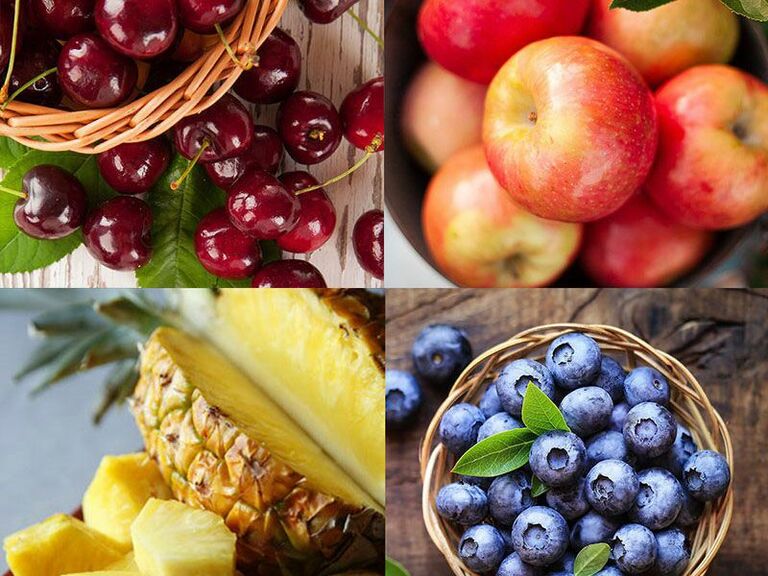 Another subscription service that'll help the couple celebrate all year? A monthly delivery of fresh produce. From Malibu Navel oranges in January to Royal Comice pears in December, they can receive delicious, seasonal fruit all year. You pick the weight and subscription duration, then The Fruit Company will do the sourcing, packing and shipping.
Handmade Fruit Bowl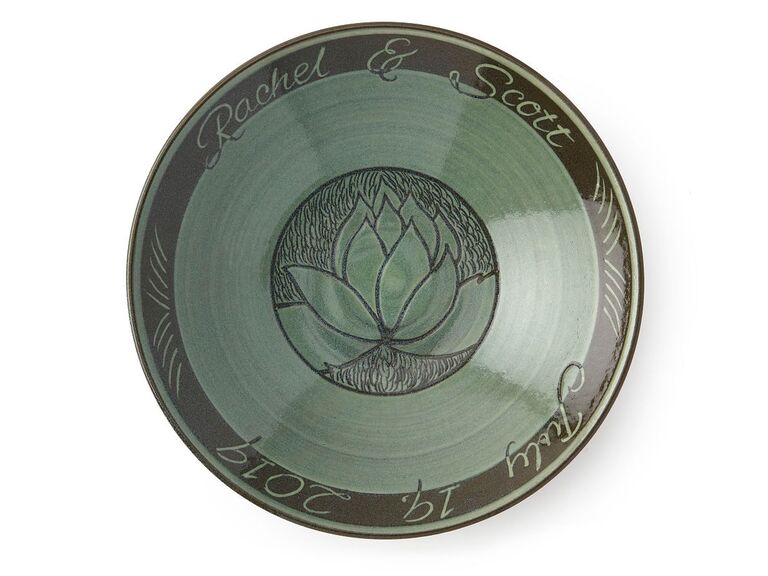 Don't be afraid to think outside the box when it comes to finding a fourth anniversary gift for your spouse or the couple. If you want to give them something that's made to last, this fruit bowl-slash-memento is a really thoughtful present. The handmade stoneware is carved with an intricate flower pattern and personalized with names and a date for a sweet and practical fourth anniversary gift.
Monthly Plant Subscription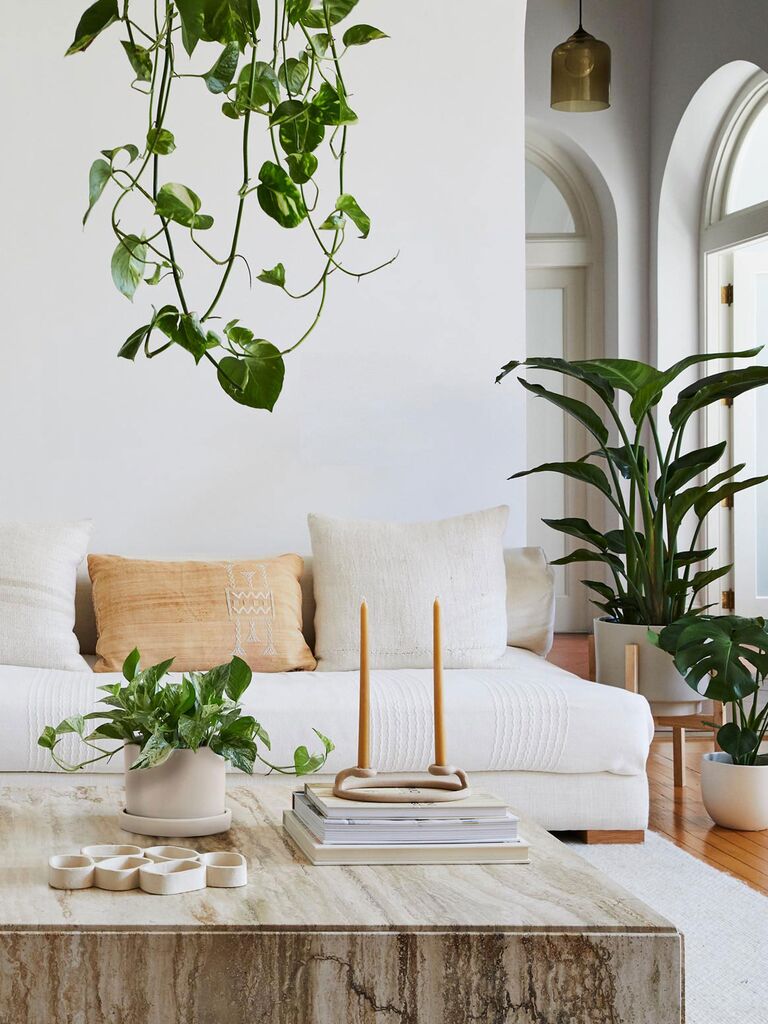 Shopping for someone with a green thumb? Stretch the flower theme a little to include plants of all varieties and you've got yourself one awesome gift idea: a house plant subscription. Each month, The Sill delivers a thriving, easy-to-care-for plant in a stylish ceramic pot. There's even a pet-friendly subscription option.
Romantic Perserved Rose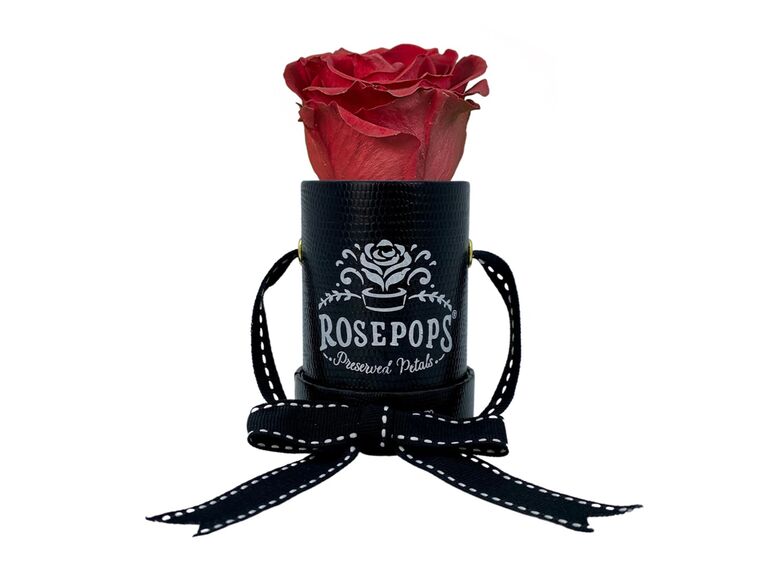 Out of all the traditional fruit and flower anniversary gift ideas on our list, we especially love this one. Surprise your spouse with a single preserved rose beautifully packaged in a pretty box with a personal message on the lid. It's minimalist, romantic and sure to be remembered. Take 15% off sitewide with our exclusive code THEKNOT15.
Delicious Fruit Arrangement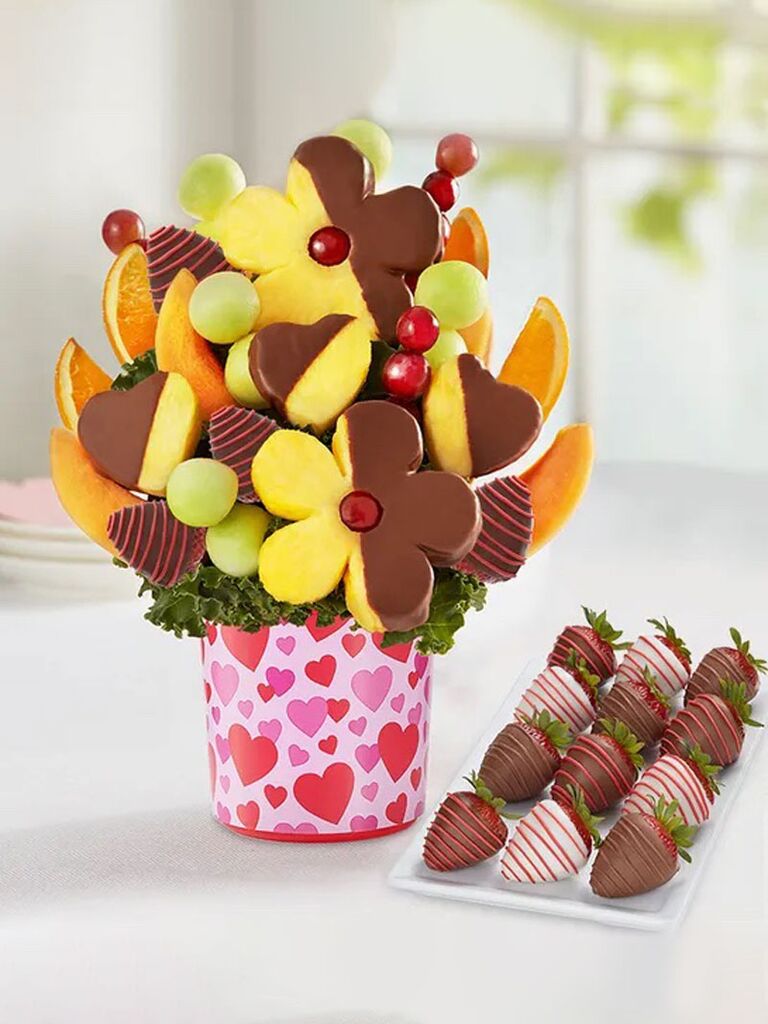 Thought the perfect four-year wedding anniversary gift didn't exist? Think again. This floral arrangement is made of a delicious selection of pineapple, strawberries, cantaloupe, oranges and a few grapes, hitting the nail on the head for both traditional materials. And if artfully cut fruit isn't enough, you can have it dipped in decadent milk chocolate too. Oh, and the vase is covered in hearts for extra romance.
Tasty Fruit Jams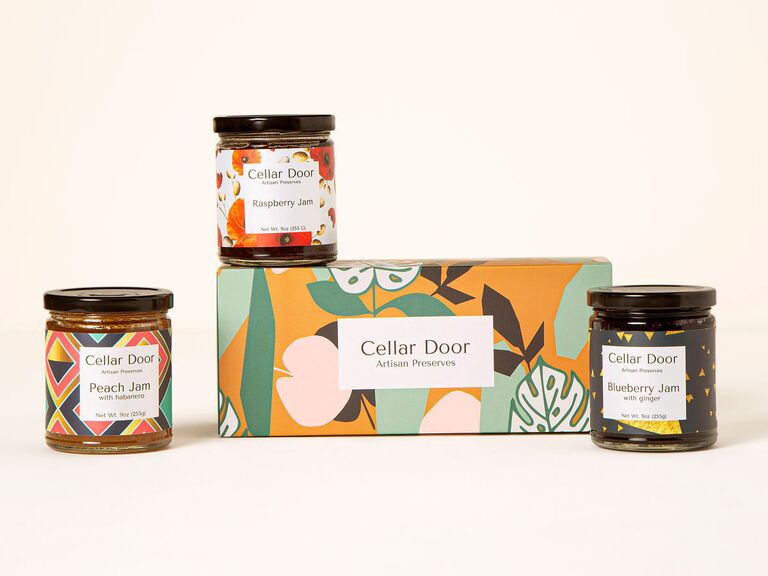 If your S.O. is a fan of fruity condiments, these flavorful preserves are an excellent gift for the fourth anniversary. Choose between a selection of twelve homemade jams ranging from sweet to a little spicy for a customized gift set of three. These jams will zhuzh up their every meal, from savory cheese boards to sweet desserts.
Wedding Bouquet Replica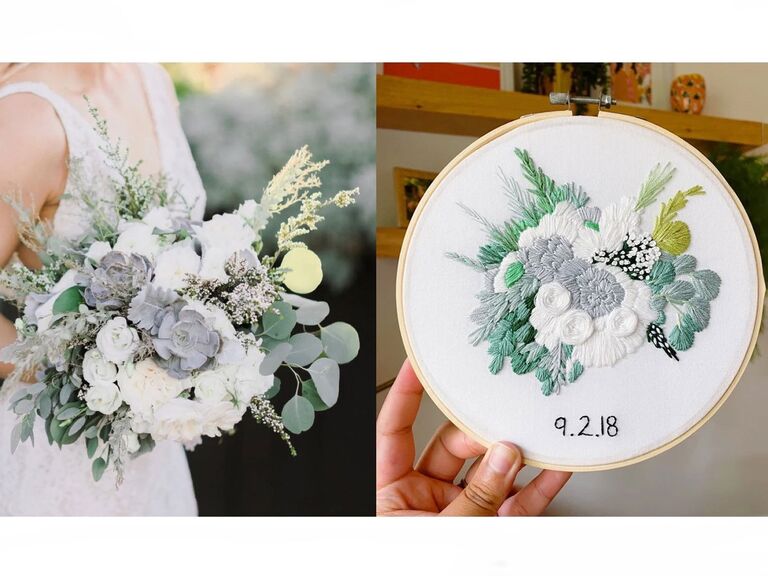 How about a throwback to the wedding day? A hand-embroidered replica of your partner's wedding bouquet is a meaningful way to combine the traditional American theme with the European one: linen. Add your wedding date or initials to make it feel all the more special.
Appliance Anniversary Gifts
Now onto the modern fourth wedding anniversary theme: appliances. The wedding was four years ago, meaning some of those old wedding gifts could probably use an upgrade. Take this milestone as an opportunity to spoil your spouse or the lovebirds with a shiny new appliance that'll instantly make life easier.
Smart Indoor Garden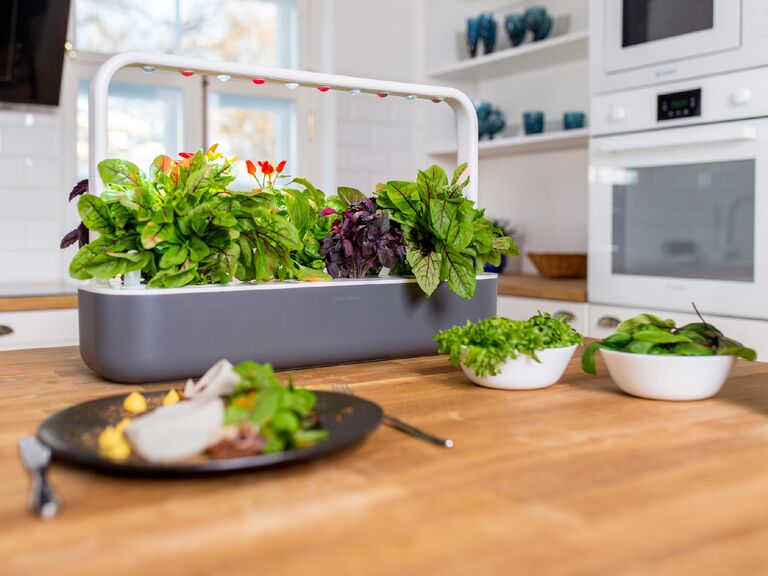 Searching for a unique addition to their kitchen countertop? Click & Grow smart gardens are pretty much one of the trendiest gifts you can give right now. This clever little device automates plant care to make growing herbs, veggies or even just flowers easy peasy. It's an excellent present for budding home chefs, busy parents or anyone with limited outdoor space.
Chic Air Fryer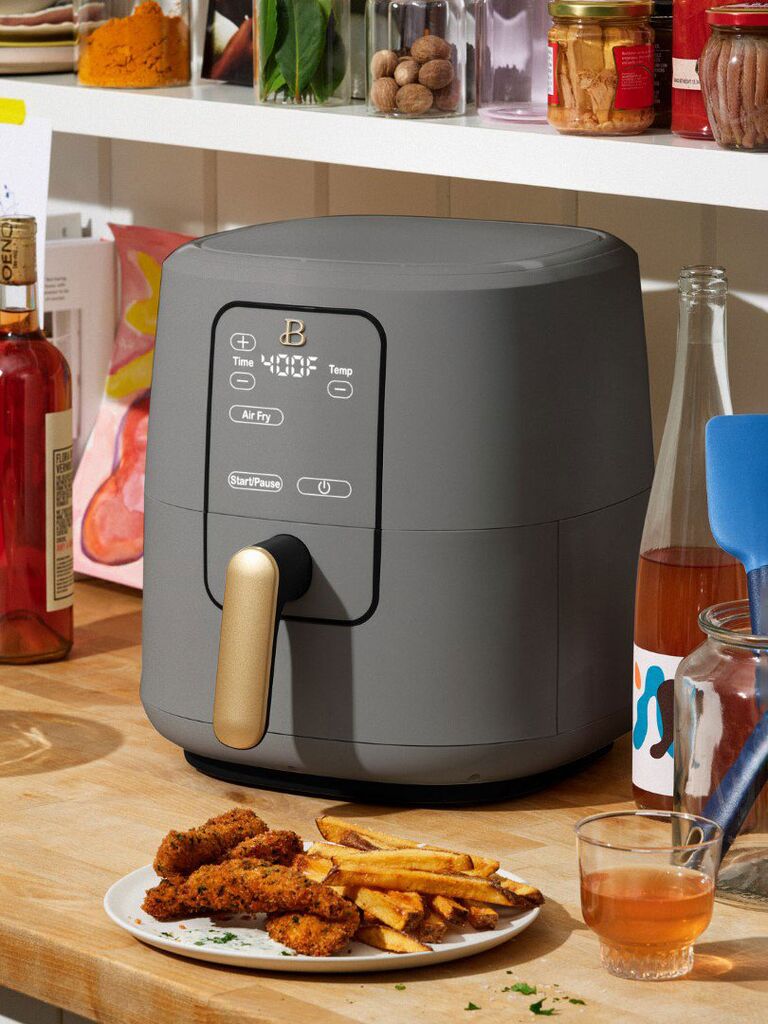 Air fryers are having a major moment, but if the couple has yet to jump on the bandwagon, maybe it's time to give them a gentle nudge. This practical appliance makes cooking tasty fried meals quick and easy (not to mention, a whole lot healthier). But that's not the only thing we love about it—just look at the design! There's a reason Drew Barrymore named her homeware collection "Beautiful." Find it in black, white, dark or light gray or even pastel green for a pop of color (and a nod to the fourth anniversary color).
Powerful Bluetooth Speaker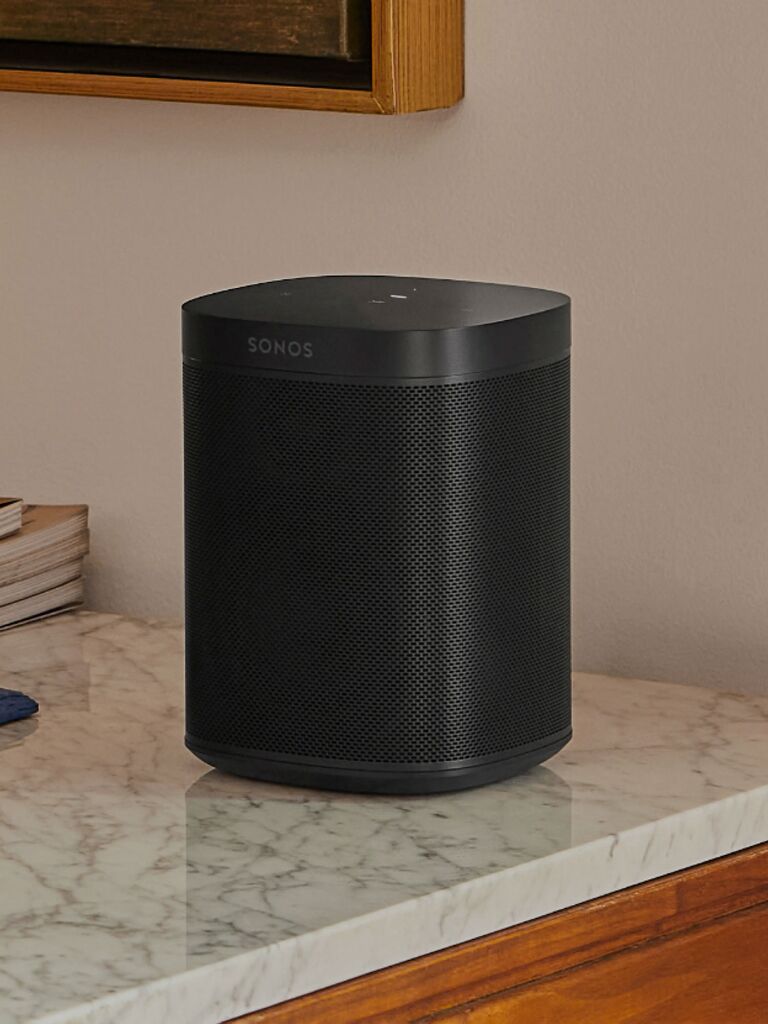 When you read the word "appliance," a fancy Bluetooth speaker might not be the first thing that comes to mind—but that doesn't make it any less giftable, especially when it's as good as this one. The Sonos One features powerful sound, plus it's voice controlled and humidity resistant (shower singers, rejoice!). It's easily one of our favorite modern fourth anniversary gift ideas, whether you're shopping for him, her or the couple.
Sleek Espresso Machine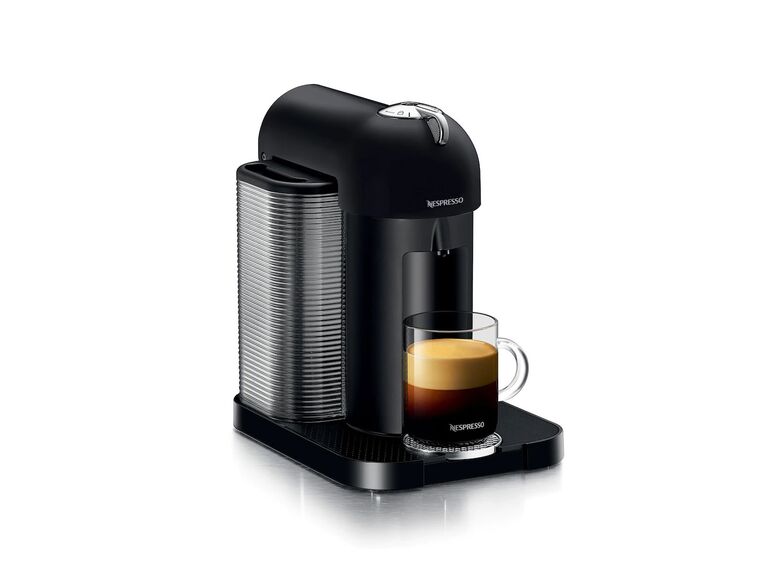 If your S.O. is a fan of fancy coffee, here's a fourth anniversary gift for him or her that'll save them from relying on store-bought brew every day (or at least some of the time). With a Nespresso machine in the kitchen, they can have a delicious cup of coffee or espresso with just the touch of a button.
High-Tech Touch-Screen Toaster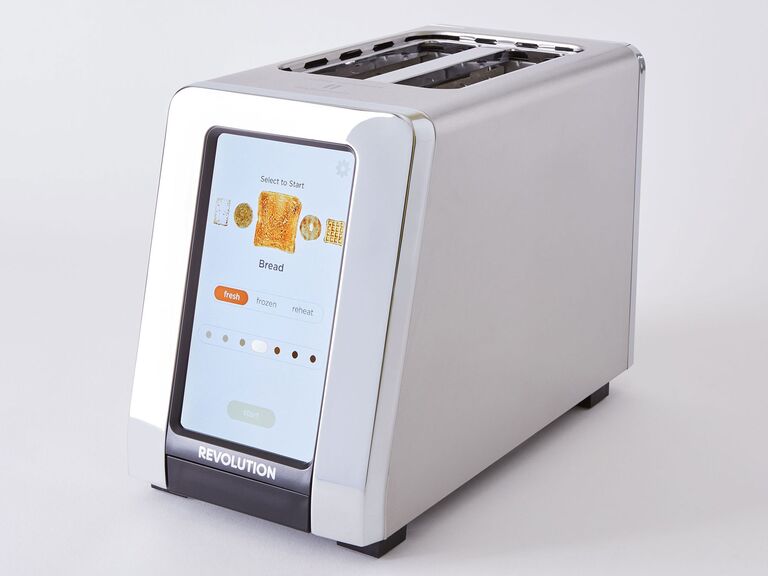 When it comes to perfectly toasted bread, some people aren't messing around—if that sounds like your spouse, we've got the perfect gift idea. This touch-screen toaster from Revolution is the upgrade they never knew they needed. It has specific settings for bagels, muffins, waffles and more. The icing on the cake? It works 50% faster than a standard toaster.
Portable Pizza Oven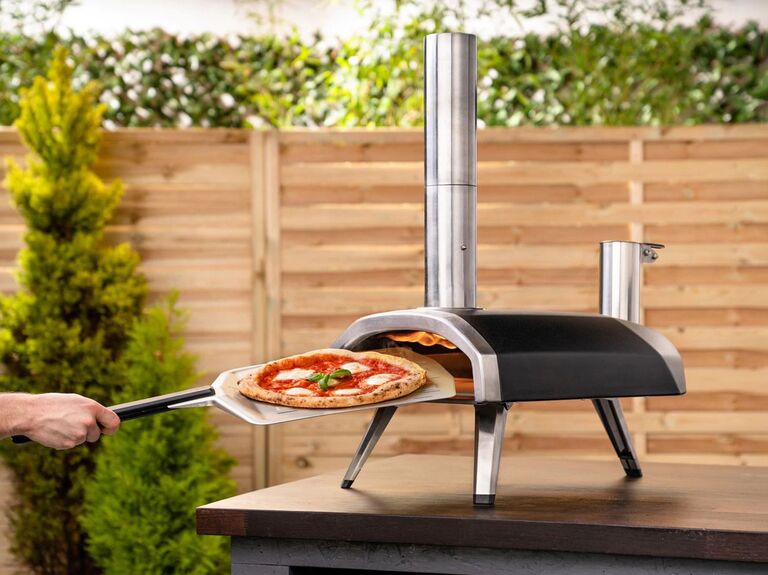 If they always play host, enhance their next gathering with a portable wood-fired pizza oven. It uses hardwood pellets and an innovative gravity-fed pellet hopper for effortless and authentic cooking. Once hot, guests can have delicious homemade pizza in just one minute.
Fancy Wine Fridge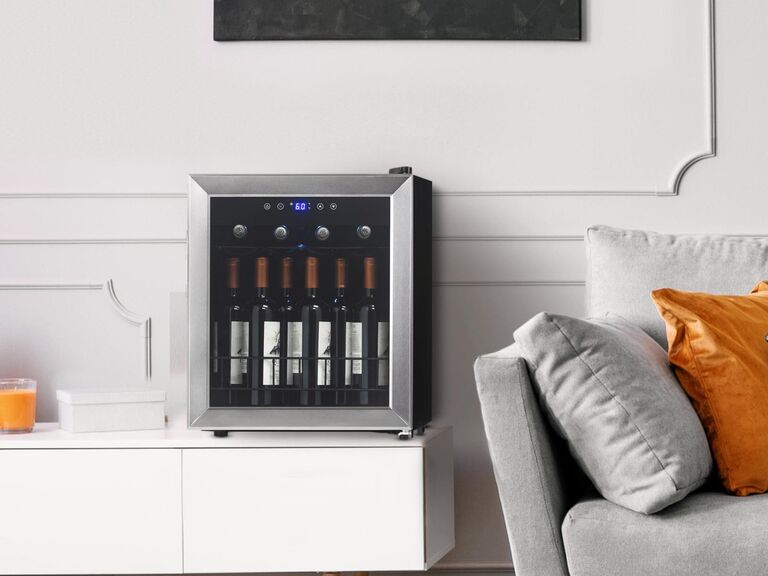 Anyone with an appreciation for good vino will welcome this addition to their home appliances: a high-quality wine fridge. This freestanding refrigerator is geeked up with compressor cooling and a built-in fan, double-pane insulating glass, LED lighting and adjustable shelves that hold up to 16 bottles of wine. Long story short, it'll keep their drinks at the optimal temperature for enjoying right away!
Elevated Electric Kettle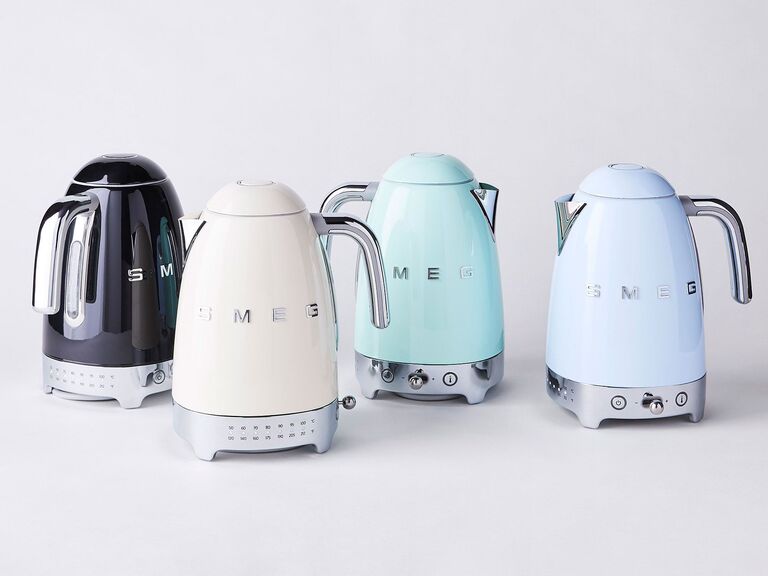 Let's face it, we've all had our eye on some kind of SMEG appliance at one point or another—who could say no to those chic retro designs and pretty pastel hues?! While splashing out on this kettle for yourself might seem a little extra, receiving it as a gift is a totally different ball game. It's an especially thoughtful four-year anniversary gift for your husband or wife if they're always relaxing with a hot cup of tea. Snag it in blue or green to honor the fourth anniversary's traditional colors.
Matcha Maker Kit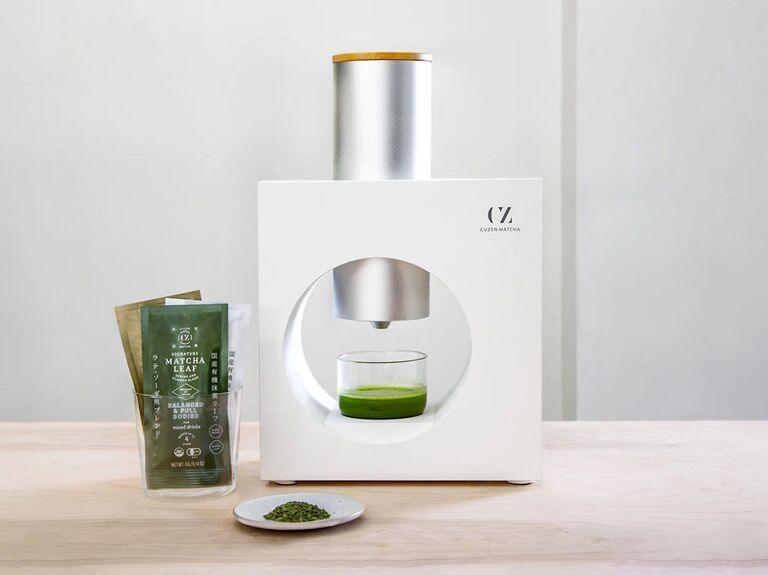 Tell your partner just how matcha you love them with a matcha maker. This kit comes with everything they need to easily make matcha right from the comfort of their home. The users simply pours matcha leaves into the machine which grinds and whisks them with water to then be dispensed into their awaiting cup.
Frozen Drink Blender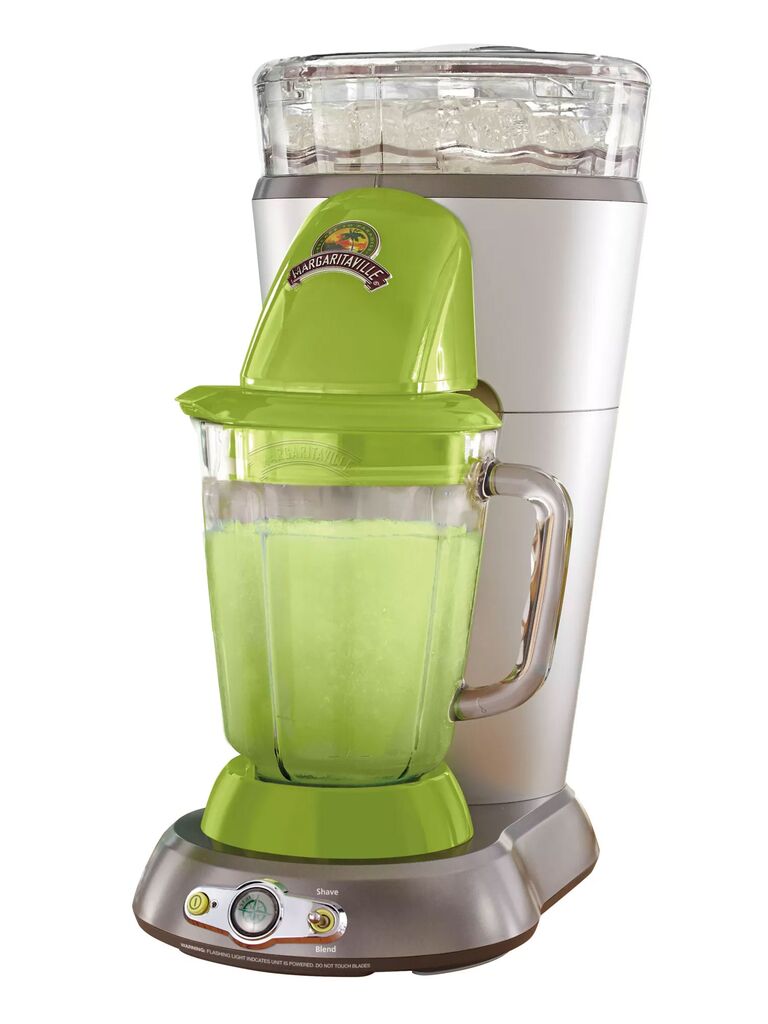 How about a Jimmy Buffet-approved blender? This Margaritaville Bahamas Frozen Concoction Maker efficiently shaves ice and then mixes it with fresh juices and liquor for a resort-style drink anytime. It's a fun four-year anniversary gift for the spouse or couple who's always entertaining.
Coveted Cordless Vacuum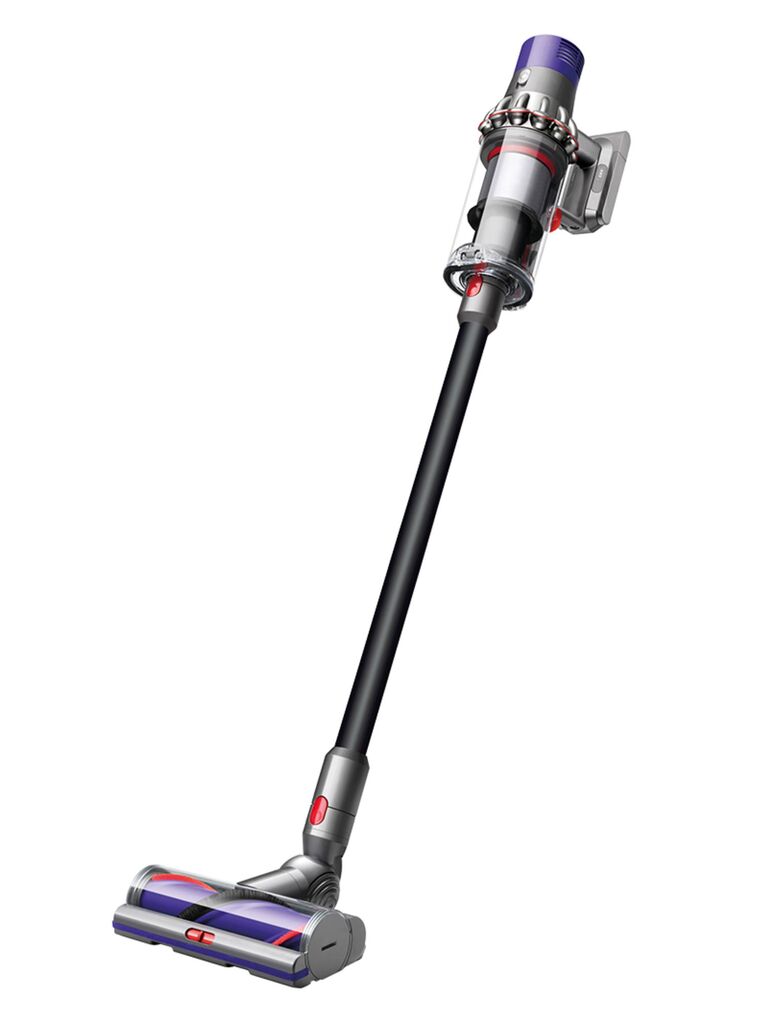 If you think your partner wouldn't be excited to receive a vacuum, think again. Dyson's lightweight cordless vacuums make it easier than ever to clean your home. The Dyson Cyclone V10 Absolute has super-powerful suction and 60 minutes of battery time. It comes with six adaptors for multi-surface cleaning and a discrete docking station. Trust us, it's worth every penny.
Alternative Four-Year Anniversary Gifts
You certainly don't have to pick out a traditional or modern present for your spouse or the couple. If you're really stuck on what to get for the fourth anniversary, your best bet is to go with something you're sure the recipient(s) will appreciate. That might mean taking inspiration from their hobbies and interests, gifting an experience rather than a physical present or opting for something that's on the sentimental side. To help you out, we've gathered all of our top alternative gift ideas right here.
Electronic Love Note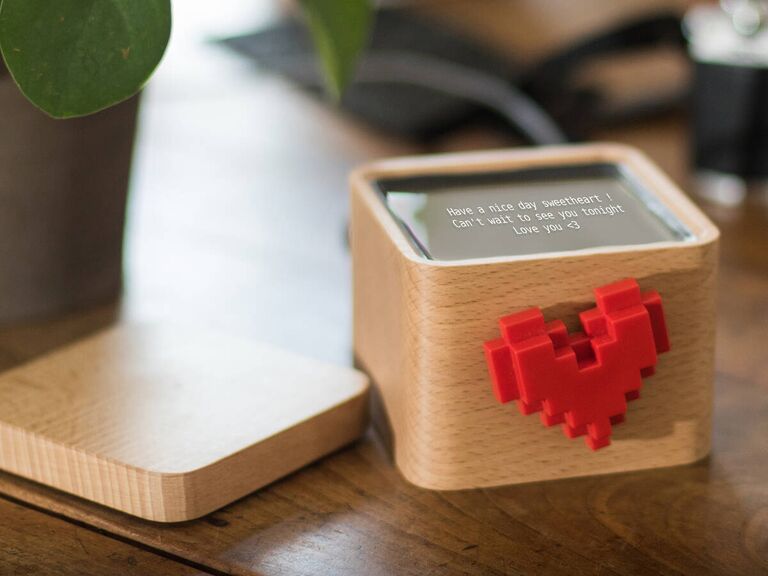 Want some top-tier relationship advice? Never stop looking for new ways to say "I love you." This electronic messenger box is one of our favorite wedding anniversary gift ideas. Download an app on your phone to write a heartfelt note for your other half. As soon as you press send, the heart on the box will start to spin around and the message will appear on top.
Hidden Message Candle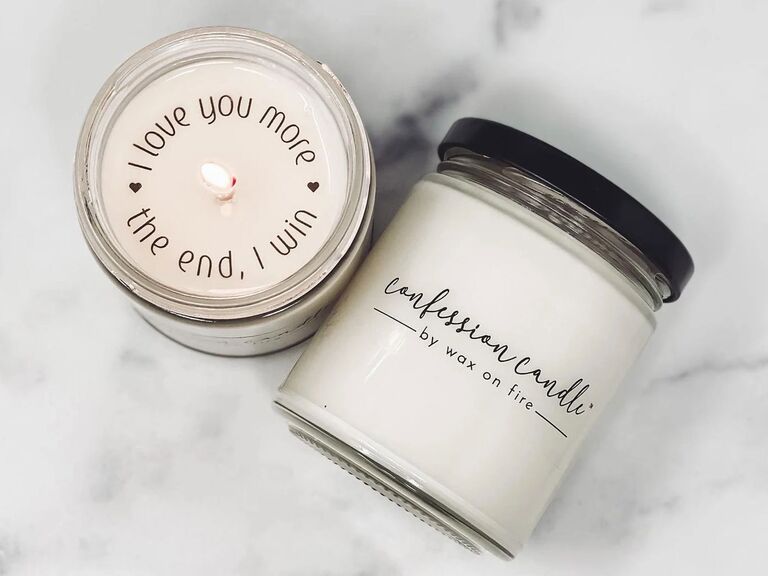 Speaking of unique ways to tell your partner you love them, this candle reveals a custom message (like "I love you") once burned. Choose your font and add cute symbols to personalize your note. Then pick from dozens of scents; how about a floral scent like Cactus & Jade or Wisteria for a subtle nod to the traditional four-year anniversary theme?
Inspiring Push-Pin Map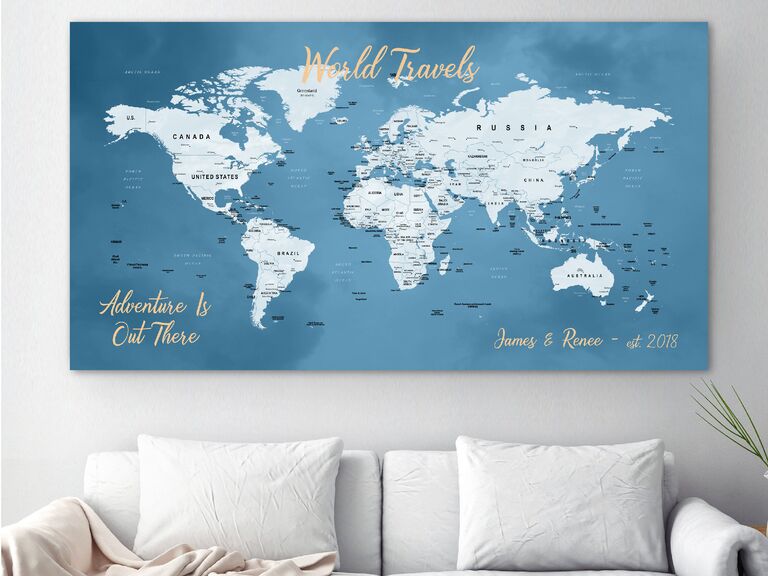 It wouldn't be an anniversary gift guide without a meaningful piece of home decor from Canvas Vows. This personalized push-pin map of the world comes in a stylish shade of blue, aka the fourth wedding anniversary color. If you and your spouse are big travelers, this wall art will help commemorate all your adventures together.
Designer Underwear Subscription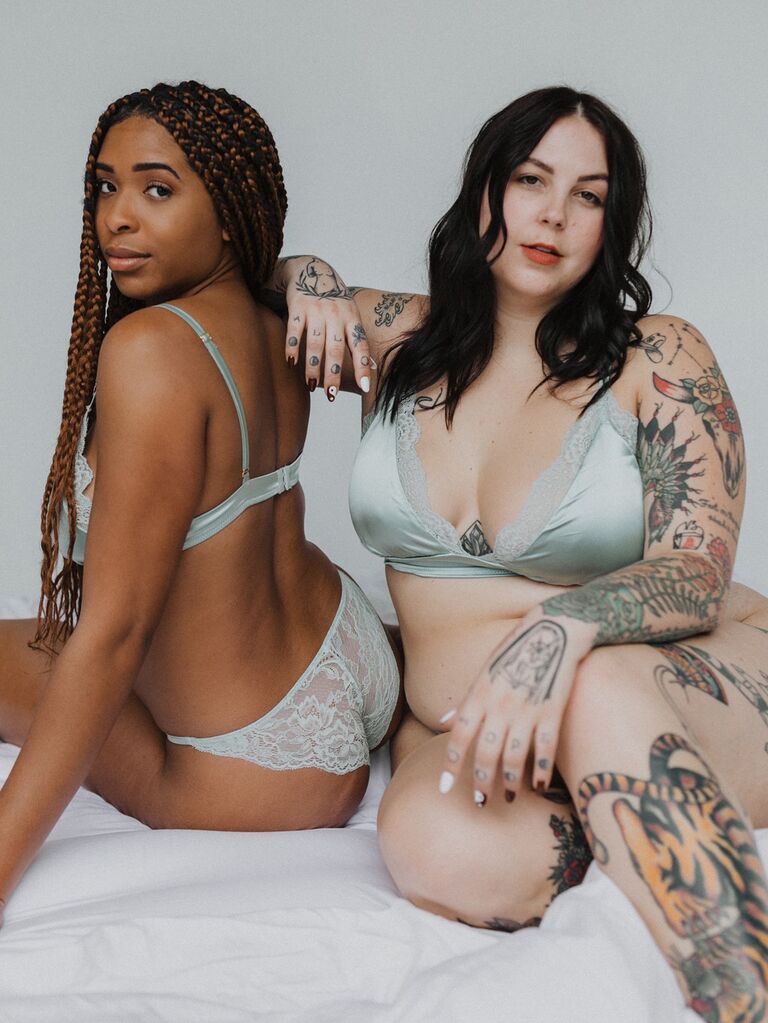 We're obsessed with Underclub's designer lingerie subscriptions. Simply select a plan and choose the date you want your partner to receive the gift notification email. From there, your S.O. will fill out a style questionnaire so that every delivery is tailored to their personal tastes. Feel free to add something extra to the first shipment, like comfy pajamas or sexy lingerie.
Everyday Waxed Jacket
Sometimes practical presents are the best wedding anniversary gifts of all. Treat your loved one to an on-trend trucker jacket from Flint and Tinder. The brand specializes in functional, hard-wearing styles that'll instantly elevate their look without feeling overly fussy. The waxy exterior is designed to lighten over time in the creases created by the wearer, making it a truly personal piece. Plus, the jacket has a flannel lining for warmth and extra softness. It comes in varying shades of tan, gray and navy so you can find a neutral color that will match your partner's everyday style.
Blue Topaz Necklace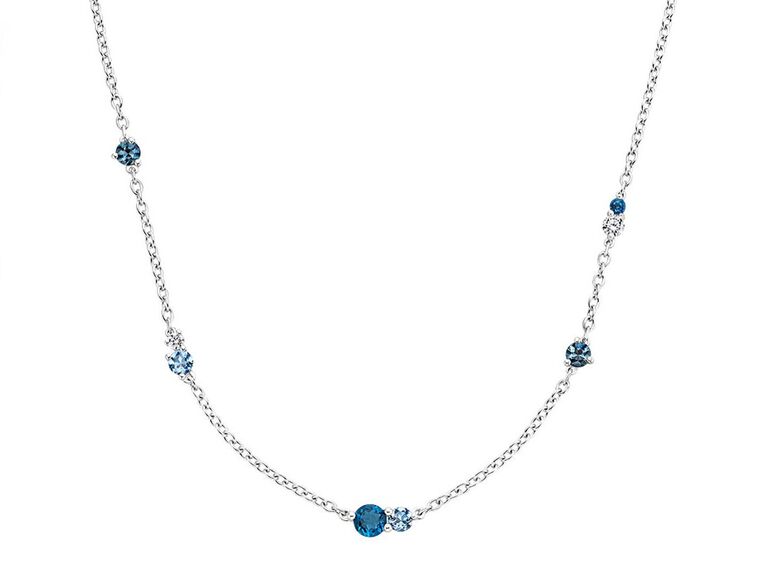 Since blue topaz is the fourth anniversary stone, a new accessory featuring the gem is a welcome choice. Our pick? This gorgeous silver necklace with a London blue topaz center gem and diamonds, aquamarines and teal sapphires asymmetrically hung along the chain around it. Best of all, Brilliant Earth's jewelry is sustainably and ethically made.
Personalized Whiskey Flight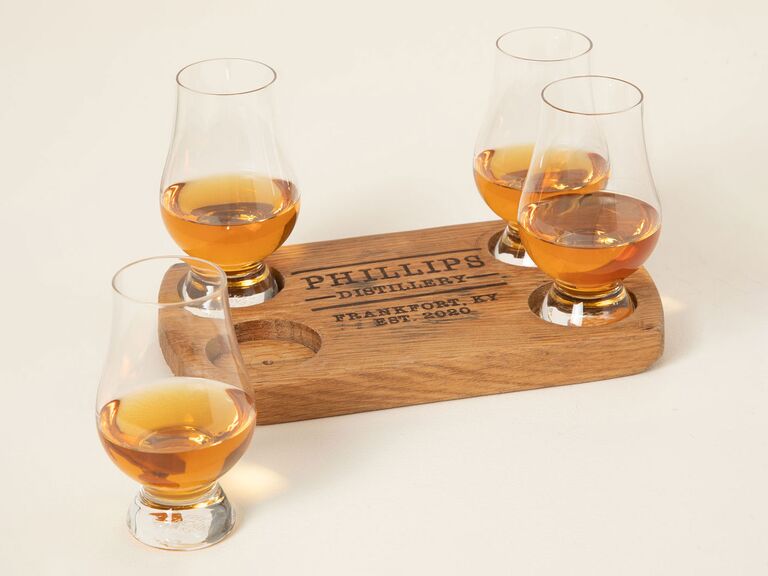 Why take your partner out for one drink when you can offer a whole lineup? That's the rationale behind this tasting flight made from reclaimed bourbon barrels. The statement piece comes with four (how thematic) spots for whiskey, including complementary Glencairn glasses. Personalize it with a name, location and year—perhaps your family name and wedding details.
Heart-Shaped Serving Set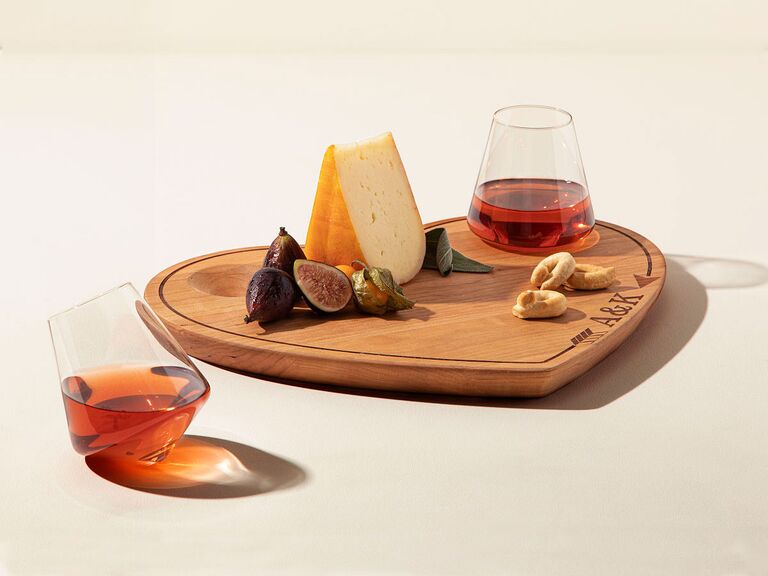 Wine and cheese for two, please! Celebrate your fourth wedding anniversary with a romantic dinner in. Then surprise your partner with this monogrammed heart-shaped wooden platter and conical wine glasses—filled with their favorite indulgences, of course. This serving set is a romantic and practical anniversary gift you'll both be able to enjoy.
Fun Date Subscription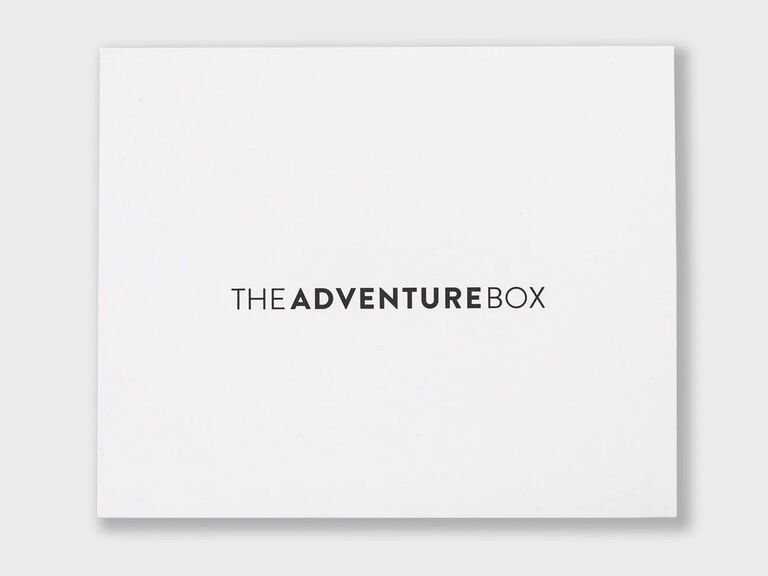 It's the fourth wedding anniversary, meaning you've already spent four-plus years trying to come up with new ideas for date night. Take the pressure off by signing up for The Adventure Box subscription on behalf of you and your spouse. It pairs with The Adventure Challenge's Couple's Edition activity book, so you can complete every challenge without having to run to the store. Every month, you'll receive the supplies you need for a unique date night (think: hand-stamping leather journals together) right to your door. Use code THEKNOT10 for 10% off sitewide.
Lucky Penny Key Chain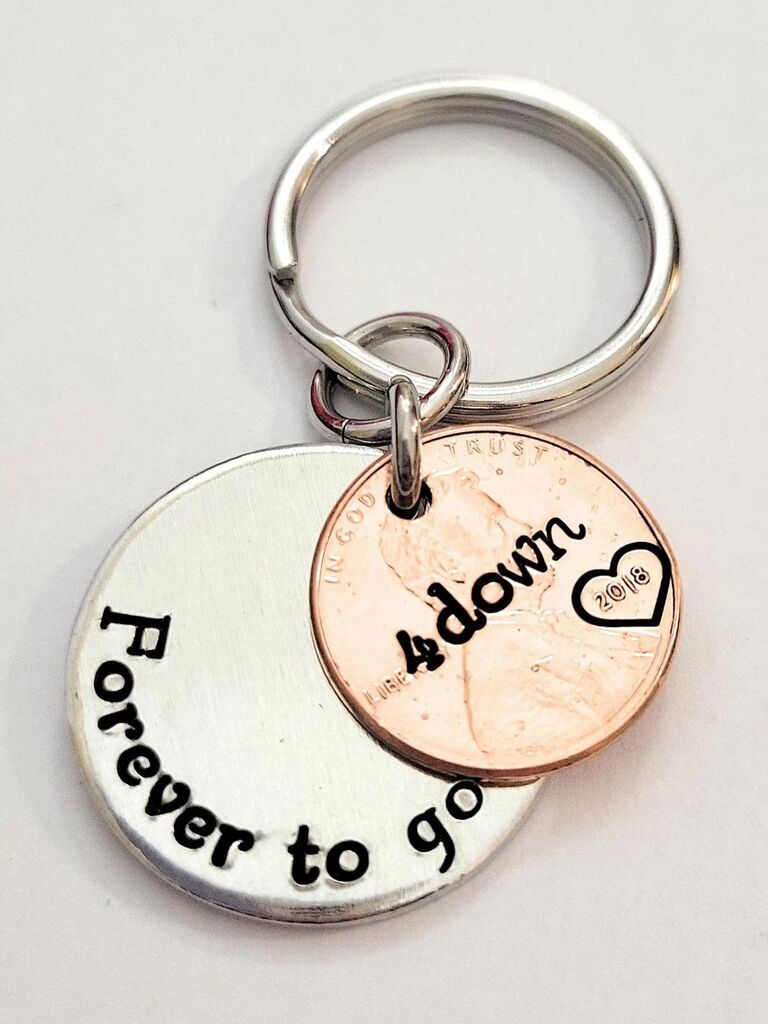 Sometimes the smallest gifts are the most sentimental. Give your S.O. a lucky penny key chain stamped with the phrase "4 down, forever to go" so they can carry a piece of your love everywhere. The year on the penny is encircled with a heart and the aluminum charm can be personalized with your full wedding anniversary date or initials.