A Guide to 36 Popular Wedding Flowers by Month & Season
Find out what's in bloom for your wedding date.
It's not hard to see why couples prioritize fresh flowers during wedding planning—they're just so beautiful. This list of the most popular wedding flowers by month will help you narrow down which blooms are the best fit for your arrangements (and trust us, there are a lot to choose from). Choosing in-season flowers comes with a lot of perks, and even though it's primarily your wedding florist's job, understanding the basics is always a good idea. For example, a flower might be readily available during a certain time of year but not quite the right fit for your wedding bouquet, boutonniere or centerpiece needs. On the other hand, many year-round flowers, like roses, are reliable options that can complement the rest of your blooms. And if you're not crazy about the flowers for your wedding month, you can always get inspired by the wedding flowers for your birth month instead. Start by brushing up on the best wedding flowers in season by month before heading to The Knot Vendor Marketplace to find your dream wedding florist.
The Best Wedding Flowers by Month:
January | February | March | April | May | June | July | August | September | October | November | December
Seasonal Flower Ideas to Inspire You:
Spring | Summer | Fall | Winter
In-Season January Wedding Flowers
Anemone
Known for its distinctive black center, anemones bring a modern vibe to most arrangements where they're used, from simple bud vase centerpieces to garden-style anemone bouquets.
Amaryllis
This vibrant red flower is a quintessential winter flower. While it would look good at a Christmas wedding, we also love the option of using amaryllis as a January wedding flower too.
Baby's Breath
Though baby's breath (which looks similar to Queen Anne's lace) can be acquired almost any time of year, it's an especially useful filler for January weddings where fewer filler and greenery options are in season.
In-Season February Wedding Flowers
Orchid
Both cymbidium and dendrobium orchids are go-to varieties for couples who want to include this eye-catching flower in their winter wedding arrangements. Carry a luxurious orchid wedding bouquet or use a single flower as a boutonniere.
Ranunculus
Distinguishable by its tightly packed petal pattern, this February wedding flower looks great alongside roses and greenery. Ranunculus wedding bouquets are especially whimsical and cheerful.
Waxflower
Waxflower is a hearty bloom that can stand up to cold February temperatures. The petite bloom works especially well in boutonnieres.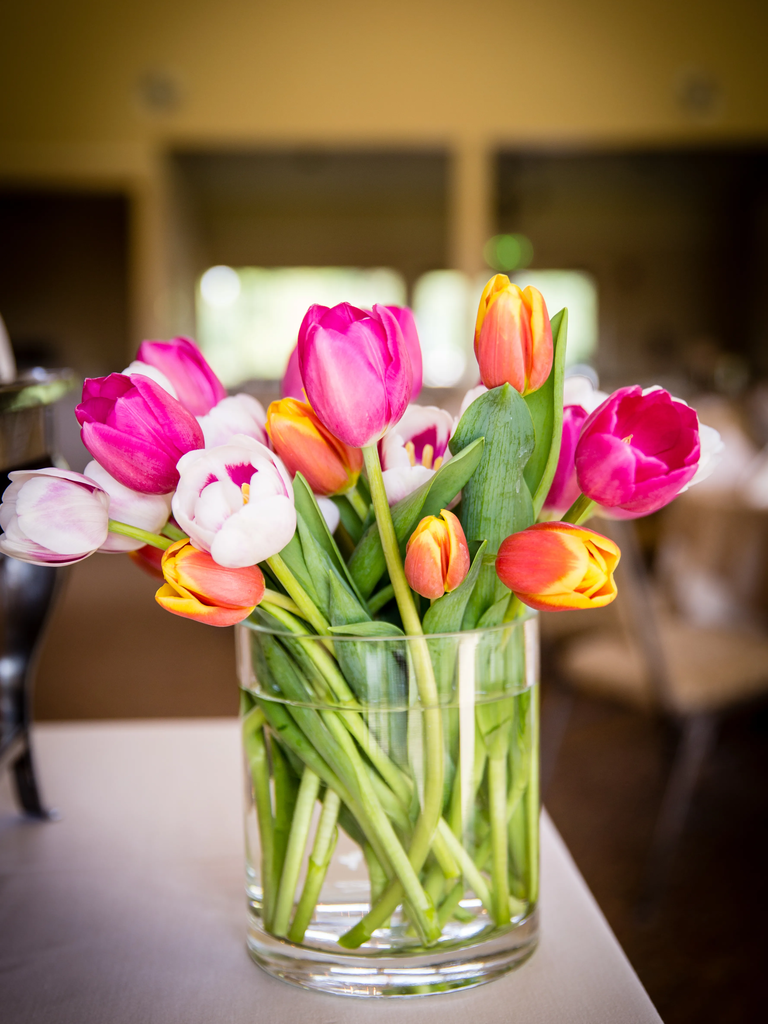 In-Season March Wedding Flowers
Ranunculus
Given that ranunculus is such a popular flower, many couples look into procuring it all year long. However, it naturally blooms during late winter and early spring, so it'll look especially fresh and sprightly at a March wedding.
Sweet Pea
This delicate March wedding flower smells great and looks amazing, and it's most readily available for couples tying the knot in late winter or early spring.
Tulip
Much like daffodils, tulips are a classic late winter and early spring flower. Tulips (which come in shades as varied as vibrant yellow to pastel pink) bring an elegant, refined feel to wedding arrangements, like centerpieces and tulip bouquets.
In-Season April Wedding Flowers
Sweet Pea
While most couples think of pink and peachy hues for sweet peas, the botanical also grows in brown and purple colorways as well, making it one of the more unique in-season wedding flowers for April.
Find all the vendors you need
Discover top-rated pros for any budget, background and style.
Lily of the Valley
A favorite of the British royal family, this small bloom is great for an April garden wedding.
Hyacinth
Similar in shape to lilacs, hyacinth (which can be white, pink or purple) works well in spring centerpieces that benefit from the plant's height.
In-Season May Wedding Flowers
Peony
Peonies are beloved by many to-be-weds, but because they have a relatively short growing season, they're one of the most in-demand May wedding flowers. If you're able to use this lush flower for a peony wedding bouquet or other arrangement, consider yourself one of the lucky mid-spring couples.
Hydrangea
Great for large-scale installations at weddings, hydrangeas are at their peak before seasonal temperatures get hot, causing them to wilt. For hydrangea wedding bouquets and centerpieces, your florist will have some tricks up their sleeve to keep the blooms hydrated.
Lilac
A quintessential spring flower, lilacs are a great option for May couples who want to fill their bouquets and arrangements with pops of purple (and a beautiful aromatic fragrance).
In-Season June Wedding Flowers
Rose
Roses can be procured almost anywhere during any time of the year, but they look especially great at June weddings. Since June is a transitional time as late spring gives way to early summer, some strictly spring or summer flowers are hard to come by. Not only is the rose one of the best June wedding flowers, but it's a timeless standby that works in any wedding aesthetic.
Delphinium (Larkspur)
Delphinium, also known as larkspur, looks similar in nature to Bells-of-Ireland or stock. Delphinium stems work well as ceremony aisle flowers or statement arches because of the height they bring to arrangements.
Gardenia
Gardenias are especially fragrant flowers, so care should be taken when deciding to incorporate them into boutonnieres or carrying a gardenia wedding bouquet, since some people may have sensitivities to their smell. Nevertheless, this June flower is a beautiful option for romantic and elegant occasions.
In-Season July Wedding Flowers
Lisianthus
Lisianthus can sometimes be mistaken for roses, but the bloom is identifiable by the green stamen in the middle. Lisianthus blooms are generally smaller than roses, so they work well as a boutonniere flower at early summer weddings.
Calla Lily
Calla lilies generally bloom in early summer, making them a popular July wedding flower for bouquets and boutonnieres. The sleek, long-stemmed botanical blends nicely with glam-themed weddings.
Gerbera Daisy
Gerbera daisies, along with other daisy varieties, are a solid option for summer backyard weddings and come in a variety of bright colors.
In-Season August Wedding Flowers
Protea
When it comes to deciding on the best wedding flowers by month, aesthetics should be considered in addition to seasonality. Proteas, for example, have a fairly long growing season and can be procured beyond just the month of August. But the unique bloom has an innately tropical look about it, making it a strong contender for August flower arrangements (including unique protea bouquets).
Zinnia
The growing season for zinnias lasts from late spring through early fall, but the vibrant flowers are generally at their peak in August.
Cosmos
For couples who like petite, wildflower-style blooms, cosmos are a great option. These August wedding flowers have narrow stems and come in a variety of colors, from white to bright orange, yellow, pink, red and purple.
In-Season September Wedding Flowers
Dahlia
Dahlias are like the peonies of fall. Both blooms are highly sought after by couples but only available for very short periods of time. If you're tying the knot in September, consider a gorgeous dahlia wedding bouquet or seasonal centerpiece with foliage and greenery.
Marigold
Especially popular as decor for Indian weddings, marigolds also work well when strung into garlands for backdrops and installations at late summer and early fall weddings. Other than the distinct orange color, this September wedding flower also blooms in yellow, red and brown tones.
Carnation
Carnations are another flower that is generally available throughout the year but stylistically looks most at home during the late summer and fall months. Carnations, like ranunculus, pair well with roses and are a good stand-in for the times of the year when other flowers may be harder to procure.
In-Season October Wedding Flowers
Dahlia
October is the tail end of dahlia season, depending on where your florist is able to source the flowers. Dahlias come in an astonishingly wide variety of colors and shapes, so there's sure to be an option that fits any wedding style.
Chrysanthemum
Chrysanthemums feature a similar petal structure to dahlias, but tend to be their more budget-friendly counterpart.
Amaranthus
Vine-like amaranthus is one of the few flowers that hangs down instead of standing up, making this October wedding flower a good option for cascading bouquets.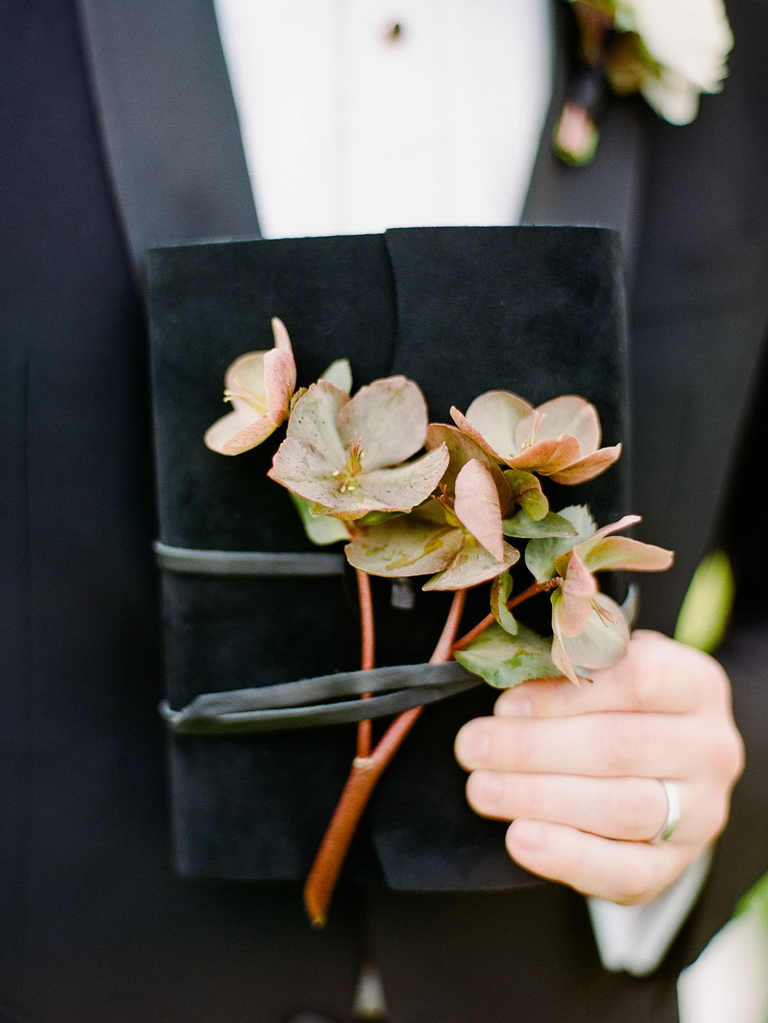 In-Season November Wedding Flowers
Scabiosa
Visually similar to the pompom shape of chrysanthemums, scabiosa flowers add a nice pop of texture and color to fall wedding bouquets and arrangements. You can find them in periwinkle, dark red, pink and white hues.
Celosia (Cockscomb)
Celosia can take on two styles—it generally either resembles sea coral, growing in rounded bunches, or takes on a feather-like quality, growing up into tapered points. But no matter which style it takes on, celosia blooms in a vibrant variety of jewel-toned colorways, making it a popular November wedding flower.
Stock
Similar in nature to delphinium and snapdragons, stock is a tall bloom that works well in large-scale arrangements. It can be procured beyond just November, however, it's a good option for when the weather starts to cool and many late summer and fall blooms are no longer available.
In-Season December Wedding Flowers
Rose
As the all-time most romantic flower, roses have been cultivated to be able to grow year-round. However, they're an especially strong option for late fall and early winter when few other plants are naturally blooming.
Hellebore
Hellebores look great in boho arrangements because of their dusty greenish-purple appearance that almost resembles eucalyptus. The petite nature of this December wedding flower also makes it a great boutonniere choice.
Camellia
Camellias resemble a cross between garden roses and dahlias, making them a good option for the times of year when dahlias are hard to come by.
Samantha Iacia contributed to the reporting of this article.