23 Sweetheart Table Ideas to Make You Feel Like Total VIPs
A table for two doesn't mean you have to skimp on decor.
After finalizing your guest list and confirming your RSVPs, arranging the seating chart is another thing to cross off your wedding planning checklist. As much as you love your friends and family, it's also important to share some quality time with your brand-new spouse on the big day, and these sweetheart table ideas present the perfect opportunity to do so. Here's what you need to know about having a wedding sweetheart table, plus 23 sweetheart table decor ideas to inspire your own when the time comes.
In this article:
What Is a Sweetheart Table?
A sweetheart table is a small table set up for the newlyweds at the wedding reception. The couple sits together facing their guests, with their wedding party and families at tables in close proximity. The advantage of having a sweetheart table is that you get to spend one-on-one time with your new spouse—something that is easier said than done in the midst of a busy wedding day. At your sweetheart table, you'll have time to actually sit down, enjoy your meal, chat and look around the room at all of your loved ones. Plus, it makes it easier for wedding guests to spot you from their own tables.
Opting for a sweetheart table can also be a blessing in disguise if you're in a tight spot with your seating requests—for example, if your parents, siblings and in-laws are all expecting to sit with you but don't all get along. Sitting as a duo can be a smart solution for navigating tricky family politics or friend dynamics, but if you're hoping to chat with your wedding party during dinner, you might want to think about a traditional head table instead.
Wedding Sweetheart Table Ideas
Your sweetheart table is an easy way to play into your wedding theme with flower arrangements, decorative linens and more. Here are some examples we love.
1. Oversized Greenery Wreath Backdrop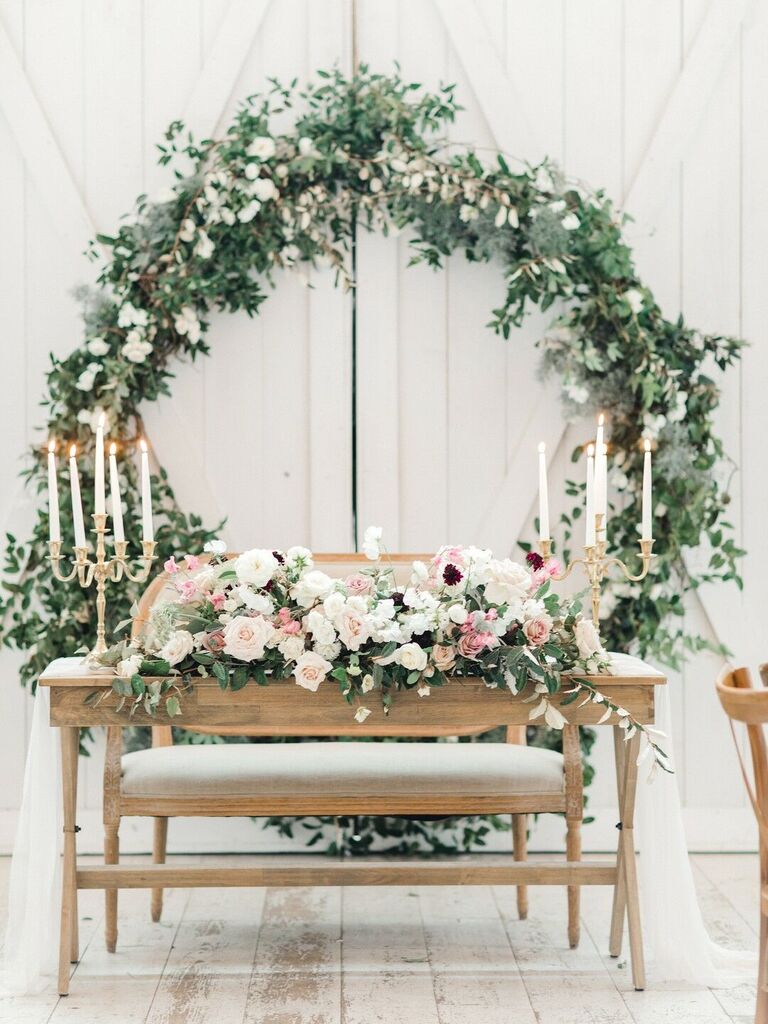 Frame your sweetheart table with a larger-than-life wreath made from greenery and flowers. This backdrop will fit right in at a rustic wedding—we love how it looks against these barn doors.
2. Cherry Blossom Trees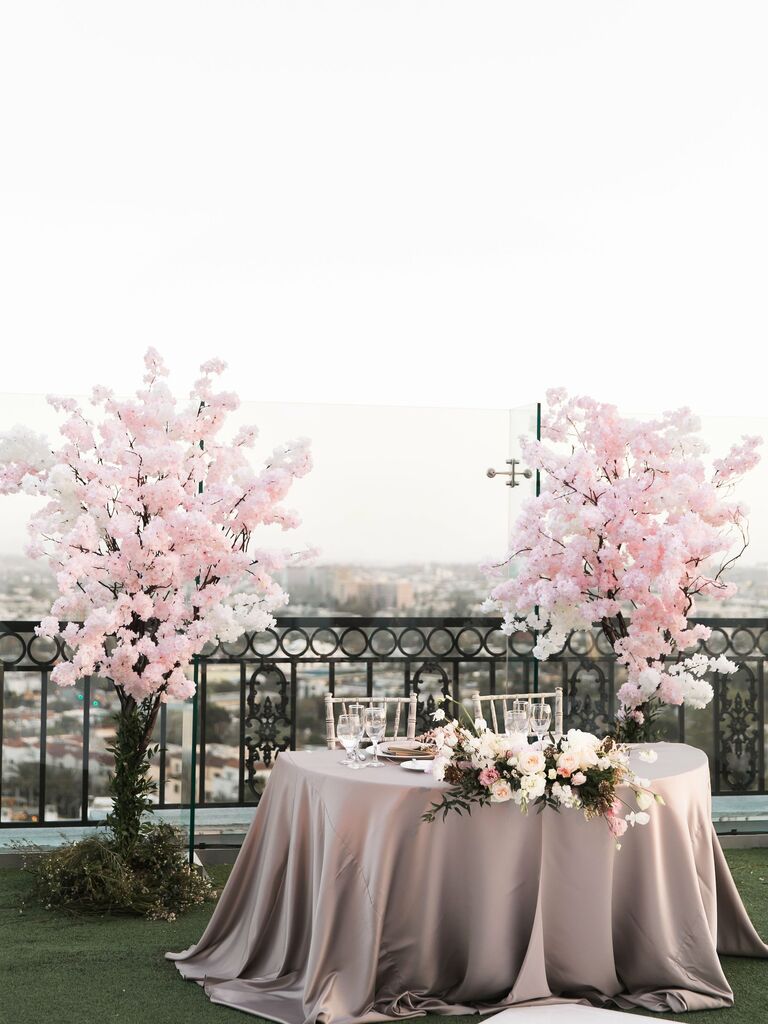 Flowering trees are different from your average centerpieces, but that's what makes them all the more memorable. For a spring wedding, rhese gorgeous pink cherry blossom trees add just the right amount of color and drama without blocking the skyline in the background.
3. Extra-Long Flower Garland
A lush, rose-filled garland is a complement to elegant wedding decor and a classic white color palette. Let it drape over the sides of the sweetheart table for an enchanting effect.
4. Bible Verse Backdrop
This dais table—a type of table that's positioned on a raised platform—is set against a custom backdrop featuring one of the most popular Bible verses about marriage. Alternatively, you could use song lyrics, a poem or another romantic love quote.
5. Fall Foliage
If you're having a fall wedding, this sweetheart table idea will bring a stunning seasonal touch to your decor. Start with a bare wood table, then add a table runner, taper candles to match your wedding colors and finish the setup with bundles of golden leaves at the front.
6. Assorted Pillar Candles
This easy wedding idea looks beautiful regardless of your season or theme. All you need is a handful of classic white pillar candles (choose various sizes and heights for a dimensional look) with glass hurricane vases. For wedding venues that don't allow open flames, LED candles will create the same romantic glow.
7. Baby's Breath Arch
Modern and minimalistic, this ethereal baby's breath arch stands out against a black and white color palette. Accent the front of the table with smaller bundles of baby's breath for a cloud-like effect.
8. Pumpkins and Fall Flowers
Incorporating pumpkins into your wedding decor takes a bit of creativity, but here's a perfect example of how to pull it off in a subtle way. Mix in a few miniature orange and white pumpkins with matching flowers and greenery—even better if you can find a vintage desk to use.
9. Calligraphy Name Banner
Hang a fabric banner against a greenery wall (ask your florist or wedding planner about faux options you can rent) for a garden-inspired look. Finish the decor with floral designs that mimic wildflowers, such as these clusters of delphinium and greenery.
10. Custom Neon Signage
If your sweetheart table needs a little sparkle, add a sequined tablecloth. A neon sign will bring even more attention to the setup. Personalize yours with a quote, song lyric—like this couple who chose "Crazy in Love"—your names or your wedding date.
11. Colorful Wedding Centerpiece
This bright pink and red centerpiece makes an impact against a plain white table. Keep the overall design minimalistic but cohesive with streamlined bucket chairs.
12. Floor-to-Ceiling Flowers
Rattan peacock chairs are a popular choice for couples who love boho style. The statement chairs are often paired with pampas grass and an earthy color palette, like these larger-than-life floral pillars bookending the table.
13. Floating Candles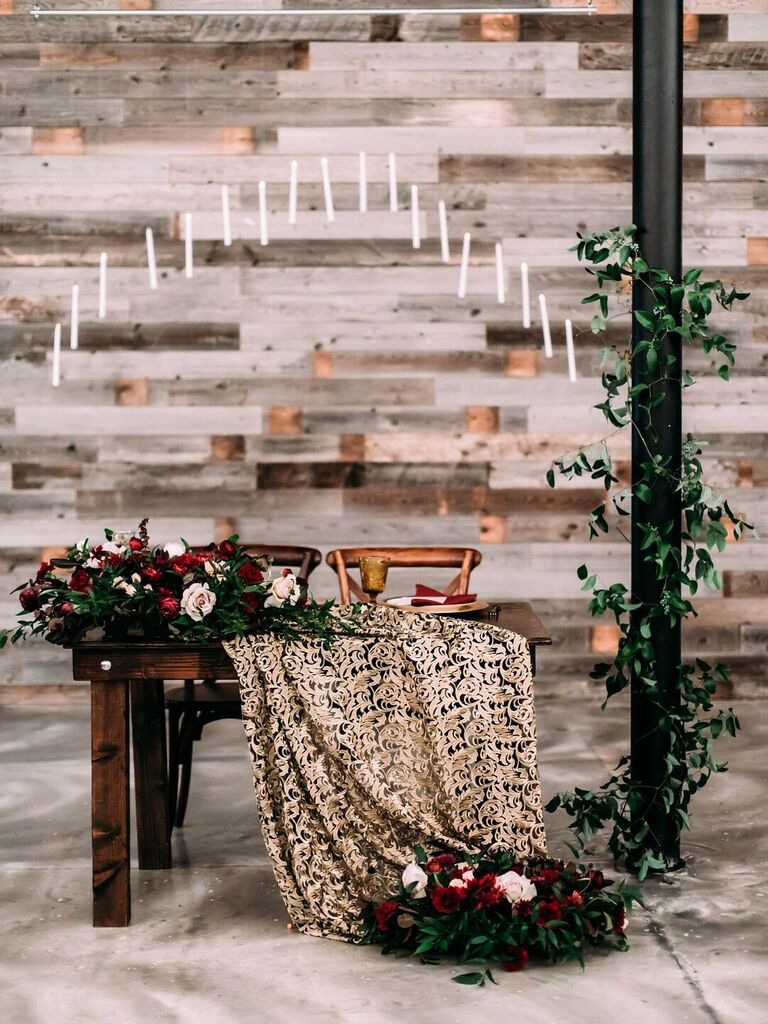 Make your table stand out with elaborate linens like this glam black and gold print. While you're at it, add fancy glassware and china, with candles to complete the design. These hanging candles were made for a Harry Potter-inspired wedding, but you could use basic tapers and candlesticks for other themes.
14. Classic White Wedding Flowers
Since sweetheart tables are so small, opt for a low centerpiece instead of a tall arrangement. It will keep your view unobstructed so you can look out at all of your guests (and vice versa). If that's not enough blooms for you, accent the foot of the table with matching floral arrangements.
15. Sound Wave Backdrop
It's hard to imagine a more creative sweetheart table backdrop idea. Record a short word or phrase with your partner, then enlarge the image of the sound wave to use as the focal point on the wall behind you.
16. Newlywed Signs
Patterned slipcovers and cushions are a super-easy way to cozy up chairs and add an extra layer of plush comfort. An unexpected print also makes for an interesting photo detail. Finish the tablescape with signs to celebrate your newly married status, like Mr. & Mrs., Mr. & Mr. or Mrs. & Mrs.
17. Vintage Lace Tablecloth
An antique tablecloth or shawl can quickly dress up a bare wooden table. We love this option for a homey, vintage-inspired vibe.
18. Oversized Letter Balloons
For the couple who thrives in the limelight, why not go all out? Set up an all-eyes-on-you backdrop decorated with giant mylar balloons spelling out your names or another phrase, like "just married."
19. Patterned Rug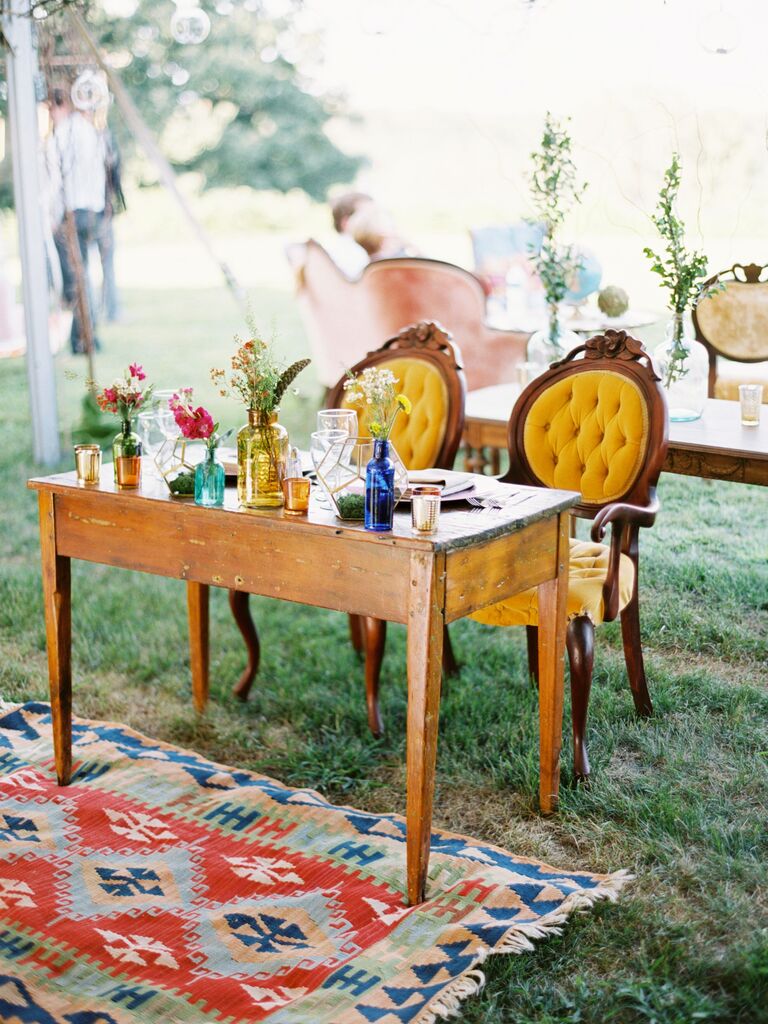 When planning your sweetheart table setup, remember that you can think beyond the actual tabletop. Add a patterned rug underneath the table for an instant dose of color—plus, it minimizes grass or dirt if you're getting married outdoors.
20. Last Name Banner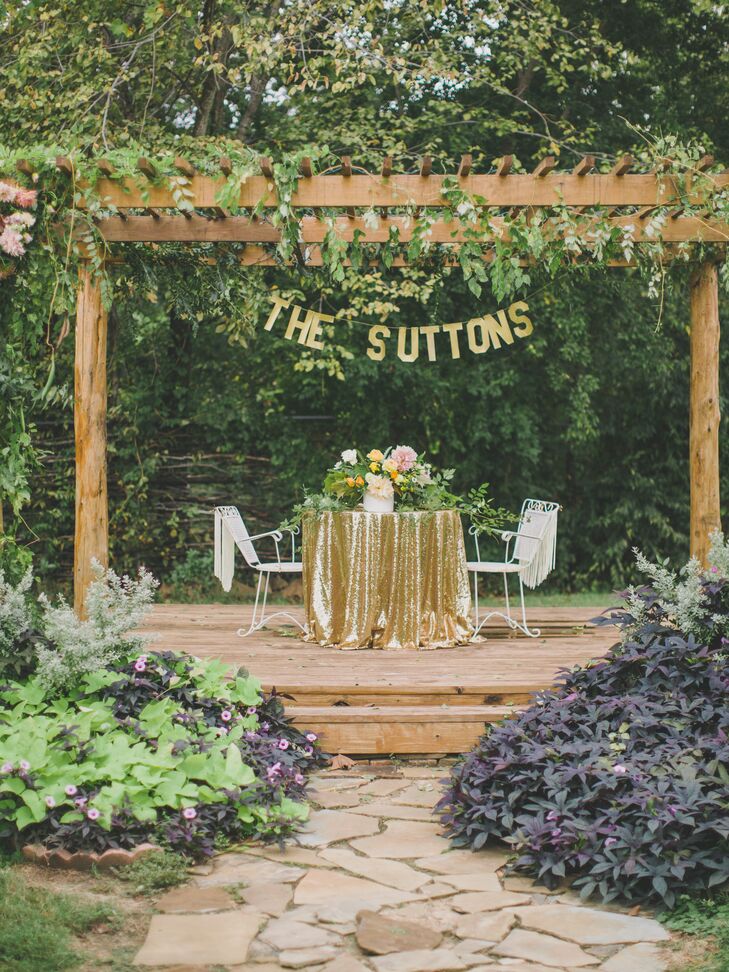 Take advantage of the built-in elements your venue has to offer and work them into your decor. A sweetheart table placed under a pergola or gazebo is charming and makes your meal feel like a mini getaway from the rest of the space.
21. Eucalyptus Bundles
Create a decorative greenery curtain by tying bundles of eucalyptus to a wooden or metal frame. Edison bulbs or strands of bistro lights will complete the backdrop.
22. Flower Arbor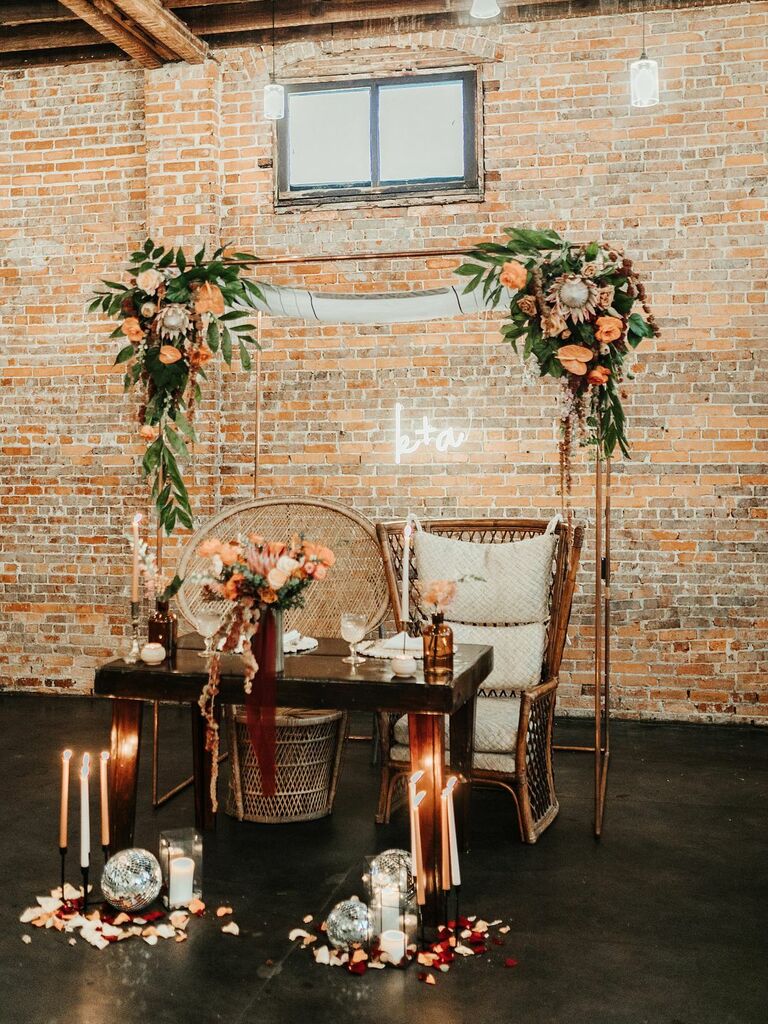 You can repurpose a wedding ceremony arch as the backdrop for your sweetheart table. This couple reused their chuppah and tallit, but you could do something similar with a floral arch or square arbor.
23. Brass Candlesticks
Prefer to keep your sweetheart table simple? Add a loveseat instead of standard chairs. It's unexpected and allows you to snuggle up with each other in a chic, homey way. Finish the table with some votives to set the romantic mood.